Best Joint Supplements Reviewed and Compared
Disclosure: We use affiliate links and may receive a small commission on purchases.
For many active and older adults, joint pain amounts to a significant struggle. It is most often a result of diseases such as osteoarthritis, rheumatoid arthritis, and other degenerative diseases. Approximately 22.7% of americans are diagnosed with some type of joint condition, and despite the popularity of joint treatments, there is no definitive cure for any of these conditions. The joint supplements that do exist utilize multiple ingredients that have been shown to decrease inflammation and pain, and increase joint health and the nutrients and vitamins required.
How to Choose the Best Joint Supplements
Due to inconclusive studies and varied reports on success, finding the correct joint supplement for your situation may seem to be a difficult task. There are a large variety of reported effective ingredients that all come with them complex explanations and usage recommendations. With a large abundance of varying products that all claim to have the same end result, how can you know where to begin?
If you are serious about improving your joint health, beginning a supplement regimen is a great start, as some supplements are thought to target the root cause of degenerative joint health disorders. This cause has been found to be inflammation and a lack of sufficient nutrients from diet alone. Collectively, studies have been found to be inconclusive. So, finding your ideal joint supplement will require due diligence research and and trust regarding these products. We are here to help you navigate the landscape and understand what to look for in these products.
           Our Top 3 Picks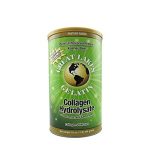 Great Lakes Gelatin Co.

Our rating
Gluten free
Price:

See Here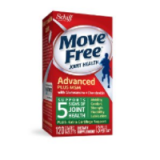 Schiff Move Free

Our rating
High potency
Price:

See Here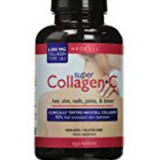 The Neocell Super Collagen

Our rating
Supports overall health
Price:

See Here

Some of the most frequently used joint supplement ingredients include:
Calcium and Vitamin D
Calcium was initially thought to be the single most important nutrient essential to supporting optimal bone health. Recently, these claims have been overshadowed by the new findings for the relationship Vitamin D and healthy bones and joints. A recent study found that Vitamin D may be the key to allowing the body to efficiently absorb and use calcium to maintain strong and healthy bones and joints (Journal of American Medical Association, November 9, 2005)
Glucosamine and Chondroitin
These two naturally occurring compounds can be found in your joints, specifically in the cartilage, which provides cushion between bones. They also serve to maintain healthy lubrication of the joints to facilitate easier movement and durability. By directly affecting and increasing the amount of synovial fluid within the joint, lubrication can be improved and maintained. Without these compounds, our joints would lack cushion and lubrication, and would result in pain and discomfort upon movement. Degenerative joint diseases act by cutting off these supplies, and gradually weakening these supportive factors.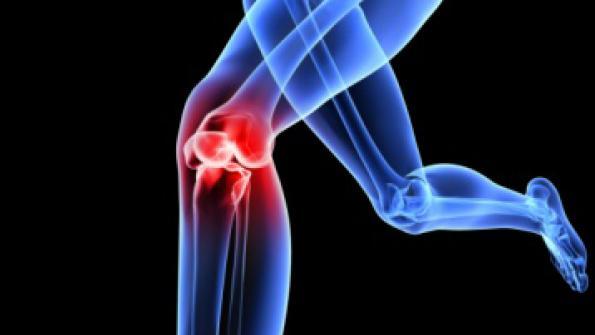 Glucosamine's main function is to aid in the synthesis of various important fatty tissues, especially cartilage. In addition, it helps create the fluids necessary for proper lubrication of the joint. Supplementing with glucosamine and chondroitin is safe, and can provide results and begin to fortify your joints in as little as 6 weeks.
Natural Anti-Inflammatory Compounds
Everyday foods and vegetables such as ginger, turmeric, and boswellia roots extracts have been shown to possibly work as well as aspirin and ibuprofen in aiding in joint pain. It is believed this occurs due to the fact that the majority of joint pains are caused inflammation within the joint due to injury or malnourishment. These substances each individually reduce inflammation and pain throughout the body when supplemented or consumed in normal diet. When taking natural substances, be sure to consult your doctor of their function and its agreement with your body so as to avoid any detrimental combinations of effects from other medications.
MSM
MSM (methylsulfonylmethane) is a natural sulfur that helps to form antioxidants and serves as a key structural nutrient in healthy connective tissues. MSM aids in providing shape, strength, and support to other tissues within the body. It also helps to repair joints, tendons, and ligaments.
Turmeric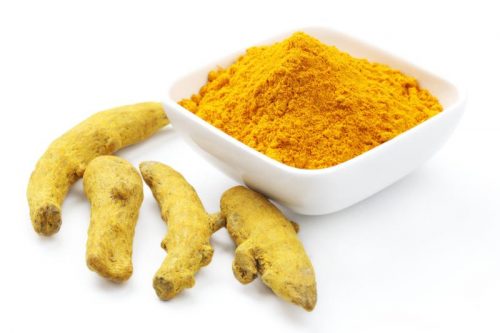 This powerful ingredient obtained from the turmeric root provides great benefits for relieving pain and stiffness in joints. It acts by reducing inflammation within joints, relieving pressure, pain, and stiffness. It does this through its active ingredient – curcuminoids. While these curcuminoids can be very beneficial, they are not easily absorbed into the bloodstream. That is why some of teh products contained in our list contain added ingredients such as black pepper extract. These additional ingredients serve to aid in absorption whiel also providing additional circulatory and antioxidant benefits. A lot of supplements use this with ginger root as well due to the similar effects observed.
How Do These Supplements Work?
Joint supplements are geared to reduce inflammation, and provide the necessary vitamins and nutrients that are believed to optimize joint health, development, and maintenance. These vitamins act by improving collagen synthesis, and in turn cartilage strength and health. Also, they inhibit certain proteins that can cause destruction within the joints. Without the key compounds such as glucosamine and chondroitin, joints are unable to fortify themselves and heal from any damage joints have incurred over the years. Ingredients such as MSM and hyaluronic acid help to facilitate healing and decrease pain by lubricating and providing flexibility at the heart of the joint. By combining these two actions, you can make your joints as healthy as possible, while fortifying and preventing further damage.
It is important to monitor the authenticity of the brand and its ingredients as to avoid impure ingredients and formulas.
What To Consider
Most joint pain supplements you see on the market are made from natural ingredients, and prove to have no side effects. It is important to talk to your doctor before beginning a joint supplement regimen, especially if you are taking other medications. Another thing you need to consider is label transparency, or checking to ensure that all ingredients are listed, and that it is a trusted brand. This is important if you have allergies and could possibly contract a reaction after beginning the regimen.
All of the products on our list were hand selected and are trusted brands with all-natural, and scientifically and customer review-backed for your help and convenience.
10 Best Joint supplements
1. Great Lakes Gelatin Co.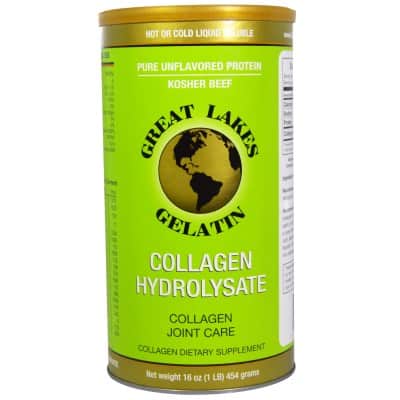 Great Lakes Gelatin Co. Collagen is a powder formed protein supplement that offers you all that you need for healthy joints, muscles, and connective tissues so that you can keep training with maximum comfort.
Expand to see more
Hot and cold soluble

It will dissolve in both hot and cold beverages, and is completely unflavoured, so that you can take the supplement in any beverage, smoothie, or drink that you like in order to get the best health benefits with ease.

Features and Specifications

Serving size is 2 tablespoons taken twice a day
Gluten free
38 servings per container
Unflavoured
No MS
Non-GM

Price/Value

Thisn is a reasonably priced supplement with a good number of servings, and the benefits make it well worth the money.

Decision Time

Great Lakes Gelatin Co. Collagen is one of the better supplements for joint health, as well as overall body health so that you can maintain the lifestyle you are living.
Non-GMO
Free of MSG
Gluten free
Unflavoured
Supports all round health
Easy to take
Not suitable for vegetarians
2. Schiff Move Free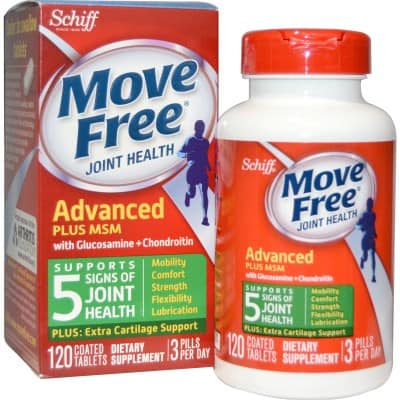 Schiff Move Free supplements are specially formulated and developed to support proper
joint health
and ensure that you can move freely without pain or discomfort.
Expand to see more
Supports the 5 areas of joint health

Schiff defines the areas of joint health to be mobility, comfort, strength, flexibility and lubrication, and Schiff Move Free supplements are specially formulated to support and maintain each area.

Easy to Swallow

These are specially designed to be smaller and easy to swallow so that they are much easier to maintain on a daily basis.

Features and Specifications

3 tablets per serving
40 servings per container
Easy to swallow
Contains key ingredients for joint health
Laboratory tested
Highly potent

Price/Value

This is a high-quality supplement for a relatively affordable price. Although the supplement is slightly more expensive it is definitely worth the money.

Decision Time

Schiff Move Free supplements offer terrific benefits and last for at least a month.
High potency
Easy to swallow
Pure
Supports all areas of joint health
Not suitable for vegetarians and vegans
Large serving size
3. Neocell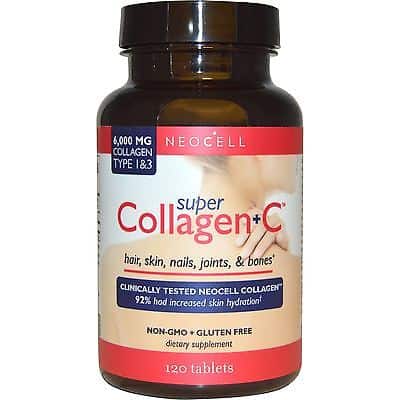 As well as joint support, the Neocell super collagen also supports the health of your
skin, hair and nails
, keeping you looking healthy and beautiful.
Expand to see more
Clinically tested

All of Neocell's products are carefully tested to ensure that each one is as high quality as the rest, ensuring that you get a high quality supplement.

Features and Specifications

Supports overall health
Promotes and maintains healthy jointssuper-collagen
Increased skin hydration
Clinically tested
6 tablets per serving
42 servings per container

Price/Value

This is a very affordable supplement with a good amount of servings per container, making it a good value joint health supplement.

Decision Time

Overall the Neocell Super Collagen supplements are great value and offer incredible health benefits; their main drawback is that the serving size is very large and hard to maintain.
Wide range of health benefits
GMP certified
Non-GMO
Gluten free
Vegetarian and vegan friendly
Large serving size
Taken on an empty stomach
4. MRM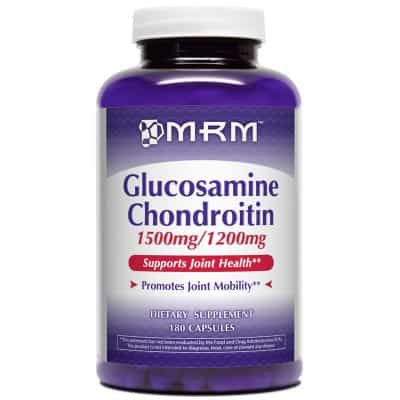 MRM Glucosamine Chondroitin helps to keep your joints mobile and healthy, alleviating pain and discomfort and supporting those with active lifestyles.
Expand to see more
Highly potent

This is a highly potent formula to increase the absorbency and give you the best results to improve your joint health.

Features and Specifications

Serving size is 3 capsules
60 servings to each container
Supports all areas of joint health
GMP assured
5g of glucosamineglucosamine
2g of chondroitin

Price/Value

It is quite expensive, and there is a lower amount of dosages than other options, and this makes it less valuable than some other options on this list.

Decision Time

Although it is expensive, it is well worth the money.
Highly potent
Great for supporting joint health
Free from many allergens
GMP assured
Combination supplement
Large dosage
Difficult to swallow
5. Neocell Collagen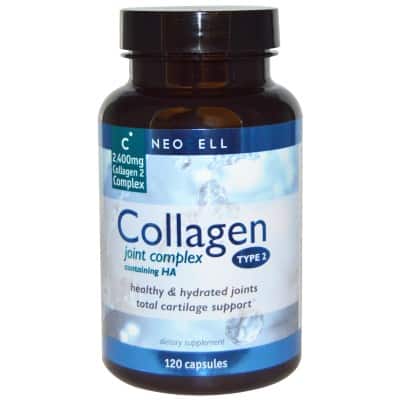 Collagen
is one of the most beneficial nutrients for proper joint support, making the Neocell collagen joint complex one of the best options for proper joint health.
Expand to see more
Highly potent
It offers 2.4g of collagen in each tablet, giving you the best possible results and a highly potent supplement.
All natural
It uses naturally occurring
hyaluronic acid
to ensure that you receive an all-natural and beneficial supplement.
Features and Specifications
Non-GMO
Gluten free collagen
Allergen free
2400 mg of collagen
Serving size is 4 capsule
30 servings in each container
Price/Value
This is an excellent supplement with many benefits, however, it is quite pricey for the low number of servings.
Decision Time
Neocell collagen joint complex is an excellent quality supplement that offers you many incredible health benefits, however, it is rather a large serving size and does not last as long as other supplements that are available and this makes it less impressive than other options.
Ethically created
All natural
Gluten free
Free of many allergens
Easy to swallow
Large serving size
Taken on an empty stomach
Not suitable for vegetarians and vegans
6. Doctor's Best MSM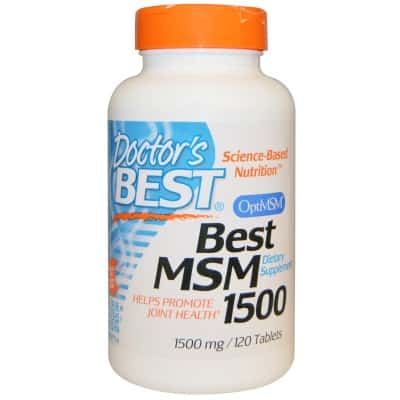 Doctor's Best MSM offers you a
boost
of antioxidant support that helps to keep your body healthy and fight against the development of free radicals within the body.
Expand to see more
Ethically created

It is completely GMO free and produced in a GMP assured facility so that you know you are only getting the best joint supplement from the most ethical sources.

Features and Specifications

Laboratory testedPromotes joint health and comfortability
Non-GMO
GMP assured
Suitable for vegetarians and vegans
Gluten free

Price/Value

This is an incredibly high valued supplement with 120 servings for a low price and a wide range of incredible benefits.

Decision Time

Doctor's Best MSM is one of the best supplements for joint health as it offers supreme joint health and support with a low price.
Suitable for a wide range of dietary need
Ethically created
Antioxidant support
120 servings in each container
Low dosage size
Tablet size is quite large
Difficult to swallow
7. Universal Nutrition Animal Flex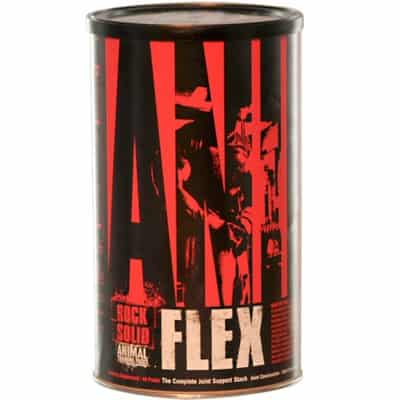 Universal Nutrition has specifically developed their Complete Joint Support Stack to offer you all that you need for healthy joints and to maintain comfortability
as you age
.
Expand to see more
Supports healthy joints and lubrication

It helps to keep your joints properly lubricated and your bones healthy so that you can maintain proper joint health and reduce the symptoms of joint deterioration.

Single capsule dosage

It's simply taken once per day to make it incredibly easy and maintainable, without sacrificing any of the benefits.

Features and Specifications

One per day
44 servings per pack
Specially formulated
Highly potent

Price/Value
It is taken once per day and offers over 40 dosages however it is one of the more expensive options on this list. It offers you many incredible benefits, so it is well worth the money.

Decision Time

This is a truly one of best joint supplements for those who train hard and put a lot of strain on their joints.
Beneficial for those who train hard
Helps to heal strained joints
Supports proper joint health
8. Osteo Bi-Flex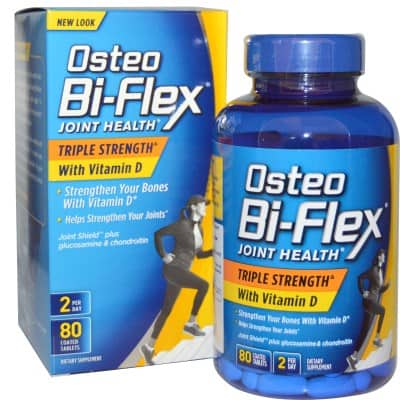 Osteo Bi-Flex specialise in joint health and support, making this product a very trustworthy supplement to add into your daily diet.
Expand to see more
Strengthens joints

It offers you all that you need for maintaining healthy joints, and can even work to strengthen joints and alleviate symptoms of pain and deterioration.

Features and Specifications

Triple strength
2 capsules for each serving
60 servings in each container
Gluten free

Price/Value
It offer 60 servings in each container, however, they are a very expensive supplement in comparison to other options on this list. However, they do offer incredible benefits, so they are worth the money.

Decision Time

Although they are on the pricier side, this is a great option to strengthen and maintain healthy, working joints.

Supports joint health
Alleviates symptoms of joint deterioratio
Easy to swallow
Gluten free
Not suitable for vegetarians and vegans
9. Wellesse Premium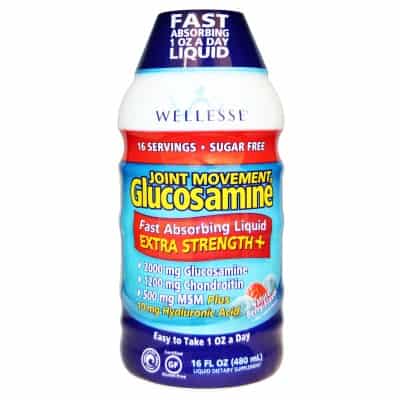 Wellesse is a well-known manufacturer of
vitamins and supplements
for those who want and extra health boost in their everyday diet.
Expand to see more
Fast Absorbing
Wellesse supplement is highly absorbent to ensure that you take in as much of the supplement as possible in order to ensure the best results.
Additive free
This
glucosamine supplement
is free from flavourings, additives and sugars to ensure that you only take in the health benefits without any sugars or chemicals.
Features and Specifications
Additive free
Highly potent
Highly absorbent
16 servings
Gluten free
Suitable for vegetarians and vegans
2 tablespoons per day
Price/Value
With only 16 servings in each bottle, it's not very good value, although it does offer some excellent health benefits.
Decision Time
This is a very expensive supplement option to go for however, it offers great benefits for those who can afford to keep replacing the supplement every two weeks or so.
Free of additives
Suitable for a wide range of dietary requirements
Highly absorbent for the best results
Easy to swallow
Not many servings in each bottle
Low value
10. Eidon Mineral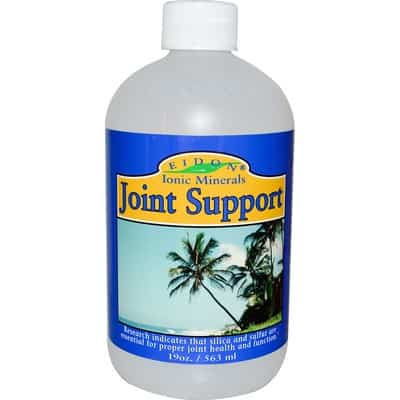 Eidon Mineral supplements are a highly recognised supplement manufacturer that offers you all of the support that you need for healthy joints and proper support later in life.
Expand to see more
Gentle on the stomach
Eidon Joint Support is specifically formulated to be gentle on the stomach to make it usable for all ages and dietary requirements.
Liquid supplement
Eidon Joint Support is a
liquid form
of the supplement to make it easier to swallow for those who struggle to take tablet forms of vitamins and supplements. Eidon Joint Support can be added to juices or smoothies, or simply taken on its own.
Features and Specifications
Highly absorbant
Easy to swallow
38 servings in each bottle
Vegetarian and vegan-friendl
Allergen free
Gentle on the stomach
Price/Value
Eidon Mineral supplement is one of the best joint supplements in value for those who cannot take tablet forms of supplements, although there are other options that offer a higher value.
Decision Time
Eidon Mineral supplements are a good joint support supplement if you struggle to take tablets, however, this supplement is not as high value and high potency as other tablet forms of joint support supplements. It also doesn't offer as many servings as other options.
Highly potent
Great for supporting joint health
Free from many allergens
GMP assured
Combination supplement
Not as many servings as tablet forms
Usage Recommendations
Each product on our list contains a unique blend of scientifically-backed ingredients that have been proven to aid in supporting healthy and fortified joints. When beginning your regimen, be sure to not exceed the daily recommended dosage, and also be sure to ensure you are not allergic to any of the ingredients, as allergic reactions are the number one reaction to some of these products. Consult your doctor is you have a shellfish allergy to ensure your joint supplement is safe and will agree with your system. Combining a joint supplement with a balanced and healthy diet and exercise routine can yield even greater results. In addition, omega-3 fatty acids have been shown to also improve joint health, so adding foods rich in this nutrient to your diet during the joint supplement regimen could yield faster results.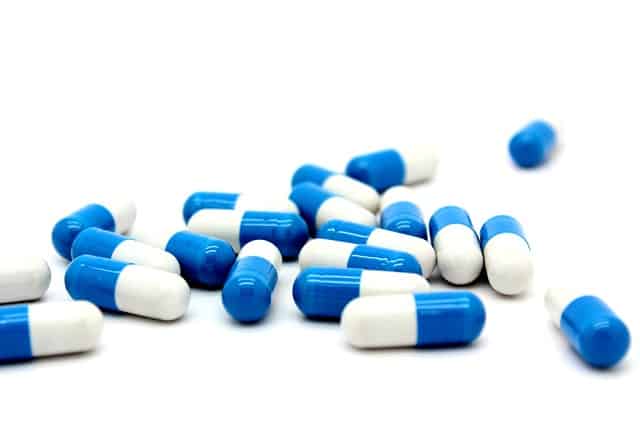 Joint Maintenance
In order to prevent joint damage and maintain healthy and pain-free joints, there are 2 steps that can be taken that include:
Maintain a Healthy Diet
Diets that are too rich in carbohydrates and sugars have been shown to lead to increased risk of degenerative joint diseases, due to the fact that the joints required physiologic processes become over-encumbered and clogged. By eating a balanced diet of fats, carbs, and protein, you can ensure your joints perform and maintain as designed. Adding foods rich in omega-3 fatty acids, as discussed, has been linked to improved joint pain and health as well.
Stretching and Form
When exercising, your joints can become more prone to damage if they are not properly warmed up, and also if they are made to do motions out of line with their design. Stretching ensures the supporting tissue and cartilage is malleable and tough enough to support weight and quick movements. When lifting and pushing weight, it is important to begin new workouts with lighter weight to ensure proper form. Lifting weight that is too heavy for your muscles places the additional weight the muscles cannot handle on the surrounding joints, possibly irreversibly damaging tissue and cartilage within. Lifting weight that is challenging but light enough to get 7 reps is reported by experts to be sufficient to trigger new muscle genesis.
Criteria for Evaluation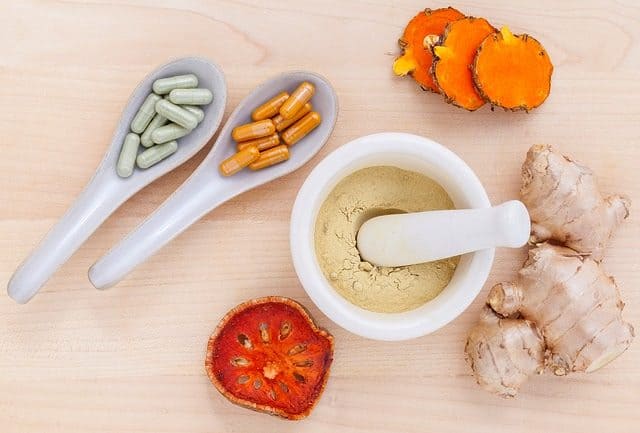 All of the products in our list are trusted brands that each of have gained a loyal following of users due to their scientifically backed, pure ingredients. We made sure to include products that were side effect free and made and presented with authenticity. Products at the top of our list include the most proven ingredients in cost-effective, easy to manage packages.
While all products on our list include targeted and research backed ingredients, some products have varying dosage requirements. Products towards the top of the list have easy to handle dosages, while some were placed lower due to high dosage requirements or large pills. Convenience and efficiency were factored into our decisions.
Glucosamine and chondroitin are the leading ingredients in correct dosages, and ingredients such as tumeric, ginger root, and boswellia are newer ingredients that have recently been shown to be effective. Additional ingredients such as MSM and hyaluronic acid are also thought to be effective by many respected physicians in the space, but its evidence is less abundant.
Brand notoriety, authenticity, and presentation also factored into our rankings. Products that have tremendous support throughout messaging boards, reviews, and are consistently recommended made the top rankings in our list. These products may use the same ingredients as other products, but make the entire joint supplementation process seamless and instantly effective for any user. Some products in our list may take longer to see results, or be ineffective in certain users due to dietary or other health concerns that may be simultaneously present. Based on your specific needs, your ideal product may be found lower on the list, hence why we recommend to understand what your ideal product would be before you purchase. Some trial and error may be required until the perfect joint supplement is discovered specific to your needs.
Joint Pain: Causes and Relief
Perhaps you are an avid athlete—professional or unprofessional—who enjoys working out often for that elated sensation of accomplishment afterwards (often referred to as a "runner's high"). Or perhaps you live a moderately-active lifestyle, although the effects of aging are starting to take a toll on your body.
Whatever the reason might be, it can be unsettling, even annoying, to develop joint pain over time. Not only that, but also it can be disheartening when the symptoms worsen, thereby disabling you to continue doing the physical activities that you enjoy and love. Really, it is not a great situation to be in.
That said, you have probably wondered just how joint pain starts, let alone know how to heal from it. You have probably tried certain techniques as seen in news and the media, but to no avail. However, we are here to tell you that those strategies are not really helpful, and rather it is a matter of going back to the basics of recovering.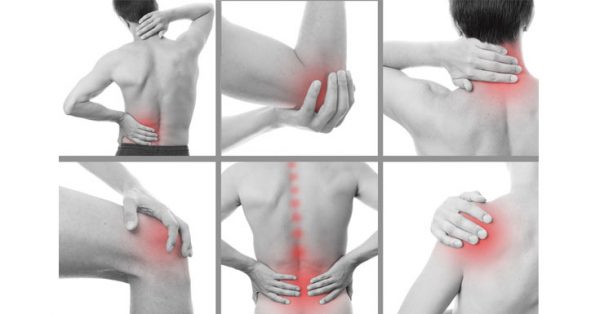 In this article, we will give you several reasons as to why you might have joint pain, along with prescribing some possible ways of relieving it. Soon enough, you can return to doing your favorite activity in no time. Let's begin!
Causes of joint pain
First things first, it is important to figure out just what is causing your specific joint pain. After all, not all joint pain stem from the same factors for everyone. Having an idea of just what might cause it will give you a better idea of how to go about healing it:
1. Injuries. First off, one of the most common causes of joint pain has to be injuries. Whether through sports or your everyday lifestyle, it can be caused by straining it through overworking it, or through a sudden trauma. Either case, neither is a pleasant happening, and so it can be really debilitating, not only forcing you to stay on the sidelines for physical activities, but also reducing the quality of life through your day-to-day actions.
2. Arthritis. Sometimes, injuries can cause arthritis to occur, which is also an unpleasant thing to happen to you. Unfortunately, it can be extremely debilitating, depending on the severity, and it does not get any better with age.
3. Unhealthy lifestyle/aging. From being overweight to getting older, there are some aspects of our lifestyle that we can and cannot change. For instance, being overweight increases the risk of joint pain, for there is extra weight to support on your body, thereby putting pressure on the joints to support it. On the other hand, aging puts you at risk for aspects like osteoarthritis, which can contribute to the breaking down of bones, joints, and overall stabilization in your body.
Common types of joint pain
Especially for athletes who work out often, there are different types of joint pain which will vary based on what sport you play. We list some of the most common types of joint pain down below:
1. Knee. Commonly affecting runners and skiers, knee pain (also called "runner's knee") can be extremely painful, even when you are not even practicing the sport itself. Particularly when sports like running or skiing put extra pressure on the knees to support each landing, it puts you at risk for wearing out the cartilage, tissue, and other aspects which keep the knee stable.
2. Shoulder. For those who are baseball pitchers or tennis players, overusing the shoulder can lead to the stiffening and eventual pain in the shoulder. You might cause the rotator cuff to get inflamed or the cartilage to wear off and contribute to osteoarthritis. As a result, you might feel an aching, sore sensation, which is not pleasant to experience at all.
3. Hip. Similar to knee pain, activities which require the mechanisms of the hip can cause the specific area to wear and tear, even become inflamed through tendinitis. Activities such as running especially put pressure on the hips to push the individual forward, and so having stiff hips due to improper warmup can create not-so-great consequences. Women are especially more likely to develop hip pain since their body has limited hip range compared with men's.
4. Ankle. While a relatively-small part of the body compared with the ones previously discussed, injuring the ankle by breaking or spraining it can lead to the joint pain. You might have taken it for granted, but now you realize just how important it is to get about everyday life with a perfectly-functioning one. Certainly not a great pain to hurt yourself, that is for sure.
Strategies to relief joint pain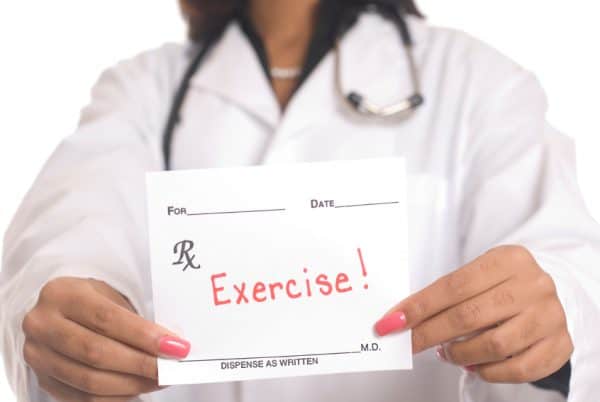 Now that you have an idea of what could cause joint pain, here are some ideas to relieve and otherwise eliminate it:
1. Supplements. If the condition is not too severe, then taking joint supplements can help to temporary relieve the pain, as long as you purchase a trusted brand product and follow instructions and recommendations.
2. Injections. For more chronic pain, sometimes injections can help create a sort of cushioning on the joints, also giving you temporary relief. Of course, you will need to consult your doctor on this, and have them administer the injection professionally.
3. Physical therapy. Similarly, physical therapy can be a solution to chronic pain. Granted, it can take a while (several months), along with plenty of visits to the professional but, by going regularly and committing yourself to the activities to curb the pain, you can ensure that the condition will improve over time.
4. Surgery. Under extreme circumstances will you have to consider surgery. Personally, we do not recommend it as the "ultimate solution" to your problem, but consult with your doctor to see if it will benefit more than it will harm.
Overall, joint pain is not a pleasant feeling, let alone something you want to get. However, by recognizing its cause and symptoms, and taking the steps to relieve it, you can ensure a smooth and efficient recovery.
FAQs
Are these supplements for young or old people?
All of the supplements on this list are designed to benefit persons of any age or gender. The benefits are universal and age-independent. The younger you can begin to protect and fortify your joints, especially for young athletes, the sooner you can prevent degenerative joint conditions from developing.
Where are the ingredients sourced from?
All ingredients contained in these products are sourced from their natural producers. All active ingredients are naturally occurring and completely safe to ingest.
What is the shelf life of these supplements?
Each product has an expiration date at least three years from purchase.
Are all of these supplements vegan?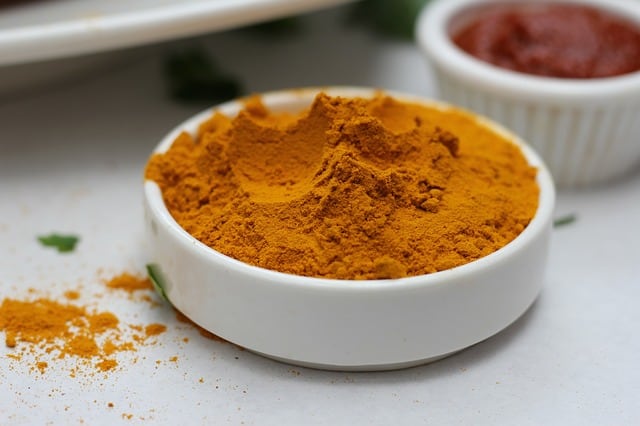 No, there are multiple supplements on this list that do not comply to vegan standards. These products contain key ingredients that are sourced from bovine and shellfish.
How quickly until effects should be seen?
Typically, effects from begiining one of our joint supplements should be experienced within two weeks from beginning a regimen. As discussed, maintaining a healthy diet and active lifestyle, while also stretching and drinking plenty of water can help to ensure these results will be seen in as little as two weeks.
Glucosamine Sulfate Vs. Glucosamine HCl?
Most research points glucosamine sulfate as more effective active ingredient. All of our products use this form of glucosamine, as none report to have any glucosamine HCl present iwthin their supplements.
How to best take turmeric?
As many readers have probably read elsewhere, when supplementing with turmeric to reduce inflammation and pain, adding in black pepper extract and healthy fats can help to increase absorption and effectiveness. Some of the top picks on our list include these ingredients, so make sure to check for these ingredients of you would like to try these products.
Do any of these products cause skin discoloration?
As reported by some products with turmeric or other root extracts, none of our products have ANY reported cases of skin discoloration or alteration, and in fact are mostly safe of side of effects.
Subscribe to our Newsletter