Best Vitamin D Supplements Reviewed and Compared
Disclosure: We use affiliate links and may receive a small commission on purchases.
You've been hearing about vitamin D since childhood. The importance of it throughout your infancy, child, teenage and adult life has been blasted at you through ways that you might not have even realized.
The availability of vitamin D in your everyday intake was easy to come by, and no one could really play dumb if they didn't have enough vitamin D. It came in commercials with the combination of sugary cereal and footage of an apple to maintain a balanced, healthy diet. It was spread all over the Got Milk? ads of the 90s, that we need vitamin D and milk for strong bones, teeth and muscles. We also heard about it and its connection with calcium and also how extremely important it was for our bodies.
Our Top 3 Picks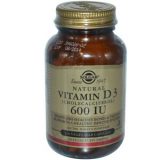 Solgar, 600 IU

Our rating
Mood boosting properties
Price:

See Here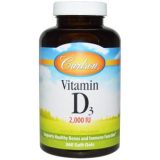 Carlson Labs, 2000 IU

Our rating
360 capsules
Price:

See Here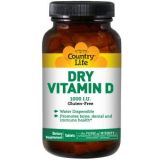 Country Life, 1000 IU

Our rating
100% gluten free
Price:

See Here

What Is Vitamin D?
If you are interested in incorporating Vitamin D into your existing vitamin supplement plan, you should most certainly understand what precisely it is first and foremost. To begin, Vitamin D is a chemical make-up that the tissues in our body utilize in order to unlock "DNA blueprints" of which each tissue contains and that are highly required for the cells in our body to start to begin producing all sorts of countless biochemical features that are needed for everyday functions.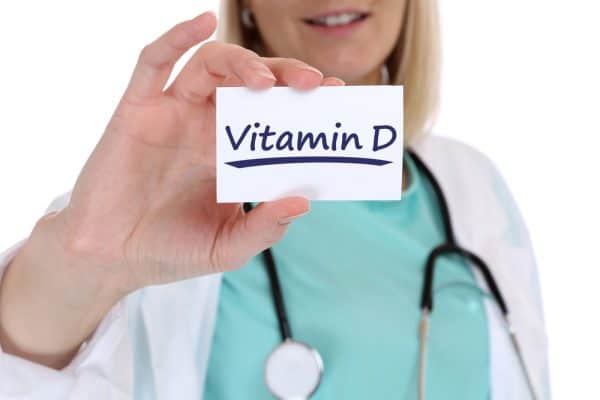 Why Do Our Bodies Need Vitamin D?
This is a fairly common question that is all too often asked when people begin to consider adding daily doses of vitamin D into their supplements routine. The answer in itself is quite easy; we need to take vitamin D supplements due to the fact that each and the tissue within our body actually requires vitamin D and it simply won't properly work if we do not take enough vitamin D regularly. In some of the most drastic cases, vitamin D deficiency has been well known to cause rickets in young children as well as osteomalacia in adults. Additionally, there are several other underlying conditions that can be caused by a vitamin D deficiency, of which include: multiple sclerosis, diabetes, various different forms of cancer, high blood pressure, cardiovascular disease and even issues during pregnancy.
10 Best Vitamin D Supplements
1. Solgar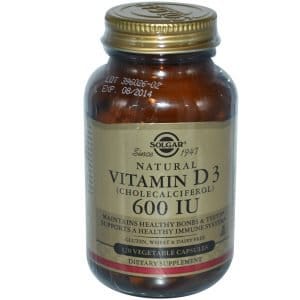 Type of Vitamin D: Vitamin D3

Our number one on the best vitamin D list! The best option according to us is by Solgar. The all natural, gluten-, wheat- and dairy-free product contains 120 vegetarian capsules to boost your Vitamin D levels!
Expand to see more
Not only does the product contain a lot of capsules (a lot more than most), it also has these other aspects that put it at number one.

This particular product of vitamin D is also kosher approved. It is a perfect dose to boost your mood and be effective in all the right places without being too powerful!

Unfortunately, and this is the only kicker, it is not always found locally. But since you're finding out about it online, through us, you can reap the benefits of having the availability right here at your disposal!
Vegetarian capsules
Gluten free
Dairy free
All natural ingredients
2. Carlson Labs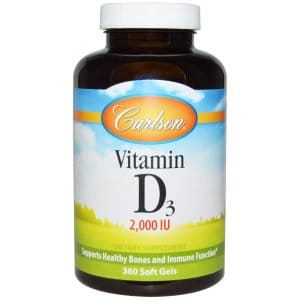 Type of Vitamin D: Vitamin D3

Containing 360 soft gels, Carlson Labs brings out one of the best Vitamin D supplements that completely blows most of the other ones out of the water. This particular product is gluten, milk, preservative and casein free! It is also FDA regulated.
Expand to see more
It's price is super affordable and it counts in the lowest ones on the market. That is one of the benefits that come with advising our columns and lists, you will get the best price through our sources!

Carlson Labs Vitamin D3 soft gels are easy to swallow, come at a great price and are back with lots of quality behind the brand name! We can only say: what more could you ask for?!
360 soft gels
Gluten free
Preservative and casein free
Not suitable for vegetarians
3. Country Life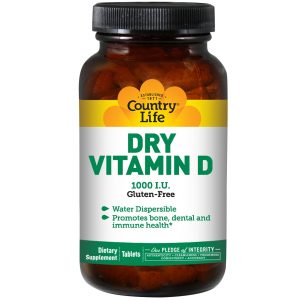 Type of Vitamin D: Vitamin D (ergocalciferol)

This vitamin D supplement has made it into our top three list for a variety of different reasons. Though our exclusive list is based on many things, the combination of price, quality, review responses, and effectiveness take extremely high factors in the making of the order.
Expand to see more
But, Country Life had made our number three because this 100 vitamin d tablets container is completely gluten-free. Though it might be easy to find an efficient vitamin D supplement (especially on our list), the fact that it is gluten-free, vegetarian and kosher approved just puts the supplement at the top.

Country Life's product is also water dispersible and has its history backed behind it, almost forty years of it. It is also very effective in getting blood and calcium levels where they need to be.
100 capsules
Gluten free
Vegan capsules
4. Thorne Research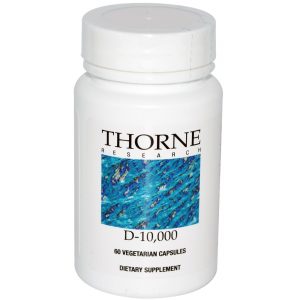 Type of Vitamin D: Vitamin D-3

This vegetarian, hypo-allergenic supplement is one of the most pure forms out there. It is lactose free and has no hidden ingredients that most of these supplements contain. These caps help your immune, heart and bones.
Expand to see more
It is highly recommended for those with Vitamin D deficiency and is known to really boost your levels when you need it the most. The response from Thorne Research's vitamin D caps are innumerable and positive.

Most of those who had taken these particular vitamins had seen a steady, strong spike in their vitamin D levels that they completely accredit the supplement for.
Vegan capsules
Energy booster
Lactose free
Powder capsules which do not dissolve in water
5. Now Foods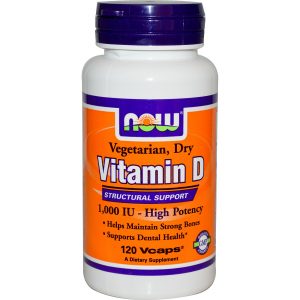 Type of Vitamin D: Vitamin D2

Now Foods Vitamin D supplements come with 120 caps, and is really one of the best options for your money that you will find. Coming at an affordable price, the Now Foods Vitamin D supplement is a hard to beat product. But on top of that, the supplement is also vegetarian, vegan and GMP Quality assured.
Expand to see more
It is also different than the other supplements on this list because it is a Vcap rather than a pill.

Your body will respond well with the all natural ingredients, instead of taking risks with supplements that might contain ingredients you have never heard of or which your body doesn't take very well.
Vegan capsules
Affordable price
120 capsules
6. Nature Made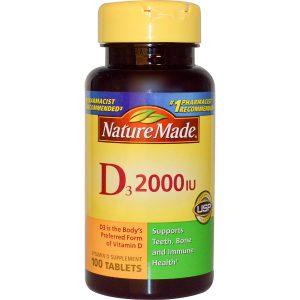 Type of Vitamin D: Vitamin D3

This Vitamin D Supplement branded by Nature Made IS the number one pharmacist recommended.
Expand to see more
Though it isn't number one on our list, it still has everything it needs to be on our top 10! Setting itself up for extreme success in the most variable forms, it contains absolutely no preservatives, yeast, is gluten-free, and has no artificial colors or flavors.

Like most of the Vitamin D Supplements on this list, it boosts bone health and your immune system. It also is great for the health and strength of your teeth.

The product holds 100 tablets that go down easy for simple ingestion to get your proper levels of vitamin D.
Yeast free
Gluten free
No artificial colors or flavors
Those sensitive to maltodextrin should use it with caution
7. MRM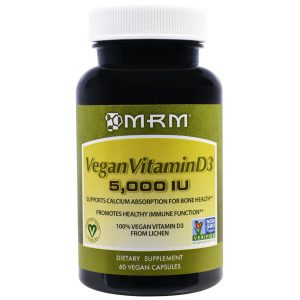 Type of Vitamin D: Vegan Vitamin D3

These caps do everything a good Vitamin D supplement needs to do. What pushes them apart from the other products available out there is that they are also certified vegan!
Expand to see more
The MRM supplement is great for calcium absorption and most vitamin D benefits. This particular product, however, is that it is Non-GMO verified and GMP certified. It goes beyond just calcium benefits--like supporting bone health and it boosts your immune function.

A fun fact when deciding which vitamin D to choose, vitamin D3 is actually proven to be more effective than D2. Most D3 supplements are also perfect for vegans and vegetarians looking for a healthy Vitamin D supplement.
Plant based
Boosts immune system
Great for calcium absorption
8. Life Extension with Sea-Iodine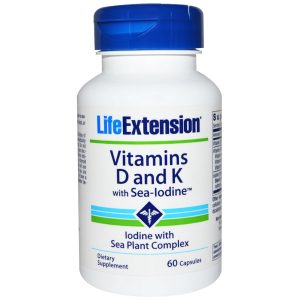 Type of Vitamin D: Vitamin D3 as cholecalciferol (and K(K1 and K2))

This 60 capsule infusion is a bit pricier than the others, but it contains two different type of vitamins!
Expand to see more
The fact that you can get two kinds of vitamins for the heftier price of one puts Life Extension's product on our list of top ten. Not only does it supply vitamin D for all those benefits that come with it, it comes with vitamin K, which is responsible for blood clotting, and helpful for the symptoms of morning sickness.

These supplements from Life Extension will transfer energy from the sea straight to your body! It contains Sea-Iodine as well. Get ready to keep fatigue away and add the vitamins you need back into your body.
Has vitamin K
Recommended for blood clots
Energy booster
9. Healthy Origins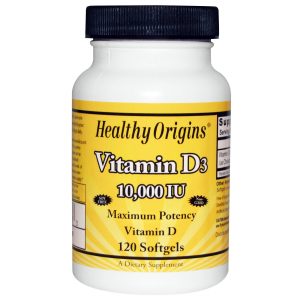 Type of Vitamin D: Vitamin D-3

We put this supplement above the others because you are getting more bang for your buck. This container comes with 120 Softgels of vitamin D at an incredible price.
Expand to see more
A lot of these supplements can be found at a low price, but not many have over 100 capsules. But this one by Healthy Origins offers your one hundred and twenty!

They go down easy, are tasteless and scentless. The brand, Healthy Origins, is a quality name that brings the ingredients that you need for the product to be most effective.
120 softgels 
Inexpensive
Testeless and sentless
Not suitable for vegetarians
10. Source Naturals EpiCor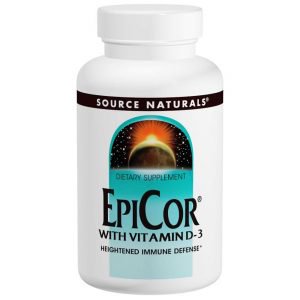 Type of Vitamin D: Vitamin D-3

Source Naturals brings us a 5-star vitamin D supplement that will help you boost and support your immune system. Though most of these supplements brag about these specific benefits of vitamin D, Source Naturals has the brand to back up the assumptions.
Expand to see more
These supplements are great and effective during those winter months. At this time of the year, an extra immune system boost is extremely necessary and goes hand in hand with a supplement that already brings you the vitamin D you've been missing from the sun.
Boosts immune system
Great for your skin
Recommended for the Winter season
Benefits and Uses
As you are probably very well aware by now, Vitamin D can be produced within your body through mild sun exposure or by the consumption of food or vitamin D supplements.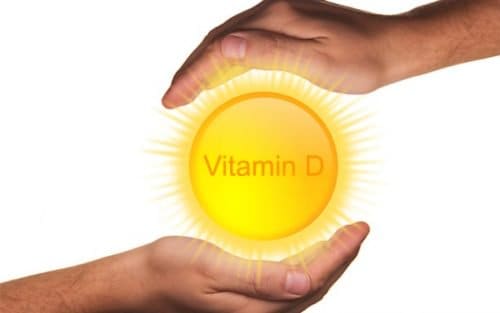 Getting the adequate vitamin D intake is essential for calcium management along with phosphorus absorption in your body, along with ensuring the overall maintenance of keeping your bones and teeth healthy. It has additionally been noted to help supply your body with an overall preventative effect against many different diseases and a number of other health-related conditions such as type 1 diabetes, cancer, and even multiple sclerosis.
There are a number of other roles that Vitamin D plays within your body. Some of these incredibly wonderful benefits include, but are most certainly not limited to:
Helping to maintain the health of your bones
Helping to maintain the health of your teeth
Supporting the overall health of your immune system, brain, and your nervous system
Regulating insulin levels
Helping to manage diabetes
Supporting your lung function
Supporting your cardiovascular health
Influencing the expression of the genes of which are involved in the development of cancer
Prior to beginning or changing up your already existing or brand new daily supplement regimen, you should be quite well aware of some of the main key facts regarding some very useful information of which pertains to vitamin D:
The primary role of vitamin D is to simply support the overall development and maintenance of healthy bones and teeth. Those with fair skin who have experienced exposure to the sun with their entire body can take in upwards of 20,000 IU's vitamin D3 within a mere 20 minutes alone!
Vitamin D deficiency is actually quite common. And is the most often experienced in infants, the elderly, those with a darker complexion and people who currently reside at high latitudes and those who get very little exposure to the sun altogether.
Vitamin D deficiency his noted to be found in upwards of 80% of patients who have suffered from hip fractures. A mere 800IU of vitamin D each day can significantly reduce the overall risk of experiencing fractures by at least 20% in elderly people and also greatly decreases the risk of falls.
A mere 800IU of vitamin D each day can significantly reduce the overall risk of experiencing fractures by at least 20% in elderly people and also greatly decreases the risk of falls. Vitamin D's actual metabolism has been noted to be hindered by certain medications, including, but not limited to Dilantin, barbiturates, isoniazid, phenobarbital, and statin drugs.
Next, we will proceed with exploring all of the best, potential health benefits of vitamin D. Which can range from assisting excellent bone health to possibly preventing certain types of cancers!
It has also been noted time and again that a vitamin D deficiency in young children can actually cause rickets. Rickets is a disease that can be described as a drastic bow-legged appearance of which is triggered by an impairment of mineralization and also the softening of the child's bones as the child is growing. Vitamin D deficiency in adults can manifest itself into osteoporosis or osteomalacia. Osteomalacia is the result of a lack of bone density, along with muscle weakness and has been known to cause minuscule fractures among one's spine, femur or humerus. However, it is actually osteoporosis that is the most commonly known bone disease and is linked most notable amongst older men and post-menopausal women.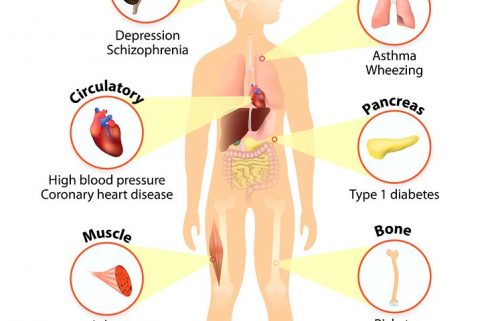 While bone health is often one of the most commonly referred to health benefits of the adequate daily consumption of vitamin D by way of either sunlight, supplements or even foods, there has actually been numerous observational studies of which have suggested an direct link between the blood concentrations of vitamin D within our body and overall risk of type 2 diabetes. With type 2 diabetics, decreased levels of vitamin D have actually been noted to have a negative effect on the secretion of insulin as well as glucose tolerance. And, in one study, infants who were given 2,000 IU/day of vitamin D actually had an 88% decreased risk of the development of type 1 diabetes by the age of 32.
Women who are currently pregnant can also reap the excellent benefits of vitamin D as well. For instance, women who are vitamin D deficient were noted to be at an increased risk of the development of preeclampsia which later required the need for a cesarean section. Additionally, vitamin D deficiency was also shown to be associated with gestational diabetes mellitus and even bacterial vaginosis in women who are pregnant. While there are a significant number of excellent benefits associated with vitamin D supplementation during pregnancy, it should also be noted that vitamin D levels that were too high during pregnancy were shown to be linked with an increase in the development of food allergy's of the child during the first two years of his or her life. If you are pregnant or are planning on becoming pregnant, it is essentially important to speak with your health care physician or midwife regarding the safest amount of vitamin D that you should be taking for the overall health and well-being of both yourself and your unborn child.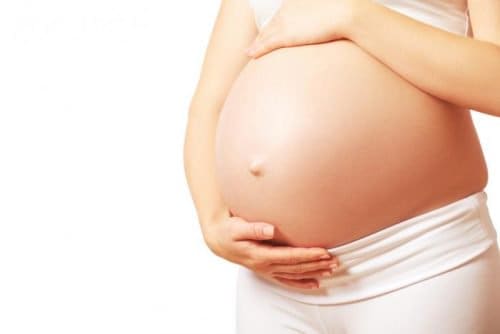 Vitamin D has so many incredible benefits to aid and assist your body in staying healthy and strong. If you are seeking to incorporate vitamin D into your health regimen be sure to always opt to select the purest supplements that are free of any and all binders and fillers. And if you have any questions or concerns, be sure to reach out to your doctor or healthcare provider for more answers and insight.
Vitamin D Sources
A solid source of Vitamin D is the sun, and in most cases, we get our supply of it from the sun rather than milk. That is also why the most cases of Vitamin D deficiency occur during those winter months, where in some cases, some inhabitants of rainy, snowy, overcast cities, can truly witness their body intake of Vitamin D plummet. Fortunately, there are Vitamin D enriched food and supplements.
Some of the Vitamin D that you need on a daily basis can be found in oily fish–like sardines, mackerel and salmon, egg yolks, red meat and liver, and in some breakfast cereals. Of course, many also get their fill of Vitamin D in fortified milk.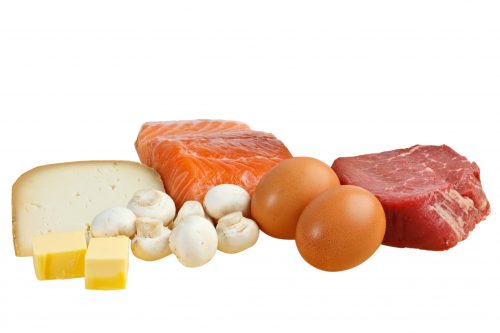 Supplements of about 10 mcg daily for those winter months are usually suggested and recommended. Interestingly enough, it is also suggested that those with darker skin should also take the supplement no matter what the weather is like outside! Those with darker skin are one of "people groups" that might be associated (but not directly cause/affect related) with low vitamin D levels.
Like everything else, too much consumption of Vitamin D can lead to some pretty bad things. For instance, too much calcium in the blood can have negative effects on the heart and kidneys. It can also actually weaken the bones instead of strengthen them. As always, your doctor knows best, and will know the perfect amount for you to take (if you need to take them).
Criteria for Evaluation
People around as recommend things all the time. If you look around, from Youtube tutorials to blogs to even news articles, there are recommendations everywhere and it makes you wonder. How did they go about recommending this? What did they evaluate? Well, the same goes for supplements and this section covers the criteria for evaluation of these health supplements. In simpler words, this section will cover every aspect of product recommendation starting from product testing, to user ratings and even ingredient safety – we cover it all and tell you "why" we chose these particular products.
Product testing
A crucial part of recommending any product, it is as simple as the title is. The products are tested out one at a time to assess just how effective they are and how close to they are to the claims they make. As we know, most products come with various claims that not only help them in marketing but are also of value to various customers. By testing the product before we recommend them, we check just how true to the word they are and if they are reliable. For example, the Solgar 600IU vitamin D supplements claim to be gluten free and dairy free. Also, another example is the Now Foods 1000IU vitamin D tablets where they sell with the "affortable" tag line. It is claims like these that we assess and take into consideration before we recommend anything.
User Reviews and Ratings
As consumers, we conduct thorough research before purchasing even the most mundane of invaluable of things. We put time into finding out about cars or clothes or even items of adornment but when it comes down to items that are meant for consumption and are supposed to go "inside" the body, somehow, we manage to find ourselves at a lack of time or even are disinterested in it all together. However, it is a crucial part of investing in supplements and we make that easy for you. By analyzing the hundreds of reviews and ratings that are associated with various products, we bring to you a condensed version of the best products out there.
Also, different people react to products in multiple ways. Thanks to the tabulation of various reviews and ratings, we can estimate just how well or badly people but react towards a specific supplement. It is this aspect that we take into consideration and then recommend products that have fared well with majority of individuals. Furthermore, to form our very helpful pros and cons list, we actually separate these reviews into lists that help the consumer. We look out for pros like vegan and vegetarian friendly, gluten free products to cons like extremely expensive or even lack of availability.
Side Effects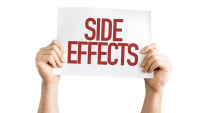 When it comes to dealing with healthcare supplements, one thing is obvious. Even the safest of things can have a potential for side effect. However, we try and recommend those products that are safe and least harmful. Also, all bodies react differently to products, as states above. Allergies and even side effects from the product itself can take place. Another factor that many people do not consider when using supplements is that even though they are natural, if not used correctly, they can be dangerous.
The majority of products are safe when used in safe levels however, very high levels of doses of anything can be dangerous and give adverse effects. Common side effects experienced and related to vitamin D are allergic reactions such as  itching, tongue or throat swelling, a dizzy feeling, breathing issues, hart rhythm anomalies. Some rarely seen effects consist of dry mouth, vomiting, weakness, low energy or even fatigue.
Manufacturer's Reputation
Another major part of our background research consists of looking into the manufacturer's reputation before we recommend anything. It is important to us to know how well known a brand is and what kind of reputation it holds in the market. We gave priority to those brands that take into consideration customers' needs and their health. Brands such Solgar, Carlson Labs, Country Life, Thorne Research, Now Foods, Nature Made, MRM, Life Extension, Healthy Origins, and Source Naturals are to be found on our list for the very reason we just mentioned.
Supplement Safety
Even though most supplements are harmless, it is not possible to know how any two bodies may react to a product. We make certain to recommend brands and products that are certified and produced in the best conditions, however, we also say that is best to consult a doctor or pharmacist before starting a new regimen of products. They will not only be able to discuss the safety profile of the product but also how to best use it.
Ingredients and Their Effectiveness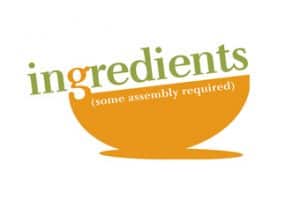 Since Vitamin D is naturally sourced in edible food, extracted vitamin D is considered safe as well. Most products that have Vitamin D as the main ingredient also consist of other secondary ingredients that are crucial for the stability and form of the product. The other ingredients are beneficial like potassium or sea iodine that give additional benefit. Also, included in the products are ingredients like gelatin, glycerin, water and many others. Most of these ingredients depend on the dosage form. Please view the provided links for each product to get a comprehensive look at the ingredients inside it.
Some of the common dosage forms in which vitamin D supplements are available in are tablets, capsules, liquids, and softgels. In addition, to understand the effectiveness of any product, looking at product reviews and even using it yourself will give you the best idea. Scrolling up will also give you natural sources of Vitamin D that you can incorporate in addition to the supplements. Our product list consists of vitamin D options that actually guaranteed health results to users.
FAQs
Q. Where Does Vitamin D Come From?
The most notable source of vitamin D is actually your very own skin. A particular chemical make-up is naturally found in all layers of your skin. This then gets converted, via exposure to the powerful UV-B radiation, then to Vitamin D3 (aka cholecalciferol). Interestingly, we can only create this certain form vitamin D when our skin gets exposed to UV-B radiation. Which is why if we tend to spend all of our days inside or only go outside in the early morning or late evening, then we ultimately do not get ample levels of ultraviolet radiation from the sun that is required to formulate enough vitamin D that is needed for our overall sense of health and well-being.
Q. Does the Location of Where you Live Matter?
Interestingly, yes. The general latitude where one resides actually plays a vitally important role in terms of the overall production of vitamin D and how your body will accept and process it. For instance, those who live in the more northern latitudes actually have significantly fewer options to create vitamin D due to the fact that during the winter (even midday, when the sun's rays are the strongest) the light of the sun is actually so very weak that it simply does not produce significant levels of vitamin D synthesis within our skin.
Q. How Long Should you be Outdoors to Receive the Benefits of Vitamin D?
This is a tricky question and in all honesty, there truly is no one correct answer to it. Generally speaking, a fair-skinned person, who is wearing a bathing suit, will create roughly 15,000 IU of vitamin D in about 15–20 minutes in July at the peak of the midday. While darker-skinned people can equally do the same and create the same amount, it takes them double the time to do so.
Q. How does Sunscreen Effect Vitamin D Production? And the Risks of Skin Cancer?
It should, of course, be noted that sunscreen is invaluably important when it comes to protecting your skin from both sun damage, overexposure and most importantly, skin cancer. While sunscreen helps to block out UV-B radiation, it, in turn, prevents the creation of vitamin D. Brief exposure to the sun is most certainly required in order to actually be able to produce adequate vitamin D, and it is not enough to lead to any risks of the development of skin cancer. If for any reason you find that you are still worried about the skin cancer risk, be sure to apply sunscreen following the first 15 minutes of sun exposure.
Can I get vitamin D from foods?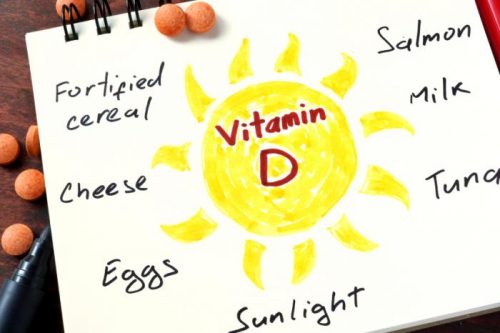 For the most part, the answer is yes. However, you may find that you are plain and simply not getting enough There are of course quite a few natural exceptions of which include, but are not limited to wild caught "oily" types of fish, and certain mushrooms that have been sun-dried. Vitamin D is also added to a number of different foods, such as yogurts, cheeses, breakfast cereals and certain orange juice. Be sure to always check the label to find out how much is present in the food of your choice.
Q. How Much Does My Body Require?
Your body requires at least upwards of 4,000 IU each day in order to maintain a healthy, strong body. Interestingly, due to the fact that the vast majority of us do not get ample amounts of exposure to the sun, the small amount of vitamin D that we receive in that way, along with food sources, becomes equal to no more than roughly 2,000 IU/day. With keeping that thought in mind, in order to reach the body's daily requirement of at least 4,000 IU per day, the vast majority of adults in the region of North America should, in turn, be taking supplements that can provide them with at least 1,000 to 3,000 IU each day.
Q. How can I Tell if I Need Vitamin D?
This is yet another great question for a very good reason. To start, is should plain and simply be noted that the chances that you do in fact require more vitamin D are super high. The vast majority of youths and adults in the regions of both North America and Europe require additional vitamin D in their systems to maintain optimal health
Q. How can I be sure what kind of vitamin D is in my supplement?
If the supplement that you are taking is vitamin D3, the label will typically and quite clearly specify, "vitamin D3" or what is noted as  "cholecalciferol." If it does not clearly show you, be sure to ask your local pharmacist or healthcare provider. If they simply can't locate the correct information, then be sure to reach out and reach out to the manufacturer of the vitamin D supplement or better yet, simply switch over to a vitamin D product of which can provide those vitally important details.
Do Vitamin D Supplements Expire?
Vitamin D supplements most certainly expire. The expiration date of the vitamin D supplement will, in fact, be printed on the label. Prior to purchasing, be sure to take a look for the expiration date and use the product only while it is still fresh. It should, of course, be noted that the term "expire" simply means that the vitamin D supplement has lost some of its unique potency. If you have found that you have accidentally consumed an expired vitamin D supplement, there is most certainly no need to panic. You will be just fine, however, you may no longer be receiving as much of the IU as the label specifies.
Decision Time
Vitamin D is an extremely vital component in our bodies that we need constantly. Through either natural forms or through direct sunlight, we can obtain the amount of it that we need. However, there are times where the sun is not so prevalent, or we just don't get enough of the levels that we need from the food we consumer.
For this, there are dietary Vitamin D supplements. We hope that this guide will make your decision and buying experience easier and quicker. Not only is this an extremely important part of maintaining your overall health, these supplements (and vitamin D in general) can help you in ways that you might not have even realize you needed.
Subscribe to our Newsletter