Best Eye Drops Reviews, Comparison and Ratings
Disclosure: We use affiliate links and may receive a small commission on purchases.
There are many eye problems and most of them, have an eye drop product as a solution; from eye dryness, conjunctivitis, cataracts, red eyes, allergies to eye strain. Determining the specific eye problem will help you to get the right kind of eye drops to meet your particular needs. Eye drops are available as over-the-counter and prescription-only medications. Most of the products that we have reviewed can be purchased without a prescription. However, we recommend that you should first consult your doctor to determine the extent and severity of your eyes' problem and also, to determine the best treatment and dosage.
Our Top 3 Picks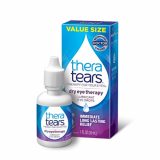 TheraTears

Our rating
Lasting
Price:

See Here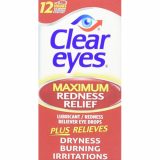 Clear eyes

Our rating
Relief
Price:

See Here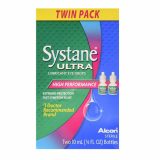 Systane

Our rating
Convenient
Price:

See Here

Types of eye drops
There are different eye drops products, and each serves its purpose. Most common eye drops types are:
Lubrication eye drops
This kind of eye drops provide relief for dry eyes and are also known as artificial tears. They work by supplementing natural tears, preventing evaporation of tears and creating a lubrication film on the surface of the eyes.
Red-eyes eye drops
Eye drops for dealing with eye redness act by causing vasoconstriction of blood vessels supplying the eyes, thus making them less visible and resulting to brighter and whiter eyes. They are also referred to as decongestant or whitening eye drops.
Allergy eye drops
Allergy eye drops are formulated to reduce the action of histamine in causing excessive inflammatory reactions in the eyes. They are primarily made to treat itchiness and redness of the eyes as a result of allergic reactions.
Eye drops for infections
Conjunctivitis, inflammation of the conjunctiva (the transparent membrane lining the white part of the eye and eyelids), is the most common type of eye infection. Conjunctivitis may occur as a result of allergies, bacteria or viruses. Most conjunctivitis eye drops need a prescription from a doctor and are formulated to treat the specific cause.
10 Best Eye Drops
1. TheraTears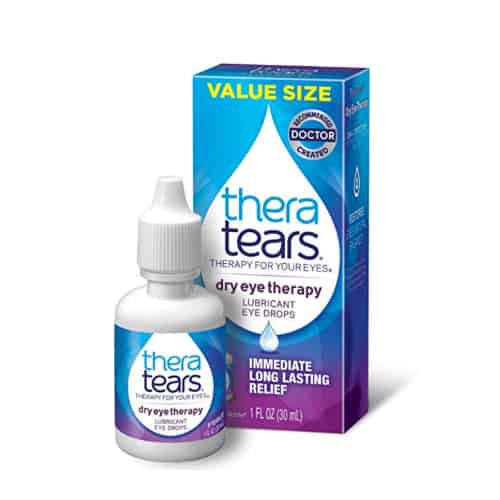 Thera Tears eye drops are primarily used as a lubricant for dry eyes. The active ingredient Sodium Carboxymethylcellulose, together with other ingredients, make a unique hypotonic and electrolyte balanced formula that mimics natural and healthy tears, which relieves dry and irritated eyes. This formula keeps the eyes moist, prevents dryness and infections, and decreases the signs and symptoms of irritation which include burning sensation, itching, and redness. Thera Tears are packaged in a convenient and multiple use bottle that you can use for other purposes after the drops are over.

Expand to see more
Features/Specifications

Used for dry eyes
Active ingredient is Sodium Carboxymethylcellulose (0.25%)
Packaged in 1 or 2 oz bottles
Multi-use bottle
Preservative-free

Price/Value

They are budget-friendly as they are contained in a larger bottle than most other eye drops products and from user reviews, they do last longer. They are also worth it as the formula used is similar to that of the tears, so they do not force the eyes to become watery, but mimic the action of natural tears.

Verdict

Irritation caused by dry eyes can be so uncomfortable that it can prevent you from going on with your daily activities. Thera Tears eye drops have been proved that they effectively lubricate the surface of the eyes and continuously bathe the eye parts, to prevent this irritation. Furthermore, the formula used to make these eye drops is exactly as the elemental composition of the natural tears. The price is also pocket-friendly, and one single bottle will serve you for longer than most other products. The only drawback is that it contains boric acid as an inactive ingredient; some individuals are sensitive to borate.

Preservative-free
Multiple use bottle
Moistens the eyes by mimicking tears
Lasts longer
Effects can be noticed within 30 minutes of use
May cause a burning sensation
Contains boric acid which some people may be sensitive to
2. Clear Eyes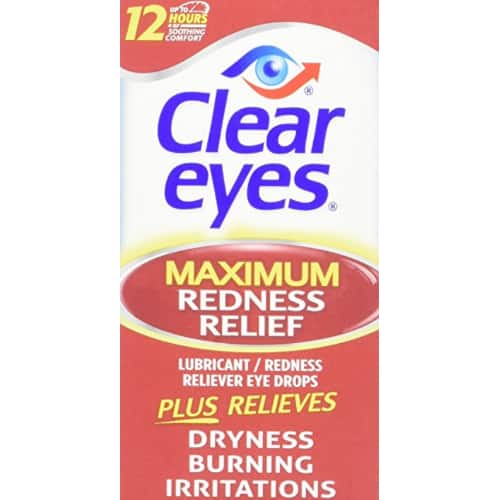 Clear Eyes drops act as a lubricant to temporarily relieve discomfort caused by dry eyes. This product uses glycerin 0.5% as a lubricant and naphazoline hydrochloride 0.03% to relive the redness of the eyes. Glycerin is a well-known demulcent as a well as a humectant that integrates within the oil layer of the tear film, to prevent evaporation and dryness. In addition, glycerin promotes the cellular growth of the eyes and reduces damage to the ocular surface. Naphazoline Hydrochloride relieves irritation by causing constriction of the arterioles of the eyes, resulting in less congestion and discomfort. Therefore, this product is useful for lubricating the eyes, relieving the symptoms of irritation and protects the eyes from further damage.

Expand to see more
Features/Specifications

Primarily for eye lubrication
Active ingredients are glycerin 0.5% and naphazoline hydrochloride 0.03%
Free of preservatives
Available in six sizes
Single dose acts for up to 12 hours

Price/Value

Clear Eyes drops are incredibly easy on the pocket and in the lower price range of eye drops products. Although the bottle is small and has a capacity of only 0.5 fluid ounce, it just requires one to two drops per eye, which can provide relief for up to 12 hours. Some have users have reported that this product may last for two months when minimum dosages are used.

Verdict

This product puts into use glycerin and naphazoline hydrochloride as the active ingredients, which not only lubricate the eyes but also protect eye cells from further damage and cause regeneration of damaged epithelial cells. Clear Eyes also stands out as it provides relief after few minutes of use and the effects can last for up to 12 hours. It is also worth considering for its friendly price and proved effectiveness.

Provides relief for up to 12 hours
Free of preservatives
Bottle is small enough to be kept in a purse when
traveling
Positive effects are seen within a few minutes of use
Can last for up to two months
Eyes may burn after a few seconds of application
3. Systane Ultra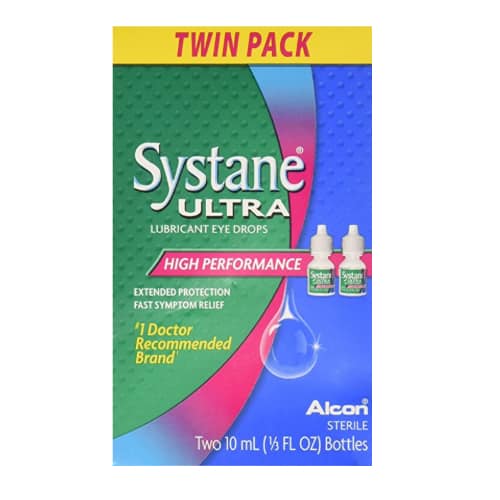 Systane Ultra uses its active ingredients Polyethylene Glycol and Propylene Glycol to lubricate the eyes. These two compounds are demulcents that are soothing and add volume to the tear film, to provide relief. It is a bit thick compared to other products, and it binds to the cornea surface with its gel-like consistency. Therefore, it provides relief actions for a more extended period. The layer that it forms on the cornea surface is also beneficial in that it provides a protective shield from infections and allows repair of damaged cells. The combination of the active and inactive ingredients results to a pH that adjusts to that of the natural pH of the eyes thus it has minimal burning sensation when administered.

Expand to see more
Features/Specifications

Primary usage is for lubrication of dry eyes
Active ingredients are Polyethylene Glycol 0.4% and Propylene Glycol 0.3%
Provides a long-lasting effect due to its gel-like consistency
Each package has two bottles, each 10mls
Has a different convenient package with two bottles, one is 10mls and the other 5mls
The larger bottle can be used at home while the smaller one can be carried when traveling

Price/Value

Systane Ultra is pricey, but it is worth the pricing. You will find that one drop can last you for a whole day and the packaging has two 10mls bottles.
 
Verdict

Though pricey, it is totally worth, especially if you have severe or chronic eye dryness. Its two active ingredients give it a thick consistency which covers the tear film and slowly prevents dryness and irritation. One or two drops are enough to relieve the eyes for a whole day. For these reasons, Systane Ultra is a great value product.


Long lasting effect
Has a convenient 'Home and Away' pack
Less negative side effects
The cap closes better thus no risk of leakage
More comfortable to use
4. Opcon-A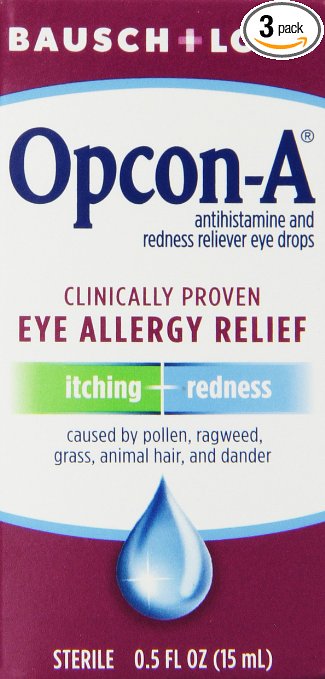 Opcon-A eyedrops are used to mainly relieve eye allergy caused by pollen, ragweed, grass, animal hair, and dander. It contains antihistamines which act by blocking the action of histamine (a compound that is part of the immune system which flushes allergens out of the body system). At times, histamine overreacts, resulting in allergic signs and symptoms. Naphazoline Hydrochloride, an active ingredient of this product synergizes the action of the eyedrops by causing constriction of the blood vessels of the eyes thus diminishing itching, irritation, and redness caused by an allergic reaction.

Expand to see more
Features/Specifications

For relieving eye allergies
Active ingredients are pheniramine maleate and naphazoline hydrochloride
Available in two packs either as a pack of 3 or a twin pack

Price/Value

They are moderately priced and worth buying considering that they are one of the few eye allergy products. Moreover, the eye drops come as a package of three or two bottles, making a total of 10 or 15mls of each package. The different bottles lower the risk of contamination and allow you to have separate containers for home use and when traveling.

Verdict

If you have any eye allergies, then Opcon-A eye drops are a good selection, though they act only for a short period (4 hours), they act fast to relieve symptoms. Actually, that is how allergy relievers should work. They also clear redness of the eyes and leaves them glowing white and compared to other products, Opcon-A does not make the eyes look watery.

Helps in dealing with allergies
Clears redness of the eyes
Fast action
Does not cause eye wateriness
Soothes the eyes
Can be used when anticipating unavoidable exposure to a potential allergen
Mild burning when first applied
Relieves the symptoms for only 4 hours
5. Bausch + Lomb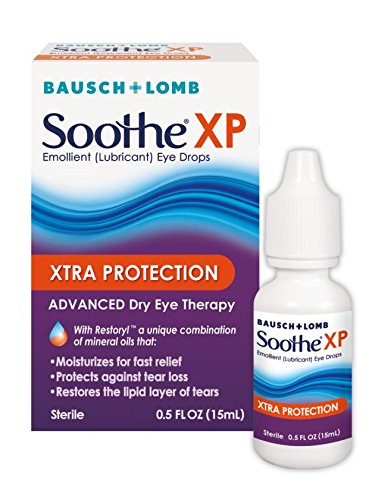 Soothe XP is an eye drops product that provides extra protection for the eyes by moisturizing, preventing tear loss and restoring the lipid layer of the tears. Soothe XP uses active emollient ingredients (light mineral oil and mineral oil) to keep the eyes moist and well lubricated. Mineral oil is obtained from distilled mineral sources and is chiefly used as a medical lubricant. It also relieves symptoms of dry eyes, prevents the discomfort of minor irritations caused by exposure to wind or sun, and prevents further dryness of the eyes. This product appears as a milky white solution, and when applied to the eyes, it leaves a milky haze that can cause temporary blurred vision, but just for a few seconds.

Expand to see more
Features/Specifications

For use as a lubricant for dry eyes
Active ingredients are
• Light mineral oil (1.0%) – Emollient
• Mineral oil (4.5%) – Emollient
Contains hydrochloric acid and sodium hydroxide to adjust pH of the product, to match pH of the natural tears
Has a milky white appearance
Available in four sizes

Price/Value

Compared to other 15mls eye dryness drops, Soothe XP is in the higher price range. However, it makes use of emollient mineral oils which have for a long time been used medically as a lubricant.

Verdict

Soothe XP is a product worth considering if you have chronic eye dryness. It not only relieves the symptoms of dryness but also helps in restoring the lipid layer of the eyes, which is what is mostly damaged in people with dry eyes. Therefore, it helps preventing future dryness, and because it forms a layer over the natural surface of the eye, it protects the eyes from potential irritants. Its downside is that it causes a temporary change in vision, but the eyes adjust back in few seconds.

Thick in consistency and has long-lasting effects
Soothing to the eyes
Also relieves itching and pain
Prevents future eye damage
Pricey
Causes temporary blurred vision
6. Alcon Zaditor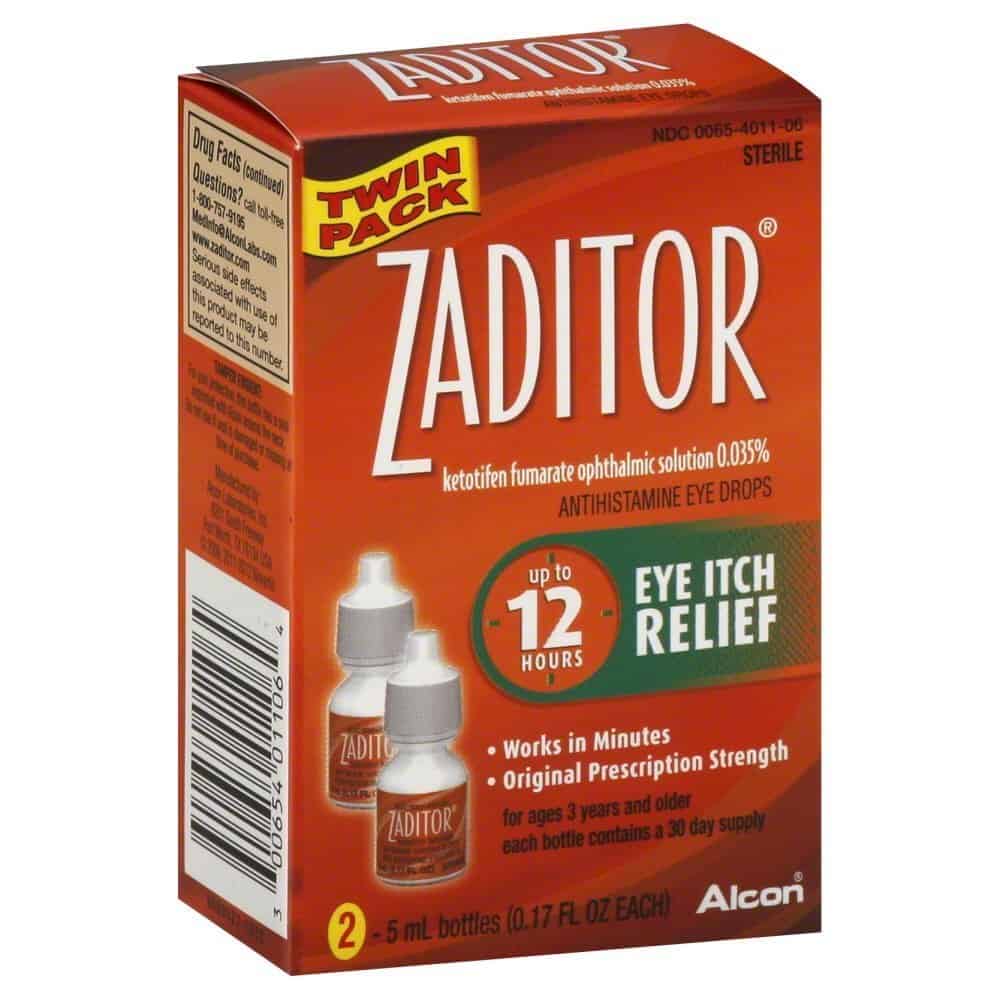 Zadiator uses its active ingredient ketotifen, to relieve eye itchiness caused by exposure to pollen, ragweed, grass, animal fur and dander. Ketotifen is a type of antihistamine that blocks histamine receptors thus reducing the inflammatory chemical reactions in the body. Compared to other allergy-relieving eye drops products, Zadiator does not have a vasoconstrictor as an active ingredient, and can, therefore, be used for children above three years of age. Also, it has a prolonged action time as it can relieve itchiness for up to 12 hours with just one drop. When used before exposure to potential eye allergens, Zadiator hinders the allergic reaction by limiting the release of histamine. Thus, it can be used prior to exposure to potential allergens, when the exposure is inevitable.

Expand to see more
Features/Specifications

For providing eye itch relief
Relief effect lasts for 12 hours
Suitable for children above 3 years
Active ingredient is ketotifen 0.025%
Inactive ingredients include benzalkonium chloride, glycerol, purified water, sodium hydroxide, and hydrochloric acid

Price/Value

Zadiator is a bit expensive, but it is worth the price considering that it relieves itchiness for more than 12 hours, is safe for long-term use, suitable for children above three years and that it acts fast to relieve an allergic reaction.

Verdict

These eye drops are excellent for people with eye allergies as they act fast and have a prolonged action time; a single drop is enough to last you for a whole day. Because it has no vasoconstriction-causing compounds, it is suitable for regular use and for children. This product does not deal with eye redness and may be seen as a drawback, but this is the same property that makes it suitable for prolonged use.

Long lasting effect
Fast action
Suitable for children above three years
Application is only once or twice a day
Does not cause a burning sensation when applied
Safe for short and long-term use
A bit expensive
Takes time to clear redness
7. Rohto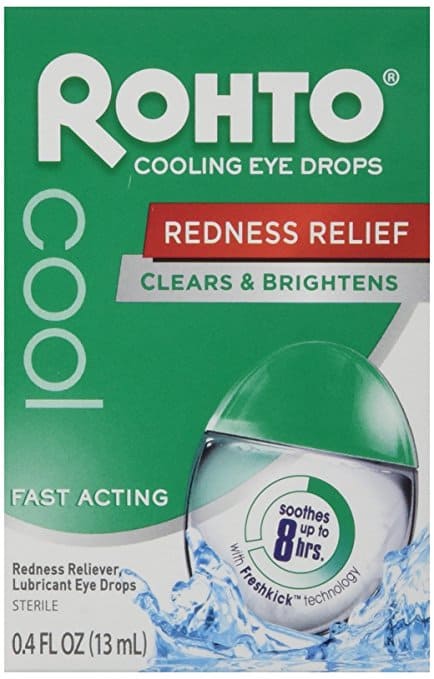 Rohto eye drops clear eyes redness, brightens the eyes and lubricates them. Rohto cools the eyes by using its active ingredients naphazoline hydrochloride and polysorbate 80. Naphazoline Hydrochloride acts by constricting blood vessels that supply eye parts while Polysorbate 80 functions as a surfactant and a lubricant. They act fast and provides relief for up to 8 hours. These eye drops also soothe the eyes that are prone to eye strain, environmental changes, allergens, and dryness.

Expand to see more
Features/Specifications

Primarily for relieving eye redness
Is also an eye lubricant
Acts for up to 8 hours
Active ingredients are Naphazoline Hydrochloride 0.012% and Polysorbate 80 0.2%

Price/Value

Rohto cooling eye drops are reasonably priced for a twin pack with 13mls in each bottle. They are also worth considering that their effectiveness has been proved and that they can be used for more than one purpose.

Verdict

Rohto is the eye drops product to go for if you are primarily interested in clearing eye redness caused by allergic reactions or to lubricate the eyes. Moreover, this product provides prolonged relief for up to 8 hours.

Acts for up to 8 hour
Relieves redness
Brightens and whitens the eyes
The menthol ingredient cools the eyes
Effective for morning allergies
Works well for eye strain
Bottle cap is difficult to open and close
8. Refresh Optive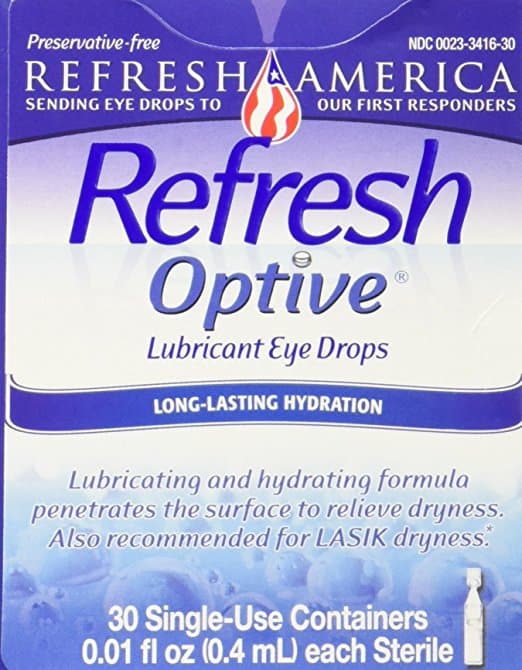 Refresh Optive is an American made product that lubricates and hydrates the eyes. The active ingredients carboxymethyl cellulose sodium and glycerin relieves eye dryness my moistening the cornea and creating a film layer to prevent evaporation. Refresh Optive is also recommended for dryness that comes as a result of a Lasik surgical procedure. It is unique in that it comes in single-use vials that are discarded after administration of the eye drops. This product is also preservative free and is safe to use as often as needed.

Expand to see more
Features/Specifications

Is an eye lubricant
Free of preservatives
Comes in single-use containers
Active ingredients are carboxymethyl cellulose sodium 0.5% and Glycerin 0.9%
Each package comes as a pack of 30 single-use containers

Price/Value

Refresh Optive eye drops are reasonably priced considering that they are more than lubricants. They are recommended for moisturizing dry eyes and endorsed by ophthalmologists for use after an eye surgery.

Verdict

If you have are experiencing eye dryness especially after an eye surgery, then you should consider these eye drops. They are sterile and safe to use after surgery. In addition, they are packed in single-use containers that you discard after use, thus eliminating the risk of contamination and infections. Moreover, the eye drops are free of preservatives, therefore have minimal side effects. The icing on the cake is that this product is pocket-friendly.

Free of preservatives
Low risk of contamination
Moisturizes the eyes
Suitable for use post-surgery
Sterile and safe to use
Bottles are convenient for traveling
May cause itchiness in some rare cases
9. Can-C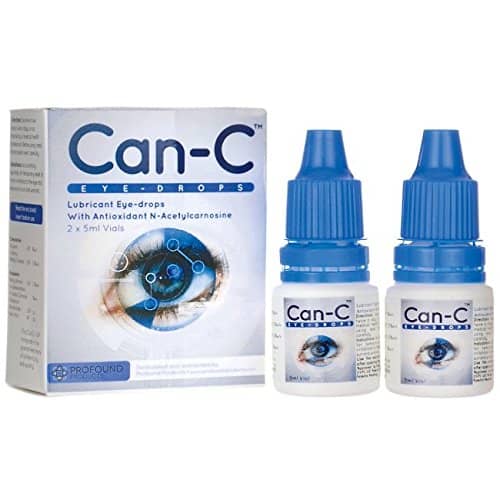 Glycerin and carboxymethyl cellulose are the active ingredients of Can-C eye drops, and they act as a lubricant and moisturizer. Can-C is not only used as a lubricant for dry eyes but also effective in the management of cataracts. One of its ingredients N-a-Acetyl-Carnosine (NAC) which is approved by Innovative Vision Products (IVP), is a highly specific intraocular compound that functions as a stabilizer and an antioxidant that neutralizes oxidative stress caused by free radicals, hence slowing down the progression of cataracts. Can-C eye drops are manufactured in a GMP-certified pharmaceutical facility that follows FDA approved guidelines. Safety and effectiveness are guaranteed, and the eye drops are sterile. They are also hypoallergenic and free of animal products, thus can be used by vegetarians.

Expand to see more
Features/Specifications

Lubricant eye drops
Used to slow down occurrence of senile cataracts
Relieves temporary minor eye irritations
Sterile and hypoallergenic
Free of animal products
Active ingredients are N-Acetyl-Carnosine (NAC) 1.0%, Glycerin 1.0% and Carboxymethyl cellulose sodium (lubricant) 0.3%
Each package has two 5mls vials

Price/Value

Can-C is quite pricey considering that the package comes as two 5mls bottles, making a total of 10mls only. However, the product is worth considering if you have eye dryness and you want to reverse or slow down the progress of cataracts.

Verdict

If you have cataracts, then Can-C eye drops are worth investing in, but it may take you some time before you notice any improvement. The drops will also work best if the cataract is in its initial stages of development. The eye drops can also be used as a dry eye lubricant and to relieve minor irritations to the eyes.

Is a lubricant as a well as an antioxidant
Can be used to slow down age-related cataracts
Hypoallergenic
Suitable for vegetarians
Can be used for both humans and pets
Quite pricey
Cataracts effects take a while to be noticed
10. Similasan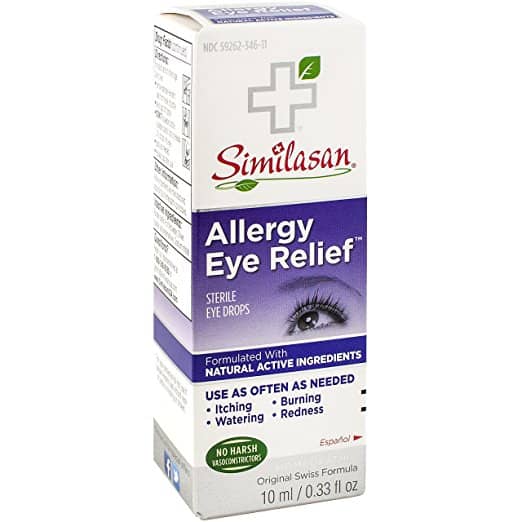 Similasan eye drops are mainly used for allergy symptoms relief. Instead of masking allergic symptoms, Similasan's active ingredients from natural botanical extracts work by stimulating the body's defense systems, to slow down inflammatory reactions to allergens. These eye drops relieve itching, watering, burning sensation and redness of the eyes. They do not have vasoconstriction agents and can therefore, be used as often as needed.

Expand to see more
Features/Specifications

Primary use is for relieving allergy symptoms
No vasoconstrictors
Uses natural active ingredients extracted from Euphrasia and Sabadilla plants
Gluten and dairy free
Comes with single-use droppers
Active ingredients are Apis Mellifica, Euphrasia Officinalis, and Sabadilla

Price/Value

These drops are very affordable and come as a bottle of 10mls, together with twenty sterile droppers to maintain sterility. They are also budget friendly considering that the active ingredients of the drops are extracted from plant sources.

Verdict

If you like natural products, then Similasan eye drops are worth a trial. The active ingredients are obtained from Euphrasia and Sabadilla plants. These ingredients do not mask the irritating symptoms but act on the root cause of the inflammatory reaction. This product does not have any vasoconstrictor as an ingredient, and thus, can be used as often as required. However, note that it is not a purely natural product as the inactive ingredients are synthetic.

No vasoconstrictors
Can be used as often as needed
Uses natural plant extracts
Gluten and dairy free
Suitable for children above two years of age
Minimal preservatives
Suitable for allergies and eye dryness
Comes with single-use droppers
Does not cause burning sensation when administered
Takes a while for results to be noticed
Relieves the symptoms for a short period
Product Criteria for Evaluation
Selecting health products can be tricky, especially if you do not know what to look out for. For eye drops particularly, getting the wrong product can either leave your eyes with the same problem or even worsen the symptoms. To avoid this hustle, we have reviewed ten eye drops products for you. We have discussed their modes of actions and pointed out what each product does. We have also listed all active and inactive ingredients for each product for you to pick out components that may be sensitive to you easily. We have also listed the pros and cons for each, for you to know what to expect.
This is the criteria that we used to select the products;
User reviews and ratings
We combed through online selling platforms and carefully read through user reviews and analyzed user ratings for each product. Note that we considered online platforms that filter their reviews and only included unbiased reviews from verified purchases. We put into consideration products that had the best-detailed reviews and the highest ratings. From the user reviews, we were able to gauge the effectiveness of the products and also to point out effects that may not have been indicated on the product label.
Ingredients safety
Our eyes are precious, and they are what stands between us and the beautiful nature. Therefore, we take the safety of each product that we review, with the utmost importance that our sight and health in general, deserve. We chose products that use FDA approved ingredients and manufacturers who adhere to General Manufacturing Practices (GMP). We have also indicated all the active and inactive compounds in each product, for you to analyze and skip what is not safe for you. Some individuals like their products natural, and so, we included some products that are extracted from natural sources. We also had in mind that some products have preservatives which can cause side effects and sensitivities to some individuals. Thus, we included (though not all) products that are free of preservatives.
Brand reputation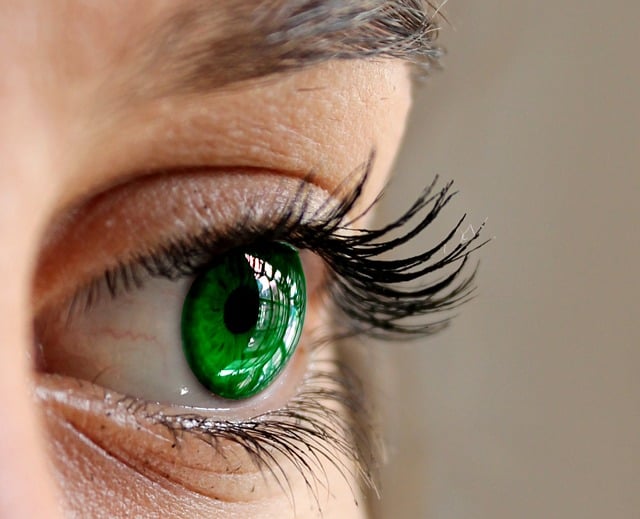 We picked products from manufacturers with a strong reputation for making products that are safe and meet their label claims. For some of the products that we have chosen, the manufacturers have been in operation for many decades while others are well known for making other successful health products. We also considered manufacturers that had subjected their products to third-party testing and scientific studies.
Age suitability
Medication formulation and dosages vary depending on the age of the targeted population. We included products that are suitable for both adults and children. Three of the reviewed products are ideal for children as young as two years. However, we strongly recommend that you should first consult a doctor before administering any medication to a child.
Eye drops uses
Eye drops are an effective way of delivering medications directly to the eyes. Some products are available as prescription medications while others are over the counter medications that you can purchase from pharmacies or online stores. Eye drops are indicated for:
Treating infections such as conjunctivitis
Preventing infections especially before and after surgical procedures
Lubrication and moistener for dry eyes
To relieve signs and symptoms of allergic reactions
To slow down the progression of cataracts
Relieve minor irritations
Brighten and clear eye redness
Cool off the eyes
Rewetting and lubricating contact lens
Possible side effects
Eye drops have some side effects though less serious. The most common side effects include:
Temporary cloudy vision
Stinging/burning sensation within 1 to 2 minutes after use
Mild eye discomfort
Headache and dizziness
Widening of the pupils
Redness of the eyes
More serious side effects are:
Tremors
Irregular heartbeats
Severe headache
Nervousness
Sweating
Weakness
Signs that you may be having an allergic reaction to the eye drops include:
Eye pain and swelling
Difficulty in breathing
Swelling of the face, lips, tongue, and throat
Rash and itchiness
Severe dizziness
If you experience any of the signs of an allergic reaction or any serious side effect, you should stop using that particular product and seek medical intervention. For the less serious side effects, they should subside after a few minutes, but if they persist for more than 72 hours, you should consult a doctor.
How to administer eye drops
Administering eye drops in the right way ensures that the medication reaches all eye parts and also, reduces the chances of introducing disease-causing microorganisms. Below are some of the tips that you can put into practice, to ensure that you are adhering to the recommended method of application.
Wash your hands with soap and water before applying eye drops
If you wear contact lenses, remove them and wait for about 15 minutes before reinserting them after administering the eye drops
Sit or stand then tilt your head back and look towards the ceiling with the eyes open and pull your lower lid down to make space for the eye drops
Hold the dropper with the other hand and gently squeeze to release one drop or the recommended dosage. The tip of the vial should not touch the eyelid and neither should your fingertips.
Gently release the eyelid and blink to spread the eye drop(s) to the whole surface of the eye.
Repeat for the other eye if it is also affected
Precautions and Warnings
Eye drops should only be used for external purposes, and if ingested, you seek medical intervention immediately.
Use of the product should immediately be discontinued if the eye problems persist or worsen within 72 hours of use. You should also discontinue use if you develop eye pain, change in vision, or continued irritation.
The tip of the bottle may be contaminated and thus transferring microorganisms to the eyes and consequently, can cause eye infections. Therefore, you should avoid touching the tip and prevent contact with any surface, when the bottle is open.
In case you wear contact lens, first remove them before administering the eye drops and put them back after 15 minutes. This gives time for the eye drops to dissipate fully from the ocular surface.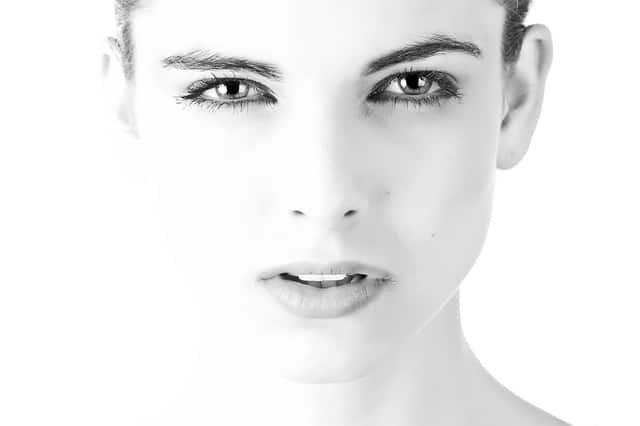 In case in you have an eye condition such as open-angle glaucoma or any other condition not indicated for eye drops, you should first ask the doctor before commencing usage of any type of eye drops.
You should not use any eye drops products if there is evidence of tampering with the package or if it changes color or becomes cloudy.
Eye drops should be used with caution if one has any medical condition such as heart disease, high blood pressure, and enlarged prostate gland. One should consult a doctor in case of any medical condition.
Eye drops should not be used more than the recommended period because prolonged use may produce increased redness of the eyes and other irritation signs.
Storage
Eye drops products should be stored at room temperature (20ºC and 25ºC) and away from children. The should also be stored away from direct sunlight.
FAQs
What are the uses of eye drops?
Eye drops are commonly used to lubricate and moisten dry eyes, to relieve allergic symptoms, to treat eye infections and some products, slow down the progression of age-related cataracts.
What causes dry eyes?
Dry eyes can result when production of tears decreases, evaporation of tears increases, blockage of tear ducts or the composition of tears is imbalanced.
How do eye drops treat the symptoms of dry eyes?
Different products work in different ways to prevent and treat dry eyes. Some are lubricants and moisturizers which mimic tears or form a lipid layer on the surface of the cornea then prevent moisture loss and alleviate friction of the cornea and eye lids.
How do these drops with allergy symptoms?
Most of the products block histamine receptors thus blocking harmful inflammatory reactions. Others cause vasoconstriction of the eye blood vessels thus reducing discomfort caused by irritation and clearing redness caused by allergies.
How often can I use eye drops?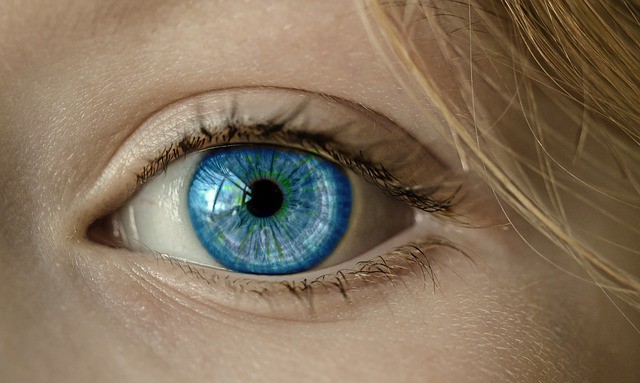 Eye drops should be used as directed by the manufacturer or by a skilled health care provider. Prolonged usage may cause reddening and persistent irritation of the eyes.
Do they have interactions with other medications?
Eye drops can interact with other medications or herbal products. Therefore, you should inform your doctor or pharmacist before you start using eye drops products.
Do they have any side effects?
Just like any other drugs, eye drops have side effects. One may experience temporary blurred vision, burning/stinging sensation, and irritation. However, you should cease usage if these effects worsen.
If you experience eye pain, swelling of the face, tongue or throat, change in vision, severe dizziness, and troubled breathing, you should immediately stop using the product and seek medical help.
Can I use eye drops while in my contact lenses?
If you have lenses, you should first remove them when administering the eye drops then put them back after 10 to 15 minutes.
Also note, some preservatives may damage contact lenses so you should consider preservative-free products.
Subscribe to our Newsletter