Best Multivitamin Supplements Reviewed and Rated
Disclosure: We use affiliate links and may receive a small commission on purchases.
If you've been down the vitamin aisle at a grocery store, chances are you have seen an array of multivitamins for sale. Multivitamins are supplements that are taken daily and provide an array of health benefits. These beneficial supplements can come in pill, tablet or capsule form, and usually include a wide variety of minerals and essential vitamins. Multivitamins have been known to help those who are experiencing an illness recover faster. People who are on strict diets, such as vegans or those with a daily caloric intake of less than 2,000 calories, can also find benefits from taking a multivitamin daily. Pregnant women can boost their prenatal health by adding a multivitamin supplement to their daily routine. Almost everyone can benefit from ingesting a daily multivitamin, and this guide can help you choose the best one for your and your lifestyle.
Our Top 3 Picks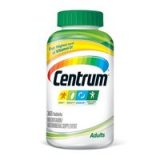 Centrum Adult

Our rating
gluten free
Price:

See Here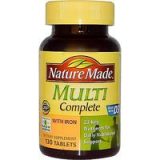 Nature Made Multi Complete

Our rating
improve mobility
Price:

See Here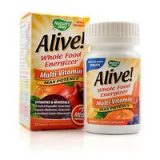 Nature's Way Alive!

Our rating
antioxidants
Price:

See Here

What is a multivitamin?
The human body is a fascinating and complex machine that requires nutrients and minerals to function. When the body doesn't have enough of any one of these vitamins or nutrients, it can break down and become deficient. Metabolic pathways that run throughout your body require certain nutrients and when these nutrients are missing, your body's performance decreases drastically. Implementing a daily multivitamin into your diet ensures that your body is functioning as it should and that all of its intricate pathways are firing at optimum capacity. There are two major components to a multivitamin: vitamins and minerals.
The human body cannot make a number of vitamins it needs to function properly on its own. Vitamins are extremely important because they regulate the chemical reactions that the body takes advantage of to transform the food we eat into energy. Vitamins are grouped into two groups, those that are fat and those water soluble. Fat soluble vitamins are kept in the body for storage and include vitamins D, A, K and E. Vitamins that are water soluble must be taken on a daily basis since they cannot be kept in the body for too long. These include vitamins C and B. As you can tell from its name, multivitamins are jam-packed with all sorts of these valuable vitamin supplements.
Minerals come in two forms, major and trace. The difference between major and trace minerals is that the body needs more than 100 mg of major minerals a day, but only needs small amounts of trace minerals in its daily intake. Those that are major include calcium, potassium, phosphorus, magnesium, sulfur, chloride and sodium. Trace minerals include iron, selenium, iodine, fluoride, zinc, molybdenum, chromium, manganese and copper. The body uses minerals in its production of hormones. Many minerals can be found in multivitamin supplements.
10 Best Multivitamin Supplements 
1. Centrum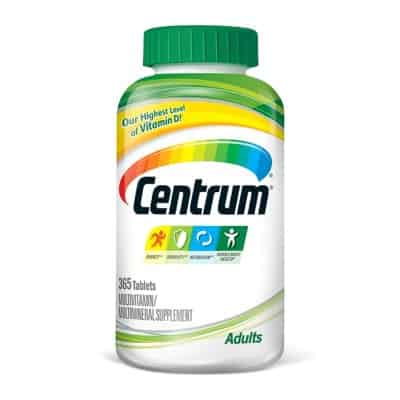 This multivitamin supplement tablet from Centrum is targeted at adults who are under the age of 50 and is both non-GMO and gluten free.
Expand to see more
Centrum offers this multivitamin tablet for those who are wishing to add a multivitamin into their daily routine. The company states that this multivitamin is the most complete, and offers extra amounts of vitamin D3 for those who are looking to improve their bone strength. This brand of multivitamins is rated #1 by both doctors and pharmacists, and has a proven long-term history of being safe for ingestion.

Users who have bought this product claim that it has helped them with their vitamin D deficiencies and have aided them in their quest to stay illness-free. This product comes with 200 tablets which will last the customer for almost an entire year when taken once a day. Some customers say that the pills are slightly too large for them, but by simply cutting them in half before ingestion this situation can be remedied.

All of the major vitamins and minerals that are needed by the body are included in this supplement from Centrum. This combined with its low price makes it an excellent choice for your daily multivitamin supplement.
Great value
Trusted brand
Diverse vitamin content
2. Nature Made
These multi complete tablets from Nature Made contain 23 key nutrients for the body's nutritional support that includes iron.
Expand to see more
Nature Made has produced a multivitamin tablet that supports the body's major organ systems and improves their function. These supplements strengthen tissues found in muscles and can repair torn or damaged muscles to help improve mobility. Those that take these multivitamins from Nature Made can also expect to see an increase in their amount of mental sharpness and aptitude.

Both men and women can take these multivitamin supplements. The suggested use for these tablets include ingesting one tablet with a meal daily. The bottle that the multivitamin tablets come in should be tightly sealed and kept in a place that is both dry and cool.

A major plus for these supplements is that they are USP (United States Pharmacopeia) verified. This means that they have gone through a strict list of production guidelines to ensure that they are safe and effective.

Customers that have purchased these multivitamin tablets say that they have improved their health and do not cause stomach upset or bad after-taste. The added iron is also great for those who may be deficient in iron, or those who wish to improve their heart health.
USP verified
Great source of iron
Good value
3. Nature's Way Alive!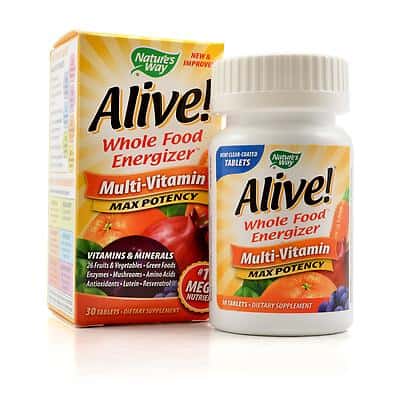 These multivitamin tablets from Nature's Way Alive! have a wide array of daily greens, antioxidants, essentials and phytonutrients that are necessary for the body to function optimally.
Expand to see more
Nature's Way Alive! multivitamin supplements are developed utilizing science-based formulas and high quality ingredients. Good Manufacturing Practices (GMP) are put into effect when these multivitamins are made so that customers can trust the product they are buying.

Customers who have used these tablets from Nature's Way say that they have helped them with their medical issues and have given them much needed energy boosts. The pills are quite large, however, but they can be cut in half or dissolved in a liquid.

The daily greens that are included in these supplements give the human body amino acids, which are important for its functions. Body systems that can benefit from the ingestion of this supplement include the eyes, immune system and circulatory system.

These supplements can be purchased in 30, 60, 90, or 180 count packages. The company recommends taking three pills daily, however, many customers take one or two. The cost for this supplement is a little on the higher side, however they are max potency so customers get more bang for their buck.
Max potency
GMP manufactured
All-natural
4. Dr. Tobias Vitality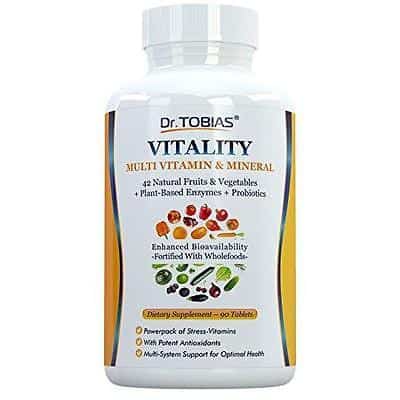 These multivitamin supplements from Dr. Tobias are made with whole foods (as opposed to synthetic) and are non-GMO.
Expand to see more
These multivitamins from Dr. Tobias are loaded with antioxidants from a variety of sources. When taking these daily supplements, users will receive 42 different, natural substances from fruits and vegetables. Also included in the supplements are probiotics for digestion and plant-based enzymes. Vitamins B and C are contained in these supplements in high amounts and can help the body replenish its stores.

The company suggests taking three of these supplements a day, which makes this 90 tablet product good for one month. Multiple body systems can benefit from the use of this supplement. The nervous system, immune system, circulatory system and digestive system can all improve their functions with this daily multivitamin tablet.

Vitamins C, B6 and B12 can all be found in this multivitamin supplement. Men and women can both take this supplement, as it is not intended for one gender only. These tablets are manufactured in the USA and are produced according to GMP standards.

People claim that these supplements increase their energy and improve the looks of their hair and nails. Those with IBS (irritable bowel syndrome) have also stated that these tablets have lessened their symptoms and have improved their condition.
Non-GMO
Made in the USA
Energy booster
5. Vitafusion Gummies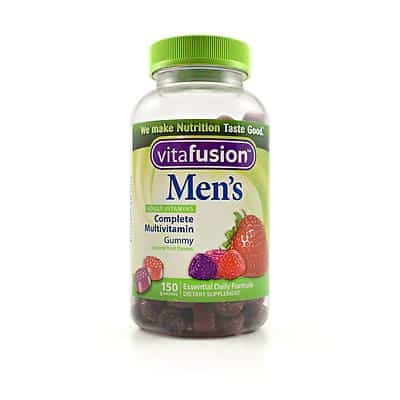 Those looking for a gummy alternative to their multivitamin supplements can look to Vitafusion for their daily nutritional needs.
Expand to see more
Gummy vitamins are now a popular way for both adults and children to receive their daily nutritional supplement. These multivitamin "MultiVites" gummies from Vitafusion contain the amount of Vitamin A found in a serving of broccoli, the same amount of Vitamin D contained in 5 oz of salmon, and a vitamin C amount as large as what's in one tangerine.

The gummies come in three flavors, berry, peach, and orange. Users love these flavors, and say that the gummies taste almost as good as candy. Vitafusion recommends taking two gummy vitamins a day, with or without a meal. Those who have difficulty swallowing a large multivitamin tablet can chew their daily vitamins instead.

These gummies are made in the USA and contain fruit flavorings that are all-natural. These gummies do not contain any artificial sweeteners like aspartame which makes them a healthy and delicious way of getting your daily vitamins and minerals.

Customers have said they love these gummies because they can easily get their spouses and children to consume their necessary daily nutritional intake.
Gummy form is delicious
Easy to take for children and adults
Good for those who have difficulty swallowing
Great value
Bad for dental health (brush teeth after consuming)
6. Trio Formulas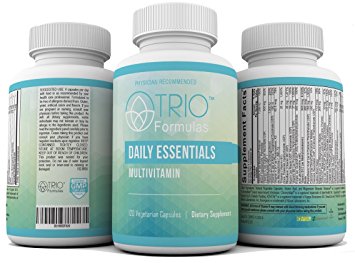 These multivitamin supplements from Trio Formulas are created by Naturopathic doctors and are non-GMO and made in the USA.
Expand to see more
Trio Formulas has created a multivitamin supplement that is great for improving energy, brain, and body health. The nutrients found in this supplement are those that are not found in most foods that we would typically consume on a regular basis. The ingredients that are used in Trio Formulas Daily Essentials multivitamin are exceptional, and are formulated in a science-based combination that is on the cutting edge of scientific research. The supplements are non-GMO and are manufactured according to GMP standards.

Customers say that this product helps them receive nutrients that are not typically included in other multivitamin supplements. People who have bought this product also applaud it for being completely vegan and gluten-free. The capsules have also been labeled as being easy to swallow and do not leave a bad aftertaste after ingestion. These multivitamin supplements can also be taken by both men and women.

The company suggests taking one capsule four times a day with food. These capsules can help those who are looking to boost their immune system and help improve their overall body health.
Non-GMO
Made in the USA
Third-party tested
7. Whole Nature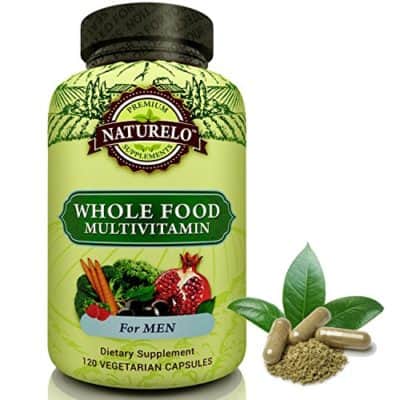 These multivitamin tablets from Whole Nature contain all the components of an ideal nutritional plan and are full of digestive enzymes, omegas, and probiotics for digestive health.
Expand to see more
Whole Nature has created a multivitamin supplement that is based on whole foods. These tablets are of premium quality and contain a wide variety of vitamins and minerals that you need in a multivitamin supplement. The whole foods that are used in the production of these tablets are vegetables, herbs, fruits and mushrooms. Both men and women can consume these multivitamin supplements, and they are non-GMO, gluten-free, and vegan.

The enzymes and probiotics that are included in this supplement help the body digest food better and improve its ability to absorb nutrients from food. By taking these multivitamin supplements, you are filling in the nutritional gaps that your diet may possess. When taking this daily supplement, you may also see an increase in your energy levels, a better mental balance, and improved digestion. Customers who have purchased these multivitamins say that their skin appears younger, and their overall health has drastically improved.

Customers of this product say that they appreciate how the supplement is third-party tested, and they have seen great results.The company suggests taking three capsules daily, however many people take less and still see results.
Vegan, gluten-free, non-GMO
Made in the USA
Third-party tested
8. Pure Encapsulations
Pure Encapsulation's multivitamin capsules contain alpha lipoic acid and are hypo-allergenic.
Expand to see more
One capsule of Pure Encapsulation's multivitamin supplement should be taken each day. These multivitamins contain alpha lipoic acid, and a formulation of CoQ10. To help improve cognitive function, choline and inositol are also included in this multivitamin's formulation. Improved cellular health is possible due to this multivitamin's lycopene and vitamin D components. Those who are looking to maintain their eye health can also take these supplements that have lutein and zeaxanthin in their formulation.

These capsules are hypo-allergenic and come in a bottle of 60 multivitamin supplements. Pure Encapsulations has also made sure not to include any artificial sweeteners, gluten, or artificial colors in its multivitamin capsules.

Customers who have used this product say that they have seen an increase in their hair health and vitality, as well as their energy levels. They appreciate how the company has not put any extra fillers or additives in their multivitamin, and appreciate it for being pure vitamins and minerals. Some customers have noticed an odd smell to these multivitamins, but others have not noticed anything out of the ordinary.
No artificial sweeteners, flavors or coatings
Non-GMO, made in the USA
Vegan and gluten-free
Some customers are sensitive to its smell
9. Whole Food M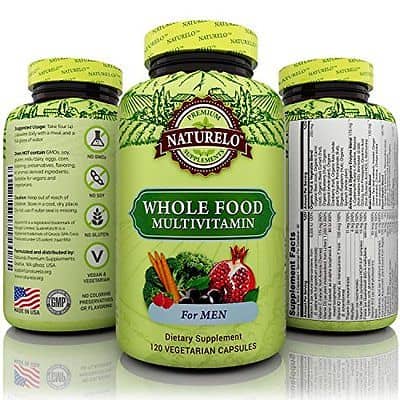 Men and women can both take this multivitamin supplement from Whole Food, which is made with whole, real foods.
Expand to see more
Those looking for a multivitamin that will boost their immune systems can look towards Whole Food's multivitamin plus supplement capsules. These capsules include 23 vitamins and minerals, and have probiotics for increased digestive health. Whole Food says that these multivitamin supplements will boost your mental clarity as well, and will promote clear, precise thinking processes throughout the day. Energy levels will be increased with this supplement, since its formulation includes vitamin B, antioxidants and minerals, and CoQ10.

The capsules are also vegan and non-GMO. They do not contain any eggs, dairy or wheat, so they are safe to eat for those who are on stricter diets. The company recommends taking three capsules a day for optimal health.

Those who have bought this product appreciate it that it includes all of the vitamins and nutrients that they need to improve their overall health. Energy levels have also appeared to increase for those who regularly take this multivitamin supplement from Whole Food. People who have problems swallowing pills also find this capsule form to be easier to ingest.
Vegan, non-GMO
Great energy booster
Excellent for improving mental health
10. Steele Spirit U
High potency multivitamin tablets are offered by Steele Spirit for those who are looking to get a maximum amount of vitamins and minerals in their diet.
Expand to see more
All of the essential vitamin and minerals your body needs are included in these multivitamin tablets from Steele Spirit. To help your body with its digestion, and to aid in its immune health, probiotics and antioxidants are also included in this multivitamin's formula. Enzymes that are plant-based can be found in these multivitamins from Steele Spirit, which can help your body function at an optimal level. An increased mood and an improved overall state of health should be experienced after regularly taking these multivitamins.

Customers who have purchased these multivitamin tablets have said that they work effectively, and that the company Steele Spirit offers wonder customer service. Those who are not satisfied with these multivitamin tablets can get 100% of their money back guaranteed from the company. Steele Spirit recommends buying two bottles at once so that the customer can experience uninterrupted use.

Vitamins C and B are included in this supplement, which are water-soluble vitamins that need to be taken daily since they cannot be stored by the body. This multivitamin is especially formulated for those who are over the age of 30. The recommended use of this product is 3 capsules daily.
Great for people of advanced age
Wonderful company customer service
Contains vitamins and minerals from 42 different fruits and veggies
Benefits
 Vitamin A – Vitamin A is also known as retinol, which is an antioxidant that supports healthy vision systems. Retinol is also important for keeping your skin looking fresh and dewy. Immune system health is also supported by retinol.
Vitamin B – Those who have decreased energy levels can take vitamin B. There are eight different B vitamins, and they all help the body process the food you eat into energy it can use. Brain function is also improved with you regularly take vitamin B. Vitamin B can help strengthen your memory, and can improve your overall mood.
Vitamin C – Connective tissues in your body are helped with vitamin C. The skin and the joints which have large amounts of connective tissue are especially benefited from a daily intake of vitamin C. Wound healing may be sped up with vitamin C, and bruising may be diminished. Colds and flus can also be kept at bay with vitamin C.
Vitamin D – Phosphorus and calcium are two important minerals in your body and vitamin D is what regulates them. Bone density is determined by the amount of calcium and phosphorous present in the body, so vitamin D is what helps to build strong, healthy bones. The body's immune system and nervous system are also helped by vitamin D.
Vitamin E – Cell membranes are made stronger with vitamin E. Vitamin E also helps to protect the body's cells against free radicals that may cause oxidative damage. The body's skin, eyes and immune system are all boosted with vitamin E supplements.
Folic Acid – Vitamin b9 (or folic acid) helps the body's hemoglobin and cell production. The body's circulatory system and nervous system are also supported with regular folic acid intake. Pregnant women also need high amounts of folic acid in their diet to support the health of a growing fetus
Calcium – The bones of the body and the teeth are all supported with healthy levels of calcium. Calcium is also important when it comes to the circulatory system, since it maintains normal muscle contractions in the heart.
Iron – Hemoglobin production is improved with healthy iron levels in the body. Neurotransmitters in the nervous system are also regulated with iron, as are collagen levels and hormones. Iron is deficient in many people, so a multivitamin can be a great way to get extra iron in your diet.
Zinc – The body's immune system is boosted with healthy concentrations of zinc. Zinc is also what makes up cells, enzymes and proteins. Smelling and tasting are also affected by zinc levels.
Chromium – If you have diabetes, making sure that you have healthy chromium levels is essential. Chromium enhances the body's sensitivity to insulin, so it is a great supplement to have if you have diabetes. Chromium also determines how much food energy our body releases.
Magnesium – Food is converted into energy based on a system that is influenced by magnesium. Calcium and magnesium both work together to implement normal functioning muscles, density of bones, and blood clotting.
Usage Recommendations

Multivitamin supplements vary in the amount of times they need to be taken in a day. Some only need to be taken once a day, while others need to be taken up to three times a day to see their full effect. Many companies recommend taking your multivitamin supplement with food, so that it gets absorbed by the body slower.
Since multivitamins come packed so many vitamins and minerals, their tablet and capsule sizes are usually quite large. Some people may experience difficulty trying to swallow them, since they are typically much bigger than an average pill. To counteract this, people will crush them up and dissolve them in water, or put them in applesauce. The pills can also sometimes be cut in half and taken in two different increments. People who have issues swallowing large tablets can also try taking coated tablets, or they can take multivitamin supplements that come in capsule form. There are also gummy versions of multivitamins on the market that are made for both children and adults. These make it so that you don't even need to swallow them, and you can instead chew them.
Criteria for Evaluation

With so many different multivitamin options available on the market, it can be difficult to know which one is right for you. There are many multivitamin formulas that are targeted at different demographics. For example, there are multivitamins for both men and women, and each type has different vitamins and minerals included in it for each gender. Prenatal multivitamins are also available for those who are pregnant, or those who are expecting to become pregnant. Adults who are over the age of 30 also have specific multivitamins that have been formulated with the aging population in mind. Multivitamins for children exist as well, and usually come in a flavored or gummy form to help encourage them to take it.
The amount of different multivitamins on the market can be dizzying. This is why we have focused on multivitamins that are targeted at all genders and all ages, to simplify your decision. We also followed a very strict criteria for evaluating each multivitamin supplement on our list. To show you exactly how we came up with the top 10 multivitamin supplements, we have listed our criteria for evaluation that was used.
Product Testing

Multivitamins vary in their effectiveness and health benefits. When we picked the multivitamin supplements to include in our review guide, we went with those that had many health perks and that improved numerous organ systems' health. We understand that you want a multivitamin that is going to deliver, and so we went with the supplements that had the greatest amount of potency and effectiveness. Since there are so many multivitamin supplements available on the market, it would not be feasible for you to test each and every one for its ability to improve your health. This is why we have done all of the work for you.
We also wanted  to ensure that we included multivitamins on this guide that were easy to ingest. Many multivitamins are quite large, and customers may have difficulties swallowing them. This is why we included many multivitamins on our list that were in easy-to-swallow capsule form, or easily chewed gummy form.
User Reviews

When buying a multivitamin online, it can be difficult to know if it is going to work well for you and your body. Reading what other customers have to say about the product can be an extremely effective way of determining if it is going to be effective for you. Customer reviews on websites like Amazon can give you a glimpse into what you can expect when you take your multivitamin supplement. We only included multivitamins on our list that receiving glowing customer reviews and that had high customer satisfaction ratings. We did not include any supplements that were deemed ineffective, bad tasting, or unpleasant.
We also know how important it is to have a multivitamin supplement you can trust, which is why we looked for supplements that were non-GMO, made in the USA, and typically vegan. Supplements that were third-party tested also ranked higher on our list, since these had an extra level of testing and product effectiveness examination. GMP-manufactured supplements were also given more weight, since they had to go a more rigorous form of manufacturing principles when they were being made.
Side Effects

There is a very low risk of experiencing side effects from a multivitamin supplement. However, they are still possible. We included multivitamins on our guide that did not cause upset stomach, headaches, or allergic reactions. When starting any supplement, make sure that you start slowly and build your way up to the recommended manufacturer dose. Also, consult with your doctor before starting any new dietary supplement.
Manufacturer's Reputation
Manufacturers that made their multivitamins in GMP-manufactured facilities were ranked high on our list. This means that the company cares deeply about the quality and effectiveness of their product, so it ranked them above the others. Also, companies that offered 100% money-back guarantees were also favored. These companies believe in their product so much that they are willing to give back anyone's money who was not completely satisfied, making their product superior on our guide.
Safety of the Supplement

The multivitamins included in this guide were all deemed safe for human consumption. Companies that did third-party testings for safety and effectiveness were ranked higher on our list. Multivitamins are generally considered safe to take in their recommended doses, however higher doses should never be taken.
Ingredients and their Effectiveness
Multivitamins contain nutrients and minerals that you may not be getting enough of in your regular diet. We looked for multivitamins that had added minerals, such as iron, to help those who were looking to improve their cardiovascular health. Energy boosters, such as vitamin b12 was also a key ingredient that we looked for in our multivitamin supplements.
General Information

Precautions
If you are regularly taking a multivitamin supplement and have an allergic reaction, including but not limited to, facial swelling, breathing difficulties, or hives, then seek medical help immediately. It is rare for customers to experience any of these side effects, but it is important to educate yourself of the signs and symptoms of an allergic reaction before taking any new supplement. Also, as with any new medication, make sure that you discuss with your primary care physician if starting a multivitamin supplement regimen is right for you. Some minor side effects that you may experience while taking a multivitamin supplement include headaches, stomach upset and unpleasant aftertaste in the mouth.
Only one brand of multivitamin should be taken at a time, so do not mix two different types of multivitamin supplements. This is to prevent against overdose of any vitamin or mineral that may be present in your multivitamin supplement. If the multivitamin you are using contains potassium, avoid using salt substitutes in your daily meals. Finally, a multivitamin should not be taken with milk, or any other dairy-containing product, since the calcium in the food or drink may make it more difficult for the stomach to absorb certain multivitamin ingredients.
General Information
Multivitamins are great for those who are not getting adequate amounts of vitamins and minerals out of the food they eat in their daily diet. People who are pregnant, for example, need extra amounts of certain minerals and vitamins. Folic acid is especially important for a developing fetus to have, and is often included in a multivitamin supplement's formula. People who have immune-deficiencies, such as those who are immunocompromised, need extra vitamins and minerals to boost their body's immune defense. Zinc, a popular mineral in multivitamin supplements, is known to give the immune system the extra boost it needs to keep the cold and flu at bay.
Only ever take a multivitamin dose that is recommended by the manufacturer; never take more than what is noted. Having too much of certain vitamins and/or minerals may harm your body and have the opposite effect of what you're going for. For example, if too much of a fat-soluble vitamin is taken (vitamins A, D, E and K) then this can cause serious issues with your body, or even death.
All different types of people can benefit from taking a daily multivitamin supplement. Athletes, or people who have lifestyles that are very active, can use extra muscle-strengthening vitamins and minerals. Adults who are over the age of 65 can also benefit from a multivitamin supplement. As we age, we secrete smaller amounts of hydrochloric acid into our system which makes it harder for the body to absorb nutrients from the food we eat. Therefore, adding extra vitamins and minerals into our diet can give our body any nutrients it can be deficient in.
FAQs

What vitamins and minerals are included in a multivitamin?
 Multivitamins differ in their formulas. However, the basic vitamins and minerals that can be expected to be included in a multivitamin are Vitamins A, B, C, D and E, folic acid, calcium, iron, zinc, chromium and magnesium.
What are the different forms multivitamins come in?
Those who are looking to purchase a multivitamin can find them in tablet, capsule, pill, or gummy forms. The gummy products are suitable for both children and adults.
 Who can benefit from a daily multivitamin?
Many different people can enhance their health with the addition of a multivitamin supplement. Those who would especially benefit are those who are immunocompromised, over the age of 50, lead a very active lifestyle, have a medical condition, or those who are simply looking to boost their energy level.
Are there any side effects?
Side effects associated with multivitamins are rare. However, the few associated side effects are upset stomach, headache, and allergic reaction.
 Where can I buy multivitamins?
Multivitamins can be purchased at almost any grocery or drug store. However, buying a multivitamin online, such as on Amazon, is an easy and convenient way to get your supplement. You can also sign up for a subscription service on Amazon, so that your multivitamins are sent to you each month, worry-free.
 How many multivitamins should I take in a day?
The number of multivitamin supplements that should be taken each day varies between companies. Some manufacturers recommend one pill a day, while others suggest up to three. Look at your multivitamin supplement bottle and read the instructions to determine how many you should take.
 Why are there multivitamins made for men vs. women?
The bodies of males and females work differently, and as such they each require a different amount of vitamins and minerals. The supplements we included in our guide, however, are appropriate for both genders.
 Should gummy multivitamins be refrigerated after opening?
No, as long as the place you're storing the gummy multivitamins in does not get too hot, then they do not need to be refrigerated.
 Should I look for a multivitamin with probiotics?
Some multivitamins have probiotics included in their formulas. If you are experiencing digestive system distress, then it would be smart to purchase a multivitamin that includes probiotics.
 Can I give a multivitamin to my child?
It is always best to consult your child's pediatrician before giving them any sort of health supplement. That being said, after discussing with your pediatrician if your child can take a multivitamin, you can purchase a multivitamin supplement that is formulated especially with children in mind.
Subscribe to our Newsletter