Best Vitamin K Supplements Reviewed & Rated
Disclosure: We use affiliate links and may receive a small commission on purchases.
One of the most important nutrients required for our bodies, Vitamin K helps blood clotting within the body which boosts normal blood flow. Naphthoquinones is a series of chemically related compound which is broadly known as Vitamin K. Therefore, there are various categories of Vitamin K in existence. Vitamin K is typically available in three different forms: K1, K2 and K3. Vitamin K1 is the most common type of Vitamin K which is typically found in plants and can be directly consumed through the everyday dietary plan. Vitamin K2 on the other hand is not produced by plants, but is rather produced by microbiological organisms such as bacterias and etc, and it can be found in several microbiological organism created food items. Vitamin K is fat soluble, which means that it can be stored in our body fat until it is required to be used by our body. Therefore, because the vitamin is fat-soluable in nature, it is highly recommended to use this vitamin in moderation. As a result, consuming Vitamin K supplements is a good way of keeping its consumption under moderate control.
However, it is important for consumer to be well knowledged and thoughtful when making purchasing decisions for Vitamins. Low quality products can not only be ineffective, but it unfortunate instances can even be harmful to the health. Also, not all supplements might be rich in nutritional values and well balanced chemical composition. Because such nutrients impact the overall performance of our body functions, we believe it is important to inform you about the appropriate choices you can make for the betterment of your body. We care for the wellness of the society, and hence this Vitamin K review is created to help the society make better and healthier decisions.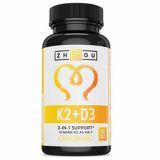 ZHOU Vitamin K2

Our rating
2 in 1 Combo
Price:

See Here

NOW Vitamin K-2

Our rating
Non-GMO
Price:

See Here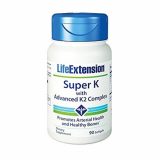 Life Extension K

Our rating
Soft Gel
Price:

See Here

Why do we need Vitamin K supplements?
First and foremost, Vitamin K is extremely essential in the healing process of injuries. It facilitates the process of normal blood clotting, and helps the wound heal faster. It is also a very helpful means of transportation of various other nutrients such as calcium. It keeps the calcium in the bones, out of the blood vessels. Also, it has been known to fight cardiovascular diseases. Vitamin K2 enhances blood vessel elasticity. While Vitamin K can be found in various natural food items, our busy lives make it difficult for us to prepare a nutritionally balanced meal . Whether it be a sandwich on the go, or a yogurt snack or microwavable meal for dinner, we barely have enough time to do any nutrition calculation. While we intake certain types of Vitamins, many other types get left behind from consumption. Therefore, taking Vitamin supplements is a much easier and convenient way of ensuring the avoidance of Vitamin deficiency.
Vitamin K deficiency can cause various complications in our bodily functions. Primarily, it will slow down the healing process of your wounds. Also, research shows that the Vitamin K needs of the body increases with age. Therefore, it is very crucial nutrient requirements, specially for the aging population. Vitamin K supplements are usually made in a nutritionally balanced manner based on daily nutritional values. Therefore, consuming supplements are an easy way of avoiding over consumption and maintaining the proper nutrition level in the body.
10 Best Vitamin K Supplements
1. ZHOU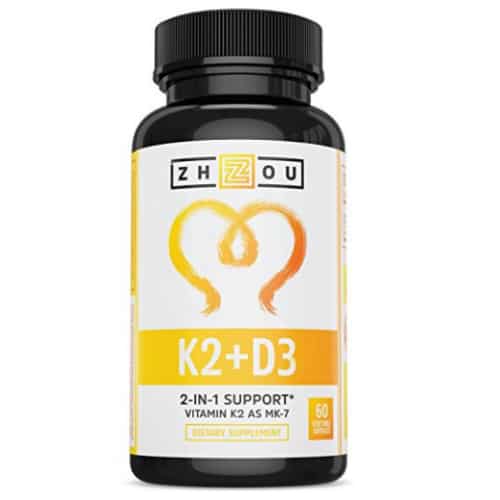 The ultimate 2 in 1 combo, this supplements includes both Vitamin K and Vitamin D. This multi purpose supplement will serve various functions such as take care of your bones, artery system, and skin.
Expand to see more
Both Vitamin D3 and Vitamin K2 play significant roles in improving your skin conditions, therefore their mixture together means that your skin is bound to get a pampering treatment from within. Because this supplement has not one but two different nutrients, it increases the convenience for its consumers. This product comes in a container of 60 capsules in total.


Has two nutrients, Vitamin K and Vitamin D
Helps in strengthening bones
The capsules are small and easy to intake
2. NOW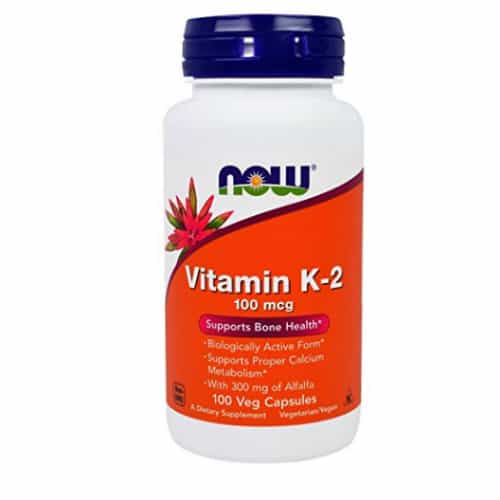 This supplement provides all your Vitamin K-2 needs in capsule form. Each capsule has 100 mcg of Vitamin K, which is just the right amount of the nutrient as suggested by the national nutrition board's adequate intake of nutrients chart. The greatest speciality of this product is that it is a biologically active form of the nutrient. This helps it in becoming more effective in its purpose.
Expand to see more
Also, this supplement contains 300 mg of Alfalfa, a natural plant which is a great source of several nutrients such as vitaminc A, C, E and K4. Moreover, it is specially crafted for improved bone and cardiovascular health. The bottle contain 100 vegetable capsules.
Non-GMO
Great for bone health
It is a biologically active formula of the nutrient
May cause irritation to people allergic to alfalfa
3. Life Extension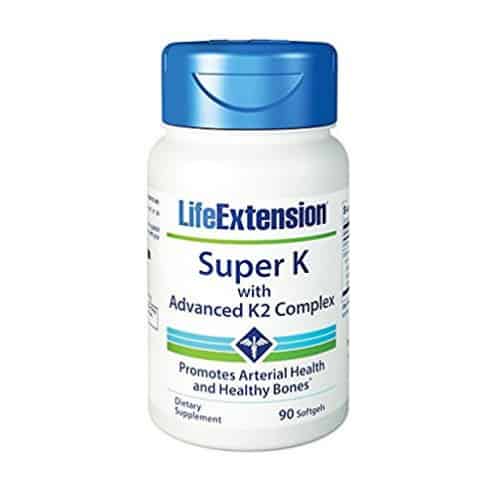 These are softgel capsules which are easy to consumer and work tremendously to improve bone health. The bottle comes with a total of 90 capsules, and is extremely value for money. It work greatly to improve bone and cardiovascular health, and is a great choice to combat Vitamin K deficiency. These softgels needs to be consumed 1 capsule per day.
Expand to see more
They contain both Vitamin K1 and K2, therefore they include all the benefits that the Vitamin K family has to offer. Because of its intensive content of Vitamin K chemicals, it can instantaneously increase these vitamins' level in the blood system.

The combination of two different types of Vitamin K makes this product the perfect choice for the individuals who are suffering for Vitamin K deficiency.
Has both Vitamin K1 and Vitamin K2
Easy to swallow
Might interfere with blood pressure level as it is intensive on Vitamin K contents
4. Sports Research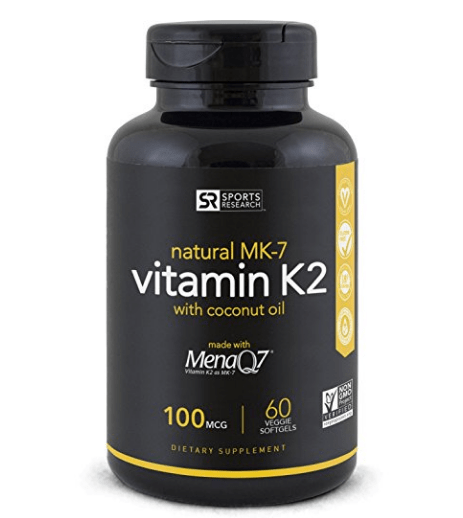 The combination of Vitamin 2 (MK7) with organic coconut oil makes sure that your body properly absorbs the calcium you intake. Strongly focused on improving bone health and artery system elasticity, this range of capsule contains a mixture of some complementary ingredients which will look after your bone health with absolute efficiency. These supplements are in softgel form.
Expand to see more
The bottle contains 60 of these scientifically researched and created mixture of Vitamin K and coconut oil. Also, it includes MenaQ7, an advanced Vitamin K formula which works efficiently in combating Vitamin K deficiency. The coconut oil in the supplement makes it easier for the body to absorb this nutrient.
Value for money
Affordable
Improves blood vessel elasticity
May cause irritation to those allergic to coconut oil
5. Jarrow Formulas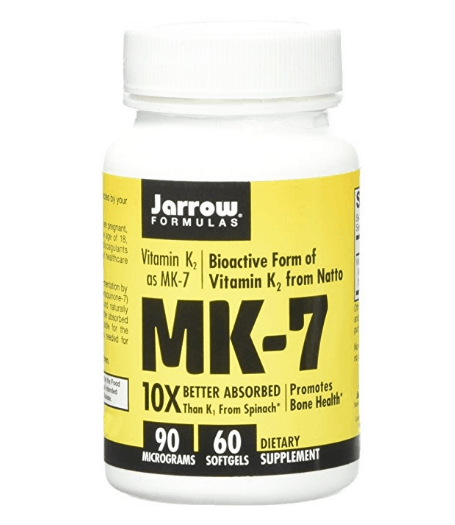 This Vitamin K2 focused supplement is strongly effective in improving bone health at a rapid pace. Being a Vitamin K2 formula, which works much more rapidly than the typical Vitamin K1 supplements. It is great for the improvement of bone health, and it is the bioactive form of Vitamin K2. It facilitates the process of blood clotting, and will be great to use to heal wounds naturally and efficiently.
Expand to see more
The MK-7 component of this supplement makes sure that the chemical stays in your blood circulation for a longer period, supporting your bone integrity for a longer span of time. Also, it promotes cardiovascular health and helps in improving the elasticity of the arteries in your body. This supplement comes in softgel form, and the bottle contains a total of 60 softgels.


Great for bone health
Great for your arteries
Works fast
Slightly more pricy
Strong Vitamin K contents may upset blood pressure level
6. Solaray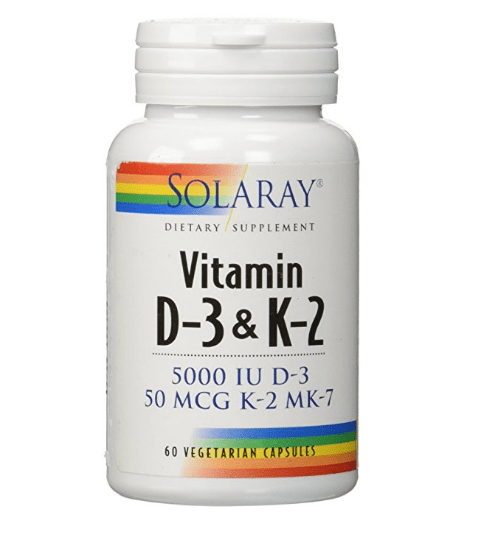 This terrific combination of Vitamin D and Vitamin K ensures that your bone and arterial integrity remains intact, and you get a beautiful and glowing skin all naturally. These capsules are completely vegetarian and should be taken once daily. These work efficiently to improve your bone health and cardiovascular health.
Expand to see more
This range of supplement also has calcium phosphate which takes care of the entire bone health integrity. It ensures that you are intaking Calcium, and that it is effectively being received by your body.

It is a great natural source for Vitamin K and Vitamin D. The combination of both eliminates the need to intake multiple supplements at the same, and you receive two benefits at the price of just one. The bottle comes with a total of 60 vegetarian capsules, and can be easily consumed with your meal or simply with water.
Great for Bone health
Combination of Vitamin K and Vitamin D provides improved skin conditions
Might cause higher calcium intake for individuals who use other supplements for calcium
7. Doctor's Best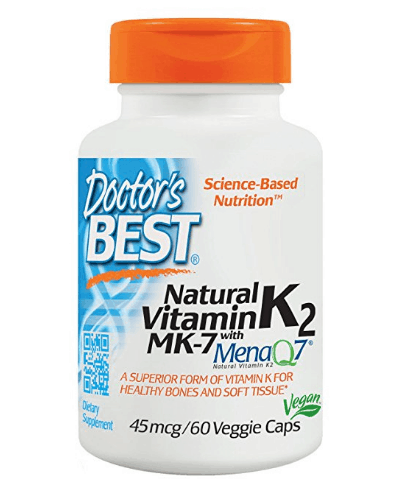 Working strongly to ensure bone health and the elasticity of your arteries, this supplement is sure to address the issue of you Vitamin K deficiency with utmost effectiveness. Also, this product is gluten free, soy free and non GMO. It is a good fit for all different types of individuals with various health conditions and lifestyle preferences.
Expand to see more
The dosage recommendation for this product is one capsule a day, and the pack comes with a total of 60 vegetarian capsules.This supplement range is a great choice for the individuals looking to gain great bone health.
Improves bone structure
Gluten free, soy free and non-GMO
Larger tablets, may be difficult to swallow
8. Bonson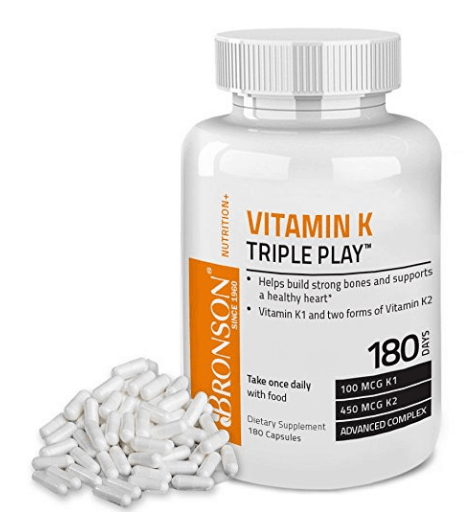 This is the ultimate supplement which comprises of not one, but three different types of Vitamin K. It contains one type of Vitamin K1 and two different types of Vitamin K2. This supplement works rapidly to increase the Vitamin K level in your blood circulation. It will help your bones become stronger, and will make your arteries much more elastic.
Expand to see more
However, because this supplement has really strong Vitamin K contents, it can easily interfere with you blood pressure level. Individuals who have blood pressure conditions need to be very careful while consuming this product. The recommended dosage for the supplement is one capsule a day. The bottle contains 180 capsules in total, therefore one bottle will last you 6 months!
Value for money
Lasts for long time
Fast results
Can have overwhelming effects if consumed in larger doses

9. Garden of Life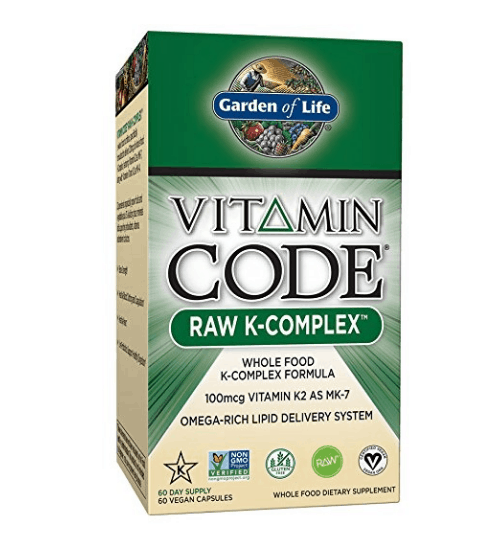 This effective vitamin K supplement works tremendously to improve your bone help with the help of probiotic and enzymes. It is omega rich and contains chia and flax seed oil for improved absorption of the nutrient by the body. This supplement is raw, gluten-free, vegan and dairy free.
Expand to see more
The bottle comes with a total of 60 capsules. Each capsule contains 100 mcg of Vitamin K2, which is just the right amount of the nutrient required by the average adult body. It minimizes bleeding, heals bruises faster and improves the bone and arterial health of your body. And the raw probiotic and enzymes act as digestive support.
Fast results
Great for bone health
Great for making arteries more elastic
Value for money
Omega rich supplement is not suitable for everyone
10. Vitamin k2 mk-7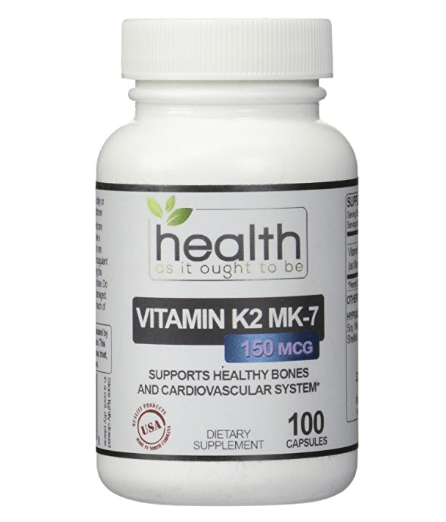 This Vitamin K supplement uses only two ingredients, Cellulose and Vitamin K2. It works to enhances your bone health and to make your arteries more elastic.
Expand to see more
Free from various chemicals and extremely natural in nature, this supplement serves only two core purposes, that is the improvement of your bones and cardiovascular health. One of the best aspects of this supplement is that is it completely natural and does not include any heavy metals or toxins. This makes this supplement range a great choice for people who might have various health concerns.

Also, this supplement is completely free of soy. The bottle comes with a total of 100 capsules. However, this supplement is slightly bit more expensive than its alternatives. It is 100% natural and is toxin free.
Completely natural
Great for bone health
Great for cardiovascular health
Slightly more expensive than alternatives
---
Health Benefits
Vitamin K is an essential nutrient required for the proper and healthy functioning of our body. First of all, it makes healing faster and more effective by boosting normal blood clotting. Also, Vitamin K has also been known to increase episodic memory of older people. Moreover, Vitamin K also helps lower blood pressure and improves the circulatory system of the body. Also, the nutrient also helps in preventing cardiovascular diseases. In addition, various skins disease treatment, specifically acne treatment, uses Vitamin K. Recent study also shows that the vitamin might have anti-cancer agents. All the benefits of consuming Vitamin K are discussed in details below:
Blood Coagulation
The presence of Vitamin K in the blood helps its coagulation process. It stops continuous bleeding by making the Warfarin in the blood ineffective. Warfarin is the compound in the blood which prevents blood clotting and makes the blood thinner. This means, a wound is more likely to heal at a faster pace with the help of Vitamin K intake.
Episodic Memory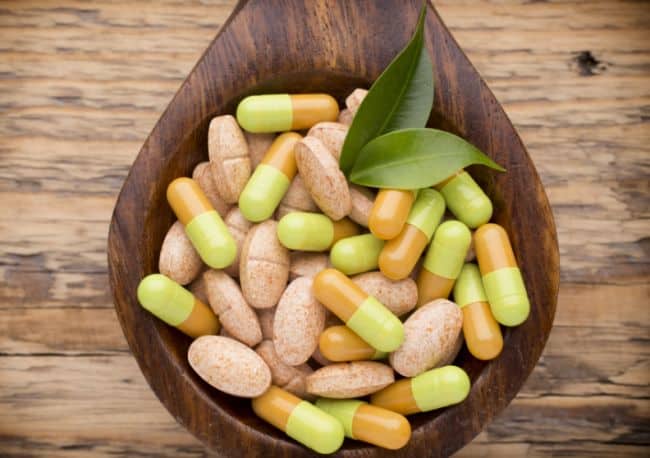 Episodic memory can be described as the memory of autobiographical events. That is, the ability of an individual to recall various aspects of an events such as why, when, where, time and place of the events, various emotional attachments to the event and other contextual matters related to the event. Essentially, there are two main forms of Vitamin K: phylloquinone (K1) and menaquinones (K2). A study conducted in Canada showed that people with higher levels of Vitamin K1 had strong positive correlations with the individual having evident results of strong episodic memory, specially the verbal aspect of it.
Blood Pressure
A study by Japanese researched published in 2010 showed the correlation between Vitamin K deficiency and increased blood pressure. Vitamin K is known to make blood vessels more elastic. However, the deficiency of it can harden the blood vessels, making it more difficult for the heart to pump out blood to the rest of the artery system. As a result, more pressure is needed to be put in pumping blood out, which eventually results in high blood pressure in individual. Therefore, consuming Vitamin K ensures that the arteries remain elastic, and blood pumping remains an easy and smooth job for the heart. As a result, the blood pressure remains to a moderate level.
Cardiovascular Diseases
Cardiovascular diseases is one of the leading causes of death in our world today. Several research has shown that Vitamin K aids in combating and preventing cardiovascular diseases. Vitamin K facilitates a process called carboxylation which enables the proper distribution of calcium compounds within the artery system. As a result, vascular calcification increases which results in lesser cardiovascular diseases.
Acne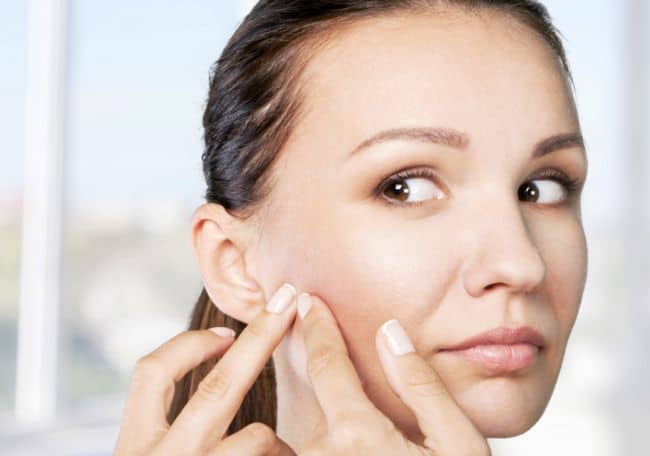 Vitamin K2 MK-4 is a specific type of nutrient in the naphthoquinones family, otherwise known as the Vitamin K class, which works greatly in treating acne. This nutrient decreases the pore size by lessening skin inflammation. Also, it aids in the clearing of acne scars. Vitamin K is typically recommended by dermatologists in acne treatments, and can also be found in various acne treatment creams and lotions. However, the best and most natural way of getting Vitamin K without all the added chemicals would be to take its supplements.
Cancer
Studies have shown that Vitamin K is efficient in contracting the increasing and spreading of hepatocellular carcinoma in humans; this is a common type of liver cancer. The nutrient is essentially able to stimulate and even reduce the progression of the tumor by freezing the tumor cells to stop it from spreading. Tumor cells are large consumers of glucose as they have high growth rates. In most cases, the tumor cells growth surpasses the growth of blood supply, and use up a lot of oxygen at high rates, which makes the tumor cells vulnerable to oxidant stress. Therefore Vitamin K nutrient destroy the tumor cells by stimulating oxidative stress which is not harmful to the body.
Usage Recommendations
The average required dietary allowance of intake of vitamin K was sufficient to fulfill the nutrient requirements of 97% of the population. Based on the results, the government's Food and Nutrition Board created an Adequate Intake of nutrients chart. According to the chart, adults can intake 120 mcg and above Vitamin K regularly. Infants of upto 6 months olds are advised to take 2.0 mcg, children of 1-3 can take upto 30 mcg, and it gradually increases based on the nutrition needs of the individual and the recommendation of the nutritionist.
Also, if the purpose of consuming the nutrient is for a dermatological purpose, it is best to consult with a dermatologist. Vitamin K intake of 60 mcg at the least may be effective in creating results. Vitamin K can be found in many of the food items we consume everyday, therefore a good amount of the nutrient may be present in our everyday diet. As a result, it is recommended to not overdose on the Vitamin K supplement for faster or effective results. Overdose does not stimulate the process of effectiveness, rather it causes complications and interferences in proper functioning of the body.
Some Precaution and General Information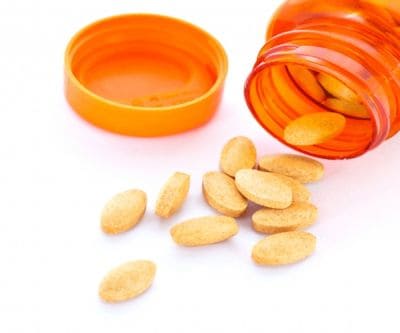 Precautions
Primarily, it is important to take all chemical substances in moderation as adverse effects can arise in careless handling of such items. Therefore, it is highly important to be mindful about the dosage of the supplements. Supplements made for adults should not be fed to the babies. The nutrient content for supplements made for adults are far different than those made for children. Also, while consuming the supplement, it is advised to check the dosage chart. Each supplement comes with a dosage guide which is created and approved by government facilities. Therefore it is crucial to follow those guides. Also, it should be known that there are some common side effects to the overdose of Vitamin K. Such side effects include decreased appetite, irritability, muscle stiffness, yellowing of skin and eyes, enlarged liver and slight swelling of the body. In some rare cases, the side effects may include rapid and irregular breathing, skin rashes, tightening of chest, dizziness, low blood pressure and increased sweating. However, note that with proper usage of the substance, all these side effects can be avoided.
General Information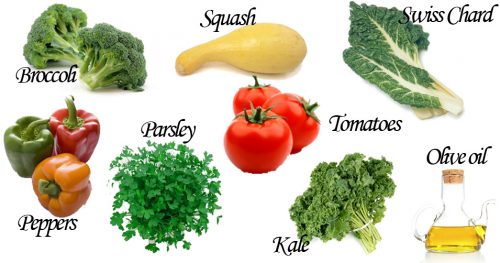 Vitamin K can be easily found in various natural foods. While Vitamin K1 can be found in certain plants, Vitamin K2 is the creation of microbiological organisms. The strongest container of Vitamin K is Kale. A regular serving of kale contains over 100% daily value of the nutrient. Kale is not the only green leafy vegetable which contains Vitamin K. This nutrient is actually common in dark green vegetables in general. Spring onions, brussel sprout, dried basil, cucumber and cabbage are all amazing source of Vitamin K as well. Some other green sources of Vitamin K include asparagus, spinach, turnip greens and lettuce. And while this nutrient is not commonly found in fruits, blueberries are known to be good suppliers of Vitamin K as well. Speaking strictly of Vitamin K2, the microorganism based nutrient, it can be easily found in food items such as kale, soybeans etc.
Vitamin K Rich Foods Listed from 1 to 10
As stated, Vitamin K deficiency is a rare occurrence; however, it can lead to increased bleeding, osteopenia, faulty blood clotting. Individuals will have symptoms such as gastral bleeding, unwarranted menstrual bleeding, blood in urine, and easy bruising if they have a Vitamin K deficiency. A person who is most at jeopardy for a Vitamin K deficiency include individuals with an alcohol dependency, chronic malnutrition, and any person with health conditions that limit absorption of dietary vitamins. Furthermore, low levels of Vitamin K is very common in newborn infants, so a single injection of the vitamin has become a standard. It is also used to neutralize an overdose for the blood thinner medication Coumadin.
A lot of the Vitamin K that we receive from our diets originates from the abdominal bacteria that already reside in our guts. Due to this, our Vitamin K ranks depend immensely on the wellness of our guts.
It is important to note that there are two kinds of Vitamin K. Vitamin K1 can be located in vegetables. Vitamin K2 is also known as menaquinone, and is acquired in dairy products as well as in your intestines. It is also important to note that when you are searching to add or supplement to your diet, foods that are rich in Vitamin K2 have been revealed to have better health advantages than K1.
Vitamin K2 is known to help direct calcium to the bones as well as make them stronger and aid in the prevention of cavities. It is also known to aid in preventing calcium to going to the wrong areas such as your blood vessels, where it could initiate heart disease, or your kidneys, where it could cause kidney stones. Vitamin K2 also aids in the production of insulin to alleviate blood sugar, guarding against diabetes, and assisting to thwart metabolic difficulties connected with heaviness. Another advantage Vitamin K2 delivers is that it muffles the genes that can encourage cancer while reinforcing genes that encourage healthy cells. Lastly, Vitamin K also improves your body's capability to apply energy as you exercise increasing your complete performance.
When you consume Vitamin K rich foods regularly, they help increase bone density, reestablish oral health, support heart health, combat cancer, and decrease infections.
The top vitamin K foods:
1. Kale
A half cup of raw kale provides you with 578 mcg of Vitamin K.
2. Spinach
A half cup of cooked spinach provides you with 469 mcg of Vitamin K.
3. Collards
A half cup of cooked collards provides you with 442 mcg of Vitamin K.
4. Beet Greens
A half cup of cooked beet greens provides you with 368 mcg of Vitamin K.
5. Turnip Greens
A half cup of cooked turnip greens provides you with 280 mcg of Vitamin K.
6. Parsley
One-fourth of a cup of raw parsley provides you with 260 mcg of Vitamin K.
7. Mustard Greens
A half cup of cooked mustard greens provides you with 222 mcg of Vitamin K.
8. Broccoli
A half cup of cooked broccoli provides you with 116 mcg of Vitamin K.
9. Cabbage
One cup of raw cabbage provides you with 56 mcg of Vitamin K.
10. Asparagus
Six spears of cooked asparagus provide you with 46 mcg of Vitamin K
Drug Interactions
There have been reports of drug interactions with Vitamin K. Antibiotics, antacids, blood thinners, aspirin, as well as drugs for seizures, cancer, high cholesterol, and other conditions have been known to have undesirable effects with Vitamin K.
Criteria for evaluation
Vitamin K is one of the most commonly consumer nutrient supplements. You have surely heard of it at some point in your life. It is probably on the middle aisle of the drugstore vitamin sections, waiting for you just within the reach of your hands. However, from the overwhelming vast majority of options available at your fingertips, it might be difficult for you to decide which would be the best option for you. To make the overwhelming process much easier and convenient for you, we have compiled this list based on various important factors. The above 10 products have been thoughtfully picked by our editor based on their individual merits. Our criteria for evaluation has been discussed below.
Product Testing
We take the burden of product testing for you. On your behalf, we go ahead and test the products ourself so that we can provide you with the best recommendations and help you make the better and healthier choices. While some products claim to be toxin free, and some claim to be completely natural, oftentimes products fail to live up to their expectations. Therefore, we thoroughly test these products to see how well they fit their descriptions and how effective they really are. For example, our product testing revealed that the supplements from Health As It Ought To Be really is toxin free and does not use a variety of ingredients outside of what is described.
User reviews and ratings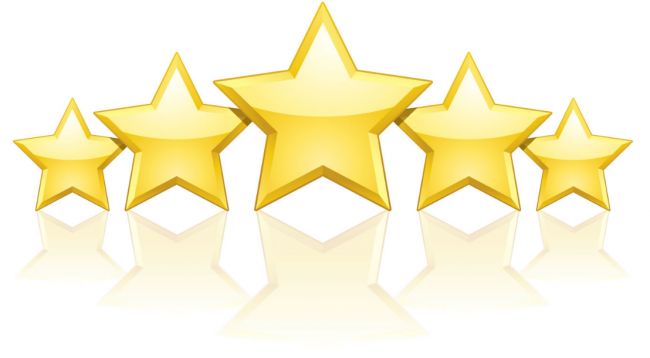 A product does not have the same effect on every person. Therefore, we believe it is important o get a mass perspective and overview of a product before coming up with any sort of recommendation. Therefore, our product researchers and testers go through hundreds of product review each day to analyze how each product affects the masses.
Going through such masses of review is a detail intensive task, however we deem it to be important as it gives us a thorough and clear understanding of a product. Also, the reviews help us see the product from the perspective of various different kinds of individuals. For instance, a review from an individual who is a vegan allowed us to conclude that the Garden of Life Code Raw-K Complex is a quality product which is effective in its purpose and fits its description.
Manufacture reputation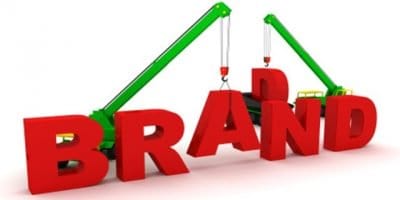 One of the most important factor kept in mind while formulating this list has been to look into the reputation of the manufacturers. Most of the product in this list are by well reputed and highly trusted manufacturers who have a good reputation of providing quality supplements to consumers. All the supplements are FDA approved, and are absolutely safe for consumption.
Potential Side Effects
Some of the most common side effects of Vitamin K supplements include rapid and irregular breathing, skin rashes, tightening of chest, dizziness, low blood pressure and increased sweating, along with some other rare side effects. However, it is uncommon for these side effects to occur if the dosage instructions are followed.
Also, another very simple way of avoiding any sort of side effect from these supplements is by following a mindful chart for the supplement intake. And in case of rare condition, if side effects do occur, it is best to consult a doctor regarding it.
Safety of the supplement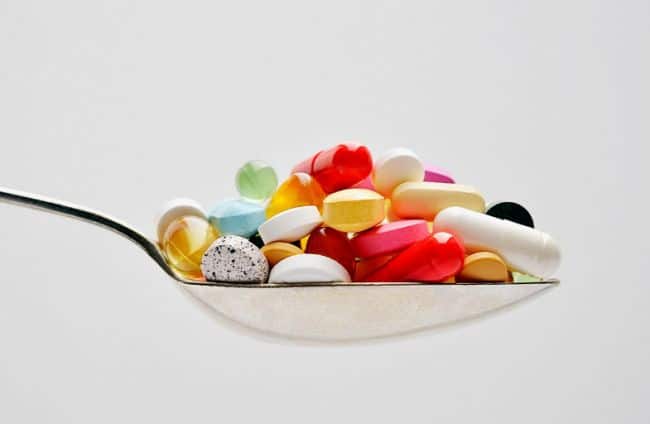 Vitamin K supplements are naturally safe to use as their function is to make improvements to the body, and not cause harm to it. Most of the products in this list are completely plant based with no immediate side effects from consumption. However, some of the supplements do include some extra ingredients such as alfalfa, coconut oil and etc. Individuals who are allergic to such specific ingredients should avoid the supplements that contain them and choose an alternative instead. While doctor consultation is not generally required for vitamin supplement intake, it is still a great idea to consult with a doctor to gain better understanding of what condition your body is in, and what needs and requirements it had.
Ingredients and their effectiveness
Vitamin K is a harmless ingredient which has a strong reputation for being extremely effective at improving bone health and cardiovascular health. Vitamin K has no reputation of being bodily harmful, however overdosage of the nutrient can cause external complications such as lowered blood pressure and various other outcomes. These Vitamin K supplements are toxin free, therefore you can consume these to lead a healthier life without any harmful costs.
The only difference in the ingredients of these supplements will be that some supplements are a combination of Vitamin K with another nutrient, typically Vitamin D. In some special cases, the Vitamin K supplements also include other nutrients other than Vitamin D, such as Vitamin E, Calcium etc. Each different kinds of supplements are crafted based on very specialized mass needs and demands. Therefore, you will easily get lots of different options to explore and choose from.
FAQS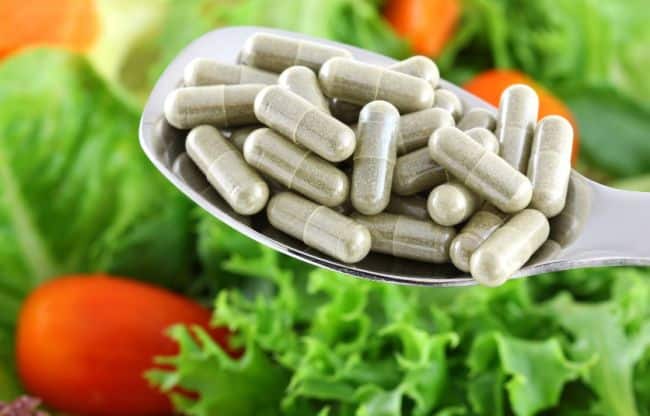 Q) Are these supplements necessary?
The necessity of Vitamin K supplement, or any supplement, in your life completely relies upon your health needs and your nutrition lifestyle. If your dietary lifestyle is not balanced enough that it provides you with enough nutrients, you might need to rely on supplements to cover up the deficiency. Nutrient deficiency can have long lasting harmful side effects on the overall health of your body. Also, as you grow older, your bones gradually tend to become weaker. Therefore, while not always necessary, it is highly recommended for the aging people to take Vitamin K supplements if they currently have any deficiencies.
Q) What Vitamin K supplements to take?
Some supplements are more reliant on Vitamin K1, some are more reliant on Vitamin K2 while others may be combination supplements. They only way to decide which supplement to take is to thoroughly think of your current health and nutrition condition. In case if you have poor skin condition, it is advisable that you take Vitamin K supplements which also has Vitamin D in it, as both combined works greatly to resolve skin issues.
Q) What are the forms of these supplements?
While some supplements are in softgel forms, some are in capsule forms. The form of the supplement is rather irrelevant as both types will dissolve as soon as it enters your digestive system. The supplements are in sizes small enough so that users can easily consume them.
Q) Who should take this supplements?
Any person with a Vitamin K deficiency should take these supplements. Also, most of these supplements are designed for adults. Therefore, these general supplements should not be fed to children without proper consultation with a doctor. The chemical content and requirements for supplements are different for adults than what it is for kids.
Q) Where can I naturally get Vitamin K?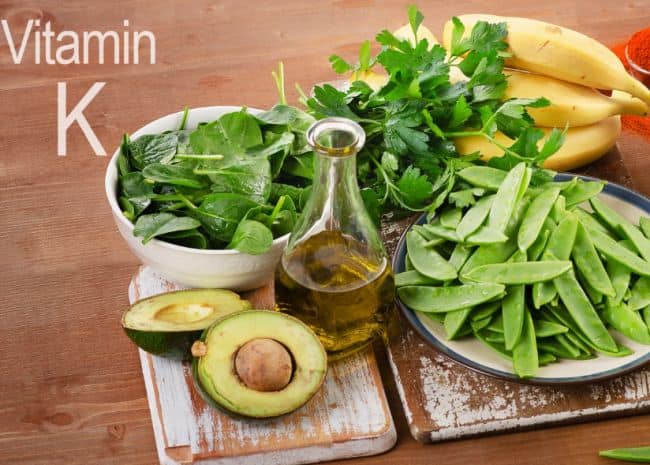 Vitamin K is a very common nutrient which can be easily found in dark green vegetables. The strongest container of Vitamin K is Kale. However, it should be remembered that cooking any vegetable decreases its nutrient count. Therefore in order to receive the full benefits of its vitamin contents, it is advised to eat Kale in its raw form. Also, some of the other great sources of Vitamin K are cabbage, broccoli, spinach, pumpkin, brussels sprout, asparagus, celery and many other green vegetables. Vitamin K2 is produced by microbiological organisms and can be found in food items such as egg yolk, cheese, natto and etc.
Q) Do these supplements have any side effects?
These supplements do not have any immediate side effects, however overdosage may arise complications and result in unwanted results.
Q) How much dosage to take?
Each product has its own dosage information specifications. Please review each product to find out about its dosage guidelines.
Q) Are single Vitamin K supplements more effective than combination Vitamin K supplements?
The effectiveness of the supplement does not depend on weather it is a single nutrient supplement or a combination of two or more. The quality of the ingredients is what's most crucial in this case. All the supplements suggested in this list are by trusted manufacturers who have a long history and legacy of providing quality products to consumer. These products are tested and reviewed, and therefore the quality of their ingredients is guaranteed good. Also, combination supplement may be more effective for you than a single nutrient supplement if your body needs two nutrients together instead of one. The best way to know which one will be more effective for you is to try it yourself!
Q) Can it cure acne?
Vitamin K is known to shrink pores and reduce inflammation. Most dermatologist prescribe Vitamin K infused medicine for acne treatment. However, that is not the only nutrient they prescribe. On its own, it may not be entirely sufficient to cure acne. However, it is a great aidee and provide great positive results for an overall improved skin condition.
Subscribe to our Newsletter