Best Fruit Snacks Reviewed and Tasted
It can be difficult to supplement your diet with healthy snacks that taste good. There is a plethora of unhealthy foods and snacks available at the grocery store, but these are not what you want to be feeding yourself, or your family. Obesity is at an all-time high, especially in America, and unhealthy diets are a major reason why. By eating snacks that are loaded with empty calories and unsatisfying fats and carbohydrates, you may be suscepting yourself and your family to a lifetime of being overweight and unhealthy. Being obese increases your chance of developing cardiovascular disease, diabetes, hypertension and some forms of cancer. Luckily, there are snacks out there that are both good tasting, and healthy for you – to help protect those you love most from the dangers of obesity.
Fruit snacks have been a popular treat for many years. While there are many healthy fruit snack options (and this guide will include these), there are also fruit snack products available that are jam-packed with added sugars and unhealthy preservatives. It's easy to fall into the trap of picking up a fruit snack at the grocery store and believing that it's healthy, simply because it has the word "fruit" in its title. However, it's important to be a smart consumer, and to always read the back of the box and check out the nutrition label. Companies have been known to put in harmful chemicals and unhealthy additives that make their fruit snacks less healthy than they appear. This guide is going to go over the best fruit snacks that are currently on the market to help keep you and your family healthy and satisfied.
Our Top 3 Picks
Why are fruit snacks a good snack option?
When it comes to purchasing snacks for you and your family, it's about picking an option that is healthy and full of good ingredients. Popular fruit snack brands that are available at the grocery store can basically be candy in disguise, and can have as much added sugar as your child's favorite candy bar. Search for fruit snacks that are free of artificial flavors and colors, and you can find a tasty snack that is full of vitamins and minerals. Many times children (and sometimes adults) don't like eating fruit as it is, which is why fruit snacks are a great snack alternative. By being presented in tasty morsels, many children that would not eat fruit otherwise, enjoy eating fruit snacks.
Organic fruit snack options that are free from GMOs and other harmful substances are available; you just have to know where to look. This guide is going to help those who have been looking for healthy fruit snack options but cannot seem to find them. We've provided a wide range of fruit snack options below, so there is sure to be one that you and your family enjoys.
10 Best Fruit Snacks
1. Annie's Organic Bunny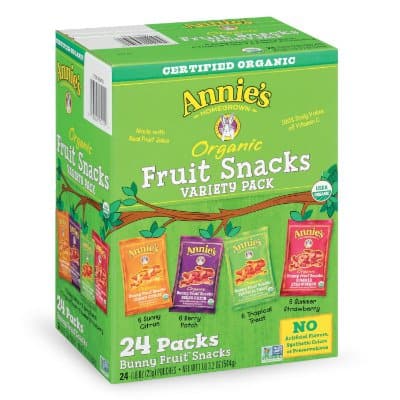 These delicious fruit snacks from Annie's Organic are certified organic and contain no artificial colors or flavors.

If you're looking for a yummy snack for you and your family that is free of an preservatives, artificial colors or flavors or high-fructose corn syrup, then these snacks from Annie's Organic are made for you. Also vegan-friendly and gluten-free, these are great for those who are on more restricted types of diets. You can give these snacks to your children without having to worry about disrupting the digestive system of those who have gluten allergies, or those who do not consume any animal products.
Expand to see more
Also having 100% of the daily suggested vitamin C value, these snacks are made with fruit juice that is real. These snacks are a tasty way to help your children get the vitamin C their body needs to grow and function optimally.

By being offered in a variety of different flavors, your family is sure to enjoy them regularly, without getting bored. The fun bunny-shape of the fruit snacks also adds to its appeal, and makes it fun to enjoy for the whole family.
No artificial colors, flavors, or preservatives
Gluten-free and vegan
Certified organic
Great source of vitamin C
Variety of flavors
Fun shape
Those who are health-conscious want a fruit snack product that does not contain any harmful substances or unnatural additives and preservatives. The fruit snacks on our guide do not contain any artificial colors, flavors, or preservatives. Instead, the snacks are flavored and colored using natural fruit and vegetable products. This makes it so that you can rest assured knowing that you are giving yourself and your family a snack that tastes great and that will help the body get the nutrition it needs.
It's important for a company to stand behind its product, and offering money back to those that are not happy is a great way to do this. Buying fruit snacks from a reputable company also means that you are getting a high-quality product that contains only the best ingredients. Reputable companies pride themselves at being able to offer their customers products that taste great, are good for them, and that do not contain any harmful substances.