Best Heart Monitors Reviewed & Rated
Disclosure: We use affiliate links and may receive a small commission on purchases.
In today's day and age, it can be hard to know if you are getting the most out of your workout due to the high volume of fitness gurus and techniques circulating throughout the space. Keeping track of your goals and workouts can be a useful tool in determining the intensity and effectiveness of your workouts. Heart rate monitors can be a useful tool to help track progress, maintain safety during workouts, and directly monitor how hard your heart is working and your workout intensity. Also, people who do not exercise but who just want to monitor stress levels throughout the day can use heart rate monitors as a tool. With the ability to directly monitor your heart activity, it is much easier to ensure training effectiveness, prevent overtraining, and be on top of your heart health.
Overtraining
According to the American Heart Association, you should exercise at 70-80% of your maximum heart rate if you are in good shape, and 40-50% if you are starting a new fitness program. Chronic overtraining can lead to serous health issues, such as decreased blood pressure, dehydration, and an increase in susceptibility to infections and chronic pain. In addition, overtraining prevents your muscles from being able to recover properly, further delaying recovery and the building of new muscle in the heart and the rest of the body. Staying within these target zones prevents overload on the heart and can let you know when you are pushing too hard. Also, monitoring and staying within your target heart rate zone can help to maximize efficiency and make the most out of the time you spend exercising. Don't waste your time and money at a gym without ensuring the effectiveness of your workout!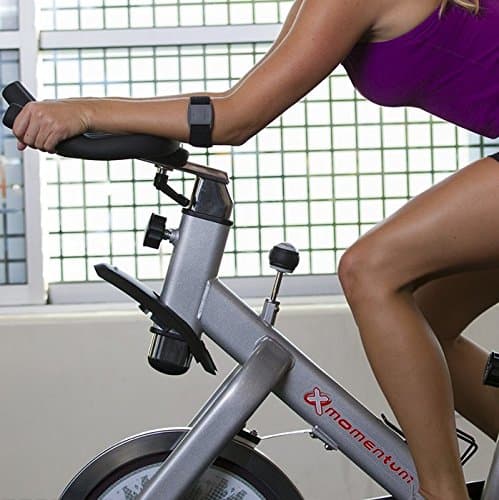 Undertraining
Do you know if you are getting the most out of your workouts? Adopting a heart rate monitor can help you determine if you are under training or not. By directly monitoring heart rate you can know for sure if you are keeping your heart rate moving and in turn burning enough calories. There are many options as far as heart monitors, some can be worn wirelessly and transmitted through an iPhone, some have digital displays, and some can be connected to a watch for ease of use. With products that make it easy to monitor your heart rate at all times easily and safely, there is no reason you shouldn't be monitoring your heart and making sure you know what kind of shape it is in!
Why Heart Rate Matters
There are only benefits included when discussing adoption of a heart rate monitor. When you observe your heart to be in the target range during exercise, there are many other things happening simultaneously. Calories are being burned, and the heart is working harder to get blood to the muscles being utilized. The more  effectively you can keep your heart in this zone, the more you can maximize efficiency in the gym. It has been reported that users of heart rate monitors and target heart zones can get up to 50% more effectiveness out of a workout in an hour period than your average gym goer.
If you are looking to get ahead of the game and pinpoint the heart of your fitness routine and maximize efficiency, it may be time to begin tracking your heart rate. Doctors recommend using a heart rate monitor not only for fitness, but also for overall wellness tracking. Seeing how much heart rate changes over a period of time is a good indicator of overall fitness, according to Dr. Catherine Stoney of the National Heart, Blood, and Lung Institute. By observing a lower resting heart rate after a few weeks of hard exercise, you can have peace of mind in knowing that your fitness and heart health is improving.
Our Top 3 Picks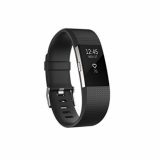 Fitbit Charge 2

Our rating
Sleek
Price:

See Here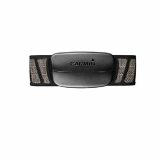 Garmin Premium

Our rating
Wireless
Price:

See Here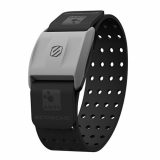 Scosche Rhythm

Our rating
Comfortable
Price:

See Here

Which Heart Rate Monitor is Best For Me?
There are a large variety of heart rate monitors on the market, and most of them do more than just track heart rate in order to assist you in managing your fitness progress and goals. Several new fitness trackers and heart rate monitors allow users to constantly measure their heart rate throughout the day. Heart rate monitors geared toward athletic use have been available for years, but recently, fitness trackers aimed at the general public have started to include heart rate as a recordable measure, along with steps taken, calories burned, distanced walked, as well as features like tracking sleeping patterns.
For example, the Withings Pulse includes a sensor that lets you check your heart rate using your finger, and the Basis B1 has a monitor built into the wristband itself, allowing you to check and see your rate at any time, during a workout or not (the Basis also graphs this information, so users can see how their heart rate changed during the day or night). There are many fitness trackers than can be worn and that feature many different tools such as heart rate data analysis, distance walked, steps taken, etc. With all of these factors to take into consideration, there are 3 main features to consider when choosing a monitor: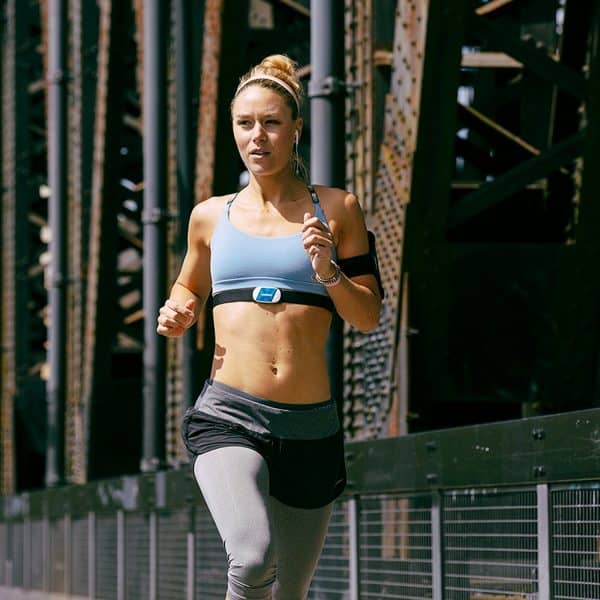 How detailed do I want the information?
Are you a year round athlete that is always training and preparing for action? Are you a casual gym goer? Are you a gym addict that wants to get into amazing shape? Based on your goals, you should determine if you are looking for a basic heart rate display, or more in depth analysis and additional features to compliment your dedication.
Bluetooth or Display?
Many options today either support connectivity to phones for additional resources or connection to an app, or just simply present your heart rate on a digital display.
The more simple you desire your setup to be should factor into your decision.
Chest Strap VS Wrist Heart Rate Monitors
You might have a hard time choosing between these two items, but there is no need to fear: in fact, we are here to help. Read on in this article to learn more about the differences between wrist heart rate monitors and chest straps. We will give you the lowdown on each item's features, as well as which one will benefit you, depending on your fitness level and lifestyle. Soon enough, you will be able to work out efficiently in no time.
Let's get started!
Differences between chest strap and wrist heart rate monitors
There are a good number of differences between chest strap and heart rate monitors. While there is the similarity in that they measure heart rate through your blood pulse, their effectiveness and features can vary quite a bit. That said, here are a few differences between the two items:
Chest strap heart rate monitors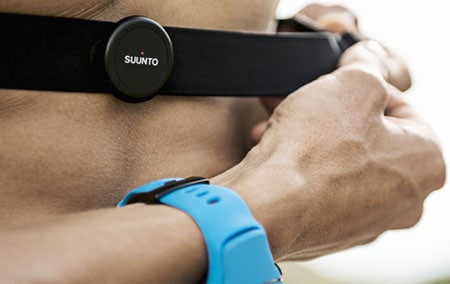 Pros
More accurate at measuring heart rate. Considering that the chest strap is placed over the source of the blood pulse (aka the heart), it is no doubt that it tends to be more accurate at reading heart rate than wrist heart rate monitors.
Less expensive. Chest straps tend to be cheaper than wrist heart rate monitors: it can also be paired with Bluetooth devices to track your heart rate and other workout features (e.g. calories, distance, etc.) which in sum is a good deal.
Cons
Not very comfortable to wear. Since you are placing the item right over your chest, admittedly it can be quite uncomfortable after a while, not just involving chaffing of the skin, but also it can be hard to breathe after a while.
Does not sync up very well with tracker. Because they are a bit bulky in size, chest straps might not be convenient for hooking up to a tracking device to measure heart rate very well. It can be a hassle, since you spend extra on it rather than having it all in one.
Wrist heart rate monitors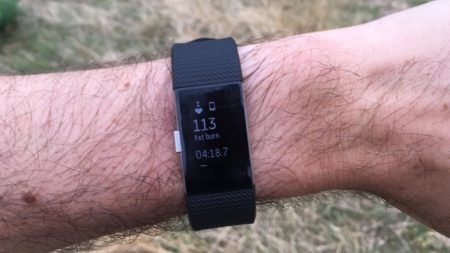 Pros
Lightweight to wear. With wrist heart rate monitors, they go on your wrist, which is lighter and more convenient to move around with. Now, you do not have to worry about feeling weighed down by something as heavy as the chest strap instead.
Pairs well with other devices. In other words, wrist heart rate monitors can be seamlessly hooked up to Bluetooth and other devices not only to calculate heart rate and calories, but also even allow you to listen to music. Besides practical applications, it can also be entertaining!
Cons
Tends to be pricier. Since it provides more convenient features than chest straps, it is not surprising that wrist heart rate monitors cost more, perhaps a few hundred dollars. Especially if you are on a budget, it can put a real chunk in your bank account.
Accuracy can be a hit or miss. Since you are attaching it to your wrist, the blood pulse is further away from the source (the heart). That said, accuracy is left to be desired at times, which can be frustrating if you are striving for something reliable.
Which heart rate monitor will benefit you?
This will really depend on just what you want: no two lifestyles are the same, so one gadget might work better for one person than the other, and vice versa.
A rule of thumb, however, is to see where you stand with a few factors, which we will list here:
1. Budget. If you are on a budget, then investing in a chest strap will be better than a wrist heart rate monitor. On the other hand, if you do not mind forking over a bit more for something a bit comfortable, then the wrist monitor will do.
2. Workout frequency. If you exercise regularly, then having something with a long, sustainable battery life would be ideal. Chest straps, then, are usually reliable sources for doing so, whereas wrist monitors might require recharging more frequently.
3. Personal preferences. In other words, this comes down to accuracy, and just how much of a stickler you are for an accurate heart rate tracker. It can be hard if the gadget does not track very well, so it is best to get something that is reasonably accurate.
Will I Wear All the Time or Just At the Gym?

Do you want to constantly keep up with your heart activity, or just manage it during workouts? If you want to wear it all the time, there are plenty of more stylish, casual watch-style monitors that can be worn throughout the day that also can function as a watch. The apple watch also supports some heart rate monitors and heart rate applications in the app store. Many of these watches feature additional stats that can serve to further educate and allow you to manage your overall fitness routine effectiveness.
10 Best Heart Monitors
1. Fitbit Charge 2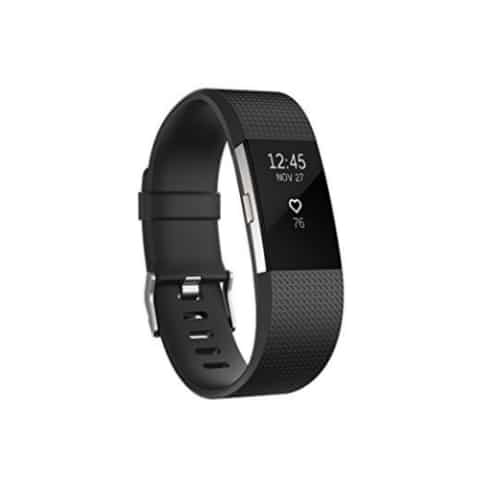 A very popular and best selling option, the FitBit monitor is sleek, comfortable, and offers many easy-to-use functions that will aid you in your fitness planning effectiveness. The FitBit uses a wristwatch design and digital display that is easy to see, and interactive. Program your fitness level, workout plans, and even get a cardio fitness score to track progress.
Expand to see more
Features:

PurePulse continuous, automatic wrist-based heart rate tracking to better measure calorie burn throughout the day
Switch between FatBurn, Cardio, and Peak modes to target specific workout goals
Track how long and well you sleep
GPS run mode to track pace, distance, and calories burned
Track all day activity such as steps, calories, calorie intake, workouts, cardio, etc.

The FitBit offers a wide range of functionality that anyone could find a use with. For frequent gym goers, this handy sidekick can give your plan the strategic edge to start busting through those plateaus and continue to make progress. It is an all day tool that can help you see the bigger picture of your fitness and health, and begin to see where you could use improvement. With a high price point and wide functionality, those seeking a simple monitor may want to look elsewhere, but the FitBit is sure to provide many tools to anyone looking to track their health statistics.
Sleek
Accurate
Comfortable
Versatile
Some complain of too many functions, but it is on a case-by-case basis
2. Garmin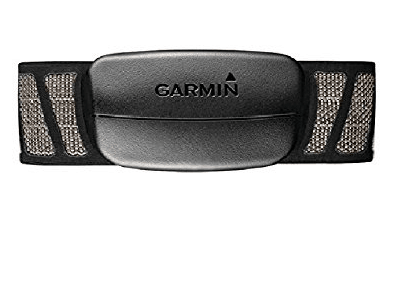 The Garmin is a discreet strap monitor that has the ability to wirelessly transmit your heart rate data to a connected device. After connecting your phone or watch to the device, it will automatically recognize it, making getting ready for the gym with your monitor easier and faster than ever. Just attach the strap around your chest and you are ready to go. Collect your heart rate data during your workout with live data from the monitor, and make sure you are staying safe and efficient.
Expand to see more
Features:

Soft, elastic strap for comfortable fit
Wireless
Sweat-proof
Fast transmission, no lag time

Using the Garmin chest monitor makes keeping track of your heart rate as easy as checking your phone or device, allowing you to focus on your workout. Don't worry about wearing anything on your wrist or arm, as the chest strap is all that is necessary. The Garmin chest strap is a simple solution for those looking for a simple, effective, and easy to use heart rate monitor.

Sweat-proof wireless, easy to use strap
Wireless
Easy to use strap
3. Scosche Rhythm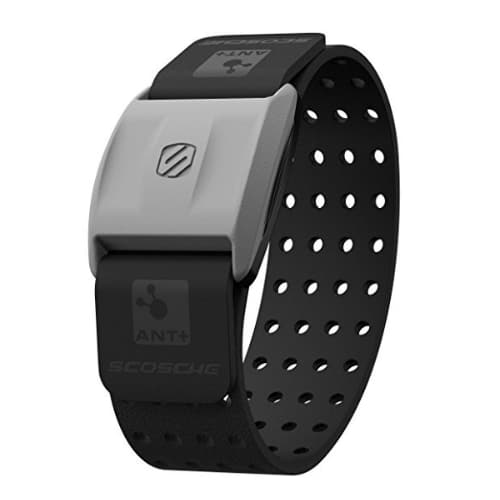 The Scosche heart rate monitor is a new, modern, durable, and consumer-minded monitor. This option features a very comfortable fit, along with all of the tools anyone looking for a heart rate tracker or fitness pal could want. This strap manages heart rate, calories burned, distance traveled, pace, and more. Despite its higher price point, this monitor makes use of its full value.
Expand to see more
Features:

Breathable, lightweight armband, no chest strap required.
Waterproof, can be submerged up to 1 meter
Wireless, connects to most fitness apps and smart phones
PerformTek Software allows for monitoring of heart rate during any type of exercise
Hyper accurate results during intense exercise due to meticulous design and testing

This monitor is of the best quality available, offering many useful features that can enable you to maximize your workout effectiveness, or even just stay on top of your heart health and daily calorie expenditure. Its durable, comfortable design combined with its efficient function makes it a top choice for the heart-conscious consumer.

Hyperaccurate
Wireless
Waterproof
Easy to read data
Can be uncomfortable to those not used to wearing chest straps
4. Polar Ft1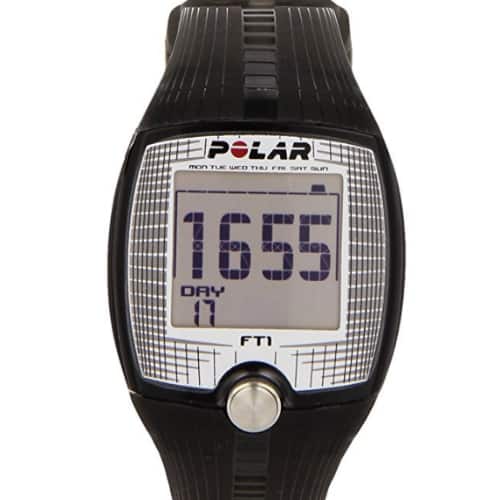 The Polar is your smart monitor that can help you stay in your target zone while focusing on your workout, not your wrist. The Polar FT1 has a large easy top read display, and you can easily set your target zone and activate exercise mode. The small, comfortable wristwatch design provides a continuous, accurate heart rate display that can help you exercise safely and efficiently. With an affordable price point and great design, this monitor is perfect for those looking for a simple way to track their heart rate during exercise or any time.

Expand to see more
Features:

One button operation
Recording and Tracking features
Water resistant
Transmitter belt
Target zone specific training options

The Polar monitor is the perfect simple, easy to use product for those that want minimum distraction form their workouts. With one touch and automatic settings during your workout, you can keep up with your heart rate hands-free without worrying about programming anything. Grab your Polar monitor and get to work!
Efficient
Accurate
Easy to use
Multipiece, requires chest strap and wristband
5. Wahoo TICKR X
The Wahoo chest strap monitor is the perfect all around heart rate monitor that has the functionality and ease of use that any fitness minded individual could embrace. The monitor transmits real-time data on your workouts: including heart rate, rep count, steps taken, distance traveled, and calories burned. The strap has wireless connectivity and is compatible with most smartphone-based fitness apps like MyFitness Pal, the Nike+ app, and MapMyRun.
Expand to see more
Features:

Automatic rep counting in high-intensity circuit workouts when used with the Wahoo 7 Minute Workout or Pear Sports app.
Train without a phone with built in memory
Personalized Heart Rate Training
Workout efficiently - view real-time heart rate, training zones and calories burned on your smartphone or tablet with compatible training apps
Personalized Heart Rate Training - Workout efficiently - view real-time heart rate, training zones and calories burned on your smartphone or tablet with compatible training apps
Apple Watch compatibility

With built in memory and live-feed statistics streamed directly to your mobile device, you can workout without your phone while still capturing all of the data you need to plan and steer your routine in the right direction. Stay on top of your workout efficiency or simply monitor your daily activity levels, all without staring at your phone. The Wahoo Tickr is a perfect option for those looking for a well-designed hands-free heart rate monitor.
Super accurate
Efficient wireless chest strap design
Requires smart phone or separate device for viewing of data
6. AliveCor Kardia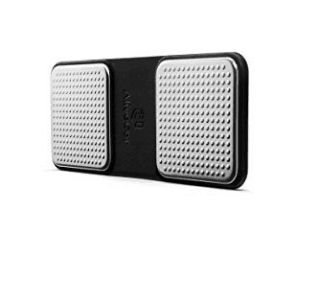 This mobile and easy to use heart rate device is one of the most accurate, clinically effective heart activity devices available. On top of delivering heart rate data, the Kardia mobile provides clinical-grade ECG data to alert of atrial fibrillation, shortness of breath, palpitations, and more. With features such as digital memory, voice memos, heart rate tracking, and diagnostic tools, there is a wide range of use with this device. Simply hold the device in the palm of your hands to collect ECG data in only 30 seconds, and understand how your heart is functioning faster than ever before.
Expand to see more
Features:

Digital memory
Heart rate tracking
Voice memos
Diagnostic tools

While this is not a typical fitness tracker, this device is geared more for those looking to keep track of heart health and specific conditions, but can still be used to track overall fitness and wellness that may be obtained from a strict fitness plan. Stay alert and on top of your heart health with your own personal heart attendant, and have peace of mind that your heart is functioning properly and free of any conditions. Don't wander about your heart health, keep track of ECG's and share them with your doctor faster than ever before and wield this power in the palm of your hand.
Medical grade ECG reports at your fingertips
Collects data in 30 seconds
Detailed, hard to interpret info on top of pulse rate info
7. Pyle Sports PHRM38BK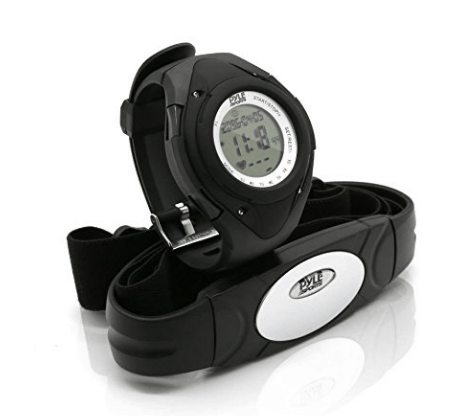 This lightweight and simple watch and band combination is an efficient, low-budget option that will serve its purpose. The band submits live data to the watch for easy tracking of heart activity, and with sweat-proof capabilities, it can be worn during exercise. With target training program features, you can stay in your target heart rate and know you are taking your fitness and heart health in the correct direction. The watch features all of your normal sport watch features, including time and date, alarm, and pedometer tracking.
Expand to see more
Features:

Smart target zone training, zone in on aerobic or heart healthy heart rate zones during exercise
Designed for comfortability during aerobic exercise
Tracking and management of past data for use with your cardiac physician
Water and sweat resistant

The Pyle sports watch is great for those looking for a very simple but functional monitor. It gathers all of the data you could want: calories burned, pedometer, heart rate averages and figures based on time range, and more. Save the bank while still staying heart and fitness minded, and begin to monitor your heart health with the Pyle sports wristwatch monitor.
Simple and efficient design
Waterproof
Less diversity of features
8. Bonebit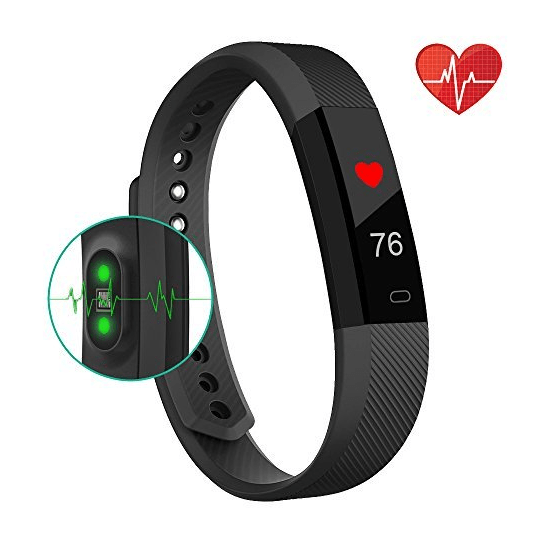 This monitor is perfect for anyone looking for an affordable, stylish, versatile heart rate tracking tool. With features that include step counter, sleep pattern tracker, and a digital heart rate display, you can keep up with your fitness 24/7 and monitor your health habits and the results they are having on your heart.
Expand to see more
Features:

Water-proof
LED touch screen with programmable vibration alerts
Wireless charging
Remote camera shoot
Anti-loss tracking system
Sleep monitor and alarm

Being a very versatile tool that is sleek, effective, and discrete, this heart rate monitor is for the modern fitness-minded individual, and it can add a strategic edge to any fitness plan.
Versatility of features and ease of use
Wireless charging
Great price poin
Less accurate than chest strap options
9. Ikeepi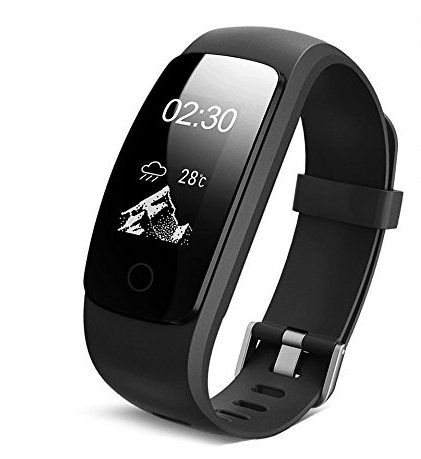 The Ikeepi sports band is a multifunctional sports smartband that can track heart rate, step count, and even track your activity and calorie expenditure during specific sports or activities like basketball, treadmill, baseball, and biking. The sleek design, affordable price point, and durable make are great features that make this heart rate monitor trendy and functional.
Expand to see more
Features:

Water and sweat-proof
Compatible iPhone app
Automatically monitor heart rate
Sleep pattern monitor,
Pedometer
Calorie burn counter
Distance counter
Weather display
Time clock
Camera remote control
Music Control
Message alert
Reminder and find-my-band tracking

If you are looking for heart rate monitor and fitness pal that can double as your everyday watch while providing a great amount of services, this is the monitor you have been looking for. It features affordable pricing and a wide breadth of features that can serve as anyone's fitness and heart health pal on a daily basis, and help to keep your fitness routine efficient and hassle-free.
Compatible iPhone app
Comfortable wristwatch design
Battery life issues have been reported
10. TAIR Bracelet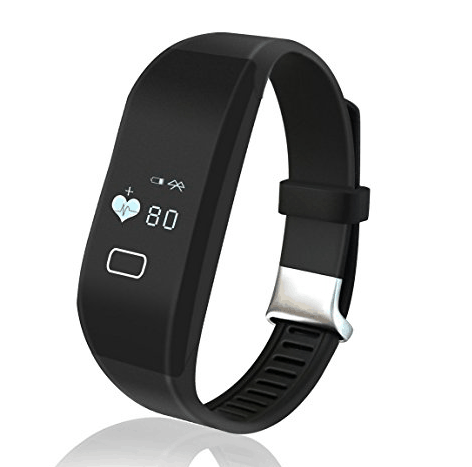 The Tair heart rate monitor wristband features an HD touch screen with multiple interfaces that can be swiped to access different features. The bracelet is sleek, lightweight, small, and easy to wear in any situation. With a sweat and waterproof design, it is perfect for wearing to the gym or anywhere on the go. The sleek display is easy to read and displays time, heart rate, pedometer, or whatever feature you have selected.
Expand to see more
Feautres:

Scratch resistant and high-definition, easily visible display
Touch screen
Calculate heart rate accurately by PPG (photoelectric volume pulse wave tracing) sensor. The measurement range is 30-210bpm.
6 interfaces: clock, heart rate, pedometer, calorie counter, sleep tracker
Connect phone for message and call alerts

This heart rate device is perfect for android users who want an all-in-one fitness partner that can help to track activity and heart rate information, simply and efficiently. You can connect all data to your phone and checkup on your daily stats whenever you want. With so many features and a quality design with the consumer experience in mind, this is a great product for android users.
HD touch screen
Easy setup and use
Usage Recommendations
With heart rate monitors, it is up to the user how much to use and how to use the findings from your heart rate monitor. Some of the main use cases for heart rate monitors include:
At-risk cardiac patients, as instructed by a physician

Those concerned with workout intensity

Those with family history of heart problems

Those who are instructed to keep heart arte in certain zones during strenuous activity
Using a heart rate monitor can provide many great benefits by allowing direct insight into your heart activity, and also where your heart rate is at during specific activities and times of day. It is recommended that these devices are used to pinpoint aerobic zones, (60-70% max heart rate) and cardiac improvement zones (70-80% of the max heart rate). Most devices can help track additional info, such as calories burned, sleep cycles, and reps during lifting sessions. This additional data can be coupled with heart rate data to lead to better insights and a better, more efficient fitness strategy that should be evolving every week. For example, if you notice your heart rate average is lower than normal after a two-week program, and that your calories burned is also increasing, than you can infer from this that your fitness routine is on the right track. Twist and tweak your workouts to achieve better results and tailor your workouts to be more efficient with a heart rate monitor or fitness pal.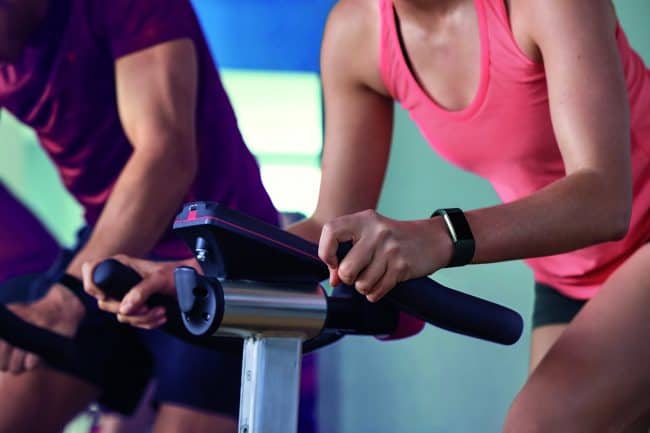 Precautions
When using a heart rate monitor, it is recommended that you consult your doctor to learn about your current heart health and what kind of load it can handle so that you can safely know the degree to which you can alter your heart rate during exercise. Your physician can let you know your maximum heart rate, a factor based on age and overall wellness and heart health. Do not push your heart rate any further if you experience dizziness, nausea, dry mouth, or light-headedness when heart rate is high. Do not use the heart rate monitor to push your heart beyond its limits. Ensure your device is waterproof before using around water or pools. It is important to have your heart checked regularly by a physician, but using a personal monitor can keep you informed and educated on your heart health on a daily basis.
Criteria For Evaluation
All heart monitors on this list were organized based on a wide range of factors. We factor in customer reviews, functionality, quality of materials, accuracy, ease of use, and many other criteria to form this list. Heart rate monitors can have many different uses, and in order to find the best match for you, it is important to understand what you are looking for, and how much diversity of function you are looking for in a device. Monitors that displayed quality, accuracy, efficient function, and ability to be utilized by many, were rated higher. All products on our list are highly recommended products, and the degree to which a product is suited for you should be taken on a case-by-case basis and compared to your personal preferences and needs. Customer reviews also factored into this list, as highly rated, widely used products were given precedence over others that did not have as much popularity or support from users on the forums. All monitors on this list are American Heart Association approved and are safe to use.
FAQs
Are these heart rate monitors accurate during
different
types of exercise?
Yes, all of the monitors on this list feature accurate sensor technology that can be accurate during running, lifting, HIIT, walking, dance, basketball, etc.
How durable are the wristwatch monitors?
All of the wristwatch monitors, as well as other forms, are made from unique materials aimed at providing that company's version of the most durable and comfortable materials on the market. The FitBit wristwatch features a brand new material that is detachable from the interface, and very durable and backed by customer reviews. Other wristwatches and monitors that do not have hard glass and digital interfaces will be easier to take care of and avoid damage.
What devices/apps connect to these devices?
Depending on the make of the monitor, it may have Bluetooth connectivity to a phone, separate device, or application. There are options for iPhone as well as Android users that want instant display of data from a discrete monitor, as well as options that display directly on your wrist based on a remote connection. Be sure to clarify how each device functions before purchasing to ensure you are going to receive the data in the mode that you prefer. Compatible apps for most devices include myfitnesspal, nike+, mapmyrun, and more in app stores.
Are displays easily readable in sunlight?
Yes, all of the mobile monitors feature LED or digital displays with backlights that make viewing the display in the daylight easy.
Do wrist devices need to be water and sweat proof?
It depends on preference, for most wristwatches it is best to not wear them in the shower or while swimming to avoid skin damage to you and mechanics damage to the device. But, most devices on this list are water and sweat proof, as to facilitate peace of mind while working out at the gym and not worrying about small amounts of condensation affecting the device.
Do the wristwatches come in different sizes?
Yes, depending on the manufacturer they will ask for either wrist measurements or simply give small, medium, and large options.
Are the chest straps distracting during exercise?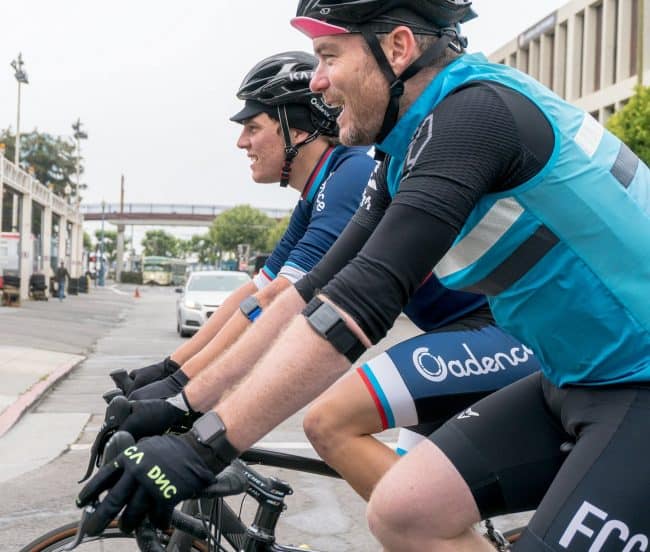 According to multiple health and fitness forums, we found that customers find the chest straps to be especially convenient, efficient, and comfortable. All of the options on our list feature very comfortable designs along with wireless connectivity to transmit information on smart phones or included secondary devices.
Customers and physicians alike believe the closer proximity to the heart allows for more accurate data to be transmitted as well. The chest strap monitors are a discrete,
non-distracting option for those looking for remote connectivity to a phone to minimize the amount of devices carried during exercise routines.
What features do I need?
The main feature in all of these devices is heart rate tracking. As discussed previously, this data, if used correctly, can be used to burn calories more efficiently and safely during exercise. Additional features such as calories burned, stopwatches, pedometers, and sleep pattern trackers vary with each device and are relevant only to those who are interested in keeping track of a more well rounded picture of their fitness routine, and other factors that contribute to the heart rate data and its interpretation.
Subscribe to our Newsletter