Best Skinsuits Reviewed and Rated
Disclosure: We use affiliate links and may receive a small commission on purchases.
Skinsuits can improve aerodynamics, save on time and energy in your sports performance. On estimate, a skinsuit can increase your speed and save your energy by up to 3.2% which is roughly 29secs of a 40-kilometer time trial.
Our Top 3 Picks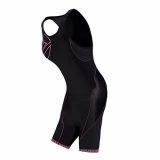 Santic

Our rating
Durable
Price:

See Here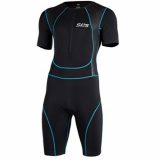 SLS3

Our rating
Comfortable
Price:

See Here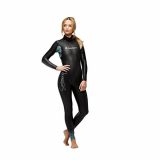 Aqua Sphere

Our rating
Affordable
Price:

See Here

What is a skinsuit?
The Oxford dictionary describes a skin suit as, "any of various types of (usually one-piece) suit made of an elasticated material which fits tightly to the body, especially one designed for a particular sport." Most people use skin suits for swimming, running or cycling. Most individuals prefer skinsuits over the traditional jerseys, to achieve a comfortable performance with no disturbance by moving air or water. They simply feel like a second skin, while reducing air drag.
10 Best Training Skinsuits
1. Santic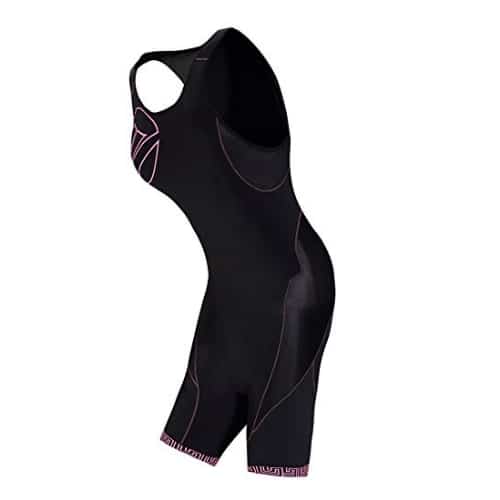 Santic is built for women using nylon 80% and spandex 18%, and fit for beginners of multisport activities (swimming, cycling and long-distance running). It is breathable, easy to dry and suitable for hand wash.

The legs are semi-compressed with silicone elastic grip to prevent running up. The suit has vapor ventral panels combined with a soft back panel mesh for breathability, especially on hot days.

The trilite pad avoids excessive water absorption while swimming and still provides comfort when cycling. The padding seams are made well to fit snuggly and prevent any chafing.
Expand to see more
Features/Specifications

Fabric is 82% nylon and 18% Spandex
Built for women
Made for multisport (swimming, cycling, and running)
Suitable for hand wash
Sleeveless
High quality tri-lite pad
Full back zip
Breathable ventral panel and back panel mesh
Size ranges from small to large

Price/Value

Santic skinsuit is reasonably priced, and still a high-performance suit with a stylish design for women. Its features of durability, comfort, speed and high performance are worth investing in.

Verdict

This product is an excellent buy for both novice and experienced athletes, considering that it has a dynamic compression fit that still allows full range of motion. It is comfortable to wear, breathable fabric and has a very comfortable tri-lite pad that is suitable for both long and short distances. It fits well, does not sag even after using it severally and even better, has a three months money back guarantee if it does not meet your needs.
Fits well and is comfortable
Durable and thick material
Easy to wear
Comfortable padding
Wicks moisture
Quick dry
Meant for multiple sports
Beautiful prints intended for women
Back zipper is difficult for some people to use
No built-in bra
2. SLS3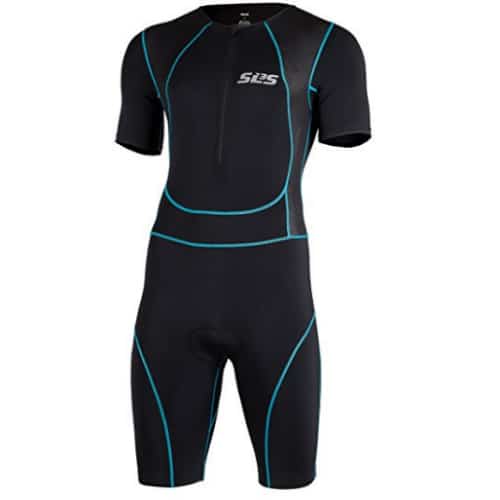 SLS3 triathlon suit is built for men with super light nylon and spandex fabric that absorbs sweat and has mesh shoulder inserts for ventilation. The material dries quickly and stretches in all directions to allow free range motion. Users also credit it for its tight fit. The collar is soft binding to prevent chafing and enhance comfort.

The suit has a foam-cushioned pad meant comfort when cycling and light enough for swimming. This tri suit has a center back pocket that is easy to reach. The half lockdown zip is on the front side and easy to open for air flow.
Expand to see more
Features/Specifications

Fabric is nylon and spandex
Breathable and fast drying
Short sleeved
Soft binding collar
Flatlock seams
Foam cushioned pad
Front half zipper
Center back pockets
Removable mesh shoulder inserts
Anti-chafing flatlock seams
Size ranges from S to XL

Price/Value

SLS3 skinsuit is affordable and still has quality features for running, cycling and swimming. It has a tight fit and tested and proven to reduce air drag considerably. The seams are quality, durable and will not run off in a long time. Hence, this suit is worth its price as it will serve you for many races.

Verdict

This product is worth putting into consideration especially if you are an entry racer. It will significantly improve your performance by increasing speed and saving your time and energy. Moreover, it has a sun reflector and UV protector to guard you against damaging ultraviolet rays. To top it all is that it is comfortable and easy to wear, gives a dynamic muscle compression with its tight fit and it has pockets to store energy snacks.
Comfortable and tight fit
Easy to wear
Front zip
Has two pockets at the rear side
Commendable ventilation
Quick dry
Meant for multisports
A bit revealing on the groin area
3. Aqua Sphere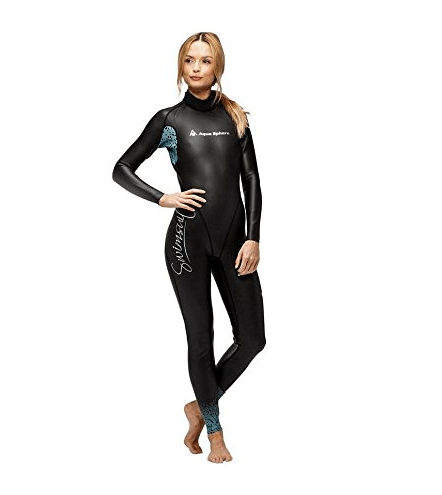 Aqua Sphere skinsuit is designed for women, specifically for swimming. It is suitable for cold weather as it is long-sleeved and extends all the way to the ankle. The double-lock collar is built with a glide skin material to limit water entry, and the armpit panels are smooth for natural swimming movement.

The fabric is 1mm thick, water repellant and quick to dry. The material is also warmer than most swimming skinsuits in the market. The full zipper is on the back side, and it makes the suit easy to wear and take off.
Expand to see more
Features/Specifications

Built for swimming in cold weather
Fabric is 1mm thick
Water repellant
Quick dry
Full zip at the back side
Collar has a glide skin material
Full zipper on the back side
Allows full range of motion
Size ranges from XS to XXL

Price/Value

Aquashere skinsuit is reasonably priced for its superior features and is more affordable than most swimsuits. The fabric is high quality, one millimeter thick and warm enough for winter swimming. The cut is skillfully designed and tested to enhance speed and performance.

Verdict

This product is an excellent buy for moderate and pro swimmers and divers. The skin uses glide-skin neoprene to reduce drag and increase speed as it gives you the freedom to move in water. It stands out because its thermo-technology traps body warmth, keeping you warm even in very cold temperatures.
Fits well
Easy to wear and take off
Warm
Flexible enough for swimming
Affordable
Water repellant
Quick dry
Many fittings from XS to 2XL
Arms have a small fitting
4. KONA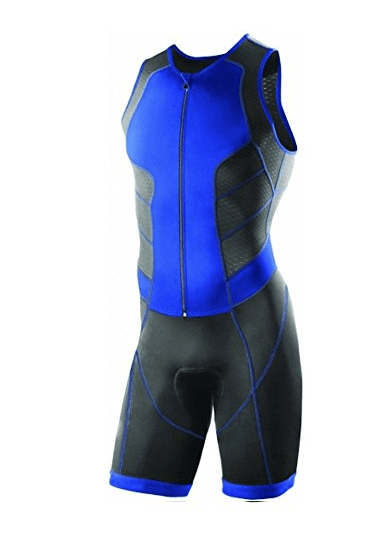 KONA is built with lycra fabric for men, for triathlon races. The material is lightweight and quick to dry. The fabric is also highly stretchable to allow free range of motion from the shoulders to the shoulders, core, and thighs. It has a full unlock zipper on the front side that makes it easy to wear and take off. You can also unzip when it gets too hot.

For the pockets, it has one hidden rear pocket for storage of energy snacks. The pad is well cushioned for comfort and moisture absorption. In addition, it has an HI FIL mesh that regulates body temperature and moisture using its high filament technology. The pad is lightweight and quick dry, suitable for both swimming and cycling.
Expand to see more
Features/Specifications

Lycra fabric
Hi-tech mesh for ventilation
Sleeveless
Half zip on the front side
Rear pocket for storage`
Quick dry
Moisture wicking
Allows full range of motion
Lightweight and fast dry pad
Has mesh panels on the front for temperature and moisture regulation
Size ranges from small to 3XL

Price/Value

KONA suit is affordable and still, a quality product. The fabric is quality, stretchable, breathable and quick dry, meant for swimming, cycling and running.

Verdict

This product is a suitable fit for beginners. It offers comfort, speed and high performance with a reasonable price. It allows free range of motion in all parts of the body. The fabric is also a quick dry type that is also breathable, keeping you dry and comfortable.
Quick to dry fabric
Breathable
Good temperature regulation
Has a rear pocket for storage
Highly flexible
Suitable for multiple sports
Offers sun protection
Comfortable
5. Louis Garneau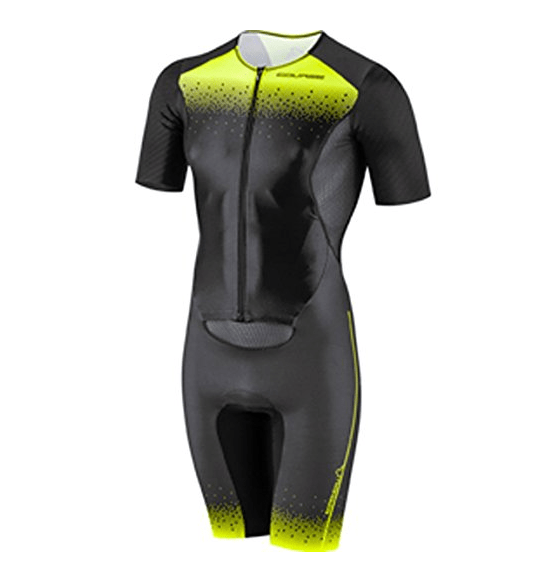 This skinsuit is cut for men using nylon, polyester and spandex fabric. The fabric is moisture wicking, highly stretchable to all directions and has a dimpled mesh for breathability. It is also light and chlorine resistant. The collar designed to reduce drag and for utmost comfort.

It stands out from other skinsuits as it has a nature call panel on the front that makes it easy for you to relieve yourself. It has back and front reflective accents for visibility. The sleeves are designed to allow better air flow and reduce air drag. It has a full zip to enable unzipping for ventilation and also makes it easy to wear and take off. The full-length zipper has a garage at the top and bottom.

Course M-2 has two inner pockets that you can use to store snacks or phone without compromising on air flow. The chamois is lightweight, quick dry and breathable. It is made using crabyon fabric that is antibacterial, biodegradable and allergy tested.
Expand to see more
Features/Specifications

Fabric used is nylon, polyester, and spandex
For swimming, running, and cycling
Meant for a racer fit for speeds between 25 and 70km/h
Moisture-wicking and stretchable to all directions
Full-length zipper with garage at the top and bottom
Sleeveless and has pre-shaped shoulders
Two gel pockets on the inside
Has overlock seams but the inner leg is seamless with laser finish
Nature calls panel front to easly relive yourself
Chlorine resistant
High-quality antibacterial chamois
Size ranges from XS to 3XL

Price/Value

Course M-2 is quite pricey but is it a high-quality cut that is wind tunnel tested. Furthermore, it is designed for a race fit for speeds of 25-70km/h.

Verdict

If you want a skinsuit that is meant for multisports and still of unrivaled quality, then Course M-2 is worth a look. The fabric is high quality, lightweight, breathable and flexible enough for full range of motion. The chamois is high quality too, made with antibacterial crabyon material that quick drying, breathable and comfortable. You do not have to worry about relieving yourself as it has a nature call front panel. The pockets are also on the inside not to compromise on air flow. It may be expensive, but then the quality and durability of this skinsuit are worth investing in.
High-quality antibacterial chamois
Nature call front panel
Has pockets on the inside
Full-length zipper for ventilation
Stretchable in four directions
Chlorine resistant
Quick dry
Breathable
6. Deckra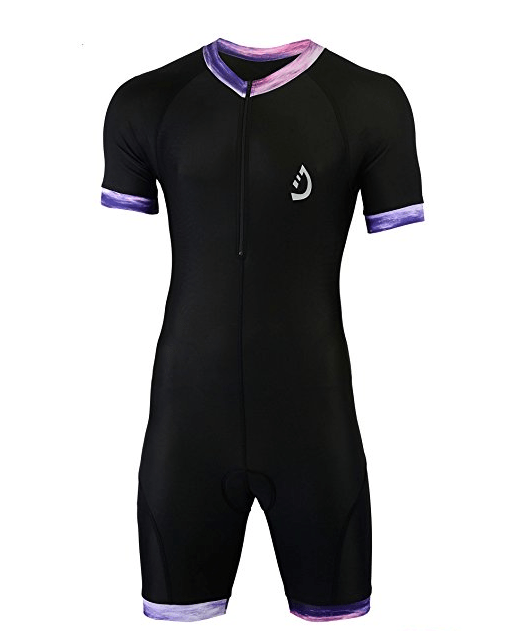 Deckra skinsuit is specially designed for long distance rides. It is made with lightweight lycra fabric that is durable, elastic, dries quickly and is breathable. The seams are specially made for comfort and to avoid running up. It has a tight race fit with comfortable antibacterial padding. It has a halfway zip to make it easy to wear and take off. The logo is also reflective for high visibility.
Expand to see more
Features/Specifications

Made with lycra fabric
Short sleeved
Has a reflective logo for visibility
Quick dry and breathable
The ends are well made for comfort and to prevent riding up
Half zip for ventilation and it makes it easy to wear and take off.
Comfortable antibacterial padding
Size ranges from small to XXL

Price/Value

This skinsuit is easy on the pocket but still does what it is meant to do. It fits tightly, reduces air drag, saves your time and energy, and the fabric is highly stretchable to allow full range of motion.

Verdict

Deckra skinsuit is a great choice for entry and intermediate athletes for both long and short distance races. It is worth considering for its durable, stretchable and comfortable fabric for any race. The best thing about Deckra skinsuit is that it is affordable and still a high quality tested skinsuit.
High-quality lycra fabric
Tight fit and lightweight
Is easy to wear and take off
Quick to dry and breathable
Well made seams
The pad is antibacterial
Moisture wicking
7. SPEXCEL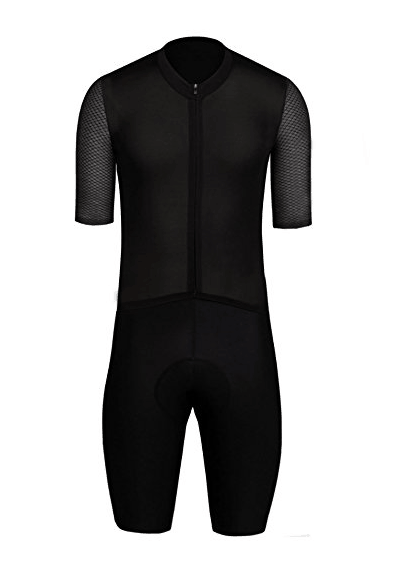 Spexcel is a short sleeve skinsuit made with 7% polyester and 22% elastane and Miti optimized fiber for the sleeves. It is made for men, for Pro Team fit. The collar is close cut and the seams are overlocked to reduce drag, prevent chafing and improve durability. On the front and rear, there are reflective convict stripes for visibility.

It has a full zipper on the front side. The zip has a lock to prevent the suit from opening while training. For the pockets, it has a reinforced low-profile triple pockets on the rear side. The pockets have an inner mesh to improve ventilation, especially in hot weather. Comfort is assured with an ergonomic collar, antislip belt leg made with silicone to prevent irritation, and high-quality chamois.
Expand to see more
Features/Specifications

Fabric is 78% polyester and 22% elastane
Sleeves are made using lightweight Italian Miti Fabric
Mesh fabric on the inner pockets for breathability
Short sleeved
Pro team tight fit
Three pockets at the rear side
Reflective piping at the back and front
Suitable for warm weather
Full zip at the front with a lock-down puller at the center
Leg ends have an anti-slip belt leg made with silicone
High quality chamois
Size ranges from S to XXXL

Price/Value

Spexcel is reasonably priced with a pro team aero fit and has been tested and shown some good performance.

Verdict

Other than being fairly priced, Spexcel skinsuit is also worth considering for its tight fit, durability, and breathability. The pad is high density and suitable for long distances in autumn, summer, and spring. In addition, it has three rear pockets for energy bars or phone and a full zipper that you can use if you need some extra ventilation.
Affordable
Superior quality padding
Has a tight fit
Available in many sizes
Has easy to reach rear pockets
Mesh for breathability
8. Skins TRI400
Skins TRI400 is built with 80% polyester and 20% elastane. The fabric is also quick dry, breathable and slimy. It can be used for swimming, cycling and running. It has antifriction inner leg carbon panels for comfort and to prevent friction while running. In addition, it has a memory max fabric panel strategically placed along the frame of the spine for maximum comfort and unrestricted movement. There are other panels on the suit to compress and stabilize the muscles and to lower the risk of injury and fatigue.

The chamois is made with a high-density foam for protection and maximum comfort when cycling or swimming. The chamois surface is also textured to allow optimal transfer of moisture especially after swimming.
Expand to see more
Features/Specifications

Fabric used is 80% polyester and 20% elastane
High-quality chamois
Has antifriction inner leg panels
Flatlock seams
Sleeveless
Superior stretchability for unrestricted movement
High muscle compression
Half zipper on the front side
Size ranges from FXS to FL

Price/Value

Skins TRI400 women's skinsuit is in the high price range, but it is a value product that is stylish and durable. Moreover, it can be used for more than one sport, it has a super high stretchability and will therefore not change shape or sag after use.

Verdict

Though expensive, this product is a tight fit with a dynamic gradient compression to enhance your performance and speed. It is a quick dry and absorbs moisture effectively, leaving you dry and comfortable. The fabric is light weight, fashionable and you do not have to worry about friction in between the legs as it has antifriction panels.
Stylish
Has anti-friction panels
High-quality chamois
Flatlock seams to reduce drag
Meant for both long distance and short
Highly flexible
Can be used for multi-sports
Moisture wicking
Optimum muscle compression
9. Uglyfrog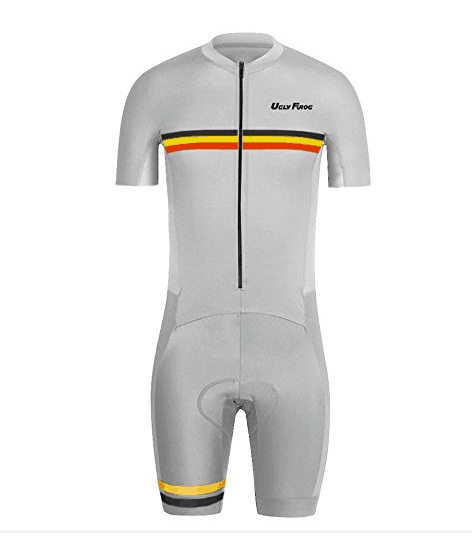 Uglyfrog triathlon suit is designed for men, for summertime. It is sleeveless and comes in many different colors. The fabric is breathable lycra and polyester, and the manufacturer allows you to order customization requests.

The leg band is made of quality silicone to avoid running up and down when exercising and does not have any irritation. It has a Coolmax 3D silicone pad for comfort and protection during long-distance cycling.

When ordering, the user has an option of requesting for additional pockets and other customizable features.
Expand to see more
Features/Specifications

Fabric used is lycra and polyester
Breathable
Leg band is silicon
Pockets are added on request
High quality pad suitable for long distance cycling
Short sleeved and ideal for warm weather
Size ranges from small to XXXL

Price/Value

Uglyfrog is a budget product, tested by star cycling athletes and proved to be effective in enhancing speed and performance. What is better is that the sellers allow the user to order customized modifications when buying.

Verdict

Uglyfrog is an excellent buy if you want an affordable skinsuit that is customized to your preferences. On appearance, it has commendable graphics and comes in multiple colors. The fabric has a tight fit that is highly stretchable for full range of motion, has good ventilation and a high quality chamois.
Pockets on request
Tight fit
High quality pad suitable for long distance
Fits both the lean and well built
Commendable graphics on the suit
Allows full range of motion
Comfortable
Durable seams
10. CEP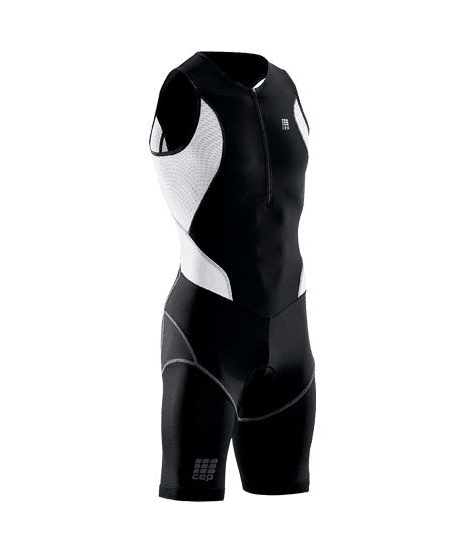 CEP skinsuit is unisex, meant for triathletes for all distances. Outer fabric is 71% polyamide and 29% spandex, inner fabric 80% polyamide and 20% spandex. The suit has extra flat seams, but the legs are seamless, giving a medi-compression to improve circulation and lower the likelihood of injury.

The neckline is closed and high to prevent water and air from running in. The front half zipper makes it easy to wear and expose in case of hot weather. The padding is quick dry and designed to provide maximum comfort.
Expand to see more
Features/Specifications

Inner fabric is 80% polyamide and 20% spandex
Outer fabric is 7% polyamide and 29% spandex
Fabric is breathable and moisture wicking
Sleeveless
Integrated mesh for ventilation
Half front zipper and high closed neck collar
Flat seams but the legs are seamless
Comfortable padding
Two mesh rear pockets

Price

Pricey but has a six months payment plan without interest if payment is completed in six months. The quality is unrivaled, and the comfort is guaranteed. The fabric has an inner and outer layer to give great endurance and higher performance.

Value

CEP skinsuit is a high-value product that is worth considering if you are a pro or working towards being one and you would not like to compromise on your speed, energy, and performance. It is made with high-quality materials for extreme durability, and its fit gives a full range of motion.
Seamless legs
Extra flat seams
Breathable fabric
Suitable for swimming and cycling
High and closed collar
Pockets for storage
Easy to wear and take off
Criteria for Evaluation
The skinsuit business is not as affordable as other activewear. Buying the wrong choice of a skinsuit can be an expensive affair and a very disappointing one. We have hand selected some of the best skinsuits in the market that are durable, tested and proven to provide some of the best performances. These are the factors that we considered when picking the best skinsuit products.
Brand
R
eputation
We selected brands that have a high reputation for giving the best performances. They are known to be durable, comfortable and have been used by some of the top athletes. The manufacturers are also recognized for producing other quality sportswear.
User Reviews and Ratings
We considered user reviews and ratings from verified and unbiased customers from various online platforms. We also considered reports from top athletes who had used the skinsuits for competitive races. From the reviews, we were able to tell whether each product met the advertisement claims. At the end of the day, we chose products that had the best positive reviews and the highest ratings from verified purchasers.
Product Testing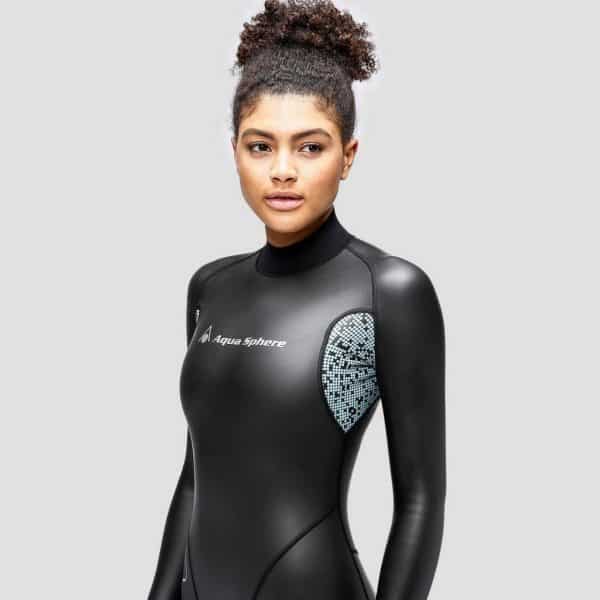 Manufacturers at times make false claims of their products in order to drive up sales. The best way to prove the claims is by testing the product. We chose skinsuits that have been tested (some have undergone wind tunnel testing, and most have been used for competitions). From the verified customer reviews, we could also tell that the suits increase speed, are comfortable and durable.
Durability
When you buy a skinsuit, you will want it to serve you for a reasonable period. We, therefore, selected products made with quality and durable fabric. The seams used also play a role in the quality and durability of a skinsuit. We chose products with quality flatlock seams, and some have high technology seamless ends.
Comfort
Comfort is essential in every sportswear, and skinsuits are not exempted. The fabric has to be breathable, moisture–wicking and stretchable. The padding also has to be comfortable for water and mainland, and for both long and short distances. We had all these factors in mind when selecting the skinsuits for our list.
Pricing
We chose products both on the lower and high price range. Though quality is associated with high prices, most of the lower end skinsuits that we selected had some of the best reviews. Some even have an option of customization to fit your personal preferences.
Benefits of Skinsuits
Athletes have several choices on what to wear from jerseys, shorts to swimsuits for specific reasons. Most skinsuits have advanced compression technology to improve muscle oxygenation and stabilization in order to enhance performance.
Speed
Speed is a critical factor when it comes to training, and in most times, speed and pace are the reason we participate in sports like cycling and swimming. Assuming your equipment and position are fine, your skinsuit could give impressive benefits in terms of a higher speed. You achieve a higher speed with less energy.
Time
The body is the largest mass that contributes to air drag. A skinsuit fits like a second skin hence has a very significant impact on aerodynamics. A skinsuit saves time by reducing drag and turbulence caused by loose-fitting activewear, at high speeds. It can save up to 15watts at 40kph compared to standard cycling.
Energy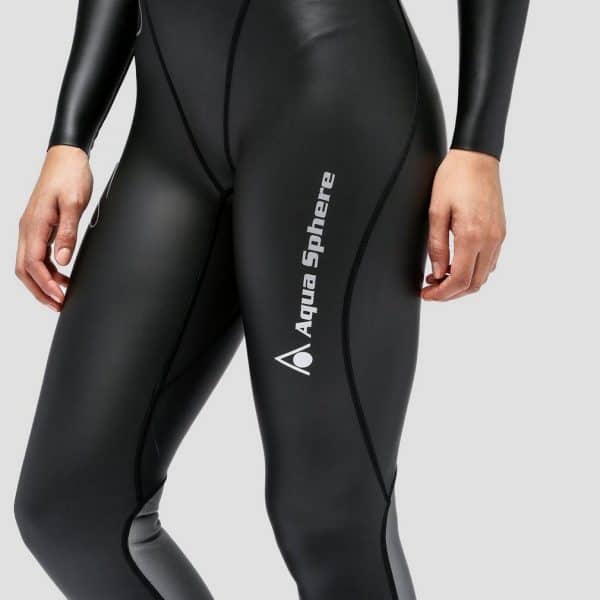 A skinsuit reduces fatigue and increases blood supply through the compression that it exerts on muscles. Good blood supply to the muscles ensures that tissues are constantly supplied with glucose, to give you strength for that extra push. It also promotes quick recovery after long distance racing.
Warmth
Most swimmers lose most of their heat when water flows around the bare skin. A quality neoprene fabric swimming skinsuit keeps you warm and protects the arms and legs. A good skinsuit for swimming in cold weather keeps you warm by tightly hugging the body and sealing the neck, wrist, and ankle.
For cycling and running, a good skinsuit covers the arms to prevent your fingers from getting numb due to cold.
Skinsuit
Vs
Jerseys and Shorts
Skinsuits fit better than jerseys and shorts as they are not loose on the body, have no large pockets and there is no waistband that digs into your skin on the waist
They are tight fitting but very flexible. There is more freedom of movement as there are no cloth restrictions.
The drawback is that they are not easy to wear and remove especially when using the restroom. Other people dislike the suits as they are more revealing especially on the groin area.
Factors to Consider When Buying a Skinsuit
Sparing time to choose the right skinsuit can make a huge difference in your performance. It is of utmost importance to get the most comfortable one, made with the right textile and of the right size. Sometimes it is a matter of preference, but we recommend that other than likes and dislikes, you should also consider your type of sport and the weather.
Sleeve length
There are both long and short sleeve skinsuits in the market. A long-sleeved skinsuit is suitable for cold weather, to protect the body from loss of heat and to keep heat evenly distributed in the body. Using a long sleeve skinsuit in hot weather, especially when cycling can make you lose water, causing dehydration and loss of energy, consequently affecting your performance. A short-sleeved skinsuit is the most suitable for high temperature. On the other hand, using a short-sleeved skinsuit in cold weather will make you cold and numb.
Other skin suits extend up to the knee and others extend down to the ankle.
Size
A skin suit should fit you perfectly for you to realize its benefits. Actually, the fitting of a skinsuit is what matters a lot. An ill-fitting suit flaps in the wind defeating the purpose of the suit, which is to reduce air drags. Although a skinsuit should tightly fit, it should not be too tight to impede blood flow.
Different brands have different sizes, it is of essence that you check and correctly identify your right size before purchasing. Some suits are built to fit muscular individuals while others are meant for fit lean users. Sites like Amazon have a friendly return policy. Thus you can get an exchange.
Fabric used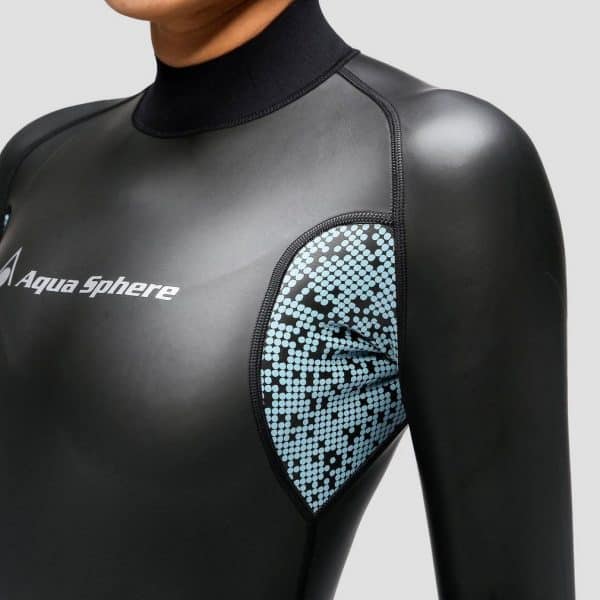 Lycra, an elastic type of polyurethane fiber, is the type of material that is most commonly used to make skinsuits. It is preferred for its exceptional elasticity, strength and durability. Some brands may have a second layer of nylon or polyester, to absorb sweat and moisture, especially in hot weather.
Most brands have an extra padding on the bottom, to cushion the body against the saddle, especially for cyclists. It also helps to maintain stability when cycling.
Pricing
Prices range from as low as $40 for entry level suits to above $1000 for high-end suits. Sometimes, you get what you pay for. A quality swimsuit may be pricey, but the benefits are quite significant and indisputable. In most instances, high-end suits are custom made and are absolutely tight fitting, and cheaper ones may end up being a one-time wrinkled and dimpled wear that ends up being loose and snuggly fitting. However, other times it is not just about the money as some of the very expensive may give an average performance while some that are cheap may offer some of the best results.
Zip
A zipper may be a personal preference. Though a zip may be an entry point for air, it makes a skinsuit easy to wear. Some skinsuits have a zip while others do not. Some have a full-sized zip, and others have three-quarters or half zip. Some zippers are hidden while others are not and others are either on the rear or front.
A rear zip is claimed to reduce air drag by more than 7% than the front zip. However, some people prefer the front zip as it is easy to zip and unzip, especially if you need more ventilation while working out. A front zip is also very easy to use and does not require much help.
Pocket
Pockets may not be a basic need for everybody, but they are of use especially in long distance and duration training. The pockets can hold energy gels, snacks, bars or personal effects like a phone.
Maintenance tips
Taking care of a skinsuit is not difficult, but requires some attention to guard your investment and to give you service for a long time. Some of the top maintenance tips include:
Do not keep the skinsuit wet but

rather

,

clean and dry it after every use

Use detergents that are non-bleaching and free of dyes

Wash with similar colors

Use moderate or cold-water temperatures (100

0

F)

Let the suit air dry instead of using a drier

Do not hang in direct sunlight

,

instead

, drip dry in the shade

For swimming, use suits that are chlorine resistant

Do not iron
FAQs
What are the benefits?
A skinsuit is specifically designed for enhancing speed during a sport by reducing air drag. Aerodynamic drag is one of the most significant barriers of speed, accounting for 70 to 90% of resistance. A skinsuit tightly snugs the body, decreasing the amount of air resistance and consequently increasing the freedom of movement.
What
is a flatlock/
flat
seam?
First, a seam is the joint between two or more layers or pieces of fabric. In a flatlock, the seam ends up looking smooth and flat with no layers folding on the underside. The flatlock is great for stretching fabric and activewear. This type of lock is very comfortable and has minimal chances of itching.
What is a chamois
?
A chamois is a type of padding stitched in the skinsuit on the groin area, which is meant to reduce chafing especially when cycling. There are different types to suit various needs of the user. For instance, a chamois meant for swimming is quick to dry and absorbs less water. A chamois meant for a man will also be differently designed from that of a woman.
Where can I buy a quality skinsuit?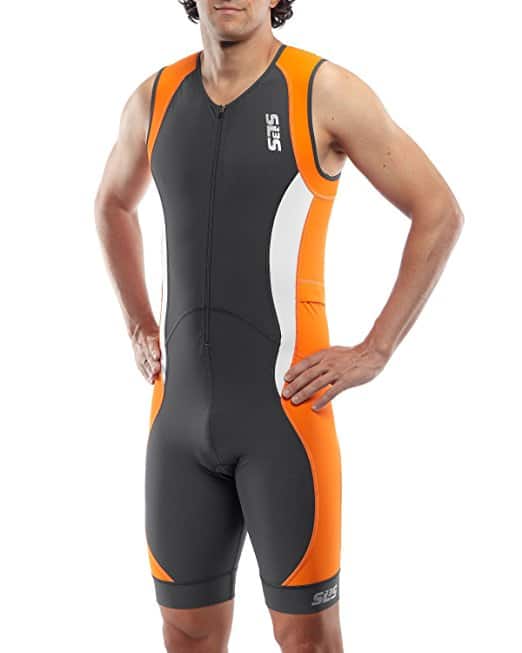 You can purchase a quality skinsuit from select sports outlet stores or online. Buying from online platforms like Amazon gives you an opportunity to compare different prices and features of various products. Since skinsuits can be quite expensive at times, some sellers on Amazon offer financing plans where you can pay for about six months with no interest charged. Amazon also offers safety and cushions you against dishonest sellers, and has a very friendly return policy if you are not satisfied with your skinsuit.
How will I know my size?
Sizing is what matters most on the functionality of a skinsuit. It is therefore of utmost importance that you pick the right size or miss the point. Skinsuits sizes differ depending on the brand. We suggest that you check the sizing chart of each suit that you are considering, then take your measurements of the chest and waist, then compare with the suit sizing chart. Some sellers allow you to send your measurements so you can get a customized and personalized suit.
What should I look out for when buying a skinsuit?
Get a skinsuit that is made using lightweight, durable, moisture wicking and stretchable fabric. The fabric should also preferably have a well-designed mesh for ventilation. A pocket would be useful to store energy snacks or personal effects. The zip, leg ends and collar should be well finished to reduce air or water entry. A high-quality chamois or padding is crucial for comfort, particularly if the skinsuit is meant for cycling.
Are skinsuits unisex?
Most skinsuits have variations in cut and styling for men and women. For instance, the sizing is almost always different. A skinsuit for women is cut in at the waist and out at the chest and hip area. Most men's skinsuits do not have room for bigger breasts and leg allowance for wider hips. However, there are some that are made for both sexes.
Why are some skinsuits so expensive?
The price of a suit in most times, reflects the investment that has gone into manufacturing. Most manufacturers put in advanced textile, technology, and artistry to come up with the best aerodynamic skinsuit, making it an expensive business. However, there are low priced ones that give a quality compression fit.
Subscribe to our Newsletter