Best Medicine Balls Reviewed and Rated
Disclosure: We use affiliate links and may receive a small commission on purchases.
Looking to get an extra kick out of your usual exercise routine? Maybe you prefer working out at home instead of renewing your gym membership every month? Either way, medicine balls are a great alternative or addition to your standard exercise equipment. With their help, you can improve your explosive strength, tone your core muscles, or level up your coordination and balance.
Fitness enthusiasts all around the globe have been spicing their exercise routine with a medicine ball in order to intensify their workout and gain an edge on their explosiveness, speed, and strength. What's so great about medicine balls is their versatility – they weigh anywhere from two to fifty pounds and come in all sorts of different sizes, material, and looks. You are bound to found one that suits you.
By simply holding your medicine ball during your usual exercise, you can amplify your energy output and while doing so challenge yourself with a bit more resistance. Starting light and working your way up is the usual procedure when it comes to medicine balls and we recommend you upgrade the weight every so often to keep yourself sweating.
Valeo

Our rating
High-quality Material
Price:

See Here

AmazonBasics

Our rating
Good Grip
Price:

See Here

SPRI Xerball

Our rating
Excellent Durability
Price:

See Here

With so many options you might find yourself confused as to what the best medicine ball for your needs is. This is where we step in. We have carefully assessed the following products for quality and durability, bringing you only the best medicine balls of this year. Whatever your fitness level and the ultimate goal is, rest assured any one of the medicine balls from our list can enhance your workout and help you get where you want to be faster.
10 Best Medicine Balls
1. Valeo
Topping our list is the all-rubber Valeo medicine ball which will allow you to enjoy an enhanced workout wherever you're training. Bounce it off the wall all you want as its sturdy material provides durability and resilience that is hardly matched by other products on the list. Valeo medicine balls also come in a wide variety of weights, sizes, and color options.
Expand to see more
Features & Specifications
Regardless of the weight you select, Valeo medicine balls won't slip out of your hands, even if you're soaking wet, due to their high-quality textured surface. This product is a great pick for anyone looking to build their muscle mass, improve their core strength, or simply want a balance tune-up. What's more, you get an exercise wall chart with your ball to guide you through your sessions.
Value for Money
Even though this product is a slightly more expensive option when compared to other products we reviewed, it still provides excellent value for money. This is mostly due to the ball's quality and durability which is set to last you for a long time.
Our Verdict
Valeo medicine balls are solid, high-grade products which you can customize to your heart's content. For anyone in search of an excellent addition to their exercise routine and who wants to build their core strength and tone their muscles in an effective way, this product is a no-brainer.
High-quality material
Resilient rubber construction
Textured finish
Includes an exercise wall chart
Good value for money
May develop cracks after a prolonged, intense use
2. AmazonBasics
Our runner-up is the AmazonBasics medicine ball, which offers perhaps the best value for money and a wide variety of weight choices. This product is a great pick for anyone looking for a weighted strength-training from the comfort of their home – it's ideal for multiple lower and upper-body exercises, provides excellent durability and bounces very well off hard surfaces due to its textured surface and durable construction.
Expand to see more
Features & Specifications
AmazonBasics is great for partner throw workouts, continuous throwing workouts, and solo exercises, due to its basketball size and an outstanding grip. It's very well crafted and solidly put together so that you don't feel any contents inside or end up with a cracked ball after only months of use. If you're after a commercial-quality product, look no further than AmazonBasics.
Value for Money
Due to its excellent built quality and reasonable price, AmazonBasics medicine balls offers good value for money compared to other products of the same weight and size.
Our Verdict
If you're in the market for a sturdy, high-performance medicine ball which will aid you in cultivating core strength and better balance, this might be the product for you. AmazonBasics manufactures a vast array of products for everyday use at an affordable price and of superb quality, and you will have a peace of mind knowing this medicine ball is no exception. Great grip resistance, durable construction, and affordable price of the AmazonBasics medicine ball will bring a powerful punch to your every lunge, squat, twist, and sit-up.
Affordable
Good grip
Durable construction
Great for upper and lower-body exercises
3. SPRI Xerball
SPRI Xerball medicine ball has higher rubber content than other products on our list and makes a perfect tool for more dynamic, intense workouts. Available in multiple weights, from 2 to 30 pounds, this medicine ball provides excellent grip and handling, and also allows you to aid air in order to have more variety in the way you exercise. Talk about cool features.
Expand to see more
Features & Specifications
The product is extremely durable thanks to its thick textured surface and sturdy rubber – you can toss, bounce, and even slam the SPRI Xerball medicine ball around without worrying it will split open or crack. In addition, every ball is nicely finished in a bold color combination and is stamped with legible weight markers for extra convenience.
Value for Money
While this product sits at the higher price point than your average medicine ball, there is no doubt about its quality. It's always wise to invest in a durable, high-quality product which you will enjoy for a long time to come.
Our Verdict
The SPRI Xerbal Medicine Ball is a superior and versatile medicine ball that offers a greater bounce. This makes the product ideal for intense workouts and dynamic exercises which involve a lot of tossing, bouncing, and slamming. You need not worry about the fragility of this ball as it has thick walls and high rubber to PVC ratio of 4:1. For those who are serious about their progress, and want a medicine ball that grips well and bounces even better, the SPRI Xerball medicine ball is the go-to.
Great for fierce training
Excellent durability
Versatile
Includes a full-color instruction sheet
Outstanding bounce
Quite expensive
Slightly large
4. Wacces
Wacces, although not as reputable as other fitness brands on the list, has stood out with their high-quality, well-constructed and durable medicine balls, among other fitness products. This weighted medicine ball is an excellent option for anyone looking to take their full-body workout routine up a notch. Perhaps the sturdiest and most balanced of all our products on the list, Wacces medicine balls also come in various color combinations and weights; an incredible 10 different strength levels are available, from 2lb to 25lb.
Expand to see more
Features & Specifications
This product measures 286 mm in height, making it a suitably-sized medicine ball for a variety of dynamic exercises, crossfit sessions, as well as body and partner workouts. Its centered weight provides solid balance and weight consistency, while the textured surface stabilizes the grip and prevents sweat-slips. You'll also find the ball offers decent bounce – this is due to its firm rubber material – make sure you watch your fingers and toes.
Value for Money
Although the price of this medicine ball does surpass other products by a hairline, make no mistake – this product will provide excellent build quality and durability, meaning you'll get to reap its rewards for a long time to come.
Our Verdict
With all things considered, we believe Wacces has really gone above and beyond in producing a medicine ball which offers superb quality and durability. This is a medicine ball which competes very well with some big-name fitness brands out there, and doesn't fall behind in any aspect. It is sturdy and bounceable, as well as stylish and nicely finished. True, it is priced a bit higher from its rivals but the overall value for money is still decent.
Superior grip
Textured finish
Stylish
Durable construction
Slightly larger than other products
Marginally more expensive
5. Aeromat
Coming up at number five is the Aeromat medicine ball, a completely different product from the ones on the list. This ball has a dual grip structure, with rubber handles on both sides providing more versatility as you're doing your stationary exercises, including body training, rotational exercises, and core workouts. Keep in mind, though this ball is not designed for bouncing exercises and you should move on if this is a deal-breaker.
Expand to see more
Features & Specifications
The Aeromat medicine ball is available in 6, 8, 10, 12, and 14 pounds and five different color combinations. There's a newly-patented rubber handle design on each side, providing excellent grip and handling ability. This will come in handy if you plan on using your medicine balls for rotational movement exercises and core strength, stationary training.
Value for Money
The price will depend greatly on the weight you select and can go quite high. However, we need to account the reputation of the brand as being the leading manufacturer of health and wellness products.
Our Verdict
Aeromat medicine balls are flexible, versatile, and durable products which will aid you in building core strength, muscle bass, as well as improving your endurance. Keep in mind that you won't be able to execute your standard bounce and throw exercises with this medicine ball due to its dual-grip structure. However, for fitness enthusiasts looking to exercise in a safer and less dynamic manner, this product is a must-have.
Easy and safe to use
Soft handles
Resilient and durable construction
Great for less dynamic exercises
Can get expensive depending on weight
Not bounceable
6. CFF
Another great choice for all crossfit and martial arts enthusiasts is the CFF medicine ball. This product is design specifically to withhold heavy impact and provide an outstanding bounce. Its small size makes it a perfect exercise tool for dynamic, strength training and power exercises.
Expand to see more
Features & Specifications
More of a wall ball than a medicine ball, CFF exercise ball measures 14 inches in diameter and comes in seven different weight and color options. It features a soft shell finish for improved comfort and color coding for better distinction between weight. Finally, the sturdy construction makes this product a very durable pick and a great medicine ball for your slams, squats, catches, and lunges.
Value for Money
Because this is a wall ball made specifically for crossfit and strength training, its price jumps out from other products. Still, even though CFF exercise ball is a more expensive option on our list, it remains our top pick for intense workouts such as cross training and MMA and comes six on our list of the top-quality medicine balls.
Our Verdict
We believe the product is a great addition to any MMA or crossfit aficionado's inventory, regardless of their level of experience. The soft shell exterior makes CFF wall ball a very usable, safe product without compensating its durability one bit. Finally, the secure grip and many weight options cement our verdict of this product being an exceptional niche exercise ball.
Seven weight options
Great for intense workouts
Appealing design
One-year warranty against defects
Expensive (niche product)
Poor bounce
7. Empower
Designed specifically for women, Empower medicine ball is a great tool for ladies who wish to burn more calories while simultaneously increasing the strength and toning their muscles. This eco-friendly medicine ball also features a soft, fingertip-grip texture which enables a steady movement and good handling.
Expand to see more
Features & Specifications
Empower medicine ball, with only 6 inches in diameter, is small in size and provides no bounce. However, the ball offers a unique combination of comfort and functionality – one can toss, swing, and rotate this vinyl-made ball quite easily as the steady grip has been secured by the molded fingertip pattern. This makes this medicine ball perfect for endurance and speed workouts, as well as exercises which require more movement control, such as core-targeting push-ups and squats
Value for Money
This medicine ball is the least expensive product on our list but only comes in three weight options – 6,8, and 10 pounds. Still, with the price being that favorable and the quality standards so high, we don't see how it would be a mistaken purchase.
Our Verdict
For all women out there who may be fitness beginners and are looking for an easy-to-use medicine ball, Empower offers a solid pick. According to the manufacturer, the ball has been crafted with all women in mind, so that busy mums can enjoy the full benefits of a challenging work out from the comfort of their home. To ensure everybody is on the same page, Empower even threw in some exercise DVD guides and illustrations to set the eager fitness ladies off into the right direction.
Secure and comfortable grip
Soft construction
Easy to use
Workout DVD + Illustrated guide included
Very affordable
No bounce
Limited selection of weights
8. HolaHatha
The first thing you'll notice about the HolaHatha medicine ball is its cool, futuristic look. However, past those bold colors and wild patterns lie other excellent features which helped HolaHatha medicine ball make our list.
Expand to see more
Features & Specifications
This product is available in four different weight sizes and color combinations. As we have already mentioned, the brand put a strong emphasis on the appearance and have coated the ball in shining colors to preserve the good looks. They seemed to have blended the aesthetics with functionality, so that the HolaHatha medicine ball is durable and easy to use as well. The company even claims to have tested the ball for sturdiness and that it can resist 5,000 throws without cracking.
This is because the majority of the ball is made of an eco-friendly rubber which provides a solid bounce. What's more, the surface has been patterned in a way that allows for a steady grip and easy handling. What more can a fitness fan want?
Value for Money
This medicine ball is priced very competitively but lacks the superior features of other products on our list which decreases its value for money a little bit.
Our Verdict
Albeit limitless in options, the HolaHatha medicine ball offers a wide variety of uses. The traditional design of this medicine ball gives you the opportunity to tone your entire body by helping increase coordination, developing core strength, and modify your balance. Past the great size and looks, this product is also constructed very well to provide strong durability and steady grip. The manufacturer even includes a 90-day warranty with the purchase to back these claims up. Overall, a great medicine ball at a very affordable price.
Good size
Affordable
Stunning design
90-day warranty
Good grip and bounce
Lacks premium features
Limited weight options
9. Titan Fitness
Designed specifically for throwing and slamming, Titan Fitness medicine ball is a great pick for anyone looking for a high-grade, durable tool to build their endurance and muscle mass through highly dynamic training. Available in 11 weight options, up to a staggering 60 pounds, it is set to suit any intermediate and advance fitness lover out there.
Expand to see more
Features & Specifications
The most important thing to note about the Titan Fitness medicine ball is that it does not bounce – it's made specifically for slamming. The soft resistance is what allows you to slam the ball without cracking it. In addition, the textured surface provides great grip and makes exercising with this ball safe and effective.
Value for Money
The price is a bit steep but considering this is a slam ball designed specifically for athletic training, we can neglect the somewhat heavy tag.
Our Verdict
If you're looking for a high-quality slam ball which withholds severe impacts and is sturdy enough to prevent from splitting, the Titan Fitness medicine ball is your top pick. Reduce stress, build your muscles and endurance and improve coordination with this finely textured, black slammer.
Steady grip
Durable and impact-resistant
Ideal for strength and endurance training
10. Sports Research
Coming in five different weight options, Sports Research medicine ball offers impressive handling and grip due to its finely textured material and convenient size. Those preferring a sportier look of their medicine ball will undoubtedly have their eyes on this product. Different color options and a stylishly modern, two-color pattern make Sports Research medicine balls a joy to look at as well as work out with.
Expand to see more
Features & Specifications
This medicine ball has been crafted very well – a textured grip, etched rubber tracks preventing cracks from appearing, and a sturdy surface allowing good bounce are all packed in the ball's durable construction. There are easy-to-read weight stamps on the side and stylishly finished color combinations. Overall, an altogether high-quality medicine ball for anyone who's looking for an easy-to-use, effective, and durable product.
Value for Money
The product ranks average when compared to other medicine balls on the market. We would approach this purchase with confidence knowing Sports Research has a proven track record of producing quality and durable fitness gear.
Our Verdict
Sports Research medicine ball will make a great addition to your home gym or a professional facility. We particularly like the excellent gripping ability and handling provided by the textured finish. It means you can work hard on your balance, coordination, and strength without worrying the ball will slip out of your hands when sweat starts pouring down. When you take the resilient construction, good grip, and the bounceable design into consideration, the price tag on this product is more than reasonable.
Resilient rubber construction
Superbly textured finish
Very bounceable
Durable
May develop unpleasant odor when it absorbs sweat
---
How to Buy a Great Medicine Ball
Before you set off to part with your hard-earned money and buy the first medicine ball you set your eyes on, keep the following considerations in mind:
Check the Surface Material Is of High-quality
When looking for a decent medicine ball, you need to make sure that the exterior or surface material of the medicine ball is constructed from a durable material. This material needs to be resilient enough to endure impacts and prevent cracks and splits from occurring.
Think of the space and terrain where you plan to exercise with a medicine ball beforehand. Maybe you're looking to work out from home or a local fitness studio. Either way, you'll want to make sure you are prepared and know what exercises you'll be doing and which surfaces you'll be utilizing. For example, a sturdy slam ball will do far better in resisting wall slams than a soft, crossfit exercise ball.
Stitching Matters
A strong shell is what keeps the ball rolling for years. But a resilient outer surface goes hand in hand with quality stitching. Look out for those medicine balls with a double-stitched lacing as you're more likely to benefit from higher durability and impact resistance in the long run.
Interior Contents Should Be Balanced
We're not advising you to tear the ball apart to check what's inside it but to simply check if the weight of the ball is evenly distributed. Roll your medicine ball along a straight line – if it swerves either way it's not properly balanced and should be returned.
Consider What You Will Be Using Your Medicine Ball for
A medicine ball which is suitable for crossfit training is worlds apart from a medicine ball that is used in a bodybuilding gym. Set clear expectations of what you're looking to get out of your training and picture some of the exercises you are going to do in advance to get the right kind of medicine ball. After all, they come in a wide variety of styles and materials. The most common ones include:
Leather medicine balls

This type of medicine ball has been around the longest and has turned into a somewhat of a classic. You are likely to have seen this in a health mag or in a boxing movie. They're really great for abdominal workouts and other core exercises and are easy to use; solo or with a gym partner.

Generally, the weight of a leather medicine ball may fall short on accuracy, spanning between a couple of pounds. And even though their weight is not always precise, they're a great pick for a majority of conventional workouts.

Soft gel medicine balls

Next, soft gel medicine balls are constructed using a soft vinyl with the gel filling the interior. This type of a medicine ball does not bounce, nor floats. Which makes it an ideal choice for performing throw-exercises while using a trampoline or any other kind of surface off of which you do not wish for the ball to bounce back to you.

Gel-filled medicine balls can be found in a greater range of sizes and are ideal for rehabilitation workouts. Another benefit found with soft gel medicine balls includes their tendency to be more economical and budget-friendly.

Medicine balls with a grip

Somewhat of a new hip on the market, medicine balls which include a textured surface have taken the fitness world by storm. Typically constructed using a solid polyurethane, these balls bounce off the hard surfaces and are so versatile that the can be used for almost any exercise style.

Air-filled medicine balls

Air-filled medicine balls are a great pick for those who want a ball that has a strong bounce and floats or often travels long distances. Simply deflate and inflate as you wish. The more air you put into the ball, the more bounce you will receive. But even though this type of medicine ball is usually great for general resistance and plyometric exercises, it is not suitable for serious muscle and strength training.

Medicine balls with handles

If you are looking for a more stationary workout tool, medicine balls with handles will add a great kick to your usual routine. These are perfect for exercises such as the wood chop, or any exercise that needs an additional ball to replace a kettlebell or a dumbbell. In addition, compared to these standard fitness tools, medicine balls with handles are. This makes it an ideal choice for developing explosive power.
Always Aim for Quality and Longevity
Apart from thinking about your personal circumstances, check the product you're looking to buy for quality and durability before making the purchase. This is where your research will really pay off. Will the product last with moderate to heavy use? Does the price seem reasonable considering customer reviews? Before purchasing a medicine ball, you should have the following in mind:
1. Decide on whether the medicine ball will be used for added resistance, throwing, or catching. By figuring this out, you will better determine whether or not you should choose a standard medicine ball or a specific type of ball with ropes or handles.
2. People tend to select a medicine ball which are heavier than they need. A general rule of thumb is that it must be heavy enough to noticeably slow your motion; however, that is not to say it should be so heavy that your range of motion, control and accuracy are out of whack.
3. Rather, start with a light ball and work your way up. By doing so, you will follow the path of progress and keep your exercises efficient.
4. Keep the size and shape of the ball in mind. It all comes back to your goal and exercise routine. For example, multi-joint and power exercises require a larger medicine ball to work all of your muscles properly.
The Benefits of Working Out with a Medicine Ball
Perhaps unsurprisingly, medicine balls have been around for a long time. At least, the concept of them anyway. Persian and ancient Greek wrestlers used to fill sacks and bladders with sand to increase their energy output and better coordination and balance.
Fast-forward a few thousand years and we're lucky to live in an age where such practices are heavily present outside of war training grounds. Countless fitness lovers, from amateurs to professional athletes, exercise with a medicine ball to push themselves beyond their limits and increase strength, explosiveness, and coordination. Professional boxers and wrestlers use them to mimic their opponent's pressure and build core strength.
One of the great things about an open market and globalization is that anyone can enjoy the full benefits of a medicine ball regardless of their fitness level. Here are some of the key benefits of a medicine ball.
Build Explosive Strength
Medicine balls are perfect tools for improving explosive strength that is crucial for sports performance. Explosive strength is defined as the aptitude to apply the greatest force over a short interval. You use explosive strength for various moves, including:
Kicking
Sprinting
Leaping off of the ground
Jumping
Throwing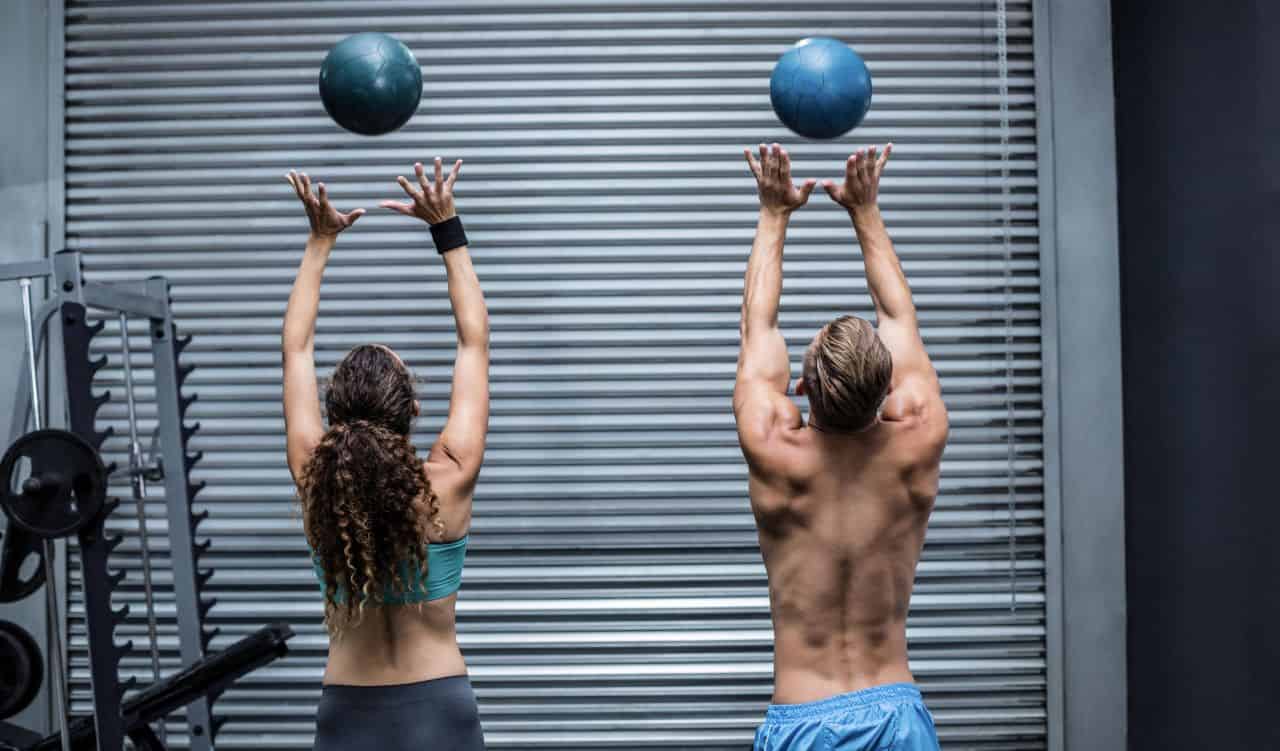 How does a medicine ball help you to increase your explosive strength? While you are performing squat jumps, you can hold a medicine ball in your hands to set yourself with a challenge. However, it is important to first build up your fitness level by performing regular squat jumps in order to avoid any injuries. Always work the specific exercise without the medicine ball for a while first in order to get your muscles accustomed to some pressure.
Work Your Core Muscles
A medicine ball can be used in order to add resistance to abdominal and core exercises. For instance, you could hold a medicine ball while performing crunches to add more difficulty. You can also add more resistance while working on your obliques by holding a medicine ball while performing Russian twists. Same goes with toe touch crunches.
Another great way to build your core muscles is by holding a medicine ball while performing V-ups to work your abdominals. After trying these exercises, you will discover that a medicine ball is an ideal way of increasing the level of tenacity during your workouts.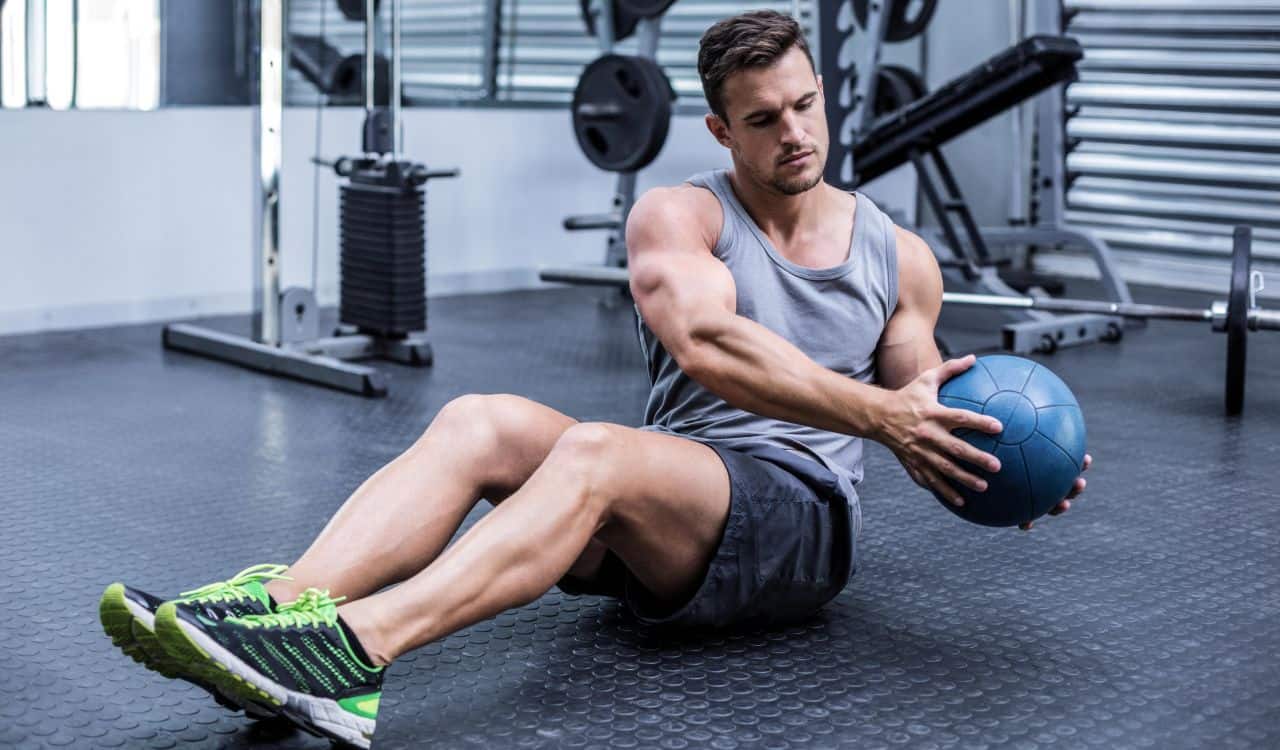 Improve Your Balance
A medicine ball can aid in enhancing your balance. For example, you can do push-ups with a medicine ball. Simply place one hand on the medicine ball as you lower yourself to the floor and then switch to the other side. Another way you can achieve this and make your routine more dynamic is to roll the ball from one side to the other with each individual push up.
Develop Better Hand-eye Coordination
Just by catching and tossing a medicine you can train your reflexes and improve hand-eye coordination. Simply find a fitness partner and toss the medicine ball back and forth with each other.
Your Questions Answered (FAQ)
What Is a Good Medicine Ball Weight and Size?
Medicine balls come in a variety of weights and sizes. Typically they are about the same size as a basketball but can go above and under this standard. As for the weight, you can find medicine balls that are as light as a football, weighing a mere pound, to the hefty ones going up to 60 pounds.
For the most part medicine balls are round, but there are also medicine balls available with built-in handles to provide a better grip. Furthermore, some medicine balls have been constructed with ropes or single or double handles in order to suit the specific exercise.
It is also important to keep in mind that size does not always define the weight of the medicine ball. Generally, medicine balls that are light in weight and smaller should be used for training swiftness, while heftier medicine balls should be used for power, speed, and/or strength training.
What Is the Recommended Space When Using a Medicine Ball?
Confirm there is sufficient exercise room. Numerous medicine ball workouts include catching and throwing; consequently, people require a clutter-free, roomy area. Aim for a minimum of twenty square yards, particularly when performing throws and catches.
If you're using an indoor facility like a gymnasium, confirm the ceilings are tall enough for all above head tosses. Same goes with for the walls around you. Make sure you only slam and throw a medicine ball against a supported, concrete wall.
Is It True That All Medicine Ball Exercises Require a Training Partner?
While not essential for each exercise, having a partner to help you execute a particular move properly can help in boosting your motivation and overall effectiveness. Keep in mind that the training partner you choose has to be about the same strength and size as you are. You should also remember to perform each exercise before trying a more extreme rhythm or pace.
Before each throw of the medicine ball, check that your partner is prepared to receive it. Follow the same rule when receiving the ball, and keep your eyes peeled to it. Catch the ball with protracted and open hands kept close by, and allow your arms to bend in order to absorb the shock. These steps will ensure your exercise routine is as enjoyable, efficient, and safe as it gets.
Subscribe to our Newsletter