[9+ Best] Chili Powder Reviews and Comparison
Disclosure: We use affiliate links and may receive a small commission on purchases.
Chili powder is a robust seasoning blend made from ground dried chiles and an assortment of other ingredients that vary per recipe. Medium and hot varieties are common and unique to specific vendors. Similar to curry powder, there is no single recipe. Cumin, garlic, and oregano are traditional additions to chili powder and all contribute to the overall taste profiles. Chili powder is not to be confused with the lesser-known chile powder (also often mistakenly spelled chili powder), made solely from chiles, but lacking any additional seasonings. This blend is best used for batches of chili and in spice rubs and marinades.
With tasting chili powders, a bold, complex powder with a warming but not scorching heat is the most desireable. It is used in an extremely wide assortment of dishes due to its highly sought-after mark on the palette. Chili, tortilla soup, tacos, enchiladas, burgers, beans, and more all could see new methods of preparation with the adoption of chili powder.
Our Top 3 Picks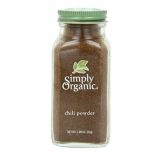 Simply Organic

Our rating
Great Taste
Price:

See Here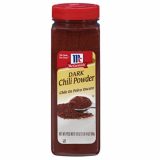 McCormick

Our rating
Great Price
Price:

See Here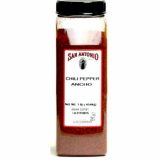 San Antonio

Our rating
High Quality
Price:

See Here

Chili Powder Health Benefits
Chili powders are often great for your health in normal amounts, as they contain ingredients that are great for the heart and circulatory system, and they carry with them a myriad of other benefits as well. Chili powders are high in capsaicin and antioxidants, and have been shown to improve insulin regulation. Some of the key benefits of chili powder include:
1.) Great for Hair and Skin Health
Ingesting adequate amounts of Vitamin C provides many benefits including immune and digestive benefits, but it also acts with the Vitamin A within most chili powders to maintain collagen fibers, an important protein found in the hair and skin. Vitamin A also acts by increasing sebum secretions, which improves the sleek appearance and feel of a healthy head of hair. One tablespoon of the average chili powder contains approximately 44% the daily value of Vitamin A.
2.) Fighting Infections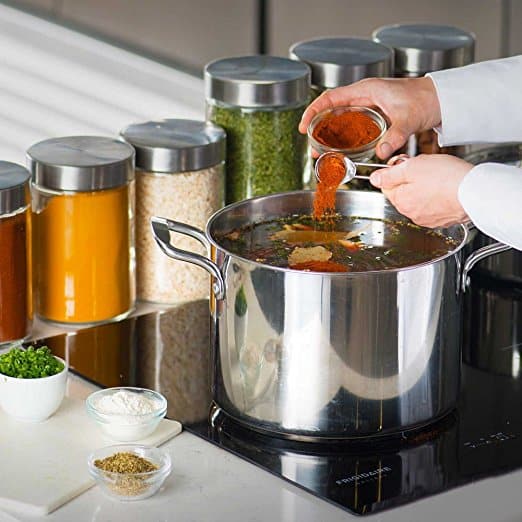 As discussed, chili powders are high in Vitamin C, a key water-soluble antioxidant that bolsters the immune system and preps it for immediate and effective action. It helps the body develop resistance against infections and eliminates cancer-inducing free radicals throughout the body.
3.) Supports Digestive Health
Most chili powders contain a considerable amount of fiber. Fiber stimulates digestive motion and increased secretion of gastric juices, which helps to ease digestion and prevent conditions like constipation. Fiber also helps to protect the body from more serious conditions like colorectal cancer.
4.) Helps Maintain a Healthy Blood Pressure
Due to the fact that most chili powders contain an ideal potassium-to-sodium ratio, they can provide benefits to the health and malleability and fortitude of blood vessels throughout the body. One tablespoon of chili powder contains 144 milligrams of potassium, compared to just 75.8 milligrams of sodium. These nutrients help the blood vessels relax and maintain proper blood pressure.
5.) Improve Cognitive Function
It contains enough iron to help lead to increased hemoglobin production within the blood, as well as increasing overall blood flow. These nutrients facilitate improved blood and oxygen flow to the brain and its accompanying neurons, helping to improve overall function. Proper amounts of oxygen and iron in the brain lead to improved cognitive performance and a decrease in cognitive disorders like Alzheimer's disease and dementia.
6.) Red Blood Cell Aid

Iron and copper are found in high amounts in a majority of chili powders sold. They are important for forming new cells and a health blood cell metabolism throughout the circulatory system. Deficiencies in iron can cause fatigue, anemia and muscular weakness.
7.) Optical Health
As discussed, chili powder contains plenty of the ever versatile Vitamin A. On top of the aforementioned benefits of this powerhouse vitamin, it has also been shown to improve your eyesight and prevent night blindness. It has also been shown to prevent macular degeneration from developing as we age.
With great benefits and a variety of choices, there are plenty of great choices for chili powder, all of which may contain unique and flavorful combinations. We have put this list together to help simplify the process and inform you of key features, ingredients, and pros and cons for each product. 
10 Best Chili Powders
1. Simply Organic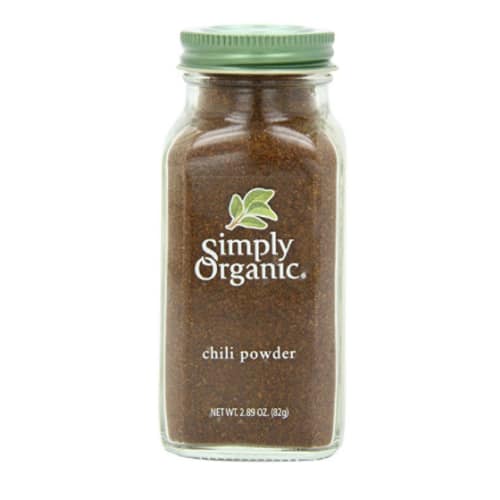 Simply Organic is considered one of the best chili powder brands across the globe. This certified organic choice is a salt-free organic blend of chili and other lively spices that provide a warm kick to the palette. The ingredients in this powder include cumin, oregano, coriander, garlic, allspice, and cloves, and are all certified organic.
Expand to see more
The company that offers this product is passionate about offering fresh, great tasting, and healthy ingredients, as 1% of the profits are donated to organic farming efforts. This brand is responsible to people and planet, and provide a great chili powder product that tops our list.
Certified organic ingredients
Great price point
Great taste
1% of proceedings donated
2. McCormick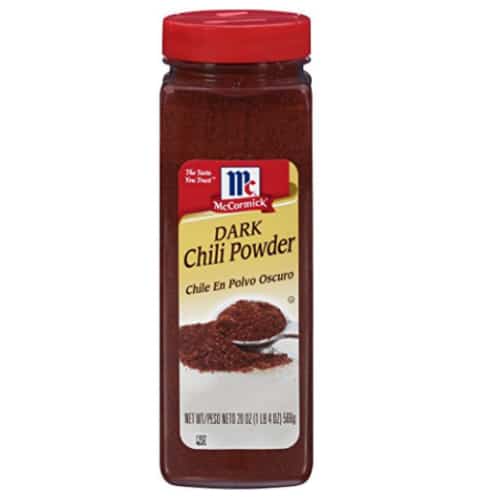 McCormick has been a trusted and respected brand for over 100 years, and they provide great tasting spices and seasonings of all kinds. They source organic ingredients from across the globe to provide the best possible tasting products.
Expand to see more
The chili powder is no different, possessing a perfect chili powder taste that can perfectly accent your favorite recipes. Using cayenne and serrano peppers. this particular blend of spices gives a deep rich flavor and color to southwestern tacos, chili, beans, and more. It is also a great pair for chicken and steak.
Great taste
Trusted brand
Great price point
3. San Antonio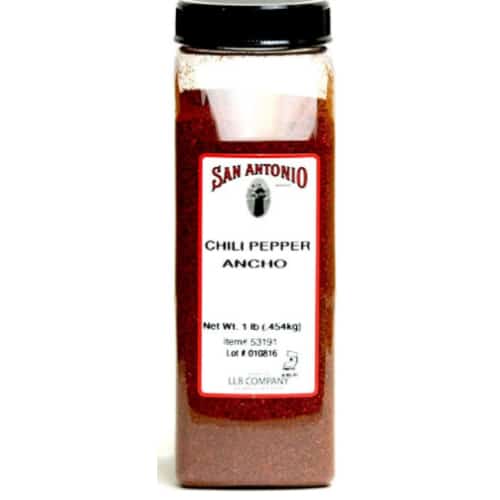 Want that restaurant quality chili spice taste in your home cooked meals? The San Antonio ancho chili powder can provide a smooth and flavorful zest to your favorite southwestern dishes.
Expand to see more
With all natural and kosher ingredients, you can be sure that you are being health conscious when preparing your meals. This chili powder has a great smoky taste, and possesses hints of sweetness compared to spicier varieties of chili powder. It is completely
organic, and is salt and garlic powder free. Try out a uniquely great tasting chili powder for an authentic southwestern cuisine experience.
Restaurant quality taste and value
Kosher ingredients
Sweeter and more mild, if looking for spicy look elsewhere in this list
4. Frontier Co-op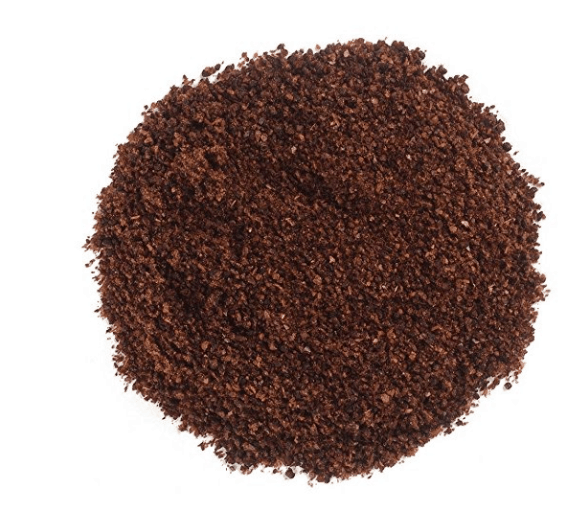 This certified organic and great tasting chili powder comes from an environmentally and consumer-friendly brand. With an all natural and organic ingredient list of chili pepper, cumin, garlic, and coriander, this product boasts a lively and versatile flavor.
Expand to see more
It is best paired with cuisines such as Mexican, Tex-Mex, Indian, and Asian fare. Dishes that contain meat, beans, rice, chili, mixed nuts, meats, and more can be livened up and enjoyed in a whole new manner using Frontier's great tasting chili blend.
Certified organic
Lively and versatile flavor
Purchase in large portions
5.Vedica Organic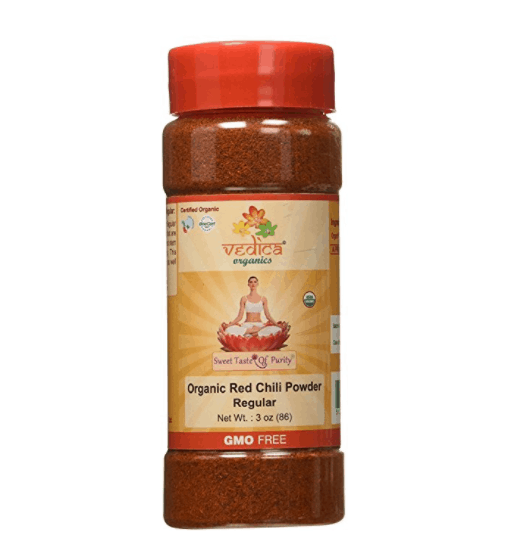 This recipe is prepared by using only the highest quality chili peppers, and by naturally drying and crushing into powder. Using only red chili peppers, this powder has an amazing natural spice and flavor that compliments indian cuisines, barbecue sauces, meats, and more.
Expand to see more
The quality of the organic chili peppers is pristine, and the care put into their process results in a beautiful red coloring, and a pure, potent spice, which are welcome additions to any dish. This chili powder perfectly compliments vegan lifestyles and can add a kick of flavor to your favorite recipes. Reap all of the health benefits without breaking the bank or raising your sodium intake with this valuable chili powder.
Organic, resh taste with a kick
Fresh taste with a kick
GMO free
6. Morton & Bassett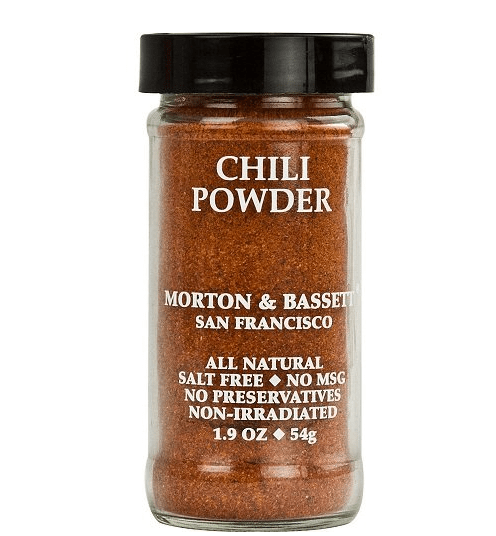 One of the best tasting options on our list is Morton and Bassett's chili powder. It is a great tasting, organic product that contains paprika, cumin, cayenne pepper, garlic, parsley, oregano and black pepper.
Expand to see more
This combination provides perfect compliment for salsa, bbq, rubs for beef, chicken, pork, and can even go great on scrambled eggs. This is a very versatile and useful product that goes great with a wide array of dishes. With a very robust, spicy, and deep flavor complex, you can enjoy a kick of flavor with this chili powder.
No preservatives
Great customer reviews
7. Spice Appeal New Mexican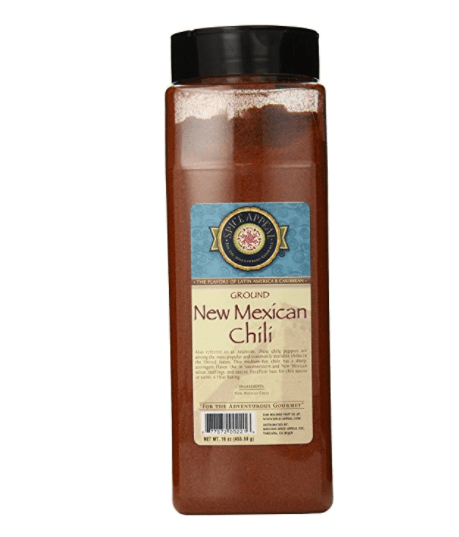 Also referred to as the "Anaheim" chili, these Chile peppers are some of the most popular and commonly available chiles found throughout the united states. This medium-hot chile has a sharp, astringent, smoky flavor complex that is very satisfying to the pallette in mexican dishes.
Expand to see more
Use in southwestern and new mexican salsas, stuffings, and sauces. THi product also serves as an excellent base for chili, sauces, or stews. Rating at a 6 on the heat scale, this product is one of the spicier options on our list, but is still not overpowering to any dish or unseasoned palettes.
Flavorful kick
Great addition to Mexican foods
8. Jiva USDA Organic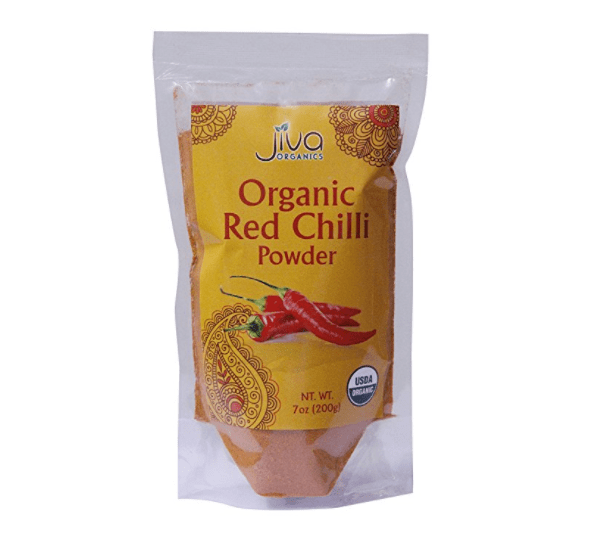 A unique option on our list, the Jiva chili powder is 100% certified organic and produced naturally in India. This powder provides a rich and spicy flavor profile that is great on vegetables, meat, lentils, and more.
Expand to see more
This powder is geared more towards Indian dishes due to its spice, but it can also work well in southwestern style dishes as well. Containing many nutrients and health benefits, adding a pinch to your daily shakes is also a common way to use this product. User be warned: this product has a kick!
Great taste
Very affordable
Not for those with aversions to spicy flavors
9. Tae-kyung Korean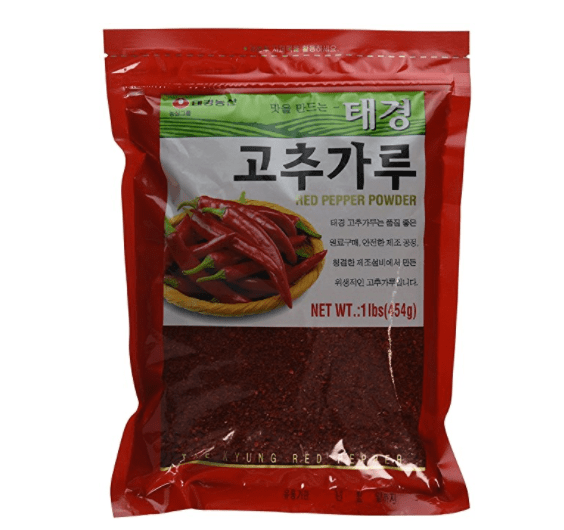 Sourced directly from Korean farms, this red chili powder has a rich and versatile flavor complex that pairs well with ANY chili powder recipe that could use a kick of flavor. Pepper flakes (in Korean "Gochugaru") are essential in Korean dishes. Due to the unique ingredients and exceptional seasoning and flavoring capabilities, it can't be substituted with sauces or flakes typical of other cuisines when when preparing a Korean dish.
Expand to see more
In Korea the flakes are selected with care as to not get unhealthy ingredients when processed. A lot of Korean people get the chili powder from a source they personally know, or buy it from a very well known and trusted company. Don't let the unique product fool you, you will be using this chili powder in everything!
Great flavor
Versatile usage
Great value
Some report lack of spice
10. Kiva Gourmet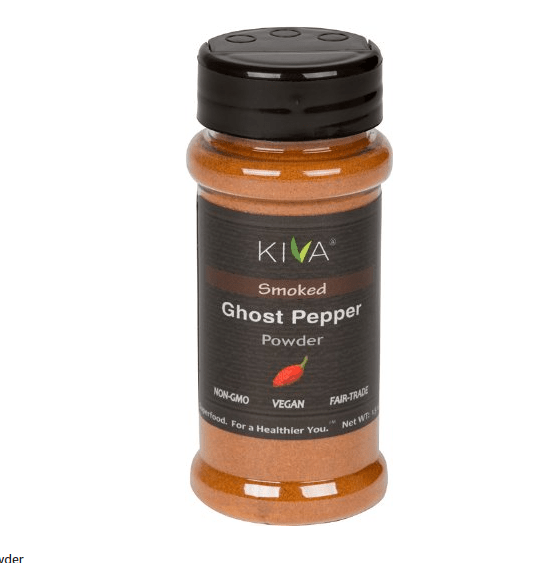 Rounding out our list, the Kiva ghost smoked chili powder is a strong companion in your kitchen. While it pairs great with barbecue, southwestern, Indian, and more types of cuisines, it carries with it an intense heat that is not overpowering to most along with its great flavor.
Expand to see more
Customers report a great value, as a little pinch of this strong chili powder can go a long way. The ingredients are simply ground and smoked ghost peppers to ensure a unique, delicious, and complex flavor profile. Kiva is a widely trusted brand that sources ingredients naturally from around the world, and provides no less with this product.
Complex and rich flavor
Great value and price
Usage Recommendations
When using chili powder, the possibilities are a great many. Popular choices are with meats, vegetables, chilis, barbecue sauces, curry, fried vegetables, and much more. The flavor complex is commonly very smoky and southwestern flavored, and serves to add spice and flavor to bland dishes. A great chili powder brings deep flavor and complex heat to recipes, and different recipes provide varying levels of these characteristics. When searching for your ideal chili powder, keep in mind your taste preferences. How much spice do you prefer? Do you prefer smokier or spicier? What meals would you like to use the chili powder with?
There are options in our list that go great with most dishes that could call for chili powder, and there are also more specific options that may be much spicier or smokier. The possibilities for usage of chili powder really only end with your creativity, as there are a huge amount of recipes that could benefit from the addition of a rich and flavorful spice.
When choosing and utilizing your chili powder, be sure to understand the ingredients in your product. If it contains salt, be sure to not overload on usage, as this can flood your recipes with sodium and take away from the inherent health benefits that chili powder possesses.
Chili Powder Additional Uses
Chili powder is the dried, minced fruit of one or more multiplicities of chili pepper, occasionally with the inclusion of other spices. Chili powder is occasionally integrated in various foods, such as Indian, Korean, Chinese, Thai, and Tex-Mex. Chili powder is a spice that is used to enhance a dish with tanginess and flavor. However, chili powder is far more useful that just spicing up your favorite meal!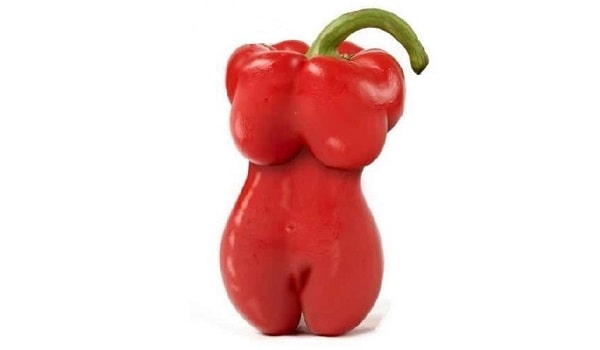 Combat Inflammation
Chili peppers comprise of an element known as capsaicin. This substance is what provides the peppers with their distinguishing spiciness and can range from mild to extreme heat when consumed. Capsaicin is a powerful inhibitor of element P, which is a neuropeptide that is linked to the inflammatory developments. The spicier the chili pepper, the greater amount of capsaicin it holds. The hottest assortments currently include Scotch bonnet peppers and habanero. Next are jalapenos in their spice and capsaicin substance. Milder assortments include Hungarian and Anaheim cherry peppers and Spanish pimentos.
Currently, capsaicin is being researched as a valuable remedy for sensory nerve fiber ailments such as pain related to arthritis, diabetic neuropathy, and psoriasis.
Prostate Cancer Prevention
According to a study published in March 2006, the compound capsaicin, which is found in red chili peppers, can prevent the spread of prostate cancer in the cells through a range of processes. There are two major kinds of prostate cancer; those that whose development is invigorated by male hormones and those that are not affected by male hormones at all. Capsaicin prompts suicide in both major kinds of prostate cancer cell lines. Furthermore, capsaicin diminishes the manifestation of prostate-specific antigen (PSA), impedes the ability of the most powerful kind of testosterone, dihydrotestosterone, to trigger PSA, and openly constrains PSA transcription, triggering PSA levels to drop.
Aids in Weight Loss
After consuming hot chili peppers, you may notice that you feel all that heat, which requires energy, or calories to create. Sweet red peppers have even been observed to hold ingredients that considerably improve oxygen consumption as well as heat production for more than twenty minutes after consumption.
Increases Immunity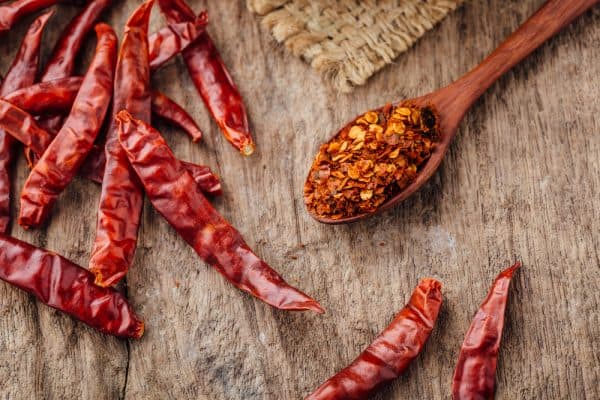 The vivid color of the red chili pepper signifies its high substance of pro-vitamin A or beta-carotene. By consuming two teaspoons of red chili peppers, you will receive approximately six percent of the recommended daily amount of vitamin C combined with an additional ten percent of the everyday value of vitamin A. Vitamin A is crucial for supporting healthy mucous membranes that line the lungs, nasal passages, urinary tract and intestinal tract and aid as the body's first line of protection against pathogens.
Avoiding Stomach Ulcers
Unfortunately, chili peppers do have a reputation for causing stomach ulcers. However, not only is this claim false, but they can aid in preventing ulcers by eradicating bacteria that you may have consumed, while encouraging the cells lining the stomach to discharge shielding safeguarding fluids.
Related Reading: 5 Foods to Avoid When Your Tummy Hurts
Circulatory Advantages
Red chili peppers, including cayenne, are known to decrease triglyceride levels, blood cholesterol, and platelet accumulation while also improving the body's ability to dispel fibrin, which is an ingredient essential to the development of clotting blood. Nations where hot pepper is consumed copiously have a much lesser rate of stroke, heart attack, and pulmonary embolism.
Decreased Threat of Type 2 Diabetes
Using chili pepper regularly to spice any dish could aid in the reduction of your chances of hyperinsulinemia, or high levels of insulin in the blood, which is an ailment linked to type 2 diabetes. Studies suggest that the quantity of insulin needed to decrease blood sugar following a meal is abridged if the meal comprises of chili pepper. When meals contain chili is a part of a regular diet, insulin needs are reduced.
Criteria for Evaluation
All of the options contained in our list were hand picked based on a variety of factors that include:
Ingredients
All of the products contained in our list come from respected brands that pride themselves on sourcing their ingredients naturally and providing safe and healthy products. While the majority of chili powders use cayenne, oregano, and allspice to add to flavor profiles, each pick has its own unique flavor profile and combination of ingredients that provide a unique experience each time. We curated a variety of products with varying combinations of ingredients to provide a choice between great tasting products based on your preferences.
Flavor Profile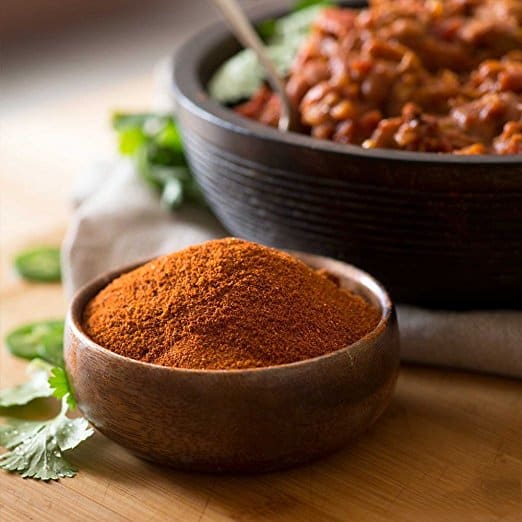 Chili powders are known for their deep spice and complex and smoky flavor profile. There are varieties that are best suited for southwestern and mexican dishes, and also options that are more geared for asian and indian fare. Also, we included powders that have a very versatile flavor profile and usage and made sure to point that out in our descriptions. Powders that were not too overpowering but contained rich and balanced flavors made the top of our list, while more niche and unique tasting products can be found lower on the list. Products lower on the list do not sacrifice any quality, they are just simply more unique products that some may not be as fond of as others.
Source of Ingredients
Our list contains products with all-natural and organic ingredients, and all of them come from well-respected and authentic brands. You can be sure that any chili powder you choose from this list will provide the health benefits you would normally expect from a natural chili. Ingredients in these products are sourced from across the world and we have curated a list of products that contain a wide range of organic and lively ingredients.
Chili Powder Vs Cayenne Pepper
The cayenne pepper is a hot, red chili pepper used to relish dishes as well as for medicinal resolutions. Chili powder is a powder consisting chastely or primarily of powdered hot chili pepper, most normally either red peppers or cayenne peppers.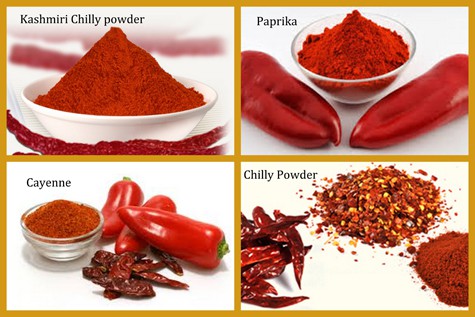 Cayenne pepper that is powdered and chili powder can look a lot alike; however, their flavors are very distinct. Both cayenne and chili comprise of the substance known as capsaicin, which is what makes these peppers spicy. Although, cayenne is a lot hotter than chili powder and also does not provide additional ingredients that are found in many blended chili powder arrangements. For certain recipes, you may be able to switch one for the other; however, you may require adjusting the ingredients to reason for the alteration in taste.
What is the Primary Differentiation between Cayenne Pepper and Chili Powder?
To be exact, cayenne pepper powder is basically chili powder. Cayenne pepper powder is actually one hundred percent chili powder, which is something more than you would characteristically receive from a conventional bottle of chili powder. These kinds of spices can contain cumin or oregano. The flavor of taste of each can vary from the next.
Which is Hotter?
Cayenne pepper powder usually is hotter than chili powders. Many chili powders apply hot peppers that are on the lower side of the heat scale than cayenne. Normally, cayenne pepper will use thirty thousand to fifty thousand Scoville heat units.
Yet, if cayenne pepper is used as the chili powder's base, the actuality is that because it is cut using other ingredients, these other peppers will reduce the complete heat you can experience.
Is It Possible to Switch Cayenne Pepper for Chili Powder or Vice Versa?
It is possible to do so; however there are a few things that you must take note of before making any substitutions. Firstly, the heat from a pepper can completely alter a recipe's pungency. If you do decide to substitute one for the other, make sure to do so with care! The end result may cause too much spiciness. Another thing to consider is that due to chili powder being a mixture of spices, switching it with another spice can alter the anticipated taste of the meal. If it is necessary for you to switch out one for the other, examine the labels and deliberate whether it is required to lessen other spices to bring balance to your dish.
Best Chili Powder Recipes to Try
One of the greatest benefits from grinding your own chili powder is your ability to control the mixture to your personal preference. There are any different kinds of spices that can be found in chili powder such as garlic powder, onion powder, black pepper, cumin, oregano, paprika, and more.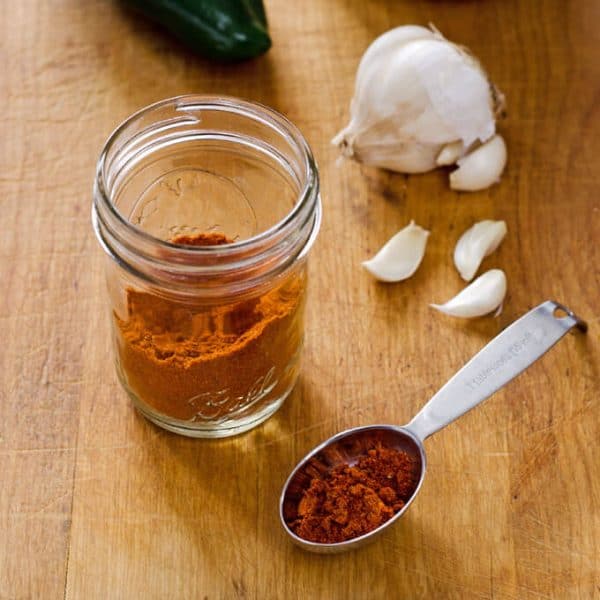 It is extremely simple to alter the heat level of your chili powder, even though the spice that each chili pepper stores contrasts greatly established on their growing environments. In order to effectively control the heat of your chili powder, you can either scrape off or leave the lightly colored membranes which hold the seeds to the chili pepper. These membranes hold capsaicin, which is the compound that is responsible for giving chili peppers their spice.
When you first make chili powder, you may wonder what you could season with it. Well, chili powder is comparable to other seasoning blends. Of course, you can make chili with chili powder, but you can use it to make a fajita seasoning, sloppy joe seasoning, or taco seasoning, with some obvious variances to the blend.
Dehydrated Peppers
Before you can start making your very own homemade chili powder, you first have to dehydrate the chilies of your choosing. In order to this appropriately, you will want to cut the pepper open into halves or quarters so that it will dry the pepper faster. Place them in an oven set at 200F degrees and make sure you keep a watch on them so that they do not burn! Depending on the size of the peppers, this can take anywhere from one to three hours. Once the peppers are dehydrated and cooled off, you can safely grind them and store them in an air tight glass jar away from sunlight.
Chili Powder Recipes
For a basic chili recipe, you should try two tablespoons of paprika, two teaspoons of oregano, one and a half teaspoons of cumin, ¾ teaspoons of onion powder, one and a half teaspoons of garlic powder, and half a teaspoon of cayenne pepper. The cayenne pepper can be subtracted or increased, depending on your own personal preference.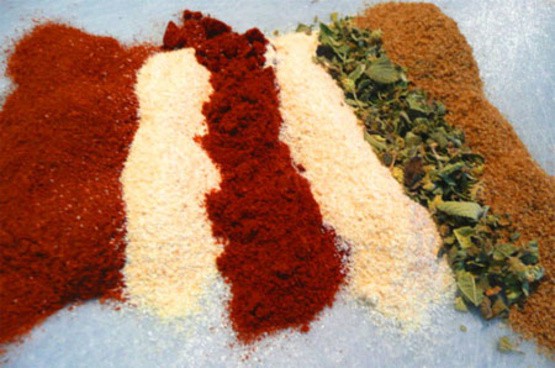 This chili mix is a medium-hot spice which includes one and a half tablespoons of ground cumin, one and a half teaspoons of brown sugar, one teaspoon of cayenne pepper, four teaspoons of onion powder, one teaspoon mustard powder, four teaspoons Hungarian paprika, ½ teaspoon ground coriander, two teaspoons garlic powder, ¼ teaspoon ground black pepper, two teaspoons salt, a pinch of ground cinnamon, two teaspoons onion powder, two bay leaves, and a teaspoon of dried oregano.
For those who are searching for a chili that packs a spicy punch, then the ingredients you will want to use include a teaspoon of cayenne pepper, a teaspoon of paprika, ½ teaspoon of salt, ½ teaspoon black pepper, ½ teaspoon red pepper, ½ teaspoon garlic powder, ¼ teaspoon ground nutmeg, and 1/3 teaspoon ground cumin.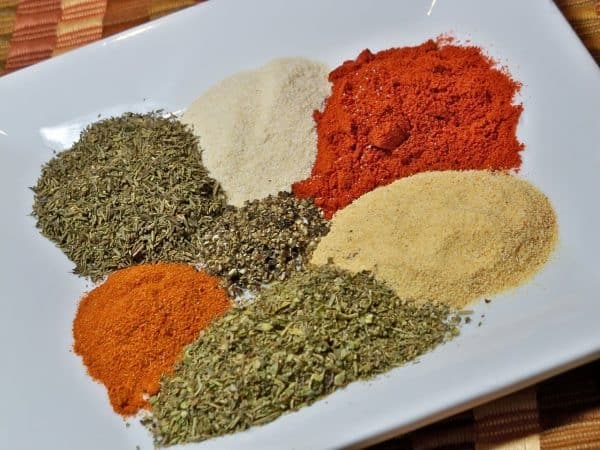 If you are looking for a chili powder that suites a Tex-Mex cuisine, then you are searching for ingredients such as three dried guajillo chilies, one medium dried ancho chili, a teaspoon of cumin seeds, ½ teaspoon of Mexican oregano, ½ teaspoon coriander seeds, ¼ teaspoon smoked paprika, ½ teaspoon onion powder, ¼ teaspoon cocoa powder, and ¼ teaspoon garlic powder.
Another basic homemade chili powder recipe that is perfect to use to create chili or use as a base includes the following ingredients ¼ cup of sweet paprika, two teaspoons of ground cumin, a tablespoon of dried oregano, a tablespoon of garlic powder, a tablespoon of onion powder, and one tablespoon of cayenne pepper.
FAQs
Where are these products made?
Most of the products in our list are made here in the USA, but they also source chili peppers from across the world. All of the products were chosen from brands that have great production reputations for being safe, fresh, and environmentally-conscious.
What is the shelf life of chili powder?
The shelf life of these products is over a year, as customers have reported using chili powders after a year or more without losing flavor or spice. It is recommended that you store your powder in a cool and dry place to ensure freshness.
What is the "silicon dioxide" ingredient?
Silicon dioxide is found naturally in plants, animals, our tissue, and even the earth. It is free of side effects and simply used to keep your chili powder product from clumping during storage.
Can chili powder be used in liquids?
Yes, chili powders have been used in drinks and smoothies in order to add the nutrient value to the drink. While the flavor complex is difficult to pair with most smoothies, there recipes that call for it to provide a very well-rounded and nutritious meal.
Do the products with ginger still provide the health benefits?
Yes, the powders that include ginger in the ingredient list contain enough of it to provide the great health benefits.
Are these products gluten free?
Yes, due to the fact that these products only contain ground peppers, there are no wheats, grains, or anything of that nature contained in these products.
How much should I add to my recipes?
Each product on this list has a unique blend of ingredients and varying levels of potency. Therefore, consult your product's usage instructions to learn about the recommended portion size of chili powder to incorporate into your favorite recipes.
Is the same pepper used in each chili powder?
No, some of the chili powders contain ghost chilis, ancho chilis, and even ghost chili peppers. Each of these products will have their own unique flavor, and based on your preferences you can choose your favorite. Each of these choices also carries a unique spice and flavor profile, so experiment and find out your favorite variation of chili powder that will make all of your favorite dishes pop!
What are some best store-bought chili powders?
Here are some best store-bought chili powders:
Simply Organic Chili Powder
McCormick Dark Chili Powder
Japanese Mixed Chili Pepper
Carolina Reaper Powder
Cayenne Pepper Powder
What are the different types of chili powders?
Guajillo Chili Powder
Ancho Chili Powder
Light Chili Powder & Dark Chili Powder
Habanero Powder
Chipotle Morita
Chili Threads
Subscribe to our Newsletter