Best Fitness Trackers Reviewed & Rated
Disclosure: We use affiliate links and may receive a small commission on purchases.
Fitness trackers have taken the fitness industry by storm, and they keep on trending more day by day. As of last year, 50% of fitness consumers own a fitness tracker. When used correctly a fitness tracker can take your fitness to levels that you did not imagine. Fitness trackers range from simple step counters to the more complicated ones that can monitor blood pressure. They are customized to be stylish and elegant so that you can put them on even on social occasions. There are hundreds of fitness trackers brands in the market and getting a reliable one can be taxing. We have reviewed the ten most credible and reliable fitness trackers currently in the market.
Our Top 3 Picks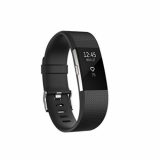 FitBit

Our rating
Elegant
Price:

See Here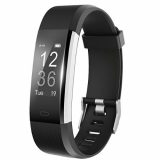 Ronten

Our rating
Versatile
Price:

See Here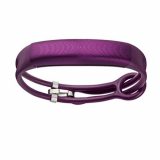 JawBone

Our rating
Smart Coach
Price:

See Here

10 Best Fitness Trackers
1. Fitbit Charge 2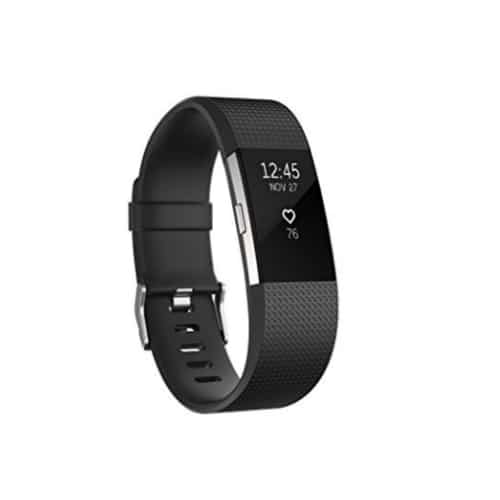 Fitbit Charge 2 is slim, fashionable, and one of the few trackers that synchronize with personal computers, Windows phones, and Apple products, in addition to Android smartphones. It comes with classic interchangeable bands suitable for social and workout wear. It maximizes on tracking level of fitness using a special automatic wrist-based pulse rate sensor. It tracks multisport activities and gives a personalized fitness score based on fat burn, calorie expenditure, duration and pace of each exercise session. This device automatically detects when you start working out and alerts when you have been inactive for long. It is connected to GPS and gives real-time statistics of pace and distance. At the end of the workout, it also maps out the route of your workout.
Expand to see more
Fitbit Charge 2 uses the heart rate to automatically monitors light, deep and REM sleep so you can understand the quality of your sleep. Also, it has a silent vibrating alarm to wake you up. It is also suitable for yoga and meditation, as it offers guided breathing sessions. It comes with a sophisticated application, "Fitbit Application" with a large user base for you to share goals, motivation, and achievements. The application is interactive and has features for setting fitness goals, an exercise calendar, activity sharing, and nutrition guidance tools.

Features/Specifications

Interchangeable accessory bands
Customizable clock faces
Large OLED screen display
Pure pulse rate monitoring
Multisport tracking
Call, SMS, calendar, and sedentary alerts
Splash and sweatproof
Automatic sleep tracking
Auto exercise recognition
Battery life up to 5 days

Price/Value

Fitbit Charge 2 is pricey but a high-value product worth every coin. It is a trusted brand, elegant, accurate and has sophisticated features, purely focused on physical fitness.

Verdict

If you are conscious and strict on your fitness, then Fitbit Charge 2 is an excellent product to own. It offers both fitness and nutrition tracking and offers a wide user base for you to share your progress and achievements. You can set personalized goals, and it makes your fitness journey objective by giving you individualized fitness scores.
Comfortable, elegant and accurate
Bright display of heart rate, calories and duration of exercise after each workout session
Mobile application is user-friendly and interactive
Gives a cardio fitness score
Connected to GPS
Offers connection to social groups
Wristbands are durable and interchangeable
Automatically detects when you start working out
Bands are a bit large

Has a weak vibration
2. Ronten R2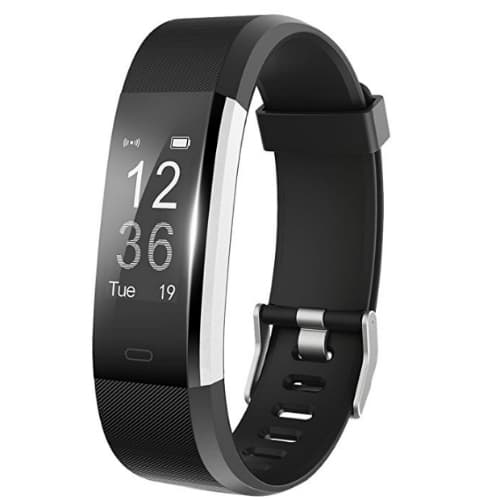 Ronten R2 is an upgraded fitness tracker that can monitor over fourteen activities, heart rate, and sleep. It is compatible with most Android and iPhone smartphones. It is also connected to the GPS thus maps out your exercise routes. This device can automatically detect when you sleep, so you do not have to switch modes when falling asleep. It monitors both light and deep sleep, so you can use it to monitor the quality of your sleep. Ronten R2 is made of waterproof materials, and the straps are changeable. Its battery lasts for five to eight days, and it takes up to one hour to charge. You can also remotely control your phone's camera and music using Ronten R2 fitness tracker.

Expand to see more
Features/Specification

Monitors 14 training modes
Real-time heart rate monitor
Sleep duration and quality monitor
Remote control of music and phone camera
Connected to a GPS tracker
Call, SMS, sedentary, and alarm alerts
Sleep quality and duration monitor
Battery standby time is 5-8 days, and full charge requires one hour

Compatible with

Bluetooth 4.0 and above
iOS 7.1 and above
Android 4.4 and above

Price

Ronten R2 is reasonably priced and offers features that can be compared to high-end fitness tracking products. It is connected with GPS, compatible with most smartphones, and its mobile application is comprehensive and easy to use.

Verdict

Ronten R2 has high-end product features and is a good buy for you to track your fitness progress comprehensively. You can set goals and get real-time feedback of your workouts, routes, and sleep. This fitness track is also worth considering if you are on a weight loss journey as its mobile application offers nutrition guidance for weight loss.

Waterproof
Multisport functionalities
Compatible with Android and iPhone
Long battery standby time
Has notification alerts of calls, alarms, and SMS
Real-time monitoring of sleep and heart rate
Comfortable to wear
Large display screen
Easy to set up
Cannot hang up calls remotely
3. Jawbone JL03-6565CEI-US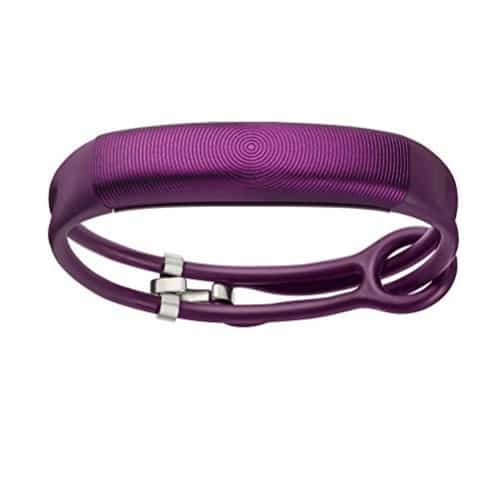 Jawbone UP2 has a thin and sleek fashionable design fit for women, and it comes in five gorgeous colors. In fact, it looks more like a bracelet than a fitness tracker. It is lightweight and compatible with most smartphones. It comes with an inbuilt smart coach for you to personalize your goals on exercise and nutrition. It can track duration and quality of sleep. You do not have to change to sleep mode when you are going to bed; the band automatically detects when you fall asleep. Also, it has a smart alarm that wakes you up at your optimal time and offers tips on how to improve your sleep.

Expand to see more
Features/Specifications

Has a smart coach that offers personalized fitness training
Allows food logging
Can connect with other users
Has idle alerts to keep you moving
Has a silent vibrating alarm
Light; weighs less than 4 ounces
Battery life is more than ten days

Compatible with

Android 4.3 or above
iOS compatibility from iPhone 4S, iPod Touch 5th generation, iPad, iPad Mini 1st generation, iPad Air 1st generation

Price/Value

Jawbone UP2 is easy on the pocket and worth buying for its jewel design and personalized fitness tracking features.

Verdict

Jawbone UP2 is suitable for women who want to look good and at the same time track fitness activities. It is a good buy if you engage in light physical activities, especially walking. In terms of exercise, Jawbone Fitness tracker tracks steps, different physical activities, and overall calorie expenditure. With its Android and iPhone application, you can set nutritional goals, log in daily meals, calculate calories consumed for the day, and get nutritional tips to achieve your desired weight.

If you would like to monitor your workouts and nutrition entirely for weight loss, then this is a product to consider.


Compatible with many smartphones
Monitors physical activity, sleep duration and sleep quality
Automatically detects when you fall asleep
Can log food and calculate food score
Alerts when you have been idle for a long time
Fashionable
Comes in different colors
Gets dirty quite fast
No GPS connection
4. Nike FuelBand SE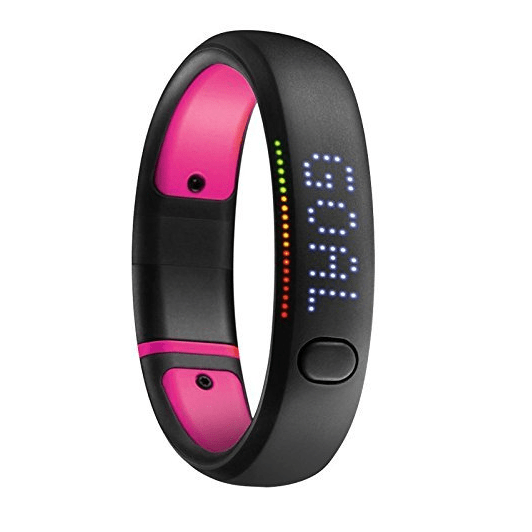 Nike FuelBand SE fitness tracker comes in small, medium and extra-large sizes, so you do not have to worry about your arm size. It comes with a free Fuelband application for iPhone and iPods with which you can set daily goals, connect with other users, and it graphs your physical activity for up to one year or more. It' superior to other trackers in that it tracks the intensity of workouts and gives personalized motivation to its users by using Nike trophies and milestones. Also, it has an ambient light sensor that automatically decreases or increases screen brightness in response to environmental light. It tracks multiple sports including walking, running, and dancing. The device can breakdown workout segments, allowing you to monitor different activities separately.

Expand to see more
Features/Specifications

Available in three sizes: small, medium/large, and extra-large.
Comes with a free Fuelband application for iPhone and iPod
Has an ambient light sensor
Has an improved battery life
Built-in USB
Shows daily progress
Offers sleep tracking
Tracks multiple sports
Has hourly reminders to keep you on the move

Compatibility

Bluetooth 4.0
iPhone 5 and above

Price/Verdict

Nike FuelBand SE is highly priced compared to other products with the same features, but then it is sleek, elegant, tells you the intensity of your workouts and offers the kind of motivation that most other fitness trackers cannot compare to.

Verdict

If you need an extra push in your fitness lifestyle, then Nike FuelBand SE is the product to own. It has hourly reminders to move, individualized milestones to achieve and trophies to celebrate your success. If you like connecting socially, the tracker's application sends your Nike activities to your online profile.


Has an ambient light sensor
Water resistant
Free Fuelband mobile application
Displays activity progress in real time
Can connect to social groups like Nike training group, Facebook, and Path
Gives notifications on movements every hour
Can detect intensity of a workout
Only compatible with iPhones
No heart rate sensor
5. NewYouDirect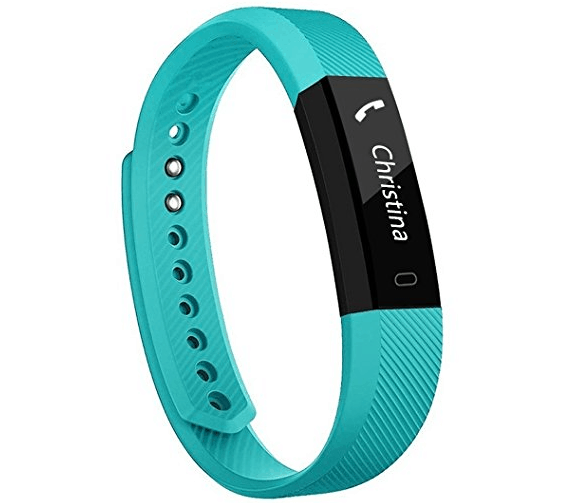 NewYouDirect is a sleek and flashy fitness tracker, worn as a watch. It monitors physical activities, sleep duration, and counts calories burned. It has multiple sports functionalities for mountaineering, badminton, yoga, treadmill, dynamic cycling, walking, running and jogging. NewYouDirect can work independently or can be synchronized with your phone using Bluetooth. It is tailormade to work with "VeryFit App" application that enables you to record and review your exercise data. Also, it monitors the duration of your sleep and has a silent vibrating alarm.
Expand to see more
Features/Specifications

Built-in USB
Bright LED tap display
Waterproof IP67
Has anti-lost vibrate when the phone is out of range
Allows sports target setting
Has a sleep monitor
Call, SMS, alarm, and sedentary alerts

Compatible with

IOS 7.1 and above
Android 4.4 and above
Bluetooth 4.0 and above

Price/Value

NewYouDirect is a budget product but still does not compromise on the quality of its features. With it, you can track multiple sports and enjoy its tailormade fitness application on the phone. It offers most of the features that other high-priced trackers offer.

Verdict

NewYouDirect is an affordable and smart product to buy if you engage in different sports activities. You can also monitor your sleep and exercise routines with its smartphone application. If you do not want to spend too much on a fitness tracker, then this is the product to consider. It does not disappoint on its accuracy level too.


Compatible with iPhone, iPad and Android phones
Slim and comfortable to wear
Easy to set up
Phone application is easy to use
Large screen display of time, date, battery usage and Bluetooth on or off
Adjustable straps
Does Not work with Lenovo, TCL, Asus, and Windows Phones
No remote music control
6. Antimi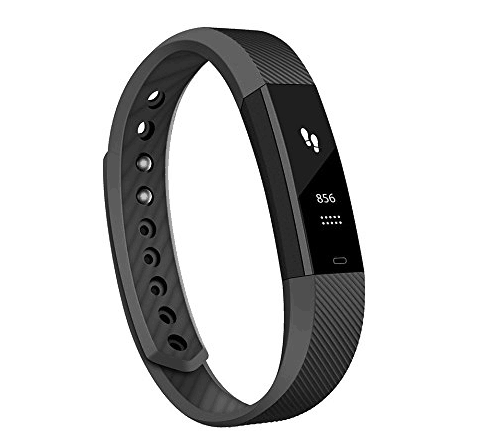 Antimi is another powerful fitness tracker that tracks different physical activities, heart rate, and monitors both light and deep sleep. It can also monitor the intensity of each workout basing on changes of the heart rate, making it a good tracker for cardio exercises. It counts calories and fats burned throughout the day. Its mobile application calculates your averages for the week and graphs monthly progress. The tracker itself keeps data memory for up to 7 days.

Expand to see more
Features/Specifications

SMS, call, and sedentary alerts
Anti-lost alert when phone is out of range (5 meters)
0.86 inch OLED HD Display screen
Uses 'Veryfit for heart rate' mobile application
Has a USB plug
Remote phone camera control
Battery full charge is in one hour and has a standby time of seven days

Compatible with

Bluetooth 4.0 and above
Android 4.4 and above
iOS 7.1 and above

Price/Value

Antimi fitness tracker is easy on the pocket and still has excellent features to track your workouts. It is compatible with most smartphones thus gives the advantage of storing and viewing your exercise results for as long as you want to.

Verdict

Antimi is suitable for you if your fitness activities are cardio based. It gives you a chance to know in which cardio zone you are in, and when your fitness level gets better. You can store your data in the 'Veryfit for heart rate' mobile application and keep on reviewing your goals.

Tracks both light and deep sleep
Keeps charge for long
Easy to wear and take off
Easy to use
Comfortable and fashionable
The device itself stores data for up to seven days
Long battery standby time
Does not give a sign when charged
Screen does not adjust to daylight
7. Ikeepi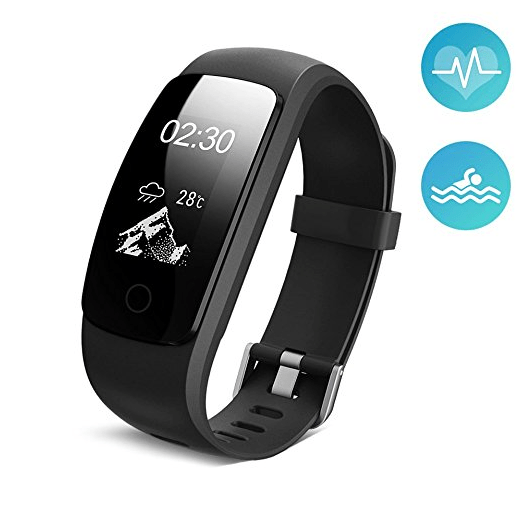 Ikeepi is a smart fitness tracker with multiple sports functionalities which include walking, running, treadmill, cycling, pedestrianism, fitness, basketball, and badminton. It automatically monitors the heart rate and duration of sleep, so you do not have to switch modes when going to bed. Ikeepi synchronizes with both Android and iOS smartphones using Bluetooth. It has GPS connection to the phone thus maps out your exercise tracks.It also comes with a free fitness application that you can use to set goals and monitor progress over an extended period of time.

Expand to see more
Features/Specifications

Multiple sport functionalities
Heart Rate monitor
Sleep monitor
Connected to GPS
Built-in USB plug
Waterproof IP67
Battery standby time of 7 days

Compatible with

Bluetooth 4.0 and above
IOS 7.1 and above
Android 4.4 and above

Price/Value

Though it does not have all features that other fitness trackers of the same price range have, Ikeepi is worth buying for its accuracy, multiple sports functionalities and compatibility with many smartphones.

Verdict

Ikeepi is a good buy if you want to track several physical activities and monitor heart rate and sleep. Its application is also easy to use and suitable for most ages.


Sleek and comfortable
Lightweight
Can set multiple alarms
Sedentary reminder every 30 minutes
Monitors multiple sports activities
Automatically detects sleep
Alarm and calendar alerts
Dust and waterproof
A bit inaccurate in step counting
8. Torntisc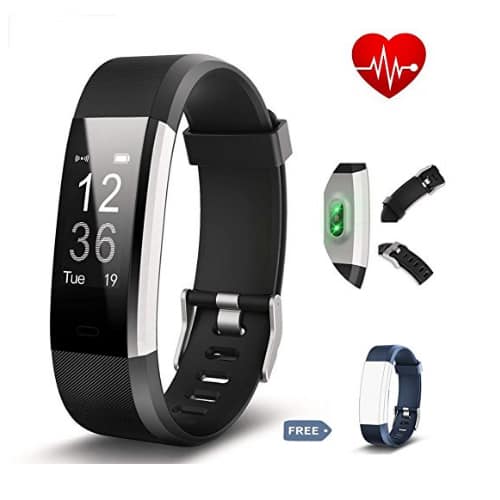 Torntisc is a bracelet fitness tracker with multisport functionalities, real-time heart rate monitoring, sedentary alert, call and SMS alert, alarm clock and automatic sleep tracking. This device tracks fourteen activities including walking, running, riding, hiking, trekking, badminton, fitness, spinning, treadmill, yoga, basketball, football, tennis, and dancing. It is customized for "VeryFit for heart rate" smartphone application. This application allows users to enter and review weekly goals, monitor quality of sleep, set alarm reminders, and view graphs of their exercises for over a year. It has a display for weather, which enables users to plan for outdoor activities appropriately. It is also super comfortable and comes with adjustable straps.

Expand to see more
Features/Specifications

Lights Screen when the hand is raised
Monitors heart rate
Call and SMS alerts
Silent vibration
Battery standby time is eight days and charge time is 1 to 2 hours
Keeps data for 7 days
0.96-inch OLED display touchscreen
Waterproof IP67 protection

Compatible with

Bluetooth 4.0 and above
Android 4.4 +
iOS 7.1 +

Price/Value

Torntisc is fairly priced for the features that it has. It is accurate and offers a wide range of functionalities for fitness.

Verdict

Torntisc is a good buy if you like keeping track of your physical activities and reviewing your activity history. It is also excellent if your exercise routines have involves different sports. The tracker's mobile application keeps data for each activity separately and gives a summary daily, weekly and monthly.

Multisport functionalities
Easy to set up
Light, comfortable and stylish
Adjustable straps
Sedentary reminder
Waterproof
Monitors light and deep sleep
9. Imoo House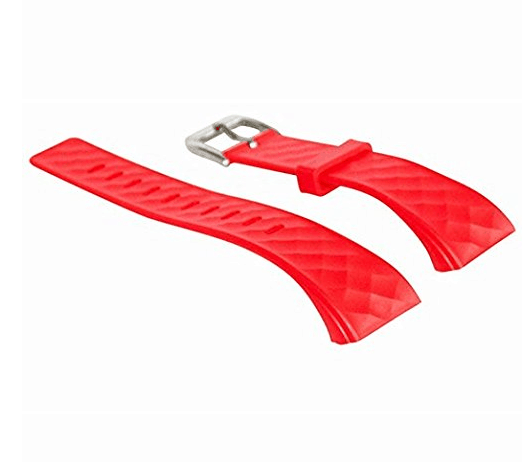 Imoo House is superior to other fitness trackers as you can use it for swimming and cycling. Other trackers only allow you to swim for thirty minutes and give less accurate results for activities like cycling. It is connected to GPS thus you can map your routes. In addition to monitoring cycling and swimming, Imoo House tracker also tracks four indoor sports that include rope skipping, jumping jacks, sit ups, and treadmill. Moreover, this tracker also shows your pace and duration of exercise. You can also automatically monitor the quality of your sleep and heart rate. Also, it has a silent vibrating alarm.

Expand to see more
Features/Specifications

Waterproof
Battery standby time of 5 days
Call and SMS alerts
Connected to GPS
Multisport tracking of indoor and outdoor physical activities
Monitors light and deep sleep
Remote music and phone camera control

Compatible with

Bluetooth 4.0 and above
Android 4.4 and above
iOS 7.1 and above

Price/Value

Imoo House is a value product that is fairly priced for its features. It has multiple sports functions, compatible with smartphones and also monitors sleep and heart rate.

Verdict

Though customers complain that Imoo House fitness tracker is a bit difficult to use, once you learn how to use it, it proves to be a valuable device with superior functions as compared to other devices of the same price range. The user manual is well detailed; it will be easy for you to learn. Also, if you like cycling, this is one of the most accurate trackers for cycling.

Waterproof
Monitors light and deep sleep
Suitable for indoor and outdoor activities
Connected to GPS
Easy to charge
Comfortable and stylish design
Large screen display
Charge does not take long
Complicated to use
10. Coffea H7-HR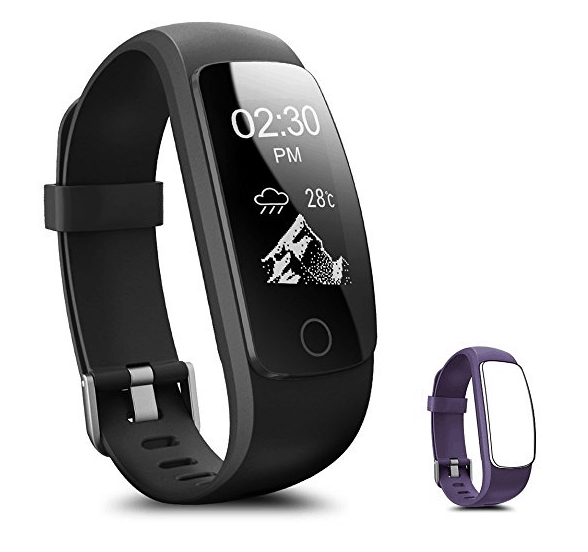 Coffea H7 is a wristband fitness monitor that connects to Android and iOS smartphones. It can track over fourteen physical activities, heart rate, and sleep quality. It connects to GPS thus gives a real map of your exercise routes. With Coffea H7, you can plan ahead of your activities with its inbuilt weather forecast system. Coffea H7 offers sleep quality monitoring, heart rate monitoring and has breathing guided sessions suitable for meditation and yoga. You can also control your phone's music and camera remotely from the tracker. It gives call and SMS and vibration alerts thus you don't have to interrupt your workout to check your phone.

Expand to see more
Features/Specifications

Tracks over 14 training activities
Sleep and heart rate monitor
Connected to GPS
Has a 24-hour activity timeline
Has five watch faces
Call and SMS notifications
Silent vibrating alarm
Remote control of phone camera and music
Inbuilt weather forecast system
Has a real-time timer and a breathing guide.

Compatible with

Bluetooth 4.0 and above
Android 4.4 and above
iOS 7.1 and above

Price/Value

Coffea is reasonably priced considering that it offers a broad range of features and compatibility with so many mobile devices.

Verdict

If your exercise routine involves many types of workouts, then Coffea H7 is a worth buy. With it, you can track over fourteen activities, and it comes with a free mobile application that you can use to monitor your fitness progress for over a year.


Tracks over 14 activities
Inbuilt weather forecast
Five watch faces
Can hang up calls
Connected to GPS
Heart rate monitor
Has a breathing guide
Waterproof
Large screen display
Easy to set up
Touchscreen display
Benefits of Using a Fitness Tracker

Fitness trackers are one of the best ways to monitor your workouts and fitness level. Research studies have shown that using a fitness tracker is likely to improve your fitness by more than 30%. There are different types of trackers with different functionalities, but most of them calculate steps, calories used, distance covered and pace. The more sophisticated ones can monitor heart rate, sleep, the pace of your workouts, are connected to GPS and can tell the altitude and elevation of your workout routes. Most of the modern fitness trackers come with smartphones applications, with which you can track your progress and connect with other users.
Here are the top benefits of using a fitness tracker in your workouts.
Motivation
Most fitness trackers have a feature to set individual goals to compete against yourself. They psychologically motivate you to achieve your goals and encourage you to do better than you did yesterday, last week or last month. By examining your previous performance, you can best learn when to push yourself to your next fitness level. Other trackers connect you with other users, with whom you can make group goals, share motivation and show off your achievements. A fitness tracker motivates you to go beyond your comfort zone; it is not just about taking your daily jog in the same route, same pace, and same distance. It gets you beyond your usual with individual and team competition.
Accountability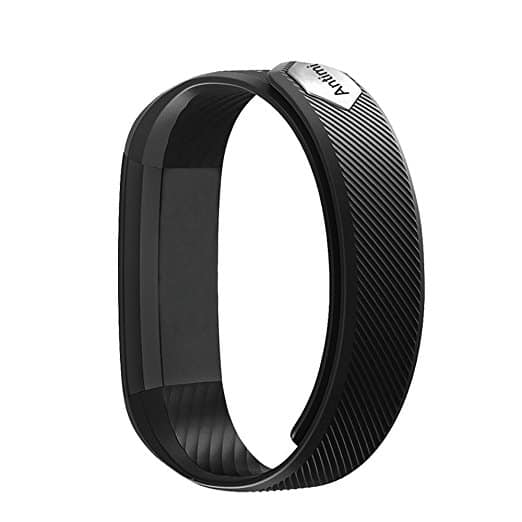 Sometimes exercise feels like a punishment, and it is hard to keep up with it. Studies show that about 50% of people give up on their exercise routines within few months of starting. With a fitness tracker, you set goals which you are accountable to yourself. Some trackers have reminders to alert you when it is time for your exercise, and others have personalized coaches that make a fitness calendar for you to follow. With most fitness trackers you get daily results on your performance. It is quite difficult to say no to such efforts.
Health Safety and Improvement
Most fitness trackers can monitor your heart rate. Others can even monitor blood pressure. To some people, this is a powerful tool to can save a life especially if one has a medical condition that requires consistent tracking of heart rate and pressure. The device can give a warning when these health parameters are dangerously high or low.
Understand Your Sleep Pattern
Sleep is often overlooked yet it is a crucial aspect of overall health, fitness and weight loss. Getting sleep in the right quality and quantity protects mental and physical health. Getting enough sleep keeps your mind focused, leaves you refreshed and energized to burn more calories and boosts fat loss. The National Sleep Foundation recommends that adults should have 7 to 9 hours of sleep to enjoy sleep benefits. However, only 40% of adults consistently get these hours of sleep. A fitness tracker can help you track your sleep duration and quality thus help you fix your sleep pattern. Fitness trackers are also helpful to individuals with sleep disorders.
Key Factors to Consider Before Purchase

Your Fitness Goals
When buying a fitness tracker, choose one that has software and technology suited for your preferred fitness activities. For instance, if you want to use a tracker for cycling, choose one that can be connected to GPS for you to map routes and track your pace and distance. If your main activity is swimming, get a fitness tracker that is waterproof.
Compatibility with Your Phone
It is important for you to ensure that the fitness tracker you are buying is compatible with your phone. Most trackers are compatible with Android and iOS phones, though there are exceptions. If you buy one that is incompatible with your phone, you will miss out a lot since most fitness trackers work best when paired with your phone. For instance, you will need to GPS on your phone to track your routes, control music and the phones' camera, and also, use the device's application on your phone to monitor your progress.
Usage Recommendation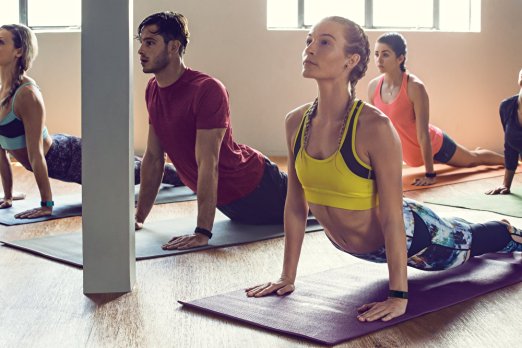 Most fitness trackers are ready for use when fresh out of the package. However, there are some few things that you will need to set up, to maximize on accuracy and output of your device. First, set up an online account and download the tracker's mobile application. The mobile app that comes with the tracker is as important as the fitness tracker itself. All your workouts' data will be sent to the application for you to keep on reviewing your fitness progress.
We recommend that you set customized goals like the number of calories, steps, and distance that you want to achieve in a day. Some applications also have a feature to set weight loss goals. You will then use the application to monitor the goals and share your achievements.
Some devices may require you to manually switch modes when changing from one exercise to another or when sleeping, while others automatically detect changes using your heart rate. It is crucial for you to know the type of device that you have for you to make the necessary changes and ensure that you are getting the most accurate results.
Battery charging is another factor to consider, before using your device. Most manufacturers recommend that you should charge the tracker for at least one hour before using it, Most of the fitness trackers also require recharging after 5 to 10 days of use.
Product Criteria for Evaluation
Fitness trackers have become popular devices for most fitness products consumers. Manufacturers are producing improved and new tracking devices almost every year. Therefore, there are plenty of great activity trackers in the market and choosing one that is best suited for your needs may be a daunting task. We carried out a rigorous market research and came up with a list of the top best credible and reliable fitness trackers. This is the criteria that we used to come up with the list.
Brand Reputation
According to a study conducted by YouGov, 22% of consumers consider brand reputation before purchasing a product. Therefore, we chose fitness trackers with the strongest reputation in the market. We chose products whose manufacturers are recognized for producing devices that reliable, accurate, and credible. The selected devices are also known to be good value products with excellent features. The carefully chosen products rank the highest in regard to user-friendliness, reliability, and comfort. For instance, our top product FitBit Charge 2 was one of the leading brands for fitness devices as of the first quarter of this year.
User Reviews and Ratings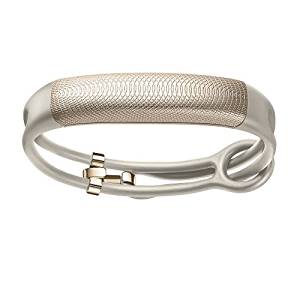 We sought to get credible feedback from customers who had already bought and used fitness trackers. We went through their in-depth reviews and ratings and chose the products with the best feedbacks and highest ratings. However, most experiences differ from one person to another and not everyone who gets a 100% satisfaction. So, we also identified critique reviews of each the selected products, and gave you pros and cons of each product.
Specifications
We understand that users have different needs and preferences in regard to product features and specifications. Therefore, we selected products that have both simple and complex features. The ones with simple features are easy to use and less costly. The more complicated ones have superior features, give complex output and are pricier.
Product Testing
We tested each product that we have reviewed and proved that they meet manufacturers' claims. We selected products that were credible, reliable and more than 90% accurate. Other things that we checked were durability, battery life, and ease of use.
FAQs
How do fitness trackers work?
Fitness trackers use accelerometer sensors to detect movements while others use sensors to detect a change of heart rate and thus, determine intensity of the movements. Most of the fitness trackers count steps, calorie expenditure, distance covered, pulse rate, sleep, temperature and sweat levels. Also, the trackers sync with smartphones and computers to store data of your daily physical activities.
What is the difference between a pedometer and a fitness activity tracker?
Fitness trackers give you more than counting steps, which is what most pedometers offer. A fitness tracker gathers more data on calorie intake and usage, sleep quality, and heart rate.
Do fitness trackers monitor all physical activities?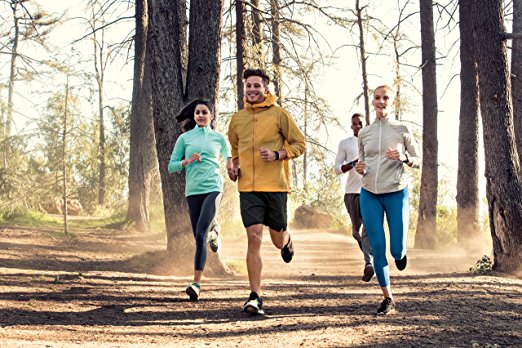 While there are fitness trackers that have multisport functionalities, most cannot adapt to analyzing all types of sports activities. Even those that can track many physical activities, you have to manually switch modes in between the activities.
How will I synchronize my fitness tracker with my phone?
Fitness tracking devices use Bluetooth to sync with your phone.Thus, you will need to turn on your Bluetooth settings to pair with your device. Once you have paired, you will see the fitness tracker transmitting data to your mobile application.
Are they 100% accurate?
Most fitness trackers are not 100% accurate. A margin error of not more than 10% is acceptable.
When should I wear my fitness tracker?
Fitness trackers are designed to be worn either throughout the day or during your specific workouts. Also, your fitness goals can determine when you should put your device on. For instance, if you would like to monitor your daily steps or the number of calories that you burn in a day, put on your device from when you wake up and stay with it throughout the day then read your results just before bedtime.
Where can I buy a reliable fitness tracker?
You can buy a fitness from a sports shop outlet, drug store or online. However, it is the internet that is most convenient. Sites like Amazon give you an opportunity to view various products, compare prices and review users' feedback and rates. You will most probably make the best-informed decision by purchasing online.
Subscribe to our Newsletter