Best Ankle Weights Reviews and Ratings
Disclosure: We use affiliate links and may receive a small commission on purchases.
Ankle weights are simply weighted bands that are strapped around your ankles for the purpose of providing increased resistance to aerobic workouts. Recently, ankle weights have become very popular due to their versatility of usage and increase in difficulty for common aerobic and strength training exercises. You can also use ankle weights on your wrists to improve upper body and forearm muscle strength.
The use of ankle weights as a fitness aid is a hotly debated topic within the space. There are plenty of fitness gurus and athletes that use ankle weights, but are they really effective, or are they causing more harm than good?
Many experts state that using ankle weights can help athletes recuperate from an injury, and they also can be useful for rebuilding weaker calves and lower leg muscles from the extended non-use of the legs. Others have correctly stated that using ankle weights for running increases the risk of injury to the knees and ankles by putting pressure on weak points of joints in the knees and ankles. Ankle weights are recommended to be used in aerobics and crossfit exercises that they can help add resistance to. Ankle weights are also safe to walk with for those recovering from injury or looking to strengthen the lower leg and it joints on their daily walks.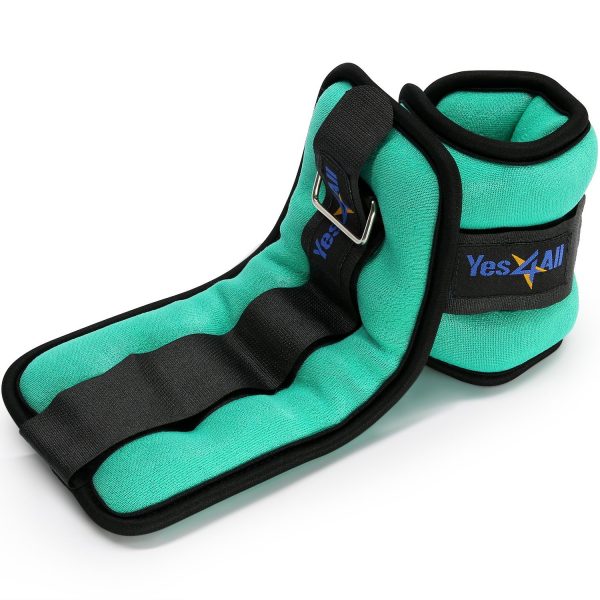 By adding weight to your ankles in aerobic programs, you can simultaneously benefit from:
By utilizing ankle weights in your favorite aerobic workouts, you can boost your endurance, burn calories more efficiently, and tone and strengthen your legs. Make your workouts more versatile and challenging by adding ankle weights to your routine!
Our Top 3 Picks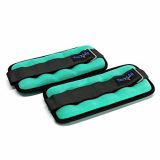 Yes4All

Our rating
Durable
Price:

See Here

Valeo

Our rating
Adjustable
Price:

See Here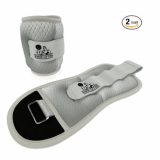 Nordic

Our rating
Versatile
Price:

See Here

Ankle weights are best utilized in three specific situation:
Strength training

Aerobics and water aerobics

Stretching
Ankle weights are best used by advanced fitness participants during aerobics, cardio, and strength training to continue to improve on their fitness. For those who are beginning to get in shape, adding more weight to your skeleton could prove to be too intense and cause more damage than good if used in excess, or not properly. If the ankle weights detract from good form or are causing undue pain after your workouts, discontinue use until a later period under better health and weight conditions. Ankle weights can be a great tool, but they must be used sparingly and efficiently as to be sure to not cause any short or long-term health problems.
A key use of ankle weights is doing gravity inversion stretching. These types of stretches utilize the ankle weights and gravity to provide easier and more efficient stretching to key muscles such as the hamstrings, glutes, and triceps. By incorporating ankle weights into these stretches, you can get a better stretch and increase your flexibility more efficiently.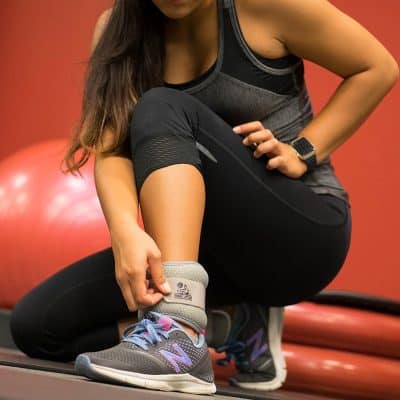 With all of these benefits to strength training, aerobics, water aerobics, stretching, and injury recovery, ankle weights have become a very popular pick. When navigating the many options, it may be difficult to decipher which are the best options. Some factors to keep in mind when searching for your first pair of ankle weights are:
Size
Purchasing the correct size ankle weights will alleviate any damaging stress to joints, and can also provide a comfortable fit, making ankle weight usage during your favorite exercises easy.
Comfort
Do you prefer padding in certain areas around the ankle? Do you want the straps to be comfortable on your wrists as well as your ankles? Where do you prefer the weights to be located within the strap? If you have tried ankle weights before, you likely know where you would like there to be more padding. Our guide contains some of the most comfortable options, and we will outline the type of construction and customer reviews on comfort throughout the guide.
Durability
The pair of ankle weights that you purchase will likely be put through rigorous exercise routines and be used fairly rough throughout their lifetime. Most ankle weight companies are good about making their models durable and able to withstand torment, but be aware of the types of material used and if you believe they will last and continue to remain comfortable.
Weight
It is important to check to see the weight of the ankle straps that you are purchasing, and also to understand how much weight you are looking for. Too little weight and you will not receive enough of a boost to your workouts to notice any difference, and too much weight could cause injury and joint damage. Understand your fitness and strength level, and make sure to search for fitting ankle weights. Some products have interchangeable weights for those who wish to have customizable options.
10 Best Ankle Weights
1. Yes4All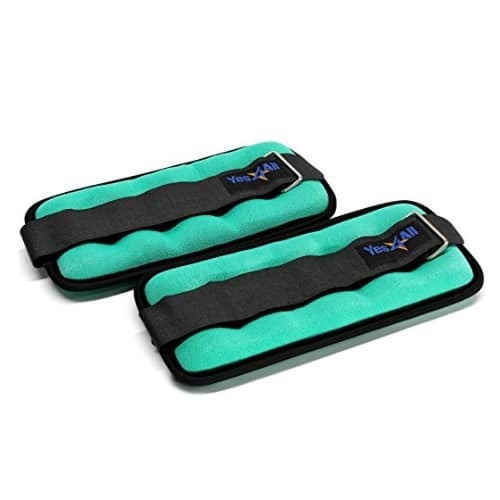 Our top pick for ankle weights are the Yes4All comfort fit ankle weights due to their comfort, versatility, durability, and cost-effectiveness. The reinforced and universally comfortable design woven into these ankle weights allow for ease of use during cardio, aerobics, and strength training.
Expand to see more
These ankle weights are comfortable when running, but due to the weight it is recommended that the ankle weights are used in stretching, strength training, and during controlled workout movements as to not allow for joint damage during usage. The D-rings and velcro straps allow for a universal fit, and are portable and lightweight to allow for easy use anywhere, anytime. Being one of the highest and best reviewed ankle weight products, this pair of weights can add that extra bit of challenge to your workouts you have been looking for!
Universal fit
Portable, you can use them anywhere
Versatile
2. Valeo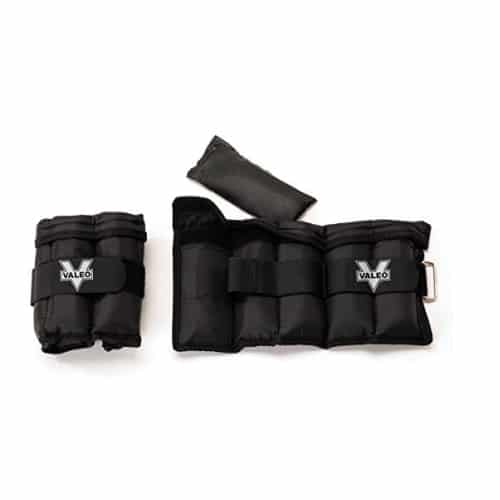 Coming in at number two is the Valeo adjustable ankle and wrist weights. These weights are designed to be versatile and able to be used in combination with any of your favorite workouts. These weights are best suited for strength and resistance training exercises, as customer reviews have reported some difficulty and discomfort using them during cardio.
Expand to see more
The soft padding is great for aerobic workouts but can prove to cause discomfort in the area if used in high intensity jogs or sprints. They come in a one size fits most size, and also feature adjustable weight bags to gain just the right amount of resistance during your routine. Being one of the easiest to use and featuring a comfortable and balanced design, the Valeo ankle weights are a great choice.
Adjustable D-ring and weight pouches
Soft padding
Some durability issues, not very compatible with runs and sprints
3. Nordic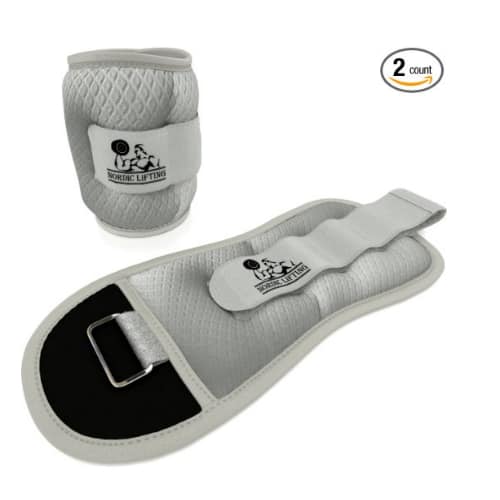 Coming in at number 3, these Nordic lifting straps are a consumer favorite. Featuring a very sleek and comfortable design, they are perfect for home workouts, aerobics, cardio, and strength training. The neoprene padding and reinforced stitching ensures durability and cost-effectiveness of the product.
Expand to see more
As an added bonus, this product features a manual on all of the different uses for the weights, including upper/lower body training, stretching, strength training, and more. These ankle weights can help the novice or advanced fitness enthusiast improve performance, core strength, and receive an overall bonus to your workouts. With a wide range of use and durable design, this pair of ankle straps is a great pick from a great brand.
Cost-effective package
Versatile
Weight distribution slightly uneven reportedly
4. The Cuff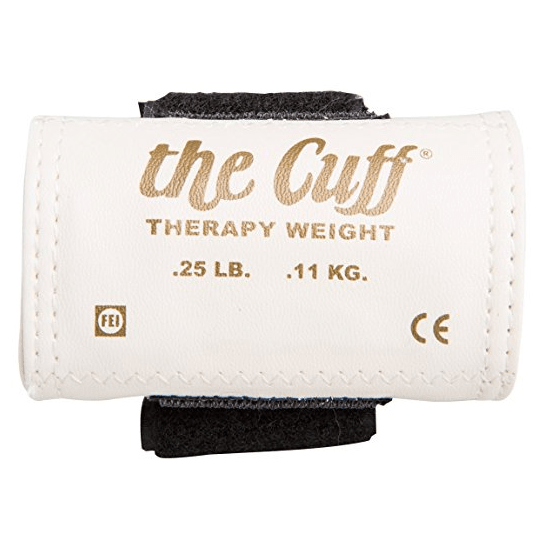 Used as one of the original ankle weights throughout the country, this weight was used in hospitals for rehabilitation purposes initially. Bringing with it a large clout of respect within the healthcare industry, it is now being adapted to the fitness industry. It comes with a large range of weight, coming in weights anywhere from 0.25lbs to 25 lbs, in order to fit your specific ankle or wrist weight needs.
Expand to see more
The double-stitching construction allows for increased durability during fitness routines as well. This cuff has been proven to be effective in hospitals for over 30 years, and now you can reap the benefits in your fitness routine to increase cardiac health, muscle definition, and strength!
5. Da Vinci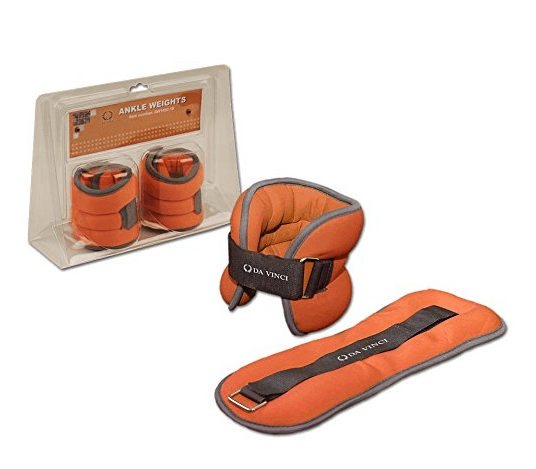 A very high quality option, the Da Vinci ankle weights offer an extremely comfortable pick, even to those with difficult-to-fit small ankles. The soft cloth interior allows for extreme comfort, as well as the ability to absorb moisture and keep the ankle weights comfortable in place throughout your workouts in combination with the velcro straps.
Expand to see more
These straps are reported by customers to be very comfortable and effective in a multitude of workouts. The cloth stays comfortable and in place, and the straps fit most ankles beautifully. If you are looking for a versatile pair of ankle weights, or have had trouble finding a pair of weights that fit comfortably, than the Da Vinci brand has your product.
Comfort
Moisture absorbing material
6. Reehut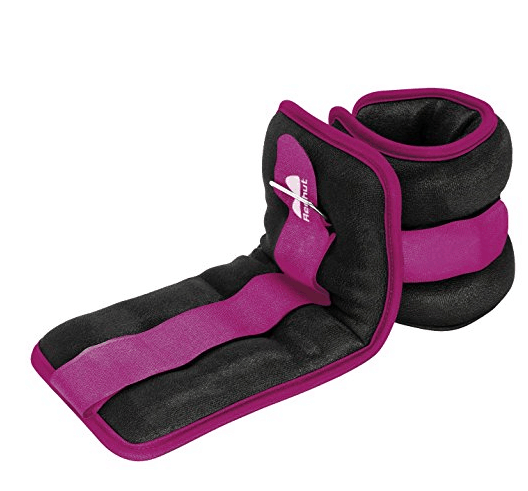 The Reehut ankle weight is perfect for those wanting to increase the calorie burn and efficiency of your workouts. The manufacturer recommends you gradually ease these into your walking routine and strength and resistance training routines in order to not put undue and unhealthy amounts of stress on your joints early on.
Expand to see more
This is mostly important for those who are not regular fitness enthusiasts. With a great price point, comfortable and long lasting fit, and a stylish aesthetic, these ankle and wrist weights will prove to increase your overall fitness level.
Non slide strap and material
Comfortable, moisture absorbent material construction
Multiple colors to choose from
Can be too lightweight for some seasoned gym goers
7. A2ZCare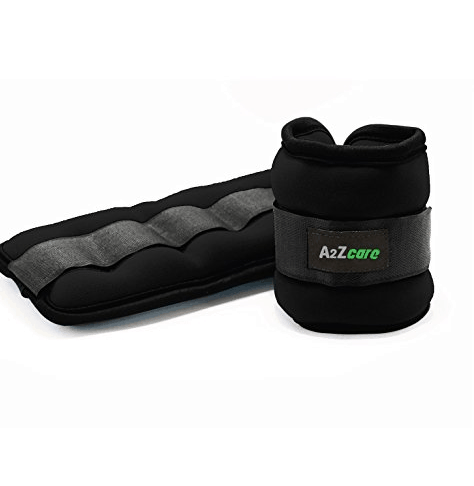 The A2Z care brand has been providing products that have helped athletes and fitness enthusiasts across the country enhance their workout experiences and effectiveness. These ankle weights can be purchased in 1, 2, 2.5, and 5lb variations. These options allow these ankle and wrist weights to be used by any individual of any fitness level.
Expand to see more
The weights also come in multiple color schemes and a comfortable, adjustable elastic cloth design to ensure maximum flexibility and comfort when adding an ankle weight to your routine. These ankle weights are perfectly suited to use in everyday activities or to incorporate into your favorite aerobic exercises, stretches, and cardio routines.
Comfortable and universal fit
Multiple weights to choose from
If not secured properly, user feels quite a bit of discomfort
8. TheraBand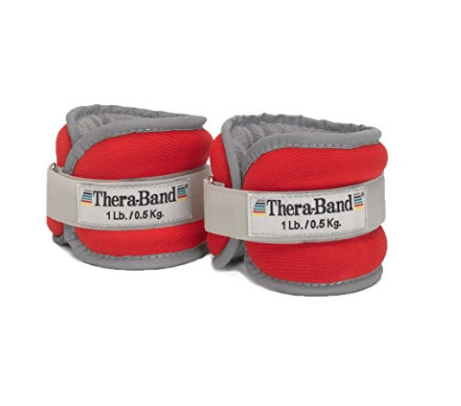 These are your best fit when it comes to physical therapy. In fact, many physical therapists, athletic trainers use these during their sessions with clients. These weights securely strap around the wrist or ankle and allow for comfortable, free movements during your favorite daily exercises and activities.
Expand to see more
Use the Theraband to train and tone muscles more effectively, and also to assist in post surgery recovery. The weights are discreet enough to be worn anywhere; practice, shopping, rehearsal, etc, and you will barely even notice they are there due to the extreme comfort and molded fit. People with a variety of needs for supplemented ankle and wrist weights have benefited from and enjoyed the great fit and effectiveness of the Theraband.
Great comfort
Versatile use cases
Durability issues reported in some cases
9. Gaiam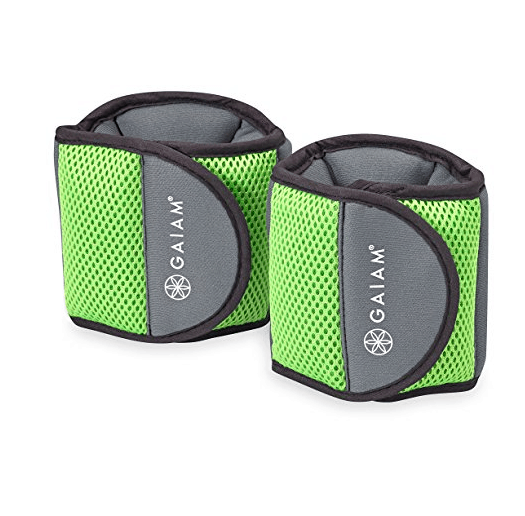 Perfect for anyone looking to add some more weight to the aerobics routines or to strengthen lower legs and increase flexibility. This 5lb weight pair (2x2.5), is a great weight to improve fitness and cardio, and are designed to withstand years of usage. The comfortable elastic design and soft cloth/mesh material provides a breathable matrix in order to minimize moisture build-up and discomfort to the area.
Expand to see more
Gaiam is committed to providing fitness products that help you stay motivated and achieve results, and these ankle weights do not stray from that mission. These weights are great for physical therapy or increasing personal fitness levels, and anyone using them is sure to appreciate the comfort and versatility that these weights can provide!
10. CAP Barbel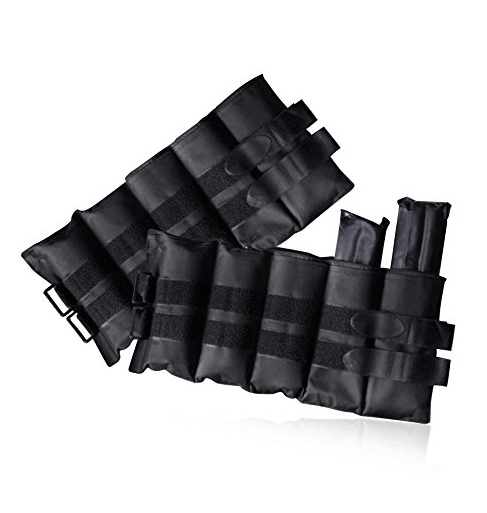 The Cap ankle weights were designed with the fitness buff and achieving results in mind. Featuring an adjustable weight design, you can go between 5-10 lbs of weight on each ankle or wrist, ensuring that you can continue to smash through your plateaus and continue to increase lower leg and forearm strength and flexibility.
Expand to see more
With a one size fits most design and a velcro securing system, the weights are easily stabilized no matter if there is 5 or 20 lbs attached. The straps have a durable design and are proven to last through the grittiest of exercises. Cap is a leading provider of fitness equipment for the seriously motivated, and has provided an extremely quality product for those looking to seriously crush their workout goals.

These are perfect for use by athletes and lifters, but have been reported to be not as compatible with running and aerobic exercises due to their bulky nature. The straps work great with stretching and weighted exercise (donkey kicks, leg lifts, etc).
Durable and effective
Heavier options for more seasoned strength trainers
Bulkier than other options
Usage Recommendations
Ankle weights and wrist weights can add versatility to any workout program, and the possibilities really only end where the creativity of the user ends. While there are so many options for the correct usage of ankle and wrist weights, there are some precautions to be aware of before beginning to incorporate them into your particular routine. Using ankle weights posits that you are going to be making your muscles, bones, and joints stronger, as most weightlifting and strength training exercises have proven. As it turns out, there are some dangers that come along with using ankle weights in certain ways.
It is recommended that for cardio purposes, running, and sprinting, ankle weights be used sparingly and less than three times per week for this purpose. Research has shown that repeated usage of ankle weights when running for extended periods of time can lead to significant damage to the ankle and knee joints. This problem occurs due to the fact that when running with added weight around the ankles, uneven weight distribution puts awkward pressure on the knee and ankle joints, causing damage after prolonged exposure to this imbalance. It is recommended to wear ankle weights on your wrists when running or sprinting. The added weight will still make running more difficult due to the added weight being carried, but will not place undue stress on susceptible joints and cartilage.
As far as aerobic and strength training workouts go, as long as correct form is practiced, adding ankle weights to glute, hamstring, forearm, and more strength training or HIIT programs can prove to help add difficulty and break through plateaus you may be experiencing. Ankle weight usage can be very effective in reaching new levels of strength and fitness!
Product Criteria for Evaluation
All of the choices on our list were hand selected based on multiple factors that include:
Durability
Ankle weights on our list can be made of several different materials, and the durability and construction of the products and how they were reported by consumers played a large factor in our ratings. Most options have a great reputation for lasting a long time, but others have been reported to be slightly more prone to damage when used in intense workouts. If you desire to use your ankle weights in very physically involved workouts, keep an eye out in our list for the most durably made products.
Comfort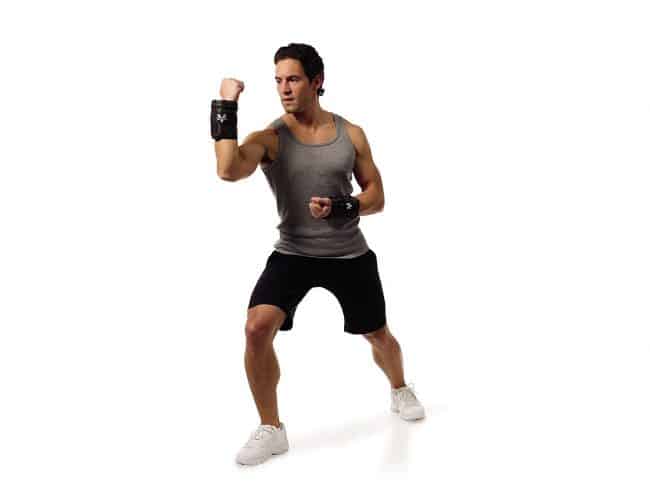 In our opinion, the best ankle weights fit like a glove. When working out, the last thing you want is to be hindered by a loose fit or irritation to the area. Most picks in our list contain sweat absorption materials and a very comfortable and molded fit. Other options are more tailored to be used for strength training, and may not be as comfortable as to be able to include more weight. There are many options in our list that include highly comfortable materials and innovative designs as to best fit any ankle or wrist size comfortably.
Versatility
All of the options in our list are great to be used along with a plethora of workouts. Some options are more suited for this due to the ability to interchange the weight and also the ability to use it on your wrists or your ankles comfortably. Our top picks have the highest diversity of usage and can be utilized on the ankles and wrists, and also have the option of interchangeable weights.
Benefits of Using Ankle and Wrist Weights
As with any exercise routine, the health benefits are many. Decreased blood pressure, risk for diabetes and heart conditions, increased metabolism, lung health, bone density, and joint health are just some of the benefits that can be accrued from adopting an efficient exercise routine. By adding ankle and wrist weights, you can further all of these benefits, especially bone and joint health. By increasing intensity in strength training and aerobic workouts, you can breakthrough plateaus and continue to improve your health and reach higher fitness levels easier than ever.
Precautions
As mentioned previously, it is recommended that using ankle and wrist weights in common cardio, running, and sprinting can lead to damage to joints, cartilage, bones, and muscle tissue. Therefore, it is recommended that users of these ankle weights limit the amount of cardio done with these weights to twice a month or less as to avoid any long term damage. Ankle weights can be very efficient and helpful if used correctly.
How to use ankle weights properly
The purpose of this article is to give you all the necessary information to use ankle weights properly, to ensure that you can go about exercising in a safe and effective manner. We will give you the necessary tips and techniques to get you started and, soon enough, you can go about making gains in no time! Let's get started.
Things you will need
First things first, you will need to consider just what items you will need to ensure that you can go about utilizing ankle weights in a proper manner. In fact, this is not just limited to ankle weights themselves, but also to a few other items which, while small, can really make a difference in your workout experience. That said, we list them below:
Ankle weights. Of course, no actual ankle weight training exercise is without having ankle weights themselves. However, it is a matter of knowing just how heavy you want them, let alone can manage.
Especially if you are a beginner to weight-training (or exercise, in general), then starting small, perhaps no more than three pounds, is the best way to go: this is to prevent injuries from ensuing in the beginning. Later on, you can move up to five-pound weights and more after you start building up resistance to the former weights.
Yoga mat. Ankle weights are only half of what is required to begin your ankle weight training regimen. In actuality, having a yoga mat is the other half, i.e. next item to consider investing in for this workout. Yoga mats are incredibly useful in that they provide slight comfort in its thin foam padding, so that you do not hurt your back and hips while lying on the direct floor.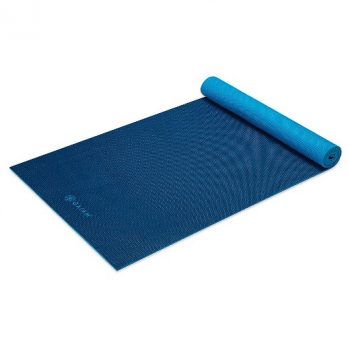 Even further, they are extremely versatile, in that they can be used for other forms of exercises beside ankle weight training, such as core exercises or even yoga (as its name suggests)! Really, yoga mats are worth the investment in the long run.
Timer. Finally, a timer is not obligatory, but having one with which to time yourself while doing reps can be a very useful tool to condition yourself more efficiently. In fact, timing yourself for a specific amount of time, e.g. one minute, in comparison with doing a certain amount of reps can challenge yourself even more, all the while help you make gains sooner than later.
Any simple timer can do: it does not have to be a brand-new, state-of-the-art watch, but rather an inexpensive one which can count down the minute will suffice. You can get them anywhere, such as your local drug store.
Step-by-step instructions to use ankle weights properly
Now that you have the necessary items for ankle weights, it is time to put them to good use for the sake of your health and muscle gains. Down below, we list the essential steps needed to be taken for a safe and effective workout, particularly for a few popular workouts with them:
1. High knees. Perhaps you have performed high knees before, as means of getting you warmed up for a run. However, adding ankle weights to the mix can offer some resistance building for your legs, thereby toning them in the process.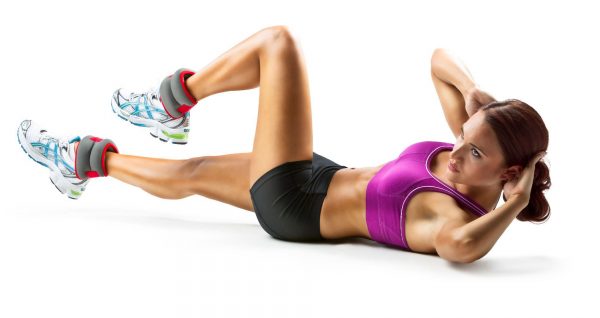 2. Leg lifts. For core strengthening purposes, leg lifts are great for toning your abs, all the while giving your legs a workout in the process. Adding ankle weights to the mix really adds muscle to the equation, too.
3. Hip extenders. Especially if you have weak hips, using ankle weights can help to strengthen them, thereby keeping you healthy and less prone to injuries. After all, it is worth a try!
Are there any ankle weight benefits while walking?
When it comes to working out, perhaps you have had your fair share of trying a variety of different exercises to get you into good shape. From stretch bands to weights to everything in between, you do your best to stay active, all the while stimulate resistance training for the sake of your health.
That said, perhaps you have had the experience of using ankle weights for working out. From core exercises to other weight-training activities, they have served to help you build muscle with their added weight. You have done many workouts with them, and you are thinking of trying your hand with them when it comes to walking.
However, you just might be wondering whether ankle weights can really be beneficial to use while walking, if there is anything at all? After all, you do not want to risk injuring yourself if it come down to that, along with the fact that you cannot afford to get injured as merely being due to ankle weights, which are not necessarily needed in the first place for such an activity.
There are certainly many questions to be asked about this idea, but in any case, we are here to help!
According to doctors and sports trainers, using ankle weights is not advisable to people who are interested in doing so. The main reason that using ankle weights is discouraged is that they can strain the joints (namely, the ankles), as well as the leg muscles. If not careful, it can lead to exercise-induced injuries, sometimes even chronic.
Getting injured is especially heightened when you powerwalk. In other words, the faster you walk, the more likely your joints and muscles will tire out, thereby increasing the chances of injury. That said, it is not recommended for walking, as it appears that ankle weights have more harms than benefits.
What are some ankle weight exercises that I can perform?
Considering that ankle weights are not recommended for walking, this is not to say that they cannot be used in other physical activities, all the while being safe and beneficial in the process. There are so many other things that you can do with them that it will not matter whether or not you want to use them to walk.
That being said, we have compiled a list of other sports activities that you could do with ankle weights, so as to help you become a stronger, healthier individual in the long run, literally and figuratively:
1. Side planks. With this distinctive workout, you can really go about toning your abs, especially the love handles, so as to get a really good, toned physique that you would be proud of.
To start, lie on your side on the yoga mat, with the ankle weight on one of your ankles. Prop yourself on the forearm. Slowly, in a steady motion, raise your leg straight up and lower it before repeating the process for about 10-20 reps. Repeat for two more sets before switching to the other leg.
2. High knees. For toning your quads and hamstrings, as well as your hips, high knees are the way to go—plus, they give you that burst of energy that you need to get through the day.
Standing up with your feet planted firmly on the ground, jump up and raise one of your legs with the knee bent. Quickly switch to the other leg before repeatedly alternating between the two for about twenty to thirty reps. Repeat for two to three more sets.
3. Leg lifts. Another core-toning exercise, leg lifts are the epitome of resistance training, and they are sure to give you abs in no time.
Lying on your back on the yoga mat, bring your legs together and slowly lift them up about five inches from the ground. Hold for five seconds before spreading them apart, holding for another five seconds before returning them together for five seconds and rest. Repeat for four more sets.
Altogether, ankle weights are not the ideal object to use for walking. However, it still remains a useful tool for strengthening exercises, which are sure to help you get into great shape in no time.
FAQs
Can they be used in water aerobics?
Definitely! Ankle weights would be a great and challenging addition to a water aerobics routine to help burn more calories and build muscles stronger.
What material provides the weight?
Most products in our list use sand for weight as to allow for easy and equal weight distribution. Some products in our list use metal pieces, but these are geared more towards strength training and are less versatile in usage, and also have proven to be slightly less comfortable.
Is the weight adjustable?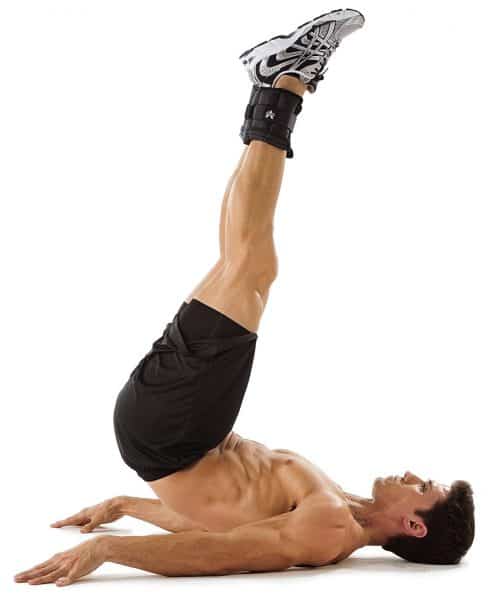 It depends on the product. Some of the options on our list include adjustable weights for those interested, and others have a set weight that they come with. See the product descriptions contained in our list to identify these products and their characteristics.
How heavy do the ankle weights need to be?
This really depends on your fitness level. Two to five pound sets can add difficulty to exercises for beginners and intermediates, but more seasoned fitness gurus should look to 5-10 lb sets to really push through those plateaus and add some difficulty to the workouts they are compatible with.
Can they be washed?
Per the manufacturer each product is different. For the most part, it is recommended that if you do wash your ankle weights to do it by hand and with a mild detergent. Washing your weights multiple times in a machine or with a harsh detergent can wear the material and cause either sand leakage or rips and tears.
Subscribe to our Newsletter