The Best Herbal Teas Reviewed & Rated
Disclosure: We use affiliate links and may receive a small commission on purchases.
When it comes to being healthy and engaging in a good lifestyle, you have probably done your fair share of eating well, working out, and abstaining from bad-for-you substances such as cigarettes and drugs. You have done it all, and you are proud to have a body which works perfectly in-tune with what you have to get you through the everyday life.
That said, you have most likely tried your hand at drinking herbal tea as a habit, for you heard somewhere that it yields some health benefits for your body and mind. You have tried your fair share of different ones or, at least, you are interested in getting started for your health's sake.
With the wide, almost uncountable variety of herbal teas out there, it can certainly be very daunting to have to choose a selected amount for your habitual tea drinking afternoons. There are dozens, if not hundreds, of different ones out there, to the point that you will try many which you will like, but also just as many which you will not enjoy at all.
Hence, you might ask yourself just how you can go about finding and buying the best herbal teas for your personal tastes. Granted, it is no easy feat, but we are here to help you out! Read on to learn more in this article on our pick for some of the best herbal teas out there. We will be reviewing the benefits of herbal tea, knowing how to choose the best one, and giving our own reviews on some that we have tried and tested for your own reference. Soon enough, you will be well on your way to a pleasurable and beneficial herbal tea experience.
Our Top 3 Picks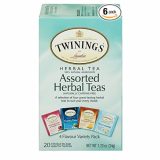 Twinings

Our rating
Good Value
Price:

See Here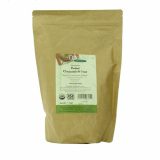 Davidson's

Our rating
Healthy
Price:

See Here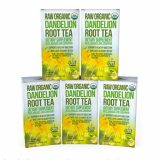 Kiss Me

Our rating
Organic
Price:

See Here

Without further ado, let's get right down to it!
10 Best Herbal Teas

1.Twinings of London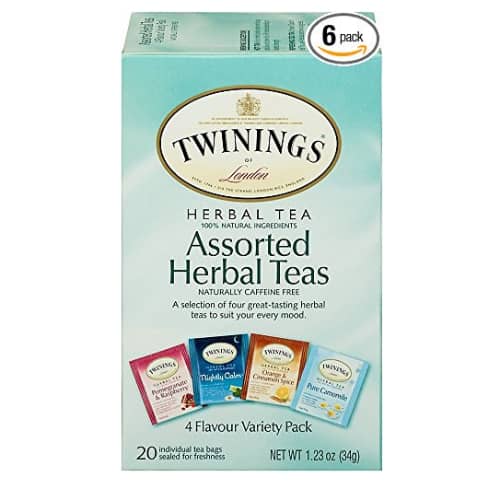 The Twinnings Assorted Herbal Tea like all tisanes is made from a concoction of herbs, spices, and fruits (examples are rosehips, apple pieces, and lemon myrtle). But unlike many other herbal teas, this one is a compilation of the best herbal teas manufactured by Twinnings. And as many tea enthusiasts know, Twinnings is a highly credible company—with a history of making high-quality products that always guarantee exceptional user experience. The Twinnings Assorted Herbal Tea includes the flavours pure chamomile, pomegranate and raspberry, nightly calm, and orange and cinnamon spice—which can be used anytime (depending on your mood).

Also, the combination of teas are individually sweet (requires no sweetener) and sacrifices none of their overall effectiveness (per tea) despite being packaged as one. In fact, we recommend you taking the tisane plain (as it is).
Expand to see more
Features and Specifications

Four flavours
Naturally sweet
Caffeine-free
20-count tea bags

Benefits

As with the consumption of all food (liquid and otherwise), there are benefits and side effects as usual. Luckily, herbal teas are natural and in fact contain no caffeine (which might cause side effects). On that front, and opposing side effects; here are the individual benefits of investing in the flavours of tea that are contained in the Twinnings Assorted Herbal Tea.

Lack of caffeine

It is a prime example of how herbal teas lack caffeine. They're free from contaminations and users who don't appreciate caffeine as an ingredient can easily take the tea unlike other teas (black, green, oolong, and white tea) that have caffeine.

Benefits of Chamomile

Chamomile, for example, boosts immunity, reduces period pains and muscle spasms, lightens skin (beautification purposes), possesses anti-aging properties, aids sleep (Insomnia), and still possesses many other such benefits. Taking the pure chamomile tea assorted with the Twinnings Assorted Herbal Tea is getting all the benefits above and the "many other such" benefits.

Benefits of Nightly Calm

Like the name implies, taking this tea is taking the road to sleep. It encourages and aids sleep which can be helpful for individuals wanting a good bout of rest and patients of illnesses like Alzheimer's disease and Insomnia (amongst others).

Benefits of Pomegranate and Raspberry

Pomegranate and raspberry have one benefit in common—which is the provision of antioxidants to the body. Other benefits range from aid as a relaxant to the prevention of cancer and even to the overall maintenance of cardiovascular activities (for pomegranate).

Benefits of Orange and Cinnamon Spice

Cinnamon spice as an ingredient is helpful in maintaining the overall health of the body, which involves treating stage two diabetes, lowering bad cholesterol levels, providing help with illnesses like Alzheimer's and Parkinson's, and acting as an antibacterial, antifungal, and antiviral agent. On the other hand, using orange as a spice boosts the efficacy of cinnamon, while also providing antioxidants to the body.

Verdict

Provided you're not allergic to cinnamon (and none of the other ingredients), then this tea is perfect for you. A nice price (at 20 counts per item) and the overall sheer effectiveness of each tea goes a long way in forming an exceptional herbal tea.
Exceptional value for money
Highly beneficial to health in general
Sweet natural taste
Zero caffeine
Can be iced
Some users might be allergic to some major ingredients (namely cinnamon)
2. Davidson's Tea Bulk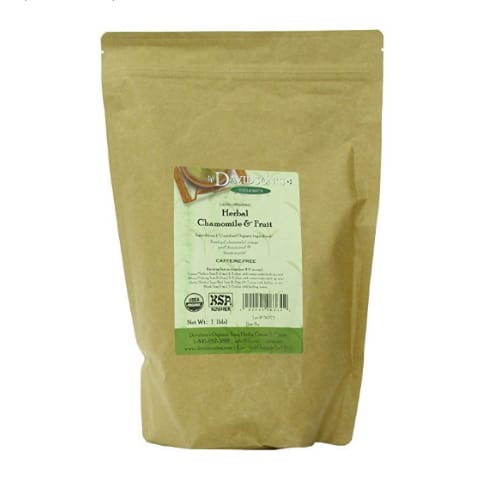 Made from a credible manufacturer with a history of making exceptional teas. The Davidson's Tea Bulk, Herbal Cranberry Orange is also one of those teas. It's made from a blend of rosehip, hibiscus, chamomile, and cranberry—to work in perfect tandem with each other. The result is a smooth tea with a great taste and aroma. Also, like all tisanes, the Davidson's herbal tea has many health benefits that make it an all-purpose tea—that can be used regardless of age (yes, even babies).
Expand to see more
Features and Specifications

16-ounce bag
Caffeine free
Blend of rosehip, hibiscus, chamomile, and cranberry
No artificial flavour or sweeteners

Benefits

If you're wondering about the benefits of the Davidson's herbal tea, or better yet, why you should invest in the tea itself—the following information is for you since it is filled with the features/prowess of the tea.

Packed with nutrients

The tea is a known source of antioxidants, vitamin, and salicylic acid. Or to be more specific, the inclusion of cranberry as an ingredient is to be blamed for the presence of the above compounds. So, taking the tea boosts your immune system, strengthens your bones, improves your vision, and provides antioxidants to your body (which by the way eliminate free radicals)

Helps with illnesses/diseases

The herbal tea helps with diseases like diabetes by lowering LDL (low-density lipoprotein) cholesterol in the body which consequently makes it suitable for use by more than 370 million individuals in the world. Also, it helps with other diseases and illnesses like hypertension, cancer, and urolithiasis (kidney stones).

Improves cardiovascular health

A lowered risk of heart disease and overall maintenance of cardiovascular health are two more benefits of taking the Davidson's herbal tea. The antioxidants present in the tea works well in clearing fat in the arteries and due to that, the tea itself reduces cardiovascular disease risks like stroke and heart attacks.

Improves mood

The herbal tea is perfect for relaxation (when stress and anxiety levels are too high) and also serves as a catalyst for sleep. So, any individual with trouble sleeping (Insomnia) or feeling stressed out can use the Davidson's herbal tea to their advantage.

Enhances the immune system

The Davidson's herbal tea boosts immunity and thusly, its ability to ward off infections. This is due to the presence of chamomile as one of the main ingredients of the tea—which works with cranberry (a source of vitamin C) to boost overall effectiveness in terms of immunity enhancement.

Note: these are just some benefits of the Davidson's tea, so keep in mind that the advantages of the tea are not limited to the above.

Verdict

If a nice price and exceptional overall effectiveness appeal to you, then we fully recommend you invest in the Davidson's Tea Bulk, Herbal Tea.
Caffeine free
Exceptional health benefits
Good value for money
No artificial flavour or sweeteners
Excellent flavour
3. Kiss Me Organics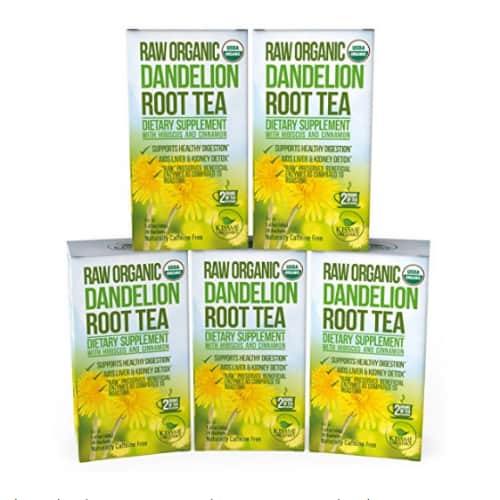 The Dandelion Root Tea by Kiss Me Organics like all tisanes is caffeine free with a lot of benefits for consumers. It is made from a concoction of herbs, fruits, and spices. Or in other terms, we can say it includes dandelion root, cinnamon, and hibiscus as ingredients. The tea is sweet but not overly so, as it maintains a highly balanced taste with a light aroma (flavour). So, most users will not need any sweetener. Though, do keep in mind that items like honey and lemon juice can be added to the Dandelion Root Tea due to their own benefits.
Expand to see more
Features and Specifications

Rich in Vitamins
Detoxification of kidney and liver
Aids digestion
Anti-inflammatory properties
Organic ingredients

Benefits

The Dandelion Root Tea is tailored to health benefits even more than many other herbal teas. This is due to its selection of prime ingredients and how they work together to deliver great results. So, on that front, this section is dedicated to the benefits of Dandelion Root Tea.

Helps with certain conditions

It helps reduce blood pressure in patients with hypertension—while also lowering LDL (low-density lipoproteins) cholesterol levels in the body. High blood pressure leads to stroke which can be avoided by using the Dandelion Root Tea. On the other hand, LDL cholesterol causes heart problems/diseases as well as stroke—which you can avoid by taking the dandelion tea.

Detoxification of kidney and liver

Due to its ingredients it is used for kidney and liver detoxification. If you use the tea, you're filtering out pollutants from your body which helps in preventing complications such as kidney stone, liver cirrhosis, hepatitis, and renal failure.

Nutritional

The tea contains vital nutrients like Vitamins A, C, D, and B-complex. As examples, Vitamin C helps in enhancing the immune system while Vitamin D helps the body reduce the risk of heart disease (amongst others).

Improves digestion

The dandelion tea improves digestion processes in the body and treating constipation is just one of the due results. It does this by regularising urination and bowel movements in the body—which in turn provides relief on the part of consumers.

Antioxidants and anti-inflammatory

The tea is a great source of antioxidants which help in reducing free radicals in the body. Also, it is anti-inflammatory, which means it reduces inflammation and thusly, chronic diseases/conditions like rheumatoid arthritis, tuberculosis, and chronic active hepatitis.

Verdict

We feel the Dandelion Root Tea is perfect for all individuals due to a number of benefits gained upon consumption. And coupling that with its value for money (which is excellent by the way), this tea is a good choice for anyone interested in buying teas; herbal or not.

Good value for money
Caffeine free
Aids digestion
Detoxification of kidney and liver
Rich in Vitamins
Organic ingredients
It might be a bit weak since it's unclear whether or not it worked for some individuals
4. Tea Forté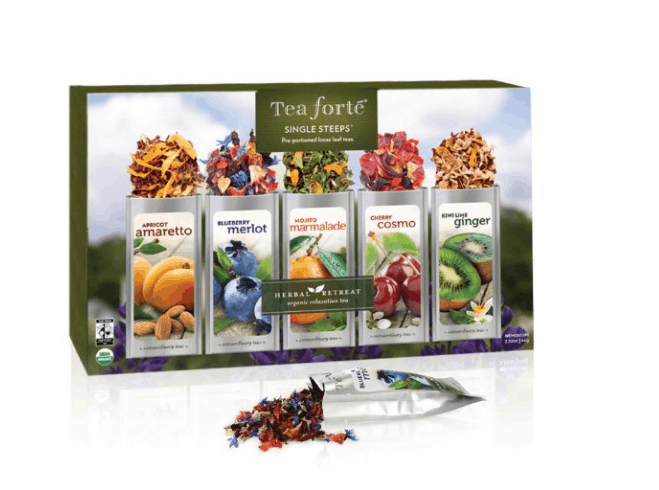 Tea Forté SINGLE STEEPS is tailored for use by beginners who want to get a feel for herbal teas. Though, tea enthusiasts are also welcomed to give the tea a try. The tea is filled with an assortment of teas with different spices to cause variations in terms of taste. It has five flavours; which are apricot amaretto, blueberry merlot, mojito marmalade, cherry cosmo and kiwi lime ginger. Also, the five flavours like all herbal teas are meant for relaxation anytime of the day and they also can be used for various health benefits.
Expand to see more
Features and Specifications

Single steeps
Caffeine free
Five flavours

Benefits

It has different benefits due to the presence of five flavours (different spices). So, on that front, the following information shows the benefits of each flavour in the package.

Verdict

This tea is ideal if you want a change in taste (tea enthusiast or otherwise). But the price is rather underwhelming and might not be suitable for individuals on a budget. Nonetheless, the benefits you get from the tea makes up for the cost and the result is a win-win situation for anyone willing to invest in it.
Different flavours (five)
Caffeine free
Great aroma and taste
Can be used as a gift due to its packaging
Relaxation tea
Can be iced
Value for money could be better
5. Yogi Tea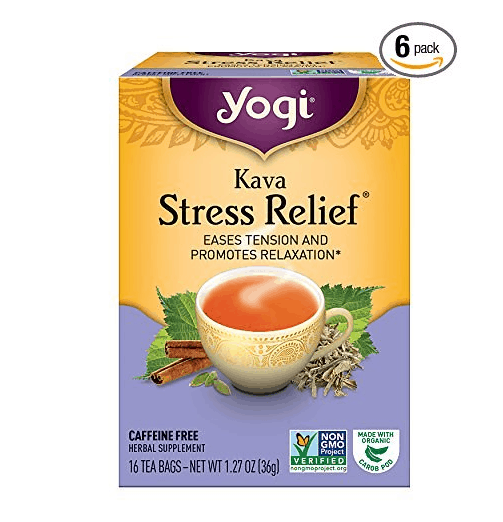 The Yogi Tea Honey Lavender Stress Relief is purposed for one thing only—which is to induce your body and mind to relax. The tea acts as a catalyst that aids the body and mind in reducing stress levels regardless if it's high or not. And this is no surprise when you notice that the manufacturer included lavender, chamomile, honey, and lemon balm as the four main ingredients in the Yogi Tea Stress Relief. It is free from artificial flavours and sweeteners while also being suitable for vegetarians (as well as individuals who can't tolerate gluten).
Expand to see more
Features and Specifications

Gluten-free, vegan, and kosher
No artificial sweeteners or flavours
Presence of chamomile
Compostable tea bags

Benefits

All teas have benefits and the Yogi Tea Stress Relief is not an exception to that rule. The ingredients used are blended in a way that the overall effectiveness of the tea is enhanced. This means that the Yogi Tea has a cumulative effect through the use of ingredients that have the same benefits.

An example is using lavender and chamomile as ingredients; they both relieve/reduce stress, anxiety, and depression—which makes the Yogi Tea a powerful stress relieving agent.

Nonetheless, there are other benefits that you can get by taking the Yogi Tea, and on that front, here are its most important.

Aids Sleep

The ingredients present aids and support sleep—which makes it highly suitable for consumption by individuals suffering from disorders/illnesses like Insomnia and Alzheimer's. Though, do note that anyone can use it since sleep is a natural process.

Zero Caffeine

Like all herbal teas, the Yogi Tea Stress Relief is caffeine free, which consequently doesn't hinder its stress-relieving capabilities. Also, for people who prefer the exclusion of caffeine (due to side effects) from their teas, this is a benefit that will be appreciated since herbal teas literally have no caffeine unlike other types of teas (black, white, green, and oolong teas).

Stress, Anxiety, and Depression

These three are similar and are mostly present together. But the stress relieving capabilities of this tea is what the manufacturer advertises the most. Nonetheless, anxiety and depression are two mental disorders that the Yogi Tea can also handle—regardless if they're both present in an individual. In fact, even if all three are present, the Yogi Tea is still suitable enough to handle them.

Prevention of Diseases

Honey and chamomile are ingredients that are present and they prevent diseases like cancer and diabetes—while also boosting the immune system. Also, the Yogi Tea is an anti-inflammatory agent (for chronic inflammation), so just using the tea is preventing illnesses like asthma, tuberculosis, rheumatoid arthritis, and much more.

Verdict

If your needs coincide with the benefits and pricing (16 tea bags per item) of the Yogi Tea Stress Relief, then giving the tea a buy is a decision we think will do you right.
Remarkable value for money
Vegan and gluten-free
Great flavour
Relieves stress
Caffeine free
Taste doesn't agree with some individuals
6. My Red Tea Rooibos Tea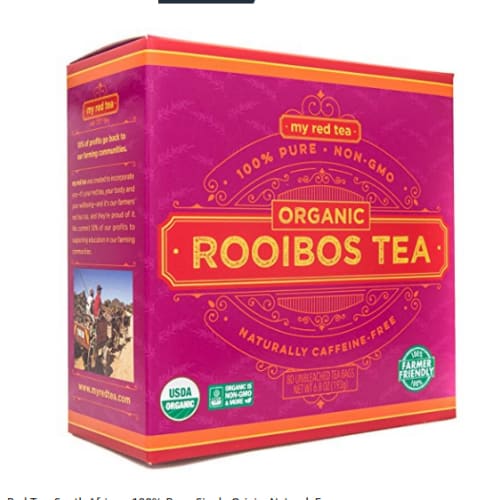 All-natural and originating from South Africa, My Red Tea's rooibos tea is as authentic as you can get when it comes to 100% rooibos. Besides that, its taste is a hit with consumers, as it has a smooth, almost buttery taste which rolls off your tongue easily before sliding gently down your throat, immediately making you feel at ease.

Environmentally-wise, it helps local South African farmers out as they work to produce such tea for your enjoyment. Now, you can rest assure that this distinctive tea has been properly made, with no frills but plenty of wonderful flavor.
Expand to see more
Verdict

Especially if you are under the weather, rooibos tea contains anti-histamine, e.g. vitamin C, to help you prevent or otherwise alleviate the cold's symptoms in the meanwhile. It prevents skin disease and, to an extent, aging.


Is originally from South Africa, its natural growing ground
Taste is smooth and easy to ingest
Production helps local farmers work to earn a living
Tea comes in double packets, which can be inconvenient to tear apart each time
7. The Republic Of Tea Ginseng/Peppermint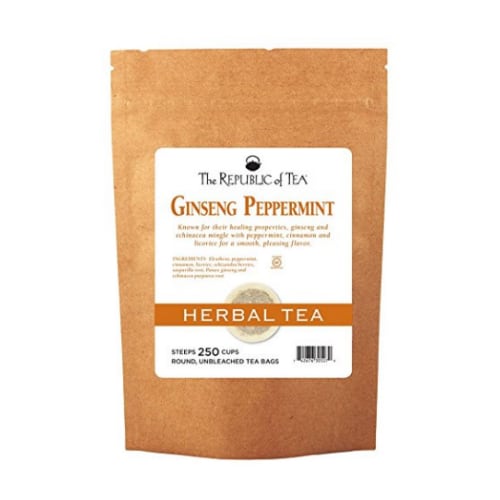 Gluten-free and non-GMO project verified, The Republic of Tea's peppermint herbal tea is the ideal one to have, for it offers a healthier and more environmentally-friendly choice for you to consume—that said, you will not need to feel guilty about wasting the Earth!

Aside from that, it contains a lovely blend of other flavors besides peppermint, including cinnamon, licorice, and Echinacea root not just for extra taste, but also extra benefits from each ingredient. It is also perfect for making iced tea to refresh yourself on a hot, summer's day, so why not?
Expand to see more
Verdict

Especially if you tend to have gastric problems, e.g. bloating, gas, discomfort, after meals, then having some peppermint herbal tea from The Republic of Tea is a good option to consider. In a way, it can also help you burn some calories, since its properties activate the body to do so, even at rest. Hence, peppermint herbal tea is not only delicious, but also beneficial for burning off energy!

Is gluten-free for those with gluten allergies
Is non-GMO project verified to ensure a healthy, chemical-free product
Blends different flavors for added taste and health effects
Price might be too high for some users
8. Stash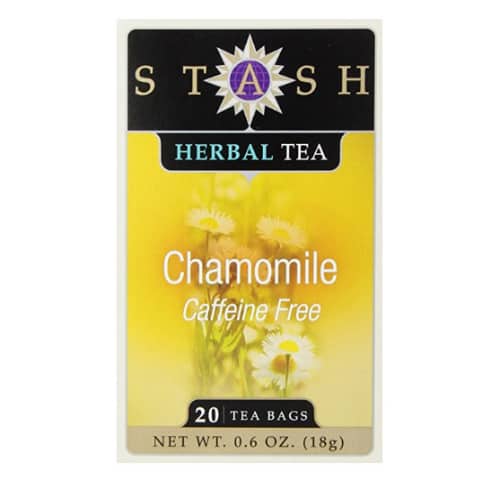 Fragrant and warm, this particular chamomile herbal tea from Stash offers a soothing taste that is sure to keep you calm and collected. Not only that, but also it is caffeine-free, so that you will not need to worry about being unable to sleep later that night.

Even better, each tea bag is individually wrapped in bulk, so that you do not need to worry about them going stale quickly. Whether you choose to have tea in the morning or in the evening, Stash's chamomile herbal tea is a solid choice.
Expand to see more
Verdict

Overall, Stash's chamomile herbal tea is ideal for people who suffer from upset stomachs or skin irritation. That said, drinking this specific type of tea can help quell stomach pain or relieve problems associated with sunburn, inflammation, and so forth. After all, it is worth a try to end the suffering from preventable problems, if you so desire.
Contains a warm, fragrant smell for a calming effect
Is caffeine-free for easier sleep
Individually wrapped for convenient use
Taste might be too mild for some users
9. Traditional Medicinals Organic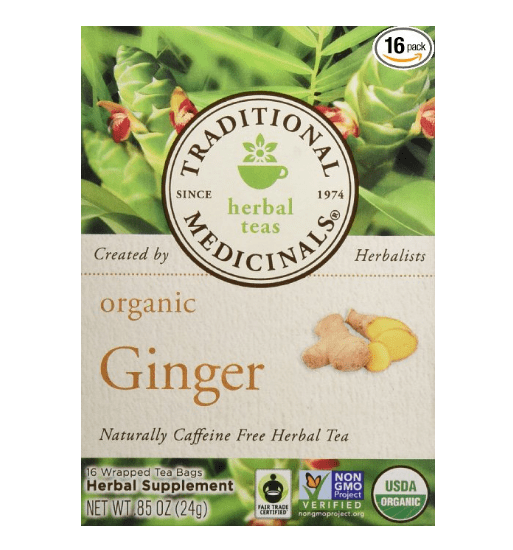 Organic and non-GMO, Traditional Medicinal's ginger herbal tea is an excellent option to consider should you want to go for some aromatic ginger flavor in your beverage. Even more so, it is a much more convenient way of drinking ginger tea, without having to boil the ginger to get the same taste from scratch.

In addition, it is well-known for being zesty in nature, which offers the best perky, pick-me-up you need without having to turn to caffeine itself. In other words, you can stay active and alert just from the taste, which is much-appreciated for your body to get more work done.
Expand to see more
Verdict

While considerably more medicinal-tasting compared with other types of herbal teas, ginger tea from Traditional Medicinal nevertheless is ideal for users who are prone to upset stomachs caused by nausea, e.g. motion sickness. Drinking a cup of ginger herbal tea can help to settle your stomach in no time.


Is aromatic with a zesty taste for increasing alertness
Is organic and non-GMO
Convenient for a ginger flavor, saving time in the making process
Can be an acquired taste, depending on the user
10. U.S. Wellness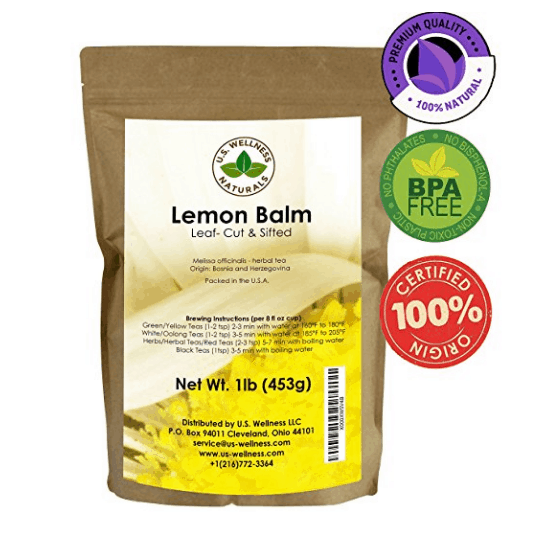 Containing absolutely no pesticides or herbicides, U.S. Wellness Bulk Tea's lemon balm tea is one that you do not need to worry about having chemicals. They are also BPA free, so there is no need to be concerned with that as well.

Furthermore, this bulk item has been carefully cut and sifted from plants and flowers in order to craft the best drinking experience for you. They have been well-packaged as means of containing their freshness, thereby offering you a fresh taste for a long time.
Expand to see more
Verdict

Perfect for those who need a boost in emotions or a source of concentration, lemon balm tea from U.S. Wellness Bulk Tea can do just that for you. Soon enough, you will be happier and getting things done in no time.


Contains no pesticides or herbicides
Is BPA-free
Offers a fresh taste over a long period of time
Can leave a gritty taste, due to low filtering
The health benefits of herbal tea
As previously mentioned, there are a ton of different herbal teas out there in the market. From green to black to white and even red teas, there are so many which all contain different properties and benefits depending on the ingredients—chemical and oxidized—inside of them.
That said, we are providing you some of the many reasons as to why you should drink herbal teas, thanks to these health benefits of doing so: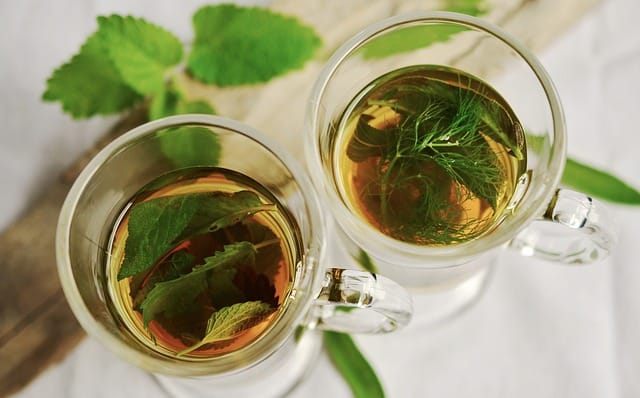 1. Contains flavonoids. You might have heard the word "flavonoids" being thrown around in the food health world, but you might not have been sure just what it meant. In essence, flavonoids are antioxidants and one type of them, ECGC, has been shown to be a powerful tool in preventing cancer, heart disease, and so forth. That said, it makes for a happy and healthy heart!
2. Has caffeine and theanine. Now, you probably might consider caffeine and theanine to be addictive chemicals to be put into your body, which does not help with being healthy. However, that refers mostly to coffee, which contains significantly more amounts than tea. In fact, choosing teas with caffeine and theanine are great for stimulating you, giving you the energy to get over that afternoon slump and back to work. Plus, it is less likely to become addictive for you, so you will not get massive caffeine withdrawals like it is with coffee.
3. Burns fat. Especially if you are looking to shed some pounds, then drinking herbal tea is the way to go. Considering that it stimulates energy from caffeine, it subsequently stimulates your body to work harder to process the natural ingredients in the tea leaves. You might feel changes happen over time, as a result, which makes it all the more rewarding for slimming your figure!
4. Reduces clogged arteries. As mentioned in the first point about herbal tea having the potential to prevent heart disease, it does so by preventing arteries from getting clogged by fat and other extra material from the body. It is suspected that tea does so by being potent enough to break down the fats and oils in foods you ingest, whether they are burgers, French fries, chicken, and so forth. This is not to say, however, that it gives you the excuse to eat junk food without worrying about your health—after all, herbal teas can only do so much to counteract the not-so-good activities for a limited amount of time!
5. Reduces the chances of cancer. This point is probably one of the most important ones to consider, if not the most important. In other words, drinking herbal tea has the potential to lower the possibility of developing bladder, breast, stomach, lung, or even pancreatic cancers. At least, it has the potential to slow down or even stunt such cancer cells from growing further. In a way, it is incredible just how a simple cup of herbal tea can provide a miracle for preventing cancer!
6. Lowers the chances of getting neurological diseases. From strokes to Alzheimer disease, herbal teas also contain properties inside its tea leaves which have the potential to decrease such neurological diseases from happening. It also has the chance of reducing the severity of Parkinson's disease, which can be especially debilitating at its most-severe case. Having control over your body is important, and so drinking herbal tea can help with all of that.
7. Helps with the common cold. Trust us, getting sick really is a downer, literally and figuratively. If you are prone to getting sick often, then drinking herbal tea can alleviate some of the worst symptoms (sniffling, congestion, headaches) and all the while speed up your recovery process. Soon enough, you can return to school or to work sooner rather than later. Beat that cold away!
8. Lowers blood pressure. Especially if you are prone to high blood pressure, having a cup of herbal tea can work to reduce it. That, along with meditating and self-reflection, can be the best way to keep yourself in check with your cardiac health.
9. Reduces brain stress. Perhaps you have heard of the notion that drinking herbal tea (or any type of tea, for that matter) can calm you down. Just as we discussed in the previous point about herbal tea lowering blood pressure, it also lowers stress levels. The herbal teas' aromas and chemical properties create a calming effect, which allows you to slow down, take a breath, and let your worries and commitments wash away (literally and figuratively)…at least for the moment!
10. Lowers bad cholesterol levels. Finally, herbal tea can work wonders for your cholesterol levels by lowering LDL (the "bad" cholesterol) inside your body. This, as a result, reduces your chances of getting clogged arteries while also lowering blood pressure and making your heart healthy, all in the next few years (or decades) to come.
11. Helps with indigestion and bloating. If you have particular problems with the digestive system, e.g. gas, bloating, abdominal pain, then herbal teas can help fix that right up for you. We know just how annoying gastric issues can be, so if anything, having a cup of herbal tea after your meal can assist in clearing your system for a smooth and easy digestive process.
12. Aids in curing nausea and uneasiness. Similarly, you might at times get nauseous, to the point that it causes uneasiness in the stomach, the head, even your entire body, in general. That being said, herbal teas are here to rescue you from such inconveniences of your being. Such herbal teas contain chemicals which can otherwise calm your stomach's nerves, so that you do not feel so unwell afterwards. Herbal teas are the best for situations in which you feel like throwing up or banging your head against the wall, so it is worth a shot in trying a sip (or a cup) of herbal tea to settle you down.
13. Assists in reducing headaches. Likewise, you might not only feel unwell in the stomach, but also in the head. Whether you get regular migraines or not, it is certainly not a pleasant sensation to have that pounding headache all day long. Even medication can only go so far to relieve you of the pain for just a few hours.
That said, drinking herbal tea is the most organic way of getting that headache to go away. Such tea comes with distinctive properties that target the pain sensors in your body, so as to suppress them and restore equilibrium to your body soon enough.
14. Helps with your circulatory system. In particular, if you have poor circulation throughout your extremities, e.g. fingers, toes, ears, then having some tea can improve the situation somewhat. Due to its warm, soothing properties, herbal teas can extend the warmth to parts of the body which are otherwise neglected, so that you can restore sensation to those areas, at least temporarily so.
After all, having poor circulation is a nuisance to operating your day-to-day life. Having a solution to that problem will make your life much more efficient, all the while enjoying a delicious, warm drink!
How to choose best herbal tea for you
With hundreds of herbal teas to choose from, it is bound to be overwhelming when trying to select one. There is no need to be intimidated, however, as we got you covered with our simple, but effective list of strategies and tips to narrow down your choices:
Ask yourself if you want caffeine in your tea
The biggest question when it comes to choosing your tea is whether you want it caffeinated or not. While some of you might want it as means of kick-starting your day on a solid note, others just want to mellow out after a long day of work.
That said, if you are the type to want caffeine in your tea, then settling for either black, green, oolong, or puerh tea are the way to go. Of course, each of these different types of teas vary in their caffeine intensity, so it is a matter of picking just how much of it you want in your drink. Typically speaking, black tea has the strongest amount of caffeine, in general, so for that afternoon pick-me-up (without having to fork over the money for coffee), black tea is the way to go.
On the other hand, if you only want non-caffeinated tea, then tisanes and rooibos are your best bet. In fact, almost all herbal teas do not contain caffeine, so they are the perfect drink to relax with, either after work or after dinner—it is up to you!
Consider just how strong and bodied you would like your tea to be
Again, this touches on the idea of how intense in caffeine you would like your tea to be, but it also refers to just how rich and full the flavor is of the drink itself. As a rule of thumb, the more bodied it is, the more intense it will be—and there is more likely than not going to be a good amount of caffeine in there.
As previously mentioned, herbal teas are usually not caffeinated and quite light in flavor, so they are not what you would consider full-bodied teas. If you are looking for something not so strong, then herbal teas will be the right choice for you.
Flavor versus no flavor
Going off what was mentioned in the previous point, it is a matter of choosing between heavy and light flavors. Normally, herbal teas are light in taste, but even then, the numerous different options can vary in terms of lightness. In other words, there are gradients to light flavors of herbal teas.
For instance, herbal flavors like chrysanthemum and chamomile are light and almost tasteless, which are certainly useful for clearing your palate or helping you fall into a deep, pleasant sleep. On the other hand, infusions such as with fruits like mango or passionfruit are often bolder in taste, all the while making for a sweet, exciting herbal tea drinking experience
Conclusion
Overall, with the variety of herbal teas out there, it can certainly be daunting just to choose one that you will enjoy. However, by doing your research and reviewing results from other users, you can ensure the best choice for your next brew.
Subscribe to our Newsletter