Best Valerian Root Supplements Reviewed & Compared
Disclosure: We use affiliate links and may receive a small commission on purchases.
Valerian root is a very much appreciated herb used to battle insomnia, nervousness, stress, and anxiety in general. Being a natural derivative, valerian root supplements are recommended to all of those having any of the issues described above and looking for a solution that doesn't involve heavy medicines.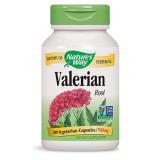 Nature's Way Valerian Root

Our rating
Non-GMO
Price:

See Here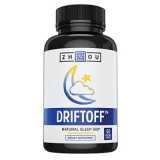 DRIFTOFF Natural Sleep Aid

Our rating
Allergen Free
Price:

See Here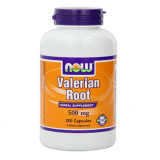 NOW Foods Valerian Root

Our rating
GMP assured
Price:

See Here

Where does Valerian root come from?
Valerian is a flowering herb plant found in Asia and Europe and has now been naturalized in North America.The plant is part of the Valerianaceae family and has a distinctive smell which some people find unpleasant. The supplements sold these days come from the roots and underground stems of the Valerian plant. The roots are dried and can be prepared as teas or tinctures. Extracts of the plant material are often put into capsules or added to tablets.
How does Valerian root work?
Scientists are not yet sure how the active ingredients of Valerian root work. Research is going on to see if the effects of Valerian root come for the interaction of a number of constituents, or just one compound or class of compounds. Studies in animals have shown that there is a sleep-promoting effect. One possible mechanism for the sedation properties of Valerian root is that the extract may release an inhibitory neurotransmitter called GABA for short. GABA may be released from brain nerve endings or be contained in the Valerian extract. However, the GABA does cause sedation, and there is ongoing research to establish the exact method of transmission.
To help you choose the best valerian root supplement, we reviewed 10 of the best options available on the market today.
10 Best Valerian Root Supplements
1. Nature's Way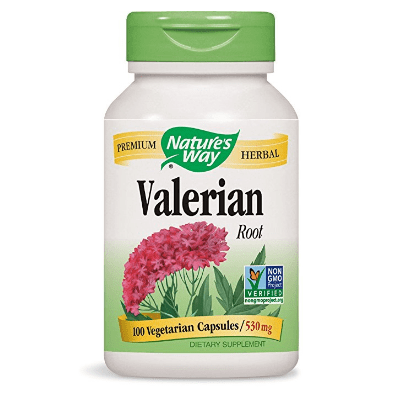 Nature's Way is well known for their high-quality health and wellness products that can provide you with excellent health benefits and a new lease of life. If you're looking for a new supplement then Nature's Way is a brand that you can
trust
.
Expand to see more
Supports Restful Sleep
This option contains all ingredients which work together to cause a state of profound calmness and relaxation.
Features and Specifications
5 calories per serving
33 servings per container
3 capsules per serving
59g per serving
Gel capsules
Non-GMO
Price/Value
This is a low-cost supplement that offers you supplement for at least a month, making it excellent value in comparison to other products.
Decision Time
If you would like to add an extra calming influence into your life then Nature's Way Valerian Root is an excellent supplement option that will help you to achieve the desired effects of a cool and calm demeanour.
Easy to swallow gel capsules
TRU-ID Certified
Free of GMOs
Suitable for vegetarians
2. DRIFTOFF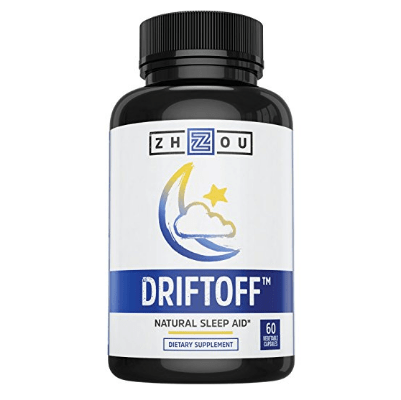 DRIFTOFF Natural Sleep Aid combines two natural supplements to help relax you before bed and help you to reach a relaxed and healing sleep state so that you can wake up refreshed and ready for the day.
Expand to see more
Expertly Formulated
This option is carefully and scientifically formulated and manufactured to ensure that it will help you sleep better, without making you drowsy. The supplement prevents habit forming and simply helps to relax you.
Features and Specifications
30 servings per container
2 capsules per serving
5g per serving
2mg of melanin per serving
Easy to swallow gel capsules
Free from allergens
Price/Value
It is a relatively good value supplement and offers you a months worth of supplement. There are options that are better value, but DRIFTOFF Natural Sleep Aid offers you melanin as well as valerian root.
Decision Time
This is a well valued for what it offers and specifically tailored to support proper sleep. It is slightly more expensive than other options, however, and does not offer support for a relaxed lifestyle as other supplements do.
Completely natural
Easy to swallow
Helps you to achieve healthy and reparative sleep
Non-habit forming
Natural sleep aid
The supplement can work differently for different people
The dosage is relatively lower than other products on this list
3. NOW Foods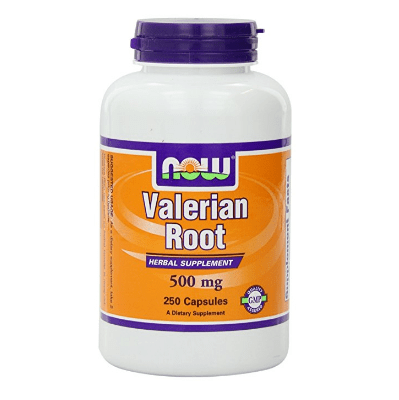 NOW Foods is another well-known brand, as is ever present when it comes to analysing the best supplements on the market, so you can be assured that anything from NOW Foods is a
quality supplement
.
Expand to see more
GMP Quality Assure
This product is produced in GMP assured facilities, providing the customer with peace of mind that all of their supplements are produced in the right way and offer all of the herbal remedies you need.
Suitable for Vegetarians
It has recently had its recipe changed to ensure that all capsules are suitable for vegetarians, making it easy to fit into almost any diet plan and many different requirements.
Features and Specifications
125 servings per container
2 capsules per serving
1g of valerian root
Suitable for vegetarians
GMP assured
Price/Value
It offers you 125 servings per container, which is a lot more than many other supplement brands and products on this list, making NOW Foods Valerian Root much better value than many other products.
Decision Time
It is a simple valerian root supplement that offers you the basic benefits, however it is well worth the money for the amount of supplement that you receive per bottle. It is also excellent value for those who need extended support for busy and stressful lifestyles.
Suitable for a wide range of dietary needs and requirements
Large number of servings in every container for lasting benefits
Pills are slightly larger than others
4. Nature's Bounty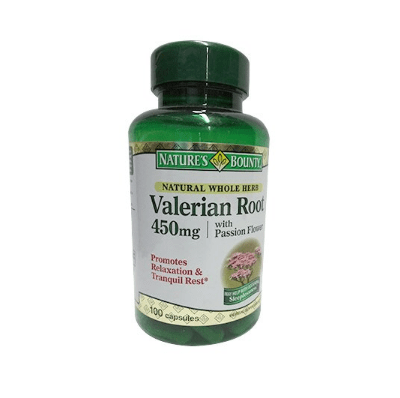 Nature's Bounty product is carefully formulated to be as simple and natural as possible, providing customers with a natural and healthy supplement for the
best results
.
Expand to see more
Formulates with Passion Flower, Lemon Balm and Hops
The extra ingredients are all specifically selected and included because they support natural tranquillity and restorative rest, giving you a supplement that will support you in your busy day-to-day life.
Helps with Sleeplessness
The high concentration calming elements of valerian root calm your nerves and this can help with achieving good and healthy sleep so that you wake up feeling refreshed and awake the next morning, helping you to carry on your hectic lifestyle.
Features and Specifications
100 servings per container
1 capsule per serving
450mg per serving
Easy to swallow gel capsules
Free from many different allergens
Contains passion flower, lemon balm and hops to add an extra calming effect
Price/Value
It offers 100 servings per container and is offered at a very competitive price, making it great value and well worth the money.
Decision Time
If you struggle sleeping and need a supplement that will support your natural sleep pattern and keep you calmer during the day then this product is a great value supplement that will do exactly what you need it to.
Low dosage per serving for easy swallowing
Gel capsules make it very easy to swallow
Added calming effects from additional ingredients
Free from a huge range of allergens
Not suitable for vegetarians due to the gelatin used in forming the capsules
5. Herb Pharm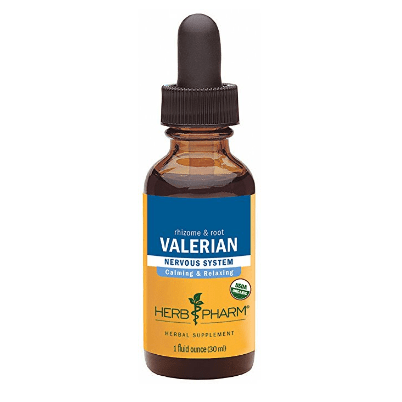 For those who struggle to take supplements in tablet form, Herb Pharm Certified Organic Valerian Root Extract is a valerian root
supplement
that will solve your issue, as it is a liquid form of valerian root that is much easier to take.
Expand to see more
Locally Grown and Harvested
This product is locally grown and harvested in Southern Oregon so that you receive only the best of the local, organic produce from your valerian root supplement.
Rapidly Absorbed
It's specially formulated to be absorbed much faster than other supplements so that you receive as much of the extract as possible for the best results.
Features and Specifications
1 ounce of extract
560mg of extract to every 0.7ml
Vegetarian and vegan friendly
Free from many allergens
Natural and organic
Price/Value
It offers an option for a valerian root supplement that is much easier to take, so although it is slightly pricier in comparison, it is well worth the money.
Decision Time
It grants you all of the benefits without any of the drawbacks of a tablet formed supplement, which is a great bonus for those who struggle swallowing tablets.
Conclusion
This product is so easy to take, simply squeeze one dropper into 2 ounces of water up to 4 times a day for the best results and a sound sleep.
Suitable for those who struggle to swallow tablets
Suitable for a wide range of dietary needs and requirements
Highly potent
Certified organic
Tastes bad if taken with water
6. Herbal Secrets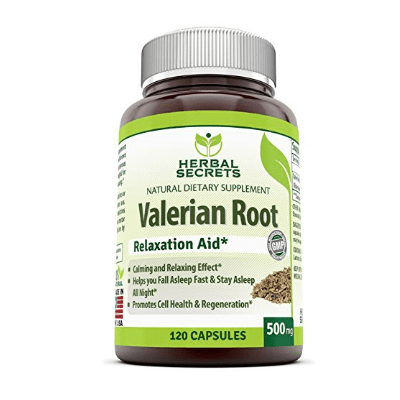 This option is a completely natural relaxation aid that can also help you to achieve much more
peaceful and restorative sleep
, helping you to wake up refreshed and focused for the day ahead.
Expand to see more
Can be Brewed into a Tea
If you really struggle to take tablet forms of supplements then these capsules solves the problem for you. Simply open up the capsules and use the powder to make valerian root tea for easy consumption.
Recommended Dosage
It comes in 500mg capsules, which is the size recommended by all expert nutritionists, so that you get exactly what you need, no more, no less.
Features and Specifications
500mg capsules
120 servings per container
1 capsule per serving
Can be taken in tablet form or made into a tea
Price/Value
With 120 servings and a unique way of consuming the supplement, it offers a great value supplement for an excellent price.
Decision Time
No matter whether you struggle to take tablets or you simply want the benefits of valerian root in your day-to-day life, Herbal Secrets Valerian Root is one of the best supplement options for you to choose from. It is one of the best supplements for a wide range of dietary needs and methods of consumption, providing a supplement that suits almost everyone.
Cleverly designed to be taken as a tablet or as tea
Easy to swallow gel capsules
Completely natural and GMP assured
Capsule is not suitable for vegetarians and vegans due to the gelatin content
The tea has an aftertaste that some find unpleasant
7. Real Herbs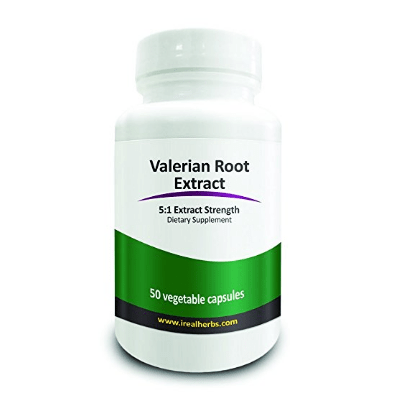 Real Herbs is a popular brand that offers you only the simplest and purest form of supplements, so it is perfect for those who just want to add valerian root into their diet without any extra bells and whistles.
Expand to see more
Supremely High Dosage
This is one of the highest dosages of valerian root available so that you get the highest level of absorption and the best results.
5:1 Extract Strength
It has a high ratio of the active ingredient so that you can get a high performing supplement with plenty of benefits of calming valerian root.
Features and Specifications
50 servings per container
1 capsule per serving
700mg per capsule
Vegetarian gel capsules
Suitable for vegetarians and vegans
Price/Value
With only 50 servings in every container and a higher price than most other valerian root supplements, it's one of the lower value supplements on this list.
Decision Time
This is a rather pricey option in the world of valerian root supplements and offers fewer servings than many others. However, it is a vegetarian gel capsule, which is a rarity in all vitamin and supplement tablets.
Suitable for vegetarians and vegans
Highest dosage available
High extraction ratio
Low number of servings per container compared to other options
8. Solaray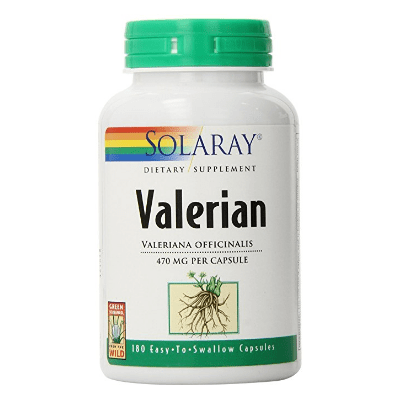 Solaray Valerian Root is specially formulated to take away all side effects, and will not form habits of
taking the supplement on a daily basis
. Simply take one a day for the best results and enjoy the calming effects.
Expand to see more
Calms the Nerves for the Best Restorative Sleep
Valerian root is well known for its calming effects and this product has been specially formulated to focus on the parts of the valerian root that promote this calming effect, giving you a supplement that will calm a stressful day and help ease you into restful sleep.
Features and Specifications
180 servings per container
1 capsule per serving
Easy to swallow gel capsules
Free from side effects and habit forming
Price/Value
The product offers a huge amount of servings in each bottle for a very low price, making it one of the best-valued supplements in this list.
Decision Time
This is an excellent quality supplement that will give you the most supplement for your money, although not suitable for vegetarians, it still offers you a high amount of valerian root. If you don't follow a vegetarian diet, these supplements are perfect for you.
Easy to swallow
Great value
High potency
Naturally calming
Helps you to maintain calmness during stressful days
Repulsive smell
Not suitable for vegetarians
9. Gaia Herbs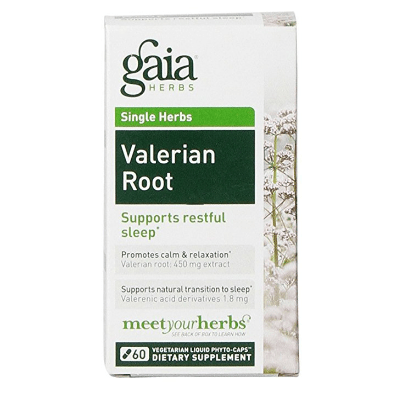 Gaia Herbs ensure that all of their herbs and supplements are grown and harvested with only the most natural methods, free from GMOs and produced in GMP facilities so that you receive the best and purest supplements available.
Expand to see more
Supports Natural Sleep Transitions
Throughout the sleeping patterns, you move from deep to light sleeping several times in a night. The capsules support these transitions, making them much smoother so that you achieve the most restful sleep possible and wake up feeling refreshed.
Liquid Potency
Gaia Herbs produce all of their supplements as liquid capsules. This improves the potency and helps your body to absorb as much of the supplement as possible, giving you greater results and a restful nights sleep.
Features and Specifications
60 capsules per container
2 capsules per serving
Liquid capsules
High potency
Vegetarian and vegan-friendly
Gluten free
Laboratory tested for purity
Price/Value
It offer 30 servings per container, which is one of the lowest on this list, however, they extensive benefits, testing and purity make them well worth the money.
Decision Time
Thiws is an excellent supplement to suit a huge range of dietary needs and requirements, although pricey, it offers you a lot more than many other products. Not only are they carefully tested and developed, they are monitored and tested to ensure that all results are consistent.
Highly potent and easy to absorb for the best results
Suitable for a large range of dietary needs and requirements
Carefully tested
Supports natural sleep cycles
Lower amount of servings per container
10. Oregon's Wild Harvest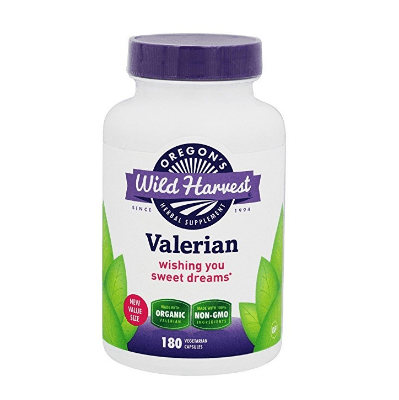 The final product on this list is Oregon's Wild Harvest Organic Valerian Root, one of the purest supplements on the market, with great value for money.
Expand to see more
Almost Completely Allergen Free
It's free from meat derivatives, dairy, wheat, gluten, nuts, soy and corn, making it suitable for a huge number of dietary needs and requirements. So no matter what you eat, you can take the supplement.
Certified Organic
Not only it's organic, it's also certified, giving you the best supplement from the purest of local sources.
Features and Specifications
180 capsules per bottle
2 capsules per serving
900mg per serving
Free from many allergens
Vegetarian and vegan-friendly
Certified organic
GMO free
GMP manufactured
Price/Value
It offers 90 dosages in every bottle, and each bottle is slightly more expensive than average. However, the supplement is carefully sourced and manufactured and free from any additives and allergens, making it well worth the money.
Decision Time
This is an excellent supplement for anyone who would like to add in the health benefits of valerian root into their everyday diet. It offers valerian root to all dietary needs, requirements and ethical views so that you can get the best and most calming results for the best value.
Vegetarian and vegan-friendly
Easy to swallow
Completely natural and organic
No additives or preservatives
Responsibly sourced and manufactured
Unpleasant smell
Lower number of dosages in comparison to other products
---
Valerian Root Health Benefits
Its name sounds as if it comes straight from the pages of Game of Thrones, but Valerian root has been around for thousands of years and was employed as a medicine by the ancient Greeks and Romans. The ancient Greek physician Galen prescribed the root for insomnia. Nowadays the herbal medicine continues to be often used as a treatment for sleep problems and insomnia and is prescribed as a treatment for people who suffer undue anxiety. It was in the late 15th century the root began to be used to treat trembling,  nervousness, headaches. Three hundred years later in the 19th century, it was considered a stimulant and was thought to create the problems it was meant to treat. However, by the mid-20th century in England, the root was used to relieve stress among people enduring air raids in World War II.
What are the main benefits?
Sleep disorders
Primarily Valerian root is mostly taken as an aid to sleep, and a number of clinical experiments and trials have been undertaken to measure its effectiveness. Of the well-documented studies, most found some improvement in sleep quality and the ability to go to sleep quicker. However, with small sample sizes, and various doses are given to the participants in the trials there is no definite statistical certainty the Valerian root was the cause of the improvement. It is without a doubt that some of the studies showed an improvement for those people suffering from insomnia or other sleep disorders. In controlled sleep studies, subjects achieved a deep sleep 36 percent faster and had an overall better sleep quality. However, as this is a herb and it affects people differently. About one in ten people who take Valerian root have the opposite effect, and they feel energized rather than sedated. More studies need to be done before a definitive conclusion can be made.
Anxiety
People who are suffering from anxiety are sometimes recommended Valerian root as a treatment. However, anxiety can be a complex and severe mental illness, so treatment with Valerian root is only advised once a doctor has been consulted. A University of Michigan research paper suggests that there is indeed a benefit due to the active chemicals in the plant, and how the bind with the receptors in the brain. Until now many of the tests and trials into how Valerian root works in the brain and how it can affect someone showing signs of anxiety have not been well designed, and more research is needed.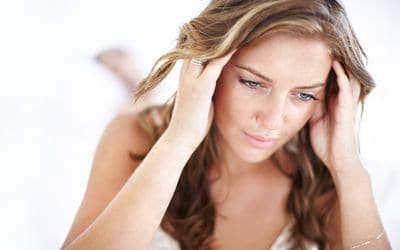 Pain relief
In Europe Valerian is used as an antispasmodic. It is particularly useful in treating abdominal cramps that come about due to nerves and anxiety and can be taken for menstrual agitation and uterine cramps. It has also been reported to have some effect in combating rheumatic pain and in some types of a migraine.
Sedation
With its long history of use as a treatment for insomnia, and its sleep-inducing properties you would think there might have been lots of research into Valerian root's use as a sedative, but you would be wrong. There have been no specific studies on its sedative powers. Medical professionals have suggested that when taking the recommended safe dose, Valerian root is not powerful or potent enough to induce sedation.
Side Effects
Throughout all the clinical studies into the effectiveness of Valerian root, and over the many centuries of its use as a herbal medicine there have been few serious side effects reported. The worst reported incidences of possible side effects are headaches and dizziness, and sometimes an upset stomach. But in clinical trials, those taking a placebo reported similar effects so they can not be definitively put down to taking the herb. Taking very large doses of Valerian root, generally more than 900mg, could lead to extended periods of drowsiness and a lack of concentration some time after ingestion.
Valerian Root Dosage: How Much is Too Much?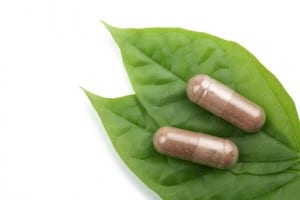 Valerian root supplements may be what you need to cure to cure anxiety, sleep disturbances or to relieve pain. The products in the market come in different dosages, so what is the right and safe dosage for you?
Recommendations for the dosage of the supplements varies widely depending on desired results.
The initial studies that were done to prove that Valerian root can effectively and safely be used were four-week trials that used 150mg/day in three doses per day, for treating anxiety. Other studies also used 0.5 to 2 grams and 0.5 to 2 ml for liquid extracts. For treating insomnia, 400mg to 600mg doses were used.
Currently, doses between 300 and 600 milligrams of the root supplements are effective for sleep disorders. Some people have safely used up to 900mg per day for sleep disorders, without any events. A study published in The Sleep Journal showed that participants who received Valerian root dosages of 450 or 900 milligrams experienced more than 50% of sleep quality improvement.
For sleep, the doses will be effective after regular usage for up to four weeks.The supplements should also be taken between one and two hours before bedtime. If taken in high doses during the day, the supplements will make you drowsy and sleepy throughout the day.
For anxiety, 120 to 200 milligrams two to three times daily is safe. If you would like to take the supplements in tea, one tablespoon or 2 to 3 grams of the dried roots should be added to one cup of hot water and soaked for about 10 to 15 minutes. If you are using tincture of the herb, one to one and a half tablespoon can be added to one cup of water or apply the ratio of one part of tincture to five parts of water.
A double-blinded study showed that distributed doses of Valerian root supplements were more effective than single doses for treatment of anxiety. The study showed that patients who were treated with 600mg of valerian supplements in a single dose were not as responsive as those who received 200mg doses three times a day. Hence the current usage of 120-200mg dosage 2-3 times daily, for the treatment of anxiety.
Valerian root is regarded as a relatively safe supplement though taking it in high doses can lead to excessive fatigue, diarrhea, and drowsiness. Excessive consumption of Valerian root has also been previously linked to hyponatremia (low sodium level) in the body.
A study published in the US National Library of Medicine reported that some of the toxic effects of Valerian root dosage of more than 1000mg include damage to the kidneys, chest tightness, abdominal pain and tremors of the hands and feet.
Valerian root has also been implicated in causing liver damage which occurs between three and twelve weeks of use. For this reason, you should not use the supplements for more than one month (4 weeks), regardless of the dosage.
In conclusion, a typical dose of 120 to 200mg three times daily is safe for anxiety, and 300 to 900mg at least one hour before bedtime is safe for sleep problems. Uses of Valerian root supplements for more than four weeks can cause liver damage while dosages above 1000mg may hurt the kidneys and other body organs.
What to consider before taking Valerian root?
There are a number of situations where taking Valerian root is not advisable without consulting a medical professional first.
Pregnant women and those who are nursing should not take the herb as there has been no evaluation of its effect on the fetus or on infants.
Children under the age of three should not take Valerian root as its efficacy in youngsters has not been investigated.
It should not be taken with alcohol or other sedatives such as barbiturates or benzodiazepines.
Product Criteria of Evaluation
We've given you a lot of information thus far on valerian root and how it may help you out with various issues you are experiencing. Sleepless nights and anxiety plague us all from time to time, but if you consistently experience these problems, it is in your best interest to seek help to improve your quality of life.
We've discussed ten great products that we recommend, but now we are going to give you even more information that should help you make the final decision if valerian root is the right
supplement for you. We'll start out with some additional information on how we selected the products on this list, and follow up with some frequently asked questions.
Product Testing
No one (or almost no one) has the time or the money to test out supplements, and we understand that. While nothing can take the place of you trying a supplement yourself, we do our best to try the products ourselves to give you an accurate list of products that we believe to be beneficial. Not all supplements are created equal, and for that reason we like to test products ourselves to see if we experience the results that are claimed on the bottle.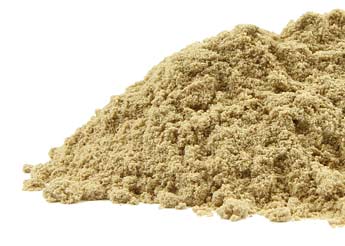 With valerian root, we were very interested to see if our sleep quality would increase and our anxiety would decrease. We were not sure that a natural herb could produce the same effects as prescription medication, but were excited at the possibility. We were pleasantly surprised with the outcomes and feel confident with our list of supplements. If you are in need of a better night's sleep or suffer from anxiety and do not want to deal with potential side effects from medication, you should definitely give valerian root a try.
User Reviews and Ratings
In addition to testing products ourselves, we also look to previous consumers and see what they have to say. This gives us increased confidence that the supplements we selected are high quality and deliver on the results they promise. While everyone will respond differently to a supplement, it is very encouraging if numerous people all respond that it works well and makes them feel better.
For example, part of the reason we selected Nature's Way as our number one choice is because of the numerous positive reviews. People are very pleased with the results, sharing how much better they sleep and how their anxiety has decreased. One user even described the relief she got from muscle pains while taking the supplement. We take the time to sort through reviews to make sure the products we are listed have worked for many people, not just a couple.
Manufacturers Reputation
As with anything you put into your body, you want to be sure it is safe. Supplements are meant to improve your health, so this only becomes more important when selecting something to take. In part, we turn to manufacturers that have a solid reputation and numerous years in the health industry. This time and experience helps give us more confidence that the supplement we select won't just give you positive results, but also that it won't contain any negative ingredients or chemicals.
The reputation of a manufacturer is very important and is always something we consider when selecting products for our list. If a company doesn't have a positive history of providing great, safe products, we are not satisfied and will search for a company that does.
Potential Side Effects
What makes valerian root so great is that the list of potential side effects is incredibly short. The main side effects associated with these supplements are headaches, dizziness, mild stomach aches, excitability, and uneasiness. However, these side effects are very rare. Should you take a higher dosage, you may experience some excessive drowsiness in the morning. However, with a regular dosage, you should not experience this issue.
Safety of the Supplement
In addition to not having a lot of side effects, this supplement is also considered to be very safe for the majority of people. There are a few drug interactions with this supplement, mainly other sleeping, anxiety, or depression medications. However, if you are considering this supplement you likely are trying to avoid taking medication, so you likely are not using those drugs. However, if you are, you should avoid using this supplement. It is also not recommended to combine this supplement with alcohol.
FAQs
What dosage of this supplement should I take?
This depends. There is no one set answer, and in fact depending on what you are using the supplement for may influence how much you should take. Please take a look at our "Valerian Root Dosage" section above for more details.
Who can benefit from taking a valerian root supplement?
This supplement is a good option for anyone who is suffering from symptoms like insomnia, anxiety, and even stress. If you regularly experience these symptoms, you are likely a good candidate for trying this supplement. If you are already taking medication to treat these symptoms, you should not combine them with this supplement. Be sure to stop taking any medication before starting this supplement- but never do so without first consulting your doctor.
How does this supplement make you feel?
Because this supplement helps you sleep better, you should feel more energized throughout the day. In the morning, you should have more energy than you typically do and shouldn't feel drowsy. If you suffer from anxiety, taking this supplement should help you feel calmer and more relaxed. The feeling should be similar to anti-anxiety or anti-depressants, but without any of the associated side effects.
Is this supplement safe?
Yes! This supplement has been labeled by the FDA as being generally safe and without a lot of associated side effects. Some people may experience mild side effects, such as headaches, dizziness, or stomach pain, but this is rare, and there aren't any more dangerous side effects that are known.
Can pregnant women take this supplement?
There is not enough research currently to determine if valerian root is safe for pregnant women to take. While it is considered a safe supplement, further research would be needed to ensure it is safe for a baby. For now, pregnant women should refrain from using this supplement until it is proven to be safe.
Subscribe to our Newsletter