Best Green Tea Brands Reviewed and Rated
Disclosure: We use affiliate links and may receive a small commission on purchases.
Green tea has been a popular drink for thousands of years, and it hasn't lost any momentum. It boosts many health benefits, such as lowering blood pressure, burning fat, and improving brain function. Plus, it's high in antioxidants and other nutrients, making it a healthy alternative to coffee and other stimulants.
With a versatile flavor and many health benefits, everyone wants to get their hands on the best green tea possible. But not all green teas live up to the hype. Depending on the manufacturer and cultivation methods, some green tea brands are lacking in flavor, quality, and potency.
If you don't want to waste your time and money on low-quality green teas but still want to enjoy this health-boosting drink, we've reviewed the best green teas and ranked them based on several factors. To find the best green teas, we've gone through many companies and products to find trustworthy brands with the highest quality ingredients and standards.
NOW Foods

Our rating
Organic
Price:

See Here

Jade Leaf

Our rating
Matcha
Price:

See Here

Uncle Lee's Tea

Our rating
400 servings
Price:

See Here

Our criteria for evaluation includes quality, value, and brand, and we paid special attention to ingredients, manufacturing process, and purity. We prioritize green tea products that are organic, environmentally friendly, and disclose which type of green tea is used. Organic green tea is very common because the organic harvesting methods yield some of the best tasting green tea.
We found that many green teas contain powdered matcha or sencha leaves and are grown in either Japan or China. We also found that because green tea has a bigger taste, it's often combined with other teas or natural flavors for a more enjoyable drink.
Keep reading for in-depth reviews on the best green teas on the market, how to choose green tea, and why green tea should be part of your everyday health routine.
10 Best Green Teas & Brands
1. NOW Foods – Organic Green Kick
NOW Foods has their own line of high-quality teas called NOW Real Tea. Among them is their Organic Green Kick made with sencha and matcha green tea and contains naturally occurring polyphenols, which are mainly responsible for the health-promoting benefits in green tea. This tea contains three different types of green teas for the ultimate cup of highly potent and nourishing green tea blend, making it the Editor's Choice on our list.
Best Green Tea Brand
NOW Foods is a health brand with more than 50 years in the industry. They have their own line of supplements, sports nutrition products, and teas. All NOW Foods products are allergen friendly and stringently tested for quality and purity.
Expand to see more
Quality
The Organic Green Kick tea has an unmistakable flavor due to the combination of three green teas. Pure green tea is the base, sencha tea gives the blend its deep green hue, and matcha tea boosts the flavor of the traditional green tea. This tea blend is pure with no artificial flavors, colors, preservatives, or sugars. NOW Real Tea uniquely uses unbleached tea bags with a no-staple design for easy-to-brew servings.
Value
This product is extremely affordable. Since it's organic, allergen friendly, and made by a trusted brand, the value is boosted.
Organic
Non-GMO
Kosher
Allergen friendly
Contains naturally occurring polyphenols
Contains three types of green tea
No artificial ingredients
Unbleached tea bags with no-staple design
Contains only 24 servings
2. Jade Leaf – Organic Japanese Matcha
Jade Leaf boasts that their Organic Japanese Matcha is the world's most powerful green tea. They use finely ground matcha green tea sourced from organic farms in Japan in efforts to preserve the tea leaves as nature intended. With 100 servings, this tea is long-lasting. It's also versatile and can be enjoyed hot, cold, or in baking. Despite being zero-calorie, this matcha tea is high in antioxidants, contains amino acids, and supports energy levels and metabolism, making it an effective weight loss product.
#2 Green Tea Brand
Unlike other tea companies that manufacture a variety of different teas, Jade Leaf specializes exclusively in matcha green tea. Because of their specialty, you know they have one of the best quality products on the market. They have uniquely harvested organic matcha green tea in Japan yet keep their prices affordable.
Expand to see more
Quality
Jade Leaf considers their organic farmers obsessed with perfecting their craft for the highest quality matcha green tea possible. Its Japanese origins make this product an authentic matcha tea with a modern-day spin since it can be used in many recipes. Jade Leaf seeks to make organic matcha tea accessible, affordable, and versatile. They encourage consumers to use their matcha in lattes, cold desserts, pastries, and more.
Value
In addition to being one of the best quality green teas on the market, this is one of the best values. With 100 servings per container, this matcha tea is long-lasting and can be enjoyed in many ways.
Supports energy levels
Supports a healthy metabolism
Versatile applications
Organic
Matcha tea
All-natural
Gluten-free
Vegan
Contains 100 servings
Contains antioxidants
Contains amino acids
Powdered form yields less smooth texture
Powdered tea can be messy
3. Uncle Lee's Tea – Organic Green Tea
If you're looking for a high-quality, organic green tea, Uncle Lee's Tea is the brand to stock up on. This product contains 400 servings of pure green tea grown in the Fujian province of China with natural fertilizer free of pesticides and careful attention to the ecosystem. Organic ingredients are important to Uncle Lee's Tea because the pure ingredients preserve and maximize the flavor and benefits of the green tea leaves. For the quality and value, this is the Best Value on our list.
#3 Green Tea Brand
Uncle Lee's Tea has specialized in manufacturing high-quality teas for more than half a century. They are experts in the tea industry and are known for working closely with the largest tea companies in the world. They specialize in green tea specifically, so their green tea is one of the most trusted and highest quality.
Expand to see more
Quality
Unlike some of the green tea blends on this list, this is pure green tea made from organic green tea leaves grown in the Fujian province in China. The all-natural, organic ingredients are free of harmful pesticides and artificial flavors. Uncle Lee's Tea quality control standards set them apart from their competition because of their state-of-the-art technology and quality before quantity protocol.
Value
Each order contains four boxes with 100 tea bags, for a total of 400 servings. This is a value pack of high-quality green tea bags, so it's an excellent value for pure, organic green tea.
Organic
Contains 400 servings (4 packs of 100 servings)
Affordable option
Pure green tea
Grown in Fujian China
Trusted brand that specializes in green tea
Kosher
ECOCERT certified
Brews a mild flavor
May have to use multiple servings to yield strong tea
4. Tazo – Zen Green Tea
Tazo suitably names this green tea Zen, a harmonious blend of green tea and natural ingredients. With added lemon verbena, lemongrass, and spearmint, this green tea packs a bold, enjoyable flavor that needs no added sweeteners. This tea is so flavorful that it's used in many coffee shops. Now, you can brew your own iced green tea with a lemon and minty twist in your own home.
#4 Green Tea Brand
Tazo is a tea company run by tea lovers. They source only pure tea leaves and blend the tea themselves with natural ingredients, as opposed to buying the teas pre-blended. They are unlike any other tea brand because they take tea blending very seriously, so their taste profiles are completely unique.
Expand to see more
Quality
What makes Tazo higher in quality than their competitors is that this a tea company that prioritizes quality and taste. Each tea is tasted and tested approximately seven times. The company might test 150 teas in a single day, but only a handful make it into their products. Their green tea is one of the best tasting on the market because they combine the bitter green tea with powerful flavors like lemon and mint.
Value
Tazo is a crowd favorite, so it's affordably priced but more expensive than other brands. It's worth the added cost because Tazo are master tea blenders, so their products taste different than all other tea companies.
Contains 120 servings (6 packs of 20 servings)
Contains lemongrass
Contains spearmint
Unique flavor
All-natural ingredients
Supports global communities
Kosher
Blend hides the green tea flavor
5. The Tao of Tea – Liquid Jade
The Tao of Tea Liquid Jade isn't your ordinary green tea, it's matcha tea. Matcha is known for being high in antioxidants, more so than many other teas. It also contains many vitamins and minerals and is extremely low in calories. This matcha tea comes in powdered form, so it's stirred into hot water rather than brewed. The Tao of Tea Liquid Jade is a premium matcha green tea with pure, organic ingredients and many known health benefits.
#5 Green Tea Brand
The Tao of Tea creates artisan teas sources from the best tea leaves possible. Their tea is made in small quantities to preserve quality, and they have a range of organic, sustainably farmed products.
Expand to see more
Quality
This matcha tea undergoes a strict process from start to finish for the best quality tea. Before the tea leaves reach their maturity, they are covered with bamboo mats to promote full flavor. They are then steamed, dried, and rapidly cooled to prevent oxidation. The rough, dry leaves are then cut into fine pieces, dried again, and ground in a climate-controlled room to product powdered matcha tea. Only 40 grams of tea can be produced per hour because quality comes before quantity.
Value
This is a premium matcha green tea product, so it's slightly more expensive than other pure green teas. It contains 60 servings per order, so it's still a good value for the quality.
Organic
Matcha green tea
Sustainably grown
Strictly processed for quality
Grown in Japan
Direct Trade certified
Contains 60 servings
Powdered form yields less smooth texture
More expensive option
6. Rishi – Matcha Super Green
Rishi's Matcha Super Green is the greenest tea in their collection, made with ground matcha and sencha leaves. The product contains only organic green tea grown in the fertile volcanic soils in South Japan. This fusion of green teas promotes natural energy and has a deep green tea flavor. Because of its combination of potent green teas, this tea is perfect for an experienced green tea lover or tea connoisseur.
#6 Green Tea Brand
Rishi specializes in herbal tea and botanical products. They are Direct Trade certified, so all their products are sustainably acquired and can be traced back to the source. Plus, the company is fully organic because they believe organically grown teas are healthier for the environment, farmers, and consumers.
Expand to see more
Quality
Like many green teas, this tea is grown in Japan. However, it's grown in fertile volcanic soils for a unique tea experience. This product contains minimal, pure ingredients: just organic green tea from powdered matcha and sencha leaves. Sencha is very popular in Japan, so this is an authentic Japanese green tea with a deep flavor.
Value
This product is affordable but contains only 15 servings per box. Because it contains matcha and sencha, it's more expensive than pure green tea. It's still a good value and worth the price for the quality and organic ingredients.
Organic
Matcha tea
Contains sencha
Grown in Japan
Sustainably grown
Non-GMO
Biodegradable tea sachets
Direct Trade certified
Contains only 15 servings
Matcha may be too strong for new tea drinkers
7. Whole Foods Market – Allegro Decaf Green Tea
Brought to you by Whole Foods Market, Allegro Decaf Green is a fully organic, decaffeinated green tea. An environmentally friendly process uses carbon dioxide to decaffeinate the green tea leaves. Decaf green tea is rare, so this product is a high-quality alternative to coffee for those who want to cut back on caffeine. It's harvested using the best tea leaves in mainland China and made by a trusted brand, Allegro Tea by Whole Foods Market.
#7 Green Tea Brand
Allegro has been a long-term maker of high-quality coffee and tea products, but the company was acquired by Whole Foods Market. They still manufacture specialty coffees and teas and can be found across the nation in local Whole Foods grocers.
Expand to see more
Quality
Grown in mainland China, this green tea uses some of the best quality green tea leaves possible. It's decaffeination process is unique and environmentally friendly yet preserves the bold green tea flavor. This green tea is advertised as having a mellow flavor, which may be preferable for new tea drinkers. The decaf aspect of this tea makes it a rare capture of a classic.
Value
Depending on the manufacturer, this green tea may be slightly more expensive than other green tea options. Because it's decaffeinated, it's worth the extra cost for people who avoid caffeine but want to enjoy the flavor and health benefits of green tea.
Organic
Decaffeinated
Mild, mellow flavor
Grown in China
Environmentally friendly process
All-natural ingredients
Contains only 20 servings
More expensive option
Some tea drinkers may prefer caffeinated tea
8. Yogi – Green Tea
Yogi takes a unique approach to green tea by combining it with organic ingredients that boost weight loss. This is the perfect green tea for people looking to boost their fitness and health supplement regimen because of the metabolism-boosting green tea, fat-burning garcinia cambogia, and energy-spiking ginseng. This is a value pack with more than 96 servings of this unique blend that makes weight loss delicious.
#8 Green Tea Brand
Yogi is a well-known tea brand with more than 60 different blends. The brand is inspired by a holistic yogi teacher and preserves his memory through their specialized herbal blends that support overall well-being and promote vibrancy.
Expand to see more
Quality
This is not a traditionally pure green tea, but some would say it's even better due to the added ingredients that promote healthy weight loss and overall well-being. The product contains approximately 15 organic and health-promoting ingredients, including organic green tea leaf. This is one of the best tasting green teas because of the natural flavors, such as orange and blueberry. While green tea is an acquired flavor for some, this green tea is sure to please any green tea skeptic.
Value
This is a value pack with six boxes of 16 tea bags, which is a total of 96 servings. This product is priced fairly for the quality, organic ingredients, and weight loss properties that this green tea blend promotes.
Boosts energy
Promotes weight loss
Contains garcinia cambogia
Supports dieting programs
Non-GMO
Contains all-natural ingredients
Contains 96 servings
Naturally flavored with blueberry
Contains organic ingredients
High in caffeine
Highly flavored, which hides the green tea flavor
9. Celestial Seasonings – Green Tea
For new tea drinkers, this green tea is blended with white tea for a milder taste. Both green tea and white tea are harvested from the same plant and are known for being high in antioxidants. This green tea also has added Vitamin C for extra nutrients. Celestial Seasonings is an affordable yet trusted tea brand, so this product is a great value with 120 servings of a smooth green tea blend.
#9 Green Tea Brand
Celestial Seasonings consider themselves to be the original herbal tea company. They have manufactured affordable herbal tea blends for more than 45 years. The teas are blended in Colorado, but the ingredients are sourced from high-quality farmers around the world.
Expand to see more
Quality
Celestial Seasonings is a trusted tea brand, and they take quality seriously. All raw materials are rigorously tested for purity and quality to meet their very own gold standard. They believe they have the best screening process in the industry. Their green tea, blended with white tea and packed with antioxidants and other nutrients, is no exception. The white tea in this blend is from high-quality White Peony leaves.
Value
This is one of the most affordable green teas on the market. With 120 servings (6 packs of 20 tea bags) and added White Peony tea leaves and Vitamin C, this is a high-quality green tea packed with healthy nutrients.
Contains White Peony tea
High in antioxidants
Added Vitamin C
Gluten-free
Low in caffeine
Contains 120 servings
Stringless tea bags
Recyclable packaging
White tea mellows the green tea flavor
10. Lipton – Pure Green Tea
Everyone knows Lipton for their classic black tea, but did you know they also make green tea? For pure green tea from a brand you know and love, give Lipton a try. With all-natural ingredients and 100 servings per container, this is a great product to have on hand for all your green tea needs. Plus, it's affordable and trustworthy.
#10 Green Tea Brand
The history of Lipton teas begins more than 100 years ago. Lipton is truly an expert in the tea industry, and their products are high-quality, affordable, and trusted. The company was founded by a man in New England who wanted to make tea accessible to everyone, not just the wealthy. Those principles still stand today.
Expand to see more
Quality
Lipton uses the highest quality tea leaves they can find and specifically uses the leaves while they're young. This product contains only one natural ingredient: pure green tea leaves. Each tea bag is environmentally friendly and certified by the Rainforest Alliance. With a fresh, light taste that is non-bitter, this tea can be combined with other teas for a unique flavor and can be brewed either hot or cold.
Value
If you're looking to buy green tea in bulk, this is one of the most affordable options. The Lipton brand is known for having cost-effective tea products, and their green tea is no exception.
Pure green tea
Natural ingredients
Rainforest Alliance certified tea bags
Contains 100 servings
Trusted brand
Made hot or cold
May have to use multiple servings to yield strong tea
---
All About Green Tea
Like white tea and black tea, green tea comes from the Camellia sinensis plant. Although these teas share the same origins, they utilize different leaves and various processing methods for unique flavors, properties, and benefits.
Green tea leaves are quickly heated, from either pan fire or steaming, and then dried to prevent being overly oxidized. Oxidation turns the leaves from green to brown and affects the fresh flavor. Once the leaves are dried, they are rolled and ready for packaging.
Compared to other teas, green tea has a moderate amount of caffeine. Although rare, some green teas can be decaffeinated to appeal to people who don't consume caffeine. Many people opt for green tea as a healthy alternative to coffee.
Green tea is traditionally harvested in China, the Camellia sinensis plant can now be harvested across the world. Most green teas still come from countries in Asia, namely China and Japan, but green tea can also be harvested in North America. Cultivation methods typically differ depending on the country of origin and the type of green tea.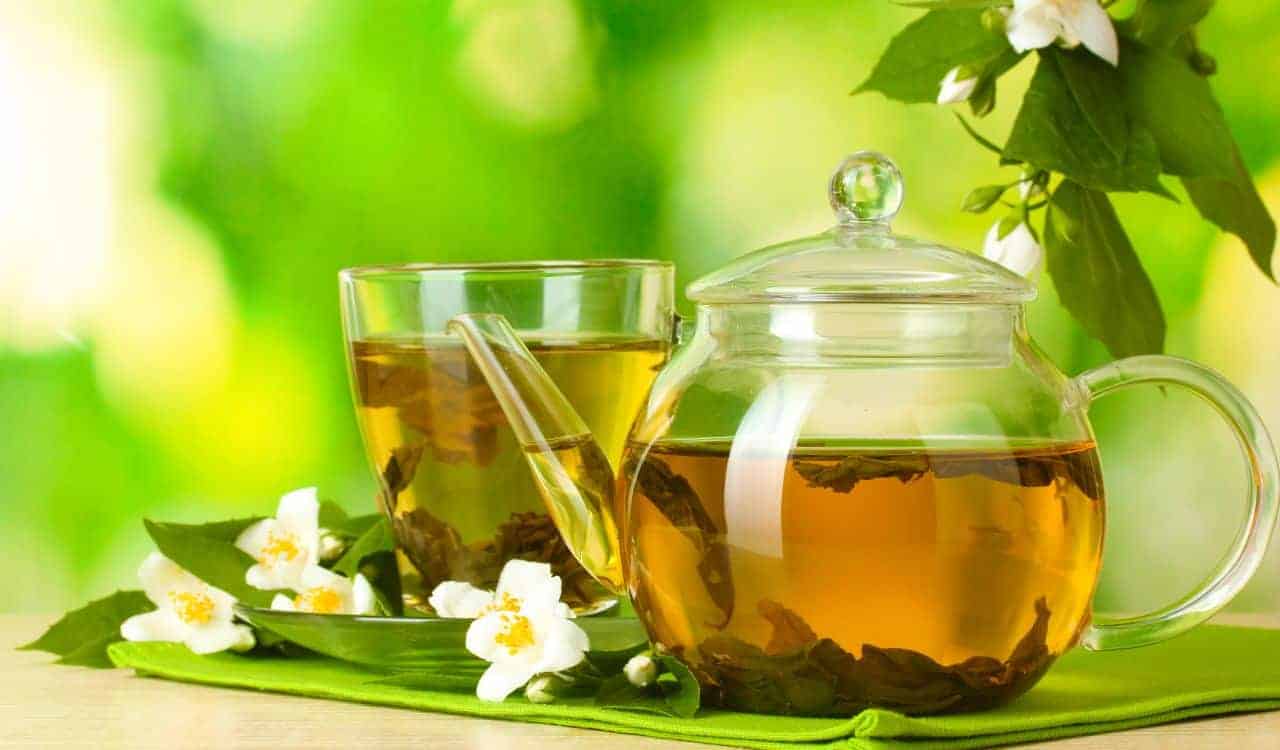 3 Different Types of Green Tea
Not all green teas taste the same, and not all green teas are prepared the same. This is because there are several types of green tea with a unique flavor profile and brewing instructions.
Pure Green Tea

The most common type of green tea is pure green tea made with the leaves from the Camellia sinensis plant. This type of can be manufactured as loose leaf tea or prepared in sachets and is prepared by brewing the leaves in hot water. It's high in antioxidants and increases fat burning for weight loss purposes.

Pure green tea yields a yellow or mildly green color and a mild but subtly bitter taste. It's very versatile and can be prepared hot or cold. Pure green tea can also be combined with other teas or natural flavors for a unique flavor profile.

Matcha Green Tea

One of the highest quality types of green tea is matcha tea. Matcha translates to "powdered tea," which is indicative of the texture of matcha green tea. To make matcha, green tea leaves are dried twice and then ground into a finely milled powder. Unlike traditional tea, which is brewed, matcha tea is stirred into warm water and yields a strong green tea flavor.

Since you consume more of the leaves when you drink matcha tea, it's known to be higher in antioxidants and contains more potent nutrients than regular green tea. It's also higher in caffeine than pure green tea.

Sencha Green Tea

The most popular tea in Japan is a Japanese green tea called sencha tea, and it's similar to pure green tea in that the leaves are brewed in water. Specific leaves are picked during early Spring, making sencha a rare type of tea. Sencha has a grassier flavor than other green teas, which are milder.

There are many different types of sencha green tea, all of which share common health benefits: fight free radical damage in the body, boost metabolism, increase energy, and lower blood pressure levels. In Western cultures, sencha tea is typically combined with other types of green tea to mellow out the strong flavor but still enjoy the health benefits.
All the teas on our list above are either pure green tea, matcha tea, sencha tea, or a combination. There are other types of green teas, such as tencha, gyokuro, etc., that are more common in Asia but are not as common in other places. Despite their differences in taste and harvesting methods, the various types of green tea are all potent in terms of health benefits.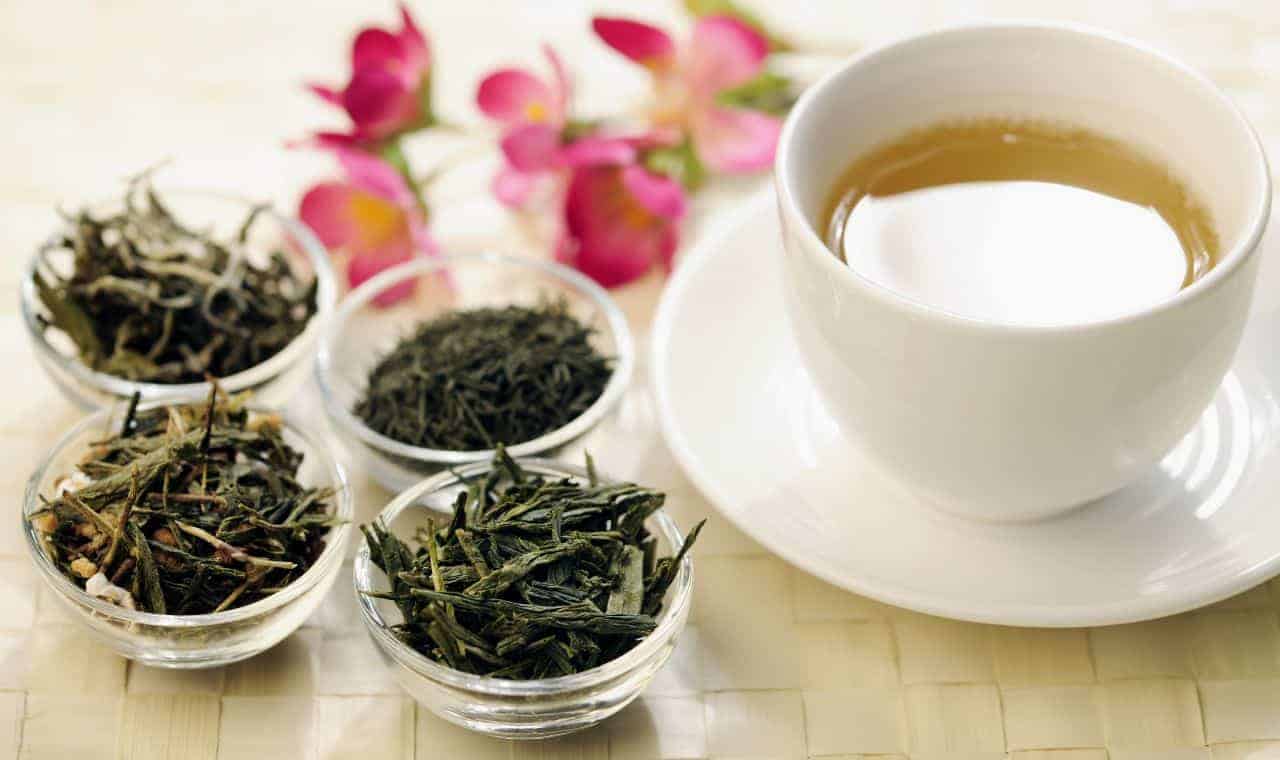 5 Main Health Benefits of Green Tea
Green tea is a hot product for its high antioxidant content and weight loss properties. However, there's more to green tea than that. Green tea is an easy and delicious way to boost the following health benefits:
To get the most benefits out of drinking green tea, make sure that you choose a high-quality green tea. Need tips on choosing the best green tea? We've got you covered.
How to Choose the Best Green Tea
Once you've discovered the health benefits of drinking green tea, you may want to incorporate this drink into your daily routine right away.
When you have a list of the best green tea products on the market (such as the one above), choosing the best one for you makes the decision a little easier. Here are some extra qualities that make for the best green tea:
Organic vs. Non-organic

Organic green tea is slightly more expensive than conventional green tea, but it may be worth it if you're drinking green tea for the health benefits and taste. Non-organic green tea leaves may be sprayed with harmful pesticides that affect the potency, health benefits, and flavor of the tea.

Pure Green Tea vs. Matcha

Pure green tea is the most common type of green tea consumed in the United States, but matcha tea is a close second. If you prefer a milder flavor, stick with pure green tea. Matcha tea contains finely milled tea leaves, so the flavor is bolder. This also means that matcha tea contains more antioxidants and nutrients, which may be preferable for people who are health conscious.

Loose Leaf vs. Sachet vs. Powder

Most green teas come in sachets, which are brewed in hot water. However, some green tea blends come in loose leaf containers, so you can determine how many leaves you want to brew. Sachets are more convenient, but experienced tea drinkers may enjoy the freedom of loose leaf tea. Matcha tea typically comes in powdered form, so you consume more of the tea leaves than other types of green tea. This packs more flavor and nutrients, but the texture of the powdered green tea isn't as smooth as brewed green tea.

Quantity vs. Quality

Green tea is one of the most affordable types of tea on the market, so you should have no problem finding a tea within your budget that's still high in quality. Some of the best value green teas on our list are both high in quality and quantity, so you don't have to choose between the two.
The best green tea for you depends on the overall quality of the tea and some personal preferences. Use our list above as a guide, and keep your preferences in mind to narrow down your options.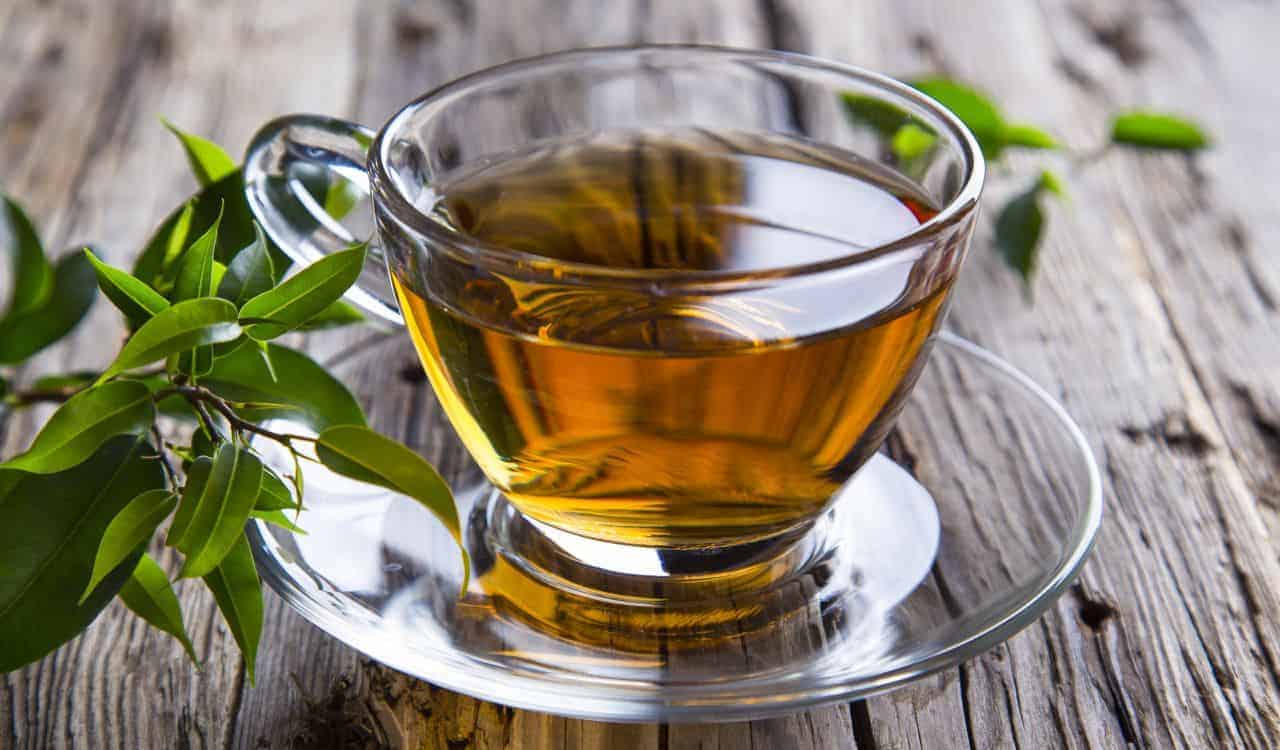 Decision Time
You can't go wrong with any of the best green teas we've reviewed above. We reviewed and compared each tea for quality and purity, and we give an in-depth review on the ingredients and brands of the green teas.
If you're new to drinking green tea, opt for a budget-friendly pure green tea with a mild flavor. If you're an experienced green tea drinker, try a new green blend or a powdered matcha tea to mix it up. Many green teas can also be purchased in bulk for green tea lovers.
Whichever green tea you choose, your body will reap the many health benefits of green tea.
Subscribe to our Newsletter