Best Green Tea Brands Rated and Compared
You've likely heard of green tea before, as it is an incredibly popular drink, especially for those health conscious individuals. You probably also know green tea is good for you, but do you actually know why? More importantly, do you know what to look for when buying it in order to purchase products that will actually provide you with all the amazing benefits this tea has to offer?
We're here to help answer all those questions and more with our total review guide on the best green tea brand options. With the help of this guide you will be able to determine which is the best tea brand for you, as well as learning all about the amazing benefits tea has to offer.
Green tea is known to be one of the best things you can drink on the planet. People have been drinking green tea for thousands of years. While there are many varieties of this tea, which we will discuss in more detail later, all come from the same origin plant, the Camellia sinensis plant.
Part of what makes this tea differ from other types (such as black teas) is that the leaves are not oxidized at all to give them the black color or taste. Green tea leaves keep their green color and fresh herbal/grassy flavor which comes through when steeping in hot water, which is the way that tea is prepared and served.
Green tea is mainly associated with China, as that is where it originated, but it is now grown in other countries in Asia and is consumed all over the world. This is largely due to all of the great benefits associated with it (and it tastes pretty great too!) it is full of antioxidants and nutrients that are great for the body.
In particular, you will find flavonoids and catechins which are polyphenols that serve as antioxidants. As you may know, antioxidants help to eliminate free radicals in the body, which can cause a variety of issues in the body. The main active ingredient in green tea is Epigallocatechin Gallate (EGCG) which is another powerful antioxidant that many people believe is the reason that green tea is so healthy and powerful.
Among the benefits associated with green tea is improved brain function, lowered cholesterol, improved blood flow, lowered blood pressure, aid in cell growth and prevention of cell damage. There is also more anecdotal evidence that this tea may help with weight loss and preventing cancer.
There are many varieties of green tea grown mainly in China and Japan. These teas will differ based on where they are grown, how they are harvested, and other factors. Some of the main varieties of tea from China are Gunpowder, Dragonwell, Green Snail Spring, and Snowy Mountain Jian. Popular varieties from Japan include Sencha, Matcha, and Bancha.
Our Top 3 Picks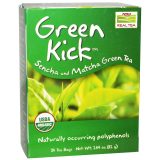 Now Foods Real Tea Green Kick - Sencha and Matcha Green Tea

Our rating
Naturally Occurring Polyphenols, Certified by QAI
Price:

See Here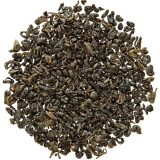 Frontier Natural Products Organic Gunpowder Green Tea

Our rating
Rich Flavor With a Hint of Sweet Smokiness
Price:

See Here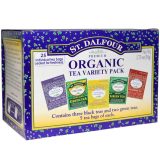 St. Dalfour Organic Tea Variety of 25 Packs of Tea Bags

Our rating
Individually Sealed Tea Bags for Preserved Freshness
Price:

See Here


10 Best Green Tea Brands
1. Now Foods Green Kick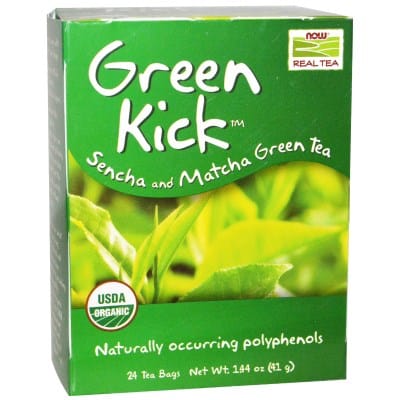 This first type of green tea from Now Foods is a blend of two types of Japanese green teas, Sencha and Matcha.
Expand to see more
Type of green tea: Sencha and Matcha

Price point: Inexpensive

The price of this tea is incredibly affordable, but it is also an all natural product that is USDA organic.

This tea is all natural and will provide you all the naturally occurring polyphenols you'll want when drinking green tea. If you look at the ingredients list you will only see three- organic Sencha leaves, Matcha leaves, and green tea extract: that's it! This tea contains no artificial colors, flavors, or preservatives.

If you're looking for pure green tea that is all natural and is still affordable: this is the tea for you!
USDA organic
Inexpensive
Contains no artificial flavors or preservatives
2. Frontier Natural Products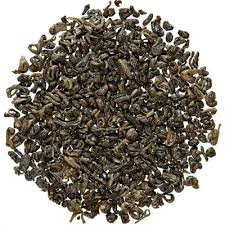 This Gunpowder tea from Frontier Natural Products is totally organic Gunpowder green tea.
Expand to see more
Type of green tea: Gunpowder

Price point: Fairly expensive

This tea gets its name due to its slightly smoky flavor and the appearance of the tea leaves themselves that are rolled into small pellets that unroll as they are steeped.

This tea is also fair-trade certified and comes as one package of loose tea leaves and not individual tea bags. You are getting a high quality tea product that only has one ingredient (the Gunpowder green tea) and for that reason the price point of this tea is more expensive than some of the other products on this list. However, this is one of the best green tea brand options on the market today.


Certified organic
Inexpensive
High quality ingredients
3. St. Dalfour Organic Variety Pack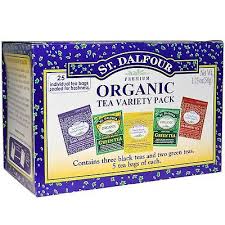 While plenty of people love the taste of green tea, others find it to be bland or simply do not like the taste.
Expand to see more
Type of green tea: Variety pack containing Early Grey,

Mango Green Tea, Lemon Tea, Green Tea, and Strawberry Tea

Is that you? If so- these organic teas from St. Dalfour are for you! Their unique flavors like mango and strawberry don't just taste good, but are also good for you and are USDA organic.

Each type of tea has only organic tea leaves and other natural flavors. Keep in mind only two types of these teas are green tea (the green tea and mango green tea) and all other types are ceylon tea (which refers to the area where the tea is grown). At such an affordable price, this tea is worth it to try out different flavors!

USDA organic
Afforfable price
Quality ingredients
4. Yogi Slim Life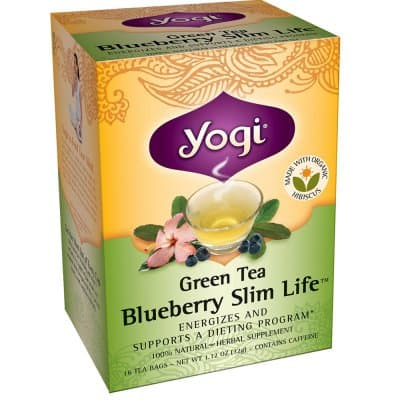 This green tea from Yogi Tea contains tons of healthy ingredients including organic green tea leaves.
Expand to see more
Type of green tea: Not specified
Price point: Inexpensive
This tea combines green tea with
garcinia cambogia
fruit extract, Ginseng, blueberry flavor, hibiscus, and other fruit extracts to create an extremely flavorful tea that promotes weight loss and maintaining a healthy diet.
If you are looking to lose weight, this is the tea for you! The green tea and Ginseng provide you with energy that will keep you going all day long, but won't leave you feeling jittery. One tea bag has around half the amount of caffeine you would typically find in a regular cup of coffee. You can't beat the price of this tea, especially considering all of the organic ingredients and wonderful benefits.
Organic tea leaves
Promotes weight loss
Inexpensive
5. Uncle Lee's Tea Organic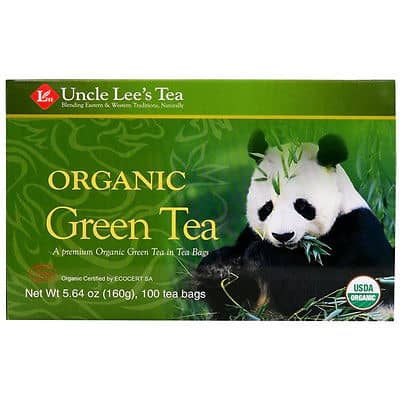 Uncle Lee's Tea organic green tea is exactly as the name states: organic green tea, and nothing else!
Expand to see more
Type of green tea: Green tea leaves from Fujian Province of China.

Price point: Inexpensive

If you want pure Chinese green tea that is inexpensive and certified USDA organic, look no further than this tea.

All of their tea is grown using natural fertilizers and without pesticides. You can't beat the price of this tea, or the ease of their tea bags (100 come in a package). It is recommended that you get water that is not quite boiling in order to ensure the tea does not taste too bitter.


USDA certified
Inexpensive
No pesticides
6. The Tao of Tea 100% Organic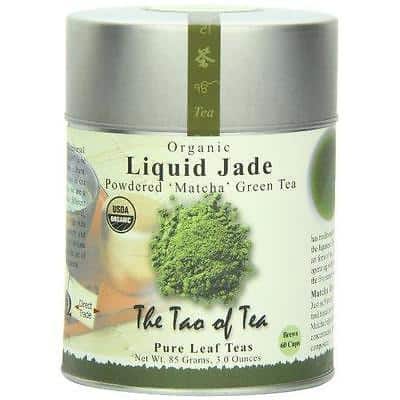 This green tea from The Tao of Tea is USDA organic powdered Matcha tea from Japan.
Expand to see more
Type of green tea: Matcha (powdered)

Price point: Fairly expensive

While tea leaves and tea bags probably come to mind when you think of tea, powdered Matcha is gaining popularity.

This tea is prepared differently (traditionally with a bamboo whisk in a bowl), and has a slightly sweeter taste than other green teas. All of the benefits of the green tea remain when the leaves are ground into their powdered state, however, so don't worry about losing any of the great benefits.

While this tea is slightly more expensive than others on this list, it is truly authentic powdered Matcha that is harder to find in other places.
USDA certified organic
A sweeter taste
Quality ingredients
7. Rishi Matcha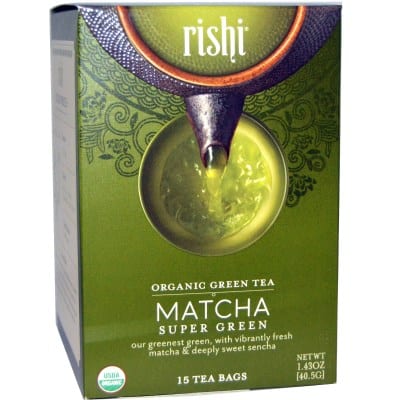 If you are looking for Matcha tea, but don't want to deal with it in the powdered form, this tea from Rishi is for you!
Expand to see more
Type of green tea: Matcha and Sencha

Price point: Inexpensive

This tea is a blend of Matcha and Sencha, that provides a fresh and sweet flavor profile. While the Matcha tea is ground, it comes in tea bags making for easy preparation.

This tea is certified USDA organic and non-GMO, making it a great all natural, healthy, and delicious option to add to this list! Best of all, the tea is relatively inexpensive (there are definitely cheaper options on this list) and provides a great taste and all of the amazing health benefits.
Certified USDA organic
Non-GMO
High quality ingredients
8. Celestial Seasonings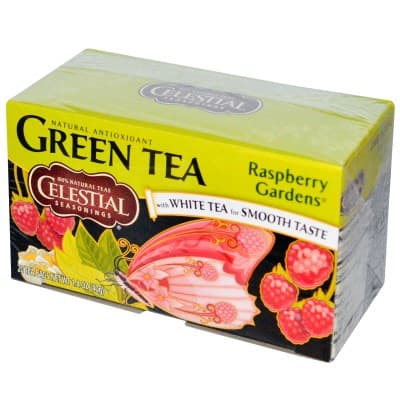 This green tea from Celestial Seasonings is different from the other teas on this list for a couple of reasons. First off, this tea is decaf.
Expand to see more
Type of green tea: Decaf (not specified)
Price point: Inexpensive
If you are looking for a decaf variety of green tea, this is a great option.
This tea also contains white tea to provide
a smooth taste
(sometimes green tea can be a bit bitter, especially if prepared with water that is too hot). Peppermint is also added to this tea, making for a soothing, calming combination that would make for a great tea to have before going to bed.
All ingredients are all natural, and the green tea is naturally decaffeinated and doesn't lose its
natural antioxidants
. If you are looking for a nighttime tea, or have health restrictions or other reasons that don't allow you to have caffeine, this is a great tea you are sure to enjoy.
Decaf
Inexpensive
Natural ingredients
A slightly unpleasant taste
9. Allegro Organic Decaf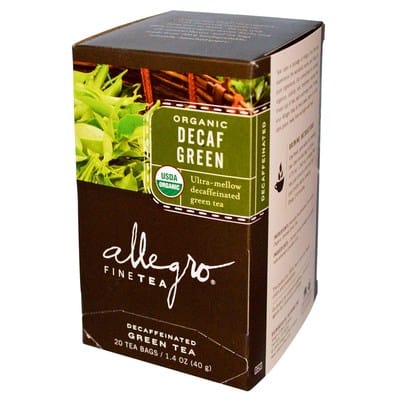 This tea from Allegro Fine Tea is the only other decaf green tea on this list.
Expand to see more
Type of green tea: Decaf (not specified)

Price point: Inexpensive

This tea is not combined with any other teas or flavors, so if you are looking for a pure green tea that is naturally decaffeinated, this is the tea for you.

Allegro's tea is 100% organic, and their tea bags are also totally biodegradable. Their tea is grown in mainland China. This tea is also produced without any artificial colors, flavors, or preservatives. For an inexpensive, decaf tea that is sure to not be bitter, try out this tea.
Naturally decaffeinated
100% organic
Biodegradable tea bags
10. Tazo Zen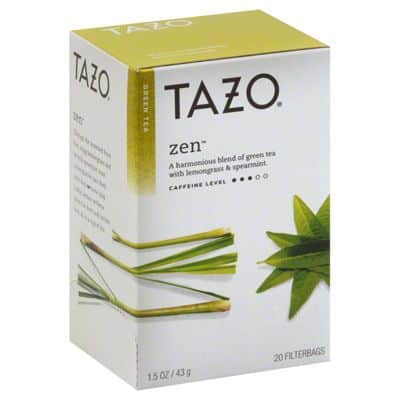 The final tea on this list is from Tazo, and is a blend of ingredients.
Expand to see more
Type of green tea: Not specified

Price point: Relatively inexpensive

This tea features green tea leaves mixed with lemongrass and spearmint for a refreshing taste. All ingredients are naturally sourced and combine for a unique flavor you are sure to enjoy.

This tea has a moderate caffeine level (about half the amount of a standard cup of coffee), so you can sip with ease without fear of jitters. Tazo teas are known for their blend of ingredients that create teas that are some of the best tasting that you'll find. At a relatively inexpensive price, this is a tea you are sure to love and find yourself purchasing again and again!
Natural ingredients
Moderate caffeine level
Inexpensive
Decision Time
We've listed 10 of our favorite brands, and now it's your turn to select the one right for you! When making your choice, consider things like price point, caffeine level, added ingredients, and type of green tea.
Do you want powdered tea, loose leaf, or tea bags? Do you want pure green tea, or do you prefer a mix of ingredients? Do you desire a fresh taste, or a more fruity flavor? To make your decision easier, here is a summary chart of the teas listed earlier:
There you have it! Any tea you select will be full of wonderful antioxidants and other nutrients that will work wonders on your body. Happy sipping!