Best Aloe Vera Gels & Alternatives Reviewed
Disclosure: We use affiliate links and may receive a small commission on purchases.
Aloe vera has been used for its medicinal properties for thousands of years. This succulent plant is easy to maintain and can be grown in your own background. However, there are so many pure aloe vera products on the market that you don't have to start a garden to reap the benefits of aloe vera.
Whether you want to hydrate your skin, heal your wounds, or improve your digestive system, the restorative powers of aloe vera can be harnessed in many ways. From gels, creams, and liquids, aloe vera products come in many types.
Aloe vera products also differ by quality, value, and brand, so we've dug deep to review a variety of aloe vera products with the goal to find the very best ones…and we've definitely met our goal.
Dr. Mercola

Our rating
Clean Ingredients
Price:

See Here

NOW Solutions

Our rating
Multi-purpose Formula
Price:

See Here

Nature Republic

Our rating
10 Ounces
Price:

See Here

After taking a look at our top 3 picks, you'll see that they share some similarities but also some differences. It turns out that aloe vera products differ in terms of product type, applications, formula, and more.
One striking similarity we found among these products is that the majority of them use organic aloe vera instead of conventionally grown aloe vera. Since aloe vera is a succulent plant, it's low-maintenance and easy to grow organically. This boosts the overall quality of the aloe vera and boosts its external and internal benefits.
We also found that aloe vera gel is the most common type of aloe vera product. This is convenient because aloe vera gel has the most diverse range of uses – skin moisturizing, body care, hair masks, soothing sunburns, healing wounds, and more.
Aloe vera products can have powerful properties that make them effective natural medicinal alternatives for skin irritation. However, some aloe vera products contain very little aloe vera or contain harmful ingredients that counteract the aloe vera. This is why we've paid close attention to the ingredients list of each product and used strict criteria to evaluate each product.
For in-depth reviews on the 10 best aloe vera products, everything you need to know about using aloe vera gels, and how to choose the best aloe vera product for you, just keep reading.
10 Best Aloe Vera Gels & Alternatives
1. Dr. Mercola – Aloe Vera
Dr. Mercola's Aloe Vera has minimal ingredients but maximum applications. It can be used as a skin moisturizer, hair gel, shaving gel, and more. It also soothes sunburns, bug bites, rashes, stings, cuts, and other skin wounds. This aloe vera product is chemical-free and contains green tea and cucumber extract for extra soothing and moisturizing properties.
Expand to see more
Quality
Dr. Mercola products are highly researched and thoroughly tested for quality, purity, and safety. A team of scientists, engineers, and product development specialists oversee quality control of each product. All of their products are GMO-free, protected from environmental degradation, tested multiple times, and made sustainably.
Value
With 8 ounces per bottle, this product is long-lasting. However, it's slightly more expensive than comparable aloe vera products. For the pure ingredients and trusted brand, it's worth the extra value.
Brand
Dr. Mercola is a certified health practitioner, best-selling author, and creator of many health products. He has won many awards and appeared on national television many times for his achievements. His products include health supplements, food and drink, personal care, home goods, pet care, and more.
Clean ingredients
Non-GMO
Good manufacturing practices
Contains green tea
Contains cucumber
Highly researched
Protected from degradation
Made sustainably
Contains 8 ounces
2. NOW Solutions – Aloe Soothing Gel
Organic aloe vera,
vitamin E
, provitamin B-5, cucumber extract, and peppermint oil are the core ingredients in the Now Solutions Aloe Soothing Gel. It's a plant-based formula that's gluten- and paraben-free and uniquely renews dry skin that's dehydrated due to environmental factors. It's a multi-purpose formula that revitalizes, nourishes, hydrates, and moisturizes skin, and can be used in any way that aloe vera gel can be used.
Expand to see more
Quality
This aloe vera product is made by a natural beauty line called NOW Solutions. Although they are a natural brand, all of their products are scientifically tested and certified by independent laboratories. They have a stringent quality control process that goes beyond Federal Drug Administration (FDA) standards. They are leaders in their industry, use state-of-the-art technology, and have many certifications.
Value
The Aloe Soothing Gel, along with many other NOW Solutions products, are both high-quality and affordable. With 8 ounces of products and multiple uses, this product is a great value.
Brand
NOW Solutions is a branch of NOW Foods, a global brand with thousands of health products, ranging from supplements to beauty products.
Organic aloe vera
Gluten-free
Paraben-free
Contains vitamin E
Contains peppermint oil
Contains cucumber
Contains provitamin B-5
Multi-purpose formula
Revitalizes skin
Contains 8 ounces
Cruelty-free
Good manufacturing practices
Contains artificial preservatives
3. Nature Republic – Soothing & Moisture 92% Aloe Vera Gel
With more than 10 ounces of 92% aloe vera per container, this is the Best Value aloe vera product on our list. Made in South Korea, where skin care is taken very seriously, this aloe vera product is a best seller and sold millions of products when it was first released. The Nature Republic Soothing & Moisture 92% Aloe Vera Gel relaxes the skin with nourishing vitamins. While this product is mainly designed to moisturize and soothe skin, it can also be used to care for the hair, nails, and body.
Expand to see more
Quality
The highly potent aloe vera and nourishing ingredients make the Nature Republic Soothing & Moisture 92% Aloe Vera Gel a high-quality aloe vera product. It contains organic aloe vera as certified by California Certified Organic Farmers. This product also contains nourishing ingredients, such as spearmint, lemon, and castor oil.
Value
This is the Best Value on our list because it contains more than 10 ounces of product and is reasonably priced. With many uses and an affordable price tag, this product is a great value.
Brand
Nature Republic is a natural skin and body care brand that originated in South Korea. They have dozens of aloe vera products, including gels, creams, mists, and masks.
Organic aloe vera
Contains spearmint
Contains lemon
Contains castor oil
Great value
Affordable
Contains more than 10 ounces
Contains alcohol
Only 92% aloe vera
4. Lily of the Desert – 99% Aloe Vera Gelly
This product may look like hair gel, but it's actually one of the most potent aloe vera products at 99% aloe vera. It has a gel-like consistency that instantly cools and hydrates the skin and goes as deep as the top three epidermal layers. This aloe vera gel is also packed with
antioxidants
like vitamins A, C, and E and has other healthy ingredients, such as skin-conditioning emollients.
Expand to see more
Quality
This aloe vera product uses a specific type of aloe vera aloe polysaccharides, which boosts the body's abilities to absorb healthy ingredients and nutrients in skin care and body care products. Lily of the Desert's aloe products also contain Aloesorb, their proprietary nutrient delivery system that enhances the natural benefits of aloe vera. This aloe vera product seeks to maximize on the health properties of aloe vera.
Value
For 12 ounces of high-quality product, this aloe vera gel is affordably priced. It's similar in value to comparable products.
Brand
Lily of the Desert grows, processes, and manufactures their own aloe vera products, which they call Organic Aloeceuticals. They are one of the largest aloe vera companies in the U.S., and their products range from topical gels to ingestible juices.
Organic aloe vera
Proprietary Aloesorb formula
Hydrates three epidermal layers
Contains vitamin E
Contains vitamin C
Contains vitamin A
Contains 12 ounces
Contains artificial preservatives
Many ingredients dilute the aloe vera concentration
5. Aubrey Organics – Pure Aloe Vera
The Pure Aloe Vera gel by Aubrey Organics only contains two ingredients: organic aloe vera and radish root. Pure aloe vera can be mixed with other ingredients to create creams, gels, masks, and more for topical treatment of the skin. Since this product is very hydrating, Aubrey Organics recommends using it as a moisturizer for dehydrated or sun-damaged skin. With more than 98% organic ingredients, this is a high-quality aloe vera product with endless possibilities.
Expand to see more
Quality
Aubrey Organics has a line of aloe vera products, but their Pure Aloe Vera is the purest and has the least amount of ingredients. Their aloe vera is straight-from-the-leaf as certified by the International Aloe Science Council. Since this product is minimally processed, it's one of the highest quality aloe vera products on our list.
Value
This pure aloe vera gel is an affordable option; however, it only contains 4 ounces of product. Since it's organic and a little aloe vera goes a long way, it's still a great value.
Brand
With a collection of all-natural and organic beauty products, Aubrey Organics is a go-to retailer for the best aloe vera products. Aloe vera is commonly used topically to treat the skin, and Aubrey Organics is a trusted brand for this type of product.
Organic aloe vera
Contains radish root
Minimal ingredients
All-natural ingredients
Cruelty-free
Affordable
Certified by The International Aloe Science Council
Contains only 4 ounces
Aloe vera is not from concentrate
6. Thayers – Witch Hazel Aloe Vera Formula
Aloe vera is the third ingredient in this unique toner. Mixed with witch hazel and rose hazel, this aloe vera product is a toner used to cleanse, tone, and moisturize the skin. It's not just a skin care product, however. The potent aloe vera in this product can also be used to treat and heal wounds, fade bruises and skin discoloration, and soothe irritation all over the skin. While this isn't a pure aloe vera product, it's packed with skin-healing ingredients and has a multitude of applications.
Expand to see more
Quality
Thayers is a well-known brand of natural remedy products, and their Witch Hazel Aloe Vera Formula is made of high-quality ingredients to treat the skin. This alcohol-free product is more than just a toner, as aloe vera has many healing properties that apply to more than just the face. Thayers believes their natural elixirs deserve a place in your medicine cabinet due to their commitment to high-quality, natural ingredients.
Value
This isn't your ordinary aloe vera product, so it's no surprise that it's slightly more expensive than pure aloe vera. With skin-healing ingredients like witch hazel and rose petal, this aloe vera toner is worth the extra cost for the skin health benefits.
Brand
Thayers has been a leading brand in natural remedy products for almost 200 years. They started with simple herbal extracts and have expanded to include toners, body bars, lip balms, and more.
Organic ingredients
Natural ingredients
Contains witch hazel
Contains rose petal
Contains grapeseed oil
Alcohol-free
Gluten-free
Cruelty-free
Tones the skin
Variety of applications
Contains 12 ounces
More expensive
Contains less aloe vera than other products
7. JASÖN – Soothing 98% Aloe Vera
JASÖN's Soothing 98% Aloe Vera is a non-oily formula, which is perfect for people with oily, combination, or sensitive skin types. This product is designed specifically to hydrate and soothe skin that's irritated from dehydration, sun damage, and shaving. Each tube is enriched with allantoin, a skin conditioning agent, and vitamin B5 for extra moisture.
Expand to see more
Quality
The Soothing 98% Aloe Vera is made of safe, gentle ingredients and doesn't include parabens, phthalates, sulfates, and artificial colors. JASÖN's products follow a strict Code of Honor: a list of harmful ingredients they don't use, a commitment to safety, and a promise to never test on animals.
Value
This is one of the most affordable aloe vera products on our list. However, this product only contains 4 ounces of aloe vera.
Brand
Since 1958, JASÖN has been creating bath and body products with simple, plant-based ingredients. Their brand name means "healer" in Greek, which is indicative of the restorative power of their natural botanical products.
Organic aloe vera
Contains vitamin B5
Free of parabens, phthalates, and sulfates
Contains allantoin
Contains glycerin
Plant-based ingredients
Cruelty-free
Affordable
Contains artificial fragrance
Contains only 4 ounces
8. RealAloe – Aloe Vera Spray
This is the only aloe vera product on our list that comes in a spray bottle, which is convenient form of packaging for an all-in-one product like aloe vera. Like their name suggests, RealAloe specializes in aloe vera products, ranging from hair, skin, and body products uniquely formulated with pure aloe vera. If you want an aloe vera product from an expert, RealAloe's Aloe Vera Spray is the product for you.
Expand to see more
Quality
RealAloe brings pure and potent aloe vera products to the marketplace, including their Aloe Vera Spray. This product only contains three minimal ingredients: water, aloe vera, and citric acid. It can be used on sunburns or irritated skin, and it can also be used as a toning spray or facial mist.
Value
This aloe vera product contains 8 ounces and is affordably priced. Since this product comes in a spray bottle, it will likely last a very long time, making this a great value.
Brand
RealAloe has aimed to bring the benefits of aloe vera to the marketplace since 1972. They are a brand that specializes in aloe vera products, which are carried in many health food grocers and natural retailers.
Organic
Non-GMO
Gluten-free
Cruelty-free
Vegan certified
Contains 8 ounces
Spray bottle
Affordable
Minimal ingredients
Made in the U.S.A.
Contains more water than aloe vera
Contains alcohol
9. George's – 100% Aloe Vera Drink
George's 100% Aloe Vera Drink is meant to be ingested for all the internal benefits of aloe vera. This drink is designed to relieve digestive discomfort, such as ulcers, irritable bowel syndrome, and acid reflux. Since this is 8 ounces of pure aloe vera liquid (no chemicals, preservatives, water, sugar, etc.), this product can be consumed in one sitting or divided up to 4 servings.
Expand to see more
Quality
Ingestible aloe vera drinks usually appear green and are thick in texture, but George's 100% Aloe Vera Drink looks and feels like water. This is because they use pure fractionally distilled aloe vera, and they remove the antagonistic compounds of the aloe vera that may cause digestive discomfort and bitterness. This aloe vera drink is smooth, mild, and effective at treating digestive issues.
Value
Since this product is ingestible, it's more expensive than topical aloe vera products. George's 100% Aloe Vera Drink is made with a high-quality fractionally distilled aloe vera, yielding a higher price tag and making this an inferior value compared to other aloe vera products.
Brand
George's is a brand of drinkable aloe vera products that use "always active" aloe vera. Their ingredients are pure, minimal, and high-quality, and their products have been helping people with digestive issues since 1979.
100% aloe vera
Ingestible
Fractionally distilled aloe vera
Soothes digestive issues
No preservatives
Texture is like water
Mild, pleasant taste
Contains only 1-4 servings
Limited applications
10. SHIKAI Products – Borage Therapy Hand Cream
Aloe vera is the first ingredient in this highly moisturizing hand cream. It also contains other hydrating and conditioning ingredients, such as jojoba oil, borage seed oil, and shea butter. With emulsifiers, amino acids, omega-6 fatty acids, and
vitamin C
, this hand cream is also highly nourishing to the skin. While this product has fewer applications than other aloe vera products, it can be used on the hands, elbows, knees, and other parts of the skin to deeply hydrate, moisturize, and condition.
Expand to see more
Quality
The ShiKai Borage Therapy Hand Cream is packed with nourishing ingredients to intensely moisturize dry and itchy skin. It's a clinically proven and doctor recommended product for its potency and purity. ShiKai aloe vera products are formulated with premium ingredients that are carefully selected and formulated for safety and effectiveness.
Value
For a hand cream, this product is priced fairly. However, it's significantly more expensive per ounce than other aloe vera products.
Brand
ShiKai is a natural beauty brand that was founded by an organic chemist in 1970. Since then, ShiKai has used naturally derived functional ingredients over conventional chemical ingredients to create a line of more than fifty hair and body products.
Organic aloe vera
Contains vitamin C
Contains shea butter
Contains jojoba oil and borage seed oil
Contains omega-6 fatty acids
Non-greasy
Non-irritating
Vegan and cruelty-free
Gluten-free
Made in the U.S.A.
No artificial fragrances
Contains parabens
Contains only 2.5 ounces
Limited applications
---
All about Aloe Vera Products
If you've ever seen an aloe vera plant, you know that it has many thick leaves with serrated edges. Obtaining the beneficial gel or juice from aloe vera is very easy. Simply cut or tear one of the leaves and cut it in half lengthwise, and gel will ooze out. To access the aloe vera juice, peel back the thick skin of the leaf.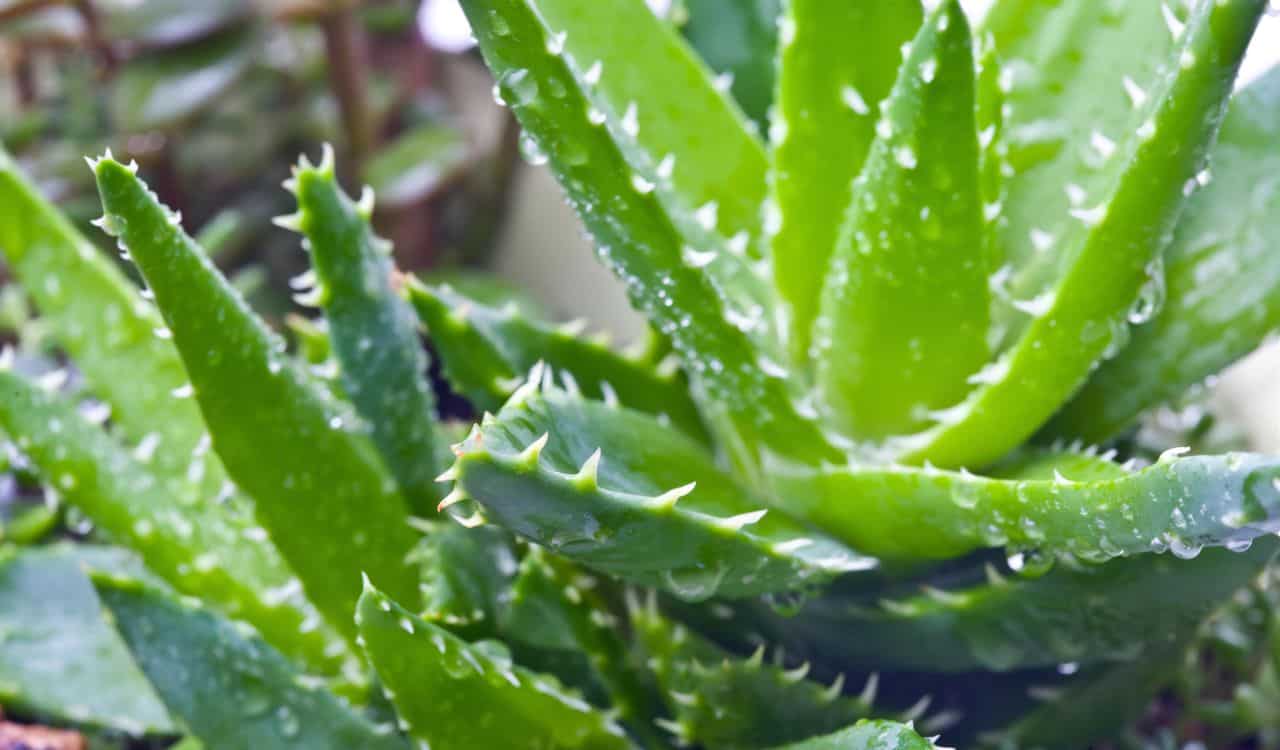 The aloe vera used in commercial aloe vera products is a lot different than the aloe vera obtained from your houseplant, however.
Aloe vera juice is extracted by grinding or macerating the aloe vera leaf in its entirety, including the gel-like substances. The mixture is then purified and decolorized.
Commercial aloe vera gel may be obtained by hand, machine, or a combination of both. The aloe vera goes through a stringent process to achieve the highest quality commercial aloe vera gel:
1. Cleaning, trimming, and filleting

Fresh aloe vera leaves are thoroughly scrubbed to remove any dirt and impurities. The tips and ends are trimmed, and they are soaked and rinsed before further processing. Once they are cleaned and trimmed, the rinds will be removed in a process called filleting. This can be done by hand or machine.

2. Whole leaf processing

The trimmed aloe vera leaves are cut into sections and ground up. The remaining rind pieces are filtered out.

3. Pulp processing

Aloe vera pulp is achieved through a centrifugal juicing process at a very low temperature. This yields aloe vera gel, which is treated with a solution, mixed with water, and heated to form commercial aloe vera gel.

4. Purification

To purify the aloe vera products, the gel may be mixed with activated charcoal, filter pressed, stabilized, and dried.
The main difference between home-grown aloe vera and commercial aloe vera products is the intense processing that commercial products undergo. They are heated at various stages throughout the processing, and the temperatures vary greatly depending on the process. Solutions may also added to the products for stabilization, they be watered down, and they may be decolorized to remove the dark green hue. (1)
Another key difference between aloe vera obtained commercially or at-home is the presence of anthraquinone, which occurs naturally in aloe vera. During commercial processing, anthraquinone is removed due to safety concerns. (2)
From harvesting to hitting the shelves, a lot goes into processing and purifying aloe vera leaves to maximize their beneficial properties.
Benefits of Aloe Vera
Whether you're interested in the internal or external benefits of aloe vera, almost everyone can benefit from this highly moisturizing plant. Most of the benefits of aloe vera are external, meaning this plant can do wonders for the skin. It can also rejuvenate the digestive system. Between internal and external benefits, the top benefits of using aloe vera products include:
Soothes irritated skin

Have you ever experienced razor burns after shaving? Or maybe you have a scrape or cut that's healing slowly? Aloe vera gel can be used externally to soothe and calm irritated skin or skin inflamed from eczema, psoriasis, rosacea, breakouts, allergic reactions, and more. (3, 4) New studies also suggest that aloe vera may improve overall skin condition, including reducing the appearance of wrinkles. (5)

Hydrates dehydrated skin

If you have excessively oily or dry skin, this may be a sign that your skin's moisture balance is off. This may be due to a damaged moisture barrier or acid mantle in the skin. Aloe vera is highly moisturizing and hydrating, which can restore the skin's moisture balance and treat dehydrated skin. (6, 7)

Treats burns

One of the top uses for aloe vera gel is to treat sunburns. In the summer, aloe vera products are almost as popular as sunscreen products. When the skin is burned or damaged from sun exposure, aloe vera soothes the stinging pain, reduces redness and inflammation, and puts the skin on track to healing.

Heals cold sores

The anti-inflammatory, antibacterial, and antiviral properties of aloe vera make it an effective treatment for one of the most stubborn and difficult to treat oral viruses – cold sores. Aloe vera gel can be used topically to target the oral herpes cells. (8)

Helps digestion

While not an external application, one internal benefit of liquid aloe vera products is healing the digestive system. Liquid aloe vera products are very potent, so 2 ounces of liquid aloe vera can be used to treat constipation, irritable bowel syndrome, stomach ulcers, and other gastrointestinal problems. (9) Aloe vera makes a suitable digestive aid to its anti-inflammatory and laxative properties.

Treats dandruff

Aloe vera is commonly found in hair products and shampoos that treat dandruff and flaky hair. You can use aloe vera to hydrate your hair by adding it to your shampoo or using it in a homemade hair mask. The antiviral properties will fight the bacteria and fungus that causes dandruff to form. By applying aloe vera to your hair, you may experience less dandruff and flakes.

Fights bacteria

Aloe vera is known for its antiviral, antifungal, and antiseptic properties. This makes it a great cleaning agent to use in homemade household products. You can also add it to your mouthwash, soap, shaving gel, lotion, etc. to prevent bacteria and fungus from collecting on your body. Whether you want to use aloe vera as a bacteria-fighting ingredient in household products or body products, it has many antiviral applications.

Sanitizes hands

Because of its antiviral properties, aloe vera makes for a great ingredient in hand sanitizing products. This is because it fights bacteria while moisturizing the hands. Many hand sanitizers dry out the hands because the skin is so thin. Aloe vera has an antibacterial effect on germs that come in contact with the hands, yet soothes the skin for a two-in-one effect. If you want clean yet moisturized hands, look for hand sanitizers containing aloe vera or create your own at home with rubbing alcohol and essential oils.

Cleans teeth and gums

You may have seen a toothpaste or mouthwash that contains aloe vera before. This is because aloe vera has antiseptic properties that make it a great ingredient for oral hygiene. Aloe vera reduces inflammation in the gyms and may help to relieve oral diseases like gingivitis or periodontitis. Aloe vera can also prevent future oral diseases from forming. If you have sensitive teeth or gums, aloe vera may be a better option for you. Many toothpastes and mouthwashes contain harsh ingredients that can cause more harm than good, so give aloe vera a try in your oral hygiene routine.

Preserves food

Most applications of aloe vera are either topical or internal for the body. But aloe vera can also be used around the house as a cleansing agent or as a food preservative. Aloe that's safe to consume can be applied to fruits and vegetables to extend their shelf life. If you have some tomatoes or apples sitting on your counter, try spraying aloe vera on them. The antifungal properties will protect the fresh food from fungus and may even delay ripening.

Depending on the type of aloe vera product you use, aloe vera may yield different benefits. Most aloe vera products are intended for external use only, but various types of aloe vera products can be used on various areas of the body for various benefits. Aloe vera can also be used around the house due to its antiviral properties.
Different Types of Aloe Vera Products
The most common type of aloe vera products is aloe vera gel. It's affordable, effective, and easy to use. Aloe vera gels can have up to 99% aloe vera in them, leaving minimal room for other ingredients. Aloe vera gels may also combine aloe vera with other skin-soothing ingredients like essential oils, plant extracts, and botanical ingredients, making aloe vera gels an overall hydrating and nourishing product to apply to the skin.
Pure aloe vera is also common. This aloe vera product has minimal ingredients and is very potent, so a little goes a long way. Since the aloe vera is undiluted, pure aloe vera products can be used in DIY masks, creams, and other mixtures.
In beauty products, aloe vera facial toners are becoming more popular. Aloe vera is usually the second or third ingredient, after water, in facial toners. This type of product usually comes in a spray or mist bottle, and it's designed to lightly hydrate the face and prepare it before skin care or makeup. It can also be used as a refreshing mist throughout the day.
Another type of aloe vera product is aloe vera lotion. Aloe vera can be used in facial moisturizers, hand creams, or overall body lotions for a gentle boost to the skin. Aloe vera lotions leave the skin feeling soft, hydrated, and moisturized. Since aloe vera is a gentle yet effective hydrator, it's the perfect ingredient for lotion products.
While the majority of aloe vera products yield external benefits, aloe vera liquids can be consumed to boost digestive health. Aloe vera juice can be purchased at many grocery stores, but the aloe vera juice on the shelves is typically diluted with water. Pure aloe vera juice can be purchased online from reputable sources like George's, which is very potent and only recommended in small doses.
How to Choose the Best Aloe Vera Product
There are thousands of aloe vera products on the market and they all vary from product type, quality, and more. We recommend taking quality, ingredients, value, and brand into account when choosing aloe vera products.
There are two main types of aloe vera products that can affect your choosing: ingestible aloe vera products and non-ingestible aloe vera products. Most people use aloe vera topically or around the house, so take the applications into consideration when choosing aloe vera products.
Aloe vera gels can be applied topically to the skin, hair, and body as a hydrating and moisturizing agent, but ingestible aloe vera products can be consumed to promote healthy digestion. Some aloe vera products can also be used as household cleansers and food preservatives. To get the most out of aloe vera, you can keep one of each type of aloe vera product on hand.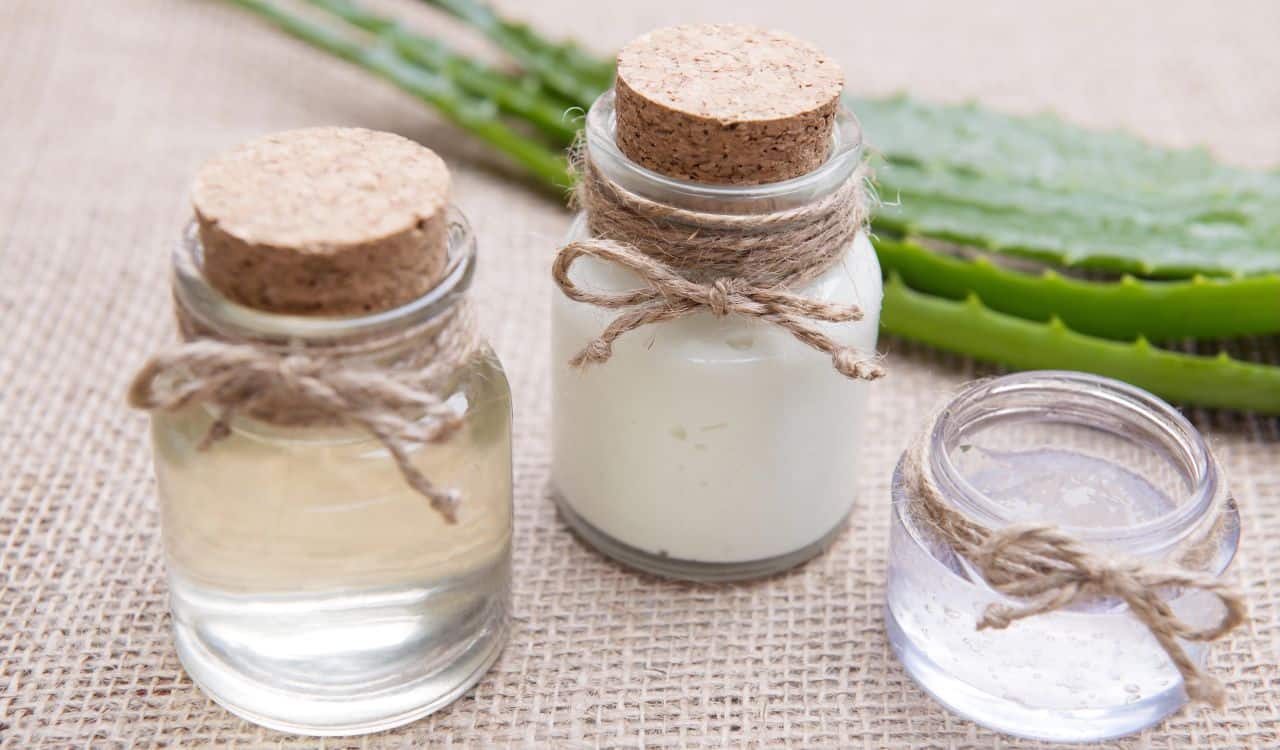 The best aloe vera products exhibit the following qualities:
Organically grown aloe vera
Contain minimal ingredients
Doesn't contain alcohol
Aloe vera is the first or second ingredient
Contains 8 or more ounces of product
Tested for safety
Manufactured by a trusted brand
If you're new to aloe vera products, we recommend starting with an aloe vera gel, which is the most common and easy-to-use type of aloe vera product. Liquid aloe vera products should also be used with caution as they can have a stimulant effect on the digestive system, so we recommend liquid aloe vera products to seasoned aloe vera users.
Decision Time
Aloe vera has a multitude of uses, and it can be used daily. However, if you choose a low-quality aloe vera product, you won't get the maximum benefits out of it.
We recommend that you invest in at least one high-quality aloe vera product. Whether you want to use aloe vera topically or internally is up to you – or you can do both by choosing one topical aloe vera product and one that is safe to consume.
Many people think that aloe vera is just a skin hydrating ingredient, but it's so much more than that. It can treat wounds, heal the gums, relieve dandruff, preserve food, and so much more. We recommend that you select an aloe vera product with at least 8 ounces in it, so it will last a long time and you can use it in many ways.
However you choose to use aloe vera, make sure you're using a high concentration of at least 98% aloe vera. While you can use household plants as a source of aloe vera, commercial aloe vera products are much safer and more convenient to use.
Once you introduce aloe vera into your life, you'll never live a day without it.
Your Questions Answered (FAQ)
Where Does Aloe Vera Come From?
Aloe vera is a succulent that comes from the genus aloe plant family. There are many different species of plants in the genus aloe, but aloe vera is the most popular one. The plant can be found in nature in tropical climates that are located around the globe. Aloe vera is harvested for its uses, agriculturally and medicinally.
Is Aloe Vera Safe to Ingest?
Some aloe vera products are safe to ingest. Aloe vera products are typically made for different purposes, so always read your product's label before consuming it. Juices and supplements that are FDA-approved and produced for human consumption are completely safe to include in your diet. However, do not consume any gel or lotion that is intended to be used on the skin. Most of the products on our list above are for topical use only, but one aloe vera juice product is intended to be ingested. Aloe vera products are not recommended for internal use in pregnant or lactating women, however. (10)
Can I Use My Aloe Vera Houseplant Topically or Internally?
Yes, aloe vera houseplants are safe to ingest in moderate amounts and are safe to use on the skin. However, harvesting the aloe can be a tricky and messy process, and no one really likes cutting up their favorite houseplant. Plus, home-grown aloe vera isn't purified, so potentially harmful compounds may remain. This is why aloe vera products are available to you to use conveniently, safely, and mess-free. Manufactured products also have a much longer shelf life than gel that is taken from a houseplant.
What Should I Look For in an Aloe Vera Product?
As with all health supplements, you want to make sure that you know exactly what you're getting in your product. Some companies will put aloe vera on the product label, but the product may only include trace amounts of true aloe vera. Read the ingredient list of the product you're purchasing and make sure that aloe vera is the top ingredient.
Is Aloe Vera Better to Use Internally or Externally?
While aloe vera can be used to treat various digestive issues, it's main benefits including moisturizing and soothing the skin. The majority of aloe vera products are intended for external use, since its properties are to hydrate, nourish, and heal the epidermis of the skin. However, you can use ingestible aloe vera drinks and juices to support a healthy digestive system.
What Are the Side Effects of Using Aloe Vera Products?
The aloe latex contains a yellow juice near the rind of the aloe, and this may cause some side effects. When ingesting aloe vera, using the entire leaf can deplete potassium stores and lead to muscle weakness. If you are consuming aloe vera plants whole (not from an aloe vera product), use with caution. People with diabetes and pregnant or breastfeeding women should also use aloe vera with caution or avoid entirely. Topical aloe vera products may cause irritation if you have skin sensitivities or allergies. However, aloe vera allergy is uncommon.
How Often Should I Use Aloe Vera Products?
Both topical and ingestible aloe vera products can be taken daily. If you're using a topical aloe vera product, such as aloe vera gel, spray, or cream, you can apply a generous amount to the intended are of your body up to twice per day. Aloe vera juice or drinks, which can be ingested, should only be used once per day. If the aloe vera is diluted with water or juice, you can consume more. However, pure aloe vera should be consumed in small amounts (i.e. 2 ounces or less) once or twice per day.
Subscribe to our Newsletter