Best Aloe Vera Gels & Alternatives Rated and Tested
When you think of aloe vera, do you think of sunburns? If you do, you're not alone. However, as you will learn in this article, there are so many other great uses for aloe vera. In fact, aloe vera isn't just used topically as a soothing gel, it is also consumed by many people and has become an important part of their diet. AV, as you will see, contain high amounts of aloe and can be used in a variety of situations.
Our Top 3 Picks
Thayers Witch Hazel Aloe Vera Formula

Our rating
Aloe Vera + Un-Distilled Witch Hazel
Price:

See Here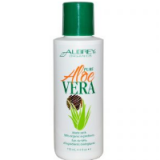 Aubrey Organics Pure Aloe Vera Gel

Our rating
98% Organic All Natural Ingredients
Price:

See Here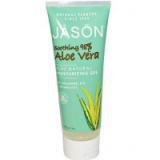 Jason Natural Pure Natural Gel

Our rating
Certified Aloe Content
Price:

See Here

As you learn about aloe vera you will discover that there are multiple parts of the plant that can be used. First off, the gel that you typically associate as being "aloe vera" is taken from the inside part of an aloe vera plant. If you have a plant, or know someone who does, you can take a leaf and simply split it in half and the gel will ooze out. The other part, however, is the aloe vera juice. This juice is found right underneath the thick skin of the leaf. This part of the plant is what is typically used in various smoothies and other diet foods (or used completely on its own).
10 Best Aloe Vera Gels
1. Thayers Formula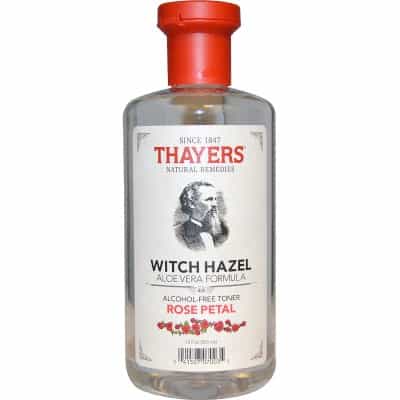 The first product on our list is a facial toner from Thayers.
Expand to see more
Use: Facial Toner

Price point: Inexpensive

Witch Hazel has been known for years to be a great natural toner and is found in this product completely un-distilled, meaning it maintains all of its amazing benefits. What sets this toner apart is that it also contains rose water and aloe vera which both will help to soften and moisturize your skin, while the witch hazel tightens pores and tones. This toner is great for all skin types because it is all natural and alcohol, paraben, phthalate, and gluten free.

If you look at the ingredient list, aloe barbadensis is listed as the second ingredient, so you know you are getting a quality product that contains a significant amount of aloe that will actually make a difference with your skin. If you are in need of an all natural cleanser and toner, this product will be great for you. The combination of these ingredients will leave your skin clean, but not dried out.
Inexpensive
Completely un-distilled
Paraben free
May cause breakouts on sensitive skin
2. Aubrey Organics Pure
This pure aloe vera gel from Aubrey Organics will work wonders on your skin. Whether you have dry skin, a sunburn, a minor burn, or any other sort of skin irritation, this product will fix it.
Expand to see more
Use: Skin soother/moisturizer

Price point: Inexpensive

Made from 98% organic ingredients, you are getting a product that you know has all of the good stuff, and none of the bad. Remember what we said earlier about green goo? You won't find any of that here. Because this product is pure aloe, it will have a slightly more liquid consistency and will be clear in color.

If you suffer from dry skin, or are simply looking for a great natural skin moisturizer, this is the product for you. Use it on your face or your body (or both) and see how your skin simply transforms as a result of this product!
Made from 98% organic ingredients
Potent formula
Inexpensive
3. Jason Natural's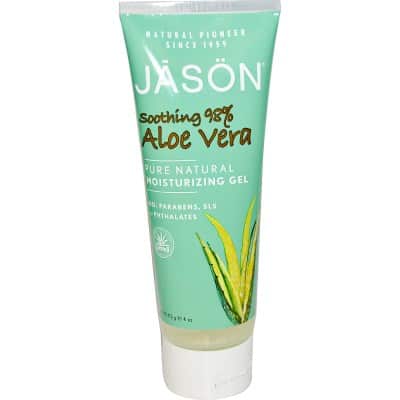 Jason Natural's soothing aloe vera gel is a great option for someone looking for a product with a bit thicker of a consistency that is still all natural.
Expand to see more
Use: Moisturizing gel

Price point: Inexpensive

This gel glides on easily to help moisturize even the driest of skin. If you suffer from dry skin or razor bumps, this is a great product to use after shaving. Get into a regular routine of using this gel as your daily moisturizer and you will see great results and have skin that is glowing, healthy, and soft!

Most importantly, this product's number one ingredient is aloe barbadensis and is also certified organic. Additionally, this gel contains no parabens, SLS, or phthalates. Allantoin and vitamin B5 add to this great product, helping to nourish and moisturize the skin beautifully.
Certified organic
Contains no parabens
No SLS or phthalates
May not be suitable for sensitive skin
4. Real Aloe Inc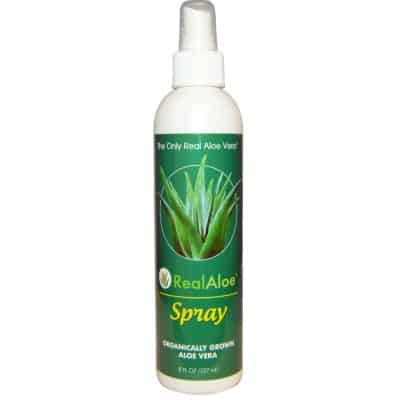 Real Aloe Inc.'s aloe vera spray makes it easier and quicker than ever to get relief from dry and cracking skin. If you do not want to deal with rubbing in a gel, this will be a great product for you.
Expand to see more
Use: Calm dry, cracked, burnt skin

Price point: Inexpensive

This is also a great product for people who lead busy lives and need a quick and effective solution to their problem skin. This spray guarantees no mess while still providing an extremely effective product that is certified organic, gluten free, and vegan certified.

A look at the ingredient list will leave you pleasantly surprised; there are only three ingredients total that comprise this spray. Water, aloe, citric acid: that's it! You can't get more natural or pure than this spray.
Inexpensive
Certified organic
Gluten free
100% vegan certified.
5. Lily of the Desert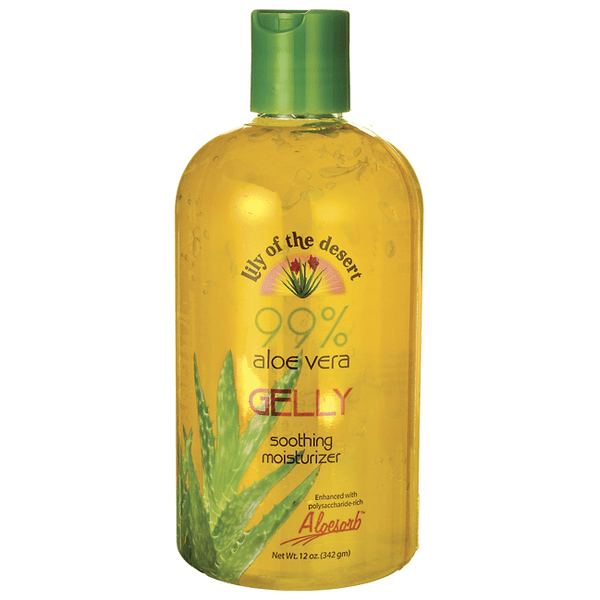 Lily of the Desert products are some of the most well-known aloe vera products on the market. This aloe vera gelly is great for soothing dry, burned, or irritated skin and provides an instant cooling sensation upon application.
Expand to see more
Use: Moisturizing gel

Price point: Inexpensive

This will be one of the best aloe vera products you can find that will moisturize and soothe your skin. Additionally, this product is enhanced with Lily of the Desert patented polysaccharide-rich Aloesorb which most notably helps to improve nutrient absorption.

This product, as the name states, is 99% aloe vera and is also certified organic and has no parabens or artificial colors. Use this gel as frequently as needed in order to hydrate and moisturize your skin.
99% aloe vera
Certified organic
No parabens or artificial colors
May not be suitable for sensitive skin
6. George's Aloe Vera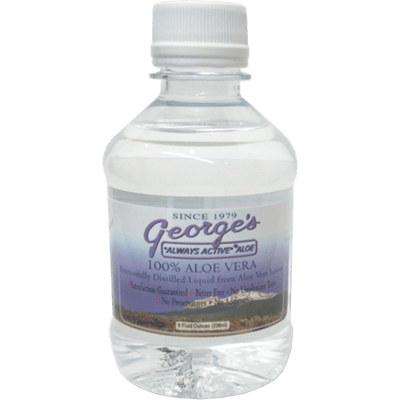 Remember we noted earlier that there is something called aloe vera juice that people drink? Here is a great product from George's Aloe Vera that is 100% pure aloe vera juice that comes straight from aloe vera leaves.
Expand to see more
Use: Drink to help improve internal system, aid in digestion, etc.

Price point: Inexpensive

This product is minimally distilled in order to preserve all of the nutrients present in the aloe juice. A common concern with aloe products is that they taste incredibly bitter, but what is great about this product is that it has absolutely no bitter taste!

This product has a wide range of uses that extend past drinking or using it in your food or juice drinks. Many people note it is a great hair moisturizer and can also be used as a facial hydrating mist or makeup setting spray. This product is 100% aloe and therefore has no added preservatives or other additives.

While this product is inexpensive, it is important to note that the bottle is only 8 ounces- so be sure to stock up if you wish to drink this frequently!


Inexpensive
100% aloe
No added preservatives or additives
Does not taste like aloe vera
7. Dr. Mercola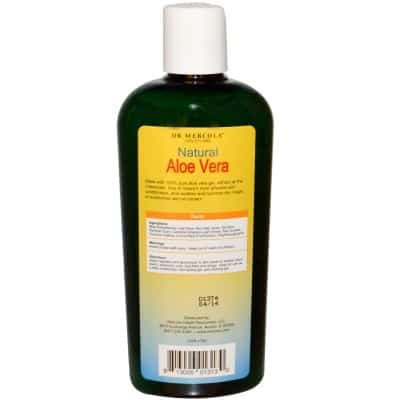 Dr. Mercola's aloe vera gel is a great product that contains 100% pure aloe vera gel (aloe barbadensis is the first listed ingredient)!
Expand to see more
Use: Skin conditioner

Price point: Inexpensive

Not only is this product great for soothing irritated, dry, or burnt skin, it also works great as a hair gel or as a shaving gel!

The price of this product is slightly elevated compared to some of the others on this list, but keep in mind this comes in an 8 ounce container, whereas cheaper products on this list typically come in 4 ounce sizes. You are sure to love this multipurpose product and will have healthy skin and hair in no time!
100% pure aloe vera gel 
Inexpensive
Highly mosturizing
8. Shikai Borage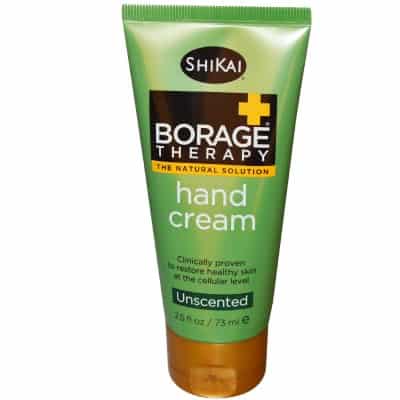 If you are looking for an aloe vera product in the form of a hand cream, this is the product for you!
Expand to see more
Use: Hand lotion

Price point: Inexpensive

This hand cream from Shikai is formulated to moisturize your hands deeper than skin level by actually working to improve the skin at the cellular level. Aloe vera is the number one listed ingredient and is the key to making this hand cream so great.

This lotion is doctor recommended and clinically proven to help improve your skin. With prolonged use you will have noticeably better skin. This product will also help improve the condition of your cuticles and fingernails. A must have for people suffering from dry or itchy skin!
Improves the skin at the cellular level
Potent formula
Highly moisturizing
9. Now Foods Solutions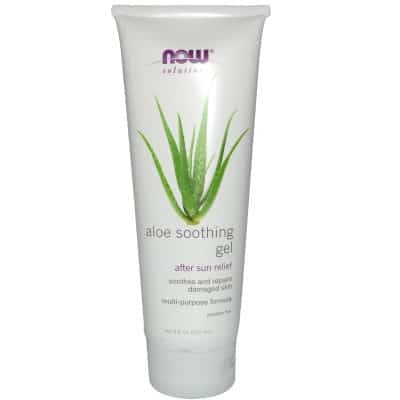 This aloe soothing gel from Now Foods is the best aloe vera product to buy if you have a specific need to treat skin that is damaged from things like sun or wind exposure.
Expand to see more
Use: Soothe and repair sun/wind damaged skin

Price point: Inexpensive

This gel will calm the irritation and also help to repair the damage. In this gel you will find aloe, cucumber extract, vitamin E, allantoin, and l-arginine that all combine to provide you with instant relief to your damaged skin.

While there are multiple ingredients in this product, aloe barbadensis is still the number one listed ingredient and will be the primary factor in this gel to help treat your damaged skin. Apply this gel to any burned or irritated skin as much as needed to help soothe and repair the area.

Contains Vitamin E
Contains L-Arginine
Great for burnt or irritated skin
May have a unpleasant smell
10. Nature Republic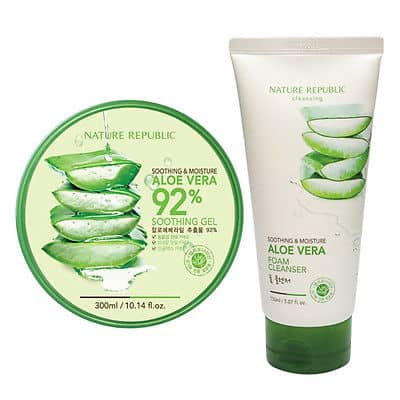 We're starting our list of best aloe vera products with a soothing gel from Nature Republic.
Expand to see more
Use: Skin moisturizernature republic best aloe vera

Price point: Inexpensive

We're starting our list of best aloe vera products with a soothing gel from Nature Republic. This moisturizing gel is enriched with 92% aloe vera that is certified organic. Use this gel on your face, body, or hair to help moisturize. This product will soothe your skin and keep it hydrated without leaving behind a sticky sensation that some aloe products tend to do.

As this product has over 90% aloe (and has aloe listed as the first ingredient) it is a great gel that will effectively hydrate your skin and provide it with all the great vitamins and minerals all pure aloe vera has.
Highly moisturizing
Enriched with 92% aloe vera
Certified organic
What are the Benefits of Aloe Vera?
There are so many amazing benefits to using this plant. First off, likely the best use of aloe vera, is to add it to your skincare regime, as it has great moisturizing properties. The plants originated in a super dry climate, meaning they needed to store water the best they could. The result is their thick, fleshy leaves that lock in moisture. Therefore, the gel it produces is incredibly hydrating and moisturizing. it not only soothes the skin but can help calm and reverse dry, itchy, or irritated skin. If in the past you have just used aloe to treat your sunburn, you are missing out on some of its wonderful benefits. Aloe vera is filled with tons of nutrients and vitamins (specifically, vitamins A, C and E) which will work wonders on your skin.
Beyond your skin you will find that aloe is great to use on your hair, to help with weight loss, and to aid in digestion, just to name a few. Its moisturizing properties mixed with the surplus of vitamins, minerals, and enzymes make it one of nature's best and most healing plants. It is no surprise that there are an abundance of these products on the market today- everyone wants to benefit from all of the amazing properties!
Benefits in Detail
The aloe vera plant is a popular house plant that many people keep in their homes as decoration. However, most people do not know about its many medicinal properties. Aloe vera has been used for centuries as an all-natural solution to some very common health conditions. Skin diseases, constipation and infestation of worms have all been treated through the use of medicinal aloe vera. India and China have long standing histories of using aloe vera in their medicinal practices, and have used it as an all-natural colic solution, and a treatment for fungus.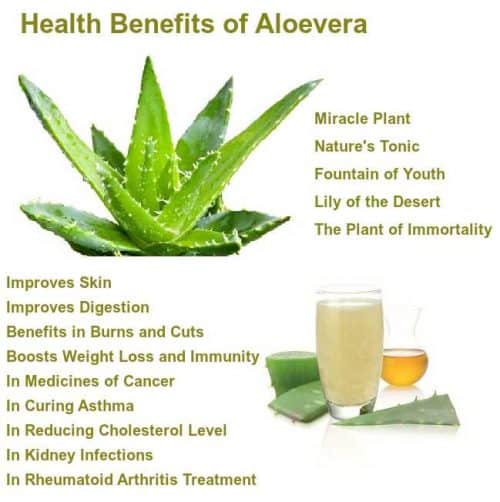 To obtain the aloe vera substance that is used for medicine from the plant itself, the leaves of the plant are split open and the latex gel is pulled from the layer of the plant that is located right underneath the skin. This gel is then either left alone and sold as 100% aloe vera gel, or it is mixed in with a solution of other natural components to create a different product, such as a lotion or cream.
Aside from having a multitude of vitamins it is formula, aloe vera has enzymes such as amylase, lipase, and alkaline phosphatase. It is jam-packed with minerals such as chromium, selenium and copper, which are great for the skin. Laxatives are also found in aloe vera, such as emodin and aloin, making this a good solution to constipation. Anti-inflammatory substances like gibberellins and auxins can be found in aloe vera, which help heal wounds. Aloe vera has a wide variety of many different natural components that can help alleviate any issues you may be experiencing.
Skin Benefits
One of the most common ways of applying aloe vera is topically on the skin. Skin conditions like dermatitis, wounds, psoriasis and mucositis found in the mouth can all be helped by the application of aloe vera. If you have a burn, aloe vera can also be used a burn remedy, and can soothe the skin while promoting healing of the burn. The enzymes and mineral found in the aloe vera work together to provide great relief from any burning or feelings of itchiness you may be experiencing. Amazingly, ingesting aloe vera supplements made for human consumption can also help to heal wounds and burns. If you have a skin condition or disease, aloe vera gel may be what you need to get your skin back to being smooth and healthy.
Cold Sore Benefits
Cold sores can be more than just a nuisance; they can hurt tremendously and get in the way of your everyday life. Aloe vera has been proven to be a great remedy for cold sores. Simply apply the aloe vera gel on the cold sore and you will notice instant-relief. The gel will also promote healing of the cold sore overtime. This remedy can be used up to multiple times a day, and it is a natural antiviral compound that will make your cold sore go away much faster. For quicker relief from your cold sore and instant relief from your symptoms, apply aloe vera gel.
Beauty Benefits
If you're experiencing hair that is dry or a scalp that it itchy, aloe vera can be used topically as a beauty remedy. All of the all-natural components found in aloe vera work together as a team to create an excellent moisturizer. If you regularly dye your hair and it has become dull and lifeless, you can apply aloe vera to it to freshen it up and revitalize it. Dandruff is another common problem that is caused by a dry scalp. When aloe vera is applied to the scalp, it moisturizes the skin and makes dandruff less likely. Dead skin cells are removed by the enzymes that are found in the aloe vera, making dandruff a thing of the past. For an all-natural dry scalp and lifeless hair solution, try using aloe vera gel.
Digestive System Benefits
Another word for laxatives is anthraquinones, and these are found in bulk in aloe vera gel. Laxatives work by increasing mucus secretion in the digestive system and by boosting peristalsis. Peristalsis is the term for the contraction of the muscles in the digestive system which move along food that is being broken down and digested. Aloe vera also has anti-inflammatory properties which helps aid the digestive system in its digestion process, as well. The pH balance in the digestive system is an important component to its proper function, and aloe vera works to keep this balance where it needs to be. If you have been experiencing digestive issue complications, such as constipation, aloe vera gel may be used to help alleviate your symptoms and help keep you regular.
Immune System Benefits
Bradykinase is an enzyme that is found in aloe vera that works to boost the immune system and ward off infection. Another important immune system component to aloe vera is zinc, which acts to maintain the health of the immune system and keep it strong. Aloe vera has antifungal and antiviral properties which work to eliminate pathogens that may make you sick. In fact, dentistry has been implementing aloe vera into its practices because it is an all-natural antiseptic that acts to keep things sterile. The benefit of using aloe vera as an immune system booster is that it is all-natural, so many people will not be allergic to it and will not experience any negative side effects upon its use.
Criteria for Evaluation
Aloe vera is a health supplement that is popular for its many different benefits and all-natural health properties. It matters how aloe vera is harvested and processed, which is why we've put together this guide with aloe vera products from companies that care about their consumers. Customers also want an aloe vera product that is effective when ingested, and/or pleasant when applied topically. There are a multitude of aloe vera products on the market that vary in their effectiveness and their properties; much too many for the average consumer to individually evaluate. This guide lists aloe vera products that are proven to be well-liked by consumers, and effective in their health benefits. In order to save you the pain of having to experience aloe vera products of low quality, we've listed our favorite aloe vera products available on the market currently. Here are all of the criteria we used when ranking our aloe vera products for this guide.
Product Testing
Purchasing an aloe vera product that is high quality is important. We've included aloe vera products that have all been highly rated by customers. Sometimes, aloe vera gels can be unpleasant to apply, sticky, or can leave a residue. The products we've included in our list do not have any of these unwanted side effects, and are all safe and effective.
User Ratings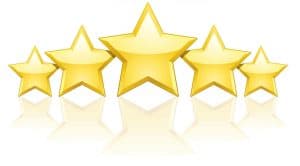 Customers want an aloe vera product that has been manufactured safely and in an all-natural manner. The products on this guide are all from companies that have great reputations with their customer base for being natural and effective. The aloe vera items on our list have high customer ratings, and come with customer satisfaction.
Potential for Side Effects
Aloe vera is an all-natural health supplement that has a low potential to cause side effects when used responsibly. However, there is always a chance that you may be allergic to aloe vera. Aloe vera products in our guide do not have any reported incidences of causing allergic reactions in their customers, and have a lower potential to cause any such incident.
Brand Reputation
Many of the companies that we've included in this guide create products that come with satisfaction guarantees. If you are not happy with the aloe vera product that you have purchased, you can contact the company that produced it to discuss how they can make a better product. These products are all produced by companies that care about creating high quality, all-natural health supplements.
Safety of the Supplement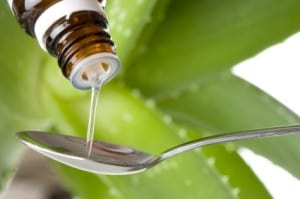 When beginning your aloe vera regimen, make sure that you start with a small amount and monitor how your body reacts to it. If you're ingesting your product, start with one tablespoon and work your way up. If you're using a topical product, apply an amount of your product that is the size of a quarter to your inner-wrist, and make sure that you do not react to it. The aloe vera products in this guide have not caused any safety issues, but it is best to be cautious when using any new product.
Ingredients Effectiveness
When shopping for aloe vera products, many consumers want a product that is 100% aloe vera. This is why we've included these in our guide. However, some customers want products that have high amounts of aloe vera in them, along with other additives such as lotions or creams, so these have been included too. The effectiveness of the products on our review guide have all been proven by happy customers.
Factors to Consider Before Making Your Purchase
There are some factors to keep in mind when purchasing it. Most importantly- before you buy any product you should check and see how much aloe is actually present. For example, that green goo you buy from the drugstore? It likely has less than 5% aloe. Whether you purchase actual aloe vera gel, or another product that contains aloe vera, always read the ingredients list to see what percentage aloe is present. As a general rule of thumb, the higher up on the list an ingredient appears, the more of it there is. You will usually see aloe vera listed as "aloe barbadensis leaf juice." If it is at the bottom of the list- pick a different product! The best brands will have aloe listed as their number one ingredient, or it will contain at least 90% or more aloe.
How to Make Sure You Get a Pure Aloe Vera Product
While browsing for an aloe vera product, it is imperative that you pay close attention to what is listed in the ingredients before buying the product. Several companies state that their product is 100% pure aloe vera; however, this can become deceptive. Certain manufacturers will include alcohol, color, or water, while others will combine artificial preservatives. A general rule of thumb when it comes to finding a product that offers pure aloe vera, if the product contains more than six ingredients than it is possible that it is not pure.
It is crucial to recognize that any packaged aloe vera product will require a minor volume of natural preservatives because without it, the gel would have a relatively small shelf life that will allow it to start growing bacteria and expire. Due to this, the aloe vera bottled gel that you do choose to buy should state that it is of 95 to 99.75% pure Aloe Vera. It is also important that you ensure that all the components are natural or that they naturally occur.
Where Can You Find a Pure Aloe Vera Product?
Always be wary of what the ingredient label states is the primary ingredient in the commercially-available product as well as whether any additives are natural.
You can find aloe vera products in vitamin stores and supplement shops as well as online on Amazon, which will most likely have the product in the sun care or skin care aisle. Mass merchandisers also sell pure aloe vera products, but you will need to take extra care and really do some research before selecting a brand from one of these big chain stores.
Create Your Own
If you are looking for 100% pure Aloe Vera, then you would not be able to find this in any store; you would need to collect this straight from the plant. Aloe vera plants are robust and easy to maintain. Cutting open the plant's leaf and applying it instantly to your skin to encourage healing and obtain relief from ordinary itches or burns. On the other hand, you can also find step by step instructions that show you how to make you own aloe vera gel.
FAQs
Q) What is the aloe vera plant?
There are many different species of plants in the genus Aloe, but Aloe vera is the most popular one. The plant can be found in nature in tropical climates that are located around the globe. Aloe vera is harvested for its use in agricultural and medicinal purposes. This plant is also known to be used for decoration, and can grow fine indoors.
Q) Why should I use aloe vera supplements?
The use of aloe vera as a health supplement comes with many health and beauty benefits. Topically, aloe vera can be used to help alleviate the symptoms of a burn, or sunburn, to combat skin conditions, such as psoriasis, and as a digestive aid. Aloe vera can also be used in the hair and on the scalp as a moisturizer.
Q) What forms does it come in?
Depending on what you plan on using the aloe vera for, there are many different forms of this health supplement. If you are looking for a topical application, gels, lotions, sprays, and creams are all available to you. If you're looking to ingest the substance, you can purchase aloe vera juice and gel caps.
Q) What should I look for in a product?
As with all health supplements, you want to make sure that you know exactly what you're getting in your product. Some companies will put "aloe vera" on a label for an item, but will then include small amounts of it. Read the ingredient list of the product you're purchasing and make sure that aloe vera is the top ingredient. Also, look up product reviews as many people will call out a product if it doesn't contain high amounts of aloe vera.
Q) Is it safe to ingest?
Aloe vera products are typically made for different purposes, so always read your product's label before consuming it. Juices and gell caps that are FDA-approved and produced for human consumption are completely safe to include in your diet. However, do not consume any gel or lotion that is intended to be used on the skin.
Q) Where can I purchase aloe vera products?
Aloe vera is a common health supplement that can be found in many different health food stores. However, purchasing the aloe vera product online will allow you to look at customer reviews and determine which product is of a high-quality, and is perfect for you. All of the products we've included on this guide can be easily purchased online.
Q) Can I use my houseplant topically, or as a health supplement?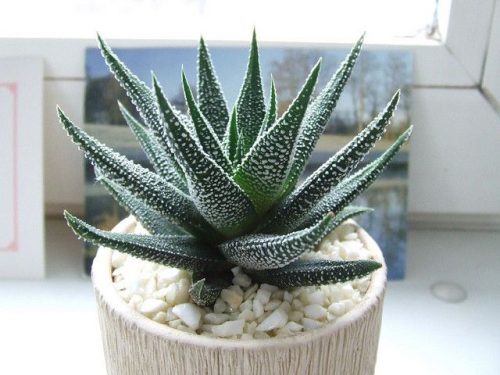 Yes, aloe vera houseplants are safe to ingest in moderate amounts, and are safe to use on the skin. However, harvesting the aloe can be a tricky and messy process, and no one really likes cutting up their favorite decoration. This is why aloe vera health products are available to you to use conveniently, and mess-free. Manufactured products also have a much longer shelf life than gel that is taken from a houseplant.
Q) What is the difference between aloe vera gel and aloe vera juice?
When purchasing an aloe vera gel, the consumer will receive a product that is thicker in consistency, and useful as a topical agent. Gels are great for relief for skin conditions and burns, and as a natural moisturizer. Juice is typically the consistency of water, and is targeted at those who wish to ingest their aloe for internal health benefits.
Q) How long does it last?
Each aloe vera product will come with an expiration date that will let you know how long your aloe vera is good for. Typically, aloe vera gels can last for years, however it is best to check the expiration date on your package's label to ensure that you are using it when it is safe and effective.
Q) How much aloe vera juice can I drink in a day?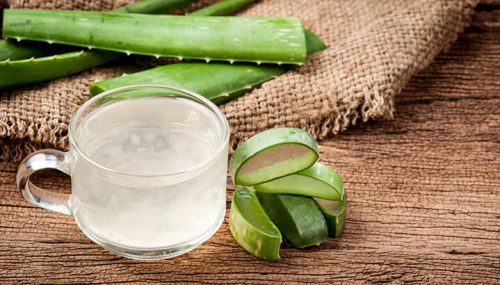 The safe way to begin ingesting aloe vera is by drinking a tablespoon of the juice three times a day. This way, you will ensure that you are not allergic to aloe vera, and that you can safely implement more into your diet. If you are taking aloe vera to help an ailment, then you can consume up to a glass of aloe vera juice a day. Many people will stick with one tablespoon of juice three times a day, but you can gradually increase your dose if you do not experience benefits with this amount.
Decision Time
Our ten highest rated aloe vera products on the market that will help improve your overall health both on the skin level and internally. If you are still confused as to which product will be best for you, here is a quick summary chart!
If you are looking for:
-Pure aloe:
–Aloe vera gels:
Jason Natural Pure Natural Moisturizing Gel
Lily of the Desert  Gelly
Dr. Mercola Healthy Skin Natural
Nature Republic Soothing Gel
-Sun/wind damage repair:
Now Foods Aloe Soothing Gel
-Aloe vera spray:
-Aloe vera juice:
George's Aloe Vera 100% Liquid
-Hand cream:
Shikai Borage Therapy Hand Cream
-Facial cleanser/toner:
Thayers Witch Hazel  Formula
Not only are all of these items quality products that contain pure aloe vera, they are also all inexpensive! Depending on what you are in the market for, you will be able to find a product on this list that will work for you.
Subscribe to our Newsletter