Best Flavonoid Supplements Reviews & Ratings
Disclosure: We use affiliate links and may receive a small commission on purchases.
Flavonoids have been well documented in the treatment and alleviation of tinnitus. Although results may vary, flavonoids are a great option to try, as they will also boost your circulation and overall health in a number of different ways. If you are looking for a flavonoid supplement then keep reading for the 10 best flavonoid supplements on the market.
Nature's Life

Our rating
Good Circulation
Price:

See Here

NOW Foods

Our rating
Cell Defence
Price:

See Here

Sports Research

Our rating
Organic
Price:

See Here

10 Best Flavonoid Supplements
1. Nature's Life
Nature's Life Bioflavonoids Tablets contain Hesperidin and Rutin in a delicious lemon flavour, making this product much easier to take and consume, leaving behind no nasty aftertaste. If you are looking for a great quality supplement, this one is hard to beat.
Expand to see more
Supports Good Circulation
These support the strength and flexibility of capillaries in order to support good circulation and better blood flow within the body.
Features and Specifications
Lemon flavour
1 tablet per serving
250 tablets per bottle
1g of bioflavonoid per serving
Suitable for vegetarians and vegans
Price/Value
Nature's Life Bioflavonoids Tablets supplies you with 250 servings in every bottle; this is incredible value and well worth the money for this quality supplement.
Decision Time
These are a lower potency than other options, so if you are looking for more dramatic results you may need a higher dose. However, Nature's Life Bioflavonoids Tablets offers incredible value that is hard to beat.
Conclusion
Flavonoids help in a number of areas of the body, and Nature's Life option is an excellent supplement that will offer you all of the benefits of a flavonoid for an excellent price and even better value.
Lemon flavour makes it easy to consume
Low dosage per serving
High number of servings per container
Suitable for a range of dietary needs and digestive requirements
Results can differ from person to person
2. NOW Foods
NOW Foods is a well-known brand in these comparison lists, and is frequently a high-ranking producer, so you know that you are receiving a quality product form these vitamin and supplement professionals.
Expand to see more
Natural Cell Defence
It helps to destroy free radicals and protect the integrity and health of the cells within your body. This can help to reduce risks of diseases such as cancer.
Added Ingredients for Better Results
It has extra ingredients such as Rutin and Ascorbic Acid to give you better results, faster and over a longer period of time for the best health results possible.
Features and Specifications
100 capsules per container
2 capsules per serving
50 servings per bottle
Easy to swallow gel capsules
Gluten free
Price/Value
It offers 50 servings in every bottle, which is over a months worth of supplement. The product is slightly more expensive than others, but it is worth the money for this quality product that offers you everything you need for cell protection and properly maintained health.
Decision Time
This is a great quality supplement, with added ingredients, like vitamin C to boost the results of the flavonoid supplement, you cant go wrong with NOW Foods Citrus Bioflavonoid. Although slightly higher in price range, this supplement is well worth the money.
Conclusion
If you're looking to improve and support a proper circulatory system then flavonoids are definitely the way to go. It offers you a tasty option for a flavonoid supplement in an easy to swallow gel capsule.
Gluten free
Easy to swallow
Easy to maintain
Small serving size
Citrus flavour to make them easier to consume
Not suitable for vegetarians and vegans
3. Sports Research
Specially formulated for athletes, all of Sports Research's products are high quality and very pure. With athletes in mind, these products are created to help boost health and endurance, and support highly active bodies.
Expand to see more
Completely Organic
It is made from organic cherries to ensure quality and purity. These fruits are packed with antioxidants and flavonoids that are directly transferred into Sports Research Tart Cherry Concentrate.
No Added Sugar, Carbohydrates or Calories
They are made with an athlete in mind, so Sports Research ensure that there is absolutely no added sugar, low carbohydrates and fibers and are low in calorie so that they are tailored for the active athlete.
Features and Specifications
60 tablets per bottle
1 tablet per serving
Easy to swallow liquid soft gel tablets
Non GMO
Gluten free
No added sugar, additives, fillers, colourings or flavours
Organically sourced
Price/Value
It is considerably higher in price than many other options on this list, so this can be a deterrent from the product. However, the high quality is most definitely worth the cost.
Decision Time
This product is one of the best on the market for sports flavonoids, although pricey, these supplements are well worth the money if you are passionate about fitness and weight loss.
Conclusion
Flavonoids can help to support proper bodily functions, but can also aid in the metabolism, making them popular with athletes and those who are trying to lose weight and Sports Research Tart Cherry Concentrate are specially formulated for those who stay active.
Organically sourced and ensured quality
All of the benefits of cherry juice without the calories
Absolutely no additives
Non GMO
2 months worth of supplement
Carefully formulated for purity
Not suitable for vegetarians and vegans
4. Thorne Research
This supplement is slightly different to the others, as it does not have flavonoids as the key ingredient. Instead this is a vitamin C supplement with added flavonoids to give the supplement an extra boost.
Expand to see more
Eases Sneezing and Runny Noses
Many of us suffer from flu like symptoms, even if we don't have a virus. This can be alleviated with increased vitamin C intake and Thorne Research Vitamin C with Flavonoids offers vitamin C with flavonoids from oranges for optimal effect.
Free from Almost all Allergens
It is free from dairy, soy, corn, egg, peanuts, yeast and sugar, and is suitable for vegetarians.
Features and Specifications
180 capsules per bottle
1 capsule per serving
Primarily a vitamin C supplement
Hypoallergenic
No additives, preservatives or binders
Non GMO
Price/Value
It offers six months worth of servings in every bottle for a comparative price. The quality of the product is high, as is the value.
Decision Time
When looking for a high quality flavonoid supplement there is many to choose from. This is a great supplement but it is not a flavonoid supplement primarily. Although it offers you extra benefits of vitamin C, it is not as potent as other options on this list.
Conclusion
It offers an excellent product for a great price with all of the added benefits of vitamin C, as well as flavonoids.
High number of servings
Suitable for vegetarians and vegans
Hypoallergenic
Non GMO
Absolutely no additives
All natural ingredients
Primarily a vitamin C supplement
5. LIPO Flavonoid Plus
LIPO Flavonoid Caplets is doctor recommended and has been for over 50 years. This product is proven to reduce the effects of tinnitus and Meniere's disease, making it incredibly potent and powerful.
Expand to see more
Number 1 Doctor Recommended
This is the only supplement that is doctor recommended for guaranteed results.
50 Years of Clinical Research
LIPO Flavonoid Caplets has been incredibly carefully formulated and developed to produce the best supplement possible. For 50 years, the recipe has been developed and improved so that, now, you get the best supplement possible.
Features and Specifications
500 capsules per bottle
3 capsules per serving
166 servings per container
Added vitamins for proper absorption
Suitable for vegetarians
Price/Value
Theses are a lot more expensive than many of the supplements featured on this list, and this can be an issue for many. However if you are a sufferer from severe tinnitus then they are worth the money, as they guarantee great results.
Decision Time
They are very expensive, but with the research and development that the supplement has gone through, it is well worth the money spent on the excellent results.
Conclusion
If you are a sufferer from severe tinnitus, but don't want to go down the route of a hearing aid, LIPO Flavonoid Caplets can help you to achieve the results that you want. Although pricey, they guarantee results.
Huge number of servings
Added vitamins
Doctor recommended
Produces noticeable results in the alleviation of tinnitus and Meniere's disease
Free from many allergens and preservatives
Considerably more expensive
Added colourings
6. Genestra
Genestra are a
herbal
brand that uses only the purest forms of supplements to give you high quality and high performing
supplements and vitamins
that offer you all that you need for a great price.
Expand to see more
Added Antioxidants
It includes extra antioxidants to give you the best health boosts and improve the absorption of the flavonoids within the supplement.
Completely Vegan
With purity in mind, it has been made without any kind of animal derivative, ensuring that this product is suitable for vegetarians and vegans, making it suitable for a huge range of dietary needs also.
Features and Specifications
90 capsules per bottle
1 capsule per serving
Added green tea extract
Flavonoids extracted from lemons and oranges
Organic
Non GMO
Suitable for vegetarians and vegans
Price/Value

Its is slightly more expensive than others, but the purity, quality and extra ingredients make this product well worth the money, and with 3 months worth of supplement it is high in value.

Decision Time

If you enjoy natural health then this supplement is for you. Made from natural sources, organic fruits and free from GMOs, this supplement is organic and as pure as they come.

Conclusion

Flavonoid supplements come in many forms with many different added ingredients, but Genestra Brands Super Flavonoids is one of the purest and best products available on the market. The added vitamins give you a great health boost and pure results.
Suitable for a wide range of dietary needs and requirements
3 months worth of supplement
Added ingredients for an extra boost
Organic and GMO free
Added antioxidants for protection from free radicals
7. Pure Encapsulations
Pure Encapsulations is another manufacturer that focuses on the purity and potency of their products so that you receive only the best products available on the market for the top flavonoid health benefits that you can get.
Expand to see more
Ester-C – The Unique Ingredient
Ester-C is a unique formulation of vitamin C that gives you a highly potent version of the vitamin. This helps to reduce the symptoms of cold and flu, as well as keep the viruses away.
Hypoallergenic
These are completely hypoallergenic. This makes them suitable for all dietary needs and digestive requirements, no matter how restrictive.
Features and Specifications
90 capsules per bottle
1 capsule per serving
Unique vitamin C blend
Primarily a vitamin C supplement
Suitable for vegetarians and vegans
Flavonoids derived from pomegranates
Price/Value
This is primarily a vitamin C supplement, so the value of it as a flavonoid supplement is slightly lower as the dosage is not as high. However, it offers 3 months worth of supplement for a relatively good price, so it is worth the money if you can afford it.
Decision Time
This option is relatively more expensive than many other options. However, if you prefer pure supplements and have a more restrictive diet then this is an excellent option for you.
Conclusion
This product is great for those who follow restrictive diets, but it is more expensive than is necessary for a simple flavonoid supplement. However, it does offer the incredibly potent Ester-C for added health benefits.
Unique vitamin C blend that is specific to Pure Encapsulations
3 months worth of supplement
Completely hypoallergenic
Suitable for all dietary needs
Primarily a vitamin C supplement
Difficult to swallow
8. Solgar
A regular high achiever in the vitamin and supplement market, Solgar is back with a flavonoid complex to offer you incredible health benefits and a number of extra ingredients for better health.
Expand to see more
All Natural
This is completely natural and contains no additives or preservatives, so you can rest assured that you are getting only the best.
Added Antioxidants
It has been produced with fresh fruit to ensure that the supplement maintains the excellent antioxidants that help to protect the cells in your body from free radicals, which are typically connected with dangerous diseases.
Features and Specifications
250 tablets per bottle
1 tablet per serving
Suitable for vegetarians and vegans
Free from many allergens
Price/Value
It offers 250 servings in every container for a low price, making this supplement excellent value. The high quality makes this product even higher value, well worth every cent that you pay for this product.
Decision Time
It comes from a well known brand that offers a huge range of products to help boost your health and give you all of the health benefits possible. This product is high quality and great value.
Conclusion
Solgar is a trusted brand, and with this complex you know that you are receiving a top quality product from an incredible brand.
Low in allergens, suitable for many dietary needs
Suitable for vegetarians and vegans
Natural citrus taste
Added antioxidants
9. Nature's Answer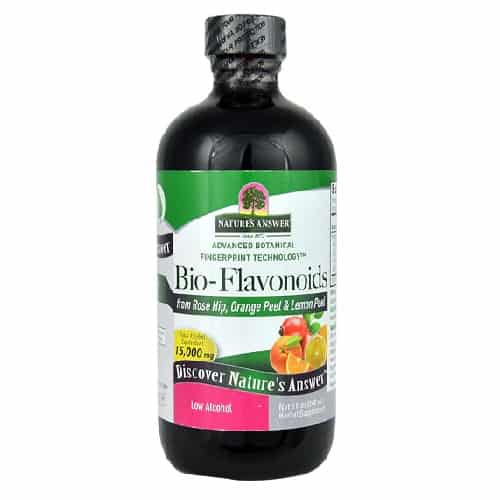 At the end of the list is Nature's Answer Bioflavonoids and Rose Hips, which wins the top spot on this list of flavonoids hands down for its incredible benefits and excellent value for money.
Expand to see more
Added Rose Hips
Rose Hips are known for their support and protection of blood vessels throughout the body, so adding them into a flavonoid supplement provides you with premium quality protection and support in the alleviation of tinnitus and other circulatory issues.
Completely Herbal
This is a completely organic herbal supplement to ensure that you get only the best from your supplement, as there are no added ingredients, GMOs, or other nasty ingredients.
Features and Specifications
Liquid supplement
3 teaspoons per serving
15 servings per bottle
Organic
Non GMO
Suitable for vegetarians and vegans
Price/Value
It offers only 15 servings per bottle, which is much lower than other options so it is a fair bit more expensive than tablet forms of the supplement.
Decision Time
It is relatively more expensive than tablet forms of the supplement, however it is completely organic and perfect for those who struggle with tablet forms of supplements.
Conclusion
Nature's Answer Bioflavonoids and Rose Hips is the top spot on this list, as it is completely natural and almost allergen free. Although expensive, it is well worth the money to alleviate tinnitus and boost your circulation.
Easy to swallow
Organic and completely natural
Suitable for a wide range of dietary needs and requirements
Low number of servings
Unpleasant aftertaste
10. LIPO Flavonoid
LIPO Flavonoid is a completely natural supplement that offers you everything you need to provide your body with an excellent supplement that helps to improve ear health and overall boost your wellbeing.
Expand to see more
Contains Well-known Flavonoids
It contains flavonoids that have been used for decades to increase and improve circulation throughout the body. This is especially helpful for those who suffer from tinnitus.
Doctor Recommended
It is a doctor recommended supplement for the relief of tinnitus and the support overall health, so that you can ensure you receive all that you need to stay healthy and happy.
Features and Specifications
100 capsules per bottle
2 capsules per serving
Extra added vitamins for better health
Suitable for vegetarians and vegans
Price/Value
It is a similar product to number six, only there are less servings and a much lower price. To get the same benefits and doctor recommendation, this product is well worth the money.
Decision Time
This is an excellent quality supplement for even greater value. If you want relief from tinnitus, Meneir's disease, or simply want to add some extra health boosts into your diet then this is the supplement option for you.
Conclusion
There are many supplements to choose from when looking into flavonoid supplements, but if you want high quality and precise formulation for the best results, then this is a great option to go with.
Doctor recommended
50 Years of clinical research
Added vitamins for an extra boost
Uses ingredients that have been used and known to work for decades
Can alleviate symptoms of tinnitus
---
Product Criteria for Evaluation
When it comes to taking good care of yourself, you have probably done your fair share of working out, as well as eating healthy. However, it might not be enough for you, and you might have also turned to vitamins and supplements to fortify your body and mind.
Perhaps you have recently delved into what are called "flavonoid supplements," which come from the plant metabolite flavonoid itself. It is considered a health benefit pill as means of improving cell signaling pathways and offering antioxidant effects. That said, there have been claims that it can serve as an anti-inflammatory, anti-allergic, even anti-cancer solution to the human body.
Of course, taking any new supplement will require some precautions since you do not know how your body will react to it. That is why our article offers the criteria for evaluation we used to selected the above 10 options. This is for your safety and benefit, so let's get into it!
Package Label Instructions
We took a look not only at the brand (reputable or not), but also the label instructions on the bottle or box. More importantly, we looked at the ingredients on the package: most flavonoid supplements are made specifically from quercetin, which is known to alleviate allergic reactions such as hay fever. Knowing exactly what you are ingesting was essential to our selection.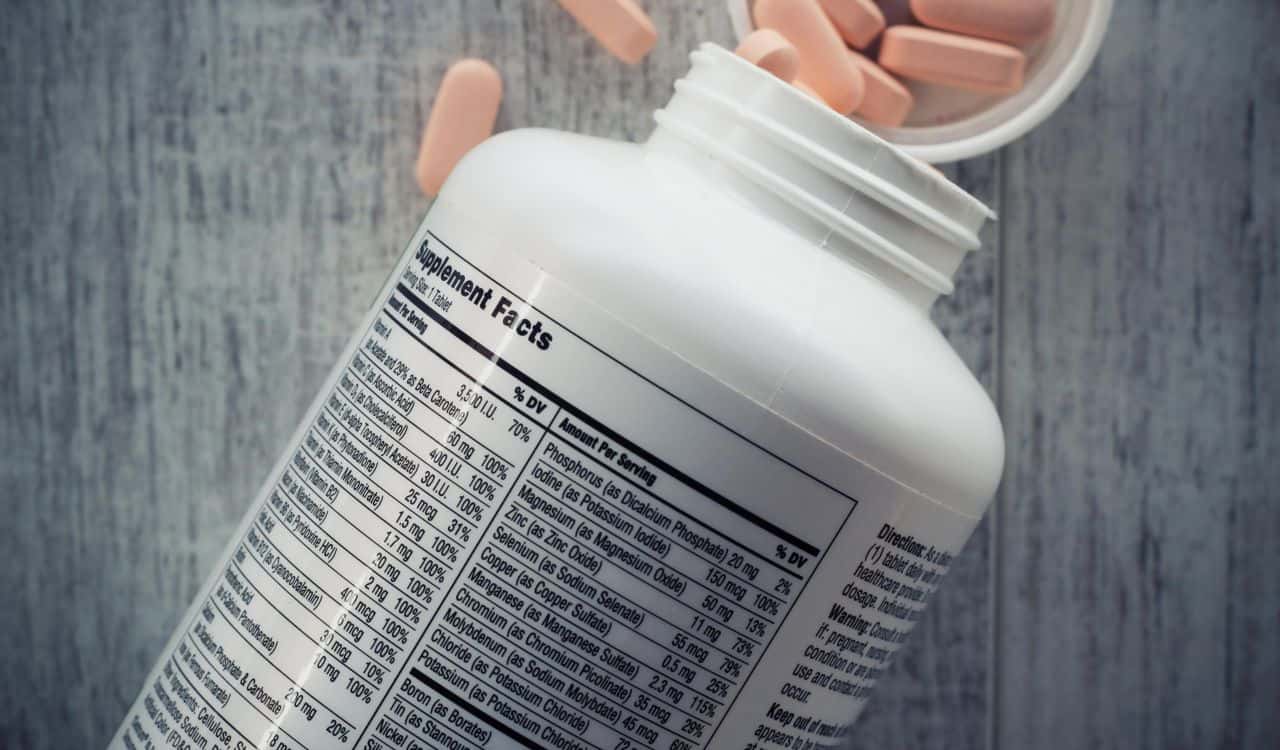 Quantity and Quality
While still regarding the label, we checked many capsules are contained inside of it. Some have the standard 100 capsules while others are as much as 250. This helped us figure out if it is worth purchasing in the end.
Safety
Many people do not read it, but the warning labels on supplements are worth noting. Especially if you have had a history of kidney or liver problems, taking supplements might prove hazardous for you. Knowing this in advance will spare you the pain and potential trip to the hospital. We selected the options with the least side effects as proven by previous consuners.
Product Ratings and Reviews
Finally, we look to outside sources on the flavonoid supplements. We did our research and checked what others have to say about it. Besides looking at the five-star rating system, we read the user reviews to get a better idea of how effective (or ineffective) the particular brand is. We payed special attention to consistently average or negative reviews, since that might say something about the product at hand (in other words, not to even consider it).
Flavonoids Benefits
As science continues to find new ways to treat illnesses and increase human life span, it is not surprising that most of the discovered solutions are derived from substances that are present in our environment for years. One of this is discovery is flavonoids. Its effectiveness in curing and preventing various kinds of sicknesses and possibly extending human lifespan has been widely discussed.
Do you want to know more about flavonoid and the benefits of flavonoids supplement? If yes, this article is for you. It will open your eyes to the meaning of flavonoids, their sources as well as their benefits.
Flavonoids are biological compounds that are commonly found in plants. They do not contribute to the development of a plant in any way but are known to be responsible for giving most plants its beautiful color. Flavonoids help in protecting plants against insect attack because of their ability they have to serve as a defense mechanism.
Flavonoid can also be regarded as vitamin P,  though they aren't original vitamins, they have properties that are vitamin like in nature.
Where to get flavonoid naturally?
Flavonoids are naturally available in almost all fruits, herbs, spices, and vegetables you consume. Berries, grapes, apples, citrus fruits and juices, onion, green tea, cocoa, soy, nuts and much more are examples of common food that has a high rate of flavonoid embedded in them. Flavonoid supplements are produced to meet the deficiency supply of flavonoids to the body and are available in various stores and online markets.
Flavonoid supplements are beneficial and advantageous in various ways and manners that are good and reliable for the improvements of one's health. Some of its benefits include:
1. Flavonoids found in citruses like lemons, oranges, tangerines, and grapes have proven to have the capacity of treating haemorrhoids bruises and varicose veins according to clinical researchers. Rutin, quercitrin, naringin, and hesperidin sare the citrus flavonoids used for this purpose.

2. Quercetin majorly contributes to the lab activities of a plant. It is the most effective type of flavonoid you could get because of its strong antioxidant properties. It also has antiviral, anti–inflammatory, anti-allergic and anti-cancerous properties. This kind of flavonoid is richly derived from fruits such as apples, tea, vegetables, nuts and much more.

3. Flavonoid such as proanthocyanidins which are very available in cocoa produce, berries, green and black tea, apples, cinnamon and lot more. Fruit and vegetables also possess great antioxidant properties. Factually according to researchers they provide more antioxidant impact compared to vitamin C and much more if compared to vitamin E. With that, they prolong the longevity of vitamin C and enhance vitamin E in blood cells. Grape seed extract which is a flavonoid can also is great for preventing the risk of heart diseases because it reduces inflammation and aggregation of blood platelets in the body. This type of flavonoid also fights against gastric ulcer, cancer, diabetes and cataracts in one's body.

4. Flavonoid is gotten from green tea protect the liver from harmful substances which are toxic to the body such as alcohol. Studies undertaken on a flavonoid substance in green tea reveal that catechins a Polyphemus flavonoid in green tea might be possibly helpful in treating viral hepatitis. This flavonoid can destroy bacteria in the body system. It has the deodorizing ability, and it kills bacteria that cause mouth odor and cavities in the body. It feeds on harmful intestine bacteria and enhances the development of friendly bacteria in the body.

5. A flavonoid isoflavones (phytoestrogens) has proven to help with balancing the effect of estrogen in the body. It stops the action of hormones in the body when the estrogen level is high in the body and acts like estrogen when it is of low quantity in the body thereby leaving the system in a balanced state. Phytoestrogens might help in preventing menopausal symptoms, breast and prostate cancer, osteoporosis and cardiovascular diseases. These diseases only affect a very low percentage of people that feed richly on soy and plant product.

6. They may have the ability to kill or destroy cancer cells. According to one of the research carried out at the University of Illinois, flavonoids in artichokes, celery, and herbs like Mexican oregano destroyed the cells of human pancreatic cancer. This was discovered under lab conditions as the flavonoid act as an inhibitor to some of the cell's important enzymes.

7. They also help with losing weight. Example of this is the polyphonic flavonoid gotten from green tea and mentioned before, Polyphemus has been proven to be helpful in burning fat in the body, aiding in digestion, improvement of the heart health and the treatment of flatulence. When these are adequately inherent in the body, you tend to lose weight and burn unnecessary fat in the body, and this keeps you fit, and you are probably as good as new.

8. They increase bile production in the body. They have also been associated with the reduction in the rate of cognitive decline in older adults.

9. They can also function as antibiotics in the body system. This is because of its antiviral, antibacterial, anti-allergic and anti-inflammatory properties that help in warding off the effect of allergies in the body system.

10. They are good for reducing the rate of hypertension, by so doing the risk of strokes and heart diseases can be prevented. They also reduce depression, fatigue, and irritability that are associated with free radical damage.
Possible Side Effects and Precautions
Just like any other drugs, you can experience minor or major side effects when taking flavonoid supplements. However, people react in different ways; one person may experience the side effects while another will not have a problem at all. Also, some side effects may need medical attention immediately while others will gradually disappear as you continue taking the supplements. To minimize the likelihood of side effects, take the supplements with a large glass of water.
Common side effects while using flavonoid supplements include:
Headache
Vomiting
Diarrhea
Blurred vision
Dizziness
Fast heart beat
Pressure and swelling of the legs and knees
More severe side effects include:
Elevated blood pressure
Varicose veins
Psoriasis characterized by red plaques of the skin covered with silver-colored scales. The nails discolor, pit and may detach from the nail beds.
Presence of blood in stool
Accumulation of fluid in the knees
More grave and life-threatening effects such as liver and kidney damage may occur in high and prolonged doses of the supplements.
If you notice any signs of serious effects or minor side effects that persist, please seek counsel from medical personnel.
Studies have shown that flavonoid supplements in small doses have preventive benefits, but in high doses they have mutagenic effects that can damage chromosomes and other cell structures. For instance, a study carried out by University of Colorado Cancer Center showed that flavonoids in low doses might have a benefit of preventing breast cancer, but when consumed in high doses they increase the risk of endometrial cancer. Also, taking flavonoid supplements in large doses may have a toxic effect that can lead to liver failure, contact dermatitis, hemolytic anemia, and kidney failure. It is, therefore, crucial to take your flavonoid supplements in dosages recommended by the doctor, pharmacist or as per the manufacturer's direction.
Another effect is an allergic reaction. Although flavonoids can be used together with other medications to treat allergies, they can cause an allergy in some individuals. Signs of an allergic reaction to flavonoids include hives, itching, wheezing, chest tightness, puffy face, high skin temperature (more than 37.50C), blue skin coloration, loss of consciousness, and swelling of the lips, tongue, or throat. It is important to note that flavonoids in the diet are not in any way harmful.
Precautions
There are certain instances that you should take caution before or while taking flavonoids supplements. We recommend that you seek your doctor's advice before taking up on any supplement.
Flavonoids may interact with certain medications by either enhancing or lowering their effectiveness. If you are taking drugs such as warfarin (sold as Coumadin, Jantoven or simply warfarin), Aspirin, Clopidogrel (Plavix), antibiotics or any chemotherapy drugs, please consult your physician. You should also consult if you are taking any other herbal supplement, over the counter drug or any other prescription medication.
Flavonoids should also not be taken if you have medical conditions such as kidney disease, liver disease or gastrointestinal disorder. If you are on treatment of any other medical condition, proceed with caution after consulting a specialist.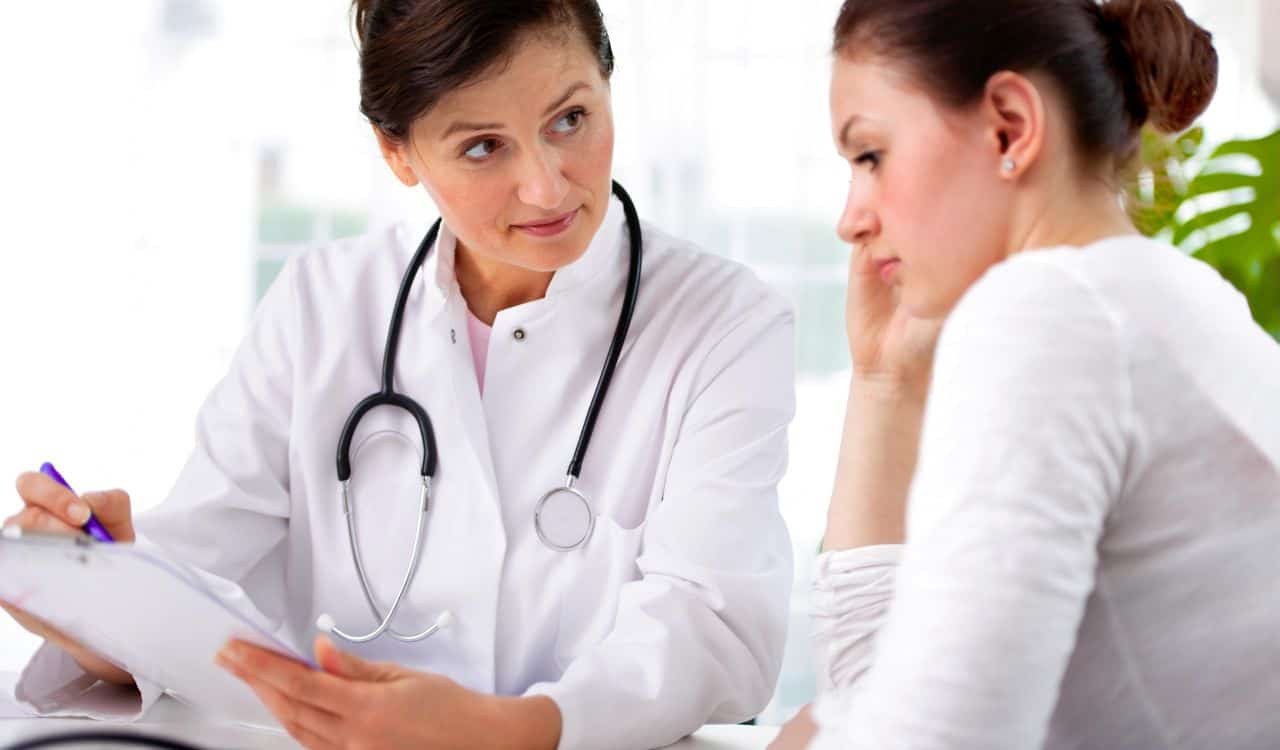 You should also not use flavonoid supplements if you have had a previous allergic reaction to them or you notice signs of an allergic reaction especially if you have difficulty in breathing or chest tightness. You should also be careful if you are allergic to any flavonoid-rich food such as green tea, dark chocolate, red wine, and dark fruits such as berries. In case you notice any signs of a reaction, seek medical help immediately.
If you are expectant or breastfeeding, you should consult your obstetrician before taking flavonoid supplements. There is no adequate scientific evidence to prove that these supplements are safe for an unborn baby or a nursing child. However, your doctor may approve flavonoid supplements if the benefits surpass possible risks in pregnancy or breastfeeding. You should also not give these supplements to a child without consulting a pediatrician.
In conclusion, you should ask your doctor anytime you would like to start taking flavonoid supplements if you are pregnant or planning to get pregnant, breastfeeding, if you are taking any medication or have any medical condition. Also, take the supplements in dosages recommended by a doctor, manufacturer or a pharmacist.
Your Questions Answered (FAQ)
Can I Use Flavonoid Supplements Anytime?
Of course, you can use the supplement anytime you wish, to reap the benefits of flavonoids. However, not all flavonoid supplements have been approved by the FDA. Therefore, flavonoid supplements should not displace the medication prescribed to you by your doctor. It is also important to seek your doctor's recommendation before taking the supplements.
What Do I Stand to Gain from Using these Supplements?
Flavonoids come with a lot of health benefits which include: enhancement of the body immunity, prevent cardiovascular diseases, ulcers, cancer, and diabetes. It also helps with weight management, Neurodegenerative disease prevention and promotes longevity. Flavonoid supplements supply your body its daily requirements ensuring that you reap the benefits of taking flavonoids.
Since the Use of these Supplements Comes with a lot of Benefits, Should I Continue to Increase My Doses to Reap Higher Benefits?
No, you shouldn't. No doubt, flavonoid offers protection against many potential diseases and toxicity. However, you may be sabotaging your good intentions by loading up on higher doses for a long period of time. Instead of reaping more benefits, you might be unknowingly poisoning or harming yourself. To reap the benefits of flavonoids, ensure that you follow the use of the recommended doses for the stipulated period of time.
The Consumption of Flavonoids Through Plant-based Foods or the Use of Flavonoid Supplements, which One Is Safer?
Getting your flavonoids from plant-based foods has no side effects. However, meeting all your flavonoids needs might be a little challenging. You should be aware that storing or cooking your fruits and vegetables can alter the flavonoid make up in them. For instance, onions can lose 1/3 of their flavonoid contents when stored at room temperature for about two weeks. The study carried out by World's Healthiest Foods (WHF) shows that food can lose up to 80 percent of its flavonoid contents during the cooking process.
However, with flavonoid supplements, you are covered. It stores better and longer at room temperature, and you can easily use them to supplement the amount you get from your meals. The use of these supplements is safe, but you should be careful not to exceed the recommended dosage. It has also been noted that the supplement may affect anticoagulants actions and increase the toxicity of some drugs when taken at the same time. To ensure your safety, always purchase your supplements from a reliable source and read about its interaction with other drugs before use.
I Eat a Balanced Diet; Do if Still Have to Take the Supplements?
Yes. You need to know that the use of flavonoid supplement is not a must, but it is necessary if you wish to meet your daily micro nutrient needs. A balanced diet is good for your body but may not be enough to meet your flavonoid needs since these nutrients are lost during storage or food cooking process.
Do these Supplements Have Side Effects?
Yes, they do. While using the supplement, you may experience less serious side effects of this drug, and there is a probability that you will experience nothing at all. If you experience hives, nausea, difficulty breathing, dizziness, tremors, vomiting and swelling of your lips, face, tongue or throat, your body might be reacting to the supplement. Other side effect includes liver damages, insomnia, diarrhea and abdominal pain. Inform your doctor or other medical practitioners about any sign of allergic reactions you detect.
What Is the Recommended Dosage for the Supplements?
This is very important to avoid loading up on excess flavonoids and antioxidants into your body system which could result in toxicity and allergic reactions. Normally, 20 to 100 grams of flavonoid should be taken on a daily basis. However, some flavonoid supplements and antioxidants available on the market have doses that range from 100 to 500 grams. There is also a possibility that this doses might be doubled thereby increasing the risk of taking above its recommended level. You are therefore advised to consult your doctor or read the supplement label carefully and follow the recommended dosage attached to it. Your doctor should direct you on what to do if you miss a dose or when you are planning to take different formulations of flavonoids.
In Case of Flavonoid Overdose, What Should I Do?
If there is a case of excessive dosage or use, seek medical attention at once! You can also get assistance by dialing Poison Help line at 1-800-222-1222. Report any unusual symptoms to your doctor to confirm or rule out the allergic symptoms.
Is the Supplement Safe for Pregnant Women or Lactating Mothers?
Flavonoid supplements can be used during pregnancy and lactation. Its safety during this period has not been established. However, its use should be monitored and not abused.
What Are the Deficiency Symptoms of Flavonoids?
A decline in immunity such as recurrent cold and coughs, bruises, nose bleeding and swellings following any injury are some indications of flavonoid deficiency.
Conclusion
Now that you have seen the answers to some frequently asked questions on flavonoid supplement, your doubts and misconceptions should have been cleared. Is your health important to you? If yes, flavonoid supplements should be your indispensable companion. However, care must be taken to avoid sabotaging your efforts and good intentions.
Subscribe to our Newsletter