13+ Best Garlic Supplements Reviews 2021
Disclosure: We use affiliate links and may receive a small commission on purchases.
Almost 2500 years ago, Hippocrates, a Greek physician of his time, would use garlic to treat various illnesses. In the 21st century we are probably a few centuries late in finally understanding and believing in the power of garlic, but it's better late than never.
Garlic is a natural antibiotic famous for its potency in combating flu and common cold symptoms, among other health problems. It is also great in supporting cardiovascular health and wellbeing to improve the heart and circulatory function, which can be great for those who are older and want to make sure that their heart is as healthy as possible.
Sundown Naturals

Our rating
Odorless and Non-GMO
Price:

See Here

Kyolic

Our rating
Sugar and Additive Free
Price:

See Here

BRI Nutrition

Our rating
Odorless
Price:

See Here

As opposed to crushing the garlic (which destroys the active ingredient Allicin), cutting the garlic into slices is more beneficial. However, not a lot of us are fans of chewing on raw garlic just to get its benefits. Although garlic is amazing in its raw form at helping our body combat virus and infection it can be pungent and leave a lingering taste and smell in the mouth.
Also, having to take the time to source out garlic cloves without knowing whether or not the allicin in it is active is another factor to consider. Experiences like these are the reasons that some people might begin their search for the best garlic products out there.
13 Best Garlic Supplements
1. Sundown Naturals – Odorless Garlic Extract
Garlic Extract from Sundown is one of the best garlic pills. Unless you hate swallowing pills, they will contain some of the best garlic extract for you, free of extra ingredients that can cause problems.
Expand to see more
The price is low for a 250-softgel pack; this one can last you two months with four softgels a day. That's the first problem, though: remembering when to have your garlic extract four times a day while not eating it too late at night.
Cheers to the lot who have trouble finding non-GMO garlic extracts, as this one has four ingredients in it: garlic, soybean oil, gelatin, and vegetable glycerin. And did we mention that it's odorless? Yes, using it long-term does not make you walking garlic. It uses a cold processing method to ensure that odors are eliminated.
To be honest, this is hands down the most effective supplement among the ones reviewed here, as you can see in the pros and cons below.
Odorless from cold processing method
No garlic side effects (heartburn, aftertaste, burps)
Non-GMO
Dairy-free
Gluten-free
No sugar
No artificial color, flavor, or sweetener
No preservatives
Made in the US
Excellent value for money
Contains soy; some may experience allergic reaction from soy
Four times a day, that's a lot of softgels to take
Gelatin, not for vegetarians
2. Kyolic – Garlic Formula 100
So far over the period of our use of Kyolic – Garlic Supplement, there has been no aftertaste and no body odor; this is the perfect garlic combination. Kyolic used aged garlic extract in the form of powders and encapsulated with gelatin, which is the usual standard for capsules.
Expand to see more
As we will mention later here, aged garlic extract is more abundant in antioxidants and antifungals. Yes, this is due to the method of processing. Note that these organic garlic pills don't rely on allicin, as some other products do.
They age the garlic in aqueous solution for 20 months, which removes the odor while at the same time buffing the antioxidants. It enhances immunity considerably, one of their main selling points. Their component then turns into something similar to allicin, called SAC (S-allyl cysteine).
SAC is very soluble. It is 98% absorbed by our body. (1) This wholefood form, Kyolic, is the most honest and reliable garlic supplement, as it is very active and does what it says. However, Kyolic is not dairy-free, and the capsules have a strong smell. The content of these natural garlic pills is vegan, but the capsule is comprised of gelatin (beef). Kyolic does have other products that are strictly vegan, right down to the capsule materials.
Odorless garlic supplement
High antioxidant levels compared to other supplements
Antifungal
Free of yeast, sugar, and gluten
Free of artificial colors or flavors
No preservatives
Made of 100% organically-grown garlic from California
Strong-smelling capsule
Capsule contains whey (dairy)
Non-vegan
Higher price compared to other products
3. BRI Nutrition – Odorless Garlic
BRI heavily markets their garlic supplement at a competitive price. The great thing about this one is that it does not merely contain garlic, but also other healthy ingredients, such as parsley seeds and chlorophyll.
Expand to see more
Due to its soft gel casing, it is sensitive to heat and should not be left long in the mouth, otherwise it will melt. Several consumers have also complained about an aftertaste, which should be resolved if consumed with enough water (8 oz). The product manufacturer also recommends taking the supplement with a meal, which may help the softgel to go down the throat faster than it will melt.
Aside from that, BRI's garlic supplement is excellent, because it is odorless and easy to swallow. It also does not cause heartburn or acid reflux. GMP certification also reassures us that the quality of the product is excellent. It is important to note that this garlic supplement does not contain allicin, but rather the base products. Keep in mind that allicin is only gained through the reactions of alliinase and alliin when consumed.
This garlic supplement is a good deal when you realize that the 120-softgel pack is for two months' use. It's considerably cheap and still contains the intended ingredients plus several other beneficial substances inside.
One thing that we like from the BRI Nutrition Odorless Garlic is that you only need to swallow two softgels once a day. It also comes with parsley seeds and chlorophyll, so that's another plus.
Odorless garlic supplement
High potency garlic-based formula
Enhanced with parsley seed oil and chlorophyll
Powerful antioxidant
Does not cause heartburn
Does not cause garlic breath
Made in the US
High value for money
Contains soybean oil
Non-vegan (capsule made of gelatin)
This product is manufactured and packaged in a facility which may also process milk, soy, wheat, egg, peanuts, tree nuts, fish, and crustacean shellfish
4. Enzymatic Therapy – Garlinase 5000
This one also comes in the list of the best garlic pills. The total opposite of Kyolic's Aged Garlic Extract is Enzymatic Therapy's Garlinase. It is one among the rare options which have actual allicin in them. These supplements are a little bit different from others in that they contain direct allicin substance in them and have a higher dose in a single pill.
Expand to see more
The idea of Garlinase, in our opinion, is for those who rarely have garlic in their daily meals to still have enough intake of allicin. That is why it contains 5,000 mcg of allicin in a single pill.
Enteric-coated pills ensure that they melt in time for the intestine to process but are not destroyed in the stomach. Now, for several reasons, this is a useful, yet not that big of an advantage compared to the others. Kyolic and BRI have also reported customers not having garlic breath after (properly) swallowing the pills.
The rule is the same with every liquid-coated supplement: do not bite or chew or leave them for too long in your mouth. Yes, they will melt, and you will have condensed garlic liquid on your tongue and all over your mouth. If you drink them with enough water or eat them with meals, this will reduce the possibility of garlic smell coming up your throat. This is no big deal, as it encourages to drink more water.
Other great things about the product are that it is free of lots of allergens, such as soy or dairy products. So, for any of you who want to reduce allergy reactions, this can be the perfect supplement for you.
We are more interested in discussing the other ingredients included in this fresh garlic supplement. You will notice some modified substances and also silicon dioxide. Now, for some of you, it becomes pretty clear that this product contains GMO cellulose. On the other hand, what is silicone dioxide? It sounds like a chemical ingredient in our supplement! Actually, no, it's technically natural.
It's other name is silica – yeah, the one that you see in many products to keep them from getting damp. You know that with Nature's Bounty, the product melts quickly, but with silica, this can keep it dry, and at the same time, helps it go down the throat, through the stomach, and melt in the intestines.
So, is silica dangerous? From the conclusion of multiple studies, no one knows for sure. There are mixed results of positive and negative reactions from ingesting silica, but in reality, we don't eat much silica in our daily life.
You have to be someone who works in the mining field who stands around quartz and other dangerous exposures for 6-10 hours a day to worry about it. In small amounts, no one has been reported to show a hazardous reaction, although, yes, silica packs always come with the warning to not be eaten.
Odorless
Enteric-coated tablets to reach the place that needs garlic the most
One pill a day (woohoo!)
Soy-free
Dairy-free
Gluten-free
Vegetarian-friendly
No garlic side effects (heartburn, aftertaste, burps)
Contains allicin, the main active compound in garlic
Contains GMO substances
Includes silica, which some people may not feel like having in their food
5. Nature's Bounty – Garlic Extract
What makes Nature's Bounty Garlic extract different is their processing method. Cold processing retains the content of garlic but eliminates the odor.
Expand to see more
What we are pretty concerned about is the actual content of allicin. After going through lots of questions and reviews, no one knows for sure if this has any allicin concentrate or alliin and alliinase, which make it possible to produce allicin. Although it does help in reducing blood pressure as well as boosting the immune system when battling a cold or other common diseases, so that's probably a good sign.
Nature's Bounty Garlic Supplement is another product that works well for people who have trouble swallowing things. The softgels are tiny and transparent. After swallowing, there is no odor, no burping of garlic bubbles or heartburn, just a pill with goodness inside it. However, it does instruct the customer to take it four times a day, which means they must be consumed in a very short span of time, considering garlic and its supplement form should not be consumed at night or before bedtime.
Some may want to pay attention to the ingredients of the capsule itself. If you have allergies to soybean or if you're a vegetarian, this product has gelatin and soybean oil in it. Due to this fact, it melts when you store it in a heated place, or even during the delivery.
Another thing we'd like to point out is that this is very cheap. Probably because it merely contains garlic with no preservatives or any artificial coloring or GMO stuff in it. Simply garlic: 3 packs for 75 days of usage.
Odorless from the cold processing method
Rapid-reaction softgels
No garlic aftertaste or body odor
Easy to swallow
Non-GMO
Gluten-free
No artificial compounds (no artificial color, flavor, sweetener)
No preservatives
Have to take four times a day
Store pills in cool places or they will melt and the content will spill out
6. Solgar – Garlic Oil Perles
Solgar Perles Capsules are a natural garlic supplement that support cardiovascular health and immune functions. Solgar is a brand that has been established since 1947, and they have an outstanding reputation for quality products.
Expand to see more
The Solgar Perles Capsules are free from gluten, wheat, and dairy, so they are suitable for a wide range of dietary requirements; however, they are not vegetarian or vegan friendly, due to the gelatin that creates the gel consistency of the capsule.
The serving suggestion for the Solgar Garlic Oil Perles Capsules is one capsule twice a day, giving you 250 servings in each container, and at least 125 days of capsules, so the Solgar Garlic Oil Perles Capsules should last for over four months, which is excellent value for money.
The Solgar Garlic Oil Perles Capsules are one of the best garlic supplement options on this list, as they are totally natural, great value for money, and have a high potency, so there is no need to take an excessive amount of capsules during the day.
Supports cardiovascular health
Boosts immune functions
Potent formula
Not suitable for vegetarians and vegans
7. Jarrow Formulas – Garlic and Ginger
The Jarrow Formulas Garlic and Ginger capsules are very different to other capsules on this list, as they use ginger to enhance the capsules.
Expand to see more
Ginger and garlic are a harmonious combination that help the body to absorb both herbs and achieve all of the benefits possible from them.
The ginger is naturally dried rather than heat-dried, which gives the supplement a lot more of the benefits.
The Jarrow Formulas Garlic and Ginger capsules are taken one to two times per day, and only one capsule is taken, so there are 100 capsules in each container, which means the Jarrow Formulas Garlic and Ginger capsules should last for around six weeks.
The Jarrow Formulas Garlic and Ginger capsules are not vegetarian or vegan friendly, however, due to the gelatin content of the capsules, yet they are also free of many other allergens, so they are suitable for more difficult and specific dietary requirements.
Naturally dried
Allergen-free
Quality ingredients
Not suitable for vegetarians and vegans
8. Natural Factors – GarlicRich
The Natural Factors GarlicRich Garlic Concentrate Capsules are an odorless, super-strength capsule with around eight cloves of garlic to each capsule, which is a hugely strong garlic supplement.
Expand to see more
The Natural Factors GarlicRich Garlic Concentrate Capsules are formulated to be very easy to digest and absorb into your body, so you will get the most health benefits possible out of your garlic supplement.
All of Natural Factors' products are manufactured specifically to meet the Government of Canada's Good Manufacturing Practices, which is among some of the highest health standards in the world, so you can be assured that you will be totally safe with the Natural Factors GarlicRich Garlic Concentrate Capsules.
The suggested serving size for Natural Factors GarlicRich Garlic Concentrate Capsules is one capsule per day, which gives you 90 servings in each container. This is great value for money and will give you all of the benefits of a supplement that is taken more than once a day to achieve the same benefits.
The Natural Factors GarlicRich Garlic Concentrate Capsules are not vegan, however, as they are made with gelatin to give the capsules a gel consistency. They are dairy, gluten, and yeast free, though, so they are suitable for a wide range of dietary requirements.
High potent formula
Only one capsule per day
Gluten free
Dairy-free
Not suitable for vegetarians
9. Now Foods – Garlic Oil
Now Foods has been manufacturing healthy supplements for over 50 years now. Garlic oil is another healthy supplement of theirs. However, there is a reason the manufacturers did not add "odorless" to its name. It does leave a bit of garlic aftertaste. A few burps, if you don't mind. So, if you hate garlic breath, you will not love this one. If you wish to reduce the smell of garlic after consumption of the garlic supplement, follow the instructions recommended by the manufacturer (to eat the softgels with meals).
Expand to see more
Aside from that, NOW is a company that has been known to be committed to non-GMO and has attained GMP certification for this oil. GMP processes eliminate possible allergens, so for those who fear allergic reactions, this is an excellent choice with just a little garlic breath.
An important note is that this is for adults only, so you should not try to feed children with this. If you do, consulting with a doctor first would be best.
Now, the critical part: allicin. The product claims that it extracts bulb of Allium Sativum, or the Latin name for garlic. Each serving, then, contains 9 mg of garlic oil concentrate, which is equivalent to 4.5g of whole clove garlic. The question is, does it still retain all the necessary alliin and alliinase? Or is it able to 'freeze' allicin in it?
Happy to say, regardless of the fact, it still proves to be very potent. The strong smell of garlic suggests that allicin, a deciding component in garlic's scent, is in there somewhere.
Will not leave you with body odor
Potent garlic oil
Dairy-free
Gluten-free
No sugar
Preservative- and colorant-free (which explains the different colors that are on the pills)
GMP certification
Made in the US
Not odorless, will leave garlic taste, and causes burps
Contains gelatin, non-vegan
10. Nature's Way – Garlic Bulb
Nature's Way Garlic Bulb Supplement Capsules are a premium herbal dietary supplement.
Expand to see more
The garlic used for the supplement is carefully grown and tested, so that only the highest-quality garlic is used to create the Nature's Way Garlic Bulb Supplement Capsules, giving the capsules an excellent quality and overall health effect.
The recommended serving size for the Nature's Way Garlic Bulb Supplement Capsules is simply one capsule, one to three times per day. This gives you a massive 100 servings in each container, and you can tailor the amount of garlic capsules you want to take in a day to achieve the desired health benefits.
The Nature's Way Garlic Bulb Supplement Capsules are not vegetarian-friendly, however, as they contain gelatin in order to give the capsules a gel-like consistency, and thus they are not suitable for vegetarians or vegans. The Nature's Way Garlic Bulb Supplement Capsules are suitable for a coeliac diet, though, and for those with gluten or nut sensitivity, as they do not contain any other allergens.
The Nature's Way Garlic Bulb Supplement Capsules are a great way to add the extra health benefits of garlic into your diet without eating excessive amounts, as these capsules are scent- and taste-free, so you don't have to suffer from garlic breath in order to get the most from the herb.
Carefully grown and tested
High quality product
Great price value
Not suitable for vegetarians or vegans
11. Oregon's Wild Harvest – Garlic
Oregon's Wild Harvest Garlic Supplements are made from organic garlic herb and are carefully processed to produce a high-quality garlic supplement, which is certified by Oregon Tilth.
Expand to see more
The Oregon's Wild Harvest Garlic Supplements are GMO-free and completely vegetarian friendly. They also do not contain many different allergens, so they are suitable for a wide range of dietary requirements.
The Oregon's Wild Harvest Garlic Supplements focus on the sulphur compounds found in garlic, as these are what have been found to give the herb the health benefits that it offers.
The serving size of the Oregon's Wild Harvest Garlic Supplements is three capsules, which gives you 30 servings per carton.
However, due to the high number of dosages each day, the Oregon's Wild Harvest Garlic Supplements will only last around a month, which is much lower than some of the other options of this list.
GMO free
Completely vegetarian friendly
Does not contain allergens
Small pack – for 30 days of use only
12. Solaray – Organically Grown Garlic
Solaray Organically Grown Garlic is among the most affordable and potent garlic supplements out there, and we say this with a healthy reason: it does leave you with garlic aftertaste. Although, it's not so bad and won't last for a day.
Expand to see more
Solaray is a brand that has received numerous certifications, from being a quality retainer to a hater of the artificial (as I call it). Their products are free of any artificial coloring, preservatives, or anything of the sort.
The garlic is organically grown and harvested. The end product has no other fillers, so it is free of gluten, dairy, as well as being vegetarian-friendly.
However, if you're wondering if this is non-GMO, that's a debatable topic. The supplement has not yet gained the non-GMO certification, but it does indeed use organically grown garlic. If everything written on the label is true, then yes, this product is supposed to be non-GMO.
Affordable
Organically grown garlic
Dairy-free
Soy-free
Gluten-free
Vegetarian-friendly
No preservatives or artificial substances
Potent garlic smell, indicating unprocessed garlic
Leaves you with garlic smells, although this can be different for each person
Can sometimes leave you with a stomachache, so make sure to eat it with meals
Big tablets
13. Mason's Natural – Garlic Oil
Mason's Vitamins Garlic Oil Softgels are a premium quality garlic softgels produced from fresh garlic bulbs and carefully laboratory tested in order to produce a supplement that supports healthy cholesterol, cardiovascular, and immune health.
Expand to see more
The recommended dosage for Mason's Vitamins Garlic Oil Softgels is one softgel once a day, so this gives you one hundred softgels in each container, which is great value for money, because the softgels will last for over three months. The daily dosage is also much lower than some others on this list, as only one softgel is required each day, rather than three or more.
The Mason's Vitamins Garlic Oil Softgels are not vegetarian-friendly, however, as they are gel capsules made with gelatin.
The Mason's Vitamins Garlic Oil Softgels do not contain allergens such as milk or gluten, so they are suitable for different dietary requirements and needs and are one of the best garlic supplement options out there.
Produced from fresh garlic bulbs
Carefully laboratory tested
Supports healthy cholesterol, cardiovascular and immune health
Not suitable for vegetarians and vegans
---
All You Need to Know About Garlic Supplements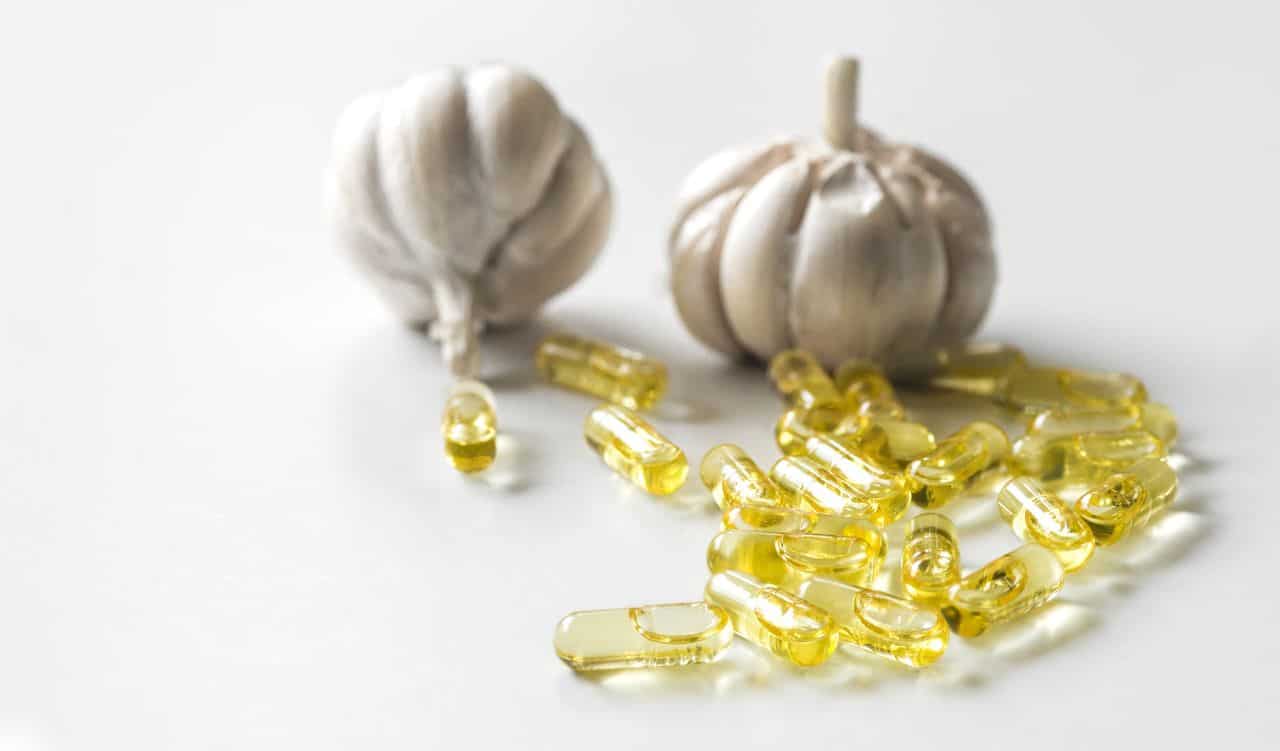 Active Substances of Garlic Supplements
There are three primary active substances in garlic that one should understand. Although we and other sites may mention raw garlic and the best garlic supplements containing allicin in general, this is not exactly true, but it is not wrong either.
Allicin is a volatile substance that releases immediately after consumption. Keeping a garlic supplement outside too long will cause it to lose the allicin and render it useless. This means that raw garlic, and most garlic supplements, do not contain active allicin.
However, allicin is the product of alliinase's reaction with alliin. How does this happen?
Garlic contains alliinase. Imagine alliin as small bubbles inside garlic that are waiting to be popped. Alliinase reacts with alliin to produce allicin, the one active substance that many manufacturers have been relying on to market their products. Alliin can only be produced when it is orally consumed correctly, which is by biting or munching it. If you are one of those people who opt for crushing your raw garlic before eating it, you might want to change that now.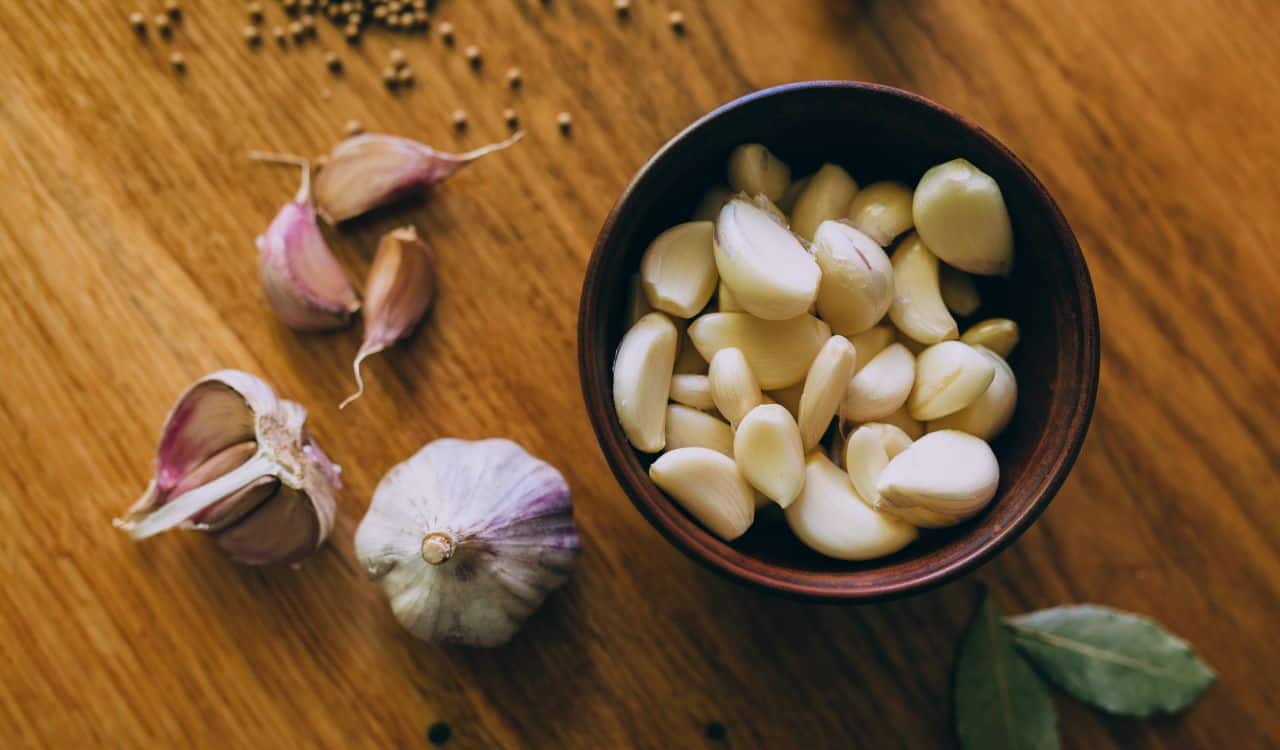 Crushed garlic releases its allicin when it is being crushed, which means you are potentially losing a lot of the allicin. As for garlic supplements, some are processed to keep alliin and alliinase in tablets or capsules ready to be processed in your body. Some sell allicin directly that is ready to be consumed in the form of allicin powder extract.
Forms and Types of Garlic Supplements
Garlic supplements can come in many varieties, including soft gels, tablets, caplets, capsules, oils, and extracts. These can contain powdered garlic bulb made from fresh or aged garlic.
There is some debate on whether pills made with fresh garlic or aged garlic are more beneficial. On the one hand, fresh garlic extract has higher levels of allicin, the main active ingredient of garlic, which is backed by multiple studies. On the other hand, aged garlic has higher levels of antioxidants and other compounds.
Soft gels

These have the garlic encapsulated in a mix of water and gelatin. Will melt and in time reach the digestion tract, ready to be processed.

Garlic tablets

Tablets have garlic powder or extract condensed in a solid form. Tablets melt along the way as they enter our stomach and finally pass through our intestines. Some of the content is wasted along the way, as not all parts of your digestive tract can absorb it. We have covered the best garlic tablets in our top 13 garlic supplement reviews above.

Garlic capsules

The powder is usually encapsulated in shells. Capsules are similar to soft gels, but they are less stable.

Aged garlic extract

These are garlic cloves that have been aged for weeks to months (depending on the manufacturing process) and are later extracted. Aged garlic extract, like Kyolic's, is believed to be richer in antioxidants.

Distilled garlic oil

This type of garlic supplement is rich in antioxidants and anti-fungals. If you open the capsule, the oil can be used on pimples to reduce infection.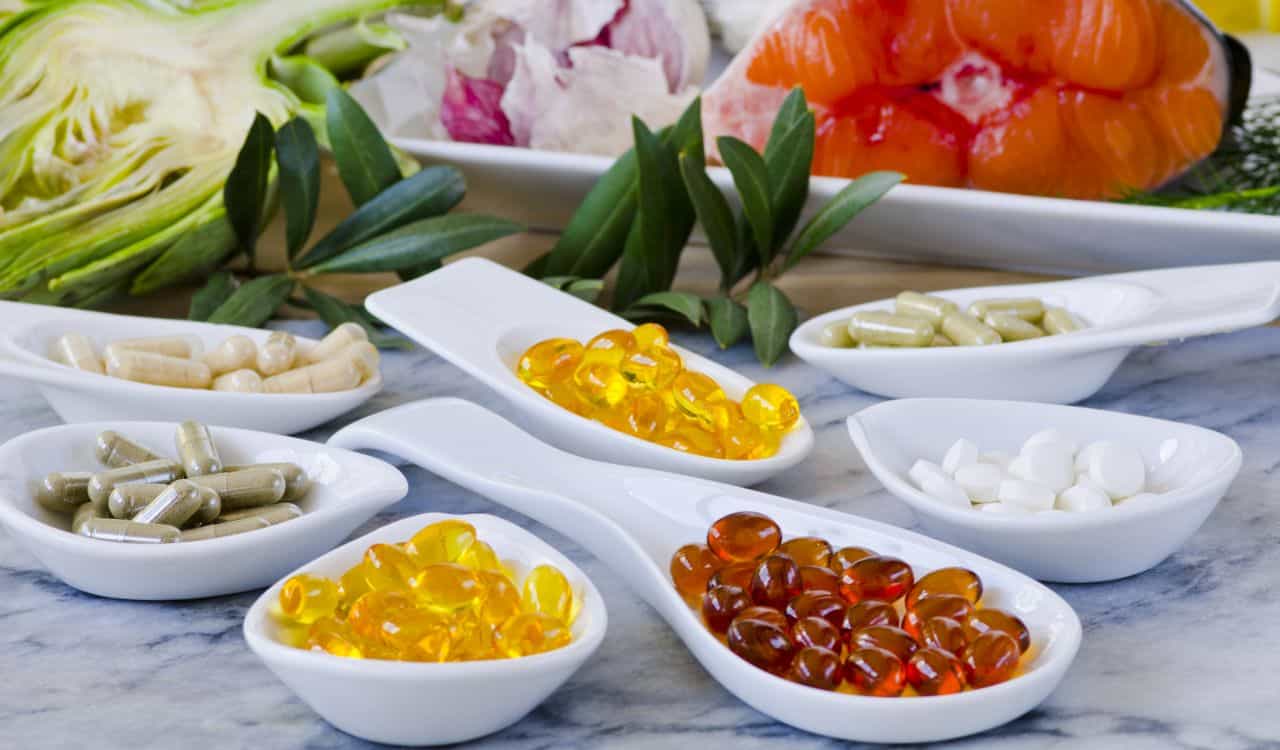 Health Benefits of Garlic Supplements
Preventive

The best health benefit of garlic is that it is a preventive measure for many health issues. Garlic's allicin is a compound that makes the best garlic supplements a superfood (a natural antibiotic that boosts your immune system).

In several studies, it has also been commonly called an anti-cancer property. Although, more in-depth research is needed to reach a better conclusion. Based on some population studies, those who frequently consume garlic have lower risks of stomach cancer. However, WebMD has validated the fact that garlic in its raw form or in supplements does indeed reduce the risks of developing stomach or colon cancer as well as the development of tumors in the digestive tract. (2)

Prostate cancer is also said to be preventable with garlic supplements. More research is needed, but positive results were found when men in China were surveyed and found to have 50% lower risk of being diagnosed with prostate cancer by consuming up to one clove of garlic daily.

In common cold cases, garlic has been used for a long time to cure a cold. In a recent study, it was revealed that by consuming garlic daily, it prevents people from catching a cold often. Those who didn't had almost three times more occurrences of the cold. (3)

Treating hypertension

Treating hypertension is one of the most important benefits of garlic supplements. In a 2014 study, garlic supplement consumption was proven to help patients with hypertension. (4) Other studies conducted earlier also showed similar results, but researchers concluded with similar statements. More detailed and longer-duration experiments are required to prove this finding further.

Another final study in 2014 later proved that, yes, garlic supplements are consistent in becoming the main player in lowering blood pressure along with other health benefits.

Reducing cardiovascular disease (CVD) risk factors

In a trial which had multiple test subjects report their total cholesterol (along with 'good' and 'bad' values) as well as blood glucose and blood pressure, it was seen that daily consumption of garlic reduced the numbers significantly. (5) This means it is safe to conclude that garlic also reduces CVD risk factors.

Hair loss

Meanwhile, many experts have suggested people can use raw garlic the way you'd use shampoo. Consuming garlic supplements is also suggested to improve the potency of garlic. Garlic helps blood circulate and brings nourishment to every follicle on your hair, keeping it healthy and allowing hair to regrow.

Metal poisoning

Garlic extract is known to bind to metal. When we consume garlic, it binds lead, mercury, and cadmium. They will then be excreted. Studies were conducted back in 1955 in Russia to prove this fact, as workers with lead poisoning were shown to have reduced symptoms after consuming garlic daily.
To know more about the benefits of garlic supplements, watch the video below:
Safety Warning
Limit of daily dose

If you are consuming direct garlic, you should not be consuming more than four cloves of garlic a day. In garlic supplements, the doses can be different from each other. There is no recognized authority on the dosage. However, you can find the following recommended amount in your daily doses: from 300 mg to 1,000 mg of garlic extract; from 2 mg to 5 mg of garlic oil; from 0.4 g to 1.2 g of dried garlic powder. Or, it is reported that from 2 mg to 5 mg of allicin or from 4 to 12 mg of alliin can be consumed. (6)

It is important to read supplement facts and suggested serving sizes. Make sure that you are not consuming garlic in the evening or before your bedtime.

Possible allergic reactions

In most cases, garlic rarely causes major allergic reactions. Some people have developed rash symptoms in studies. Heartburn is the most known negative reaction in people.

Lesions are one of the worst allergic reactions when it comes in direct contact with skin.

You might be a rare case if you develop an allergic reaction, like the few people who have found that eating raw garlic caused them to develop hives. (7)

Other possible reactions are conditional asthma and diarrhea.

The good news is that some people grew tolerant of cooked garlic, so the case with garlic supplements can be similar. Unless you are very sensitive, try using the product directly on your skin if you don't want to experience an allergic reaction after consuming the products.
Side Effects
Along with the benefits of Garlic supplements, it has been reported to cause minor side effects to their users. Of course, moderation is of importance, as too much of something, even water, can cause problems to the body.
Body odor

Some do notice body odor after consuming garlic supplements, while others not so much. Allicin in garlic is frequently dubbed as a natural antibiotic by experts. (8) At the same time, this substance emits a strong odor, which is distinct when sliced. Whether you'll smell or not depends on the active ingredients contained in your garlic supplement. It is hard to tell you that taking a certain dosage will make you smell, since each of us has a different threshold, too. Fresh garlic does increase the chances.

Smelly breath

The same thing happens when you munch on garlic. The cause is allicin, although supplements might not be as bad as eating real garlic. Garlic supplements rarely contain direct allicin (this is gained through a process in your body after damaging the garlic through biting, chewing, or chopping it).

Heartburn

Acid reflux happens when gastric acid flows upward into the esophagus, causing a burning sensation, commonly referred to as heartburn. This is individual and depends on the cause of your heartburn. In other cases, garlic supplements can help with heartburn and cure the core problem.

Insomnia

Consuming garlic in raw or supplement form can cause insomnia. Consume them in the morning or during lunchtime to avoid this. This is because garlic is a stimulant; it stirs up your stomach, and you'll be wide awake in the middle of the night.

Toxicity

Garlic, when consumed in high doses, has proven to be bad for the liver as well as kidneys. However, this was discovered in consumption of raw garlic, so consuming garlic supplements may lessen this effect.
Contradiction
Surgery

If you are going for surgery within two weeks, you are best suggested not to consume garlic in any form, including supplements. This may encourage profuse bleeding, as garlic causes blood to thin.

Blood thinner medications (aspirin and warfarin)

Above are some medications, which are not exhaustive, that should not be consumed together with garlic supplements. Other types of medications that potentially thin the blood should not be consumed together with garlic supplements. This causes excessive bleeding should you wound yourself.

Isoniazid and Atazanavir

Garlic can reduce the amount of these medications that can be absorbed by the body. Do consult with your healthcare provider if you want to consume garlic supplements.
Your Questions Answered (FAQ)
Does Taking Garlic Supplements Lower Cholesterol?
There are two different conclusions by National Institutes of Health and Harvard Medical School, and they are varying. The first said that short-term reduction of cholesterol was reported in multiple studies, while the latter says that a study on using three different types of garlic preparations revealed little to no significant changes to cholesterol levels in consumers. (9)
I Have Low Blood Pressure. Is It Safe to Consume Garlic Supplement?
Garlic is recognized to lower blood pressure in people with hypertension, but interestingly, the same thing does not happen when you have normal blood pressure. (10) So, yes, it should be completely safe to consume.
Does Garlic Cause Hair Loss?
This one is a worry that spreads around garlic supplements consumers, but the fact has yet to be confirmed. Concerns have probably arisen from the fact that garlic contains sulfur. However, you might be surprised to learn that garlic supplements have been used for the opposite of this: to treat and prevent hair loss.
What's the Difference Between Garlic Pills and Tablets, Capsules, and Softgels?
A pill is a more of a general term for any solid, round medication. As such, tablets, capsules, soft gels, and caplets are all types of natural garlic pills.
Is 1000 mg of Garlic too Much?
Successful research studies have used doses of 1000 mg (1 g) or higher doses of garlic extract without noting any significant side effects. This dose is also the most common among the different types of garlic pills, highlighting its safety. For raw, fresh garlic, even higher doses have been safely used (2 g and higher).
What Is the Best Odorless Garlic Supplement?
We recommend choosing odorless garlic from Sundown Naturals, Kyolic, or BRI Nutrition. These specific choices have notable advantages over the competition. For example, Sundown Naturals odorless garlic extract has an excellent price while providing you with everything you need. Meanwhile, Kyolic's odorless aged garlic is one of the only brands with clinical research evidence. Finally, BRI Nutrition provides odorless garlic at an affordable price and extra beneficial ingredients.
What are some Best Garlic Supplements for High Blood Pressure?
Here are the recommended Garlic Supplements for high blood pressure patients:
BRI Best Garlic Pill for High Blood Pressure
Natural Vitamin Co Best Garlic Pill for High Blood Pressure
Natural Vitamin Co. High Allicin Garlic Pills
Puritan Best Garlic Pill for High Blood Pressure
Think Remedy Best Garlic Pill for High Blood Pressure
What are some best Garlic Supplement Brands?
Some of the brands that produce the best garlic vitamins are listed below:
BRI
NOW
Sundown
Natural Nutra
Bio Life
Pure Healthland
Elements
Natural Vitamin Co
Puritan
Think Remedy
Subscribe to our Newsletter