Best Weight Benches Reviewed and Rated
Disclosure: We use affiliate links and may receive a small commission on purchases.
Weight benches are like a staple food for gyms, home lifters and basically anyone who wants to look and feel good. A weight bench provides support to a lifter especially when lifting heavy, so the user does not have to worry about losing control. For beginners, a bench may particularly be helpful in maintaining proper posture. When the body is supported and is firm, you can then isolate muscles and work out with confidence. Weight benches are not only used when lifting but also as a mat for abdominal exercises or as a step for exercises such as burpees and push-ups.
Our Top 3 Picks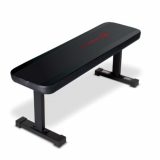 Marcy

Our rating
Durable
Price:

See Here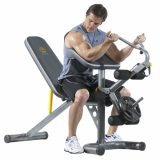 Golds

Our rating
Sturdy
Price:

See Here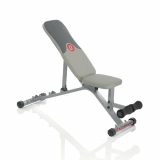 Universal

Our rating
Adjustable
Price:

See Here

Types of weight benches
We can categorize weight benches into three
Flat benches
Flat benches like the name suggests, are flat and stand alone with no other fixations. Additional apparatus may be required to perform certain exercises. They are less costly when compared to other types, but the very durable ones can be quite costly. Their drawback is that they have no place to return weights once you are done working out, and they are not adjustable to any other level.
Adjustable benches
Adjustable benches have more than one joint that allows the user to modify positions as per the preferred angle, including decline and incline adjustments. Some of them are also foldable for ease of storage.
Benches with racks
This type of benches allows you to have a broader range of compound exercises. They have a bar rack that can double up as a storage rack and as a squats rack. This type may either be flat or adjustable type but with the addition of a rack.
10 Best Weight Benches
1. Marcy Flat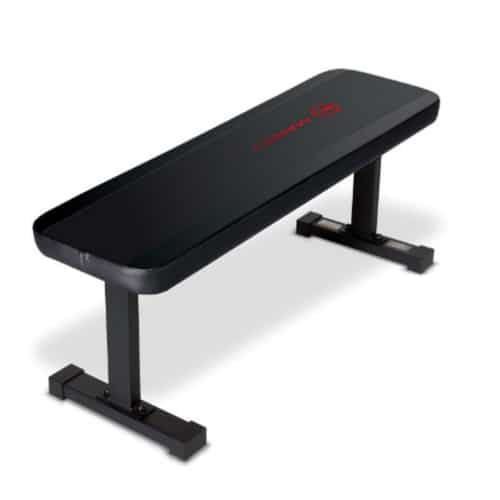 Macy Flat weight bench is made with heavy-duty steel tube frame and a high-density foam for durability and comfort. The body frame is coated with powder to resist wear and tear after prolonged use. This weight bench can support a maximum weight capacity of 300lbs.

The bench does not come with any movable parts, is easy to assemble and move around. It is designed not to take much space, thus suitable for home use.

Expand to see more
Features/Specifications

Flat in shape
Multipurpose
Takes less space
Steel body frame
Durable powder coating
High-density foam for comfort
Maximum weight capacity is 300lbs
Bench dimensions: 43L x 14W x 17H inches

Price/Value

The price of Macy Flat weight is friendly for a home gym equipment considering that it is durable and comfortable to use.

Verdict

If you want a home weight bench and you have issues with space, we recommend that you get Macy Flat weight bench. It is compact in size, easy to assemble and move around, no movable parts and has a sturdy frame. It is simple but still strong, and you can also use it for several other exercises, not just weight weights.

Multi-purpose use
Durable
Lightweight
Comfortable padding
Takes less space
Easy to assemble
Sturdy and no wiggling
2. Golds Gym XRS20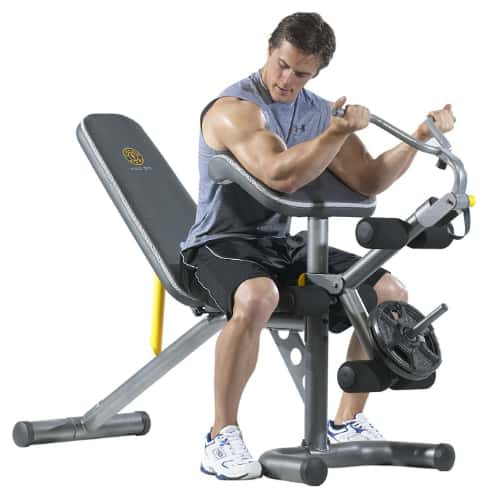 Gold's Gym XRS 20 product package comes as an adjustable weight bench, with a leg development attachment, a curl pad, and a squats rack with safety bars for chest press exercises. The rack weight capacity is 300lbs while the bench capacity is 600lbs. The bench which is the main component is built with steel and finished with corrosion-resistant grey paint. The upholstery is made of synthetic material and cushioned for maximum comfort. The bench is adjustable to include incline, horizontal and decline positions. The base is wide enough to provide stability when weight lifting.

The preacher pad allows the user to do preacher curls workouts in both horizontal and vertical positions. With the leg development attachment, you can perform both leg extensions and curls. The leg attachment section is padded using rubber foam and is detachable.

The squats rack is designed for 7' bar. The rack has two catch bars with four attachment positions and two pegs for weight attachment.

Expand to see more
Features/Specifications

Comes with a bench, squats rack, leg development attachment and roller preacher pad
Has three adjustable positions- incline, decline and horizontal
Suitable for over 11 weight workouts
Maximum weight capacity for the bench is 600lbs and 300lbs for rack
Durable and sturdy
Padded for comfort
Bench dimensions 72L x 26W x 22H inches
Rack dimensions 32L x 48W x 64H inches
Has a warranty period of 90 days

Price/Value

This product is reasonably priced compared to other products that offer the same features. It is good value for money as you can train maximumly with it.

Verdict

Gold's Gym XRS 20 weight bench is an excellent choice for its price and the features that it offers. You can use it at home and still get thorough results with more than eleven weight lifting exercises. It is also durable, sturdy and comfortable to use. It may take long to assemble, but the manufacturer has packaged and labeled the separate parts very well and has outlined the steps in the user manual in a manner that is easily understood.

Multiple incline positions
Four functional movable parts
Durable and sturdy
Highly padded for comfort
Suitable for many weight exercises
User manual is easy to follow
Can be used for moderate weight lifting
Easy to move around as some parts can be detached
Takes long to assemble (2 hours)
3. Universal 5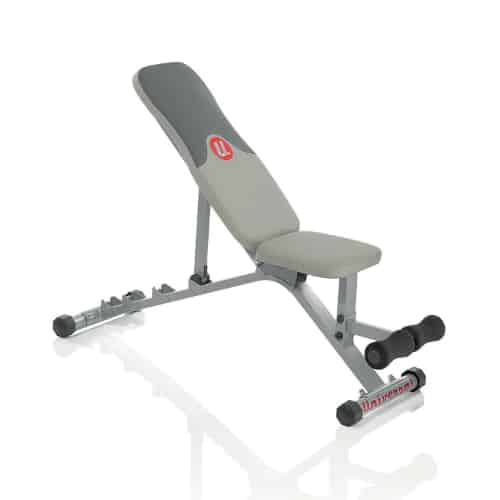 Universal 5 weight bench is adjustable to 5 positions from flat, -100, 150, 300, and 450, which gives options to perform different exercises to work mainly the upper body and core. The body frame is made of steel, and the upholstery is padded and covered with vinyl.

The leg brace is padded with foam for comfort and to keep you controlled when lifting. The bench is lightweight and easy to use, thanks to the wheels on the back side. It has a warranty period of 90 days for the frame and 30 days for the padding. The maximum user weight is 250lbs, is easy to assemble and takes little space.

Expand to see more
Features/Specifications

Allows five adjustable positions
Body frame is made of steel
Suitable for upper body and core
Upholstery and leg brace are padded
Has stabilizer levelers suitable for any flooring
Has wheels on the back side to ease movement
Maximum user weight is 250lbs
Maximum 430 pounds for user plus lift load
Warranty period is two years for the frame and 30 days for the padding
Product dimensions: 51L X 17W X 25H inches

Price/Value

It is moderately priced for the features that it offers. It is adjustable and has support for the legs to keep you in place when lifting, features that make it stand out from other products of the same price.

Verdict

If you are keen on working your upper body and abs, then Universal 5 weights bench is a good buy. It has adjustable positions to focus on all chest angles, and the leg braces enable you to work your core and give extra support. It takes less space, is lightweight and very easy to move around. Thus, an excellent option for a home gym. It may be difficult to assemble for some people, but the instructions are clear and easy to follow.

Five adjustable positions
Lightweight
Easy to move
Takes less space
Has leg brace for user stability
Padded for comfort
Durable frame
Levelers are ideal for any type of floor
Targets all chest angles
Leg brace pads get loose over time
A bit difficult to assemble
4. Bowflex SelectTech 5.1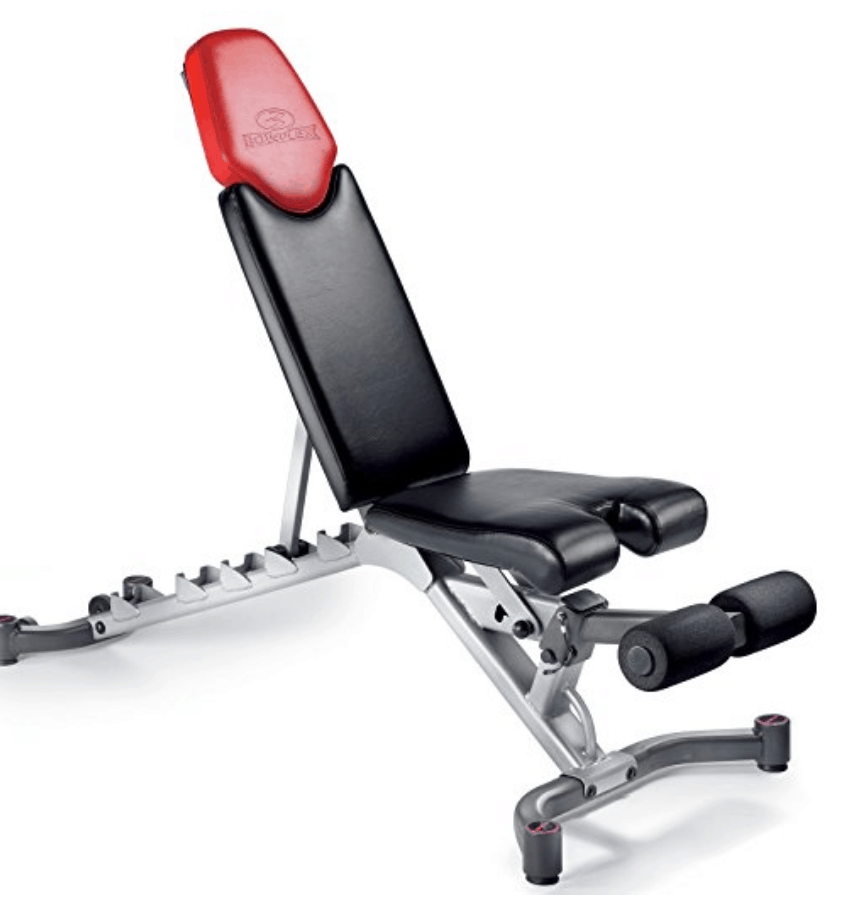 Bowflex bench allows different exercises on six positions starting at -170 decline, 00, 300, 450, 600 and 900. The seat is adjustable, that means you do not have to leave the bench when working out.
The bench frame is made of commercial steel, meaning that it is good enough for heavy and commercial use. The upholstery is covered with easy to clean material and is fully padded for comfort.

For the leg attachment, it supports you, especially when in decline position. The leg attachment is removable. Thus you can remove if you do not like it. Bowflex bench has wheels, making it easy to move around.

Expand to see more
Features/Specifications

Made of heavy commercial steel
Has six adjustable levels -170 to 90o
Padded leg brace is available for added decline position support
Has built-in wheels for ease of movement
Warranty is 30 years for the frame and one year for the upholstery
Maximum user weight is 400lbs thus safe for heavy weight lifting
Dimensions: 56L x 26W x 20H inches

Price/Value

Bowflex 5.1 is pricey, but the quality speaks for itself. It is made of ultra-durable commercial steel with a warranty of 30 years. It has six adjustable levels including the 900 position which most other benches lack, and is very sturdy and comfortable to use. Any serious heavyweight lifter will not think twice about it.

Verdict

Bowflex is an excellent buy if you lift heavy or your weight is not suitable for other low-weight capacity machines. The product is strong enough for both commercial and home gyms use. It may be too heavy to move around the house, but the built-in wheels make it easy to move. The adjustable levels are six, and you can adjust the seat without leaving the bench. For these reasons, this product is totally worth an investment.

Suitable for heavy-duty
Very durable
Easy to move
Removable leg attachments
Has six adjustable levels
Long warranty period
Wide, low and stable
Attractive and comfortable
Bulky and takes more space
Caster wheels are small
5. Body Champ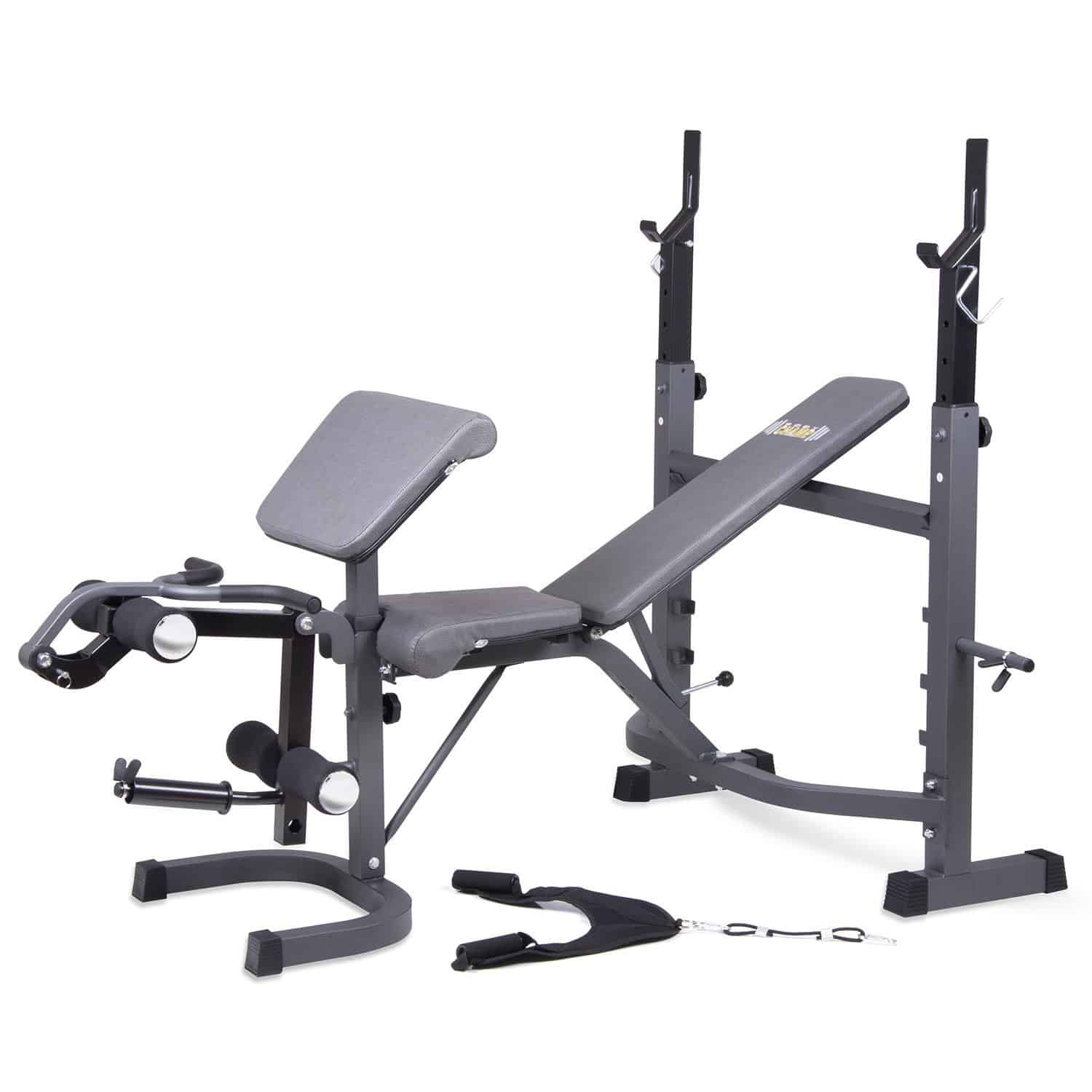 Body Champ has seven adjustable positions of multiple decline, flat, incline and military angles. The leg developer is dual-purpose with adjustable foam rollers for leg curls and leg extension. In addition to the leg developer, it also has a preacher curl pad and an arm curl bar. This means that this bench can be used for training the core, upper and lower body.

The bench rack can take 7 to 8ft bar and is strong enough to double up as a rack for squats. The body frame is made using 2.5in steel, and the upholstery is heavily padded using foam. Its Olympic adapter allows the user to use and store several sets of weight up to 300 pounds. It has added safety features with built-in safety hooks with no pinch design to prevent injury
Expand to see more
Features/Specifications

Fits 6 to 8ft bars
Made of 2.5inches of steel
Padded for comfort
Has an adjustable bench and squats rack
Allows seven adjustable positions
Built-in safety hooks with a spring collar
Ab crunch with foam grip handles and attachments
Maximum user weight is 750lbs including the user
Product dimensions: 76L x 56W x 55H inches

Price/Value

It's moderately priced, and for a durable equipment that offers a total body workout, it is absolutely worth the price.

Verdict

Body Champ is a multi-function and adjustable weight bench built for all fitness levels, from beginners to professionals and for commercial gyms and home use. It can give a total body workout including the core, lower and upper body. In addition, it has enhanced safety measures to protect you from injury and prevent loss of exercise time due to minor accidents. Therefore, this product is a very solid device that will effectively help you work almost all groups of muscles, for a long time, without worrying about minor injuries.



For the core, upper and lower body
Easy to set up
Well cushioned
Provides safe ankle support
Foldable when not in use
Takes less space
7 adjustable positions
Bulky
Does not come with a bar
6. Fitness Reality 1000
Fitness reality bench is one of the benches in the market with a high weight capacity. It can support up to 800lbs real weight of the user plus the load. It has 12 adjustable positions ranging from -20 to 80 degrees incline angles. In addition, it has three adjustable positions for the leg hold down bar. The leg hold-down part can be adjusted to work the Abs. The backrest is extra-long to support for tall people, and the seat is cushioned and wide for support and comfort.

For home gyms, Fitness Reality has a significant advantage in that is foldable and has transportation wheels attached for easy portability and storage. The body frame is made of steel and powder coated to resist wear and tear. The 12 adjustment positions are by utilizing incline, flat, and decline positions, three positions for the leg hold down, two positions for the front leg and -20 to 800 for the backrest.

Expand to see more
Features/Specifications

12 adjustable positions
Body made of steel
Powder coated to resist wear and tear
Adjustable and detachable leg hold downs
Can be folded for storage
Has built-in wheels for portability
Cushioned and comfortable wide seat
Backrest is suitable for 6ft 4in user height
Maximum real weight capacity is 800lbs
Warranty period is one year

Price/Value

This bench is fairly priced considering that is sturdy, foldable and has wheels to make it easy for storage and movement around the house or gym.

Verdict

If you are looking for a home equipment, then Fitness Reality Bench is the product to consider. It is a simple weight bench that takes less space, is foldable and very easy to move around. You can use it to workout in various positions as it has a wide variety of adjustable angles. Even better, the leg hold down part can be adjusted to make it an Abs bench. Moreover, if you are tall, then this bench has got you covered as the backrest is elongated, and the seat is wide.

Large variety of adjustable positions
Wide seats
Suitable for heavyweight lifting
Easily foldable for storage
Has wheels for easy transportation
Sturdy and durable
Not enough cushion on the seat
Is narrow
7. CAP Barbell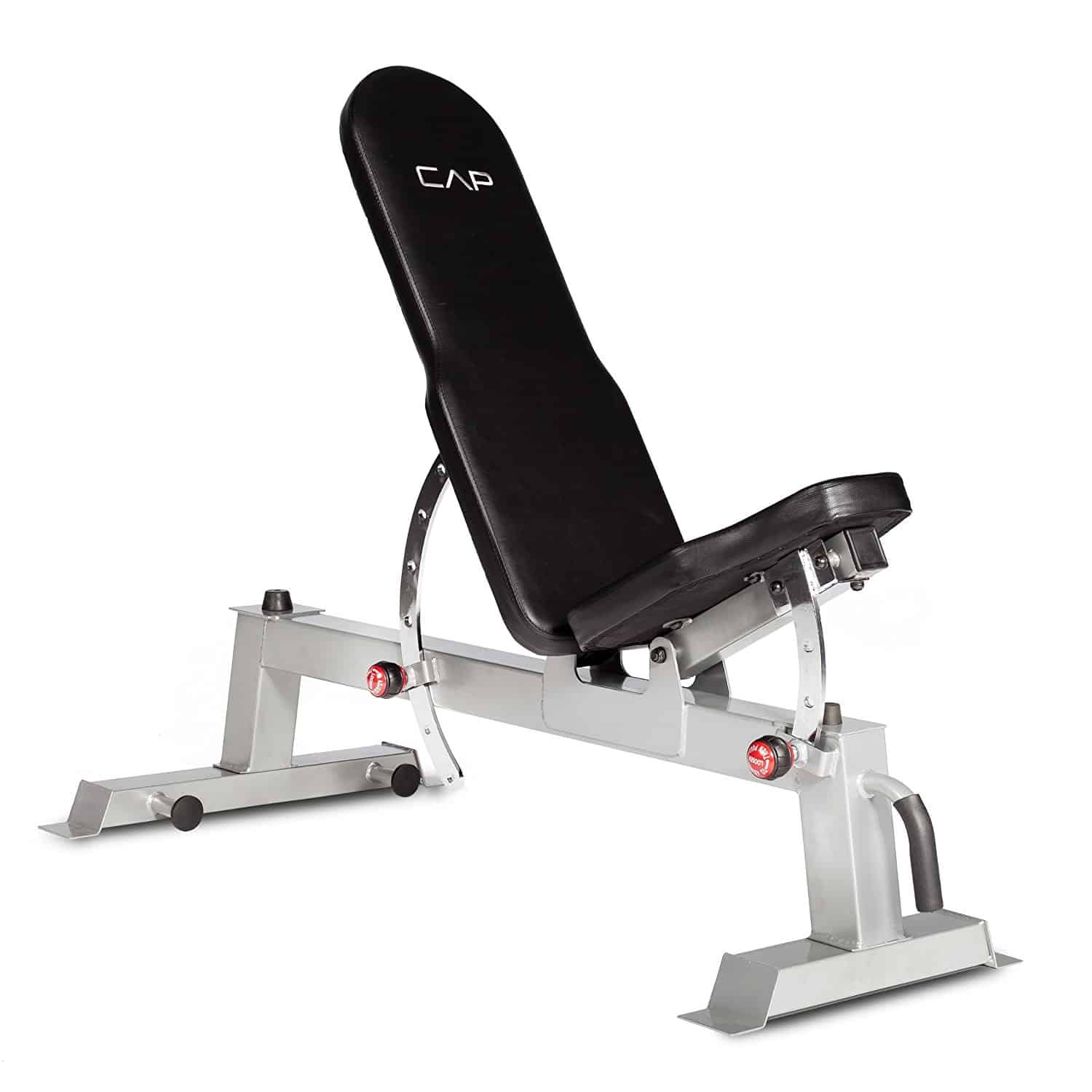 CAP Barbell is made for home use with an all-steel construction. The bench is adjustable to 7 different angles, and the seat can be modified to 3 positions. The bench has special features of two power band posts for working out with resistance bands. It can support up to 500lbs maximum weight in the flat position and 400lbs for the inclined position.

It can be used for thoroughly working the chest and upper back as the shape is meant to allow you to extend the elbows further than the shoulder level. In addition, the bench can be used moderately for working abdominal muscles.

Expand to see more
Features/Specifications

Bench has seven adjustable positions
Seat adjustable to 3 positions
Sturdy steel frame construction
Has two power band posts
Has a handle and wheels for portability
Can be used with dumbbells, barbells and resistance bands
Maximum weight capacity is 500lbs

Price/Value

CAP Barbell is slightly overpriced considering it only works the upper body. However, if you are keen on building the upper body, then it is totally worth owning. It thoroughly works out the chest and back as it allows various angles and has additional workstations for adding resistance equipment.

Verdict

This option is excellent if you like working with barbells, dumbbells and resistance bands. The bench allows you to capitalize on the upper body and even allows the elbows to move further than the horizontal position. The heavy-duty frame can take high user capacity and can serve you for a long time. Therefore, CAP Barbell weight bench is a good value for money product.

Various adjustable positions for the bench and seat
Has a barbell rack for bench presses
Has stations for using resistance bands
Allows high user weight capacity
Allows full elbow extension
Suitable for both tall and short people
Strong and durable body frame
Gap between seat and backrest is wide
No decline position
8. Weider Pro 255 L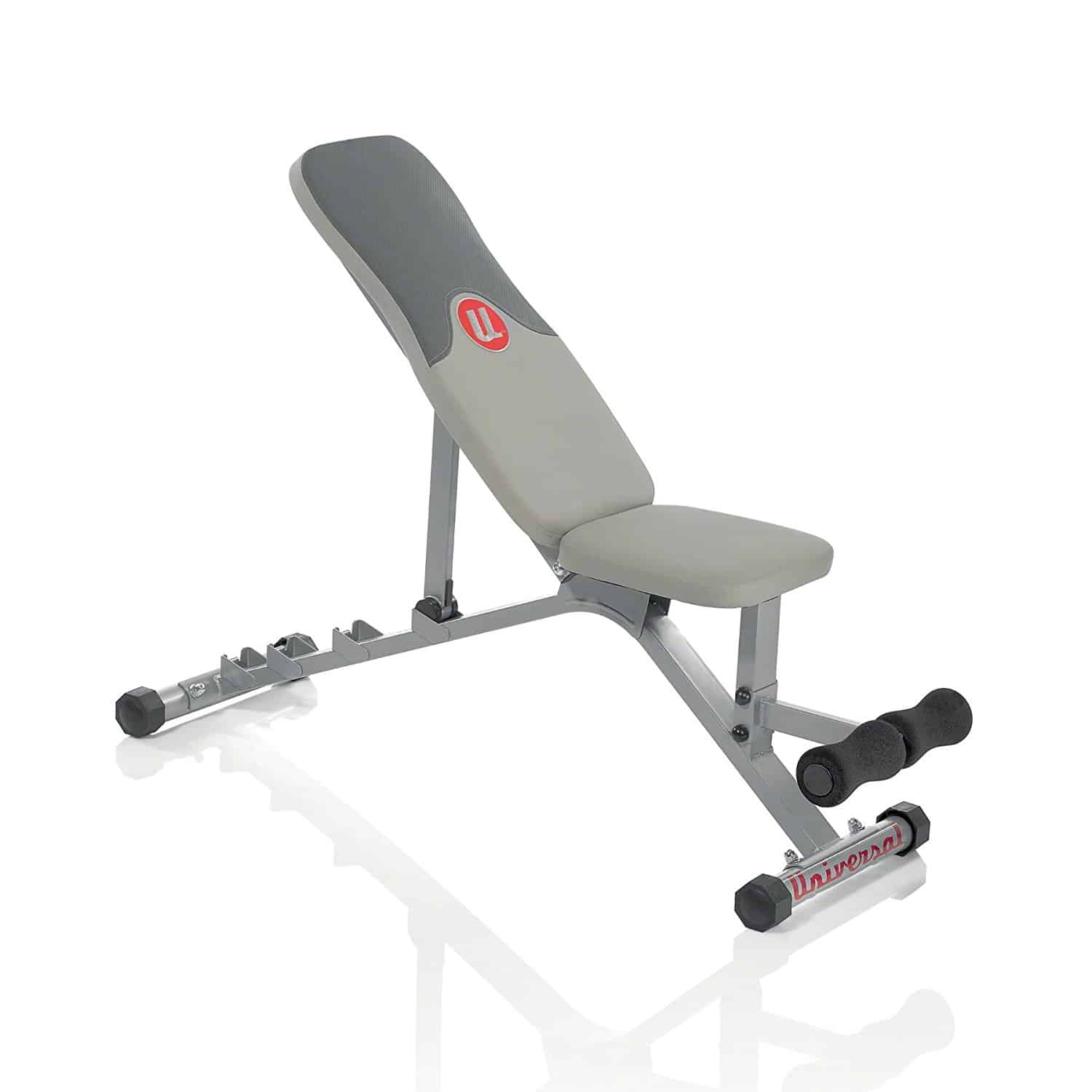 Weider Pro bench allows flat, incline and decline positions for a variety of workouts. The seat is padded and sewn with vinyl material which is durable, does not stain and is easy to clean. It has leg lockdowns which keep you in position when lifting thus reinforces resistance and allows controlled movement.

This product stands out as it comes with an exercise guide that is designed to inform you of proper form when lifting and shows some of the exercises that you can perform, to maximize your results.

Expand to see more
Features/Specifications

Made of steel frame that is powder coated
Adjustable to incline, flat and decline positions
Has a 4-roll leg lockdown for controlled movement
Vinyl-sewn cushioned seat
Comes with an exercise guide
Base bars are runner capped for firmness
Maximum user weight limit is 300lbs and 410lbs together with the load

Price/Value

The price is very pocket-friendly and still has impressive features. It is adjustable, fit for home use, durable and comfortable to use.

Verdict

Weider Pro is fit for beginners and intermediate users. It comes with an exercise guide that instructs on proper form and even on some of the exercises that you can perform. So, you do not have to worry about where to begin. Moreover, it allows you to work out on six positions and is very affordable.

Adjustable positions
Has an exercise guide
Light and easy to transport
Padded leg rollers for support
Durable and comfortable seats
Easy to set up
Uncomfortable for people with short legs
9. Rep – FB-3000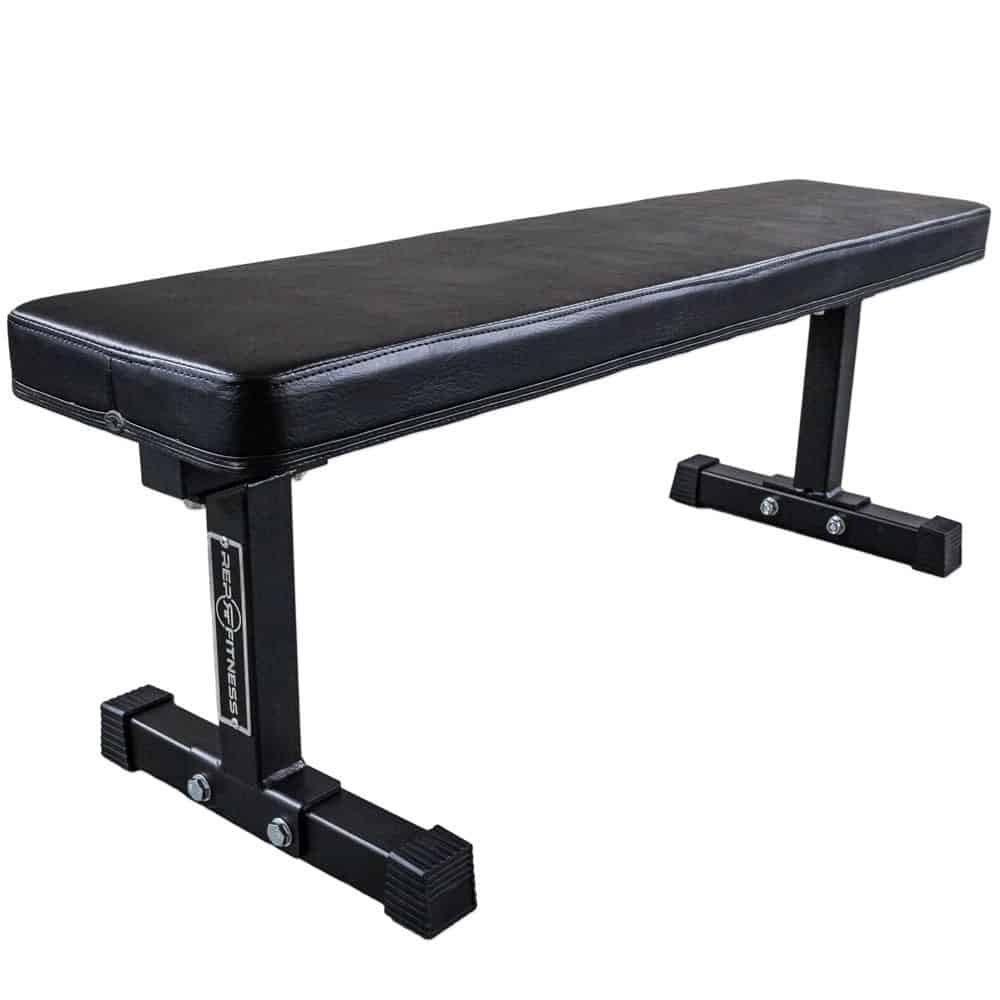 Rep Fitness weight bench, a heavy-duty equipment, is built for heavy users. It has a heavy-duty frame with solid steel hardware that can take up to 1000 pounds of weight. The pad has 2.5 inches of thickness, a huge difference when compared to other products. The pad is excellent for back support especially when lifting very heavy.

The upholstery is covered with a high-quality vinyl material that is slip resistant, easy to clean and durable. The height of the bench is perfect for lifting as it allows for proper positioning of the feet and reliable back support.

Expand to see more
Features/Specifications

Flat bench
Heavy-duty thick steel body frame
2.5 inches thick pad for back support and comfort
Maximum weight is 1000lbs
ten years warranty for the frame and 30 days for the padding
Dimensions: 47L x12W x17.5H inches

Price/Value

Rep Fitness bench is in the higher price range, and some people may see it as overly overpriced for a flat bench. However, the bench is made of heavy-duty gauge steel that can handle 1000lbs, a feature that beats most other weight benches.

Verdict

For serious heavy lifters, this weight bench is a sure bet that it will serve you for years no matter the weight you are lifting. With its 11 gauge 2*2" steel body and heavy padding, you can be sure of getting the service that you paid for. In addition, the over 90% five-star ratings and reviews have convinced us that this bench can handle your toughest workouts.

Thick comfortable padding
Durable steel frame
1000lbs weight capacity
Firm on the ground
Simple and elegant
10. Ziema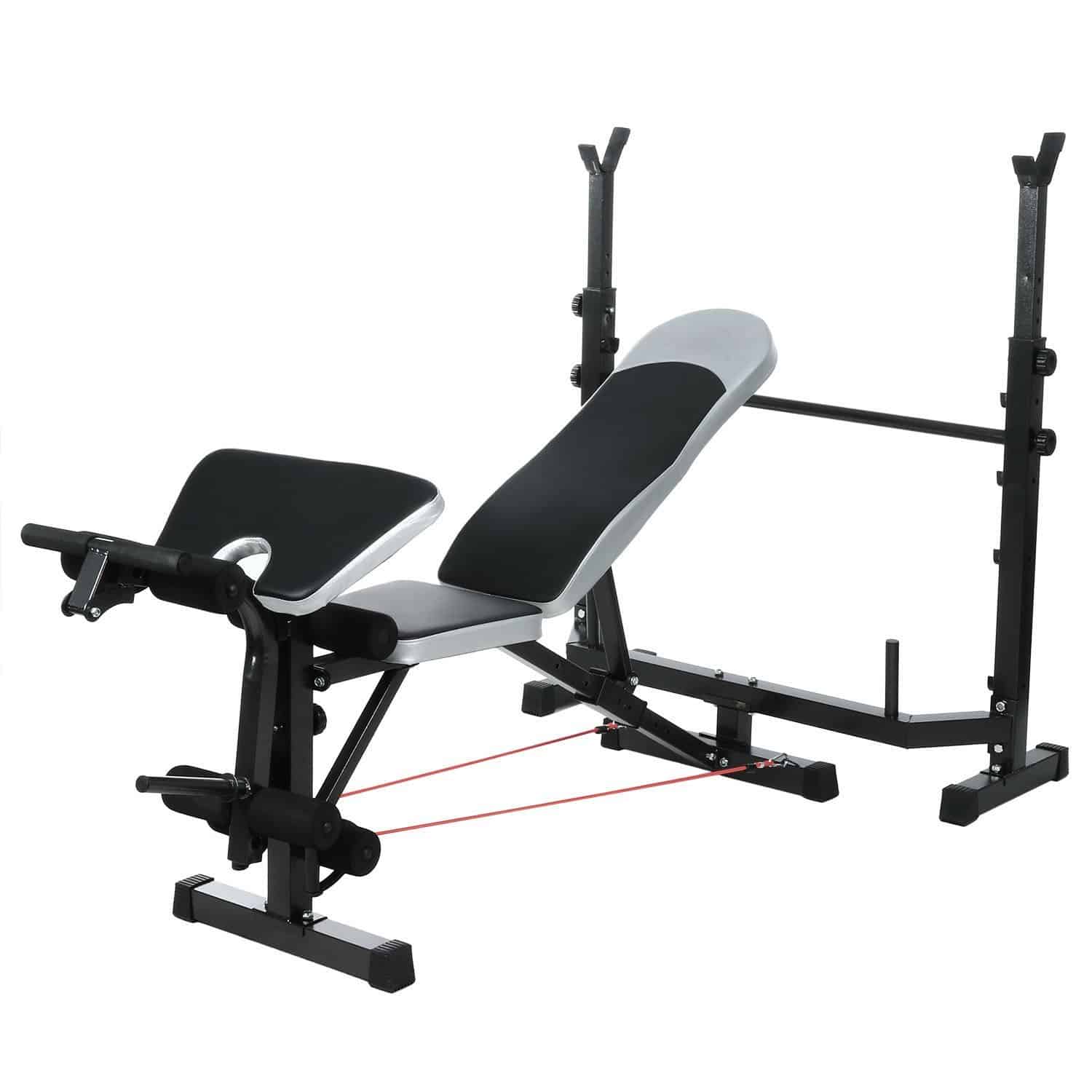 Ziema is an Olympic weight bench that can be used for training both the lower and upper body as it has a two-piece design for the arms and legs. The bench is adjustable to five positions including incline, decline, and flat.

In addition to the bench, this product has a weight rack that is detachable, an arm curl and a leg lockdown. The body is made of steel, and the upholstery is a double stitch vinyl type for durability and cleanliness. The size and ease of portability of this product, make it ideal for home gyms.

Expand to see more
Features/Specifications

Decline, flat and incline adjustable positions
Suitable for upper and lower body training
Additional accessories are preacher curl and leg developer
Detachable weight rack
Ideal for home and commercial use
Maximum user weight 275lbs and 330lbs including the load
Product dimensions: 80W x 60H x 47.5D

Price/Value

Ziema bench is fairly priced considering that it is a multi-function bench that can be used to train the upper and lower body. An important addition to the accessories is the arm curl that you can use for a close-up on the biceps and triceps.

Verdict

This product is worth considering if you want to focus on the lower and upper body. It has features for both legs and arms, so you will be working out most of the large muscle groups. Furthermore, it is suitable for a home equipment as it is easy to store and is easy on the floor.

Easy to assemble
Sturdy and firm on the ground
Leg developer is padded
Trains both lower and upper body
Ideal for both home and commercial use
Low maximum weight capacity
Criteria for Product Evaluation
There is a huge variety of weight benches in the market depending on type, size, functionality, and durability. To choose the best one especially for a beginner, may be a daunting task and to some, it may seem like a straightforward task. In our review, we have selected ten weight benches that we are convinced you will most certainly find one that fits your needs. We have also included important factors that you should consider when choosing one, and how to maintain it once you have bought. We went through a rigorous selection process to arrive at the ten products, and this is the criteria that we used.
User reviews and ratings
In today's day and age, it has become effortless to do market research of very many products from the comfort of your desks or any other convenient place. The easiest way to research a product is by use of product reviews and ratings. We visited various online weight benches sellers and looked at what their customers had to say about their products. We chose the products that received candid, objective and verifiable reviews. We further narrowed down and selected products that had the best positive and unbiased reviews and ratings.
Manufacturer reputation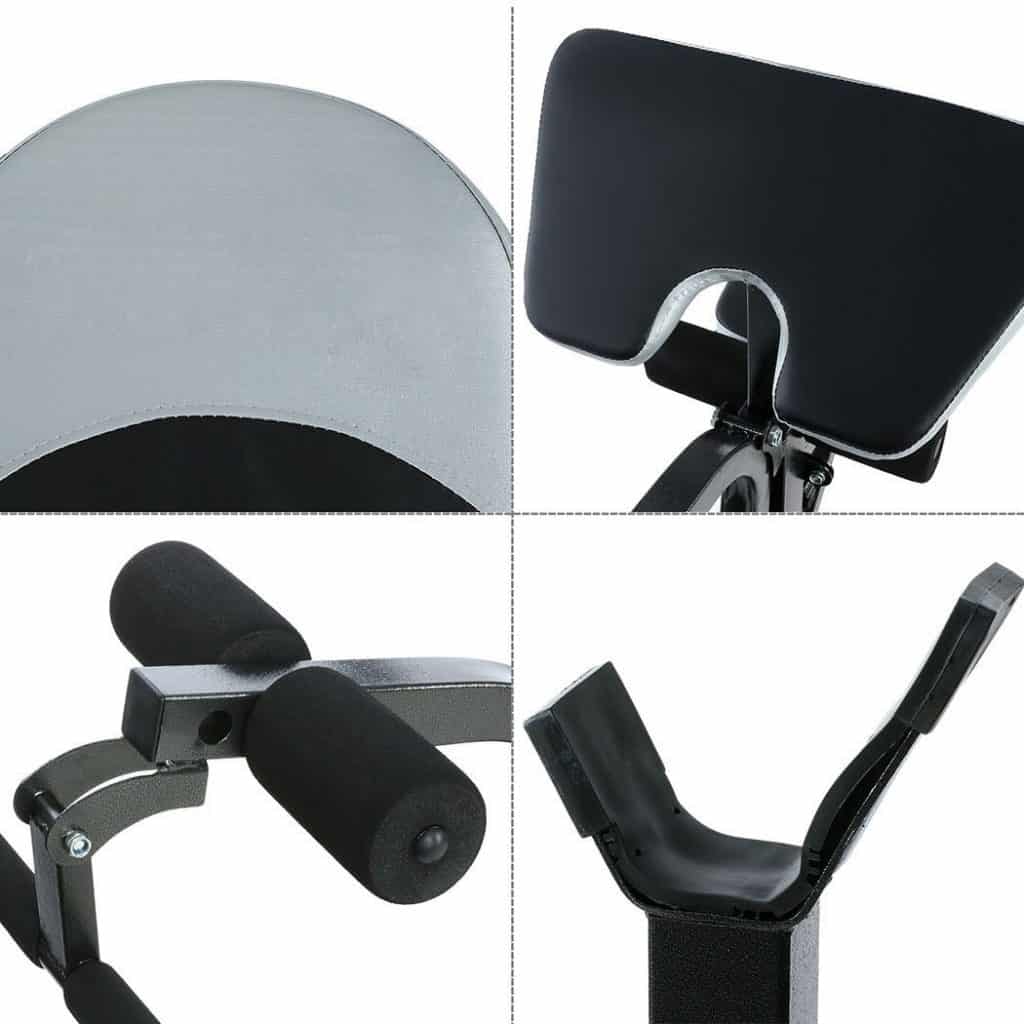 We chose products whose manufacturers have an outstanding reputation for making high-quality and durable options. Some of the products on our list are from manufacturers who have been in the market for long, are known for making other excellent fitness equipment and still have managed to maintain their excellent reputation for as long as they have been in the market.
Durability
We put a lot of effort in ensuring that the products we chose are made of durable material, and will serve you for years. We kept an eye on the body frame construction material and the upholstery too, for assurance that you will be getting a durable product. For the products on our list, we have written specifications for each product, so it will be easy for you to make a final verdict.
Functionality
We understand that different individuals have different fitness goals. Therefore, we chose products with different features. On our list, we have included simple benches, flat ones, adjustable ones and that come with various accessories.
Pricing
We have included products that are economical and those in the high price bracket. High pricing is often associated with high quality, and sometimes, the budget-friendly ones give excellent service. Therefore, we not only checked the pricing but also considered the durability and quality of each weight bench, and carefully weighed it against the price tag.
Benefits of Using Weight Benches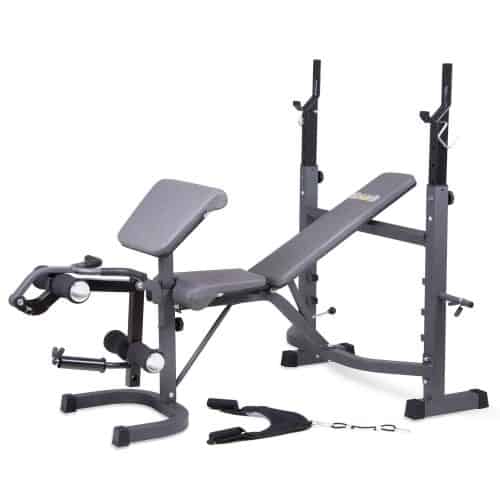 A weight bench is vital in maintaining proper posture and form when lifting. The top area of the bench is firm and is padded to offer support and comfort. It gently supports the back, and this helps to strengthen the core and prevent arching of the lumbar section. Using poor form when exercising can result in injuries, some of which can take longer to heal. Moreover, injuries rob you of your exercise time.
Weight benches help you isolate and work specific muscles at a time. Some products have an arm curl that helps you isolate the triceps and biceps, others come with an Abs foam to target the abdominals while others come with a leg curl pad to isolate leg muscles. A weight bench also helps you to target hard to reach muscle groups. When you sit on a bench, the body gets more stable, thus you can efficiently target and reach muscles.
With a weight bench, you can achieve a wide range of movements from different angles. Some of the benches are flat while others are adjustable to incline and decline positions. In addition, weight benches are not restricted to only lifting. They can be used to perform other exercises including push-ups, step-ups, core workouts, and calisthenics.
A weight bench can effectively be used at home as most of them can be used for varied exercises while others can deliver a total body workout. While working out at home, you have the choice to use dumbbells, a barbell or resistance bands. It is also cheaper to exercise from home as you just invest once in buying the equipment. You will also have the convenience of working out privately and at your own pace.
Factors to consider before making a purchase

The ultimate factor when choosing any fitness equipment is to decide whether it meets your fitness objective. You first need to identify the intentions that you have for your weight bench. Different weight bench products either focus on upper body alone, upper and lower body while others come with accessories to also focus on the core.
Prices
Fitness equipment has of late increased in price as people are becoming more and more aware of the benefits of physical fitness. There is also an increased demand as people are trying to equip their home gyms which are more convenient as they can work out in privacy and at their own time. Manufacturers are also focusing on quality, and this has also contributed to increase in prices.
It is important for you to decide how much you would like to invest in your equipment. There are economical benches and those in the high-end range. Sometimes price speaks volumes about the quality while other times, a budget-friendly product can outdo a very expensive one. It would be good to check for competitive prices on online platforms like Amazon, in order to compare different products. In addition, go through various products' reviews and ratings to gauge whether the products meet the advertisement's claims.
Adjustability
You will also need to know whether you need a standard flat bench or an adjustable one. An adjustable bench allows you to move the seat or backrest to different angles. Some adjustable benches are incline only while others have both incline and decline. The incline position allows you to focus on the upper chest while the decline position targets the bottom portion of the lower pectoral muscles. Adjustability of the seat means that you can change the seat angle to maximize comfort.
Workout stations
Weight benches come as either simple flat equipment or ones with useful accessories to enhance results on different parts of the body. Typical enhancements include a leg developer for leg curls and extensions, preacher pad for biceps and forearms, power band posts for resistance bands and an abs extension for isolation of the core.
Quality
A famous businessman once said the quality is never an accident, it is always as a result of intelligent effort. Therefore, a quality weight bench will have undergone exceptional craftsmanship with durable materials, before finding its way to the market. It may be hard to identify a durable product, but with professional reviews and when you know what to look out for, it can be quite easy. Be keen on the fine print of each product and take your time to find more about the product that you would like to consider. In most instances, you will find that quality products will cost you more, but why not invest in a product that will serve you for years?
Upholstery
The upholstery may not seem like an important consideration to make, but in fact, your comfort lies in this part of the weight bench. For safety and comfort, the padding should be at least one inch thick, and the material covering it should be easy to clean and durable.
Warranty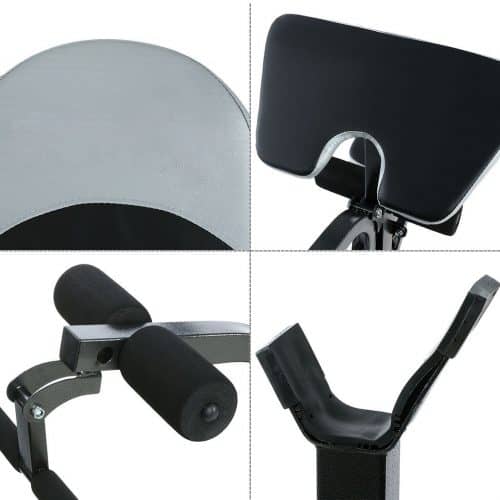 A warranty is important as it assures you that the product you buy is good quality and gives you the right to ask the manufacturer to deal with any defects within a specific period. Some of the benches have a short warranty period while others offer a lifetime warranty. Choosing a product with an extended warranty period gives a prolonged security period and at times, assures you of quality and durability.  
Space
If you are limited on space, then go for a weight bench that is compact in size, foldable or has transportation wheels for easy portability. If you have plenty of space, then you have no limitation on size and accessory parts like the bar rack.
Maintenance tips
Maintaining your fitness equipment is as important as the exercise routine itself. It is an important process that can break or save your workout tools. Maintaining weight benches is easy, so there is absolutely no excuse as to why you should not do it. Some of the maintenance tips include:
Wipe down the top after every use. You may use a disinfectant to prevent the proliferation of microorganisms.
Keep all parts dry to prevent rust
Oil the movable parts at least on a monthly basis
Check the bench often for any signs of wear and tear
Check nuts and reinforce them either biweekly or monthly
Do not use harsh sprays on rubber parts
Place a mat beneath the bench to protect the floor
FAQs
Why a weight bench?
A weight bench is an equipment that resembles a normal bench but it is strengthened to support weight training. Some types can be adjusted to other positions. Some allow you to workout when the legs are rested on the ground while others have leg hold downs that support the legs.
Why is it safer to use a weight bench when lifting?
A weight bench supports the lumbar region and core, prevents arching of the back, protects you from exercise injuries, enables you to isolate muscles and allows to focus on your exercises without wobbling.
Can I get injured when using one?
Although a weight bench when is safe for lifting, you can be injured if you use heavier weights than you can handle and if you do not maintain the right form.
Are weight benches small enough for my home gym?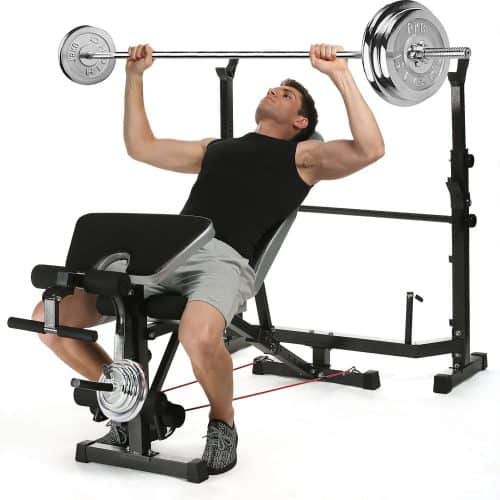 Weight benches vary significantly in size and height. Some are compact made while others are lightweight, have inbuilt wheels for ease of movement and others are foldable for storage. These factors make them very fit for a home gym. On our list, we have indicated products that are fit for home and those that are meant for commercial purposes.
How long do they take to assemble?
Time taken to assemble a weight bench depends on its complexity and your speed. Most of them take between one and two hours. Most manufacturers have clearly written instructions and also include all the tools that you will need to fix your equipment.
What do you mean by upholstery?
Upholstery refers to the textile covering the soft padded part that is fixed on the top of the weight bench. When choosing a weight bench, get one with upholstery that is easy to clean, well-stitched and durable.
Do weight benches come with weights?
For most weight benches, you have to purchase the weights separately.
How much weight can a standard weight bench support?
Different weight benches have different maximum weight capacities. Most of them average between 200lbs and 1000lbs.
Subscribe to our Newsletter