Best Moisturizers For Dry Skin Reviewed & Rated
Disclosure: We use affiliate links and may receive a small commission on purchases.
There is a huge market for body and skin products out there. It can be difficult to decide which products you need, which ones you don't need, and especially which ones that will work well. One particularly common problem that there are products to help combat is dry skin. Many different people struggle with this problem on a daily basis. The levels of dry skin can vary a good bit, but there is one thing that is always true about dry skin and that is that it is uncomfortable and annoying.
Our Top 3 Picks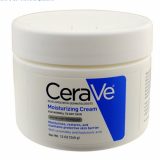 CeraVe

Our rating
Affordable
Price:

See Here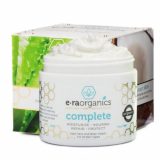 Era Organics

Our rating
Long-Lasting
Price:

See Here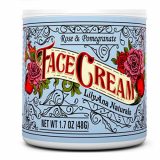 LilyAna

Our rating
Oil Free
Price:

See Here

The good news is that it is definitely treatable and preventable! Thanks to moisturizers, you can combat dry skin. There are many moisturizers out there that are designed for and marketed towards those people suffering from dry skin, which definitely makes it more difficult to figure out what the best product is. Fortunately for you, we have taken the hard work out of it for you. We have evaluated countless different moisturizers and chosen the very best moisturizers out there to help you with dry skin!
10 Best Moisturizers For Dry Skin
1. CeraVe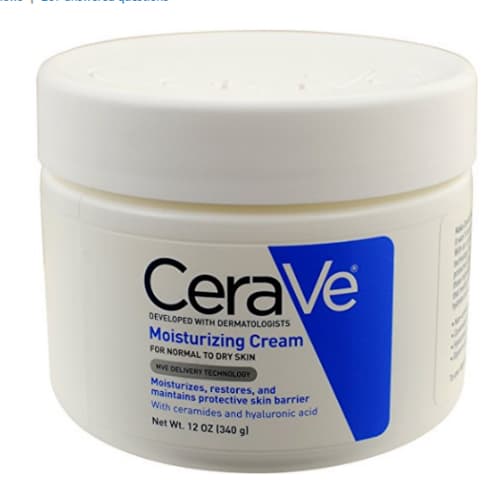 Ranking in at number one on our list for the best moisturizers for dry skin is the simple and effective CeraVe Moisturizing Cream. This is a very well-loved product from a very well-trusted brand! It is an amazingly effective moisturizer when it comes to delivering comforting moisture to your skin and it is also gentle and does not irritate the skin. It is formulated with wonderful ingredients that allow the product to do its job perfectly such as hyaluronic acid which helps the moisturizing cream to not only moisturize the skin, but also helps the skin to hold moisture in over time as well. Additionally, this product is free of fragrances and oils, and it is even hypoallergenic.

Controlled-Release Technology

Probably one of the coolest things about this amazing moisturizing cream is that it features advanced, patented MVE controlled-release technology. Basically, the moisturizing cream is formulated in a way that replenishes ceramides in the skin not just when you first apply this moisturizing cream to your skin, but it also replenishes them again and again over time. This gives the moisturizing cream the amazing benefit of continuously helping to keep your skin moisturized over time instead of just for a short while once you have applied it. This moisturizing cream can help to keep your skin nice and moisturized for 24 hours, although, you can certainly apply it much more often than that for even better results.
Expand to see more
Features and Specifications

24-hour hydration
Hypoallergenic
Patented MVE controlled-release technology
Oil-free
Fragrance-free
Ideal for normal to dry skin
Moisturizes and restores

Price/Value

This is one of the most affordable options when it comes to moisturizers for dry skin. It works so incredibly well and is so inexpensive that there was no way we couldn't choose this wonderful moisturizing cream for the top spot on our list. There is seriously no questioning the amazing value that this product has. It is a great choice for virtually anyone.

Conclusion

This is one product that is very difficult to beat. It not only has great value and comes with a very reasonable price tag, but it is very effective at moisturizing the skin and has some other great features as well, such as creating a protective barrier on the skin and utilizing controlled-release technology to keep your skin perfectly moisturized all day long. It is, without a doubt, a wonderful option for those seeking a moisturizer while suffering from dry skin.
Controlled-release technology helps maintain moisture in the skin over time
Very safe and gentle hypoallergenic formula with no fragrance or oil
Very affordable price
Comes from a well-trusted brand
May be too thick for the preference of some
2. Era Organics Complete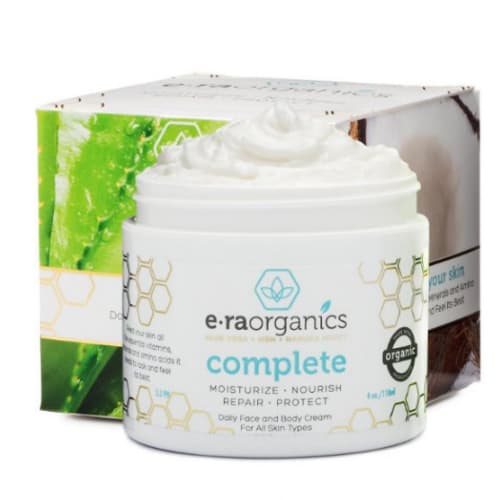 This is one luscious moisturizer filled with amazing ingredients perfect for those that are more health conscious. It is an all-natural option made of mostly ingredients that are organic food-quality. It combines many extraordinary all-natural ingredients to create a fabulous, effective, and very safe moisturizer perfect for people with all types of skin. It does an amazing job at moisturizing your skin, but it also has many other impressive effects including reducing the appearance of wrinkles by plumping up cells, strengthening your skin, repairing and rejuvenating skin, reducing pain, inflammation, redness, and itching, and giving skin a more toned and supple appearance.

All-Natural Ingredients

This completely natural skin moisturizer from Era Organics is full of ingredients that are not only effective and healthy, but are also completely natural and safe. Aloe vera and manuka honey provide soothing relief and things like coconut oil, shea butter, cocoa butter, and hemp seed oil all provide amazing hydration for your skin. It doesn't stop there because vitamins A, B, C, and E all provide your skin with amazing nourishment. The list still doesn't stop because this amazing product also contains blue green algae, olive oils, and more! It is so nice to be able to easily understand the ingredient list on a product.
Expand to see more
Features and Specifications

All-natural product
Organic ingredients
Repairing and replenishing
Nourishing and moisturizing
Deep hydration formula
For all skin types
Complete skin care system

Price/Value

Surprisingly, this all-natural moisturizer actually falls close to the middle of the list in regard to the price of the product. Usually more natural options, especially things using organic ingredients, would be very expensive, so it really is impressive how affordable this option is to have all-natural ingredients. It definitely has a wonderful and worth-while value as it is very effective and also safe and natural without the price being way too high.

Conclusion

This Era Organics moisturizer is a perfect choice if you are looking for something a little more natural, especially if you prefer to use mostly organic products. For those that are particularly health conscious, this is a wonderful moisturizer that is very safe and works very well and it isn't even that pricey either.
Provides deep and long-lasting hydration for the skin
All-natural and mostly organic ingredient list is easy to understand
Nourishes the skin while also repairing and protecting
Can be used on any skin type
Can be used for multiple purposes on the body, hands, and face
Can cause clogged pores in some cases
3. LilyAna Naturals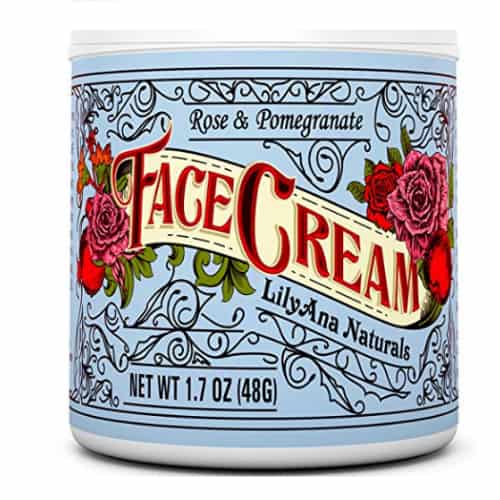 From LilyAna Naturals comes this delightful Rose and Pomegranate Face Cream. It is another natural option for those that prefer more natural products and it is also 90% organic! Not only will this amazing face cream provide you with wonderful moisture to combat dry skin and dry patches, but it also helps to reduce signs of aging such as wrinkles, crow's feet, and fine lines.

Rose and Pomegranate

The number one ingredient is this natural face cream is rose distillate. Rose oil is often times known as nature's miracle oil! It can rejuvenate and revive the skin and has many wonderful effects in this face cream! It can help to reduce scarring and discoloration of the skin and can also stop the worsening of signs of aging such as wrinkles and fine lines. The rose in this Rose and Pomegranate Face Cream helps to restore skin to its natural color and tone. The pomegranate also does some amazing things for your skin as an antioxidant! It can slow down the aging process, prevent age spots and hyperpigmentation, as well as soften, smooth and even firm the skin!
Expand to see more
Features and Specifications

Natural and organic ingredients
Repairing and rejuvenating properties
Moisturizing formula
Anti-aging
No parabens, artificial colors, or artificial fragrances
Absorbed well by skin

Price/Value

Just like the other more natural product on our list of the best moisturizers for dry skin, this product also falls towards the middle of the list price wise. It is a very high-quality product that works exceptionally well so its affordable price truly gives it amazing value.

Conclusion

This is a really wonderful and natural product sure to be loved by anyone who decides to try it out. It is more natural so it can be an especially great choice if you prefer to be extra careful about the products that you use. There is no denying its value and effectiveness, so this can really be a good product for anyone, but especially for those more health conscious folks with dryer skin.
Moisturizes without leaving the skin greasy or oily feeling
Is made mostly of natural and organic ingredients
Has multiple benefits to the skin including anti-aging properties
Feels soft and lightweight on the face
Can be used for all types of skin
Slight rose scent may bother some people
4. Neutrogena Hydro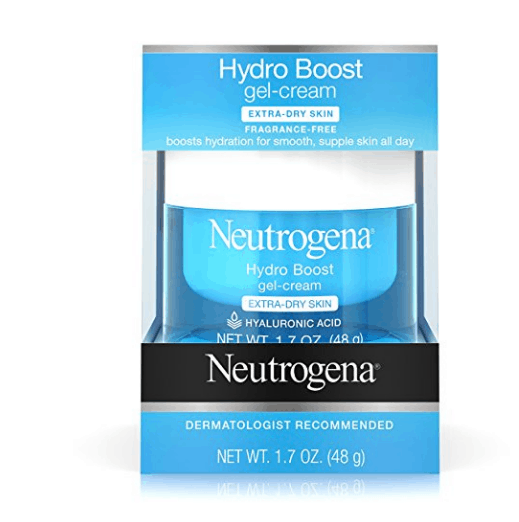 From the ever-popular brand Neutrogena comes this impressive Hydro Boost Gel-Cream. It is a highly-effective formulation that does a very good job at providing good moisture to your skin that is lightweight and silky-smooth. It is designed specifically for use with extra dry skin and does an exceptionally well job at making the skin both feel and look hydrated, soft, and supple. This moisturizer
doesn't take a whole lot to do a whole lot for your skin. It is also free of oils, fragrances and dyes to avoid irritation of the skin.

Hyaluronic Acid

By utilizing hyaluronic acid, this product can really provide an amazing boost to the moisturization of your skin. This amazing substance penetrates your skin and can hold up to 1000 times its weight in water which means that it really packs a great amount of moisture into a smaller amount of the product and can really help to hold the moisture into your skin over time.
Expand to see more
Features and Specifications

Hyaluronic acid
Gel-cream formula
Oil-free
Dye-free
Fragrance-free
Extra dry skin
Lightweight
Nourishing and hydrating

Price/Value

This product is closer to the low-end of price on this list of the best moisturizers for dry skin. It is completely affordable, even though it is not the least expensive of choices. Most people would have no problem purchasing this product, and it certainly has good value considering how well it works and the amazing formula used for this product.

Conclusion

This is a great product for those suffering from dry skin and even extra dry skin. It has good moisturizing ingredients in it and hydrates very well even over a longer period of time. It is pretty affordable and highly effective so it can certainly be a perfect choice for a wide variety of people.
Lightweight gel-cream formula easily absorbs into the skin
Specifically formulated for extra dry skin
Provides excellent and long-lasting hydration
Does not cause skin irritation
Olive extract nourishes the skin while moisturizing
Can cause a sometimes-uncomfortable tingling sensation when first applied
5. Garnier SkinActive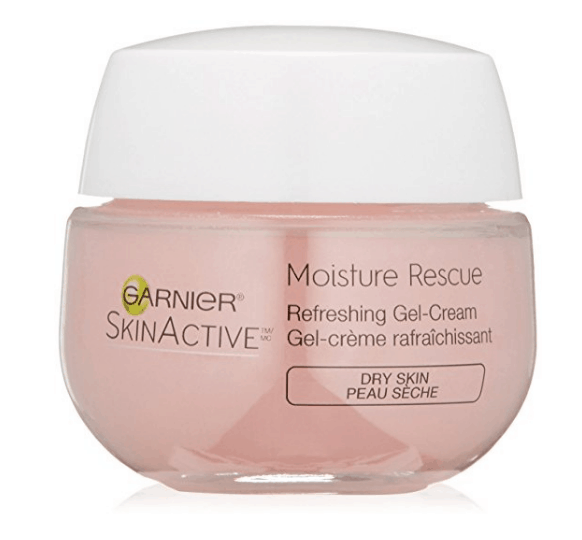 As another gel-cream formula, this Garnier SkinActive moisturizer designed specifically for dry skin does a great job at absorbing well into the skin and not only providing a nice burst of refreshing moisture immediately upon application, but also at holding that moisture in over longer periods of time. It holds moisture in and continues to hydrate for up to 24 hours and it really is a product that allows a little to go a long way. Even though it can work well for a full 24 hours, you can safely apply it even more often for even better results.

Strengthened Moisture Barrier

This moisturizer works to both moisturize as well as hold moisture into the skin. It not only does that though, if it is used continually over time, it will start to strengthen your skin's natural moisture barrier. This will help your skin to hold moisture in better and will give your skin an overall firmer, smoother and healthier appearance.
Expand to see more
Features and Specifications

Vitamin C
Fruit water
Antioxidants
Gel-cream formula
24-hour hydration
Oil-free

Price/Value

This moisturizer from Garnier is very close to the bottom of the list when it comes to cost. It is very affordable and will be well within most people's budget. It is a very lush product similar to much more high-end products, so it really has a wonderful value at an affordable price.

Conclusion

If you are on a tighter budget and you really want to try a high-quality product that will actually work effectively, this might just be the perfect moisturizer for you. It is a very well-made product that works exceptionally well and is very affordable too!
Penetrates skin to provide and retain moisture
Strengthens the moisture barrier
Gives skin an overall healthier appearance
Makes skin feel softer and more supple
Only requires a small amount to cover entire face
Scent is too strong for some
6. Aveeno Daily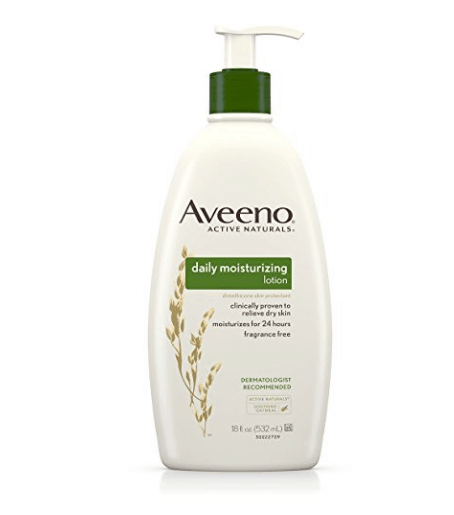 After only one use of this impressive lotion, you should notice some improvement in your dry skin. If you continue to use it over time, you will start to see more and more considerable results. It does wonders to keep your skin hydrated and looking and feeling nice and healthy. It even contains a skin protectant to really go the extra mile in protecting your skin. It is fragrance-free, dermatologist-recommended, and moisturizes and protects your skin for a full 24 hours.

Oatmeal

This Aveeno product utilizes oatmeal in a unique way in order to provide extra benefits to the skin in a very natural manner. The oatmeal in this product helps to restore skin to its healthy and natural pH level as well as assists in creating a strong and effective protective barrier. It even helps to attract moisture to the skin to provide more natural, healthy, long-lasting hydration to your skin.
Expand to see more
Features and Specifications

Colloidal oatmeal
24-hour protection
Fragrance-free
Dermatologist-recommended
Skin protectant
Non-greasy

Price/Value

Coming in at a very affordable price, especially looking at the price per ounce, this is an excellent product with a great value! It has a unique formula utilizing colloidal oatmeal, works extremely well, and is completely affordable for almost any budget!

Conclusion

This is a very nice product for those suffering with dry skin. It is specifically well-designed for use on the hands and body, but some people do have success using it on their face as well. It really does have a very good value and since it is so effective as well, you really just can't go wrong with this truly incredible product as a moisturizer for dry skin.
Colloidal oatmeal is natural and effective
Moisturizes and protects the skin
Gives skin a healthier, more radiant appearance
Effects last for a full 24 hours
May be considered too thick for use on the face
7. Nivea Soft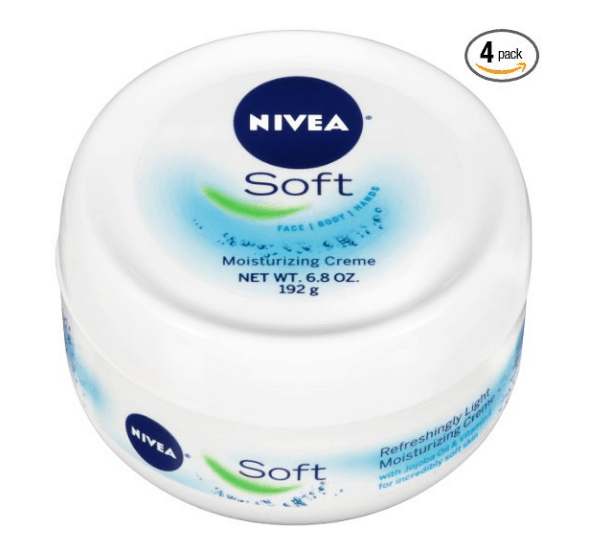 Here is another well-known and trusted company, Nivea, with their lovely Soft Moisturizing Cream. It is a very soft cream that creates very soft skin. It is great to be used on the face, hands, and the body. Not only does it soften the skin, it also provides a wonderful amount of healthy moisture as well. It goes on very smoothly and absorbs well into the skin for a light and airy feel.

Jojoba Oil and Vitamin E

This amazing moisturizer includes both jojoba oil and vitamin E in its ingredient list. These are both things that are natural and very good for the health of your skin. They are nourishing and moisturizing and create skin that is amazingly soft and healthy-looking.
Expand to see more
Features and Specifications

Easily absorbable
Jojoba Oil
Vitamin E
Dermatologically tested and approved
Refreshingly moisturizing
Lightweight

Price/Value

This moisturizing cream is actually the least expensive choice of all of the moisturizers for dry skin to make it on our list. It is very affordable for anyone no matter what your budget is, so it can really be a wonderful and still effective choice for those that may be on a tight budget. Considering its impressively low price and how effective it still is, there is no questioning the value of this great product.

Conclusion

Even though this product is less expensive, it does not mean that it is not a good quality product. This moisturizing cream can really be a good choice for you if you are struggling with dry skin and looking for a good and still very effective product that won't break the bank.
Lightweight formula easily and comfortably absorbs into the skin
Jojoba oil and vitamin E nourish the skin
Moisturizer is refreshing and effective
Very affordable choice
Combats dry skin well
May not last quite as long as some other options
8. Cetaphil Sensitive Skin
Designed specifically for dry and sensitive skin, this moisturizing cream from Cetaphil is very effective. Formulated in a way that actually attracts water to the skin, this moisturizing cream does an amazing job at preventing the skin from losing moisture over time. It is a very lightweight moisturizer that is not greasy and absorbs very well into the skin.

Eczema Treatment

This impressive moisturizing cream is an especially good choice for those suffering from eczema because it is formulated specifically for chronically dry and itchy skin. It does an amazing job at providing fast and effective relief from symptoms of eczema like dry and itchy skin. It penetrates well into the skin and attracts moisture as well as preventing loss of moisture. It is very soothing instantly and provides long-lasting relief over time as well. While definitely a good choice even for those without eczema, it is really a great treatment for those who do have it.
Expand to see more
Features and Specifications

Eczema relief
Holds moisture in
Dry and sensitive skin
Long-lasting effects
Hypoallergenic
Fragrance-free
Paraben-free

Price/Value

This is one of the most affordable options on the list and it is a very effective product. It moisturizes very well and helps to hold moisture in the skin over time. Since it is such a good and high-quality product and still is able to retain a lower price, this product really has incredible value and is definitely worth purchasing.

Conclusion

This is a very impressive product that is perfect for those suffering with very dry, sensitive, and even itchy skin. It even does a great job at treating eczema. With a great overall value, this really is a wonderful choice if you have eczema, but can also be a good option for anyone with dry skin.
Special formula effectively treats eczema
Provides instant relief from dry and itchy skin
Works well with sensitive skin
Formulated to provide long-lasting hydration
Very affordable
Not ideal for acne-prone skin
9. Clinique Surge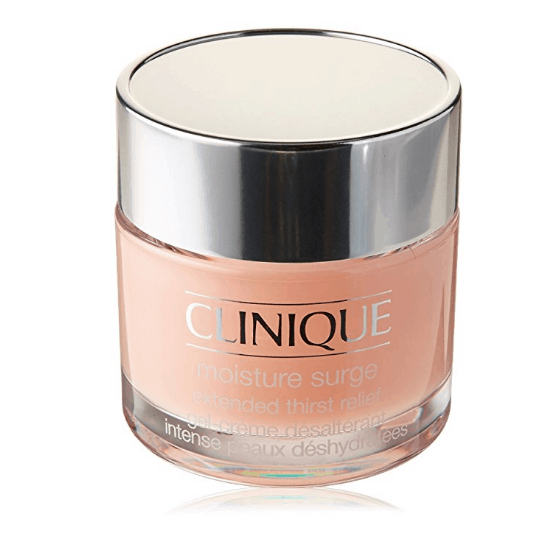 Here is a luxurious product from a very popular brand that is nearly guaranteed to satisfy. It is not only very effective at moisturizing but does a wonderful job at keeping the skin soft and supple without causing oily skin or break outs like some other moisturizers tend to do. It designed to work with all skin types, but it is especially wonderful for those who may be suffering from dry skin as it does a fantastic job at hydrating and really providing healthy and adequate moisture to the skin.

Cream-Gel Formulation

This lush formula is somewhere in-between a gel and a cream making it a super luxurious and comfortable moisturizer that goes over the skin easily and smoothly. It is made in a way that allows you to only use a small amount and still get big results. It keeps your skin nice and comfortable as well as looking dewy and glowing!
Expand to see more
Features and Specifications

Cream-gel formulation
Hyaluronic acid
Hydrating
24-hour moisture
Lightweight
Silky feel

Price/Value

This is one of the priciest choices of moisturizers to make it onto our list, but it is with a very good reason. It is a very well-designed product that goes on lightly and gives a silky, comfortable, and most importantly, a moisturized feeling to the skin. It is long-lasting and expertly effective. It is a truly luxurious product that does an amazing job at moisturizing the skin, and it only takes a small amount to see great results which definitely give this product an excellent overall value.

Conclusion

If you are on the fence about trying this moisturizer from Clinique, you should definitely give it a chance because it really is a great value and an incredible product. It is a great choice for all skin types, and if it is in your budget, it is definitely well-worth the price.
Formula penetrates skin to enhance moisture
Utilizes hyaluronic acid to really enhance hydration
Continues to provide moisture to the skin for 24 hours
Has a very lightweight and silky feeling to it
Doesn't take much to cover a large area
10. Peter Thomas Roth Hyaluronic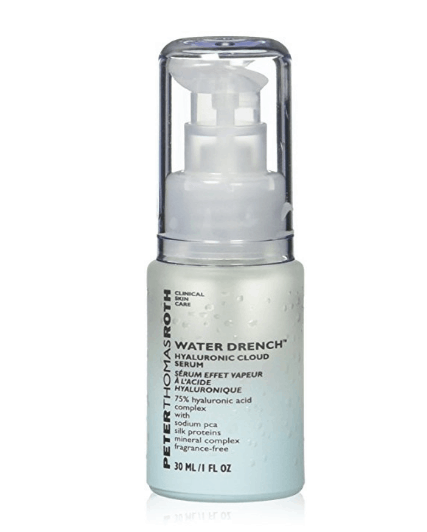 This is a very impressive, high-end, high-quality product that does an incredible job at moisturizing the skin. It is lightweight, luxurious, and highly effective. It works great for all types of skin, including if not especially dry skin. It hydrates the skin very well and locks that moisture in for long periods of time as well. It goes on smoothly and feels nice and silky on the skin. It is easily absorbed and immediately effective. Free of oils, fragrances, and alcohol, it makes sense that this high-quality product is so effective at moisturizing without irritating the skin or causing break outs like some other products do.

72-Hour Moisture

This product is unique in that it is able to lock vital moisture into your skin for up to a full 72 hours – that is 3 days! It has a very high concentration of 30% hyaluronic acid in it that really makes all the difference because the hyaluronic acid draws moisture from the air into the skin and is able to hold up to 1000 times its weight in water. This moisture on your skin can last up to the full 72 hours, but it is definitely most effective to apply the moisturizer much more regularly if you want the best possible results.
Expand to see more
Features and Specifications

72-hour hydration
Locks in moisture
30% hyaluronic acid
For all skin types
Oil-free
Fragrance-free
Alcohol-free

Price/Value

Coming in at the very top of the list in regard to the cost, this is a pretty pricey moisturizer, but there was no doubt that it had to make it onto the list because it is so impressive and effective. For these reasons, you just cannot deny the incredible value this product has even with its higher price tag.

Conclusion

This is certainly a pricey choice and for that reason it won't be for everyone, but it is a very nice and high-quality product that is incredibly effective. If you are able to afford this product with your budget, there is no doubt that you should give it a try because you are almost guaranteed to love this product! The price really is the only reason it isn't higher up on the list.
High concentration of hyaluronic acid provides extra-long-lasting hydration
Designed for effective use for all types of skin
Being free of oils, fragrances, and alcohol helps prevent any skin irritation
Very high-end and effective product
Lightweight formula absorbs well into the skin without blocking pores
Product Criteria for Evaluation
Quality
One of the most important things that should be considered when shopping for products, especially the products that we use on our bodies, is the quality of the product. You don't want to put just anything on yourself, and you want to know that the products you are using are of the upmost quality. We know how important that is, which is exactly why we carefully took into consideration the quality of each of the moisturizers that we looked at when we put together this list and chose nothing but the very highest quality choices for you to consider.
Effectiveness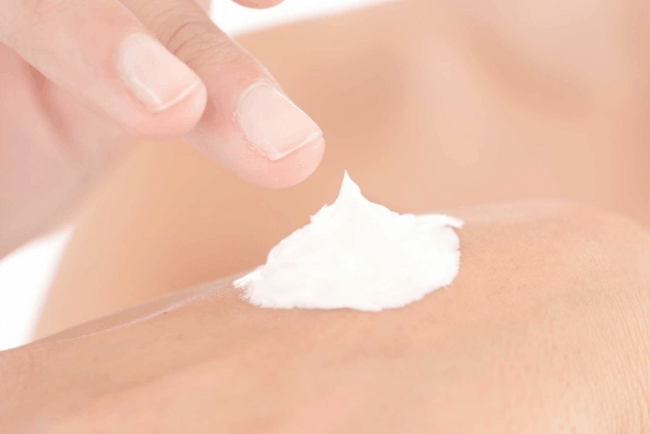 Obviously, a product is no good if it is not effective. You, of course, expect a product that you spend your hard-earned money on to deliver quality results and do its job very well. It is even better when that product has even more positive effects than just the intended use. When we were searching through thousands of different moisturizers, we chose the very best of the best at combatting dry skin, and especially tried to choose products that would work well for a variety of purposes in addition to taking care of dry skin.
Ingredients
Another very important thing to look at when you are buying skin care products or any other products that go on or in your body, is the ingredients of the product. Moisturizers have all sorts of different ingredients in them. We wanted to make sure that all of the products that we suggested to you had only the best ingredients. Many of the moisturizers that we have included have something called hyaluronic acid in them because it is a safe and extremely effective way of hydrating the skin over longer periods of time. We know that there are all different lifestyles out there though, and we know that some of you prefer all-natural products so we made sure to include some moisturizers that work great for dry skin even while maintaining an all-natural ingredient list.
Safety
One of our absolute top priorities is to only suggest products to you that are safe for use. The last thing that you want is to purchase something that could potentially cause you harm of some sort. We know how important it is to always maintain safety and to choose safe products to use on our bodies. We were careful in our search to choose only products that are completely safe for your use.
Price
Anytime that you are going to spend money on something, you have to consider the cost of whatever it is that you are going to buy. The price of an item always plays an important role in our purchasing decisions. We are completely aware that everybody has a different budget and we understand that it is important to stick to that. We have included a wide variety of different prices for the items that we have put on our list so that anybody can find something that works very well to combat dry skin no matter how much they are able to spend on it.
Value
It is not just about the price tag of a product, but about the actual value of that product. We could easily make up a quick list of the cheapest moisturizers out there, but we know that you deserve better than that. Value comes from a mixture of quality and affordability and that is exactly what we searched for when we were putting this list together for you. We chose items that had excellent values at a variety of price points.
User Reviews
Quite possibly the most relevant factor when shopping for any product is the user reviews of that specific product. You need to look at the user reviews before purchasing in order to get a real feel of what to really expect from a product. You can read about the specifications and the ingredients all day but nothing gives you a more honest picture than finding out what the real buyers and users of a product think of it once they actually have and use the product. We read review after review for every one of the products that we evaluated so that we could bring you a list of great moisturizers that legitimately work for dry skin and leave customers feeling happy and satisfied with their purchase.
Benefits
Like some people, you may believe that the only point to using a moisturizer is to simply keep the skin moist for comfort reasons. That is often why people do start using a moisturizer, but there are actually many amazing benefits of using a moisturizer that you may not even realize that you are missing out on by not using one.
Hydration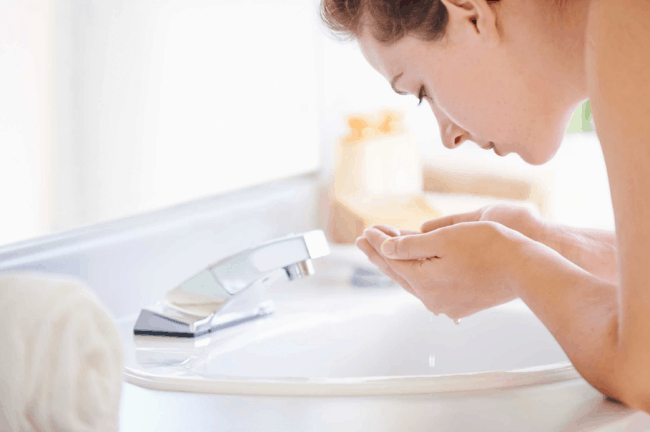 This is the most obvious reason for using a moisturizer – to moisturize, of course! This is an especially important benefit if you are suffering from dry skin, and one of the great moisturizers on this list can definitely help you out with that. Sometimes, even if you don't suffer from chronic dry skin, our skin can still suffer from a lack of moisture and by using a moisturizer, you can provide your skin with desperately needed hydration that can help you feel better but also has many other benefits as a result of proper hydration.
Health
Good hydration is a very important part of your skin's overall health. By keeping your skin well-hydrated by using a daily moisturizer, you will help to ensure that your skin is as healthy as possible and reduce your risk of skin conditions like dry, patchy, rough skin. Moisturizing your skin regularly can even help with problems like eczema.
Appearance
Here is a big benefit of moisturizing properly. Not only will your skin feel better and be healthier, but it will also look nicer! With proper hydration from regularly using a moisturizer, your skin will glow like never before! It will look smoother, softer, more supple, firmer, and even younger. In fact, moisturizing can not only combat things like fine lines, wrinkles, and crow's feet, but it can also go towards helping to prevent them.
How to Use and Apply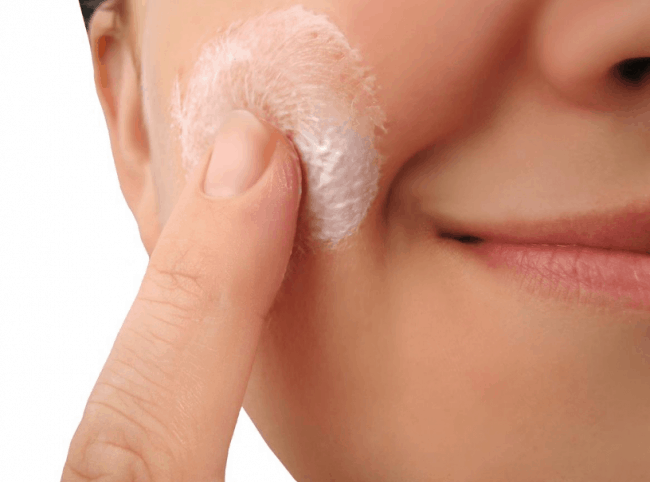 If you do decide to begin a moisturizing regimen, it is important to understand how to use and apply your moisturizer properly. Every moisturizer will vary slightly but there are some general rules you will want to follow. One of the first things you will probably be wondering is how often you should use your moisturizer. Again, every moisturizer is different. Most of the moisturizers that we included on the list will give long-lasting moisture for up to 24 hours, with the Peter Thomas Roth moisturizer lasting up to an impressive 72 hours.
However, just because they may be able to work for that long, does not mean that is how often you should apply them. Generally, for the best results, you will want to apply the moisturizer about twice a day, but sometimes doing it even more can be beneficial, especially if you suffer from very dry skin. It is a great idea to apply the moisturizer in the morning to get a good, refreshing start to your day and then again right before bed so that your moisturizer can work well all night long.
How you apply your moisturizer will definitely depend on the specific moisturizer and what part of your body you are trying to moisturize. For many moisturizers that you are using on your hands and body, being fairly liberal with the moisturizer is your best bet for adequate results. However, if you are using something for your face, especially if you are using a gel-cream formula, you will want to be pretty conservative in the amount you use. You'll probably only need a very small amount that you will spread evenly over your entire face in a very thin coat.
How to Store
When using products like moisturizers, it is important to understand that there is a right way and a wrong way to store the product. If you store a product incorrectly, it may not be as effective or it may go completely bad. Each product should have some simple instructions on how to store, but they are generally the same among products of similar nature such as skin moisturizers. Basically, you really just need to store the container that holds your moisturizer in a place that is neither too hot nor too cold.
The temperature is the main concern for storing moisturizer properly. As long as you keep your home at a comfortable temperature and keep the product in a generally dry area in your home, it should be just fine. Don't leave the moisturizer in your vehicle or garage or anywhere else where the temperature could get very high or low or fluctuate too much. It is also good practice to keep your moisturizer closed when you are not using it so that it doesn't end up drying out or getting contaminants in it like dust or allergens.
FAQ
Can I wear make-up with my moisturizer?
Yes! You can absolutely still wear make-up when using a moisturizer. Most of the time, it is best to use your moisturizer before you apply your make-up. In fact, putting on moisturizer can help give your make-up a cleaner, smoother appearance and prevent caked up looking make-up that often worsens the appearance of dry skin.
Is it possible to use too much moisturizer?
Too much of anything is a bad thing, but for the most part, however much moisturizer you want to use should be just fine. Often times, using more moisturizer can give you better results. For the best results, especially if you have dry skin, try to use your moisturizer multiple times each day. You don't want to use so much at a time that your skin is left feeling very wet. You should use a good amount in most cases but it should still easily rub in and absorb into your skin.
If I have trouble with one moisturizer, should I try a different one?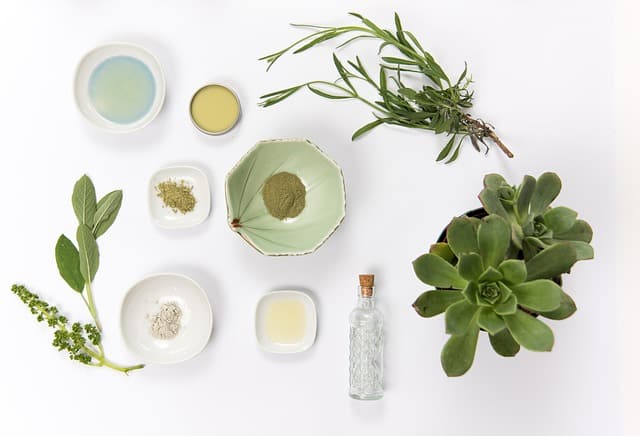 Everybody's skin is different just like every moisturizer is different. For these reasons, not every moisturizer will work for everybody's skin. We have included a variety of different moisturizers that work in different ways with different ingredients so that if one of them doesn't work well for you, you can always give another one a try and will likely receive different results.
Is moisturizer safe for my skin?
Absolutely! Moisturizer is not only safe for your skin, but it can really be very beneficial for your skin! Moisturizing regularly provides all sorts of benefits including healthier, better-feeling, and better-looking skin. We were extra careful to make sure that all of the products that we suggest are safe for your skin.
Will the moisturizer be effective if I don't use it regularly?
Moisturizer works best and gives you the best possible results when it is used regularly. However, if you are very forgetful and just don't manage to use it every day, it can still be beneficial, especially short term for a period of time right after you use it. Basically, how it works is that the more you use your moisturizer, the more effective it will be at improving the health and appearance of your skin.
Subscribe to our Newsletter