Best Caffeine Tablets Reviewed and Rated
Disclosure: We use affiliate links and may receive a small commission on purchases.
More than 80% of adults consume coffee every day, making it the second most consumed beverage in the world after water. People love coffee for the positive effects of caffeine, on the nervous system. Caffeine acts on the brain to improve alertness, concentration, boost energy and metabolism, to uplift mood and increase fat breakdown. The effects of caffeine can be noticed after 30 minutes of consumption and can last for up to six hours.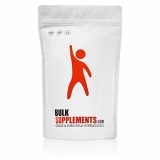 Bulksupplements

Our rating
Purity
Price:

See Here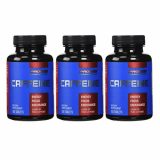 ProLab

Our rating
No Calories
Price:

See Here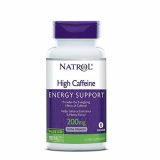 Natrol

Our rating
Fast Acting
Price:

See Here

When taking coffee as a drink, it is hard to determine whether the amount of caffeine that you are taking is within the recommended limits. A study released in the Mayo Clinic Proceedings Journal established that 400mg of coffee per day is relatively safe. Some of us may consume much more than this, without even realizing that we are taking that much. Caffeine tablets help you to know the amount of caffeine that you consume in each serving. Caffeine tablets are also advantageous considering that you can take them on the go and that they are economical.
There are quite a number of caffeine products in the market, and it may be challenging for you know what to pick. We have taken time to create a comprehensive review of the ten best caffeine tablets products and written a detailed account of each of them in regards to the active and inactive ingredients, pros and cons, price and side effects.
These are the ten best products that we have reviewed.
10 Best Caffeine Tablets
1. Bulk Supplements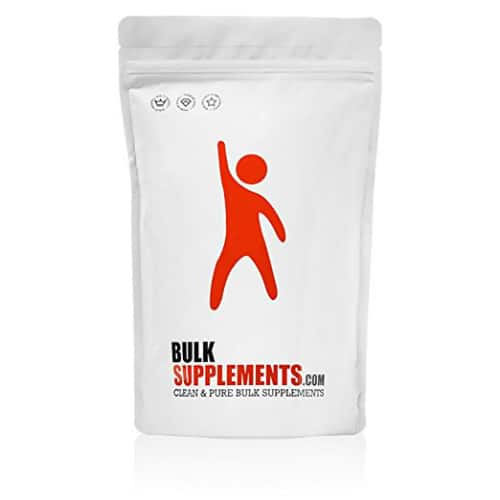 Bulk Supplements are known for producing clean and pure products with no fillers and artificial additives. Bulk Supplements caffeine capsules are another great product on their line. The capsules have 200mg of pure caffeine covered with a bovine gelatin capsule.

The capsules are free of sugar, soy, dairy, yeast, gluten, and additives. Each serving can last for four to six hours while contributing to mental acuity, alertness and promoting energy release. This product is also lab tested for verification of purity and dosage.

Expand to see more
Features/Specifications

Each serving has 200mg of caffeine with no fillers
Encapsulated with a bovine gel capsule
Each package has 100 capsules
Free of sugar, soy, and additives
Gluten and dairy-free
Lab tested for verification

Directions for use: Take one tablet every four hours. However, you should not consume more than three tablets per day, and two tablets should not be taken at the same time.

Price/Value

These are fairly priced considering that they are pure capsules with no fillers, are quickly absorbed thus give fast actions and can last you for more than three months if you take a tablet per day.

Verdict

Just like most other Bulk Supplements products, the coffee tablets are pure with no fillers. For this reason, they have less undesired effects caused by artificial additives. The tablets have no added sugar, thus will not set you back on your weight loss journey by adding unnecessary calories. Even more, on the inside of the capsule, caffeine is in powder form, so once it is in the digestive tract, it is quickly absorbed and released to give fast results. Within 30 minutes, you can start feeling positive effects of the caffeine.

No fillers
Free of many potential allergens
No added sugar
No preservatives
Purity is guaranteed through independent lab testing
Easily dissolves in beverages
Small tablets
Fast action
Capsules are prone to breaking
2. ProLab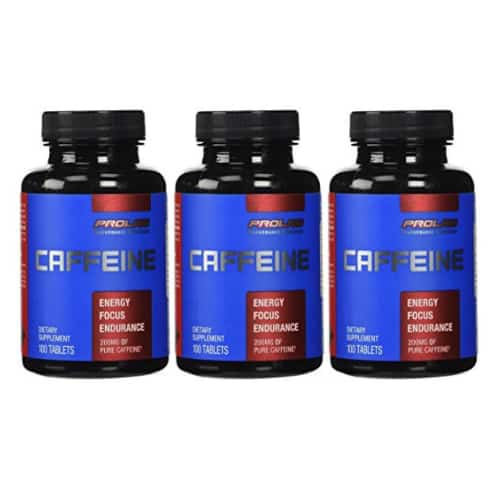 ProLab tablets help to boost mental focus, enhance endurance during exercise and boost metabolism to avail more energy for physical activity. Each tablet has 200mg of caffeine and 75mg of calcium.

The tablets are free of sugar, so you do not have to worry about extra calories. They are also free of artificial coloring, preservatives, and flavorings. They are safe for people with wheat, egg, soy, and dairy sensitivity as they are free of these potential allergens.

Expand to see more
Features/Specifications

Each tablet has 200mg of caffeine and 75 mg of calcium, obtained from dibasic calcium phosphate
Other ingredients are stearic acid, cellulose gum, silica, magnesium stearate, methylcellulose, and glycerin.
The tablets do not contain any added sugar, coloring or flavoring
Free of gluten, soy, corn, dairy, egg, and yeast
Zero sugar
No calories
Each package has three bottles each with 100 tablets, so you get a total of 300 tablets

Directions for use: Take one to three tablets per day (do not exceed three) and allow three to four hours to elapse before a second serving.

Price/Value

These may look a bit pricey, but when you analyze them keenly, you will notice that they are very easy on the pocket. Each package comes with three bottles, each with 100 tablets, making a total of 300 tablets. If one tablet is enough for you for a day, then this product can last you for almost a year.

Verdict

ProLab is worth considering not just for their price and numbers, but also for the effectiveness. Each tablet has a 200mg which can keep you alert and focused for quite some time. Even better, they are free of many potential allergens and are thus safe for many people.

Many tablets (300) per package
No added sugar
No calories
Free of many potential allergens
Free of preservatives, flavors, and colorings
Pills are difficult to break
3. Natrol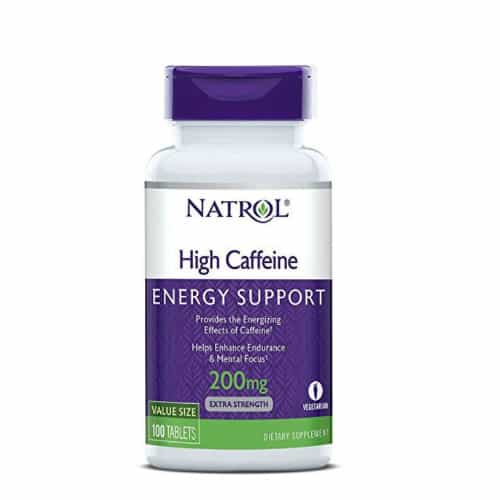 Natrol High tablets have 200mg of caffeine and calcium 75mg as the active ingredients. These active ingredients boost energy, and they help to improve mental alertness and wakefulness temporarily. They can be used when you when you want to focus on high-concentration activities when fatigued and even before exercising.

The Natrol High caffeine tablets have no added sugar and are free of many substances that may cause sensitivities. The tablets are not coated thus they are quickly absorbed and metabolized to give their effects. It has calcium as one of its active ingredients as when caffeine is taken in concentrated doses, it promotes excretion of calcium. Therefore, the calcium in the tablet will help replace the amounts lost and aid in the prevention of bone loss.

Expand to see more
Features/Specifications

Each tablet has 200mg of active caffeine and 75mg of calcium
Other ingredients include Stearic Acid, Cellulose Gum, Silicon Dioxide, Magnesium Stearate, Methylcellulose, and Glycerin.
No added sugar
Zero calories
Suitable for vegetarians
Each bottle has 100 tablets
Free of dairy, egg protein, nuts, fish, soy, yeast, and wheat.
No artificial coloring, preservatives or flavoring

Directions for use: take one tablet up to three times daily. If you need more than one serving per day, allow three to four hours in between the servings. You should not exceed three tablets for every 24 hours.

Price/Value

If you are on a budget, then Natrol High tablets are in the lower price range and extremely easy on your money. In addition, each bottle has 100 tablets which can take you more than three months if you are taking the minimum dosage.

Verdict

They are not coated, so they are easily broken down and absorbed to give quick actions- within 30 minutes, you can be fully alert. Therefore, these tablets are excellent as a pre-workout. They are also safe for use by a larger population as they are free of so many potential allergens and are suitable for vegetarian diets.

Fast acting
Zero calories
Suitable for vegetarian diet
No preservatives
Free of nuts, gluten, soy, and dairy
May cause headaches and anxiety in the initial days of use
4. Genius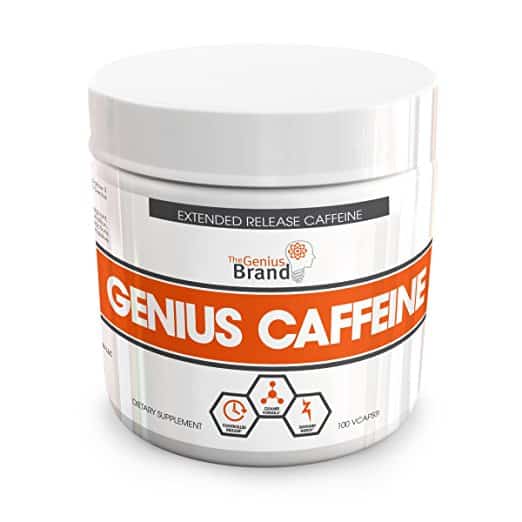 Genius caffeine tablets stand out from most other products as they are a sustained-release type as they are microencapsulated. This means that once in the digestive tract, the caffeine is slowly released into the bloodstream and the effects of caffeine are thus prolonged. Therefore, you will stay awake for up to 12 hours. The slow-release property also allows the tablet to be administered in low doses of about 100mg per serving.

Genius tablets do not have any fillers, dyes, preservatives and are suitable for vegetarians as the capsule is obtained from plant sources.

Expand to see more
Features/Specifications

Each tablet has 100mg of pure caffeine
Is microencapsulated for sustained release
Inactive ingredients include cellulose, hypromellose, silica, magnesium stearate
Suitable for vegetarians
No fillers
No added sugar
Each bottle has 100 capsules

Directions for use: these tablets should be taken by someone who is more than 18 years old. The dosage is 1 to 2 tablets three times daily, and should not exceed six tablets daily. Before taking the second tablet, wait for 3 to 4 hours to pass.

Price/Value

Genius caffeine products are moderately priced. They are worth buying if you want a product that is low in dosage and has prolonged effects of caffeine.

Verdict

This option is worth considering if you want to be awake for a more extended period. They are microencapsulated, so they have an extended release of up to 12 hours. Meaning that if you take one tablet in the morning, it can last you until evening. The dosage is also minimal; thus, you can use it for longer without worrying about overdosage.

Positive effects are seen within a short time
The results can last up to 12 hours
No added sugar
Suitable for vegetarians
Zero calories
Low dosage
More likely to cause prolonged stomach upsets
5. Nutricost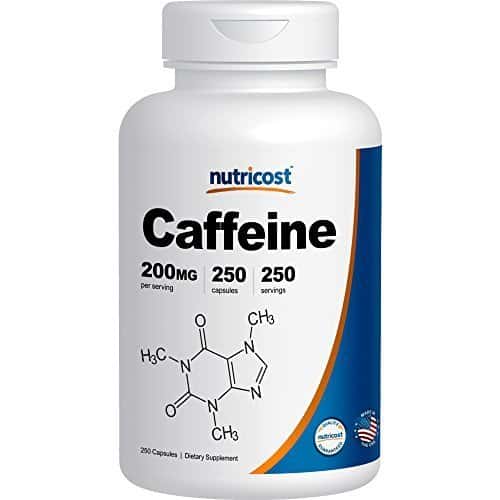 Nutricost caffeine tablets are a USA-made product whose quality is guaranteed by adhering to manufacturing standards. Each tablet has 200mg of caffeine as the active ingredient to boost metabolism, cause mental alertness and uplift mood. This product is a non-GMO, free of gluten and has no added sugar.
Expand to see more
Features/Specifications

USA made
Each tablet has 200mg of caffeine anhydrous
The only other inactive ingredients are gelatin and rice flour
Non-GMO
Zero calories
No added sugar
Free of gluten
Each bottle has 250 tablets

Recommended usage: take one tablet up to two times daily and do not exceed two tablets in 24 hours. Also, you should wait for at least 3 to 4 hours to elapse before taking the second tablet.

Price/Value

They are reasonably priced for 250 tablets that have 200mg of pure coffee. They are fast acting, and the effects last for long. You should also consider that they can last you for more than six months if you are taking a minimal dosage, which is what is actually recommended.

Verdict

Nutricost products are well known for quality, safety, purity, and effectiveness. The tablets have also lived up to the standards, and as per the user reviews and independent tests, they are efficient, fast acting and have a prolonged effect. For these reasons, Nutricost caffeine tablets are a great buy.

Zero calories
Many tablets per bottle
Free of gluten
Non-GMO
No added sugar
Acts fast
Has a medicine-like taste
Not suitable for a vegetarian diet
6. Best Naturals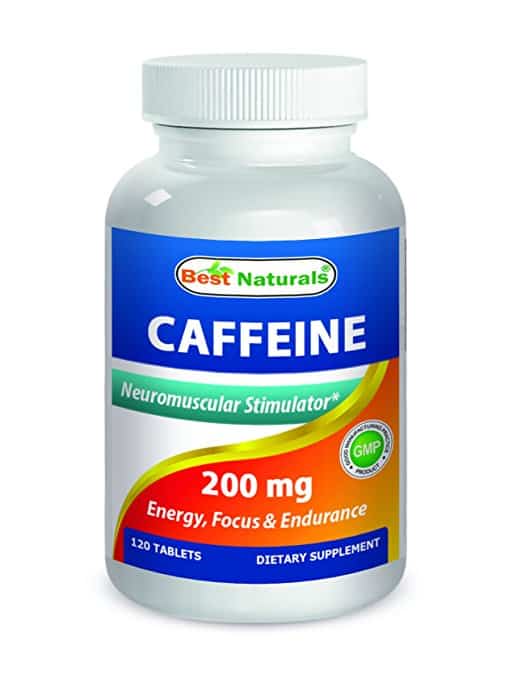 Best Naturals tablets can be used at the beginning of the day as a replacement for coffee to enhance mental alertness, improve exercise endurance and elevate mood. Each tablet has 200mg of caffeine and about 75mg of calcium to replace what is lost through urinary excretion. The tablets are free of sugar. Thus they will not sabotage your weight loss journey.

The tablets have no artificial additives such as color, preservatives, and flavors. They are free of lactose, gluten, egg, soy, gluten, wheat, fish, and sodium. Also, the manufacturer is GMP certified, and purity and potency are guaranteed.

Expand to see more
Features/Specifications

USA made
Each tablet has caffeine 200mg and calcium 75 as the active ingredients
Inactive ingredients are dicalcium phosphate, cellulose, magnesium stearate, and silica.
GMP certified
Free of allergens
No flavor, color, and sweeteners
Free of preservatives
Each package comes as 120 tablets

Directions for use: Take one tablet up to three times daily, but allow 3 to 4 hours to elapse in between servings.

Price/Value

This option falls somewhere in the middle of our list when it comes to price. However, we would recommend this product for those looking for a light caffeine supplement especially in the mornings.

Verdict

Free of preservatives and colorants, this is a great light option which also contains a good amount of calcium. Good for those looking for a light energy boost when starting their day.

Contains calcium
Free of preservatives
Safe for people with various sensitivities
Subjected to purity and potency testing
No coloring and flavoring
7. Jet-Alert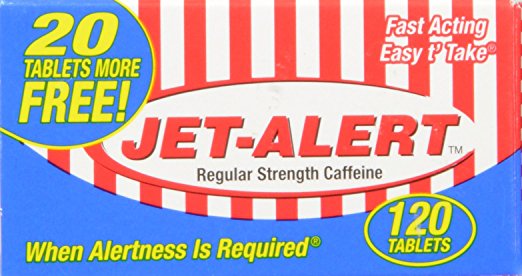 Jet-Alert tablets are fast acting, easy to take and can be taken at the instance that alertness is required, just as the product name suggests. Each tablet has 100mg of caffeine, thus excellent if you need the active ingredient in low doses.
Expand to see more
Features/Specifications

Caffeine dosage is 100mg per tablet
Inactive ingredients include calcium stearate, lactose, microcrystalline cellulose, and silicon dioxide.
Each package has 120 tablets
Fast releasing tablets
Non-habit forming

Directions for use: Can be taken by children above 12 years and adults. On dosage, take tablet every 3 hours or when needed. However, you should never exceed more than four tablets per day, and duration in between tablets should not be less than three hours.

Price/Value

Excellent price/value ratio. A good choice for younger generations who train often and need some additional energy to perform better.

Verdict

This is a great product for those looking for a budget friendly supplement yet efficient. It contains the basic ingredients but it's very effective and can be consumed by younger children (12 years and older).


Results can be seen almost immediately
They are non-habit forming
Can be taken when needed
Tablets are easy to swallow
Less stomach side effects
Not safe for people with lactose intolerance
May cause a caffeine rush in the initial days of use
8. Vali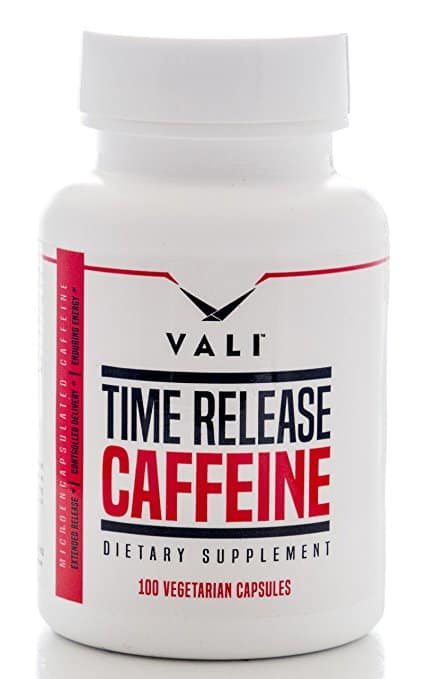 Vali tablets are the extended release type as they are microencapsulated. Once in the digestive system, they are absorbed and released slowly for a sustained action and an effect that can last for more than ten hours. They stimulate the body metabolism and suppress appetite, thus help you to lose weight faster. Caffeine tablets also activate mental alertness making you concentrate and have psychological acuity for a long time.

They are subjected to third party testing for purity, and the manufacturer has a reputation for adhering to highest possible quality standards. The tablets are free of artificial colors, sweeteners, and flavors. The tablets are also vegan-friendly and are a non-GMO product.

Expand to see more
Features/Specifications

USA made
Each tablet has 100mg of caffeine
Microencapsulated for extended release
Vegan-friendly
Free of artificial coloring, preservatives, and sweeteners
GMP and FDA certified
Subjected to third-party testing
Other ingredients in this product are Rice Powder, Hypromellose (capsule), Microcrystalline Cellulose (plant fiber), Silicon Dioxide, and Magnesium Stearate (vegetable source)
Comes as a package of 100 tablets

Recommended dosage: Preferably, take one pill per day and do not exceed four tablets in 24 hours. If you need to take more than one tablet, wait for four hours before taking the second tablet.

Price/Value

This option is reasonably priced considering that they are extended release, give prolonged effects, are low in dosage, and the manufacturer has guaranteed purity.

Verdict

Vali tablets are safe to use considering that first, they have been subjected to independent testing for quality and purity. Second, they are an extended-release product that does not cause caffeine crashes and spikes. Third, they are low in dosage, therefore, are more likely to have fewer side effects. For these reasons, we are convinced that this product that is worth buying.

Is extended release so does not cause caffeine spikes
Tested for purity
Sourced only from plant sources
Free of artificial additives
Low dosage
May cause jitters and headache within 20 minutes of use
9. Vivarin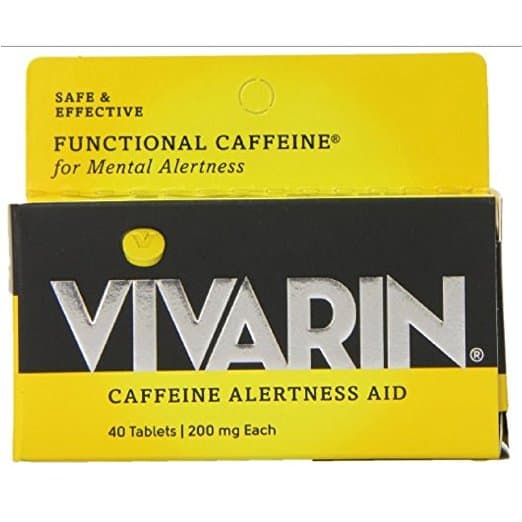 Vivarin helps to improve mental alertness and was one of the first market entrants for caffeine products. The tablets can be used as a startup in the morning to improve mood and boost energy throughout the day. They can also be taken before a workout or when feeling tired, fatigued and sleepy. Each tablet has 200mg of anhydrous caffeine and some fillers as inactive ingredients.
Expand to see more
Features/Specifications

Each tablet has 200mg of anhydrous caffeine as the active ingredient
Inactive ingredients include carnauba wax, silicon dioxide, corn starch, D&C yellow, dicalcium phosphate dihydrate, hypromellose, microcrystalline cellulose, polysorbate 80, titanium dioxide, magnesium stearate, and colloidal silicon dioxide.
Primary use is for improving mental alertness
Each package has 40 tablets

Recommended usage: Can be used for children above 12 years and adults. Dosage is one tablet every 3 to 4 hours.

Price/Value

Compared to other Vivarin caffeine tablets are in the higher price range considering they are only 40 tablets in each package.

Verdict

Although they are pricey, they are very highly effective in improving mental alertness and keeping you awake. Also, their effects can last the whole day and can, therefore, be used as a replacement for coffee or tea in the morning.

Fast acting
Effects are prolonged
Minimal calories from starch
Effective in keeping one alert and awake
Has a small amount of calcium replace what is lost by urinary excretion
10. Allmax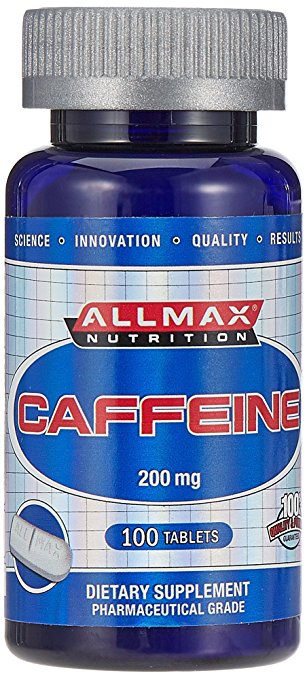 Allmax nutrition caffeine tablets are best for boosting energy, especially during physical activities. If you are aiming at losing weight, caffeine tablets help in boosting metabolism, suppressing appetite and increasing the rate of fat burn. Allmax caffeine tablets have caffeine in the form of anhydrous caffeine, and each tablet has 200mg strength.
Expand to see more
Features/Specifications

Each tablet has 200mg of anhydrous caffeine
Inactive ingredients are dicalcium phosphate, microcrystalline cellulose, vegetable magnesium stearate, and croscarmellose sodium.
Each bottle has 100 caffeine tablets

Directions for use: Take one tablet every eight hours but do not exceed 600mg (3 tablets) per day.

Price/Value

Since this option is packed with caffeine, it's higher price is justified especially for those looking for an immediate energy boost that will last for more than a few hours.

Verdict

Great option for those working out a lot and on a regular basis. The price is rather high but a good investment to get better results while training.
Prolonged action
Zero calories
No added sugar
Double strength tablets
Easy to break
Pills are hard to swallow
---
Criteria for Product Evaluation
The niche of nutritional supplements has thousands and thousands of products. Some work while others have no effect at all. Some manufacturers and distributors concentrate on marketing and forget that quality comes first. Others do not give the right information and end up either misleading you or giving you false hope. We are convinced that our list of reviewed tablets has products that will meet your expectations. This is the criteria that we used to choose these products.
User reviews and ratings

We went through user reviews and ratings from different online caffeine tablets sellers. We further sieved through and chose reviews from only verified customers. We also chose users who had reviewed the products without any bias and had not received any price discounts to influence their reports. We finally picked the caffeine tablets that had received the highest satisfaction ratings and positive detailed reviews.
Ingredients safety
We chose products with the safest ingredients and tried our best to list the active and inactive ingredients. We also chose different ingredients strengths, ranging from 100 to 200mg. Some of the products have undergone independent testing by third parties for ingredient, dosage and potency validation.
We also included products that are free of ingredients that may induce inflammatory reactions. Some of those ingredients include nuts, eggs, wheat, soy, dairy, and fish. We also considered tablets that are suitable for vegetarian diets.
Brand Reputation
We chose brands from manufacturers and distributors with a solid reputation for making products that are safe, effective and pure. For some of the brands that we have chosen, the manufacturers and facilities of production follow General Manufacturing Practices and are FDA approved. For other products, the manufacturers have been in business for long and in addition to caffeine tablets, they have been producing different very effective dietary supplements.
Possible side effects
We chose caffeine tablets that are likely to have fewer side effects. We prioritized tablets that are free of preservatives, artificial additives, and are free of potential allergens. These properties increase the likelihood of negative side effects and if possible should be avoided. For people with gluten and dairy sensitivity, we also included products free of these ingredients. We also considered non-GMO and vegetarian-friendly tablets.
Benefits of caffeine tablets
Caffeine was once demonized as being bad for healthy living. However, scientific studies have continually shown that caffeine, if taken in the right amounts can help you to prevent diseases and improve your physical fitness. Taking caffeine in a beverage is the most preferred way, but it comes with its drawbacks- it needs to be prepared and even worse, it requires sweeteners to make it more enjoyable. Caffeine tablets are convenient, cheaper, do not require any addition of sugar and can easily be carried around. The most important benefit is that with caffeine tablets, you can accurately quantify the amount of caffeine that you consume.
Stimulating the brain
Most people consume caffeine for the primary benefit of stimulating the brain, making it the most consumed psychoactive substance worldwide. Caffeine activates the central nervous system by promoting the release of several neurotransmitters, the most important being adrenaline. Scientific studies have found out that adrenaline stimulates the mind to be alert, boosts memory and improves blood supply to major body organs. As a result, caffeine helps in improving mental performance, alertness, attention, and concentration. For instance, a study reported by the European Food Safety Authority proved that 75mg of caffeine can significantly improve mental alertness and attention.
Improve wakefulness
Caffeine has largely been used a startup drink in the morning, in moments of tiredness or when working at night-time. A study conducted by staff from the Department of Psychology, University of Amsterdam, showed that caffeine is effective in improving performance, alertness, and concentration during sleep loss and even in many hours of sleep deprivation. The researchers went on to explain that caffeine can be effectively be used to help in controlling wakefulness rather than as a method to disturb sleep.
Enhance exercise performance
Caffeine is a performance aid that is approved, legal, and has been used by athletes for a long time now. Caffeine improves blood supply to the muscles and promotes glucose breakdown to supply the working organs. Caffeine also mobilizes breakdown of fats, in the initial minutes of exercise, sparing glycogen stores for later stages. This effect enables you to workout for longer before exhaustion occurs. This property has made caffeine to be one of the key ingredients in most sports' products like energy drinks and gels.
Lowers the risk of diabetes
Studies have suggested that caffeine can lower the risk of type 2 diabetes. A research study in the US showed that consumption of coffee daily, drops the risk of diabetes by at least 40%. Another study showed that caffeine has antioxidant properties which prevent several other diseases, not just diabetes. These effects are thought to be due to polyphenols present in caffeine, which increase insulin sensitivity and promote conversion of glucose to glycogen. For you to realize these benefits, you should avoid sweeteners and unhealthy fats. Caffeine pills are particularly good, as they do not require an addition of sugar.
If you already have diabetes, over-consumption of caffeine may worsen the condition. It would be wise to consult your doctor first, and always make sure that your sugars are always controlled.
Lowers the risk of cancer
As an antioxidant, caffeine neutralizes free radicals, decreasing the risk of cancer and other diseases by up to 49%. According to the American Cancer Society, latest studies have shown that coffee reduces the risk of cancers of the prostate, liver, endometrium, mouth, and throat. These effects are most significant when caffeine is consumed together with plenty of fruits and vegetables.
Caffeine dosage: How much is safe?
It is difficult to pinpoint the amount of caffeine that everyone needs as people have different needs and tolerances. For some people, 50mg may take them for the whole day while others, 200mg may only las for few hours. for the upper limits, research is available on what quantity is too much.
Most research studies suggest that 300mg-400mg is relatively safe, and can be consumed daily with no adverse effects. A study reviewed by the European Safety Authority reported that 400mg for adults is harmless, and one-time doses of 200mg for athletic purposes are safe.
Ingestion of too much caffeine can be fatal, especially for people with a heart disease. Cases of caffeine-induced cardiac events have been reported in the past. It is therefore, wise to observe the recommended dosages. Of concern, are doses above 500mg within a short period of time. It can lead to accelerated heartbeats, muscle tremors, and migraines.
In case of overdose, you should immediately seek medical help. Signs and symptoms of overdose include agitation, anxiety, confusion, frequent urination, irregular or fast heartbeat, muscle twitching, ringing in the ears, seizures, stomach pain, and trouble sleeping.
Take home message for dosage of caffeine tablets is to adhere to the directions of use by the manufacturer. Remember not to take double doses, and if really needed, you should wait for at least four hours to elapse.
Precautions
Caffeine should be treated like a drug and should be taken with caution. You should take the recommended dosages and in some instances that we are going to discuss below, you should first seek official advice before taking caffeine tablets.
Allergy
If youexperienced had any previous allergic to caffeine or any caffeine-containing substances, you should not take caffeine tablets. The highest chances are that you may have a repeat allergic reaction.
Drugs
If you are currently on any drug (over-the-counter, prescription, herbs or supplements) you should first inform your doctor or pharmacist. Caffeine can interact with other drugs to either reduce their effectiveness or increase their potency. Therefore, caffeine can cause some serious side effects when combined with other drugs.
You should take special caution if you are consuming any central nervous system stimulants, cardiac drugs, oral contraceptives, or any psychiatry drugs.
Medical conditions
Caffeine may worsen certain disease conditions. It is a rule to consult your doctor before taking any drug, if you have any medical condition- caffeine is no exception. Caffeine may cause further deterioration of disease such as cardiac disease, hypertension, liver disease, renal dysfunction, seizures, and diabetes.
Children below 12 years
Caffeine is not recommended for children below 12 years as the brain is still developing. Caffeine crosses the Blood Brain Barrier and may lead to abnormalities in behavior and socialization. Furthermore, caffeine tablets have no nutritive or growth benefits to children yet kids at this age should be concentrating on meeting their growth spurts' needs.
Pregnancy and breast feeding
For pregnancy, the US Food and Drug Administration has classified caffeine as a category C drug. This is because animal reproductive studies have shown that caffeine may cause embryotoxicity and teratogenicity to the fetus. Other studies have shown that moderate use of caffeine in pregnancy is acceptable as it does not cause a measurable risk. We strongly recommend that you should first talk to your obstetrician before taking caffeine tablets. If the benefits outweigh the risks as assessed by a specialist, they may give the approval to go ahead and take the tablets.
For breastfeeding mothers, caffeine is not recommended as it passes to breastmilk. Caffeine in infants causes jitteriness, fussiness and poor sleeping patterns. If you would like to take the tablets and you are breastfeeding, we recommend that you should first express milk before taking the tablets then wait for about three to four hours before the next feeding session.
Driving
High doses often cause dizziness especially in the first 30 minutes of use. Therefore, you should avoid driving or operating machinery, especially if you have taken a high dose.
Sleep
Caffeine can interfere with your sleep pattern. You should therefore, not use it as a replacement for sleep or shortly before bedtime.
Caffeine and alcohol
The Dietary Guidelines for Americans warns against consuming caffeine together with alcohol as when they are mixed, one may end up drinking more alcohol as caffeine masks the depressant effects of alcohol.
Potential side effects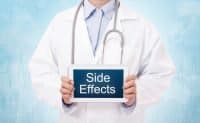 Just like any other drug, caffeine has some potential side effects. However, it is not every person who may experience the side effects. Some of the effects are less serious and may not need any intervention while others warrant for immediate medical help. Also, note that some of the effects may be experienced within the first 30 minutes of consumption, then disappear. As you get used to the caffeine supplements, most of them wear off as your body adjusts.
Side effects include:
Rash
Frequent urination
Constipation
Dry skin
Fast heart rate
Stomach upsets
If you notice any of the symptoms below, you should stop taking the caffeine tablets and seek medical help.
Bloody urine or stool
Seizures
Vomiting blood
Confusion and dizziness
Reduced frequency of urination
Muscle tremors
Difficulty in breathing
Rapid heart beats
Swelling of the face, mouth, and throat
Trouble in sleeping
The secret to avoiding some of the side effects is by taking the tablets at the right time and the right dosages as recommended by the manufacturer. Also, pick products with the least artificial additives and preservatives.
How to store caffeine tablets
Caffeine tablets should be kept away and in between 20 and 300C. The tablets should always be kept in a well close container, away from moisture and heat. They should also be kept away from children, as overdose to them may be fatal.
FAQs
What is the advantage of taking caffeine tablets rather than a coffee drink?
With caffeine tablets, it is easy to monitor the amount that you are taking as the pills come in specified dosages. For coffee beverages, it is hard to tell the amount of caffeine that you are taking and you may take way higher than the recommended amounts. In addition, for you to enjoy a coffee drink, you may need to add things like cream and sugar, which are harmful to your weight loss journey, physical fitness and overall health.
What are the benefits of caffeine?
Caffeine has many benefits but the most prominent ones are stimulating the brain, improving alertness and concentration, boosting energy levels, improving mood and enhancing exercise performance.
What is the recommended dosage?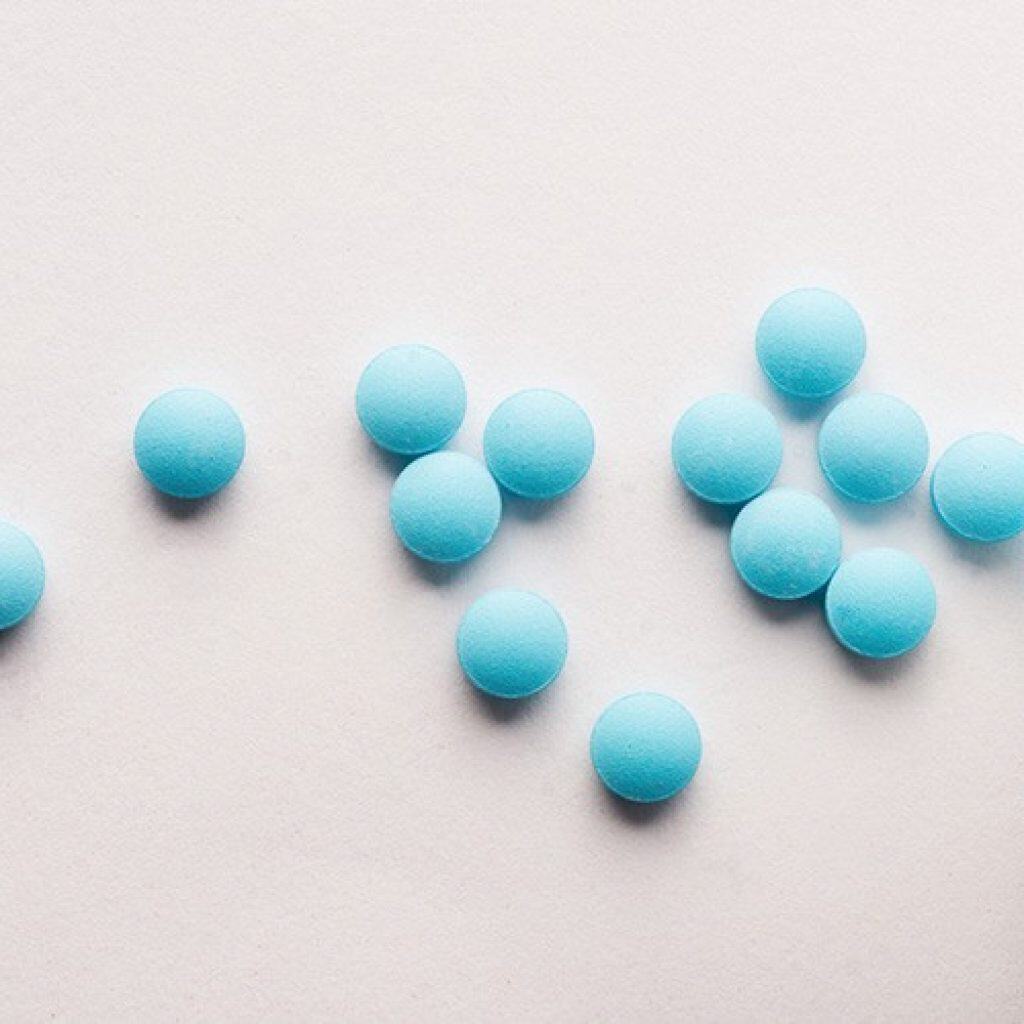 The safest dose is any amount below 400mg per day. However, your doctor or skilled health care provider may further lower your maximum dosage if you are taking any other drugs or if you have some medical conditions.
How often can I take caffeine tablets?
Most manufacturers advise that in 24 hours, you should not exceed three to four tablets.
Does caffeine interact with other drugs?
Scientific studies have shown that caffeine can interact with many drugs. You should consult your doctor or pharmacist if you are on any medication.
Can I take caffeine tablets when pregnant?
Caffeine may possibly harm the fetus, so you should take caution and consult your obstetrician or midwife first.
Where can I buy caffeine tablets?
You can buy them from drug stores or online sellers. Purchasing online from platforms like Amazon gives you the advantage of comparing prices, reviews and ratings of different products. Also, Amazon has friendly policies on shipping, ordering and return of items if for any reason you are not happy with your purchase.
Subscribe to our Newsletter