Best Coffee Whey Proteins Reviewed and Rated
Disclosure: We use affiliate links and may receive a small commission on purchases.
If you are interested in stepping up your
protein
intake, looking to build
muscle mass
, or are simply in search of a healthier coffee alternative; you have come to the right place! Here we have a complete guide of the top 10 coffee flavored whey proteins to help you decide what product best fits your health and wellness needs.
Our Top 3 Picks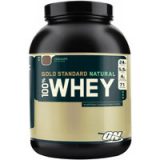 Optimum Nutrition

Our rating
#1 Whey Protein
Price:

See Here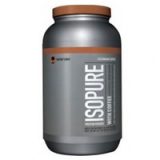 Nature's Best

Our rating
extra kick
Price:

See Here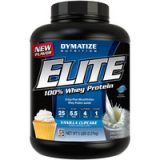 Dymatize Elite

Our rating
all-purpose
Price:

See Here

10 Best Coffee Whey Proteins
1. Optimum Nutrition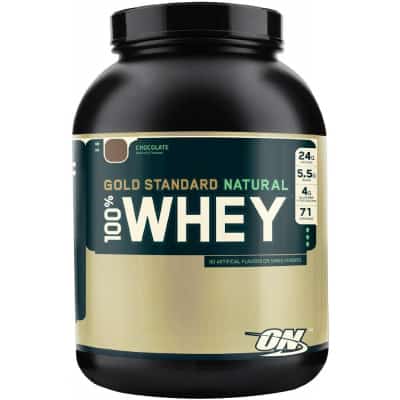 With the claim the 'Worlds Most Trusted Nutrition Brand', Optimum Nutrition Gold in Coffee flavor is a delicious and healthier alternative to your morning coffee routine, or an awesome supplement for anyone looking to increase their protein intake.
Expand to see more
This brand name is extremely trusted and was even voted World's #1 Whey Protein (Based on 2015 sales through the internet and major sports nutrition specialty retailers.) Its trusty reputation and thousands of positive reviews earns Optimum Nutrition our top spot on this list.

Features and Specifications Per Serving

120 calories
1g of fat
1g of sugar
24g of protein
5+ g BCAA

Price/Value

They are competitively priced with other retailers, making it a reasonable choice. This product has a wonderful reputation, and quantity of the product makes it a great value.

Conclusion

This product is best suited to someone who is has experience using whey protein supplements, and regularly consumes the product, due to its large size. This product is also suited towards very active customers who are looking to focus on muscle building due to their high protein content per serving. Beginners may want to look for a product that they can purchase in smaller amounts, to see what suits their needs best. Of course, this product is best suited for the coffee lovers. If you are an active individual looking for additional protein to add to your diet to assist in building muscle mass, this would be the product for you!
Whey Protein Isolate is the main Ingredient in this product
Contains over four grams of Glutamine & Glutamic Acid per serving
Use this product and complete your diet with over 5 servings of BCAA's
2015 major internet sports retailers claimed this brand to be 'One of the worlds most trusted protein products!'
Only comes in one 5Lb size, if you are unsure of flavor, this could be a big purchase if you end up not liking it
2. Nature's Best Isopure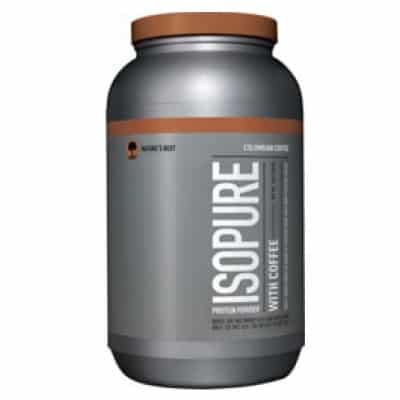 With 9/10 rating on the trusted bodybuilding.com website, Isopure is a close second on our list. This product goes the simpler route in its ingredient make up, but packs no shortage of punch with their naturally added caffeine.
Expand to see more
You can use this product to get your extra kick needed to get the day rolling! With a whopping 10.9 grams of BCAA's in every serving, along with being Lactose and Gluten Free, Nature's Best Isopure a great choice for any of our customers looking to up their protein intake while still accounting for any dietary restrictions.

Features and Specifications Per Serving

100% WPI
1g Carbs
0g Sugar
110 Calories
25g Protein

Price/Value

Price is very good for 3LB size. The value for your money, reflected in the hundreds of positive reviews, ranks high across multiple product retailers.

Conclusion

If you are looking for a basic protein powder without any lactose, sugar, or gluten, this is for you. The 80mg of caffeine is a great way to start your day along, with all the BCAA's that are packed in to Isopure. The moderate price is great for all budgets, but the coffee flavor is only available in one size. With this product being higher on the calorie scale compared to other products, people looking to find a product to assist them in losing weight, be weary.
25g Protein per 1 scoop
Zero/Low Carb Options
Added Vitamin & Mineral Blend
Gluten & Lactose Free
Sugar Free
80mg Caffeine
Higher in sodium
Comes in only one 3lb size
3. Dymatize Elite 100%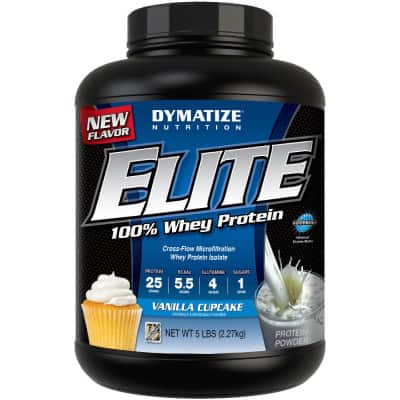 Boasting to be the all-purpose protein suitable for every athlete, Dymatize Elite's Café Mocha has made it to our number 3 spot for a few reasons.
Expand to see more
This 100% whey protein holds 5.5g of BCAAs per serving, specifically 2.7g of L-Leucine, the BCAA that promotes activing muscle growth. This is an anytime, anywhere protein that is a perfect coffee creamer replacement, baking substitute, or enjoyed simply mixed with water.

Features and Specifications Per Serving

100% WPI
4g Carbs
2g Sugar
140 Calories
25g Protein

Price/Value

Competitively matched compared to other 5LB products. It wide variety of uses makes it a great value.

Conclusion

This all-purpose whey protein is good for someone who needs a basic supplement. This sweeter mocha version is for the athlete looking for a healthier alternative that still meets their sweet tooth's needs. This anytime protein is also a great option for the customers who enjoy baking, this product can easily be added to items such as pancakes or muffins if you want to do more besides an everyday drink. It's one size option seems to be the standard for this type of flavor, so be aware if you've never tried coffee flavored protein. 5LB is a larger amount to receive if you don't end up liking it. Overall, this is a delicious, low risk, good value buy for the coffee lover looking to add a little healthier sweetness in their daily diet.
Scientifically proven, fast-digesting, quick-absorbing, 100% whey protein
5g of Branched Chain Amino Acids (BCAAs) to help build muscle and aid in recovery
7g of L-Leucine to support activation of Muscle Protein Synthesis
Good pre, post-workout, or anytime for high-quality protein supplementation
Wide variety of uses, including baking substitutes
Good source of natural caffeine
Full of artificial sweeteners
Not good for someone with a lactose intolerance
4. Myprotein Impact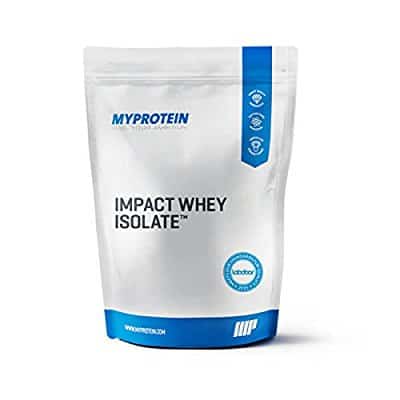 Another all-purpose protein powder, this extremely delicious, low lactose protein is a great buy for those who enjoy a smooth, creamy drink.
Expand to see more
While the BCAA count is lower than some other product options, this low carb mixture has other benefits, such as helping aid digestion and reducing recovery time. This easily mixed drink is a great meal replacement or pre/post workout snack. This drink is more geared towards the cocoa lovers, so if you enjoy a sweet coffee drink, you're in luck; this drink is perfect served hot, cold or even blended.

Features and Specifications Per serving

1g Carbs
1g Sugar
103 Calories
20g protein

Price/Value

This product is one of the more inexpensive on the list, and its great flavor and protein packed contents make it a great value for your money. It is sold in a smaller size, so heavy users may want to stock up, or choose another brand.

Conclusion

This high protein low carb option is perfect for the all-purpose athlete looking to build lean muscle mass. This product is an extremely good value, and overall is known to be a great tasting protein. This no frills flavorful protein will get the job done, and won't break the bank in the meantime.
Low fat and carbohydrate
5g BCAA
Low calorie compared to other proteins
80% protein content per serving
Contributes to the growth and maintenance of muscle mass
Great tasting and easy to mix
Contains undenatured whey protein for both quick and long-term absorption to effectively assist muscles pre-and post-workouts
Inexpensive
High in artificial sweetener
Lower protein count compared to other brands
Whey Protein Powder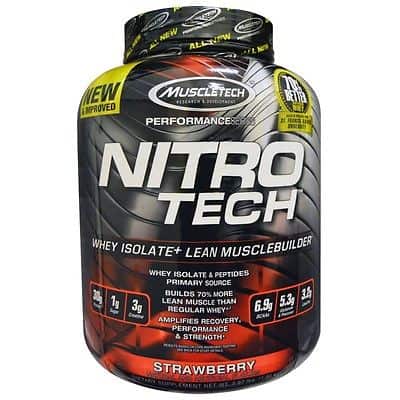 This intense whey protein was specifically engineered to athletes looking to take it to the next level in building of muscle mass, strength abilities, over the enhancement of overall performance.
Expand to see more
Every scoop provides a whopping 30.9g of protein, making it one of the higher protein count powders on our list.

Features and Specifications Per serving

4g Carbs
1g Sugar
160 Calories
30g Protein

Price/Value

This product holds one of the higher prices compared to the products on our list. It is still reasonably comparable to others, but only is sold in a 4LB size. This brings the value slightly down compared to other products.

Conclusion

It is a littler pricier than other products, but comes jam packed with protein and BCAAs. The intense sweetness has been dually noted about this product, so someone with a sweet tooth looking to gain some body mass would be happiest with this purchase.
5 Grams of Glutamine & Precursor, 6.8 Grams of BCAA Amino Plus
Delicious tasting
It's ultra-filtered so that  it contains less fat, lactose and Impurities
Easy to drink
Good price per serving with large amount of protein
Extremely sweet
Users seem to notice the "artificial" taste
6. ALLMAX ISOFLEX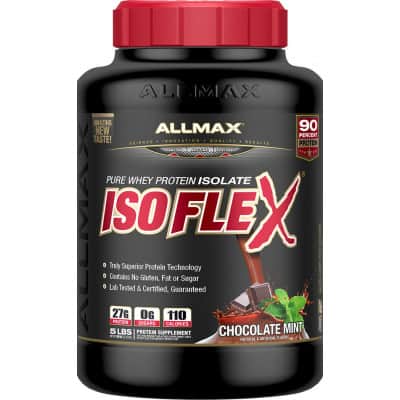 This pure protein makes it way to our number 6 spot by being one of the fastest absorbing, great tasting products in the market.
Expand to see more
This product offers absolutely ZERO whey concentrate, making it one of the purest forms available for purchase. Their high protein content with zero sugars makes it a top choice for body builders looking to get that extra fix of protein, that remains full of amino acids, without the extra concentrate or sugars diluting the mixture. Good news for the coffee lovers out there, this is their number 1 rated flavor.

Features and Specifications Per serving

1g Carbs
0g Sugar
110 Calories
27g Protein

Price/Value

This product is ranked lower on our list due to its higher price compared to other powders. Although this is a highly pure and excellent quality product, with few complaints but other people who have purchased this powder. Their website if boasts a money back guarantee if you aren't satisfied.

Conclusion

This is an all-around great product, minus the higher price compared to other proteins on this list. This high protein count product is perfect for someone who is willing to spend the extra money for a highly purified product. This low carb and low sugar option is great for the athlete looking to stay away from added calories, and focus mainly on lean muscle mass. This product isn't for the allergy sensitive, so be cautious if you're trying to avoid certain food groups, consult a medical professional if you are unsure of any potential risk.
This product is 100 percent pure, containing zero concentrate
Fast protein absorption
Multiple sizes available for purchase
Allmax Quality Guaranteed
Expensive product
Non-Allergy friendly
7. Optimum Nutrition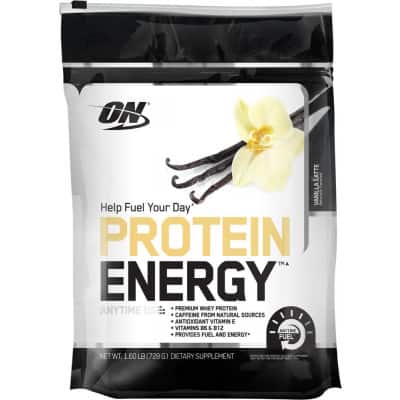 Another trusted ON product, this lower protein, high energy powder is perfect for someone looking to boost their protein intake, without over doing it.
Expand to see more
This powdered is marketed more towards a meal replacement than a pre/post workout muscle recovery mix, but still offers plenty of benefits to those who are looking to enjoy a protein packed drink that still offers a boost of caffeine.

Features and Specifications Per serving

1g Carbs
1g Sugar
100 Calories
20g Protein

Price/Value

This inexpensive product is a great value. Package sizes are smaller compared to other brands, which could be a benefit for the beginner looking to find what fits them best.

Conclusion

This inexpensive, high-quality product is best suited for the whey protein beginners. Smaller sizes are suited towards those looking to find their perfect brand. This flavorful coffee drinks tends to be a popular meal replacement among users. It mixes well and gives you that extra kick of energy needed to get through your busy morning or dragging afternoon.
Premium whey protein
Caffeine from natural sources
Easy small meal replacement
Antioxidant Vitamin E
Vitamins B6 & B12
120mg caffeine
easy to mix
Small packaging does suit frequent users
Very sweet flavor
Lower protein compared to other brands
8. OPPORTUNITEAS GRASS
This whey + coffee powder fusion is for the few who are okay with moving away from the 100% WPI.
Expand to see more
This delicious, three ingredient mixture is perfect for a pre/post workout snack, or a morning meal replacement. With no added sugars or sweeteners, this full loaded protein drink is great for those looking a more natural powder without all the added artificial ingredients.

Features and Specifications Per serving

3g Carbs
0g Sugar
111 Calories
24g Protein

Price/Value

These products are sold in 1LB packages, and show to be competitive with other prices, although it could be categorized as a little bit more expensive than products sold in bulk. To be fair, this product filters out so called "artificial ingredients" so what you are getting contains a higher purity of the beneficial ingredients you need to improve athletic performance, without being diluted.

Conclusion

This bare bones product is great for the organic lovers. It has enough protein for the average athlete, without overdoing it. It has been reviewed as bitter and low on flavor, but its comparable price and high quality ingredients make it a great choice for the lovers of a strong black coffee.


Only 3 Ingredients- providing pure product
No artificial sweeteners or sugar
Money back guarantee
Competitive Pricing
100mg Caffeine
Bitter tasting- not for the sweet tooth lovers
Lower protein count compared to other brands
9. Body Fortress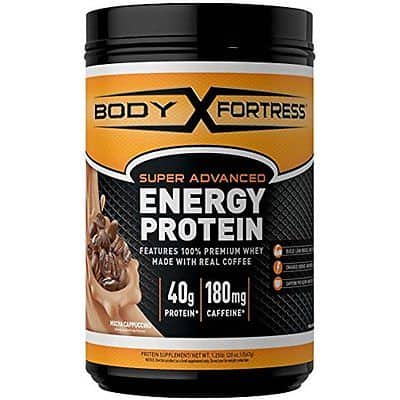 This gluten free protein mix is perfect for the mocha lovers looking for a replacement drink.
Expand to see more
It will still provide them with that boost of caffeine that will enhance your focus, energize your body, and still provide nutrition needed to get the most out of your workout.

Features and Specifications Per Serving

7g Carbs
3g Sugar
130 Calories
20g Protein

Price/Value

A higher price for the 1LB size in comparison 5LB products, but still not terribly expensive. This product has a lower protein count while remaining high in carbs, slightly reducing its value.

Conclusion

This highly caffeinated product is a basic purchase. The value is okay, and the ingredients are okay. The taste is good, but there is nothing overly exciting about this product. The caffeine content is high, and is sure to give you the boost. If you are looking for a protein supplement that is going to give you a high amount of energy, this product is for you.


Premium whey to build lean muscle & strength
Real coffee & caffeine to enhance energy & mental focus
Caffeine per scoop = one cup of coffee
Contains zero aspartame – zero gluten – zero gimmicks
Packaging may vary due to new packaging updates, same great product
90mg natural caffeine
8g BCAAs per serving
High carb count
Lower protein
Pricier than many other options
10. XTreme Ultra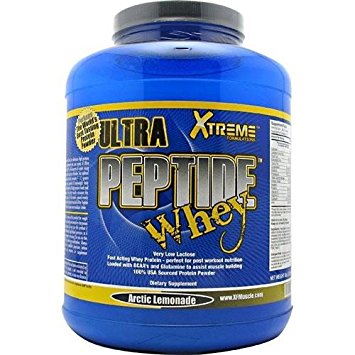 Xtreme Ultra is a micellar casein/whey isolate blend protein. This brand is an ultra-delicious, protein rich source for the body builder looking to acquire lean muscle mass.
Expand to see more
Marketed towards all athletes, this all-purpose mixture is an inexpensive choice that supports muscle recovering while also has shown to improve fat loss. Shown to be an, this protein is suited for the value shoppers looking to improve their athletic performance.

Features and Specifications Per serving

6g Carbs
3g Sugar
177 Calories
18g Protein

Price/Value

This is a budget shoppers go to. This low price per serving is perfect for someone not looking to break the bank. The product itself isn't producing the highest amount of protein per serving and is higher in calories, lowering the value slightly to other options.

Conclusion

This is a great tasting product that won't break your bank. It is sold in a larger size, and it has incredible value for its reasonable price. This could also be easily used as a meal replacement if you're looking for a smaller meal before or after your workout. Due to its high fat content and higher calorie count in comparison to others, this product must be used with caution if you are looking to build lean muscle or lose weight.

GREAT tasting!
Could easily be used as a meal replacement
Inexpensive
Higher fat content compared to competitors
High carb count
Criteria for Evaluation

With this guide our aim is to help you find the right information about a protein powder that is worth trying out. We tried and tested a great number of products in order to compile our list of the top ten best coffee flavored whey proteins. We weighed each product against divers criteria such as price ingredients, taste, reviews.
Product Testing

When beginning to search for your next product, either online or in stores, there is no surprise about the mass amount of options to choose from, and you may feel overwhelmed as to how you could test them all to see what fits you best. Therefore, we are here, to assist you in doing it for you. We do the research and pull out the information and state it factually, making it clear and easy for the buyers to find what they are looking for.
User Reviews and Ratings

We take in to consideration hundreds of reviews posted about each product from people who have used them. We factor in the number of reviews from each product and the quality of the reviewer (Long or short, detailed or not, long term use or short). Every person is going to have a different reaction to each product. Since no two people and no two products are exactly alike, there is not a one size fits all answer to what works best for you based completely on somebody else's opinion. We look to the majority, and move further by breaking down the good and the bad of each product chosen for this list.
Forming this list is no easy task. We narrow it down by testing the products ourselves and incorporating responses in to this research.  We understand there is no such thing as a one size fits all, so taking when skimming reviews, we look at the majority considering all things good AND bad about the product.
Manufacturers Reputation

During the research of this list, a huge factor taken in to account is the reputation of the brand producing the product. We look to review not only this subject, but other products marketed and produced by the brand, and we go on to read plenty of reviews by people who have consumed their products in the past. Are they widely accepted? Are their customers happy? Have any issues come from products they are producing? These are all important questions we take in to consideration while compiling this list
Ingredients and their Effectiveness
Whey protein is a substance naturally derived from milk. As stated before, whey protein alone will not build the muscle mass or create the weight loss you seek, it must be paired with an appropriate diet and ample exercise regime to see optimal results. The product alone will contain many other ingredients, so pay attention to nutrition labels. Be cautious of low quality, diluted mixtures that are full of artificial flavorings and sweeteners.
Benefits

In the body building industry, it seems that its uncommon to see anyone walking around a gym WITHOUT shaking a blender bottle full of their choice protein. It is almost a staple in every athlete's diet who is looking to increase their muscle mass. Whey protein is considered a complete protein and is a great source of all nine essential amino acids. They are easily digestible and is quickly absorbed in to your body compared to other sources of protein. Some products are low in lactose and can even be completely lactose free.
These products help promote the growth of lean muscle tissue, and can even promote weight loss, as their products can be used as a meal replacement. As you age, your muscle mass naturally declines which can lead to fat gain. Whey proteins can slow and even reverse this process. When paired with strength training and a healthy diet, the whey protein works to improve strength and endurance, while improving muscle recovery time by lowering inflammation; the body's response to overuse or injury. Whey protein has even been shown to reduce high blood pressure. Overall, powders are a great way to boost your protein intake, making it easier to reach your goal.
This doesn't mean you should rely solely on these products; maintaining a healthy diet rich in whole foods is a key factor in enhancing your athletic performance. Protein shakes/meals should be used only as a supplement, and not be relied on as the main source of your protein intake. Each product has its own benefits during use, and will have their own formula that will have a different focus. By understanding the benefits and how they work within your daily routine, you will be able to optimize your wanted outcome.
Uses and Recommendations
Before you pick out a powder, you must first ask yourself what you are looking to add in your diet. Are you looking to build extreme amounts of muscle mass? Are you looking to lose weight? Are you a vegetarian who is having a hard time reaching their protein intake goal for the day? Understanding and Exploring the different types of powders is extremely important to reaching your athletic goals. They each offer different things, and getting the wrong product can produce different results in your body. The next question is about the composition of your powder.
What's in their mix? How will your body digest it? Do you have any allergies that will react when taking this product? By reading about the different ingredients that compromise your powder, you will be able to understand what will work best in your body. The next question would be when to take your protein, and how much of it can you take per day? Men and women have different body compositions, of course, and this effects how we metabolize protein.
These days, it is not uncommon to see protein powders marketed more towards men, but this does not mean that women can significantly benefit from usage. Women are recommended to use one scoop a day (two scoops at the most) while men can usually get away with up to four scoops (at the ABSOLUTE most! This recommendation is geared towards high impact body builders). When should you take your whey protein? The consensus is within a half hour before or post workout is the optimal time to have your drink. Why? Because the fast digesting whey protein is providing a rapid stream of amino acids to your muscles promoting muscle growth. Overall, decide on what you want from your powder.
Do your research on what ingredients you think your body can absorb best, and make sure you aren't overdoing it. Match your protein intake to your activity level. Optimal results will come when you combine a healthy balance of whey, diet, and exercise.
Safety and Potential for Side Effects

Side effects are shown to be slim, but we can't go without mentioning potential issues that arise when taking whey. Whey protein is reasonably safe for all children and most adults, when dosage is correct. High amounts of any one protein supplement can increase the likelihood of some side effects; these side effects include:
Irregular or increased bowel movements
Queasiness or nausea
Increased thirst,
Abdominal sensitivity, cramps, or bloating
Changes inappetite,
Excessive fatigue
Migraine or headache
Extreme cases involve gaining fat and the creation of kidney stones. Avoid these effects by purchasing a balanced, quality protein, and maintaining a balanced diet. The overconsumption of protein will also increase the likelihood and intensity of these side effects.
FAQs

What exactly is whey protein?
Whey is the liquid part of milk that separates during cheese production, so if we want to get technical, it is a byproduct of cheese. Whey PROTEIN is a mixture of proteins isolated during that process. Milk contains two main types of protein: casein (80%) and whey (20%). It is a complete protein that is fast and easy to digest. Whey goes through several isolation steps to get to the powdered form you will end up purchasing.
What are the benefits of whey protein?
Whey has been shown to benefit many areas of the body with proper usage, including: weight loss, reduced muscle recovery time, decreasing bad cholesterol, growth of lean muscle mass, higher endurance, greater focus, reducing hunger, and it even it said to help fight off cancer. Of course, these are not a one size fits all reaction to taking whey protein. Each person will see different results. Finding a powder that works best for your individual composition will increase the likelihood that you will see some of these positive results.
Will whey protein help me build muscle faster?
Yes and no. Whey protein alone will not build muscle. Adding too much protein without the proper exercise in diet can be harmful and potentially could cause you to gain weight. Whey protein is a great tasting way to quickly reach your target intake of protein when you find yourself lacking the necessary time to consume the amount of whole foods needed to reach your goal. If you are not pairing this intake with a proper diet and exercise, you could see a reverse in results.
What are the different types of whey?
You aren't going to find brands they are made up of the same thing. Familiarizing yourself with the ingredients is the best way to understand what you are getting in your product. There are 5 main types and I will give you a brief overview of each below:
Whey Concentrate
This is the most basic form of the protein found in almost all products today. This is an inexpensive strain that still is packed with multiple benefits, and it a good starting point for people just beginning adding a protein supplement to their diet.
Casein
Known as the "other" protein in milk, this slow absorbing protein will keep your body working for hours after consumption. This protein will keep you full, while giving your body a constant supply of protein needed to help promote muscle recovery and growth.
Isolates
This the one of the quickest absorbing proteins, which is why it comes with a heftier price tag.  These are best for people trying to stick to a low carb diet, and people who want to shy away from a sugary/artificially sweetened product.
Soy protein
For the vegetarian lovers, soy protein is a great option if you are looking a post workout snack filled with BCAAs and glutamine to help promote muscle recovery
Hydrolysate Protein
The highest quality in the market also comes as one of the most expensive of all the options. Hydrolysate protein is a highly absorbable option that is easy on the digestive system. (concentrate and casein have both shown to have side effects such as gas and bloating) This product can be used any time before or after a workout for optimal effect.
Are there lactose free options of whey protein?
In general wheys are derived from milk. If you are extremely allergic and thinking that there is no product for you, fear not! It has been done. Some non-dairy products include; soy proteins, pea proteins, hemp proteins, and brown rice proteins. If you are severely allergic, or having any doubts, please contact a medical practitioner before use.
Are there any dangers I should be aware of when taking whey protein?
As mentioned, people will milk allergy should be cautious when taking whey protein. And with any product, buying from a less than reputable source should be done with caution. Understanding the ingredients in your mixture is a great way to know what you're taking and what effects it could have on your body.
Subscribe to our Newsletter