Best Rosehips Teas Reviewed and Rated
Disclosure: We use affiliate links and may receive a small commission on purchases.
Rose hips are the edible red seed pods that are formulated on rose bushes at the end of their growing seasons. These fresh wild rose hip pods are highly rich in vitamin E, vitamin K, vitamin C, polyphenols, and flavonoids, not to mention fatty acids and carotenoids like beta-carotene, lycopene,  beta-cryptoxanthin, zeaxanthin and lutein. If you are interested in incorporating rose hips into your daily health routine, check out our latest guide which the pros and cons of each rosehips brand.
Our Top 3 Picks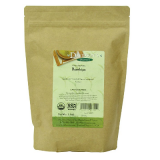 Davidson's Tea Bulk

Our rating
100% Organic
Price:

See Here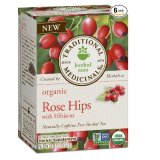 Traditional Rose Hips

Our rating
Non-GMO Verified
Price:

See Here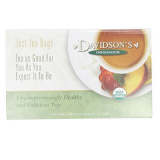 Davidson's Rosehips

Our rating
Fresh and Fruitful
Price:

See Here

10 Best Rosehip Teas
1. Davidson's Tea Bulk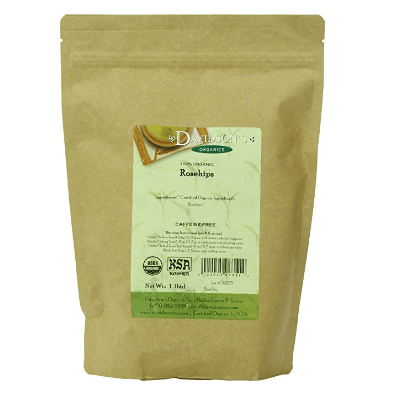 Davidson's Tea Bulk Rose Hips are incredibly tangy and sweet and come complete with a richly beautiful color of which creates an essential and healthy classic herbal tea that can be consumed with ease once it has
been properly brewed
.
Expand to see more
100% Organic

Davidson's Tea Bulk is noted to be 100% USDA Certified Organic and goes through rigorous testing to ensure its incredible quality before selling to their consumers.

Features and Specifications

16 oz. bag

Price/Value

Davidson's offers a great price for their 16 oz bag. The quality is unmatched and the flavor it great.

Decision Time

This is a truly great product. It tastes wonderful and the price is unbeatable, really a great overall value.
Rarest premium organic teas
Fresh and delicious
No bitter taste
Fruitful blend of organic rose hips
USDA Certified Organic
Super affordable
KSA Kosher
Caffeine-free
Noted to have a heavy cinnamon taste
2. Traditional Medicinals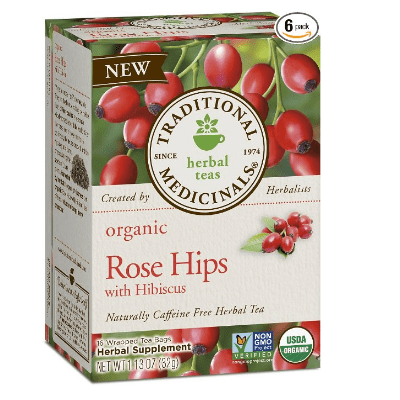 Traditional Medicinals Organic Rose Hips with Hibiscus Tea that provides tea lovers with a generous, hearty and sassy flavor, that is sure to tantalizes your taste buds and has additionally be utilized for a millennia to support one's everyday overall wellness.


Expand to see more
Non-GMO Verified

It appears that virtually everything that we consume daily is packed with GMO-based products. Which is precisely why Traditional Medicinals Organic Rose Hips with Hibiscus Tea is one product that prides itself on creating GMO-free teas.

Features and Specifications

Case of six boxes, each box containing 16 sealed tea bags (96 total tea bags)
1800 mg of Rose Hips

Price/Value

If the initial price for the 96 bags seems a bit striking to you, not to fret! There are several different sizing and pricing options available to fit your needs and your budget.

Decision Time

This is one excellent tasting tea. The hint of hibiscus is most certainly not overwhelming and it compliments the tea itself in a wonderful way. It is also loaded with essential rose hips to fit your unique needs.


Generous, hearty and sassy
Non-GMO verified
All Ingredients Certified Organic
Kosher
The highest quality, pharmacopoeial grade herbs
Fruity, tangy and refreshing taste
Noted to be not very flavorful
3. Davidson's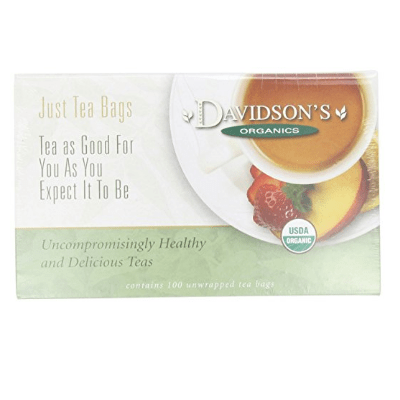 Davidson's Tea Rose hips is a tart and sweet red herbal tea. The softened rose hips can be eaten immediately following brewing.


Expand to see more
Fresh and Fruitful

Davidson's Tea Rose hips are a superiorly fresh and highly fruitful herbal tea. Davidson's boasts uncompromisingly healthy and delicious herbal teas, and this one is certainly a cut above the rest!

Features and Specifications

100 Unwrapped tea bags

Price/Value

These rose hips are a bit on the pricier side for only 100 bags, however the quality is exceptional. Truly a cut above the rest.

Decision Time

These rose hips are truly of great quality. As previously stated for 100 bags, you are paying a bit of the higher reserve. However, the quality is unmatched.
USDA Certified Organic
Caffeine-free
Non-GMO
Potent organic herb formula boasts numerous health benefits
Economical and bulk packaging
Brews to a brown color, not red
4. Wissotzky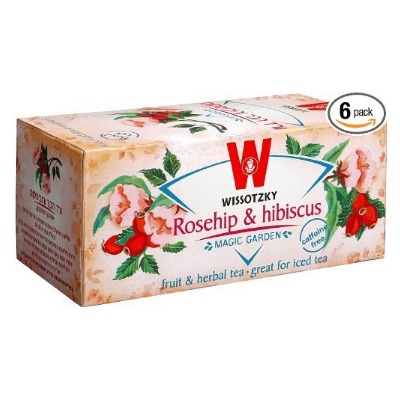 Wissotzky Tea Rose hip Hibiscus tea bags taste incredible and are impeccably priced for 20 bags. They are packed with essential rosehips and are perfect for hot or iced teas!


Expand to see more
Fourteen Flavors

One of the best attributes is that Wissotzky Tea Rose hip Hibiscus Teas come in fourteen delicious flavors, however the only tea that packs the rosehips is the hibiscus flavor.

Features and Specifications

20 Tea Bags (without metal staples)
Made in Israel

Price/Value

The price for these tea bags really is a great price. It is set low, however keep in mind that you are only receiving 20 tea bags. If you are looking for more than that you may want to search elsewhere, or plan to order multiple boxes.

Decision Time

All in all, these truly are a great choice. The flavor certainly is not overwhelming and they are most definitely an affordable option if you are seeking to begin incorporating rose hips into your daily diet.
Rich variety of superior tea blends and fruit and herbal teas
Caffeine Free
Great for iced tea
Great price
OUP Kosher
Noted to not be very flavorful
5. Starwest Botanicals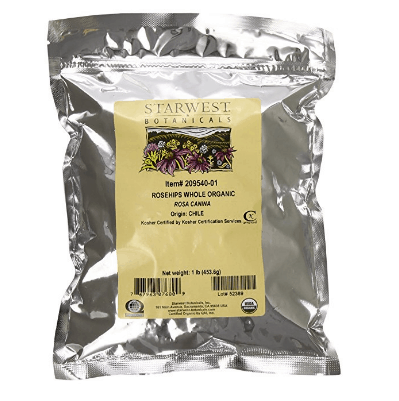 It is of course a well known fact that rose hips is highly recommended as part of a daily regimen for your overall wellness and immunity. And that is precisely why Starwest Botanicals Whole Organic Rose Hips is a uniquely designed blend which ensures that you are receiving all of the benefits!


Expand to see more
Essential Vitamin C

Vitamin C's number one role is to produce collagen, which is an essential protein substance in which binds connective tissues together in skin, bone, teeth, and other parts of the body. Vitamin C is additionally vital to better ensure the proper function of one's immune system, for the complete manufacturing of countless nerve-transmitting substances and hormones, and also for the absorption and utilization of other nutrients like vitamin E and iron.

Features and Specifications

Produced in Chile
1040% value of daily vitamin C
1 lb.

Price/Value

For a one pound bag, this is really a great buy. There were some definite notable benefits as well, so for the price, you really can't go wrong with making this purchase.

Decision Time

These are certainly too moist to crush and do not mix into a tea very well, those are certainly some drawbacks depending on how you plan on using these rose hips. As far as benefits and pricing go however, most are sure to be completely satisfied.
Certified organic
Kosher certified
No additives or preservatives
Easy to use
Great price
Too moist to crush
Difficult to convert to tea
No taste
6. Garden of the Andes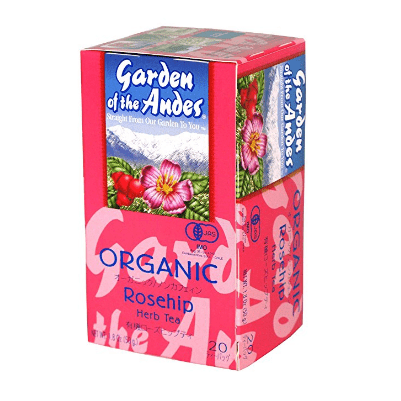 For centuries, rose bushes have freely grown in the prairies of the Andes. As their tender petals begin to fall, what remains is mother nature's most potent, lovely secrets: a rosehip. Garden of the Andes blends the power of hibiscus and the end result is an incredible blend that is high in vitamin C in order to boost
your body's immune system
, while also stimulating the function of your kidney and improving digestion.
Expand to see more
Ideal Growing Conditions

The Garden of the Andes organic tea farm is located in the stunning valleys of the mountains of Chile and the rose bushes are sourced with crisp, clean air. They are fed by the crystal clear waters of natural mountain streams and lakes, and grow in abundance in nutrient-rich soil. It is this breath-taking environment that produces these plants to grow so vigorously and in turn develop plants with sweet aromas, unmatched flavors, and impressive health benefits.

Features and Specifications

100% Organic Chilean Tea
100% Organic Rose Hips

Price/Value

This brand may not be the best tasting, but it is of trusted, pure quality and comes at a really great price.

Decision Time

If you are new to consuming rose hips, these may be a great way to get started. There are only 20 in a box, and come at a super low price. Perfect to get you going in your routine and be able to go from there to see what you prefer.
Made with Ecologically Sound Business
Practices
Sustainably Farmed and Harvested by Hand
Great tasting
Gives Back to the Community by Supporting
Educational and Health Programs for Their Workers
Boosts Immune System
Available in 12 Sizes
Stimulates Kidney Function
Great Price
Noted to be Bitter Tasting
7. Frontier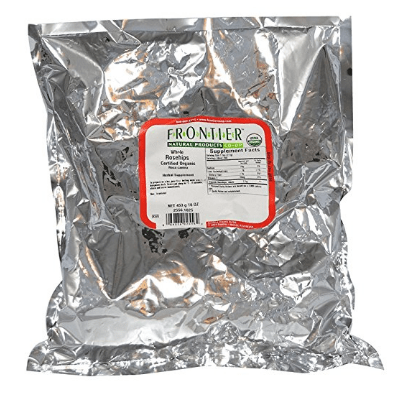 Rose hips Whole Organic rose hips are an excellent source of vitamin C and are loaded with rose hips. If harvested early they are quite tart, if harvested later, they are quite sweet.


Expand to see more
Great Buy

These rose hips are of some of the finest quality. They come at an affordable price and are KSA certified!

Features and Specifications

2.1g of Rose Hips
16oz
10 mg Vitamin C

Price/Value

These come at a great price. While many complained that they are whole rose hips that must be seeded and peeled prior to use, they are certainly an excellent value in terms of their quality.

Decision Time

Rose hips Whole Organic rose hips are an awesome source of vitamin C and are truly an excellent quality product. The price is set right so these are perfect if you are seeking to upgrade your existing rose hip routine.
Affordable price
KSA Certified Organic
Tart and sweet flavor
Gorgeous color
Whole rose hips (must be peeled and seeded prior to use)
8. Teekanne with Hibiscus Flowers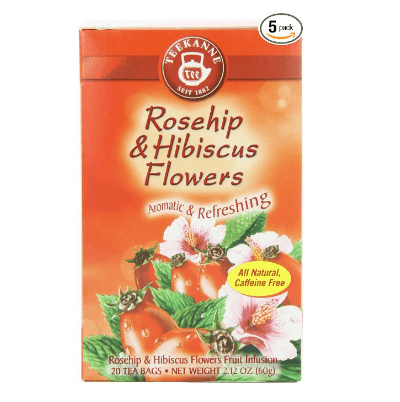 Teekanne Tea Rose Hip and Hibiscus Flowers is a traditional fruit tea blend that is a wonderful combination of rose hip and hibiscus, which makes for a unique thirst-quenching drink topped off with a gentle fragrance and aromatic taste.

Expand to see more
Gorgeous Color

This tea is wonderfully fragrant and comes in a very pretty pinkish red color that looks gorgeous when poured over crushed ice and served with a fresh Hibiscus flower or simply a slice of lemon.

Features and Specifications

Product of Germany
20 tea bags

Price/Value

This tea is of super high quality and is additionally very fairly priced as well.

Decision Time

This one is a fan-favorite in terms of the stunning color and awesome taste. It is a bit higher on the price scale, however those who have purchased it state that it is certainly well-worth the price tag.
German-Quality
Delicious Flavor
Gorgeous Color
Caffeine-Free
Perfect blend for Colds
All Natural Product
9. Marmara Natural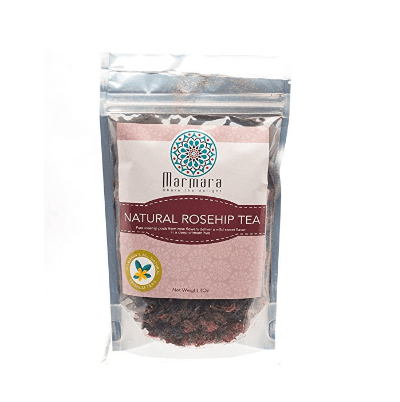 Marmara Pure Rose Hip Tea boasts powerful pure rose hip pods from rose flowers and delivers a mildly sweet flavor in a deep crimson hue, and it can also be enjoyed cold or hot!


Expand to see more
Fine Quality
Rose hips are of course the pods that form at the base of the rose flower and Marmara uses only the finest wild roses which leads to a red, cherry-sized fruit of the rose plant and makes for one incredible tea.
Features and Specifications
Product of Turkey
4oz
Price/Value
This is priced right, particularly for the overall generally good quality.
Decision Time
All in all this
tea
is not the best, but it is certainly not the worst. There were many people who had nothing but very good things to say about the overall quality of the product itself, but there were in fact quite a few that ranted about the poor quality. Exercise with caution when purchasing this one.
Vegan and Vegetarian-Friendly
Gluten-Free
100% All Natural
Real rose hips used
Great price
No expiration date listed
10. London Fruit & Herb Company
The port of London is famous for being the heart of both sourcing and blending only the finest quality
herbs
and spices and it was here that the company first started as a small apothecary. And it was here that the company additionally bases its pride in using on the finest quality and highest level of experience for bringing their customers only the
best tea
.
Expand to see more
The London Fruit and Herb Company

This company is well-known for having adopted a philosophy of creating wonderful tasting blends that are additionally good for you. Their infusions not only taste exquisite but they additionally contain no added sugar or artificial flavors, colors or preservatives.

Features and Specifications

20 tea bags
Naturally caffeine free

Price/Value

This is a really great tea, particularly for the price. It tastes great and is entirely pure. A wonderful buy for sure.

Decision Time

This one is a great choice. The company itself is quite reputable for delivering some of the finest teas available. And you most certainly can't go wrong with that price!
Rose hips, hibiscus and rose petals blend
Refreshingly light tea
Delicious served hot or cold
Kosher certified
Great price
Blended in the European Union
A little spicy due to cinnamon
Decision Time
When it comes to choosing the best rose hips to fit your personal needs, it is mainly a matter of what you are seeking to obtain from the rose hips. Be sure to choose an option that is the easiest for you to consume as some of the teas have longer steep times than others. Once you have settled on the best source you can then go about selecting the amount in terms of grams of the rose hips that you prefer. Choosing the best rose hips does not have to be hard to do, simply use this buyer's guide as a quick reference and you are all set to start narrowing down your selections!
Subscribe to our Newsletter