Best Oolong Teas & Supplements Reviewed
Disclosure: We use affiliate links and may receive a small commission on purchases.
Oolong tea comes from the same plant as most varieties of green and black tea, Camellia sinensis. Oolong is a unique Chinese hybrid of green and black tea; it is not fully oxidized or fermented like black tea, nor is it completely un-oxidized like green tea.
Therefore, the taste and aroma ranges between the two types of teas. Most oolongs are whole leaf and not broken into little pieces like other teas. After drying, the tea is placed in special cloth sacks and gently moved about. This action affects the leaf slightly, causing some level of oxidation to occur. This process is repeated multiple times until the tea leaf takes on a dark spectrum of color.
Our Top 3 Picks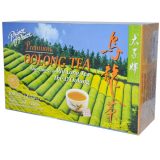 Prince of Peace, Premium package

Our rating
Price:

See Here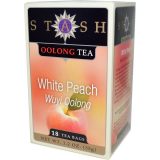 Stash Tea, Premium Wuyi Oolong

Our rating
Price:

See Here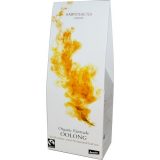 Hampstead Tea, Organic

Our rating
Price:

See Here

Oolong tea is only partially oxidized, anywhere from 30% (more like a green tea), and 70% (more like a black tea). After oxidation, the tea is fired under high heat to lock in the complex flavor. Shorter firing produces teas with a fruity flavor, while a longer firing will produce a rich amber cup with more "woody" notes. Because of the variety of production processes, the flavors of oolong vary widely as well.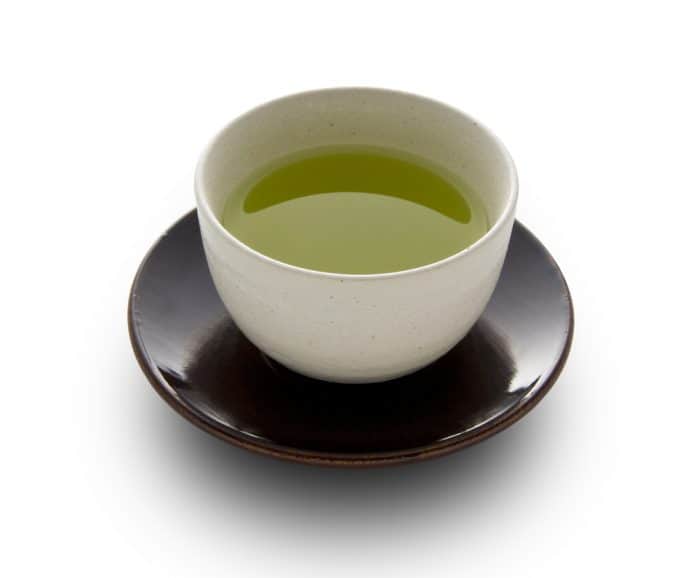 10 Best Oolong Teas

1. Prince of Peace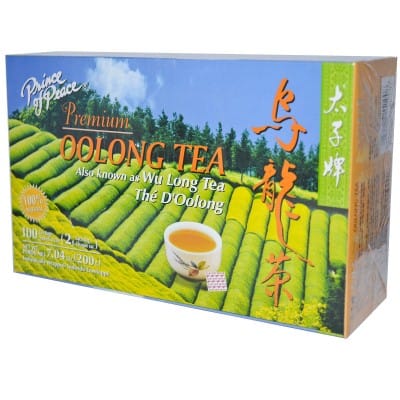 Number 1 on our best Oolong tea list, this hand-picked, delightfully aromatic tea has a mild flavor and bright golden color. It is on the greener spectrum of Oolong teas.


Expand to see more
This product comes with 100 individually wrapped tea bags so you can enjoy Oolong for many days to come. Out of all the teas mentioned here, this tea is the best quality and best price for the large quantity you get.


Good price
Great quality
Mild flavor
May not suit everyone's taste
2. Stash with White Peach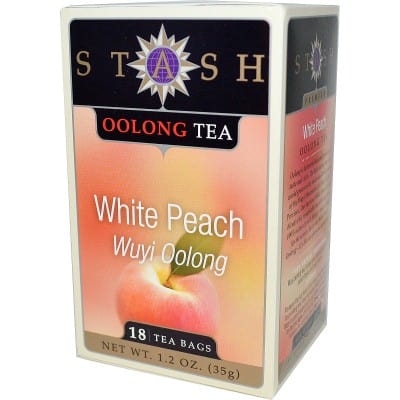 A unique tea with a juicy naturally sourced white-peach flavor. This type of teas is traditional and specific Chinese tea sometimes also called the "champagne of teas."


Expand to see more
This tea comes from the fertile Wuyi Mountains in Fujian, where the climate is best suited to growing Oolong tea. Stash Tea Company ensures that their ingredient suppliers do not use barley malt in any of their tea blends, so this tea is great for gluten-free tea lovers.

Considering its inexpensive price tag, this product's superior quality and excellent taste might surprise you.
Gluten-free
Inexpensive
Delicious taste
3. Hampstead Organic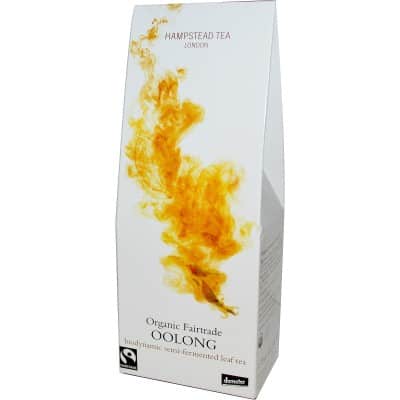 This USDA-certified organic, fair trade tea is perfect for environmentally- and health-conscious tea lovers. With Hampstead, you can be sure your tea was produced fairly and contains no GMOs, additives, or pesticides.


Expand to see more
Even the packaging is biodegradable. This tea is mild and sweet, so it's more for those who dislike the strong and bitter taste of most Oolong varieties.

The Oolong used in this product is grown at Makaibari, the first biodynamic tea estate in the world, situated 3000-4000 ft high up in the Himalayas. Hampstead's Oolong is very affordable considering it is both organic and fair trade. A well deserved 3rd place on our best Oolong tea list!
Contains no GMOs
No additives
No pesticides
The packaging is biodegradable 
May not suit everyone's taste
4. Uncle Lee's Tea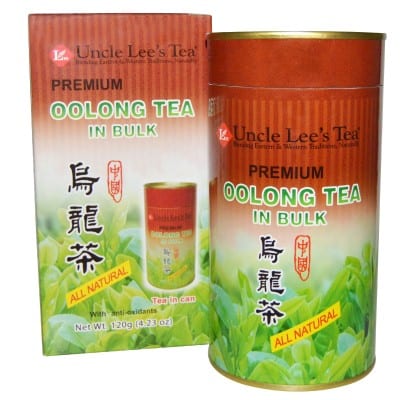 Uncle Lee's option consists of high quality Oolong harvested from Fujian Province in China. This tea is not baked as long as dark Oolong, so the steeped tea has a light golden hue, a sweet floral aroma, a fresh initial flavor, and a delicious floral aftertaste that lingers in your mouth after each sip.


Expand to see more
The rich flavor and fragrant aroma of Uncle Lee's Oolong results from the withering process during oxidation, which tumbles the tea and bruises the surface of the leaves. The withering process lets the tea soften, releasing enzymes that darken the tea leaves when they are exposed to air. When you buy this tea in bulk, you'll pay a great price for a large amount of high-quality Oolong tea.


Sweet floral aroma
High quality tea
5. The Tao of Tea Green Dragon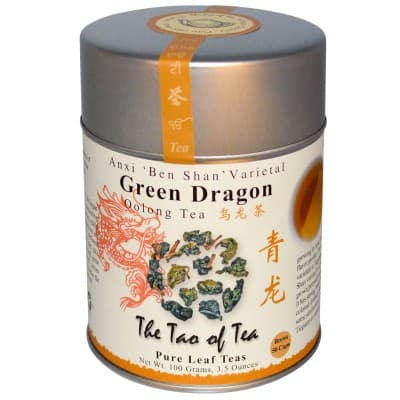 As you might guess from the name, Green Dragon is a greener Oolong with low oxidation. It is a smooth, golden infusion with grassy, toasty, and light floral notes.


Expand to see more
This tea is a little pricier than the bagged teas you find at the grocery store because of its high quality and large portion size, but the extra money is well worth it for this delicious and long-lasting tea.

When you consider that this tea is loose leaf, it's actually quite affordable. Green Dragon tea is grown in the mountains of Anxi county in the Fujian province. Green Dragon (the Ben Shan varietal) is a young varietal grown primarily near the village of Raoyang in Anxi; it has strong, heavy branches and brightly colored, distinct, oval leaves.

To brew this tea, brew one teaspoon of leaves in 12 ounces of pure spring or filtered water at 185 degrees Fahrenheit for 4 minutes. You can steep this tea at least twice.
Golden infusion with grassy, toasty, and light floral notes
High quality
Large portion size
6. Bigelow Classic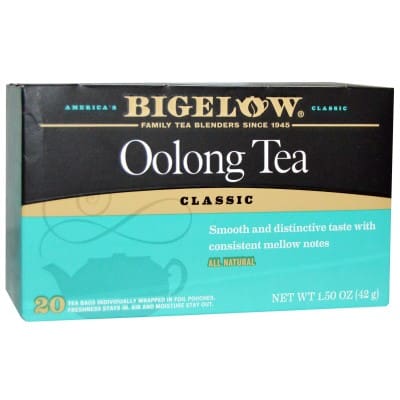 For a classic Oolong tea, look no further than Bigelow's inexpensive bagged tea. This tea is smooth, with a distinctive mellow taste. Many enjoy this slightly darker Oolong because it tastes like the hot tea served in many Chinese restaurants; in fact, Bigelow Oolong is indeed a popular choice for Chinese restaurants.


Expand to see more
To steep this tea, bring fresh cold water to a rolling boil. Then pour over the tea bag, steep for two minutes (or longer if you prefer stronger tea), and remove the bag without squeezing it. For iced tea by the glass, steep a little longer and pour it over ice.


Popular in Chinese restaurants
Distinctive mellow taste
Drink it how it cold
7. Irwin Naturals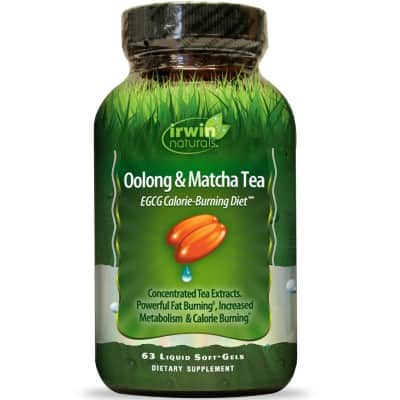 This Oolong and matcha tea formula combines four distinct varieties of tea, plus key botanicals from traditional Chinese medicine, to kickstart the metabolism and promote a healthy lifestyle. Matcha, a powdered green tea used in the Chinese and Japanese tea ceremony, is high in antioxidants and can help the body burn four times as many calories.


Expand to see more
These liquid soft gel capsules contain Omega-3 oils, daily essential fatty acids, and concentrated tea extracts with detoxifying and immune-boosting properties. The powerful blend of botanicals revered in Chinese medicine, from Asian Ginseng to Brown Kelp, also help speed up the metabolism.
Irwin Naturals can also be trusted to provide you the purest and most potent product, as they employ compliance testing to ensure high quality. If you're not much of a tea drinker, try taking these pills as a daily supplement to a
healthy diet
.
Kickstarts your metabolism
Promotes a healthier lifestyle
Powerful detox
Those who have a sensitive stomach should use with caution
8. Harney & Sons Iced Tea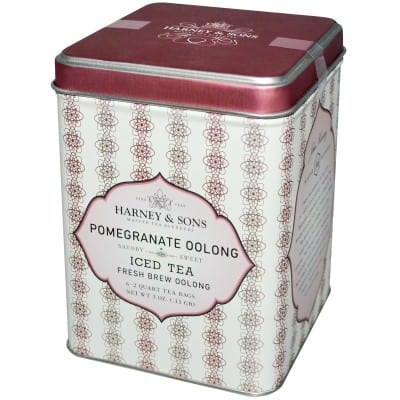 Maybe you're more of an iced tea drinker. If so, we've got you covered. This Harney & Sons blend uses extra large leaves of Ti Quan Yin Oolong, infused with tangy pomegranate. This fragrant Oolong tea is designed for making large 2-quart batches of iced tea. It's a delicious option for those tired of boring old plain teas, and great for a hot summer day. For the amount of tea you get, it's also very affordable.


Expand to see more
To brew this tea, boil 2 cups of water and pour over the tea bag in a gallon pitcher. Steep for 15 minutes, then fill with 6 cups of cold water. Remove the tea bag and gently squeeze it. Then pour over ice and garnish with slices of lemon or orange, or fresh mint leaves. A great choice on our best Oolong tea list.


Perfect for Ice tea lovers
Tangy pomegranate scent
Very affordable
Needs steeping for 15 minutes
9. Rishi Iron Goddess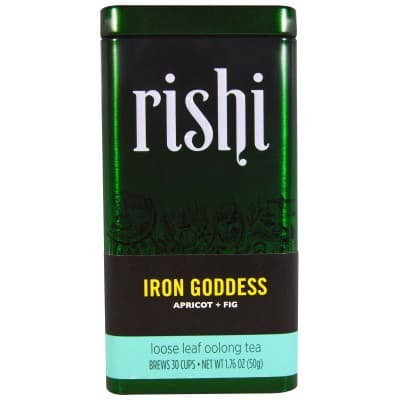 This sought-after, traditional Oolong tea is named after Guanyin, the Buddhist goddess of mercy.
Expand to see more
This smooth, loose leaf Oolong blend has fruity notes of apricot and fig, as well as a warm hint of toffee and toasted buckwheat. The Iron Goddess tea from Rishi comes from Nantou, Taiwan. This package of tea makes about 30 cups of tea, which isn't bad for the price. For the first infusion, Rishi recommends steeping for 3 minutes. After that? Re-steep for 4 minutes.
Fruity notes of apricot
Delicious full taste
Warm hint of toffee 
10. Twinings 100% Pure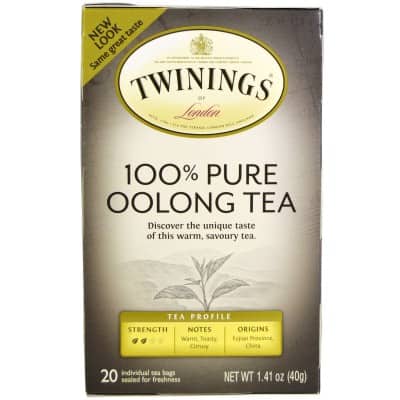 This pure Oolong tea is a warm, robust way to start your morning. With toasty notes of citrus and a golden honey color, this medium-strength tea is the perfect inexpensive Oolong for those who don't want to bother with loose leaf tea.


Expand to see more
The tea bags are individually sealed for freshness. For people that are new to tea, this Oolong is great because it's sold by a trusted tea brand (Twinings has been in the tea business since 1706). Twinings also sells value packs with 120 tea bags for longtime fans of this particular tea blend. The recommended steep time for this Oolong is 3 minutes.


Citrucy taste
Inexpensive
Tea bags
Why You Should Drink Oolong
In a way, oolongs are the most cheffy teas out there. While good growing conditions certainly matter, the quality of an oolong is largely dependent on the skill of the person processing it. Get something wrong and a batch may reek of grandma's perfume or taste as charred as a blackened steak. Get it right, though, and you have a tea with marvelous complexity, one that develops and evolves in your cup more than any black or green tea. Some oolongs can be steeped a dozen times or more, and by the time you're finished, the final steep may feel like it's from a totally different tea. (Try that with your English breakfast and all you'll get is brown water.)
Origins

Oolong tea is mainly produced in China and Taiwan, but other Asian countries such as Vietnam and Sri Lanka also produce some oolong. Taiwanese tea plantations have high elevations, which result in an ideal climate for producing oolong tea. Most of these teas can be steeped multiple times, and each steeping produces a unique flavor profile. Some tea drinkers even prefer the taste of the second or third infusions.
Oolong's predecessor, a traditional type of tea called Beiyuan tea, originated in the Fujian province of China more than a thousand years ago. Beiyuan tea was one of the first known tribute tea produced in that province. A tribute tea was given in tribute to the emperor or his royal family.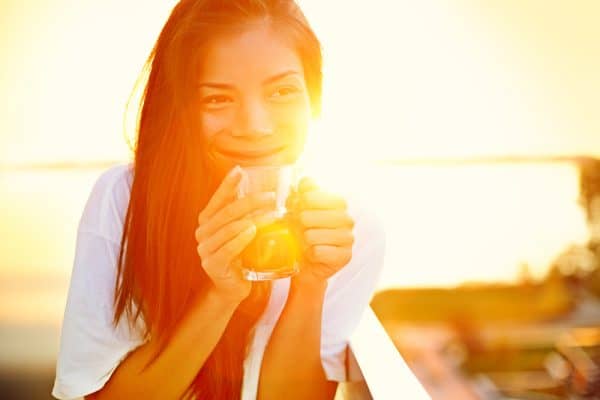 It is one of the best known teas produced during the Song Dynasty (960-1279 CE). The Beiyuan area is located near the Wuyi Mountains in that province and has been producing tea since the earlier Tang Dynasty (618-907 CE).
The Beiyuan tea leaves were compressed into bakery items like cakes. When this style of tea was not trendy anymore with the royalty, Fujian instead began producing a partially oxidized tea leaf in lose from, which became the original Oolong tea. The name comes from the Chinese "wu long," which means "black dragon tea." According to a Chinese folktale, the man who accidentally discovered Oolong tea by leaving his tea leaves out in the sun too long was named Wu Long (or "Oolong").
In the early 1900s, the British ambassador to China dedicated some Oolong tea to the Queen of England. She was impressed by the unique taste and aroma, as well as its distinctive greenish color, and gave it the nickname "Oriental Beauty."
Taiwanese Oolong
In the early 1800s, a Fujian merchant of teas brought some tea seeds to Taiwan to see if the plants would take root there. The tea proved successful, so Taiwanese tea production quickly expanded. For a very long time, the majority of the tea that grew was sent back to the original province. In 1868, a British man decided to increase efficiency by hiring tea masters to start processing tea in the capital of Taiwan. This decision was a success, so the following year the British man shipped 127 tons of Oolong (then called "Formosa tea" to the U.S., where it became popular. Since then, this tea has been Taiwan's most exported variety of tea.
Benefits
Oolong tea is a great drink for those who dislike water, yet do not want all of the negative health consequences of juice and soda. There are many benefits that have been associated with the regular ingestion ofit. These benefits are present whether you drink the tea hot, or cold. Oolong tea is a flavor of tea that has long been ignored for other, more popular tea flavors, such as green tea. However, oolong is a powerful health supplement that can be worked into any diet, and it tastes great. It can benefit all different types of people, such as:
Those Who are Looking to Lose Weight
Everyone knows how important a body's metabolism is when it comes to shedding pounds. Oolong tea makes the body burn its fat stores quicker because it increases the body's metabolism for a period of time that spans two hours after the tea has been drank. Polyphenols are another component of oolong tea, which hinder fat-building enzymes in the body. By supplementing this  tea into your diet, you can give your body the extra boost it needs to lose weight. However, make sure that you do not add anything to your oolong tea, such as sweetener or sugar, because this will counteract the weight-losing properties of the tea. If you feel like your tea is missing something, then we suggest using honey, stevia, or maple syrup as an all-natural sweetener.
Those Who Have High Cholesterol Levels
It is a great supplement for people who have high levels of cholesterol. By being semi-oxidized, oolong tea has the ability to lower bad cholesterol levels, and improve the health of the cardiovascular system. Polyphenol molecules located in this tea activate lipase, which is an enzyme that gets rid of fat in the body.
Those Who Want to Improve their Mental Capacity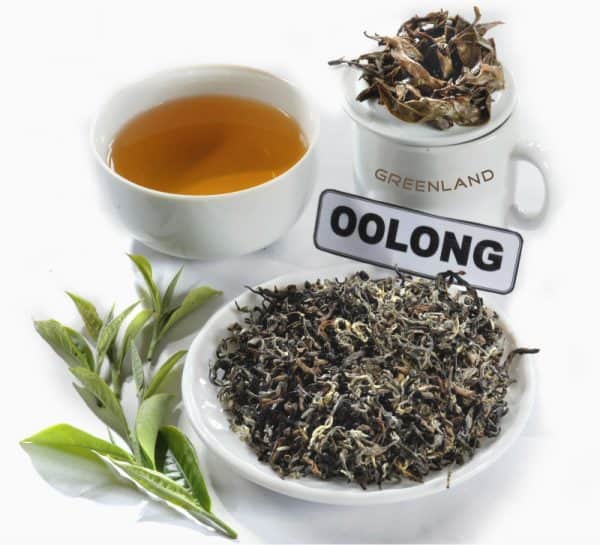 As we grow older, we start to lose mental sharpness that keeps us alert and on-top of things. Drinking oolong tea regularly can rejuvenate the brain's performance and alertness. Caffeine that is found in oolong tea help stimulate the mind, and make it ready to take on the day. If your body doesn't like caffeine, then only drink it a couple times a week, or up to as many times as you can without experiencing negative side effects.
Those Who Have Digestive Issues
Digestive problems can really get in the way of having a normal life. It benefits the digestive system through its alkaline properties, which decrease inflammation in the digestive tract. People who experience ulcer symptoms or who have acid reflux can find relief through the ingestion of the tea. The tea's antiseptic qualities also can clear up the stomach of any foreign microbes or bad bacteria. By drinking it when it is warm, or hot, this drink can also soothe the esophagus and the stomach, as well.
Those Who Have Dull Hair or Skin
There are many beauty benefits to regularly drinking oolong tea. The antioxidants that are found in it can stop any hair loss that may be occurring in its tracks. It can also be used as a hair rinse, which will increase the luminosity and the thickness of your hair. Lustre will also be restored to any dull or damaged hair that you may have after regularly consuming this tea. But oolong tea isn't only useful for the hair. Those who suffer from dry, cracked skin, or eczema can drink it to clear up their skin conditions. Its antioxidants help fight-off any free-radicals that your skin may encounter throughout the day, and will keep the skin looking young and fresh.
Those with Type 2 Diabetes
Type 2 diabetes causes an increase in the amount of glucose found in the blood. Scientific studies have been published that show how it can naturally decrease the amount of glucose in the blood to a correct, healthy amount. Oolong tea also has antioxidants that can help metabolize sugar for those with type 2 diabetes.
Those Who Want to Protect their Teeth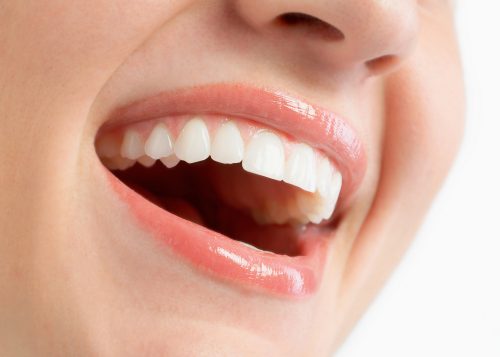 If you hate going to the dentist, then it can help make your visits a little better. It contains anti-bacterial properties that inhibit the growth and spreading of bacteria. So not only will cavities be inhibited from forming, but plaque build-up will also be decreased.
Those with Weak Bones or Osteoporosis
Studies have shown that people who regularly supplement their diet with oolong tea have stronger bones than those who don't. Less bone density is loss in those who drink it, which helps to replenish the body with minerals absorbed from the food it has digested. Important bone minerals, calcium and magnesium, are also present in the tea leaves.
Those with Weak Immune Systems
Oolong tea is a great supplement for those who are immunocompromised, or those who have immune systems that are on the weaker side. Anti-cancer properties can be found in it, and flavonoids (a type of antioxidant) found in the tea can help prevent damage to the body's cells. Talk with your doctor before implementing it in your diet if you have a weaker immune system to ensure that it is right for you and your body.
Caffeine Content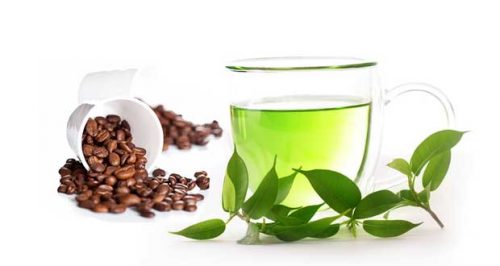 If Oolong is a mixture of black and green teas, which have widely different caffeine contents, how much caffeine does a cup of your typical Oolong contain? It's difficult to estimate exactly because Oolong teas vary so much in oxidation and caffeine content. However, The Journal of Food Science recently tested several varieties of Oolong tea and found that they contained anywhere from 16 to 55 mg of caffeine per cup. That's still much lower than black teas, but they definitely contain more caffeine than green or white teas.
How to Brew Oolong Tea
To brew loose leaf Oolong tea, heat water to 200 degrees F, or let it boil. Place 1 scooped teaspoon for every 6-ounce cup in the teapot or mug and let the tea steep for 2-3 minutes. Remember, you can steep it several times, so feel free to simultaneously increase the water content once you've finished the first cup, until the tea flavor is eliminated. To make iced Oolong tea, steep it using the same process listed above, but remove the tea leaves with a strainer and add ice cubes.
Is Oolong Tea Black or Green Tea?
Oolong tea is not considered to be black nor green tea. It actually is in its own classification of tea. However, an oolong tea can result in having more similar qualities of black tea or green tea depending on the course the tisane master chooses during the process. The prevalent difference between oolong tea and black or green teas is the oxidation process as well as shape.
Oxidation
Black tea is given time to completely oxidize in the course of processing. This gives the tea leaves its dark color and strong fragrance. On the other hand, green tea is scarcely oxidized, which allows the tea leaves to retain their original color and fresh taste. However, oolong tea is frequently defined as somewhat oxidized tea as these levels can differ significantly from eight to eighty percent. This percentage of oxidization level is influenced by the production method of the tisane master. This explains why sometimes certain oolong teas may taste like fresh green tea, because it is less oxidized, while other oolong teas can taste more like black tea, because it is more oxidized.
Shape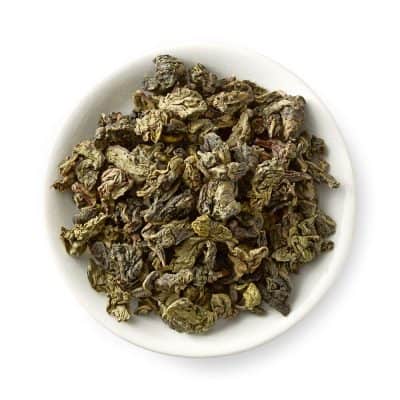 Customarily, oolong teas are twisted, curled, or rolled into fine strands or snug balls. The artisanal modeling methods are subject to the traditions a tisane master who prepares the oolong tea. Rolling is a crucial phase of oolong handling that changes the aroma, color, and appearance of the tea leaves. The person creating the tea can faintly change the complete course of the teas ultimate taste depending on when and how the leaves are rolled through processing.
Oolong Tea Varies From Region to Region
Oolong tea symbolizes a proper artificer mastership of tea processing. The flavor, appearance, and shape of oolong tea can differ widely due to the area where it is harvested and how it is processed. The derivations of oolong are declared in both Taiwan and China. Oolong tea is still extremely valued in both countries to this day.
The oolong teas produced in Taiwan that are the most famous are customarily less oxidized, usually between ten to forty percent. As a result, the tea takes a more green color and a lighter taste. The various styles of oolong tea manufactured across the country can differ significantly depending on techniques and location. Certain oolongs may be twisted into strands while you may find other that are rolled into little snug balls. Others may grow in isolated mist-covered highlands, while you can find other oolong in moderate bamboo-forested hills. Some tisane masters harvest their oolong during the spring to obtain an herbaceous taste, while others may harvest during the winter and roast it for a more robust and earthy taste.
The most prominent oolong teas may have started in Taiwan and China; however, different varieties of oolong are being prepared in various parts of the world today. New Zealand, Thailand, Sri Lanka, India, and Japan are a few countries that are producing some of the world's oolong teas.
The Flavor of Oolong Tea Can Vary Dramatically
Due to oolong tea being oxidized at contrasting levels that depend on the processing method of the tisane master, the tea's taste can reach light to hearty, sweetened to toasty, and flowery to grassy. The shade of the leaves and the color of the brewed tea can also differ from green, golden, to brown.
Criteria for Evaluation
Oolong tea is a healthy drink option that has gone under the radar for many years. Most people tend to drink green tea, or black tea, and miss out on oolong. Its flavor is robust, and can vary widely depending on how its been manufactured by the company. Depending on how long the company has fired their tea for, the oolong tea product can either have a "fruity" or a "woody" flavor to it. We know that there are many different options for the tea available on the market, which is why we've put together this easy-to-read review guide on our top picks for it. We also understand that different people have different tastes, which is why we've put together a guide that has a diverse taste profile, and has an oolong tea product selection for everybody, no matter what they are looking for.
Aside from taste, there were also many different factors that went into our review process. Here are all of the different decision criteria we used when putting together our top selections of oolong tea.
Product Testing
It would be impossible to go out and individually taste each different type of oolong tea that is available on the market. We have done this step for you, and have come up with a list of our top tea selections while doing so. Some of the options on our list lean more towards the "green" side, while others can be found on the "black" side of the tea spectrum. This means that there are some products that taste lighter, and are lighter in color with less caffeine, but there are also options that taste heavier, and are darker in color with higher caffeine content.
There are also consumers who need to have diets that are exclusively gluten-free, which is why there are teas included in our guide that do not contain gluten. Those who are looking for oolong teas that are fruity can also look to our guide to find flavors such as peach and pomegranate. We understand that not everyone enjoys the taste of tea, and have respected their desire to have flavored teas that still contain all the health benefits associated with oolong.
User Reviews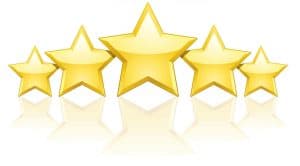 The products that we have included in our guide all come with high ratings and positive customer reviews. Reviews can be one of the most important things to look at when deciding on a health supplement, and these products are no exception. We noticed that customers enjoyed oolong teas that were made from whole leaves, instead of fragmented ones, which is why we've included many products on our list that were made using leaves that were whole. Oolong teas that were aromatic and flavorful were also rated highly by consumers. The products on our review guide are all tasty and healthy for you.
Side Effects
Oolong tea is safe to drink for the majority of people looking to supplement their diets with this substance. However, drinking too much and increasing the body's caffeine levels by an unhealthy amount can cause irritability, dizziness, insomnia, and heart palpitations. Oolong tea can also interact with certain medications, so it is good to talk with your doctor before regularly ingesting it. All of the oolong tea products we've ranked on our review guide have limited reported side effects in consumers and have been deemed safe to drink in healthy amounts.
Brand Reputation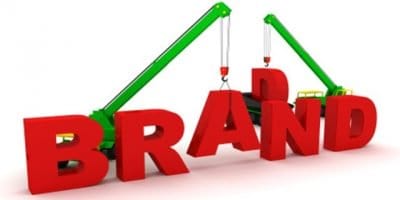 The oolong tea products on this guide are all produced by reputable companies that have established relationships with their customer base. It is important to trust the company that makes your health food and health supplements, which is why we've picked oolong tea products only from those companies that operate with the interests' of their customers in mind.
Safety of the Supplement
The teas that we have included in this guide have all been manufactured safely by reputable companies. As mentioned previously, this tea is a relatively safe drink to consume, however, it is best to start with a small daily intake and see how your body reacts to it. Once you've started small, you can increase the amount of tea you drink in a day to a healthy amount that settles well with your body.
Ingredients and their Effectiveness
We know that those who are looking for an oolong tea product want one that is made completely with its leaves, and nothing else. That is why the products we've listed in this review have ingredient lists that are 100% oolong tea, and nothing else. There is no need for any added substances or preservatives in your oolong tea product, which is why you won't find those in the products listed above.
FAQs
Q) How much caffeine does oolong tea have?
The amount of caffeine that your cup of tea will have varies on the manufacturer. The range of the amount of caffeine in a glass of oolong tea is from 17 mg/cup all the way up to 55 mg/cup. In general, a cup of this tea will have less caffeine than a cup of black tea, but more caffeine than a cup of green tea.
Q) How long should it be steeped for?
To get the best flavor profile for your cup of tea, it should be steeped for 3-5 minutes. The amount of time required to steep your oolong tea depends on if the tea leaves are flat, semiball-rolled, open or folded. The exact amount of time the tea should be steeped for will be indicated on the product packaging.
Q) Are there any negative side effects?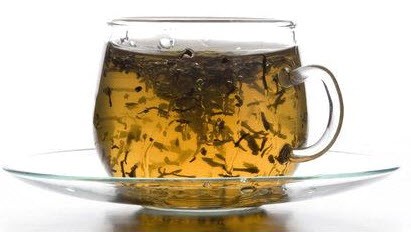 When ingesting in moderate, healthy amounts, most people react well to oolong tea. However, if you consume an amount of tea that is higher than recommended, you may experience some unwanted side effects. The high amount of caffeine may cause you to experience headache, dizziness, nausea or vomiting, and there is a chance of having an allergic reaction, or having the tea interact with your medications. Discuss with your doctor if they believe this tea is safe for you before ingesting.
Q) What different forms does it come in?
There are many different forms of this tea to suit almost any lifestyle. It can be purchased in bags, or in loose-leaf forms to accommodate those who have tea infusers and those who don't. You can also purchase health supplement capsules that contain tea if you do not like the flavor of the drink.
Q) Do I have to infuse my oolong tea?
No, you do not have to have a tea infuser to enjoy oolong tea. Many people enjoy using an infuser and loose-leaf oolong tea because they believe it tastes better and provides more health benefits from the tea leaves. However, if you do not have an infuser or do not have time to infuse your tea, you can purchase it in tea bags or in capsule form.
Q) Can I drink it before bed?
This all depends on the product you have purchased and how your body reacts to caffeine. For some, drinking caffeine before bed is a big no-no and will cause them to be awake all night. Others may be able to consume caffeine right before bedtime and sleep without a problem. Oolong tea products also differ in their caffeine content, so some that have less caffeine may be suitable for evening consumption, whereas others may have high amounts of caffeine and may keep you awake at night.
Q) How do I brew it?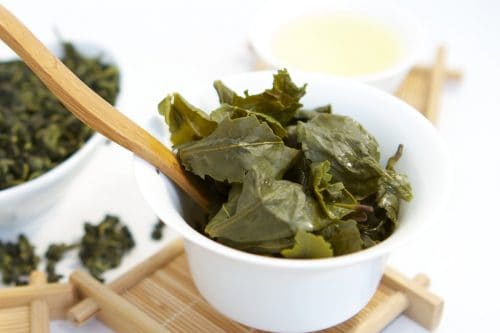 If using an infuser, place your loose-leaf oolong tea into an infuser for 3-5 minutes with hot water. Remove the infuser and enjoy. If you've purchased tea bags, place them in a mug or teapot of hot water for 3-5 minutes. Remove before drinking.
Q) What does it taste like?
Depending on what oolong tea you purchase, it can taste anywhere from being light and fruity, to being heavy and "woody." The amount of time you steep your tea for will also change its flavor profile.
Q) What is the shelf-life of oolong tea?
It generally lasts anywhere from 1.5-2 years. Check your product's manufacturing label and expiration date to determine how long you can use your oolong tea for.
Subscribe to our Newsletter