Best Resveratrol Supplements Reviewed
Disclosure: We use affiliate links and may receive a small commission on purchases.
A natural compound in red wine that may have potent anti-aging and disease-fighting properties, and it's being sold in supplement form. You may have noticed all the buzz about the antioxidants in red wine over the past few years, and resveratrol is the reason behind it.
Resveratrol is a natural compound (polyphenol) found in red grape skin, cocoa, Japanese knotweed, peanuts, blueberries, and some other berries. It's a powerful antioxidant produced by plants to protect them against environmental stresses such as fungal diseases and sun damage.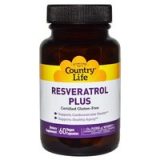 Country Life

Our rating
potent antioxidants
Price:

See Here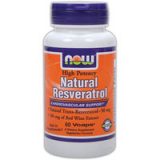 Now Foods

Our rating
vegan
Price:

See Here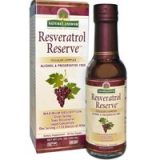 Nature's Answer

Our rating
highest quality
Price:

See Here

Most resveratrol capsules sold in the U.S. contain extracts from an East-Asian plant abbreviated P.C. Other resveratrol supplements are made from red wine or red grape extracts. To help you sort through the wide variety of the best resveratrol supplements, we've assembled a list of products for the best value.
What is resveratrol?
As we stated before, it's a powerful antioxidant. Antioxidants–among other benefits–neutralize free radicals, which are believed to be the cause of aging.
How does it work?
It's a stillbenoid, a type of natural phenol, and a phytoalexin (an antimicrobial compound) produced naturally by several plants in response to injury or when the plant is under attack by pathogens like bacteria or fungi. If that seems too complicated, it's basically a compound produced by plants to fight off disease–and researchers are theorizing that it could help us fight off aging and disease, too.
Grapes produce resveratrol in their skin to protect the plant against fungal diseases and sun damage. Red wine contains small amounts of resveratrol. That's why you'll most commonly hear about resveratrol supplements in relation to wine; it has higher levels of the natural compound compared to other natural food. Overall, red wine contains less than 1-2 mg of resveratrol in 8 oz. However, red wine has more resveratrol than white wine because red wines are fermented with the grape skins longer.
10 Best Resveratrol Supplements
1. Country Life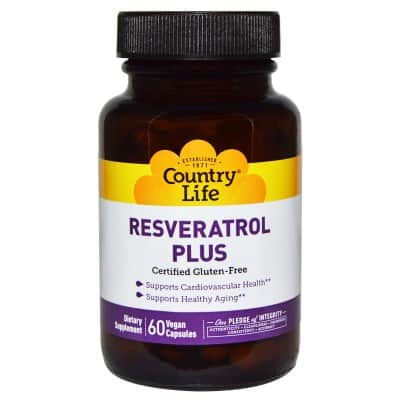 This affordable, high-quality resveratrol supplement helps support the body's immune system with potent antioxidants.
Expand to see more
Resveratrol may promote the activation of the SIRT1 gene, often called the longevity gene. It can also promote healthy aging and support the cardiovascular system.
This product is certified gluten-free, and Country Life is a company that prides itself on delivering excellent products.
Support for the immune system
Powerful antioxidant
May promote the activation of the SIRT1 gene
2. Now Foods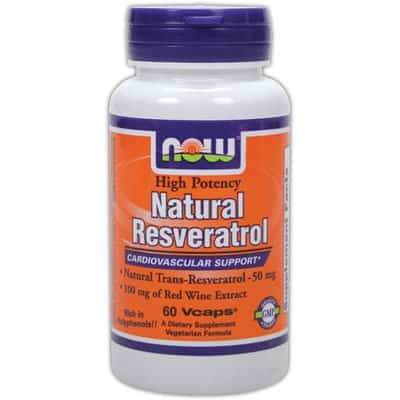 The Now Foods Natural Resveratrol supplement supports the cardiovascular system using red wine extract.
Expand to see more
The supplement is safe for vegetarians and vegans, and manufactured without items like gluten, soy, wheat, milk, fish, egg, shellfish, and tree nut type ingredients.
The product is produced in a GMP facility that processes other ingredients that consist of these allergens, however.
This product is painstakingly quality assured and comes at a reasonable price.
Support for the cardiovascular system
Suitable for vegetarians and vegans
Produced in a GMP facility
The dosage may be too high for some
3. Nature's Answer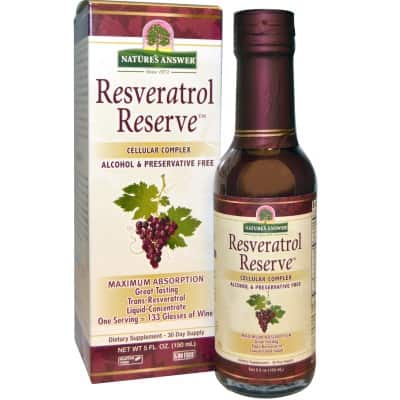 Muscadine is the species of grape (berry) known to have the highest concentration of ellagic acid and anthocyanins.
Expand to see more
It is made of both compounds related to resveratrol. Nature's Answer extracts only fresh whole Muscadine grapes in a U.S.-based extraction facility to bring you the highest quality extract available.
This supplement is both affordable and free from artificial ingredients, from sweeteners to alcohol and benzoates/sorbates. Check it out if you just want a basic resveratrol supplement.
Free of artificial ingredients
Alchohol free
Benzoates/sorbates free
The liquid is quite thick
4. Jarrow Formulas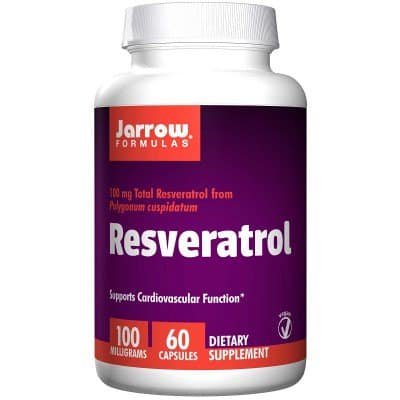 Jarrow Formulas's Resveratrol Synergy supplement combines resveratrol and other powerful antioxidants for a potent formula that supports the cardiovascular system and prevents a variety of ailments.
Expand to see more
The pills contain grape seed oligomeric proanthocyanidins, which are extremely effective bioflavinoids (vitamins), grape skin extract (hello, resveratrol!), and green tea extract. Green tea is a healthy, antioxidant-rich source of mild caffeine and is perfect in combination with other vitamins. This supplement promotes cardiovascular function, promotes a faster metabolism, and is suitable for vegetarians and vegans. This supplement is actually one of the cheapest on the market for all the benefits it provides and therefore included in our best resveratrol supplements list.
Excellent support for the cardiovascular system
Boots immune system
Potent formula
5. North American Herb & Spice Co.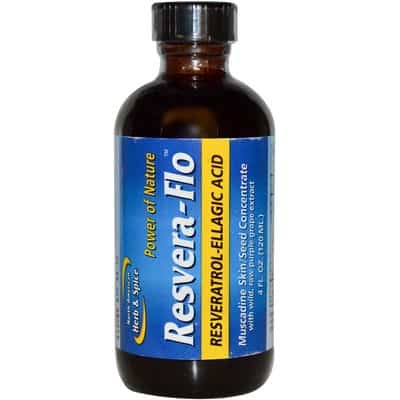 This one is the only natural grape-source resveratrol and ellagic acid concentrate available. All other reservatrol come from Japanese knotweed.
Expand to see more
Resvera-Flo is made from purple muscadine berry and wild, raw northern American grape. This is the original muscadine/berry grape concentrate, complete with all of the powerful flavonoids extracted from the skin. All other resveratrol is from the root of Japanese knotweed. Resvera-Flo provides 2 mg of highly rare ellagic acid and 132 mcgs of reservatrol per serving. Because this supplement is in a giant medicine bottle, it's on the pricier side of things. But when you consider the benefits of this product, the price isn't too bad.
Made from purple muscadine berry
Powerful antioxidant
High quality product
6. Doctor's Best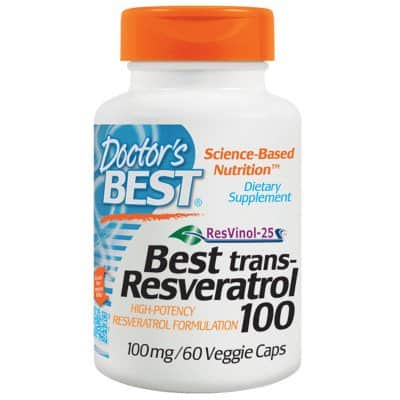 This resveratrol supplement contains ResVinol-25, which provides trans-resveratrol and polyphenols from the knotweed plant.
Expand to see more
Unlike the other supplements on this list, this is a trans- version of resveratrol. Trans-resveratrol has been shown to have more valuable biological activity. ResVinol-25 has been rigorously product tested for quality assurance, so you know you're getting a high quality product. The product is tested against a number of fungus, metal etc to assure purity. The Doctor's Best resveratrol is also an inexpensive supplement, even considering its small size.
High quality ingredients
Extensively tested for heavy metals, bacterial and fungal contaminants
Inexpensive
Suitable for vegetarians and vegans
7. ReserveAge Nutrition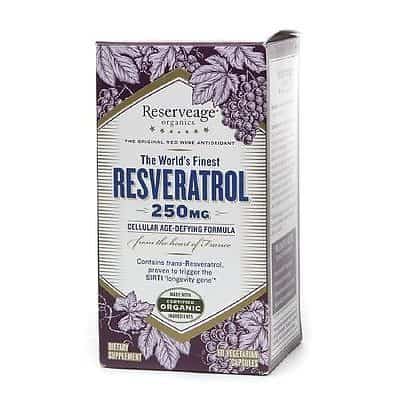 These resveratrol veggie capsules from ReserveAge Nutrition are made with an organic red grape polyphenol blend from the heart of France.
Expand to see more
It is an anti-aging and dietary supplement designed to promote cell turnover for a more youthful appearance while also kickstarting the metabolism. One of the company's award-winners and Pro-Longevity aspect Blend gives naturally-retrieved antioxidant backing and great levels of standardized resveratrol. This supplement is also the #1 best-selling resveratrol supplement, which might be why it has a higher price point than some of the other supplements on this best resveratrol supplements list. These resveratrol pills are 100% vegetarian, gluten-free, and free of any additives, flavoring, or preservatives.
Suitable for vegetarians and vegans
Made from organic red grape polyphenol blend
Powerful antioxidant
8. Greens Plus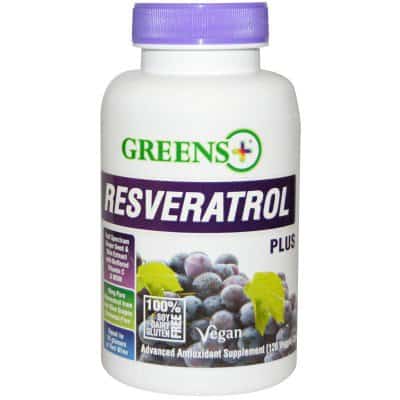 Resveratrol Plus contains 120 veggie capsule pills that are 100% pure resveratrol made from red wine grapes.
Expand to see more
They have full spectrum grape seed and skin extract with buffered Vitamin C and MSM (Methylsulfonymethane). One pill is equal to 10 glasses of red wine, but in resveratrol instead of in sugar content. These pills are 100% soy-, dairy-, and gluten-free as well as vegan. These pills promote a strong immune system, a healthy heart and bones, a youthful appearance, and an advanced antioxidant supplement. They improve hair, skin, and nails. Considering that you get so many pills in one bottle, this form of resveratrol pill is superior to the previous one that was slightly more expensive, but the same size.
Made from pure red wine grapes
Provides a youthful appearance
---
Benefits
Many of us have heard the saying that drinking a glass of red wine at dinner is healthy because it contains antioxidants. There is one particular antioxidant inside that is especially helpful and full of benefits: Resveratrol.
Specifically, Resveratrol is a flavonoid antioxidant and is a part of a group of compounds called polyphenols. They help to protect against damages that may happen inside the body. Luckily, this supplement can be found in the skin of red grapes, berries, and even peanuts. Usually, Resveratrol is extracted from either red wine or grapes and placed into a supplement with polygonum cuspidatum, which is extracted from an Asian plant. All around, it's one of the more natural supplements you can introduce into your health routine.
Long Lasting Benefits
The benefits of including a daily intake of this supplement can affect many parts of your life and last a long time. Many studies have been conducted, and doctors have found proof that with the right dosage, these benefits can be achieved. Here are just some of that Resveratrol can provide.

Heart

Resveratrol can help reduce inflammation and bad cholesterol around the heart that can lead to heart disease. It also makes it more difficult for blood clots to form, which can lead to a heart attack.

Cancer

It won't completely prevent cancer from happening but it can help to reduce the spreading of cancer cells and even start to fight back.

Obesity

Resveratrol can make those pesky fat cells die. It helps to inhibit the fatty acid synthase, also known as lipoprotein lipase and works to break down the fat tissue. It also aids in boosting your metabolism.

Diabetes

The supplement can assist in preventing insulin resistance. This condition occurs when the body becomes decreasingly sensitive to the blood-glucose-reducing hormone, insulin. This can happen to many of us over time so it's important to implement something like this if your family has a history of the disease.
How to Use it
Sure, you could try to drink red wine more often but it would take over 150 glasses of red wine a day to get the right amount. So we suggest a much easier route by taking it in pill form. The supplement is usually measured out to about 30 – 50 mg per capsule. Taking more than 250 mg a day is not recommended, however so be sure to not take more than about 5 a day.

Potential Side Effects
Luckily, since this supplement has mainly natural ingredients, the side effects are nothing severe, even in high doses. However, it can interact with blood thinners such as aspirin or ibuprofen and can raise the risk of bleeding. Some may be sensitive and can experience some nausea.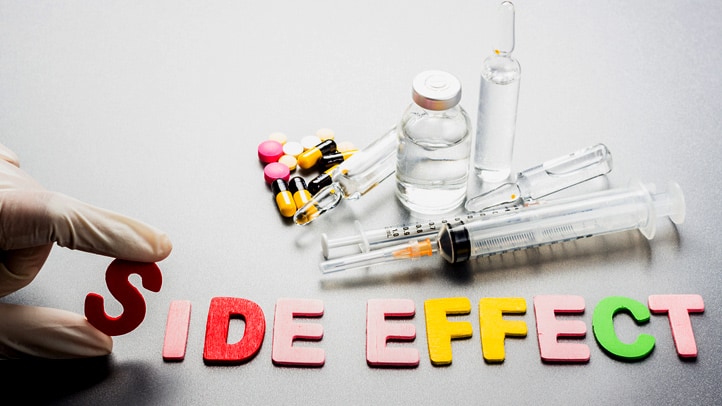 Always check with your doctor if you are on certain prescriptions to make sure that the supplement won't have adverse affects with what you are taking.
Why Take Resveratrol Daily?
Since the levels of resveratrol are so low in red wine, cocoa, and certain berries, daily supplements are an easy way to get an antioxidant boost with very little effort. Remember that this supplements typically contain far lower dosages than the amounts used in research studies that produced beneficial results. Most contain 250-500 mg of resveratrol; to get the equivalent dose in some animal studies, a person would have to consume 2gm of resveratrol or much more a day. However, you can't overdose on resveratrol and take even a small amount will provide some antioxidant benefits. These could include enhanced endurance, cardiovascular security, decrease inflammation, lower LDL or "bad" cholesterol, a testosterone boost in men, increased mental sharpness, the prevention of diabetes, decreased risk of heart attack, and increased longevity. There are many possible health benefits to taking resveratrol supplements (not all of them well-researched), and we will examine them next.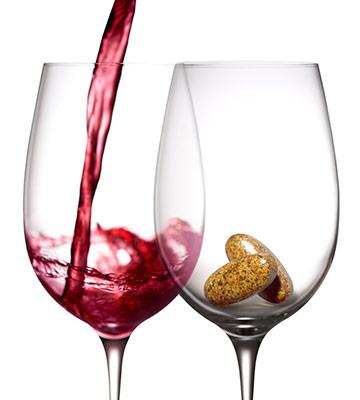 Health Benefits of Resveratrol
Resveratrol supplements could enhance or even replace endurance training results by providing skeletal muscle benefits that are similar to endurance training. A study conducted in 2012 on rats indicated that the use of resveratrol showed an increase of stamina, metabolism and also improved heart function. Interestingly enough, the grouping of training with this supplement resulted in a significant increase in performance! That means those who hate endurance training could potentially skip it and take a supplement instead. However, to see the best results, consider combining endurance training with resveratrol supplementation.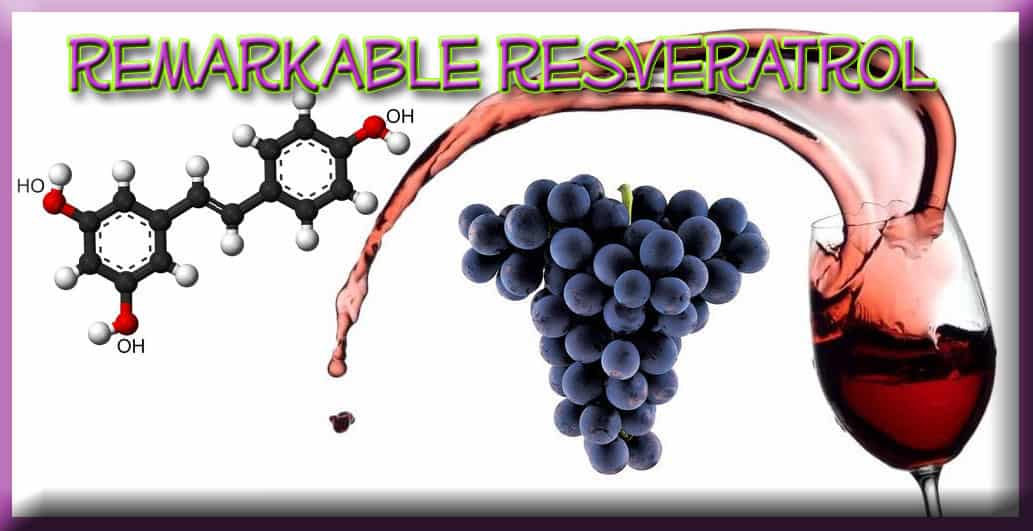 Resveratrol, like many other antioxidants, may also be able to reduce the risk of cardiac disease. According to trusted organizations like the CDC, heart disease has been an important cause of death in the US. Other studies indicated that drinking small portions of five-ounce glasses of wine in a day decreased the risk of developing clogged arteries. This risk reduction overall reduced the risk of mortality by almost thirty percent! Taking the lead from this study, other researches were conducted and indicated that resveratrol works on the heart and provides it with good protection to avoid incidences like heart attacks.
The resveratrol benefits don't stop at heart disease. Antioxidants can help prevent or even slow down cancer. Colon cancer is the most frequently occurring digestive system cancer, and it can be one of the deadliest. A 2005 French study found that resveratrol was able to delay the production of cancerous cells and therefore could be considered a useful anti-cancer agent.
For many people, vision loss is an accepted part of the aging process. A 2010 study by Missouri researchers found that resveratrol has the ability to regulate angiogenesis, preventing the abnormal growth of blood vessels that are damaging to eyesight. Consider eating foods healthy for the eyes, such as omega-3 fatty fish and foods rich in beta-carotene, vitamin C, and vitamin E.
Men who suffer from declining testosterone levels due to age should visit their doctors and ask for a blood test to determine their levels. Testosterone is a key hormone that regulates body weight, muscle mass, mood, libido, and many other important characteristics of the male body. According to a Korean study conducted in 2008 on mice, resveratrol consumption might be able to help. The researchers found that blood testosterone concentration improved by more than 50% following a 28-day period of supplement intake.
Resveratrol has great health benefits for the body, but it also can improve brain function. One way to sharpen your mind is through increased blood flow to your brain. A 2009 study conducted by Illinois researchers found that mice receiving resveratrol supplementation had a better memory function and overall increased mental performance. In 2010, scientists in the UK studied 22 healthy adults (an admittedly small sample) and determined that neurological blood flow increased following resveratrol consumption. Resveratrol is considered a dietary supplement and is not approved by the U.S. FDA for any indication. Studies containing the correct dosage, use, safety over an extended period of usage, and effectivity have not been conducted.
Do not take Resveratrol if . . .
You have a blood disorder, as the supplement may induce bleeding. You should also be observed by a physician as you use this product. Since resveratrol is dangerous with other blood thinning agents, it should be stopped two weeks prior a surgery and should not be taken for another two weeks post the surgery.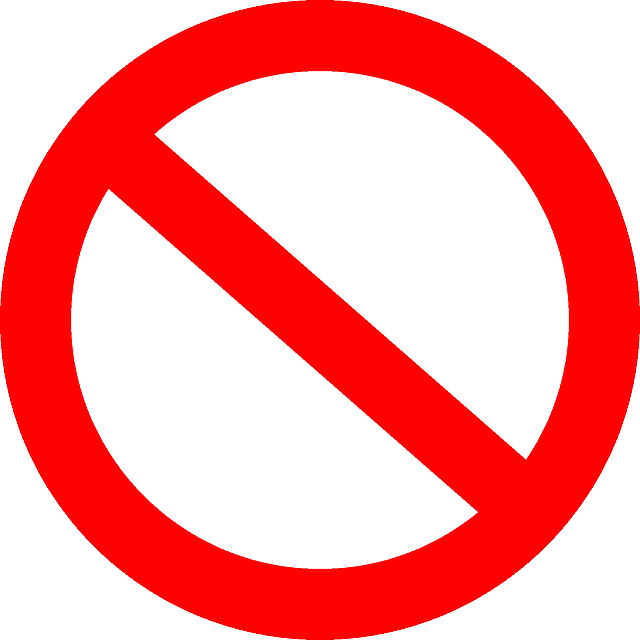 Do not take these supplements or large amounts of natural foods containing it when pregnant or breastfeeding. There is a lack of research in this area to prove safety. it should be kept away from children.
Resveratrol had mild estrogen like activity. Not much is known and until then females with conditions like cancers and other similar issues that are sensitive to estrogen should consult a doctor or physician before taking these supplements.
Resveratrol decreases the activity of these enzymes involved in drug metabolism, but if this effect is significant in human beings has not been studied.
Subscribe to our Newsletter