Best Omega 3 Supplements Reviewed and Compared
Disclosure: We use affiliate links and may receive a small commission on purchases.
As you may or may not know, omega 3 is a fat that is essential to the human body. It is regularly found in certain foods, but can also be taken as a supplement. There are numerous omega 3 benefits associated with fatty acids, which is why it should surely be on your list of supplements you take.
There are more than one main types, or forms, of omega 3: docosahexaenoic acid (DHA), eicosapentaenoic acid (EPA), and alpha-linoleic acid (ALA). DHA and EPA is typically found in certain fatty fishes, and ALA is more commonly found in certain nuts and seeds. All contain certain benefits, although EPA and DHA are more prominently known for their benefits.
Sadly, many people are deficient in both omega 3 DHA and omega 3 EPA, which is why it is good to take a supplement. You can not always get enough from foods containing omega 3, or for many reasons (including dietary reasons) may not be able to eat omega 3 rich foods. In order to avoid that, taking a supplement is an easy way to get your daily value.
If you do suffer from an omega 3 deficiency, you may experience symptoms such as decreased memory, joint pains, mood swings, and even certain heart problems. With such serious and ranging possible symptoms, you should definitely make it a priority to get enough omega 3 in your diet.
As far as benefits go, omega 3 is known to help with a variety of health issues including high cholesterol, depression, anxiety, inflammatory issues, skin issues, and more. It may even help you if you are trying to lose weight, or wish to get thicker hair or nails.
Most popularly, it is known to help improve heart health by helping lower cholesterol, reducing inflammation, lowering blood pressure, and decreasing the formation of blood clots. It may also even decrease your risk for developing cancer and help with brain disorders such as Alzheimer's or dementia.
Our Top 3 Picks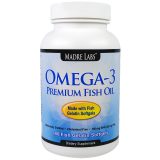 Madre Labs

Our rating
Contains EPA and DHA
Price:

See Here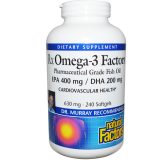 Natural Factors

Our rating
Molecularly Distilled Fish Oil
Price:

See Here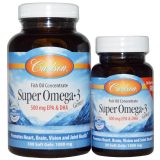 Carlson Labs

Our rating
Free of 32 Contaminants
Price:

See Here

10 Best Omega 3 Supplements
1. Madre Labs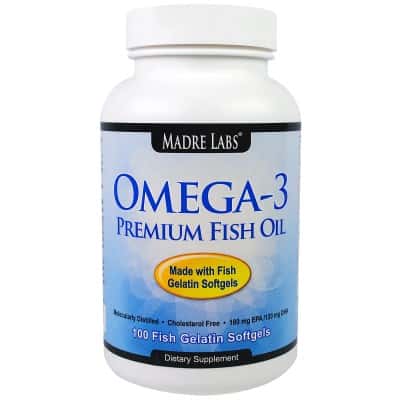 Our number one choice for the best omega 3 supplement comes courtesy of Madre Labs.
Expand to see more
Milligrams: 640 mg

Count: 100 softgels

Price point: Inexpensive

This supplement in incredibly affordable, making it an option for people even with a limited budget. While it is inexpensive, it is also a great product that contains both EPA (360 mg) and DHA (240 mg) along with other omega 3 fatty acids.

This supplement is quality tested to be free of harmful contaminants and is also cholesterol free.

Each container has 100 softgels, and comes at a price you cannot beat. If you want to give an omega 3 supplement a try but aren't convinced you will want to take it regularly (or if you are just looking for a quality product that won't break the bank), this is the product for you.
Inexpensive
Contains EPA (360 mg) and DHA (240 mg)
2. Natural Factors Rx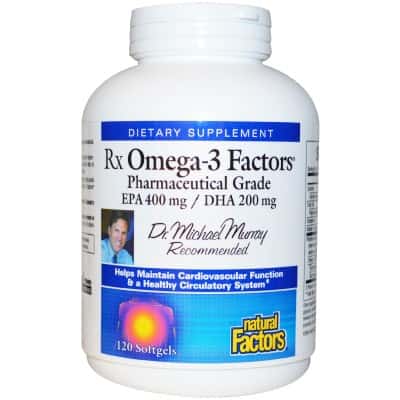 This Omega 3 supplement from Natural Factors may be a bit more expensive than others on this list, but for the price you are getting an exceptional product that is purity and potency guaranteed.
Expand to see more
Milligrams: 630 mg
Count: 240 softgels
Price point: Fairly expensive
This supplement contains a higher level of EPA than most other supplements on this list (400 mg) and also contains 200 mg of DHA and pharmaceutical grade fish oil that is
molecularly distilled for top purity
. Finally, it contains no artificial colors, sweeteners, or preservatives, and is also gluten and dairy free.
No artificial colors or sweeteners
No preservatives
Gluten and dairy free
3. Carlson Labs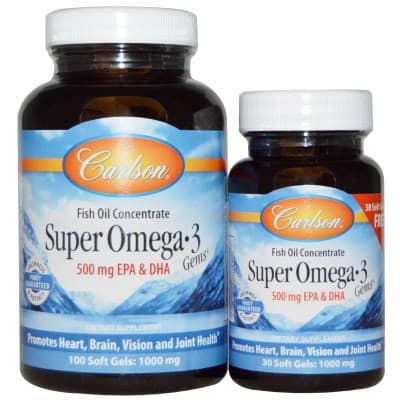 Carlson Labs produces another inexpensive omega 3 supplement option, and contains both EPA (360 mg) and DHA (240 mg).
Expand to see more
Milligrams: 1,000 mg

Count: 200 softgels

Price point: Inexpensive

This is a product that is GMP quality assured and also undergoes molecular distillation to achieve a pure product and is also tested to ensure it is free of contaminants like mercury and lead.

This is towards the top of our list because of the value for the price, with 200 softgels coming in the container.
GMP Certified
Free of contaminants
Inexpensive
4. Now Foods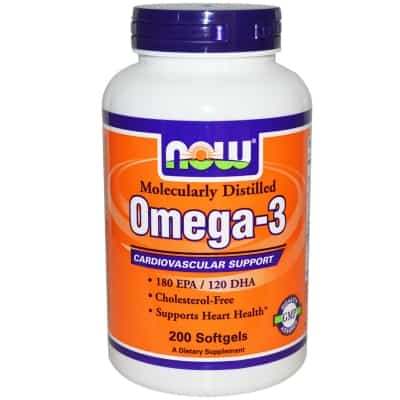 Now Foods' supplement is an excellent choice for those in need of a higher dose of Omega 3.
Expand to see more
Milligrams: 1,000 mg

Count: 200 softgels

Price point: Inexpensive

With 1,000 milligrams per dose, you are sure to get a good boost of Mega 3 and its most prominent benefits. Even though this product may leave you with a fishy aftertaste, it is well worth the momentous discomfort.
GMP certified
Mercury free
Great price
5. Natrol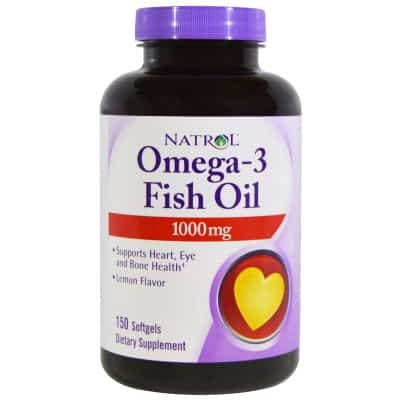 This next supplement is one of the most inexpensive ones on the list, and contains both EPA (180 mg) and DHA (120 mg).
Expand to see more
Milligrams: 1,000 mg

Count: 150 softgels

Price point: Inexpensive

This is another product that is flavored (lemon flavored), so if you are fearing for the taste, this product takes care of that.

The lemon flavor comes from natural lemon oil, and as a result the supplement has no artificial colors or flavors.

Each container contains 150 softgels, and for that amount and the price you really can't ask for a better deal.
Falvored with natural lemon oil
No artificial colors
Inexpensive
6. Deva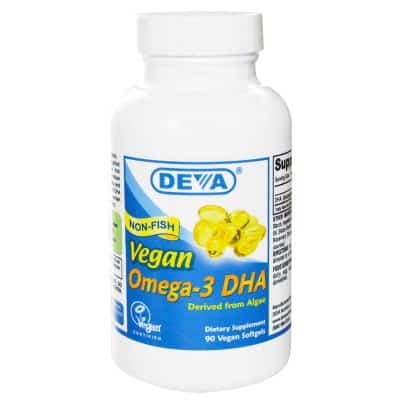 Deva produces one of the most unique supplements on this list, being a totally vegan, eco-friendly, and sustainable product.
Expand to see more
Milligrams: 200 mg

Count: 90 softgels

Price point: Fairly expensive

This supplement only contains DHA (200 mg), so this will be a good product for you if your doctor recommends you take a lower dosage of Omega 3. While most omega 3 supplements utilize fish oils and fatty acids, this product is totally derived from algae.

If you are on a vegetarian or vegan diet, or are simply afraid of possible contaminants present from fish oil products, this will be the best Omega 3 supplement for you. This is one of the most expensive products on this list, but if you are in need or simply want a totally vegan product, it is worth the investment.
100% vegan
Eco-friendly
Potent formula
7. Source Naturals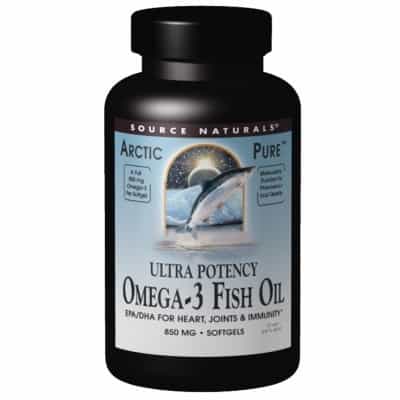 This supplement has a higher amount of EPA than most other supplements on this list with 450 mg, and 340 mg of DHA. Their distillation process ensures that all of the benefits of the omega 3 fatty acids present in the fish oil is preserved and present in these softgels.
Expand to see more
Milligrams: 850 mg

Count: 60 softgels

Price point: Relatively inexpensive

This supplement is also gluten and dairy free and contains no artificial colors, flavors, or fragrances. The price is also lower than some of the other supplements on this list, although keep in mind one container only contains 60 softgels, whereas most others contain a lot more.
Incredibly potent formula
Glutten free
Dairy free
No preservatives
Only 60 soft gels per container
8. Solgar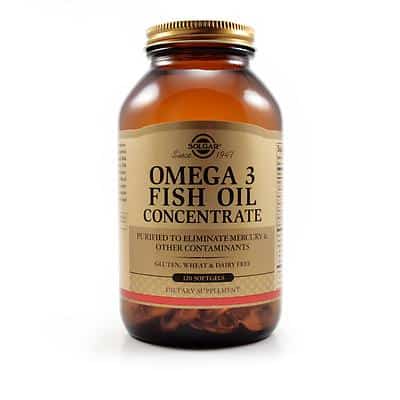 This product undergoes molecular distillation in order to remove mercury and other contaminants. It is also gluten, wheat, and dairy free making it suitable for people with almost any diet.
Expand to see more
Milligrams: 1,000 mg

Count: 240 softgels

Price point: Inexpensive

The price of this supplement is also one of the more inexpensive ones on this list, and also comes with 240 softgels in each container, so this will last you for a long time.


Mollecular distilation 
Glutten free
Dairy free
9. Barlean's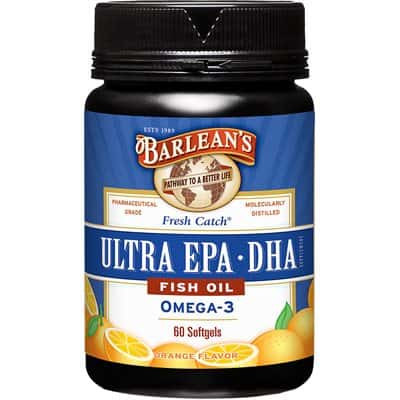 This next supplement from Barlean's also combines EPA (370 mg) and DHA (230 mg). There is a higher concentration of EPA and DHA in this supplement, and combines with other omega 3 fatty acids to produce the total 1,000 mg total per softgel.

Expand to see more
Milligrams: 1,000 mg

Count: 250 softgels

Price point: Fairly inexpensive

If you're worried that you won't like the taste of most Omega 3/fish oil supplements, this comes in an orange flavor and is easy to swallow. These supplements are ultra purified, and is free from mercury, lead, PCBs, and all other contaminants. There is always the risk of contaminants (especially mercury and lead) when involving fish products, so it is good to see that the supplement you choose has been tested and is free of these contaminants.
High concentration of EPA and DHA
Mercury free
Tested for contaminants
10. Country Life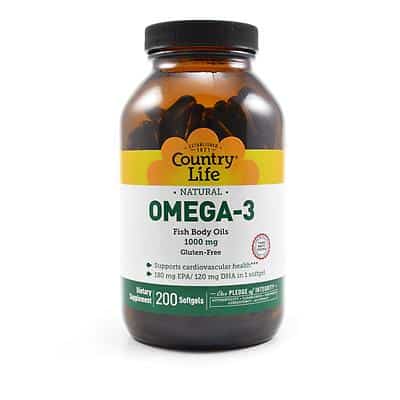 Tested for purity and gluten-free, Solgar's supplement provides a good amount of natural Omega 3 that supports joint, cardiovascular and immune health.
Expand to see more
Milligrams: 2,000 mg

Count: 240 softgels

Price point: Inexpensive

Suitable for all dietary requirements, the product comes with 240 softgels at a fair price. Also non-GMO and dairy free.
Tested for contaminants
Gluten free
Wheat free
Dairy free 
Benefits of Using Omega-3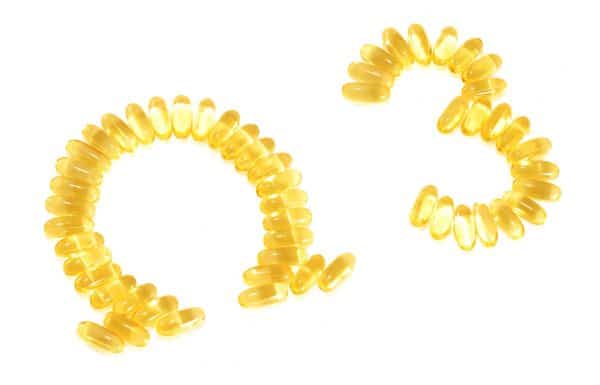 Omega-3 fatty acids are one of the most crucial fatty acids that the body needs in certain regular quantities. There are three most important types of Omega-3 acids. And as you know, DHA, ALA, and EPA are the most beneficial to the body. DHA and EPA are found in some certain fish and seafood while ALA is found in some plant sources like nuts and seeds. These three types of fatty acids are needed for a functional body and at the same time, needed by the body to gain some unique health benefits.
Reduces Blood Fat
Blood fats are fatty acids and cholesterol that in higher quantities—can pose a serious threat to the body. Hyperlipidemia itself can be explained as the presence of abnormal levels of blood fats in the body, which can lead to dire effects. The statement simply means the presence of too much blood fats in the body, can lead to serious health issues such as stroke or heart attack.
One of the functions of Omega-3 acids is to reduce triglycerides in the body, which in turn prevents things such as stroke from occurring. LDL and HDL are termed "Bad" and "Good" cholesterols respectively. Your body can make proper good use of HDL (Omega-3 acids), but LDL on the hand can be regulated by the use of Omega-3 acids supplements.
Restrains Rheumatoid Arthritis
Joint pain and stiffness can be controlled by the consumption of Omega-3 acids supplements by anyone. The inflammatory disorder isn't restricted to joint pain and stiffness alone, as they can damage vital organs of the body like the skin, eyes, lungs, heart and blood vessels if left unchecked. This occurs when your immune system mistakenly attacks your body's tissues, which from the numerous known effects—can be quite fatal.
Also, Omega-3 acids can be used to increase the potency of anti-inflammatory drugs, which are the specific ones that are mostly used by victims of the disorder (Rheumatoid Arthritis).
Reduces Depression
Depression is a very common medical illness that leads to mood changes in the affected individual and in some dire cases, leads to cancer, heart disease, and other such illnesses. Victims of depression are known to gain or lose weight rapidly as a result of the disorder. They are always in a constant state of mood instability which has psyche effects that sometimes lead to death.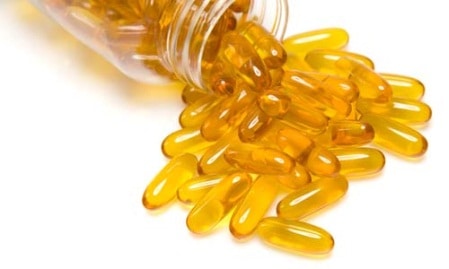 Now, the purpose of Omega-3 fatty acids when it concerns depression is that it reduces depression levels. It can be an aid in alleviating the complications that are known with depression.
Fish oils especially can increase the effects of antidepressants and can even help subdue the symptoms of bipolar disorder.
Asthma
Omega-3 fatty acids can reduce inflammations in the air passages of the lung. This, in turn, helps with fighting asthma as its occurrences automatically reduce as a result of an Omega-3 acid rich diet. So, for victims of the chronic disease, these supplements can ease asthma attacks on their person.
Asthma is a traumatic experience for the individuals who are subjected to its whims, so, a proper and steady dosage of Omega-3 supplements can help control the attacks.
Reduces ADHD Symptoms
Omega-3 acids are essentially beneficial to children for proper development of the brain. With a steady supply of fish oils (EPA and DHA), the mental ability will be increased and as a result of that, thinking, remembering, and learning things become easier for them. Although Omega-3 supplements can serve as a good aid in your child's diet to encourage proper brain growth, it shouldn't be used on a long term basis since in such cases, side effects will show regardless of the age.
Helps with Alzheimer's Disease
Generally, Omega-3 acids can help prevent dementia and thus, Alzheimer's disease. The disease can affect the mental capacity to an extent that the ability to complete daily activities will be severely limited.
Therefore, the steady ingestion of Omega-3 supplements under a calculated dose can help prevent Alzheimer's disease due to increased blood flow in certain parts of the brain.
These supplements can help prevent this illness in old individuals or even in rare cases, people that are above 40 years of age.
Development in Babies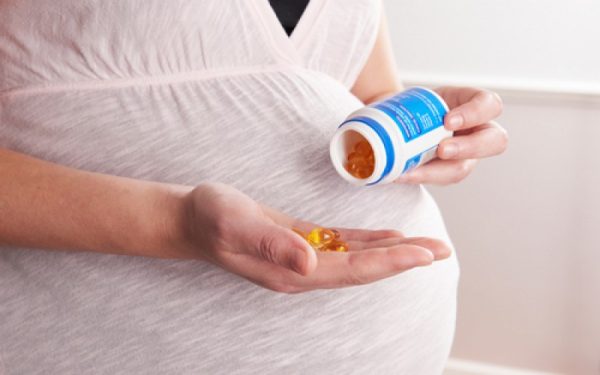 Omega-3 acids are sure catalyst for the proper development of the visual and neurological parts of an infant's system. And this is especially through since infants are mostly DHA-deficient. Thus, the supplements on this list are sure helpers when and where it concerns the development of babies.
And at this point also extends to pregnant women, since the inclusion of these supplements or Omega-3 rich foods into her diet can help in baby development. So, we advise that pregnant women take Omega-3s under a calculated dose.
Possible Side Effects
Like many other supplements out there, there are some side effects that occur upon consumption of Omega-3 fatty acids. It might be due to the amount being taken or simply because of the current condition of the consumer, or even in some cases, it might actually be due to allergic reactions in some individuals.
Fish oil derived Omega-3 supplements can cause allergies in individuals who are allergic to the source of the fatty acids while individuals who are allergic to nuts, plants, and some seeds should maintain a safe distance from plant derived Omega-3 acids (ALA) too.
Now, while Omega-3 acids could be taken (1-2 times) daily within a 2 to 3 years period, there are some certain conditions where usage isn't advised.
Victims of bleeding disorders are not advised to consume Omega-3s because while most manufacturers of Omega-3s are lenient in consumption amount, that amount does not extend to the patients of bleeding disorders. Omega-3s can increase the risk of bleeding disorder if the victims consume a dosage of 3g and above daily.
Also, patients with diabetes are advised to consult their personal doctor before consumption, as Omega-3 acids can interfere with blood sugar levels which can have dire consequences for them.
Consumption of Omega-3 acids without proper and steady dosage can cause hypotension or in simple terms, low blood pressure, which has some dire effects as usual. Other side effects that Omega-3s can cause are hormone imbalances, Vitamin E deficiency, heightened inflammatory disorders, Vitamin A and D toxicity, and liver poisoning.
Also, please bear in mind that all these side effects are due to improper usage of the fatty acids. If you're uncertain as to how you should consume Omega-3s, then you should simply consult our usage recommendations section or visit your personal doctor, so as to complete some examinations and also, for a medication schedule to be formed for you.
Is Omega 3 and DHA the Same Thing?
Omega 3 fatty acids are amid the most vital nutrients that are currently missing in most Americans' diet. Omega 3 fatty acids, such as DHA, are a fundamental part of every cell in the body.
DHA, docosahexaenoic acid, is the most plentiful omega 3 fat in our brains. The human body does not proficiently produce DHA, so it requires us to consume foods that are rich in DHA in order to keep our brains working optimally.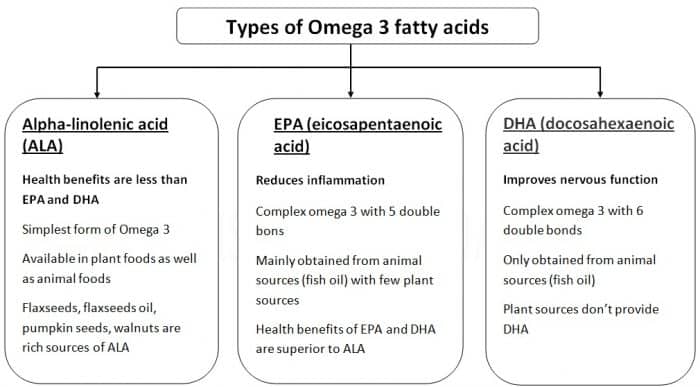 DHA is very important to our bodies, especially pregnant and nursing mothers who must ingest more DHA to guarantee sufficient brain growth in their children. It is also crucial in the adult brain because it controls the brain's structure and communicating structure.
Research has found that omega 3 and DHA perform a part in how well cells correspond with each other. Their activities may also aid in assisting memory and support mental health. Omega 3 and DHA have also been found to help decrease the chance of heart disease as well as triglyceride levels for those who are already apart of the healthy lifestyle. Research has also proposed that omega 3 and DHA aids eye wellbeing and decreases the possibility for age linked vision complications.
Research has found that DHA deficiency has been linked with many psychiatric disorders such as anger, depression, suicidal behavior, and hostility. There has also been evidence that suggests sufficient DHA consumption has the potential of aiding in the prevention of age related memory deterioration and Alzheimer's disease.
The 5 Most Common Myths about Omega 3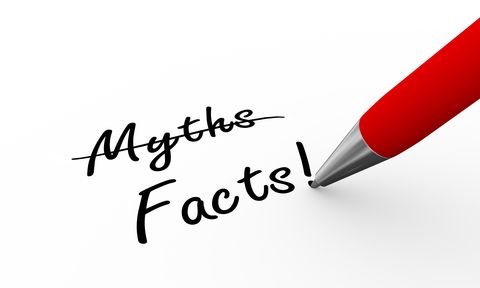 Myth #1: The Greatest Way to Receive Sufficient Omega 3 is to Consume Fish
Even though consuming fish that is fatty is a great way to improve omega-3 consumption, it is noteworthy that the volume of omega 3 received from consuming fish can contrast considerably. These factors can have a substantial influence on the omega 3 oily acid substance and depend on things such as anything the fish consumed; the time of year the fish was caught, as well as how you prepare your fish dinner. Some studies propose that frying fish that is fatty, such as tuna, can decrease the omega 3 substance of a fillet by seventy to eighty-five percent. This is why it is very significant to understand how particular cooking methods can also affect the omega 3 matter of your food.
Myth #2: The Daily Omega 3 Dose Depends on an Individual's Age and Weight
A person's omega 3 dosage needs does depend an individual's age; however, many factors such as diet and genetics can also determine the amount of omega 3 a person needs. An example of this would be those who consume foods that contain pro-inflammatory omega 6s. These individuals will often find themselves requiring fewer omega-3. However, the most significant dose factor is the individual's medical condition. The more insistent the individual's inflammation, the greater the omega 3 dose is required in order to reduce it.
Myth #3: The Best Fish Oils are Concentrated
Concentrated omega 3 oils are relatively prevalent because they provide a greater volume of the valuable EPA/DHA particles per capsule portion size. However, focused fish oils also have a disadvantage.
The most prominent disadvantage is in order to produce concerted omega 3 fish oils, the producer extinguishes the oil's natural fatty acid stability, leaving customers without the complete range of the omega 3 clan as well as the other nutrients established in the natural oil. Furthermore, the manufacturing procedure frequently includes using diluents and great heat that might create trans-fats in the oil. Lastly, concentrated omega-3 oil is most expected to be fetid due to the oil comprising more responsive EPA or DHA particles.
Myth #4: Fish Oil is Believed to Have a Fishy Scent and Flavor
Whenever you consume fresh seafood, you would not assume that it would smell or taste fishy. Likewise, actual fresh fish oil will not have a fishy smell or taste. If the oil does smell or tastes fishy, then it has started to turn foul due to oxidization.
Besides the foul scent and flavor, fetid fish oil is troubling from a wellbeing standpoint also. Fetid fish oil is more than possibly toxic and is could escalate the possibility of heart disease as well as cancer when taken frequently.
If you want to check if your fish oil has gone bad, you can simply split the capsule open to smell and taste the oil inside.
Myth #5: Receiving a Little Omega 3 is Better Than Nothing
Like any other medication, many studies have shown that you need to reach a specific omega 3 level in order to experience any benefits.
Criteria for Evaluation
Omega-3 fatty acids have already been clinically tested and certified as being important to a good and functional body. Also, some benefits upon ingestion have been researched and guaranteed by experts such as us.
So, in order to help to select a product easier for you, we've saved you the time of going through different products, which on consumption, might pose some adverse effects.
We have some rules and tests that we pass every drug through – that all of them must pass with flying colors, or they'll be ejected from our buying guides and reviews.
And the items on this list are not excluded from our conditions as they have all been subjected to different tests before they made it onto the list. Therefore, the section below is there to intricately show you how we build our buying guides and reviews for you to choose from.
Product Testing
The process of testing each and every item we publish in our buying guide is one of the things we do to ease the trouble of you going through hundreds of products just to select one that fits your needs. A test such in the case of Omega-3 fatty acids is allergic reaction. We do this in order to give users a clear picture of what each item does to different people and then leave we pick based on the results.
This is helpful as each of you may have conditions that will not permit the usage of Omega-3s, so we properly test the items we've selected for any pros and cons before including it in our buying guides and reviews.
User Reviews and Ratings

We use reviews and ratings to fine-tune our own tests and researches. A proper gauge on the advantages and disadvantages of the items we publish is needed before any selection can occur. An example is if some users get dizzy upon ingestion of Omega-3 fatty acids, we talk to them and ask if perhaps they're allergic to anything.
This method refines our selection so as to properly recommend excellent products that will prove beneficial to users. The human body is different in each and every way, and that is why we go through this task. Although in some rare cases we've tested, the products are not due to allergies but were more like company defects, with bad ratio of ingredients.
If the company defects occur in many cases of different users, that particular product will be removed from the guide due to safety reasons.
So, the results of going through hundreds of different user reviews (including ours) are the Omega-3 fatty acids supplements that are included in this list. All products we test are meant for consumption since we've included pros and cons amongst which are the ingredients that may cause side effects. All these you can easily brief through and select the product(s) that will suit your needs.
Precautions
Omega-3 fatty acids are necessary as a dietary supplement for anyone. So while they have benefits and function for the human body, they still possess some adverse effects that should be known. Mostly, all of these effects have been iterated above, but for the sake of repetition since it's for safety concerns, the following should be noted down once more.
More than 3g of Omega-3 fatty acids should not be used daily by any individual as it carries certain adverse effects. Nausea, loose stools, fishy breath, upset stomach, were not included in the side effects section above, but the more popular end results of using Omega-3 fatty acids are increased bleeding (disorder), risk of hypotension, increased blood sugar levels and others.
All these are by overdosing your person, which should not be done. So, Proper care should be exercised by either adhering to the usage section we've compiled or by consulting your personal doctor before any inclusion of Omega-3 fatty acids supplements into your diet.
Manufacturers Reputation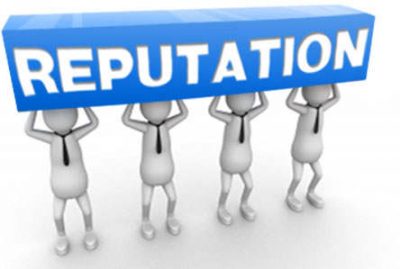 The formulation of this list was also based on the years of production each manufacturer of the different products on this list have in their possession. With experience—comes a watered down type perfection in their trade. The companies that made the various supplements on this list have had years in the production of different products, including the Omega-3 fatty acids supplements on this list.
So this credibility is one that is based on trust with different users that have tried their products. Reviews have been done on them where they have maximum scores in areas such as quality, safety, value for money, etcetera. So, their reputation is one of the conditions we consider before selecting any product.
Satisfaction in terms of quality and quantity of working years is present, and that mostly ensures excellent products to be made for consumers.
Safety of The Supplement
Oral ingestion of drugs is one of the safest methods of consumption known to-date. And fortunately, supplements use oral consumption as the single most effective method of delivering the nutrients into the body system. All of the products on this list are packed full of Omega-3 fatty acids without losing potency, and at the same time, adverse effects are rare. Omega-3 fatty acids are safe enough for consumption by an infant due in fact, that it contributes to brain growth.
Although adults have no problem as they are perfectly safe for consumption, the only problem is the exclusion of Omega-3 fatty acids from our diets, as they play important roles in overall growth and development of the body and the system that runs it.
If inclusion of Omega-3s rich plants and animals isn't possible due to some reasons, then the supplements on this list can act as direct substitutes for that, since all of them are highly potent Omega-3s supplements.
Ingredients and Their Effectiveness
In this list, all of the ingredients that were included in the production of Omega-3 acids supplements are rich and are also only used to boost potency which increases effectiveness. If any ingredient is used in any way that will not prove beneficial to consumers, we always include that information or in some cases, we exclude the product(s) itself from our buying guides and reviews.
Although most of the time, Omega-3 supplements are pure to ensure 100% potency and like so, the supplements on this list are pure and unaltered Omega-3 fatty acids supplements. Therefore, they're perfect for consumption (regardless of the age of the consumer) and will not interfere with any drug being used by you.
The most common aspect of Omega-3 fatty acids you'll find in supplements are the fish oil i.e EPA and DHA and some other complementary ingredients.
FAQs
Q. What are Omega-3 Fatty Acids Supplements?
A. Omega-3 acids are polysaturated fatty acids that have various functions in the body. Considering that they reduce inflammation and risk of chronic diseases like cancer, arthritis and heart disease – they also function in brain development where they improve brain memory and performance, with some help also given to behavioral function. Supplements are in the form of pills/tablets that are to be ingested to give the benefits above and more.
Q. Are There Any Side Effects I Should Know Of?
A. No side effects on its own, but users shouldn't use more than 3g daily to prevent some effects such as nausea, loose stools, fishy breath, upset stomach and in some dire cases – risk of hypotension and increased blood sugar levels. Also, checking before use for if you're allergic to anything as important as you'll be able to avoid any resulting side effect.
Q. Can I Use Omega-3 Fatty Acids Supplements During Pregnancy?
A. Yes, you can use Omega-3s during pregnancy. Including Omega-3 acids supplements into your diet has benefits for the baby, since it improves the baby's visual and cognitive development. In higher quantity consumption of Omega-3s, allergies have been known to be reduced in babies.
Overall, Omega-3s consumption during pregnancy is good.
Q. Where Can I Buy These Supplements?
A. Any pharmacy near you will have Omega-3 acids supplements in stock and also, you can find these supplements online from different retailers. Although, we recommend you buy it from Amazon since you'll see first hand the reviews and ratings of various users with different physiologies. These reviews will exactly show you if the supplement is the right one for you, though, the comprehensive list above has been built in a way to fit everyone.
Q. Where Can I Naturally Get Omega-3 Fatty Acids?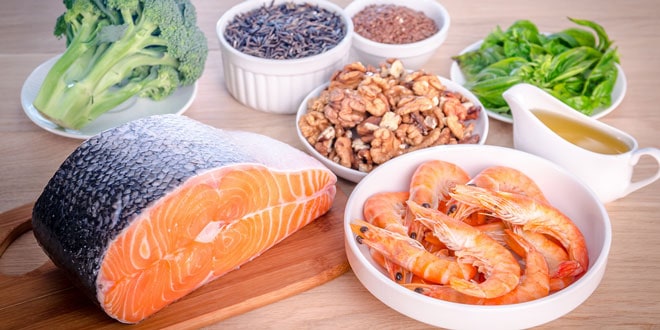 A. Naturally, EPA and DHA can be found in fish (salmon) while ALA can be found in plants (walnuts). So consumption of Omega-3s rich fish and plants will give all of the benefits above. A supplement, on the other hand, is concentrated Omega-3 fatty acids in a pill form.
Q. How Much Should I Use Daily?
A. Please see our Usage Recommendations section for more information on this.
Q. Who Should Take Them?
A. Everyone and anyone, excluding patients with bleeding disorder, hypotension, and diabetes. The benefits of using these supplements have literally nil side effects. And consumption is safe regardless of the age.
Q. Which Omega-3 Acids Supplements are the Best?
A. There's no best supplement, but you can get close to that. The items on this list are for you to read and choose the one supplement that best suits your needs, keeping in mind that ingredients should play a huge part in your choice.
Q. Are They Good for Weight Loss?
A. EPA and DHA are two Omega-3 fatty acids that lower your insulin levels and as a result of that, all additional calories that you consume will be burned off for energy instead of being stored for later use as fat. So yes, Omega-3 fatty acids help with weight loss.
Q. What is the Expiration Date of Each Product?
A. Ideally, the date of expiration of each product should be 1.5 years plus, which is more than enough time for proper and steady consumption. And if you're buying extras, the time is still more than enough for you.
Q. Is Omega-3 Fatty Acids Good for Vegetarians?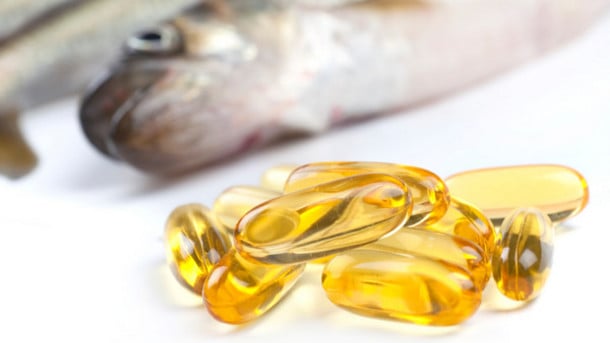 A. No, they're not – especially if you're thinking of EPA and DHA. ALA on the hand is good for Vegetarians since it can be found in plants like walnuts, soy, chia etcetera. Proper research has to be done before you choose any item on this list especially if you're a pesco vegetarian(Pescetarians).
Q. How Do I Choose Between All the Supplements On this List?
A. You should make a list of what you want or need and then properly read through this buying guide and pick the one product that best fits your needs. This includes ingredients, tablet size, dosage per serving etcetera. You choose what best suits you and that goes for the taste/flavor of the tablet and even the color itself.
Decision Time
There you have it! The ten best omega 3 supplement brands. All of the products on this list are great options, providing you with essential EPA and DHA omega 3 fats. All on this list come with a combination of EPA and DHA, with the one exception being the Deva brand supplement which only contains DHA (but is also the only product that is completely vegan).
When making your decision, it is best to consider both your budget and how many milligrams of omega 3 you wish to intake each day. Again, to best make this decision, it is best you speak with your doctor to determine what will be best for you. Once you have an understanding of that, you can determine which of these is best for you.
While our top picks are the Carlson Labs, Natural Factors, and Madre Labs products, all of the supplements on this list are quality and are sure to provide you with all of the wonderful benefits that omega 3 has to offer.
Subscribe to our Newsletter