Best Magnesium Supplements Reviewed
Disclosure: We use affiliate links and may receive a small commission on purchases.
You might have heard of magnesium before, but are you aware of all of this mineral's amazing benefits? Many people don't realize how important this mineral is to the human body, as well as the great benefits it can provide, so we decided to create a guide to help explain all of the needs and uses for this mineral, as well as the best brands for magnesium!
Magnesium is a vital mineral to the human body, but sadly it is one if the minerals most adults end up being deficient in. It is best to enrich your diet with magnesium rich foods, but this is not always easy for everyone. Instead, to ensure you are getting enough magnesium, you can take a supplement! These daily supplements will provide you with plenty of magnesium that your body needs, and as you will learn they will also provide you with many other amazing benefits associated with magnesium.
Magnesium occurs naturally in the body and is involved in tons of natural functions that the body performs every day. Without it, you may notice certain symptoms such as muscle aches or trouble sleeping. A prolonged deficiency can cause problems that are much worse and is something you want to avoid at all costs.
Unfortunately, there are many reasons why adults tend to lack sufficient amounts of magnesium, largely due to either not getting enough of it in their diet, or issues internally that cause it to not be absorbed in the body. Because this issue is so common, taking a magnesium supplement is something that everyone should at least consider.
Beyond all of the reasons your body naturally needs magnesium, there are also additional benefits you will notice from taking it as a supplement. It is known to improve energy, help you sleep better, aid in digestion, lessen muscle aches, improve heart health, prevent migraines, and help with disorders like depression and anxiety. The combination of these benefits, along with the potential symptoms you could experience from a lack of magnesium should be great motivation to start introducing magnesium into your rotation of supplements, next to your other vitamins.
There are numerous types of magnesium supplements on the market today, and all will vary based on how many milligrams of magnesium is in each pill, as well as the actual type of supplement. There are 5 main forms you can find supplements in:
chelate
citrate
chloride
glycinate
threonate
Each type has a slightly different absorbability and may have other factors associated with them. For example, magnesium citrate can help people specifically looking for help with their digestion, and magnesium chloride often comes in the form of an oil that is rubbed on the skin and can help people who can't properly absorb it through food or supplements.
Our Top 3 Picks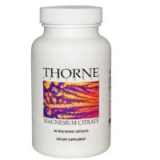 Thorne Research

Our rating
Magnesium Citrate Veggie Caps
Price:

See Here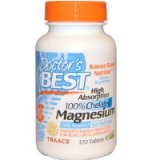 Doctor's Best

Our rating
High Absorption Magnesium
Price:

See Here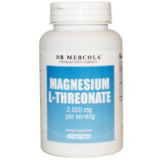 Dr. Mercola

Our rating
Magnesium + Magtein
Price:

See Here

If you are wondering what the best magnesium supplement is, the truth is the answer will vary from person to person. Based on your individual needs, or how deficient you are in the mineral, will help dictate what will be right for you. We have put together a list of 10 great supplements that should help you make the right choice!
10 Best Magnesium Supplements
1. Thorne Research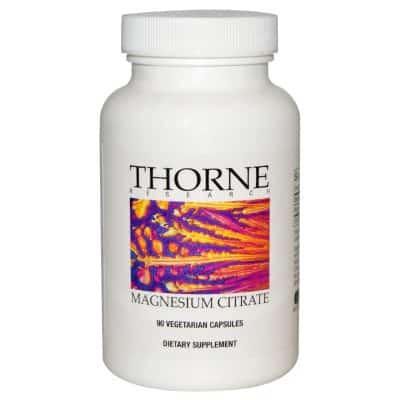 This first spot is reserved for a magnesium citrate supplement from Thorne Research.
Expand to see more
Type: Magnesium citrate

Amount per serving: 135 mg

As we mentioned above, magnesium citrate is particularly useful for individuals looking for help with digestion or who struggle with constipation.

This is magnesium mixed with citric acid, and the combination is what helps in regulating digestion and will also help promote good kidney health. These capsules are hypoallergenic and vegetarian.

It is recommended you take 1 to 3 capsules daily, a decision you should make in conjunction with your doctor. This supplement is fairly inexpensive, making it a great option for anyone who is on a more limited budget.
Great for digestive issues
Promotes bowel movement
Suitable for vegetarians
2. Doctor's Best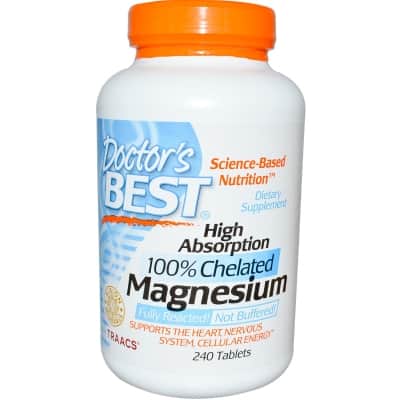 Doctor's Best magnesium supplement is a chelate supplement.
Expand to see more
Type: Magnesium chelate
Amount per serving: 200 mg (in two capsules)
Chelated magnesium is what is found naturally in foods and can help improve low levels in the body. This magnesium is bonded to certain amino acids (in this case, glycine and lysine)
which will help with absorption in the body
.
This is a great brand that will have a high absorbability, and is also vegan, gluten free, and non-GMO. It is recommended you take two capsules twice a day, which amounts to 400 mg total per day.
Suitable for vegans
Gluten free
Non-GMO
3. Dr. Mercola Premium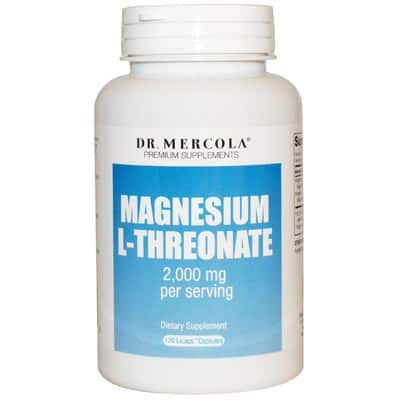 The next supplement on this list is from Dr. Mercola and it is a magnesium threonate product.
Expand to see more
Type: Magnesium threonate

Amount per serving: 2000 mg*

This is a more rare type that you don't see very often but is very productive and has a very high level of absorbability.

What also makes this product unique is that it also contains Magtein, which is a fairly new type of magnesium compound that is specifically targeted at improving cognitive function and increasing the level of magnesium present in the brain.

It is said to have a much higher bioavailability for the brain than other magnesium supplements. The serving size is listed as 2000 mg, which is a combination of the Magtein (2000 mg) and also 144 mg of magnesium l-threonate. The suggested dosage is 2 capsules twice a day for a total of 4 capsules per day. If you want a supplement focused on improving brain function, this will be the best magnesium supplement for you.
High level of absorbability
Improves cognitive function
Potent formula
4. Eidon Mineral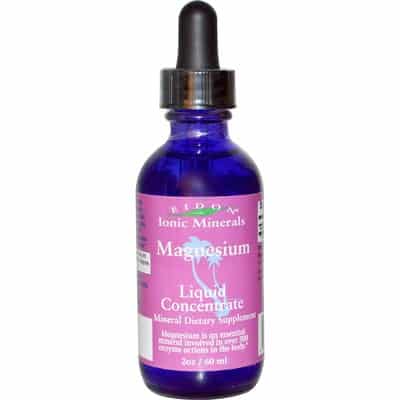 This next product is not a capsule supplement, but instead is a liquid concentrate that you take by mixing in either water or juice.
Expand to see more
Type: Magnesium chloride

Amount per serving: 80 mg

Magnesium chloride comes in liquid form, but still has a high level of absorption. If you do not like taking pills or have trouble swallowing them, this will be a good solution for you.

Also, because you can control how much you take (by either taking more or less drops) you can control the actual magnesium quantity ingested. If upon speaking with your doctor and they recommend a lower amount, this will be a good option for you as well. This product is totally gluten free and contains no artificial colors or flavors, and no added sugars, starches, or animal by-products.
Liquid form
Gluten free
No artificial colors
5. Natural Vitality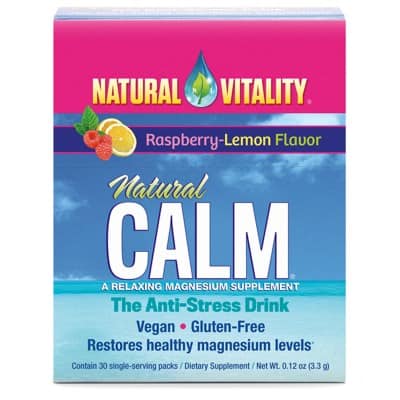 This next supplement from Natural Vitality is another magnesium citrate supplement, but it is also not in the form of a capsule but instead is in the form of powder that is mixed with water, either hot or cold.
Expand to see more
Type: Magnesium citrate

Amount per serving: 235 mg

This supplement also comes in a raspberry lemon flavor that makes it easy to drink.

There are only natural ingredients in this product, the magnesium citrate, organic raspberry and lemon flavors, and organic stevia. Each single-serve pack contains 235 mg of magnesium. This product is vegan, gluten free, and non-GMO, making it suitable for anyone no matter your diet. This will be another good option for you if you do not like taking pills and wish to take magnesium citrate for help with digestive issues.
100% vegan
Gluten free
Non-GMO
May not suit everyone's taste
6. Life Extension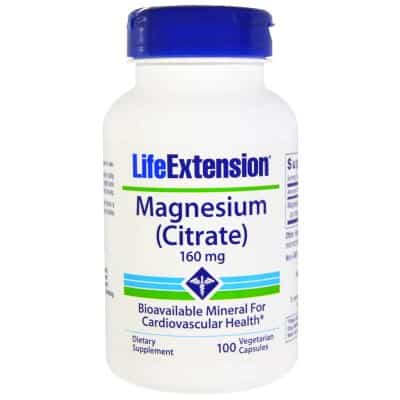 Life Extension produces this next supplement which is another example of magnesium citrate in capsule form.
Expand to see more
Type: Magnesium citrate

Amount per serving: 160 mg

This supplement is pure magnesium citrate and comes with a slightly lower dosage than some of the other supplements on this list, which will be useful for those individuals who need to take a lesser amount.

It is recommended that you take one capsule either once or twice daily. This product is also non-GMO and suitable for vegetarian diets. Magnesium citrate can sometimes have a laxative effect if too high an amount is taken, so it is also beneficial that these capsules come in lower dosage amounts. As always, consult with your doctor to determine what amount you should be taking.
Only 1 capsule per day
Non-GMO
Suitable for vegetarians
7. Life Flo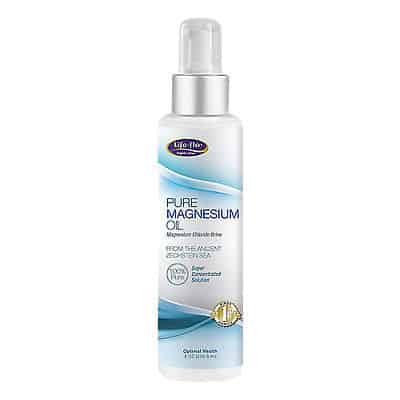 This next supplement from Life Flo Health is a magnesium chloride oil that comes in the form of a spray.
Expand to see more
Type: Magnesium chloride

Amount per serving: 66 mg

For this reason, this product is not taken orally but instead is sprayed onto the skin and massaged in.

Some people will struggle with absorbing magnesium taken orally, and this is the perfect solution for that problem. If you know you cannot absorb magnesium, or simply don't want to have to take a pill or drink, this is the best magnesium supplement for you.

This is also a popular choice for athletes who use this spray to help ease sore muscles. You can also add this product to a bath and soak in it, or it can be used as a spray-on deodorant.

The versatility of this product is what makes it so great, and you are also able to manage the amount of magnesium you are taking. It is estimated that four sprays of this oil amounts to around 66 mg of magnesium. This product is pure magnesium chloride that comes from the Ancient Zechstein Seabed in the Netherlands.
Eases sore muscles
Spray 
Highly absorbant
May not be suitable for those with sensitive skin
8. Flora Floradix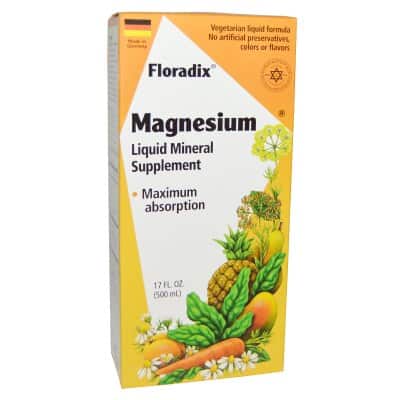 Flora makes this next supplement and is another liquid magnesium supplement.
Expand to see more
Type: Magnesium gluconate and magnesium citrate

Amount per serving: 250 mg

This supplement mixes two types of magnesium along with fruit juices to make for a delicious flavor.

It is recommended that you take 20 milliliters daily either alone, or diluted with water. Because this is a liquid supplement it is absorbed quicker than a capsule that has to dissolve, and this product also guarantees maximum absorption. This is a vegetarian supplement that also contains no artificial preservatives, colors, or flavors.
Absorbs quickly
Suitable for vegetarians
No artificial preservatives or colors
May not suit everyone's taste
9. Source Naturals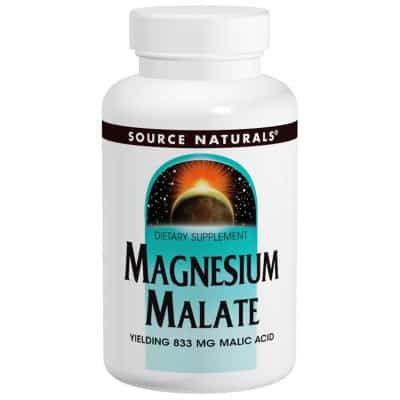 This supplement from Source Naturals combines magnesium with malic acid.
Expand to see more
Type: Magnesium malate
Amount per serving: 425 mg
Malic acid helps with energy production and can help to soothe sore muscles, especially after
intense workouts
.
If you lead an active lifestyle and suffer from sore muscles, this will be the best magnesium supplement for you.
These capsules contain 425 mg of magnesium malate and 833 mg of malic acid and it is recommended that you take 1 to 3 tablets daily. This is the only supplement on this list containing malic acid, and so if you believe you will benefit from this substance, this will be a good supplement for you.
Soothes sore muscles
Potent formula
Quality ingredients
10. Solgar with B6
At number ten we have a magnesium oxide supplement from Solgar.
Expand to see more
Type: Magnesium oxide
Amount per serving: 400 mg
Typically magnesium oxide is known to have low bioavailability, which is why this product also contains
vitamin B6
which will help boost the absorbability of this product.
This supplement helps with bone mineralization and helps with energy production, as is typical of magnesium supplements. It is recommended that you take three capsules daily. Finally, this supplement is suitable for a vegetarian diet and is also gluten free and produced without any artificial colors, flavors, or preservatives.
Suitable for vegetarians
Gluten free
No artificial colors, flavors, or preservatives
Benefits
There are a number of widely useful benefits that magnesium has to play within your body. And interestingly, magnesium deficiency is one of the leading deficiencies in terms of nutrients in adults, with a staggering estimated 80% of adults being found to be strikingly deficient in this essential mineral. With keeping that thought in mind, it is certainly a very good idea to begin considering taking a magnesium supplement daily while also eating a diet that is rich in magnesium foods.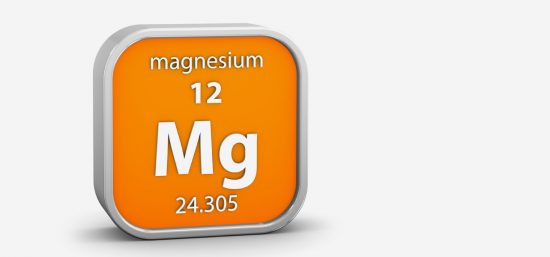 In the vast majority of people, magnesium deficiency within their body can cause significantly noticeable negative symptoms, of which may include muscle aches or spasms, poor digestion, anxiety, and even difficulties sleeping. However, magnesium deficiency is all too often plain and simply overlooked and is also incredibly rarely tested. With that in mind, it is commonly presumed that magnesium may, in fact, be one of the least used and yet most needed supplements that there is presently available.
Magnesium is not exactly the most present mineral that is contained within our bodies in terms of its overall quantity, however, it is most certainly one of the most vitally important to our overall health. In fact, it plays a role in well over three-hundred various biochemical functions in our body; regulating heartbeat rhythms and assisting with neurotransmitter functions, just to name a few.
As previously stated, a magnesium deficiency can cause a number of various significant symptoms. Some of the most notable ones may include, but are certainly not limited to:
Hypertension
Cardiovascular disease
Kidney and liver damage
Peroxynitrite damage (which can lead to the onset of migraines, multiple sclerosis, glaucoma and even Alzheimer's disease)
Various nutrient deficiencies (of which can include vitamin K, vitamin B1, calcium and potassium
Restless leg syndrome
Worsened PMS symptoms
Behavioral disorders
Mood swings
Insomnia and other sleep issues
Osteoporosis
Bacterial or fungal infections
Tooth cavities
Muscle weakness and cramps
Impotence
There are also a number of underlying factors that come into play in terms of why so many people are lacking in magnesium as a whole. One of the main reasons is due to soil depletion of which decreases the overall amount of magnesium that is present in crops. Certain digestive disorders may also potentially lead to malabsorption of magnesium along with other minerals within your gut. And, increased rates of prescription medication as well as antibiotic use can lead to significant damage in the digestive tract so fiercely that magnesium simply can't be absorbed or properly taken in from foods.
Your body loses a tremendous amount of magnesium each and every day simply from normal bodily functions such as your heartbeat, muscle movement, and hormone production. Though our bodies only require minor amounts of magnesium when in comparison to other nutrients, we still must replenish these stores via foods or magnesium supplements in order to prevent the symptoms of magnesium deficiency.
The primary control of your kidneys helps to manage the magnesium supply within your body and to in turn they will redirect and excrete magnesium into your urine each day. This process is the number one reason that urinary excretion is lowered when magnesium statuses and other electrolyte statuses are decreased. Interestingly, magnesium is, in fact, the least abundant serum electrolyte within your body, however, it is still highly essential for the overall metabolism, energy production, enzyme function, and also for balancing the nitric oxide (NO) within your body.
Criteria for Evaluation
As is the case with each and every single one of our top ten lists, each of the magnesium supplements that have made the cut on this list in particular have of course undergone a rigorous criteria for evaluation. In order the make the cut for this top ten list, here is the criteria that each of these magnesium supplements must have met in order to be sure that we are providing you with only the very best:
Free of Binders and Fillers
Binders, fillers and other additives are all too often found in an abundance of health supplements of which are available on the market, and this is certainly the case with regards to magnesium supplements as well. Be sure to always review the label of any magnesium supplement that you are interested in to ensure that you are getting the highest quality. All of the aforementioned supplements that are listed on our top ten list, have a few additives as can possibly be found to ensure that you are receiving on the finest quality of product.
Price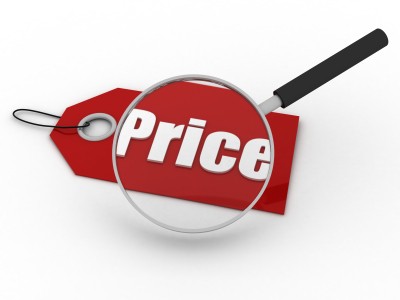 When it comes to choosing a magnesium supplement, all too often many people tend to opt to select the cheapest option that is available. While it may seem like a great idea and that you are merely saving money, the vast majority of these forms of supplements are loaded with fillers and in the long run you end up losing money due to the fact that you have to take more in order to start feeling the benefits. The magnesium supplements that made our top ten list are not only of the highest quality ingredients, but they all also come at truly affordable prices; you can be sure to find a great magnesium supplement that will surely fit into your budget.
Brand Name
While many people feel that brand names are of no great significance, when it comes to finding a great magnesium supplement choosing a brand name that is reputable and trusted is most certainly important. The aforementioned magnesium supplements all come from reliable, trusted brand names that have long-standing records of providing their customers with only the finest quality products available on the market today. By selecting any of the magnesium supplements on this list, you can be sure that you are receiving only the very best.
Best Reviews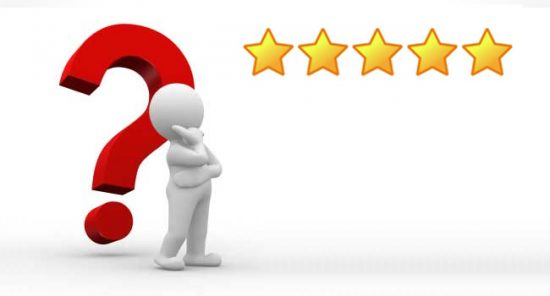 We take word of mouth quite seriously. The magnesium supplements that made our top ten list have additionally received only the top rated rankings by people just like you! People who strove to seek out only the best of the best magnesium supplements took to the internet to blast out their reviews and that is something that we play very close attention to. If a customer, for any reason, is plain and simply not happy with the product that they received, that product is most certainly not going to make the cut on any of our top ten lists. Which is precisely why all of the aforementioned magnesium supplements that you will find here are only the best of the best as rated by people who have actually taken them and received the incredible benefits from firsthand experience!
There are a number of truly incredible magnesium supplements of which are available on the market today. And it is of course very easy to feel a bit overwhelmed as to all of these seemingly unlimited options! That is precisely why we have taken the guesswork out of having to make the tedious decision to scour through endless amounts of research for choosing the best magnesium supplement available. With this user-friendly guide, we save you both time and stress to ensure that you are receiving only the very best magnesium supplement that is going to be the perfect choice for your personal and individual needs.
And please be sure to always speak with your doctor of healthcare provider if you have any questions or concerns with regards to which option may be the best for you, along with any potential risks or side effects that may arise.
The Most Delicious Magnesium Rich Foods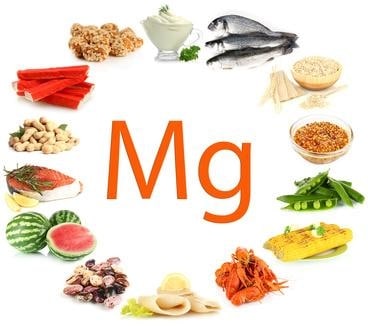 If you're picking out your meals for this week, chances are you have an array of healthy choices chosen for you and your family. But do you have enough foods included in your meal plan that are rich in magnesium?
Magnesium is an important mineral that often gets overlooked, and it's important to eat a substantial amount of foods that are high in it. As highlighted throughout this guide, some of the health benefits of magnesium include its ability to reverse osteoporosis, decrease your chance of developing cardiovascular disease, lower your blood pressure, treat your diabetes and improve your migraines and headaches.
Hundreds of biochemical reactions that are found in the body depend on magnesium to function correctly, and if you aren't supplementing your diet with enough magnesium, you may be doing a disservice to your health. Luckily, there are plenty of delicious foods at the grocery store available to you that are rich in magnesium. The next time you're meal planning, try to include a few meals that include these foods.
1) Avocado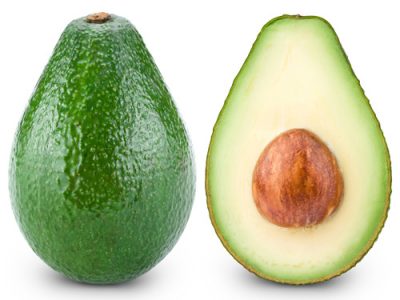 Avocado is a trendy food that is highly versatile (and they're packed with not only magnesium, but also antioxidants!) You can make a wide array of dishes with avocado, so there is sure to be one out there that suits your preferences. One avocado has 58 milligrams of magnesium in it, which is 15% of the suggested daily value amount you should be ingesting. Some different avocado dish ideas to try out include avocado toast, avocado and salmon sandwiches, avocado chicken burgers, grilled avocado and cheese, guacamole (of course!), ranch dressing made with avocado, egg or chicken salad with avocado instead of mayonnaise, and avocado salad. You can also put avocado in your smoothies and shakes. There really is no limit to the dishes you can create with avocado, so try out the lot of them and see which ones match up with your flavor profile.
2) Dark Chocolate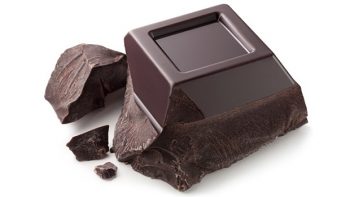 It seems like the more research that is done into finding healthy foods, the more dark chocolate keeps popping up. (Which is fine by me!) When this food is eaten in moderation, you can get a good dose of both antioxidants and magnesium. One square of dark chocolate contains 24% of the suggested daily intake of magnesium, which is around 95 milligrams. If you're looking for some new, healthy dark chocolate recipes, try out dark chocolate biscottis, dark chocolate crepes, souffle cake made with dark chocolate, dark chocolate pudding, dark chocolate ice cream sauce, and dark chocolate cupcakes. As mentioned previously, the health benefits of dark chocolate are only achieved when it is eaten in moderation, so make sure that you don't overdo it and eat too much.
3) Pumpkin Seeds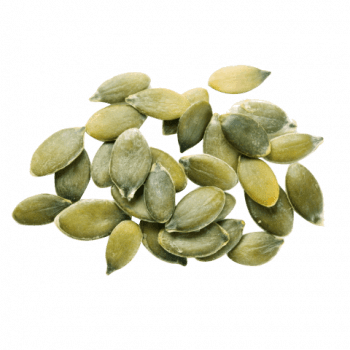 Many people will eat pumpkin seeds around Halloween, but this is a magnesium rich food that you should be eating year round! When you eat an eighth of a cup of pumpkin seeds, you are consuming 92 milligrams of magnesium, which is equivalent to 23% of the suggested daily magnesium intake value. An easy way to make roast pumpkin seeds is to preheat your oven to 350 degrees and prepare a baking sheet with a silicone baking mat or a sheet of parchment paper. Put your pumpkin seeds into a bowl and use a small amount of olive oil to drizzle over the top. Then take a small amount of salt and sprinkle it over the seeds. Take the seeds and place them onto the baking sheet and put it into the preheated oven. The seeds will usually need to bake for around 20 minutes. These pumpkin seeds are oh so delicious and are so good for you!
4) Yogurt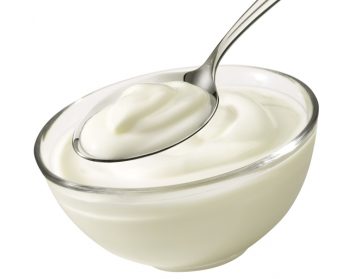 Yogurt is a great food to keep stocked in your fridge because when your sweet tooth starts acting up late at night, you can reach for a yogurt instead of an unhealthy, sugary dessert. (Try them frozen for a fun treat!) If you're looking to add more magnesium in your life, one ounce of yogurt contains 20% of the amount of magnesium you should be consuming every day (which is equal to around 80 milligrams.) If you're not a fan of plain yogurt, try spicing it up by adding berries and granola and turning it into a yogurt parfait. You can also use yogurt to make guacamole, hummus, tzatziki sauce, a variety of dips, and marinades. There are also yogurts available on the market to help those who are suffering from digestive system issues. Overall, yogurt is a highly versatile food that is delicious and full of the magnesium your body needs to function properly.
5) Almonds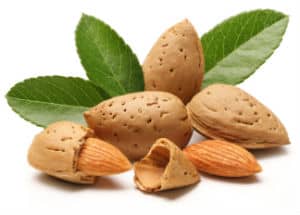 Almonds are a health superfood that should be eaten every single day. Not only are they high in magnesium (just one ounce contains 20% of our daily suggested magnesium value, or 80 milligrams), but they also contain protein, vitamins and minerals, and fiber. Almonds also have the ability to raise vitamin E levels in the body, and lower elevated cholesterol levels. The chance of developing cardiovascular disease has also been shown to drop when almonds have regularly been consumed. The best way to eat almonds is in their all-natural, raw form. They are great to keep next to your workstation, so that when you are feeling the need to snack, you can eat a handful of almonds instead of an unhealthy, fatty snack. The nice thing about almonds is that they're extremely filling, and one handful is enough to keep you going for a while. (Not to mention that they're delicious!)
You're now ready to supplement your diet with a wide variety of delicious, magnesium rich foods. Magnesium can help prevent against the development of osteoporosis, cardiovascular disease, and hypertension, and is an incredible mineral that the body needs to thrive. Health starts at the dinner table, and in order to keep you and your family happy and healthy, include these delicious magnesium rich foods in your next meal plan.
FAQs
What are the Different Types of Magnesium?
As you may very well be aware by now, magnesium is naturally present in many foods of which are widely available. It is also synthetically added to certain food products and also is available as a dietary supplement, and can also be found in certain over-the-counter medicines, like antacids and laxatives.
When it comes to supplements, magnesium can be found available in a variety of various forms. The absorption rate of different supplements can vary greatly depending on the kind. Typically, the forms in which dissolve within the liquid are significantly better absorbed within your gut than the lesser soluble kinds. It is also often presumed that magnesium in the citrate, chelate or chloride forms can be absorbed far better than the supplements that come in either the oxide and magnesium sulfate form.
Here are the top magnesium supplements that can be found available on the market today:
Magnesium Chelate is a highly reliable supplement that is widely absorbable within your body. This kind of magnesium can often be found naturally in foods and is also bound to multiple different amino acids (or proteins) and can, in fact, be utilized to restore your body's magnesium levels.
Magnesium Citrate is magnesium that is combined with citric acid. This form can provide your body with a laxative effect if taken in higher doses. However, it is quite safe to utilize for the overall improvement of digestion and while also preventing constipation.
Magnesium Chloride Oil is the oil form of magnesium of which can be applied directly to your skin. Magnesium chloride oil is typically given to those who suffer from digestive disorders of which may prevent the normal absorption of magnesium from food sources. Many athletes utilize magnesium oil in order to increase their energy, endurance, dull muscle pain, and even heal wounds and skin irritations.
Magnesium Glycinate is a highly absorbable for of magnesium supplementation. This form is recommended for those with an existing magnesium deficiency and is also far less likely to cause the laxative effects when compared with other magnesium supplements.
Magnesium Threonate is a supplement that boasts a higher level of absorbability due to the fact that it can penetrate through the mitochondrial membrane. At present, magnesium threonate is not as readily available as other options; however, as more and more research is being conducted, it is increasingly becoming more readily and widely utilized.
How Can I Tell if I Need Magnesium Supplements?
Figuring out if your magnesium levels are low or not can be quite hard due to the fact that the majority of magnesium within your body is located within your cells and bones and not within your bloodstream. And that in particular is why blood test results can be quite misleading when it comes down to figuring out if you have a magnesium deficiency or not.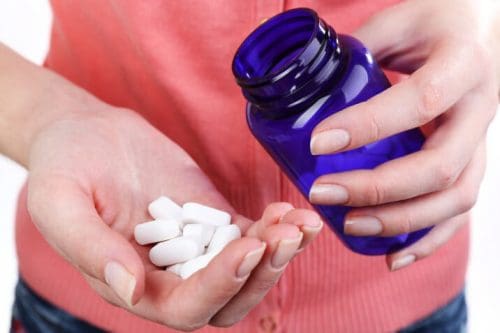 At present, the most common way to assess a magnesium status is by simply measuring serum magnesium concentrations in your blood or via measuring the concentrations in your saliva and your urine. However, at this time there is no single method of which is considered to be 100% comprehensive and accurate. Due to the fact that magnesium supplements have very few risks for potential side effects or toxicity, the vast majority of healthcare providers now recommend that adults take magnesium supplements on a regular basis in order to prevent magnesium deficiency.
What is the Recommended Daily Dose?
Here are the current RDAs for magnesium supplementation based upon on both age and gender:
Infants and Children
6 months: 30 mg
7–12 months: 75 mg
1–3 years: 80 mg
4–8 years: 130 mg
9–13 years: 240 mg
Young Adults
14–18 years: 410 mg for men; 360 mg for women
19–30 years: 400 mg for men; 310 mg for women
Adults 31 years and older
Men: 420 mg
Women: 320 mg for women
Pregnant women: 350-360 mg
Women who are breastfeeding: 310-320 mg
What are the Most Valuable Benefits?
There are a number of incredible benefits to taking magnesium. To start, is assists in increasing energy by way of activating adenosine triphosphate (commonly referred to as ATP). Which means that if you do not have enough magnesium stores, than you simply do not have enough energy that is required to get you through the day which means that you can suffer from fatigue more easily.
Magnesium is also essential for its GABA function, which is an inhibitory neurotransmitter that has the ability to produce "feel-good hormones" such as serotonin. These types of hormones that are regulated by magnesium are in fact crucial to help you calm your brain and in turn promote and overall sense of relaxation, which is why magnesium deficiency is a common cause of insomnia.
Can It Provide Intestinal Support?
Magnesium supplements also assists to help to relax the muscles within your digestive tract, including your intestinal wall, which controls your body's ability to go to the bathroom. Magnesium also assists in neutralizing stomach acid to help move stool through your intestines.
Bear in mind, that if you experience a laxative effect when your are taking magnesium supplements, you may be taking a higher dose than your body needs. The proper dose of magnesium supplements should be able to assist you with needing to use the bathroom easily and on a normal schedule, however it should never cause discomfort or diarrhea.
Can It Help to Prevent Osteoporosis?
Magnesium is highly regarded for providing you with proper bone formation while also being able to influence the activities of osteoblasts and osteoclasts of which can assist in building healthy bone density. Magnesium also provides a balance of blood concentrations of vitamin D, which is a major regulator in terms of bone homeostasis. Interestingly, an increase in magnesium intake is known to correlate directly with an increase in bone mineral density in both men and women. Recent research has also gone on to show that women can actually assist themselves in preventing and even reversing osteoporosis by way of increasing their magnesium consumption, while at the same time preventing magnesium deficiency.
What are the Best Food Sources?
It is found in a number of various foods, such as leafy, green vegetables, avocados, bananas, melons, legumes, nuts, seeds and even many certain whole grains. As a general rule of thumb, if a food contains any form of dietary fiber, it will more than likely also provide your body with magnesium.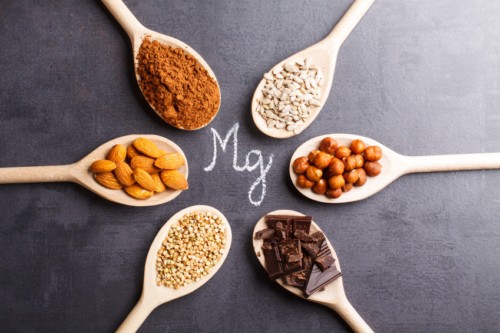 Here are some of the top foods that are rated with the highest levels in magnesium:
Spinach
Swiss Chard
Black Beans
Mung Beans
Almonds
Potatoes
Pumpkin Seeds
Avocado
Bananas
Broccoli
How do I Choose the Best Magnesium Supplement?
When it comes down to selecting the best magnesium supplements for your personal needs, you will of course need to reflect upon what precisely you are seeking to get out of your supplement as a whole. Be sure to take into consideration how your body is feeling and what you are seeking to improve that incorporating magnesium may help with. Such as insomnia, muscle aches and pains or even intestinal issues. Be sure to always check out the label on any supplement you are seeking to purchase and avoid any and all that are filled with binders and fillers. Additionally, it is of the utmost importance to always speak with your healthcare provider in order to determine what your needs are and if any potential side effects may come into play with regards to taking a magnesium supplement on a regular basis. Your healthcare provider can also give you a bit more insight on just how much is the safe amount for you to take free of causing any health nuisances.
Decision Time
Depending on the specific benefits you are looking to see, as well as the dosage that your doctor recommends, you can more easily decide which supplement is right for you. As always, be sure to talk to your doctor in order to figure out what a proper dosage is for you.
All of these products will have a higher absorption than most foods that contain magnesium, making them great options for people looking to reverse their deficiencies. If you are still undecided, here is a summary chart of the products we discussed above.
If you suffer from a magnesium deficiency, the best thing you can do is start introducing magnesium into your system immediately. As always – consult your doctor before taking any new supplements or if you feel any discomfort.
Subscribe to our Newsletter