How to Set Up the Perfect Makeup Vanity
Disclosure: We use affiliate links and may receive a small commission on purchases.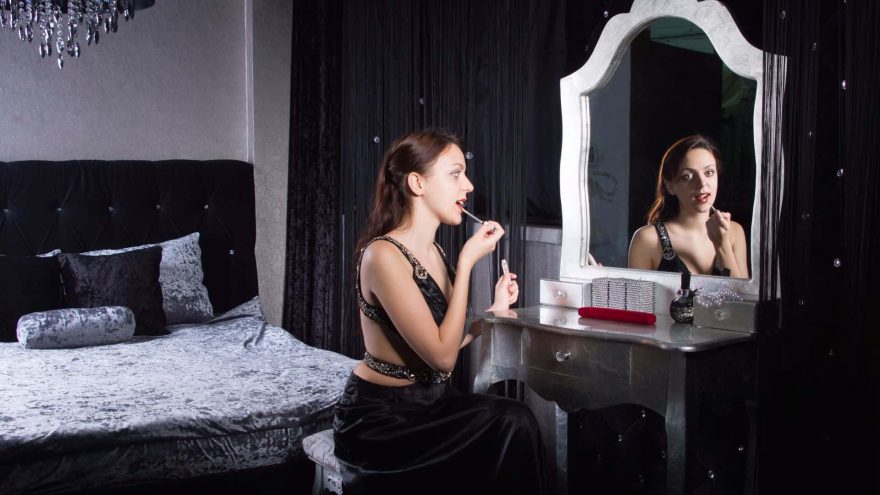 How to Set Up the Perfect Makeup Vanity
thefitbay.com
There is a very powerful and famous quote, "Beauty lies in the eye of the beholder". There is no denying that. But the fact that getting all dolled up (for yourself, of course!) makes you feel amazing and confident cannot be ignored either. Makeup is something that can help you create a perfected version of yourself. It makes you feel awake and ready for the day. You give colour to your face and accentuate your features, which in turn leaves you feeling confident, beautiful and powerful.
These days, fewer women like to stay natural and comfortable in their own skin, maybe because of societal pressure or because of their own choice. A woman's mood gets an instant boost and she goes out with a positive attitude. So, ladies, be natural or go full-on with your makeup – it's all fair – only if you're comfortable with it!
Achieving perfect makeup requires skills, passion, patience and a well-organized setup. If you are a makeup freak like me and wear makeup every day, you need a thoughtfully arranged makeup vanity that will make your morning and evening makeup routines easier. It is always such a disaster when you're running late to work, and your makeup is scattered everywhere. You end up being late to work anyway – with no makeup! No thanks! That's why it is important for a woman to create her own little space where she can prepare for the day in comfort.
Most women have their makeup products in pouches or drawers, and they struggle finding the products they need every time they have to get ready. No woman wants to spend extra time to get everything out when she needs to put makeup on. So, it's better to invest in a makeup vanity setup to avoid any hassle and stress during your everyday makeup/skincare routine.
For the perfect makeup vanity, you need to start with a plan. You need to look around your room carefully to find a proper place. After that, you need to think about what you need. A large mirror, a chair/vanity stool, a table and good lighting are most important when it comes to a perfect makeup vanity setup.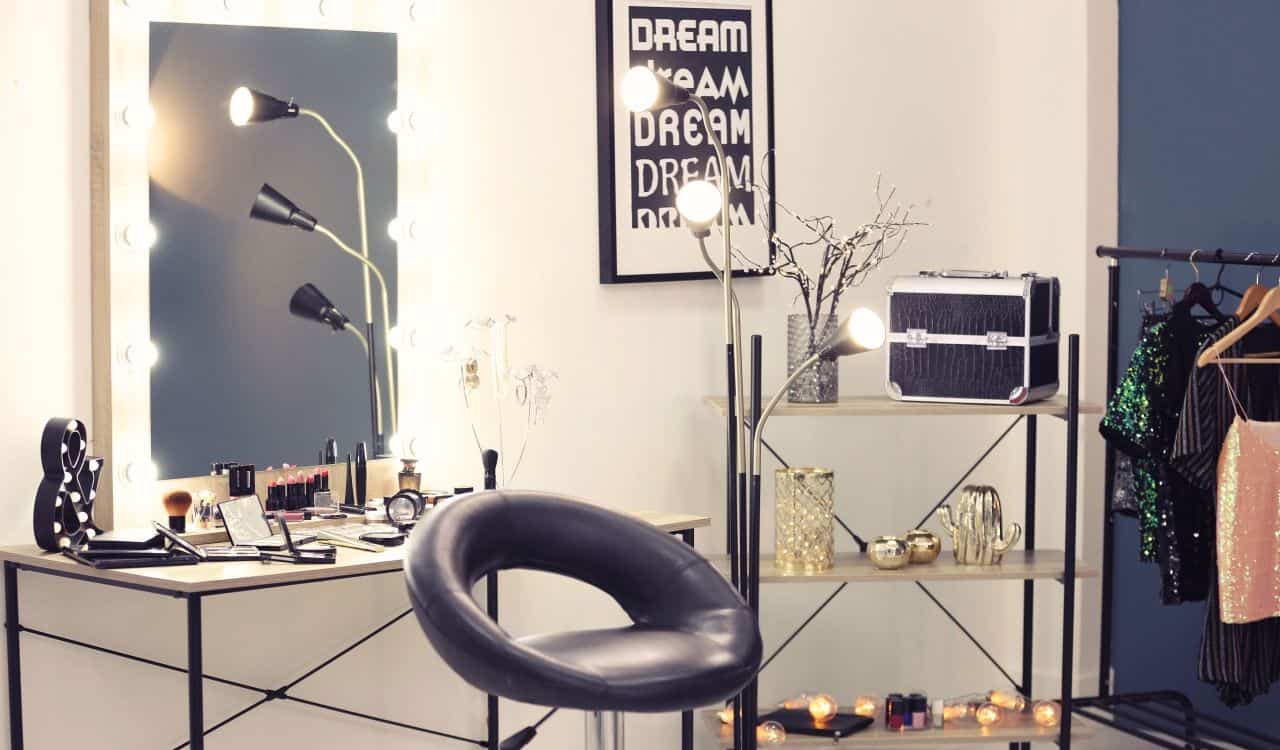 If you're a makeup junkie like me, you know how challenging it is to store your hoarded makeup products. You need containers, trays, boxes, holders, drawers and shelves to store everything and keep it organized and accessible.
In this article, I'll guide you through setting-up a vanity to make your makeup routine a little less stressful. Here are the things you need:
1. Mirror
First things first. A mirror is the most important thing you need to create your makeup vanity. You'd want to see your clear reflection while doing your makeup and a large mirror will cater to your needs. Large rectangular mirrors are preferable because they help you see everything clearly. Large mirrors with bright lights around them are even better because then you won't have to worry about the lighting.
You could also invest in a portable makeup mirror. Portable mirrors are beneficial because they have magnification and light settings with excellent results. The magnification in the portable makeup mirrors allows you to see the tiniest details of your face – including your pores. The light settings in such mirrors could be adjusted according to your needs. Some of them are even rotatable. You could see your face from every angle. These mirrors help you achieve flawless makeup because of their outstanding efficiency and adjustable options.
If your budget does not allow a huge mirror with lights, a regular mirror with no lights would work just fine. However, do not get me wrong. You have to make sure you are getting enough light to do your makeup anyway!
You simply want to see your face clearly, because poor lighting can make you put on makeup incorrectly – either too much or not enough – and no woman wants to look like a clown just because of poor lighting, right? So, in case your budget does not allow for a huge mirror with lights, pay special attention to the lighting in the room, including windows.
So, a good mirror is a first must-have, ladies!
2. Lights
After getting the mirror set, you need to get the lights in check. Natural light is best for makeup application, but unfortunately, not all of us have access to natural lighting. If your room has large windows, you'd need to place your mirror somewhere near the windows and you're good to go. If you are not blessed with large windows that provide plenty of natural light, then you should invest in LED lights for your mirror.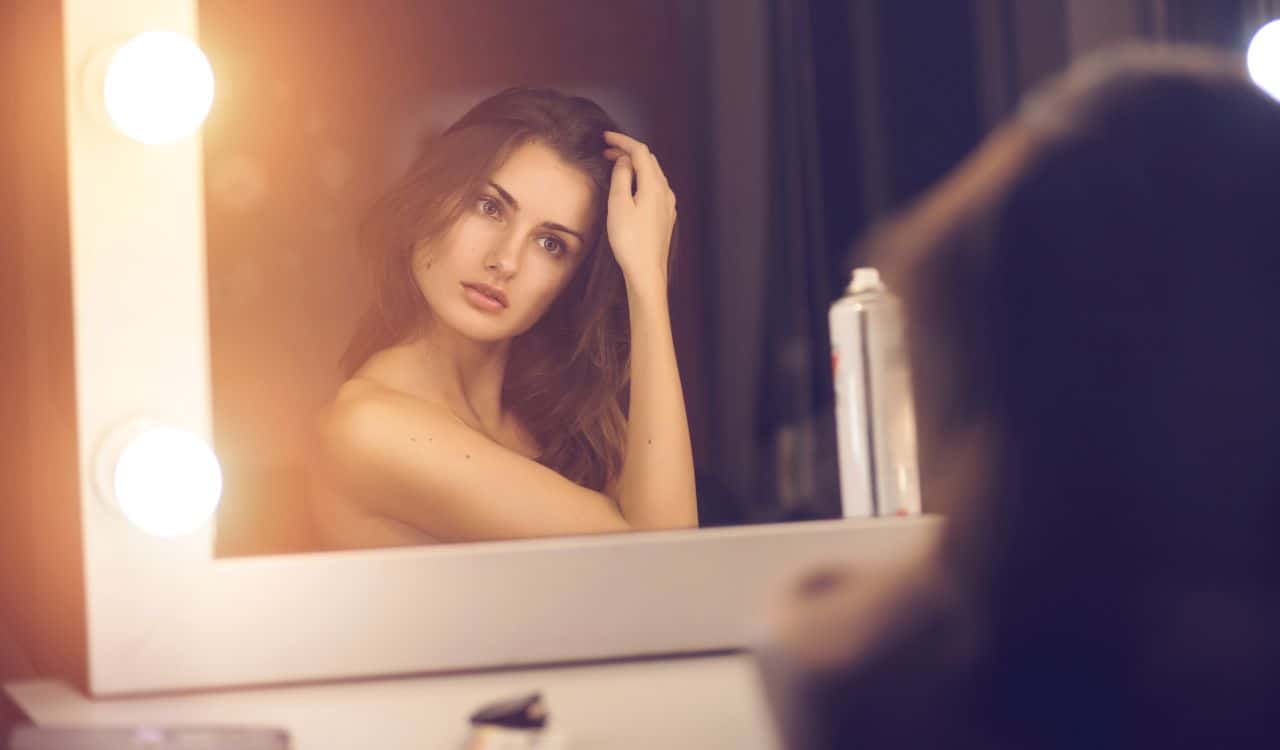 After natural daylight, white LED light is the best thing. There are LED bulbs available if you want to light up your large mirror. Just attach the bulbs around the corners of your mirror and it will light up your face. There should be around 10 bulbs of 450 Lumens to provide optimal light. Lumens are the important factors in determining the perfect lighting for makeup application. Lumens is a measurement of the amount of light a bulb provides. So, LED bulbs around mirrors allow the perfect source of light for makeup application. Warm natural lights are also perfect for makeup application.
A large ring light is another great option. It is made from a singular or many circular fluorescent LED lights which emit optimum light for smooth makeup application. Apart from using ring lights for makeup, they prove outstanding for high-quality photography or videography.
Makeup mirrors with built-in LED lights are also available in the market. The brightness is adjustable and you can set them according to your makeup needs to achieve flawless finish, such as for daytime, evening or outdoors. Most of these mirrors provide an excellent source of lighting.
So, ladies, good lighting is everything!
3. Vanity Chair or Vanity Stool
It could be tiring to apply a full face of makeup while standing on your feet. Nobody wants to start their day feeling drained which could result from doing your makeup while standing. It is smart to invest in a comfortable vanity chair that will accentuate your vanity table and also make you feel comfortable as you do your makeup.
Vanity chairs/stools come in all shapes, sizes and colours. First off, you should look for a chair that matches your vanity setup. The vanity chair should also coordinate with the rest of your furniture. If the chair complements your vanity, it will enhance the beauty of your setup and make the overall look of your vanity harmonious with the rest of the surroundings.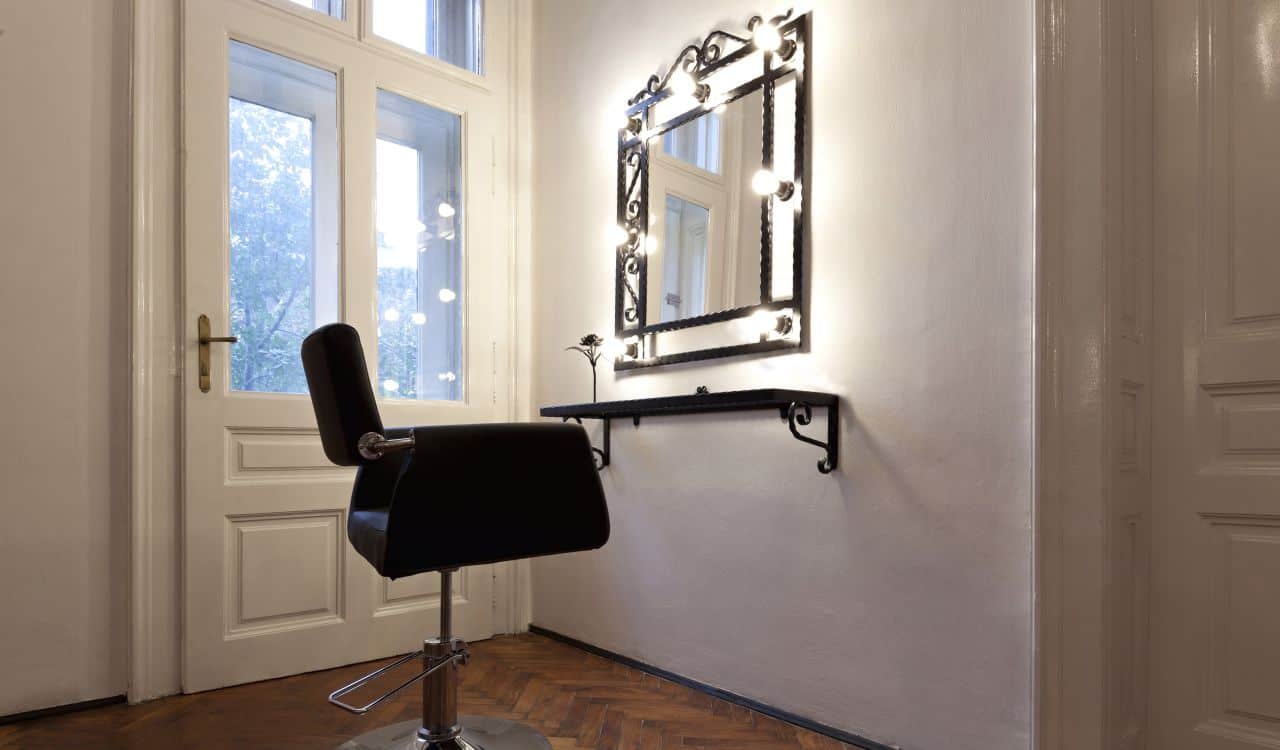 Your chair should not only be presentable; it should also be practical. It shouldn't be there just because you adore it due to its beauty. The chair should be fitted to your size and shape and provide plenty of support. You should be able to sit upright comfortably while you apply your makeup – no slouching or poor posture allowed! Most women prefer a soft base for their vanity chairs.
Small benches and vanity stools are also good options if you don't have enough space. These small stools are tucked away when they're not in use and it saves you some space. Minimalistic things are always cute!
So, ladies, get your posture right with these amazing chairs and start your day in comfort!
4. Proper Storage
Now that you're done with setting up a mirror, lights and a chair, you'll need a spacious table with drawers, along with containers, boxes, shelves and holders to complete the setup.
The style of table you choose all depends on your personal taste and other furnishings. Tables with drawers are life-savers. You cannot put all of your makeup on top of the table or on shelves. If you are a serious makeup freak like me, you probably have some makeup products that you don't use on a daily basis. You wouldn't want to keep them on the shelves. It's better to store them away if you don't use them regularly. Tables with drawers are there to save the day!
Now, let's talk about the actual makeup storage and organization. There are a lot of products a woman uses to beautify herself. It's not just a foundation, a blush and a lip gloss. Makeup products are very diverse. There are brushes, bronzers, concealers, highlighters, eyeshadows, eyeliners, mascaras, false lashes, etc. All of these diverse products should be categorized on your table.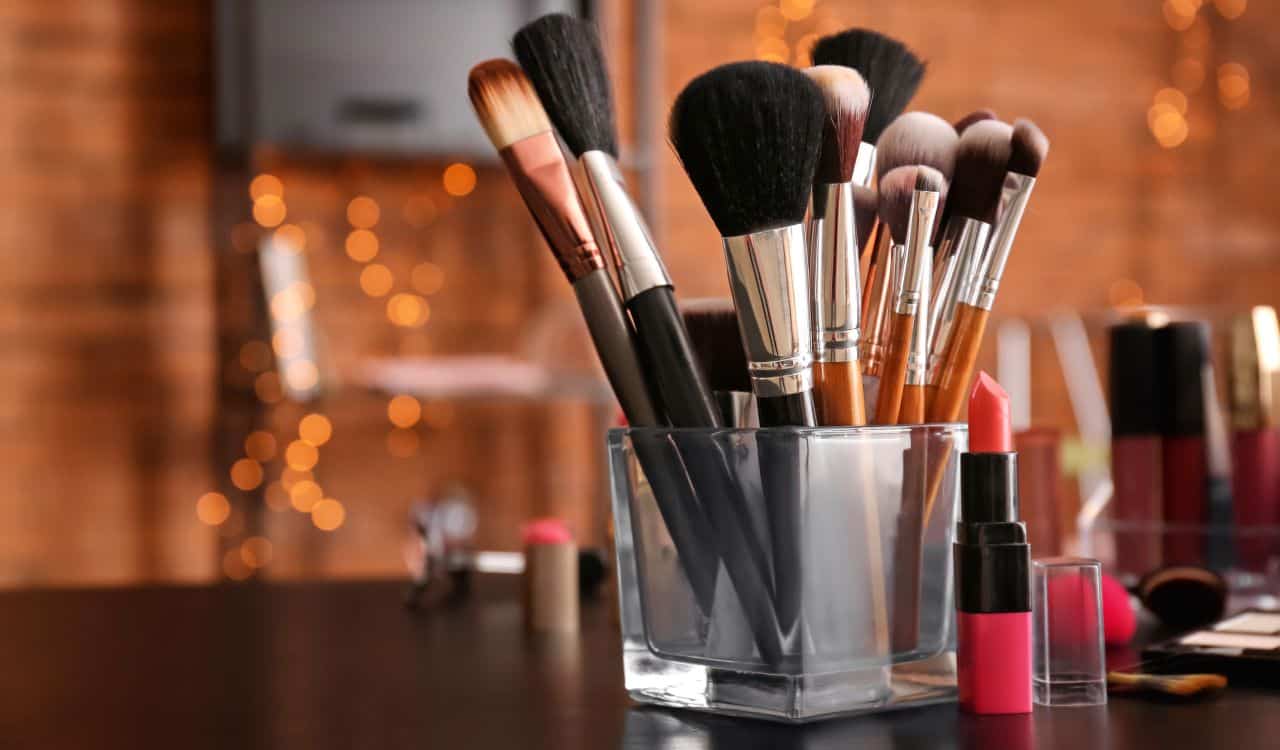 For makeup brushes, you should look for brush holders. There are a lot to choose from. You could get a simple jar, a cup or a container for your brushes. You'd want to hold the brushes in place. For that, you'd need to fill up your jars or containers with beads, plant fillers, coffee beans, uncooked rice or anything of your choice. These fillings will keep the brushes separated from each other and they won't lose their shape over time. It is preferable to use separate containers for your brushes according to type. You could keep all brushes for eye shadow in one container; blusher, bronzer and highlighter in another and so on. You can also separate your brushes by keeping clean brushes in one container and ones that need cleaning in another. Beauty blenders and sponges should also be stored separately depending on whether they are clean or used.
Highlighters, bronzers, eyeshadow pigments, blushers and compacts should be stored in cubical containers according to their size. It is wise to use clear acrylic containers so you can easily locate a product when you need it. These containers save a lot of time as well. You won't have to look for a specific product when you could see through the container and pinpoint it.
Lipsticks could be stored in acrylic lipstick holders. An average lipstick holder has space for almost 24 lipsticks and all of them are separated from each other. There are separate containers for liquid lipsticks and lip glosses because they are usually bigger in size.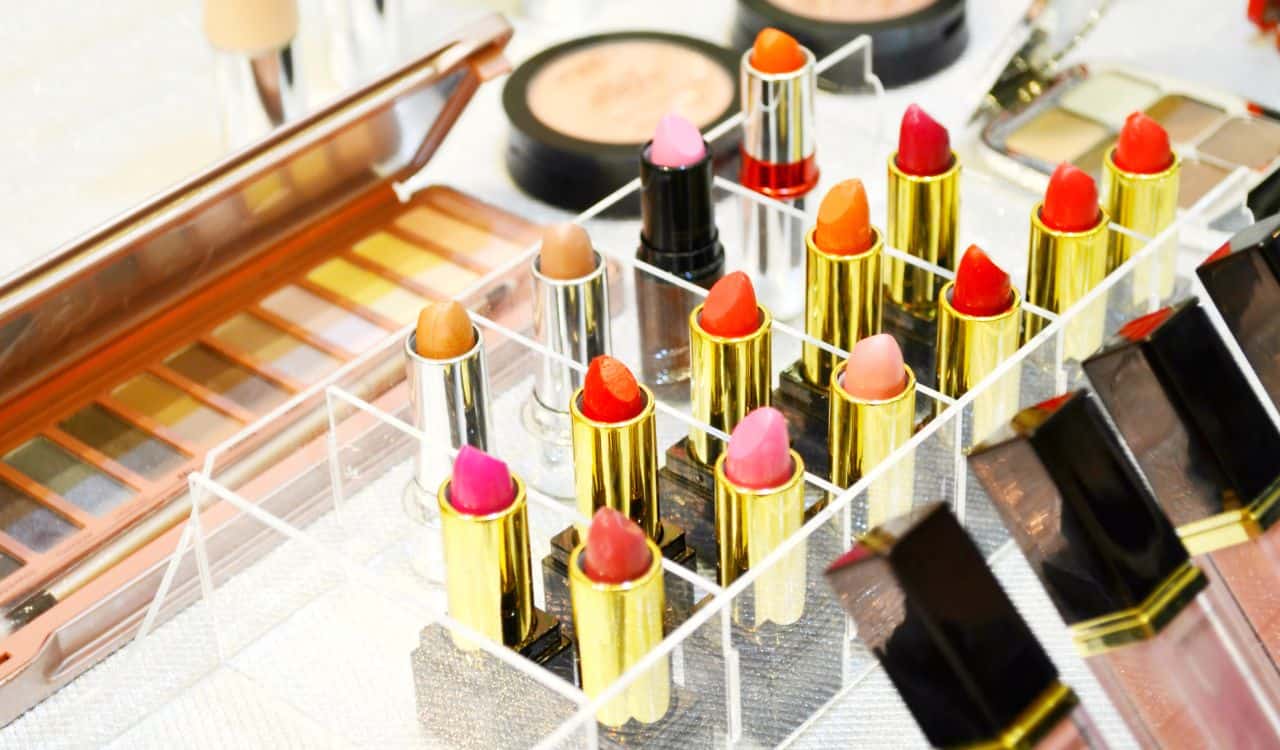 Shelves beside the mirror are extremely useful. You could put your containers directly on the table or the shelves. Skincare products should be placed on the shelves. There should be little trays to contain your go-to serums, moisturizers and lip balms. The cotton balls should be stored in little see-through cubical boxes to keep them dust-free. Your skincare products should always be within arm's reach.
You should store your colourful nail polishes and jewellery in a vintage glass box to add a pop of colour to your vanity. Your jewellery should also be in clear boxes and trays. There should be a separate shelf designated for perfumes and scents only. Likewise, moisturizers, body creams and lotions should also be placed on a separate shelf.
It is important for you to organize your makeup in a way so that you have everything within easy reach. You should be able to see all of your products from within the clear acrylic containers. It is really time saving and ensures to make you carry out your makeup routine easily.
5. Decorate
After you're done with arranging and organizing your makeup products, it's time to add your personal touches. You could enhance the beauty of your vanity by decorating it in various ways. You could place a framed picture of yourself or anything you like. There are so many affordable flower vases available in the market for you to place on your vanity table. Flowers are an instant mood booster. Their pleasant scent will help you relax before starting your makeup/skincare routine.
Scented candles will elevate your mood if you keep them on your vanity table. Nothing beats the light and pleasant fragrance of scented candles while applying makeup.
You could also use your imagination to beautify it even further. There are so many DIY methods that could be used to add a pop of colour to your vanity. Some pretty art on the wall behind your vanity would also be very appealing. It would lift your mood and make you smile every time you look at your vanity. You will start your day with a smile on your face. What could be better!
6. Clean Up Routine
After setting up a perfect makeup vanity, you'll have to make sure to maintain its appearance and cleanliness Follow a regular clean-up routine to keep your space as new and fresh as the first day you put created it.
Always keep a box of tissue paper or paper towels on your table. Clean your table every time after doing your makeup because there's a good chance that you might have spilled some powder or eyeshadow pigments on it. If left uncleaned, they could damage your vanity table by leaving permanent stains.
It is important to clean your makeup brushes after using them. Otherwise, they can harbour bacteria, dirt and dust, which will eventually be harmful for your skin. There are many instructional websites and tutorials available online for methods on cleaning your makeup brushes.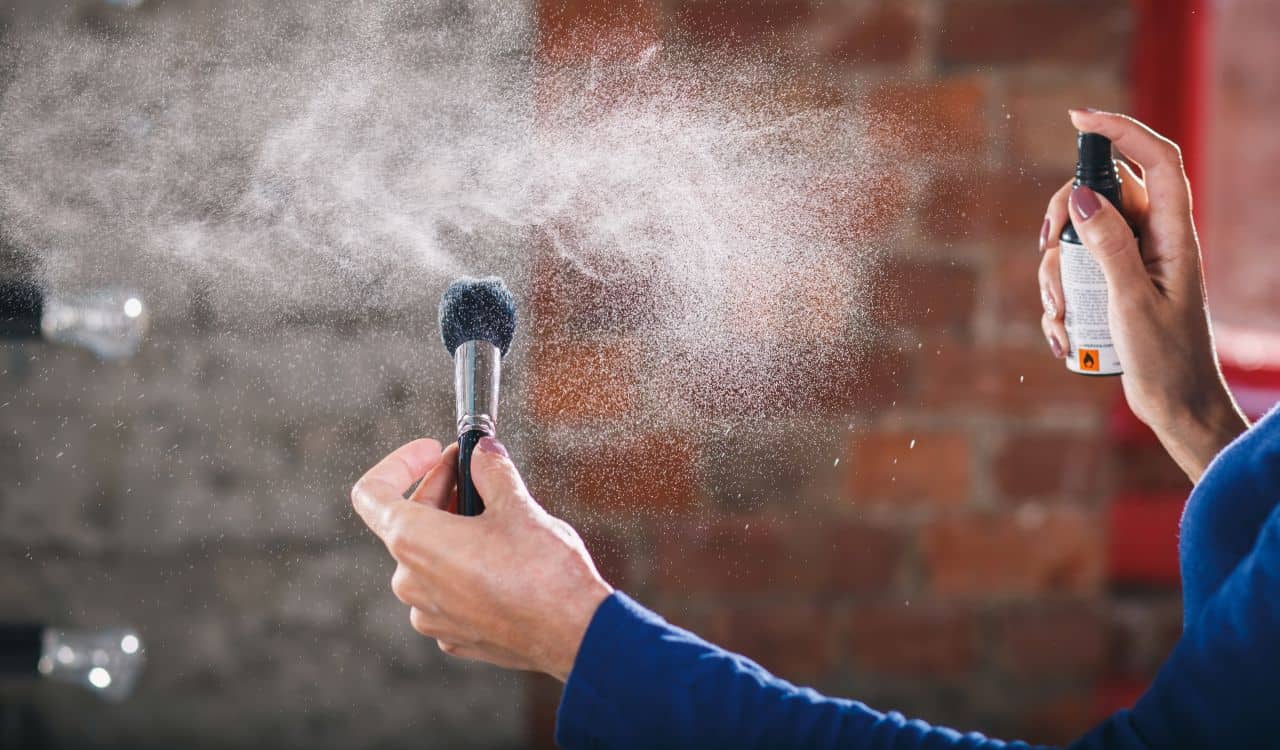 Periodically clean out your organizers and containers. It could be possible for you to disrupt the original arrangements of your products when you use them every day. It's better to re-arrange them after every other day to keep them neat, clean and easily accessible. Try to put the products back in the same place from which you removed them for use. This way, you'll avoid having to search for them, especially if you are running late in the morning.
Your mirror must be cleaned every few days to ensure clear reflection. There are a lot of products that make mirror cleaning very easy. Always keep a washcloth nearby.
Keep a small dustbin near your vanity. It's really useful when you have to sharpen your lip-pencil or when you're using cotton pads to remove your makeup. You could throw extra stuff in the dustbin near your vanity which eventually keeps your space tidy and clean.
It is healthy to keep your vanity neat and clean and it eliminates your chances of getting breakouts and acne when everything.
Keep it neat and clean, ladies!
Conclusion
Your life would be much easier if you invest in a makeup vanity. You'd carry out your morning or even evening makeup routine perfectly without any stress or the fear of being late when you have everything organized. Keeping your vanity clean all the time is also not an easy task. It needs your constant attention as well. So, ladies, try to maintain the standard and beauty of your vanity at all times!
These were some tips and tricks about how you could achieve a perfect makeup vanity. This article will surely be helpful if you're looking for some nice ideas about setting up your vanity. By following the tips, you'd be able to build your own vanity according to your own style and taste.
Subscribe to our Newsletter