Best Organic Makeup Reviewed and Compared
Disclosure: We use affiliate links and may receive a small commission on purchases.
For most of you, you have plenty of experience with makeup, likely having used it for years. Recently, however, a lot of attention has been given to how makeup is produced and the potentially harmful ingredients and chemicals that are found in a lot of the makeup you purchase today.
As a result, tons of consumers are now concerned about the safety of the makeup they purchase and are turning to safer alternatives. In particular, organic makeup has become quite popular, with several brands getting on board and committing to producing makeup that is ethical, organic, and safe.
Our Top 3 Picks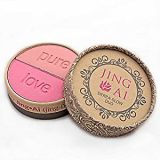 Jing Ai Blush

Our rating
Luminous
Price:

See Here

Lotus Lipstick

Our rating
Hydrating
Price:

See Here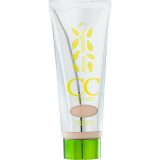 Physicians Formula CC Cream

Our rating
Good coverage
Price:

See Here

If you are considering trying organic makeup, here is our list of the ten best products that are out there today. Best of all, these products cover a range of beauty essentials- including eyeshadows, foundation, lipstick, blush, and more. You don't have to sacrifice beauty just to stay safe, and these products will prove that. After the product list we'll give you even more information about the benefits of organic makeup, what to look out for, and some answers to frequently asked questions.
10 Best Organic Makeup Picks
Jing Ai Blush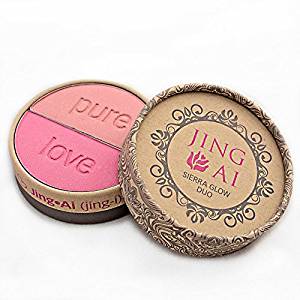 Our number one pick for best organic makeup product is this blush from Jing Ai. Not only is this blush organic, it comes with two shades, giving you more options with just one product. Use each shade separately, or mix together for 3 unique color options. The included brush makes application a breeze, and with a more affordable price tag, you can't beat the quality and value of this product.

Organic Oils

What sets this blush apart from all the others is the inclusion of organic wild rose oil, sunflower seed oil, and grape seed oil. These oils help hydrate and nourish your skin while giving it a soft glow that looks natural, not overdone or greasy.
Expand to see more
Features and Specifications

Organic powdered blush
Available in 3 shade duos- each color comes with two unique blush shades
Organic wild rose, sunflower seed, and grape seed oils nourish the skin
Free of parabens and gluten free
Vegan
Cruelty free and never tested on animals
Can purchase with or without kabuki brush
Use the shades as eyeshadow or on lips if desired

Price/Value

This remains fairly affordable, although with the purchase of the brush it is more expensive. However, it is a great value for the money considering you are getting two blush shades as well as a brush. Best of all, the blush is totally organic and enriched with organic oils that will help nourish your skin and give you a beautiful glow all day long.
You get two shades with one purchase
Colors are complimentary- a darker bronze shade mixed with a lighter pinker tone
Vegan and gluten free and totally organic
Application is easy with kabuki (or another blush) brush
Very versatile- can use as an eyeshadow or lipstick as well
If purchase blush and brush can be fairly expensive
Lotus Lipstick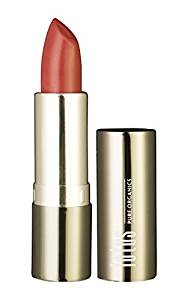 Finally landing in our top two is an organic lipstick from Lotus Cosmetics USA. Of all the makeup products people want to be organic, lipstick is one of the most sought after. This is a product you are applying directly to your lips- the last place you want to be covered with chemicals and mystery ingredients. Instead, this lipstick is 100% natural and organic, enriched with moisturizing ingredients, and will glide on easily and stay on all day long.  

Essential Oil Enriched

This lipstick will not just provide you with a pretty shade for your lips, it will help to hydrate and condition them. The blend of essential oils, shea butter, and vitamin E will keep your lips smooth and plump all day long.
Expand to see more
Features and Specifications

Organic lipstick
Made in the United States
Cruelty free and never tested on animals
Enriched with essential oils, vitamin E, and shea butter
Gluten free
Free of parabens, sulfates, synthetic dyes or fragrances
Lead free
Available in 11 unique shades

Price/Value

This is an expensive lipstick, but for the quality of the product, it is still a great value for the money. Not only are you free from harmful chemicals, you are also benefitting your lips by using a product like this that is packed with hydrating ingredients.
Helps hydrate lips in addition to providing color
Shades range from more neutrals, to reds, and plums
Totally organic and healthy- no chemicals will touch your lips
Easy to apply and long lasting formula
High shine finish
Not long lasting for some
Physicians Formula CC Cream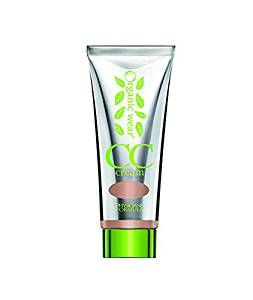 BB and CC creams have become incredibly popular in recent years as a great product to use instead of foundation. This product from Physicians Formula takes that one step further by being a totally organic CC cream. This lightweight formula provides a thin layer of coverage but also nourishes the skin with only natural and organic ingredients. Best of all, an added SPF helps protect your skin from damaging rays from the sun.

Natural Correcting and Care Additives

This CC cream is really focused on improving your skin and is packed with natural ingredients that will correct and care for your skin. These ingredients include organic lemon, red micro-algae, organic blue algae, organic acai palm, and organic orange water.
Expand to see more
Features and Specifications

Organic CC cream with SPF 20
Hypoallergenic, gluten, paraben, and fragrance free
Color corrects and hydrates the skin with natural ingredients
100% ingredients from natural origin, 70% are organic
Non-GMO
Cruelty free and never tested on animals
Contains an EcoBlend of OrganiSoy and Eco-Olive
Utilizes organic lemon, red micro-algae, organic blue algae, organic acai palm, and organic orange water to improve the skin and give it a better, more glowing appearance

Price/Value

This CC cream has a great price that is on par with other foundations you would find at a drugstore. This is an incredible value for the money since it is all natural with tons of beneficial ingredients and provides you with an SPF. This is as if you were getting a sunscreen, foundation, and moisturizer all in one.
Great for your skin- helps improve skin overall and provide coverage that masks any imperfections
All natural and nearly all organic
Contains an SPF which is helpful for preventing sun damage
Applies easily with fingers or a sponge
Comes in a range of shades to match your skintone
Affordable
Some think the colors are a little too light, may not work as well on darker skintones
Chic Republic Mascara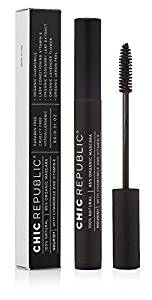 The next product on our list is another mascara, this time from Chic Republic. Totally natural and 85% organic, this is a great product that will work for people even with the most sensitive of eyes. Available in black or brown, this product will give the appearance of longer, fuller lashes without relying on harsh chemicals or other ingredients.

Botanically Enriched

This mascara has got great ingredients that will help improve the health of your lashes- including vitamin E, lavender, and chamomile. Better yet, there are no harsh chemicals like parabens, leaving you with a natural product that won't damage your lashes or your eyes
Expand to see more
Features and Specifications

Organic mascara: 100% natural and 85% organic
Cruelty free and never tested on animals
Gluten free
Made in the United States
Botanically enriched with chamomile, lavender, and vitamin E
No parabens, phthalates, artificial dyes or fragrances
Available in two shades- brown or black
Safe for contact lens wearers
Formula won't clump

Price/Value

This is a slightly expensive mascara, but you will find it is not much more than the average drugstore brand, but in terms of quality, it is much better. This is a great value for the money and a great, organic product that any mascara lover will enjoy and benefit from.
Totally natural and nearly 100% organic as well
Ingredients will actually help your lashes grow stronger instead of just relying on the product itself
Very gentle so if you wear contacts or sensitive eyes you will be able to use this
Doesn't sacrifice quality- provides long lashes that aren't clumpy
Removes easily with soap and water
Can get it in either black or brown
Fairly expensive
Isn't waterproof
BaeBlu Liquid Foundation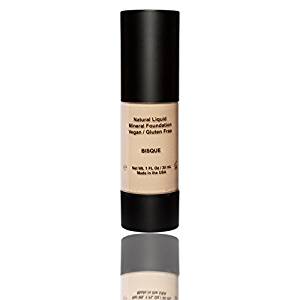 You can keep your skin looking and feeling perfect with this organic foundation from BaeBlu. A liquid foundation, this product provides full coverage while still remaining organic, vegan, and gluten free. Best of all, this product won't clog your pores and is actually good for your skin instead of being an irritant like many makeup foundations are.

Aloe Based Formula

What makes this foundation so unique is that the main ingredient is actually aloe, which is known to be excellent for your skin. Not only is this an organic product that doesn't rely on chemicals, it is also actively good for your skin because of the ingredients chosen.
Expand to see more
Features and Specifications

Organic liquid foundation
No artificial colors or preservatives used
Made in the United States
Vegan and gluten free
Free of parabens
Aloe based foundation
Anti-aging formula with buildable coverage
Non-greasy and won't clog pores
Available in 9 shades

Price/Value

This is a more expensive foundation, but it is still a great value for the money considering it is both organic and great for your skin. If you have sensitive skin and are in search of a full coverage foundation, this is a great option for you.
Totally organic, vegan, and gluten free
Formula that is good for your skin in addition to being organic and won't clog pores
Can apply easily either with fingers or with a makeup sponge
Wide range of shades that will match most skin tones
Avril Eyeliner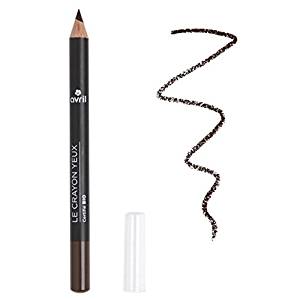 No makeup bag is complete without eyeliner, and this organic pencil from Avril is the perfect addition to your organic set. With all natural ingredients, a range of shades, and a great price tag, you can't beat this eyeliner. Apply once and the color will last all day long, and best of all, is safe on your eyes, even if you wear contacts.

Organic Beeswax and Shea Butter

This eyeliner formula is mostly comprised of organic beeswax and shea butter, which gives the eyeliner a creamy texture that will roll onto your eyes easily without tugging at your eyelids. If you have sensitive eyes, this organic and smooth formula will be perfect and won't irritate your eyes.
Expand to see more
Features and Specifications

Organic eyeliner in shade 'Burnt Earth'
Certified organic
Formulated with organic beeswax and shea butter
Safe for use even if you have sensitive eyes or wear contacts
Comes in 14 unique shades
Long lasting formula
Cruelty free and never tested on animals

Price/Value

This is a very affordable product and a great value for the money. This price beats a lot of drugstore eyeliner prices, which is incredible considering this product is totally organic and natural.
Totally organic and safe for everyone, even contact wearers, to use
Won't stretch out your skin or tug on it when applying
Wide selection of colors available
Very affordable
Creamy formula that can be precise or smudged out for a more smokey appearance
Some people think the color is too red instead of being more of a dark, deep brown
BaeBlu Blush Stick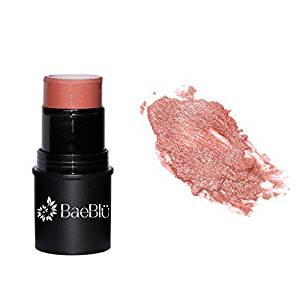 Do you prefer cream blush over powder blush? If so, this blush stick from BaeBlu will be your favorite organic makeup product. BaeBlu is committed to their line of organic products, and their cream blush is just as all natural and organic as you would anticipate. Coming in a range of colors, you will be able to find something that you will love.

Use on Cheeks or Lips

What is great about this formula (in addition to being organic) is that the formula is so versatile. The sheer color can be built up if you want a bolder appearance and can also be used on your lips as well! Because the ingredients are all natural, you don't have to worry about potential chemicals you are putting on your lips that may get in your mouth.
Expand to see more
Features and Specifications

Organic cream blush
Certified organic
Made in the United States
No artificial colors or preservatives added
Vegan and gluten free
Never tested on animals
Sheer cream color that is buildable and can be used on the cheeks or lips
Comes in 4 distinct shades

Price/Value

This is an expensive blush, but it is a great value for the money and a really great product. Keep in mind how versatile this product is as well, so if you use it as both a lipstick and a blush, it is an even greater value for the money.
Totally organic, vegan, gluten free
Buy this one product and use it as both a blush and a lipstick (and could probably use as an eyeshadow too if you wanted)
4 shades are all nice and universally flattering
Easy to apply and blend in for a nice glow
Physicians Formula Mascara

If you are concerned about your eye health, you will love this next product from Physicians Formula. This is an organic mascara that ensures no harmful ingredients will get close to or in your eyes. Everyone will benefit from this product, but you will especially appreciate this if you have sensitive eyes or wear contacts. Best of all- your lashes will look great!

Ingredients of Natural Origin and Organic Farming

Physicians Formula is dedicated to creating products that are all natural and helpful not just to consumers, but that are not harsh on the Earth. This particular product is comprised of ingredients that are completely of natural origin, with 70% being from organic farming. Hopefully with time this will increase to 100%.
Expand to see more
Features and Specifications

Organic mascara
Ingredients from natural origin and 70% from organic farms
Cruelty free and never tested on animals
Fragrance free
Safe for people with sensitive eyes and contact wearers
Ophthalmologist approved
Natural fibers of product add length to your lashes and wide brush helps give them volume
Color is 'Ultra Black'
Washes off easily with soap and water or eye makeup remover

Price/Value

This is a very affordable mascara. It is such a great value for the money considering it is all natural and much safer for your eyes. It is good to know that you do not have to break the bank to afford natural products that are better for you.
Affordable
Totally safe to use, even for contact wearers
All natural fibers and ingredients used- no harmful chemicals added
Wide brush design makes application quick and easy
Isn't waterproof- which may be a pro for some, but a con for those who prefer a waterproof formula that will stay put
Avril Blusher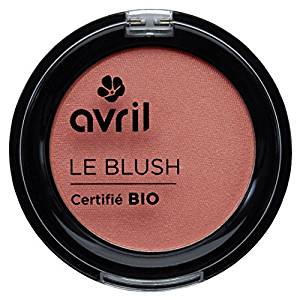 If you are looking for an organic powder blush, this product from Avril will be perfect for you. With all natural ingredients, no harmful additives, and a great formula that is never tested on animals, you can't go wrong with this blush. Apply to your cheeks to get that perfect rosy appearance.  

Certified Organic

This isn't just any blush that is claiming to be organic, it is actually certified organic and truly all natural. It is also free from all the harmful ingredients that are usually found in makeup- including parabens, potassium sorbate, and phenoxyethanol.
Expand to see more
Features and Specifications

Organic powder blush
Formulated for every skin type
Certified organic
Never tested on animals
Free from parabens, potassium sorbate, and phenoxyethanol
Made in Italy
Color is 'Pink Glamor' and is a warm rosy pink shade

Price/Value

This is a slightly higher price point than you would pay for a drugstore brand blush, but not by a lot. The bump in price is worth it and still gives this product a great value for the money considering it is certified organic and free from harmful ingredients.
Certified organic and free from harmful chemicals and ingredients most makeup has
Color is a nice shade that would work on a wide variety of skin tones
You can build up the color to get the intensity that you want
Comes in three other shades
Slightly expensive
Compact doesn't come with a brush or mirror
BaeBlu Eyeshadow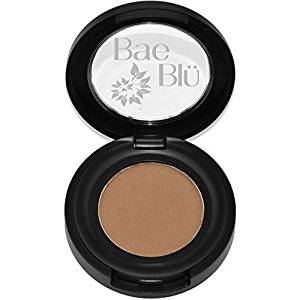 This eyeshadow from BaeBlu is totally organic, as well as vegan and gluten free. This is a great makeup line that should appeal to anyone- no matter what your concerns or allergies are. This is an all natural product that, best of all, looks great! With a wide variety of colors, you can certainly find a color (or colors) that you will love.  

Wear Wet or Dry

You will love the flexibility of this eyeshadow. The quality is not at all diminished because of the ingredients used, and in fact, it makes this product better. Not only will this eye shadow not crease, you can also wear it wet or dry. Add water for a more pigmented look, or keep it dry and blend it out easily.
Expand to see more
Features and Specifications

Certified organic eyeshadow
No artificial colors or fragrances are used
100% vegan and gluten free
Made in the USA
Wear the formula wet or dry
No-crease formula
17 color collection that includes a wide range of shades

Price/Value

This is a fairly expensive product, especially considering that you have to purchase each shade separately. However, it is still a good value for the money considering the high quality of the ingredients and the final product itself which is highly pigmented and long lasting.
Totally organic and made from natural, vegan, and gluten free ingredients
Wide color range that includes neutrals and bolder shades and matte and more metallic looking hues
More versatile product that you can intensify by wearing wet
Slim product design that fits easily in a makeup bag
Top Benefits of Using Organic Makeup
Helps prevent aging: Let's face it, no one likes getting older. Or, at least, you don't like the appearance of getting older. Ironically, women turn to makeup to cover up their skin and make them look younger, but because of the strong chemicals in traditional makeup, it can actually worsen your skin and make you look older, quicker. Organic products are free from these ingredients, and many organic products also contain an SPF which helps prevent sun damage, including wrinkling and sun spots. These products will still enhance your appearance, but will do so without sacrificing the quality of your skin.
Protects your overall health: Traditional makeup products do nothing but clog pores and rely on dangerous chemicals that can seep into your skin and impact your body beyond just your skin. Many women use makeup each and every day- meaning you are placing these chemicals on your body day after day. The ingredients can easily be absorbed by the skin and enter your bloodstream and potentially cause damage. A lot of chemicals and ingredients used have not even been tested to know their impacts- do you really want to take that risk? Organic makeup relies only on natural, healthy ingredients that provide no risk for any health issues.
Healthy for the environment as well: If you care about the impact you make on the Earth, you have to consider more than just emissions from your car. The truth is, makeup products can be very unhealthy for the Earth. When harmful chemicals are added to create these products they can be released into the air or get into the water supply. Other ingredients may be grown with the help of pesticides and other chemicals, which is damaging to the soil or to surrounding animals. With organic makeup, there is a much stronger effort to grow ingredients without harmful chemicals and also to not add in harmful chemicals to final products.  
Cruelty free: The majority (if not all) of the organic makeup products you find will be cruelty free and will never be tested on animals. While plenty of non-organic brands are making this switch as well, there are still plenty that resort to this practice. With organic makeup, you know you are utilizing brands that will never and have never tested their products on animals.
Improves your skin: Finally, because of the ingredients used in organic makeup, you are likely to see the quality of your skin actually improve. Whether you are purchasing a foundation, blush, lipstick, or any other product, they will usually have hydrating and nourishing ingredients that will moisturize your skin and help repair any minor damage. More emphasis is put on repairing skin with organic makeup, rather than just using a product to temporarily help improve its appearance.   
Product Criteria of Evaluation
Price
We considered the price of these products when selecting them for our list. Traditionally, organic makeup was much much more expensive than drugstore products. However, over time costs have come down and made organic makeup much more affordable overall. Some products are still more expensive, but some are very reasonably priced. The additional cost is completely justified, however, as the quality of the product and ingredients used are far better. We always try to select products from a variety of price points so that even people with a more limited budget can find something that they could afford and try.
User ratings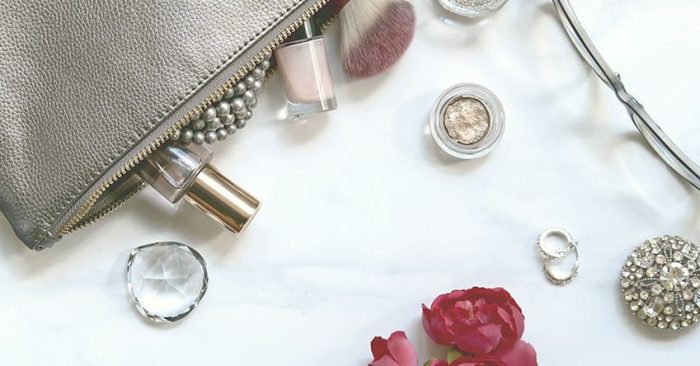 We always consider user ratings when selecting products. The best way to know how a product looks or works is to test it out, and this is especially true with makeup. User ratings helped us decide if the formulas are well-made and provide the results that are promised by the brand. With these products, numerous users have provided great ratings that helped us feel more confident selecting them for our list.
Side effects
Certain products we test come with side effects, but with makeup this is far less of a concern. There is always a chance that your skin will react negatively to a product, but because all of these products are organic, that chance is diminished. If you know you have a certain allergy, be sure to check ingredient lists to ensure it is not present. If you are gluten free or vegan, you can also rest easy, as there are plenty of organic products that also are gluten free and/or vegan.  
Safety
Safety is an issue that is more commonly found with things like vitamins and supplements. With makeup, safety is less of a concern. However, certain eye products can be irritating to people and safety can be an issue for people who wear contacts. For that reason, we still do consider safety when selecting makeup products. In particular, we make sure when choosing an eyeliner or mascara that it is safe for contact lens wearers and ophthalmologist approved. Overall, you will find that organic makeup is much safer for you when compared to traditional makeup that is filled with unknown chemicals and ingredients.
Ingredients and their effectiveness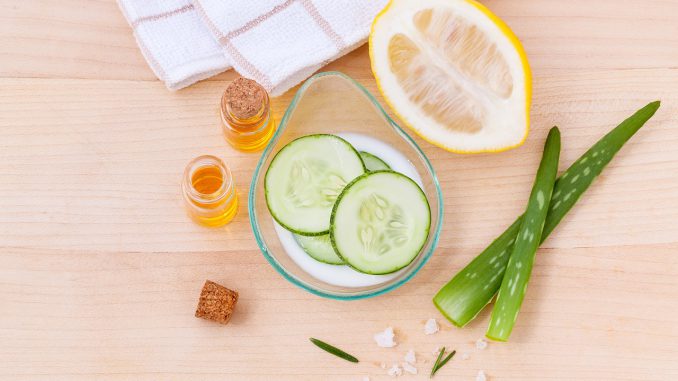 Physicians Formula Organic Wear 100% Natural Origin CC Cream, Light, 1.2 Fluid Ounces
We wouldn't want to choose products that aren't effective. This logic still applies to makeup, especially organic makeup. Not only are the ingredients used much healthier for you, they claim to make your skin better. So, is that true? For the products we have selected- yes! We make sure that the products we review are effective at whatever they are claiming. For these products, you will likely notice an improvement in the quality of your skin, especially that it is more hydrated, soft, and radiant.
Manufacturer's reputation
Organic makeup is a fairly new concept, but that doesn't mean you can't look at a manufacturer's reputation. We prefer selecting brands such as Physicians Formula who have been long committed to creating organic products that are healthy for both their customers and the Earth. It is important that the brands and products we select are true to their word and have not lied to their customers in the past. This is especially true when it comes to organic makeup, as plenty of brands have made the claim of being organic when that is not actually true.
Product testing
Finally, we make sure to test out our products before we include them on our lists so that we can have a first hand experience with them. User ratings are also important to back us up, but we also want to test products ourselves to see if we feel the same way about them. We understand that you do not have the time or money to try out numerous products, so we do the hard work for you!
FAQs
Is organic makeup really better than traditional makeup?
Overall, yes. With organic makeup, you are much more aware of the products and ingredients used, as they are natural and recognizable. With traditional makeup, there are often numerous chemical names that you have never heard of and that leave you with no idea if they are safe or not. Organic makeup relies on fewer ingredients that you will be able to research and also likely are already aware of (such as vitamins and essential oils). If you are allergic to any of the ingredients, it should be easier for you to identify and select a different product instead. Overall, utilizing natural ingredients, not synthetic compounds or harmful chemicals, is always a healthier option and a decision that more and more people are making.
How long does organic makeup last?
You will find that organic products do have a shorter shelf life than traditional products. This isn't a bad thing, but rather something to be aware of so that you can avoid using expired products. Because they do not rely on a bunch of chemicals and preservatives, these products will not last as long. While it will vary from product to product, typically organic products will last around three to six months. If you notice any changes to the appearance or smell of the product, that is a sign you should likely get rid of it. Be sure to mark down the date when you purchase a new product so that you can keep track of how long you have had it. Also, be sure to only purchase these products as you need them so that you do not end up wasting product for no reason. Organic products are not the type that you should buy in advance and store. Purchase them when you need them, use them until they expire or you run out, and purchase more.
Should you store it differently than traditional makeup?
Yes. In fact, it is sometimes best to store organic products in the refrigerator! Just as the fridge keeps food fresh longer, it can also do the same for your makeup. Truly organic products that do not contain preservatives can benefit greatly by being refrigerated. If the products you do have contain preservatives refrigeration is not necessary, but if they do not, consider sticking them in the fridge. However, keep in mind that this will not extend the life of the product and you should still mark down when your purchased it and set an expiration date. However, keeping it refrigerated can help ensure it will last the entire length of time it is supposed to. Traditional makeup contains tons of preservatives which ensures it will last a long time without having to do anything to it. While this is certainly easier, it is not necessarily the better option as the chemicals and preservatives used in the makeup can be harmful to you.
Will organic makeup actually improve the quality of your skin?
Yes, it can! Organic makeup is typically not just designed to improve your appearance while using it. Most products contain moisturizers, essential oils, vitamins, and other healthy ingredients that will actually help to moisturize, repair, and replenish your skin or lips. Because they are also free from all sorts of chemicals and pore-clogging ingredients, you should also notice your skin improving on its own from this standpoint as well. Finally, plenty of organic makeup products contain an SPF, which can't repair existing sun damage, but can help prevent further damage from occurring, which is equally important and something everyone should be doing.
Is there a difference between mineral and organic makeup?
A lot of people confuse organic makeup and mineral makeup, but the truth is these products are very different. The main difference is that these products are derived from very different sources. Organic makeup is made from organic plant sources, whereas mineral makeup is derived from natural minerals. While the minerals used are naturally occurring, often times mineral makeup products rely on plenty of other non-natural chemicals and ingredients that consumers in search of organic products want to stay away from. It is possible to find mineral makeup that does not rely on these ingredients, but it is important to understand that not all mineral makeup is all natural or organic (just as you distinguish between organic and non-organic makeup).
Decision Time
There you have it! These are some of the best organic makeup products on the market right now. Thankfully, you can find a wide array of products so that you could fill your entire makeup bag with organic, healthy products that will still make you look beautiful. Still undecided if you want to make the switch to organic makeup? Here is some more helpful info, including some answers to some frequently asked questions that should help you make up your mind.
Subscribe to our Newsletter