Best Rooibos Teas Reviewed & Rated
Disclosure: We use affiliate links and may receive a small commission on purchases.
Rooibos is an Afrikaans name meaning "red bush" because of its distinctive orange-reddish color that it has once left to dry. Rooibos tea is specifically grown in South Africa in the mountainous Cederberg region. The rooibos tea bushes have adapted to this special altitude, rocky soil composition, climate and surrounding vegetation. Thus, the ones with the indigenous genetic composition do not flourish in any other region in the world.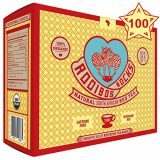 Rocks

Our rating
Sugarfree
Price:

See Here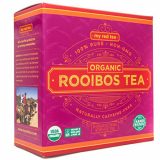 My Red tea

Our rating
No calories
Price:

See Here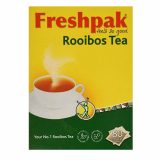 Freshpak

Our rating
Affordable
Price:

See Here

It is not a tea as such but a herbal infusion of dried leaves. Rooibos tea is a favorite for many as it is free of caffeine and loaded with antioxidants, minerals, and vitamins. Its natural earthy and sweet taste is also a key likable feature as it can be taken without sugar or milk. However, it is not a hard and fast rule to take it plain. You can infuse it with other herbs, fruits, spices and even sweeten it to your liking.
The tea is made by first picking it when the plant is green then dried, lightly fermented till the leaves transform to a deep red-brown color, steamed, dried again, sterilized and then packed. During the fermentation process, the leaves are oxidized to enhance the flavor. The unoxidized green rooibos tea is available though it is not as popular as the red oxidized type.
Chemical composition of rooibos tea
The unprocessed green rooibos is high in vitamin C (ascorbic acid) as compared to the red, processed type. Rooibos tea is high in polyphenols including flavonols, flavones, flavanones, dihydrochalcones, and aspalathin. The polyphenols have antioxidant and astringent properties. They cause contraction of mucous membranes and exposed tissues, and thus, soothe sore throats, allergies, peptic ulcers, protect the skin and give relief to other minor irritations.
The red rooibos tea is higher in benzoic and cinnamic acids. Benzoic acid has valuable medicinal properties and has for a long time been used to treat fungal infections, as an antiseptic, analgesic, expectorant and decongestant. Cinnamic acid gives rooibos tea the very mild honey-like odor and the naturally sweet taste.
Compared to other teas and coffee, rooibos tea is naturally free of caffeine and has very low tannin levels.
10 Best Rooibos Teas
1. Rooibos Rocks Tea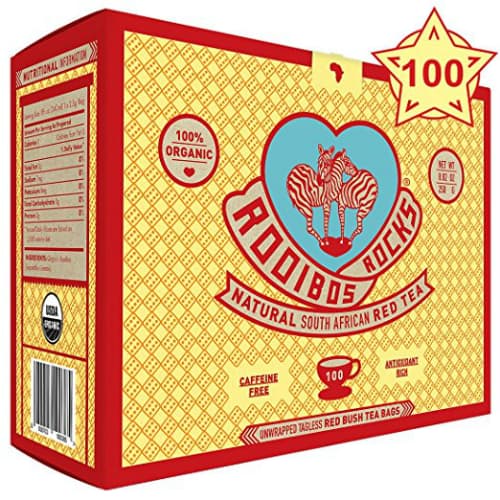 Rooibos Rocks tea is sourced from Cederberg region in South Africa, one of the best-known areas for producing rooibos tea. The product is certified by USDA to be a 100% naturally organic with no preservatives or colorants. The tea bags are naturally caffeine-free with no added sugar but are naturally sweet. They can be taken hot or chilled to get a relaxing and calming effect and also to relieve stress.
Expand to see more
Features/Specifications
Tagless and unbleached tea bags
100% naturally organic
Zero calories and sugar-free
Naturally mildly sweet
Free of preservatives and colorants
Caffeine free
Comes as a pack of either 100 or 200 teabags
Packed in 5 separate pouches to preserve freshness
Sourced from South Africa
Price/Value
These tea bags are slightly more pricey than other rooibos teas, but it is worth your money as it is organic and grown in the finest tea-producing zones. The best thing about this product is that it has 100 tea bags in each packet, making it one of the top in terms of quantity.
Verdict
Rooibos Rocks tea bags are a value product as they are organically made, naturally grown and are their quantity is not disappointing at all. If you are aiming to lose weight, it would be wise to consider them as they are naturally mildly sweet, no added sugar, and you can enjoy them without adding any sugar or cream. They can be taken by the whole family, and they will last you longer.
No bitter aftertaste
Free of artificial additives
Organic
No added sugar
Mildly sweet
Can be taken without sugar or milk
2. My Red Tea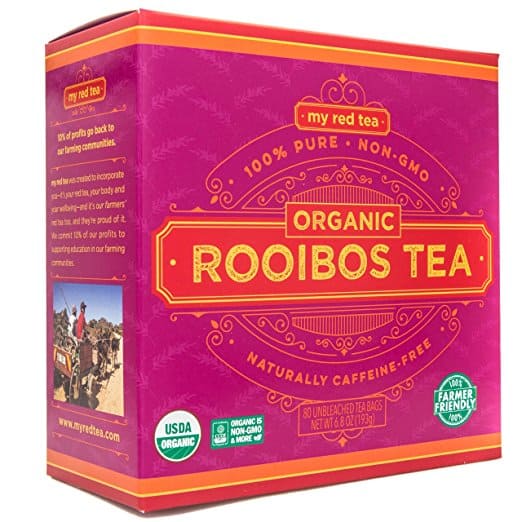 My Red Tea is 100% organic, non-GMO and is sourced from South African Cederberg mountains, one of the richest botanical regions globally. The tea is specially made with no color, preservatives or any other artificial ingredients. It is 100% caffeine free, making it suitable for all ages. Just like all other rooibos teas, My Red Tea is low in tannins, packed with minerals, antioxidants, and vitamins. Each packet has 80 tea bags, packaged in sealed cellophane packages for freshness and quality. The tea bags are then packed into four individual packs with 20 unbleached tea bags each. The tea is naturally sweet, and if you are aiming for a low-calorie diet, you do not have to add sugar.
Expand to see more
Features/Specifications
USDA certified organic
Packed as tagless tea bags
No artificial additives
Non-GMO
Free of caffeine
Each packet has 80 tea bags
Zero calories
Can be served hot or chilled
Packed in four separate cellophane packages to preserve freshness
Price/Value
The tea is in the higher price range of rooibos teas, but it is worth considering that 10% of the profits go back to the tea farmers, to continually educate them on the best farming practices. Another factor that has contributed to the price is that the packaging is done with environmentally friendly materials which are re-usable and not cheap at all. Moreover, there are 80 tea bags in each package, which is considerably higher than most other products.
Verdict
These tea bags are a good buy if you want to support environmental-friendly products as you enjoy the benefits that red tea has to offer. They are natural, organic, non-GMO and free of sugar. Also, when buying the tea, you will be sure that you are supporting the South African farmers for sustainable production of rooibos tea.
No calories
Naturally sweet
No added calories
Sustainably and ethically farmed
Packed in non-bleached bags
Has a strong, rich natural flavor
The tea bags easily break loose
3. Freshpak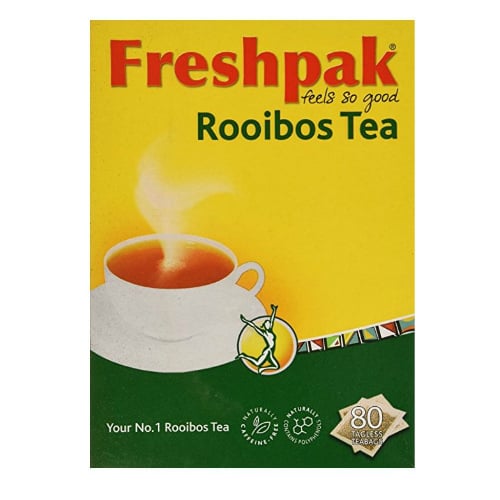 If you do not like the strong natural flavor of rooibos or if you are the person that likes it really rich, then Freshpak brand gives you the option of either the mild flavor or extra strength rooibos leaf. The Freshpak rooibos tea is imported from South Africa and packed in the US. The tea bags are tagless and wrapped in packs of the 80s.
Expand to see more
Features/Specifications
Tagless
Free of caffeine
Available as either extra strength rooibos tea or mild flavor
Naturally sweet
Each pack has 80 tea bags
Delivered as a twin pack, so you get 160 tea bags
Can be served as hot or chilled
Price/Value
It is very reasonably priced considering that it comes as a delivery of 160 teabags that last for a long time.
Verdict
Freshpak is one of the few brands that have different rooibos tea flavors. The manufacturer gives you the joy of choosing between the strong and mild flavor. We are all different, some people like their tea richly flavored while others want to enjoy the benefits without the strong earthy taste and herb-like smell. Well, Freshpak rooibos tea offers you both, you just have to choose what works for you. In addition, the price is unbeatable for 160 teabags.
Has many tea bags
Reasonably priced
No added sugar
Available as two flavors
No bitter taste with the mild flavor
Has a strong herbal smell
Easily loses flavor
4. Twinings Tea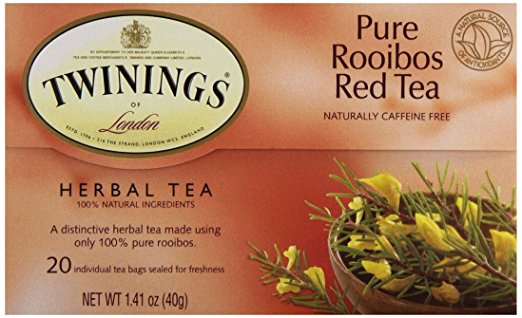 Twinings Rooibos tea is sourced from South Africa but packed and distributed in London. This product stands out as the tea bags are individually packed so that they can maintain freshness for longer. The twinings company has been making quality teas for over a century, so you can be sure of quality and safety. The tea is 100% rooibos with no other additives or preservatives.
Expand to see more
Features/Specifications
Free of artificial additives
Zero calories
Individually packed tea bags
20 tea bags in each packet
Can be served hot or chilled
Kosher certified
Price/Value
Twinnings tea is a bit overpriced considering that they are only 20 tea bags in each package. However, it would be prudent to consider that it will maintain freshness for longer, thanks to its packaging style and that it is 100% pure rooibos tea.
Verdict
If you like your teas fresh and also if you like carrying your tea bags around, then Twinings rooibos tea is the best to consider. The tea bags are individually packed, meaning that you can get one of them from the main pack and carry it with you, without worrying about it running loose or losing its flavor.
Teabags packed individually
Has a mild flavor
Free of artificial additives
Zero calories
Soothes the throat
Maintains freshness longer
Has a herb-like aroma
Overpriced
5. Numi Organic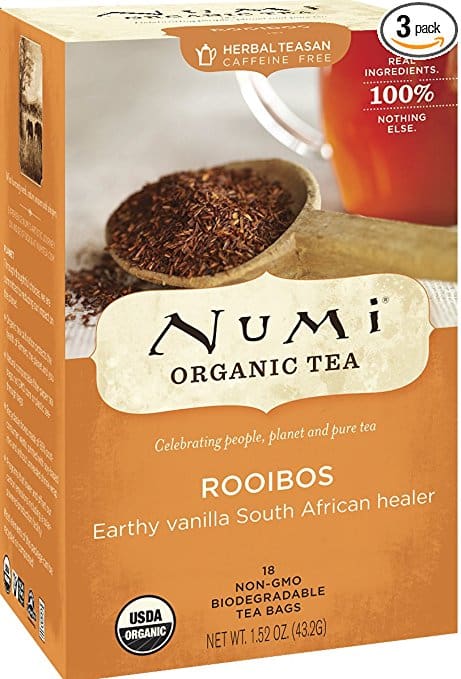 If you like your tea flavored, then Numi has you covered. It is available in 22 flavors including chamomile lemon, dry desert lime, decaffeinated ginger, jasmine, mate lemon, and white rose. The tea is organic and only blended with real fruits, flowers, and spices for the different flavors. Another key feature is that the tea is odorless.
Expand to see more
Features/Specifications
USDA certified organic
Tagless tea bags
Available in 22 flavors
Flavored with real fruits, flowers, and plant spices
Non-GMO project verified
Packaging is recyclable
Free of caffeine
Free of fragrances, oils, and artificial flavorings
Package has a total of 54 tea bags
Price/Value
Numi rooibos tea is reasonably priced for differently flavored tea bags and a 54-tea bag count for each order.
Verdict
Numi gives you the opportunity to enjoy naturally flavored rooibos tea as opposed to the plain traditional natural flavor. With the different flavors and individual packing, you can use them for a party or any other large gathering. In addition, the price is very reasonable for 54 tea bags.
Only flavored with natural ingredients
Odorless
Each tea bag is individually packed to maintain freshness
Free of artificial additives
Organic and environmental-friendly
Covering of the tea bags easily breaks
6. House of Rooibos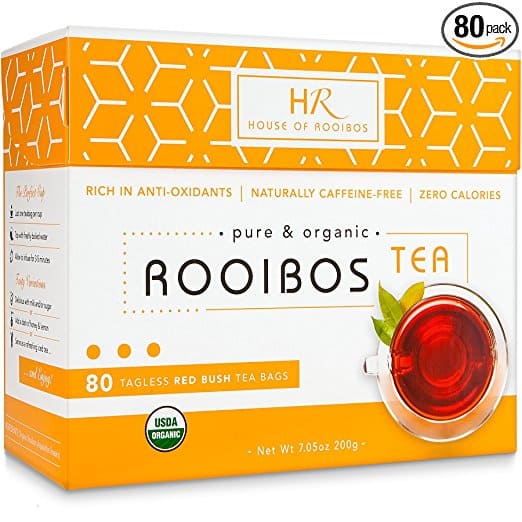 House of Rooibos manufacturer has been in the business of rooibos tea for a long time and has managed to maintain an excellent reputation. Their rooibos tea is 100% organic, sourced from South Africa in a well-controlled farm. They go ahead to include tasty recipes for you to try out. It has no preservatives, no added sugar, has zero calories and is packed in four batches of 20 tea bags, making a total count of 80.
Expand to see more
Features/Specifications
Pure and organic
Free of additives
Non-GMO
Packaging is recyclable
Has 80 tea bags in each packet
Packed in packs of 20s
Includes tasty recipes on how to prepare your tea
Price/Value
House of RooibosTheare all-natural and free of any artificial additives.
Verdict
This option is for those who like their rooibos tea natural with that earthly taste, odor and all the minerals, vitamins and antioxidants untouched by ultra-processing and artificial additives. It is also worth considering if you like organically grown products and those that are easy on the environment.
Organic
Caffeine free
Extremely rich in antioxidants
Sometimes the tea bags break
7. Celestial Seasonings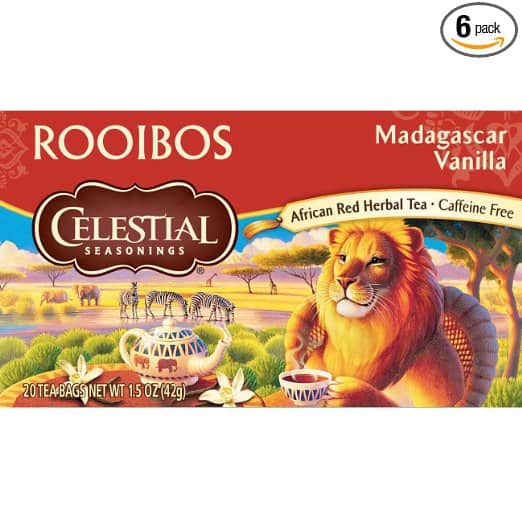 Celestial rooibos tea gives you 14 incredible and tasty flavors to choose from including pomegranate green, honey van chamomile, India spice, safari spice, safari chai and country peach passion. The flavors include some which are naturally sweetened with natural honey, so you do not have to put on extra calories from processed sugar. The tea bags are tagless and packed in recyclable boxes.
Expand to see more
Features/Specifications
Available in 14 different flavors
The tea bags are tagless
Free of artificial flavors, colors, and preservatives
Well-packed in reusable boxes
Each pack has 20 teabags
Can be served hot or cold
Price/Value
Celestial rooibos is slightly pricey considering that it only has 20 tea bags per packet. However, it is worth considering if you want naturally flavored rooibos tea and even naturally sweetened. Also, it is worth considering if you cannot stand other teas that are strongly flavored and have a strong herb-like smell since it is light in taste and sweet smelling.
Verdict
Although pricey, we strongly recommend it if you want a natural product that is naturally flavored, with a good taste and no smell. In addition, if you like your tea sweet and tasty, some of the Celestial rooibos products are naturally sweetened with honey, spices, and real fruits.
Many different flavors
Has a choice of naturally sweetened rooibos
Packed with reusable material
Light taste
No strong odor
8. Davidson's Tea Bulk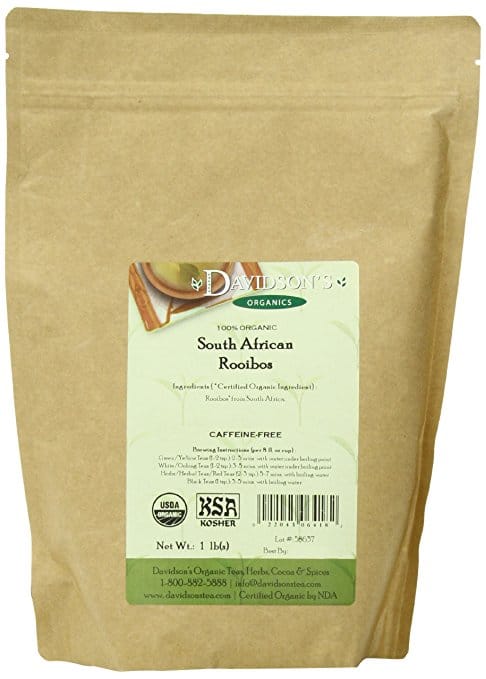 Davidson's Tea is unique because it is not finely broken down then packed into tea bags but it is just naturally dried then packed into a single bag as loose leaf. This is an advantage as you can manipulate it and mix it with other herbs of your choice. Also, in this form, it does not lose its flavor quickly. It is a USDA certified organic product, Kosher stamped and available in over 100 natural flavors.
Expand to see more
Features/Specifications
USDA certified organic
105 natural flavors
Loose leaf tea not packed in tea bags
Available in 16-ounce bag
Price/Value
This tea is budget-friendly and the product to go for when you want something that you can use for a long time.
Verdict
Loose leaf tea enables you to brew some richly flavored tea and enjoy most of the minerals and health benefits just the way you like it. You can also crash it further with other flavors or additives of your choice. The best thing about this rooibos product is that it is very affordable and the tea will last you longer than most other products.
Very many flavors to choose from
Certified organic
Loose leaf tea that you can mix with other herbs
Lasts long
Does not easily lose its strong flavor
Has an unpleasant aftertaste
9. Laager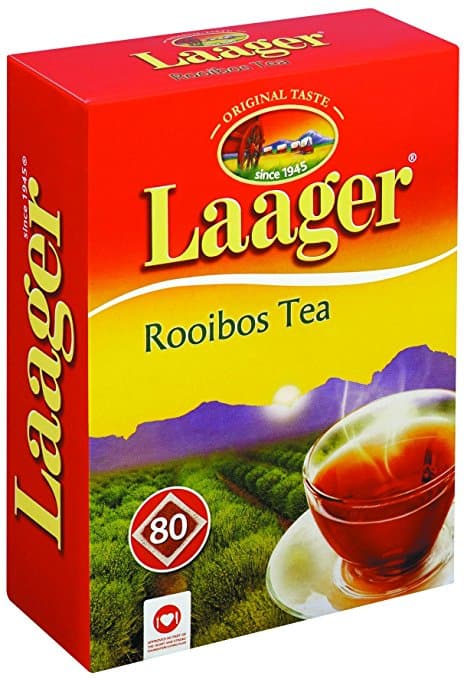 Laager rooibos tea is harvested, packed and shipped from South Africa. It is finished to taste natural with no bitter aftertaste and a rich a flavor suitable for all ages. The tea is 100% natural without additives, caffeine, preservatives or colors. Each pack has 80 quality tagless tea bags packed in one plastic bag to seal in moisture and prevent loss of flavor.
Expand to see more
Features/Specifications
100% natural, no artificial additives at all
Tagless tea bags
80 tea bags in each pack
Packed in an inner plastic bag to keep them fresh
No bitter after-taste
Price/Value
Laager tea bags are fairly priced for 80 tea bags that are all-natural without any artificial additives. They are also worth your money if you want rooibos tea with a mild taste and no bitter after-taste.
Verdict
For a mild rooibos flavor, Laager tea outshines other products. This makes it suitable for most ages at any time. In addition to its great taste, is that it is free of sweeteners, preservatives, and colorants. Other than its single bag packaging, all other features of this tea are fabulous.
Free of artificial additives
No bitter after-taste
Has a nice mild flavor
No flavor enhancements for those who like it plain
Suitable for all ages
The inner packaging bag is unresealable
10. Bos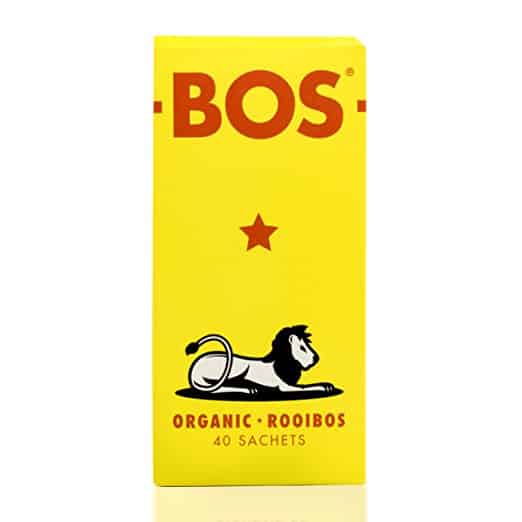 Bos rooibos tea is available both as loose leaf and in tea bags, giving you the freedom of picking the form of your preference. The loose leaf form is packed as a 5.68-ounce bag while the tea bag packet has 40 sachets. Bos rooibos tea is organic, has zero calories, and has no added sugar. However, it still retains its rich, hearty flavor.
Expand to see more
Features/Specifications
USDA certified organic
Packed in unbleached tea bags
Have no tags
Foil-wrapped to preserve freshness
No added sugar
Available in tea bags and as loose dried leaves
Price/Value
It is moderately priced but worth buying if you want the type of tea with a mild taste. If you prefer a stronger taste, then the loose-leaf form would be worth your money as you can brew it to get the strength of flavor that you want.
Verdict
Considering that this rooibos tea is in both tea bag and loose-leaf form for you to make both a mild and strong flavor, then it is the product to select. If you are a beginner in taking the tea or you are not sure of the strength of flavor that you like, then these two Bos forms will be excellent to try out.
Available both as dried leaves and in tea bags
Does not easily lose flavor
Certified organic
Quality foil packaging
Has a pleasant taste
Too mild for those who like a stronger taste
---
Product Criteria for Evaluation
Getting the right nutritional product can be a very easy task when you are used to them or when you have some background information. However, it can be a daunting task for rooibos tea, especially if you have never heard about this fabulous tea. We have taken our time to review rooibos tea products, to make your shopping extremely easy. There are so many products out there, but only the best made it to our list. This is the criteria that we used to compile our list.
User reviews and ratings

Verifiable and unbiased product reviews are an effective way of judging a product. From user reviews and ratings, you can learn how a product works, how effective it is, and even its downsides. We used user reviews from online selling platforms, but we only considered those that filter verified customers. We read through those reviews and picked the products that had the most positive analyses and highest rankings. We also put into consideration sellers that had the highest customer satisfaction ratings. We had in mind the drawbacks of the products, so we also picked what the buyers said was striking about each product and what they did not like, then came up with pros and cons for each of them.
Safety of ingredients
The best rooibos tea is grown in South Africa, in the Cederberg mountain region, under organic conditions. We made sure that the products that we included on our list are grown in certified organic projects in only approved soil conditions. We also picked products with the least or no artificial colorants, preservatives or sweeteners. Moreover, we put into consideration the products that put into use reusable and environmentally friendly packaging materials.
Low calories and sugar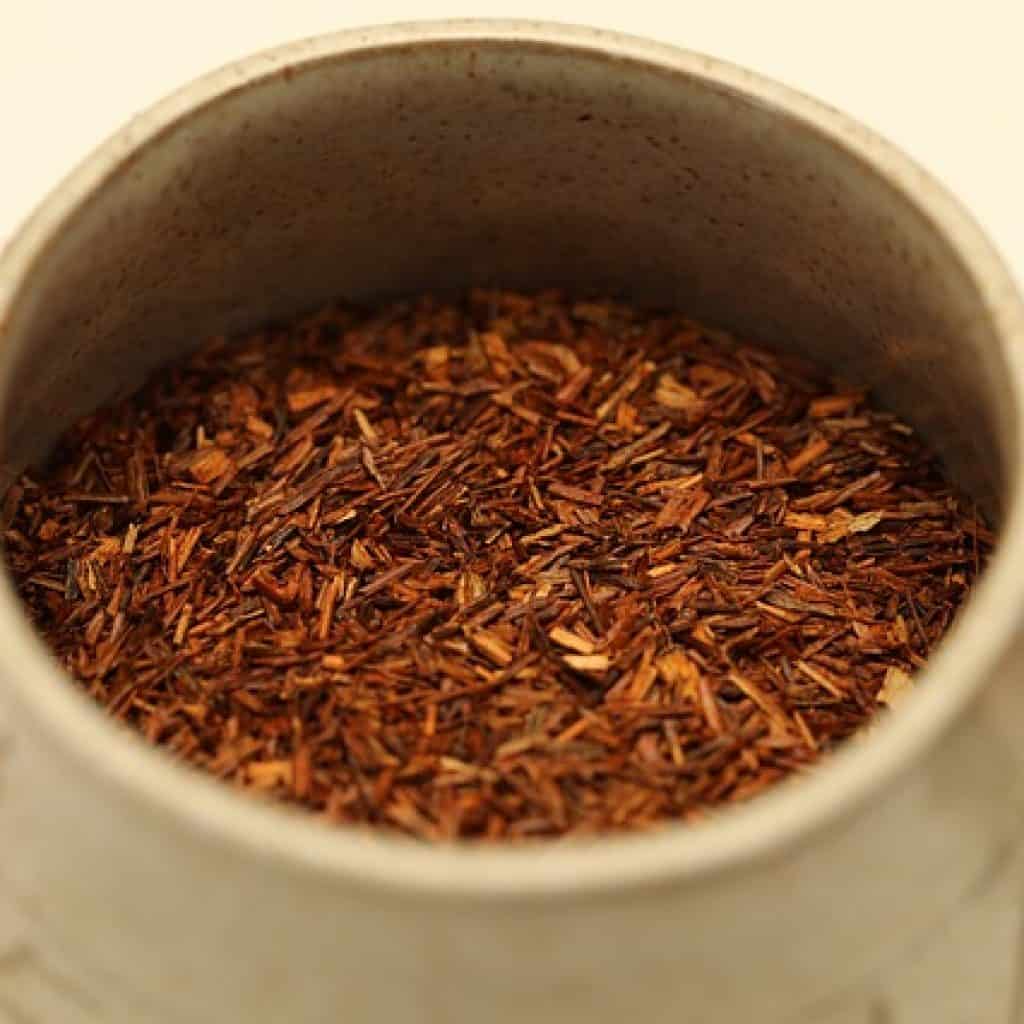 Our beverages are one of the leading sources of unnecessary calories and are worsening the situation of weight gain and chronic diseases. For these reasons, we included products with no artificial sweeteners, with zero calories and no carbs. However, we also considered individuals who like their tea naturally sweetened and the flavor altered. Therefore, we also chose products that are sweetened and flavored with natural fruits, flowers, and spices.
Brand Reputation
Brands do matter, and they speak volumes about a product. We chose brands with a strong reputation for safety, genuine products, freshness and great tasting nutrition products. Some of the brands have been on the market for decades and some even for centuries. Some of the manufacturers have been producing and distributing other teas, spices and beverage products for years. For those other products other than rooibos, they have also maintained the excellent reputations.
Flavors
We picked products with both strong mild rooibos flavors. We also included naturally sweetened flavors and rooibos teas with altered odor. We were keen to only include flavors from real fruits and flowers. You can also get the unaltered natural flavor then flavor it according to your preferences. We also included products that have added tasty recipes as part of the delivery package.
Rooibos Tea Benefits
You might have heard about the many benefits or rooibos tea but is it scientifically true or marketing gimmicks? You may have also tasted the tea from a colleague, friend or at a tea party and liked the color and the earthy taste of the tea. But really, why take this tea? Rooibos tea is a favorite for many not just because it is free of caffeine but also because it is loaded with antioxidants that are known to neutralize free radicals that cause damage to body tissues and can even cause cancer. The tea is also loaded with vitamin C, minerals and with just a few tannins. We have comprehensively broken down the benefits of rooibos tea in the paragraphs below.
Rich in minerals
Rooibos tea is filled with  with  iron, calcium, copper, potassium, fluoride, magnesium, manganese, alpha hydroxy acid and zinc. A proper level of calcium in the body helps maintain strong and healthy teeth and bones. In the long run, calcium helps to prevent osteoporosis and aids in the clotting of blood. Iron helps in maintaining a healthy hemoglobin and in the prevention of anemia. Copper a micronutrient, aids in metabolic enzymatic reactions and helps in proper growth and development.
Fluoride helps to reduce tooth decay and research has shown that it lowers cavities in children by more than 50%. Manganese plays a role in carbohydrate metabolism, the formation of connective tissues and aids in calcium absorption. Magnesium together with other minerals helps in maintaining healthy muscle and nerve function, support a strong immune action and to aid in the regulation of blood glucose levels.
Antioxidant
Rooibos tea is loaded with polyphenol antioxidants which play a great role in protecting the body from cell damaging radicals. In fact, rooibos teas have 50 times more antioxidant properties than most other teas. As an antioxidant, rooibos tea is great to fight off inflammations as it boosts the immune system by combating oxidative stress which is one of the primary contributors to diseases such as cancer, heart diseases, and Alzheimer's disease. In addition, the antioxidants have antiviral properties, that's why people like rooibos tea to shield their body from colds and flu.
Skin health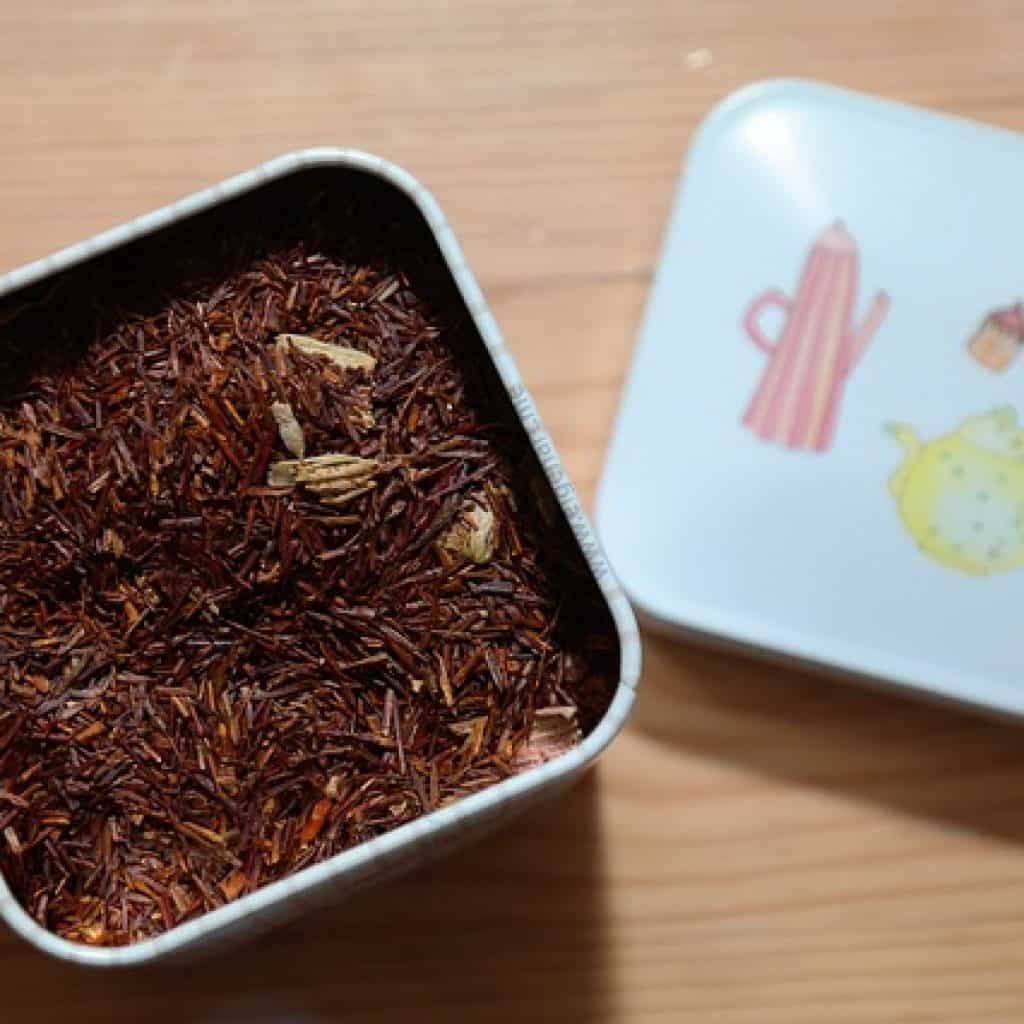 Rooibos is enriched with superoxide dismutase, a substance that is well known to remove wrinkles, rebuild body tissues, and prevent immature skin aging. This compound works by neutralizing free radicals which are the major villain in skin aging and disease-related skin aging. It also helps in boosting the production of healthy skin cells to replace the dead ones.
Flavonoids present in rooibos tea help in preventing skin disorders like eczema and acne. Scientific studies have suggested that rooibos tea helps to control acne by reducing the levels of inflammation, which is the mainstay of the mechanisms underlying acne development.
Rooibos tea also contains high levels of vitamin D and Zinc, which contribute to skin cell growth, repair and metabolism. Though you can get vitamin D from sun exposure, too much sun contributes to skin aging. That's when nutritional sources like rooibos tea step in to keep your skin glowing.
To enjoy the skin health benefits of rooibos tea, you can either take it as a beverage or apply it topically on the affected area. To make a topical application, boil one teaspoon of the dried leaves in 8oz of water and leave it for about ten minutes, wait for it cool then apply it directly to the skin.
Boosts hair growth
Rooibos tea is enriched with zinc, calcium, copper, and potassium which strengthen hair roots while promoting hair growth. Some of the users also use it to massage a sensitive scalp, wash hair and to control loss of hair edges and hairline. It is also effective in dealing with brittle and thin hair.
Relieve stress
Whether enjoying your rooibos with friends or alone just by your couch or your balcony, we all agree that it does help to cast away your psychological burden. Rooibos does not have caffeine and is low in tannins, but has an unbeatable unwinding and calming effect. According to the South African Rooibos Council, it contains compounds that reduce stress hormones. A report at the Pacific Collee of Oriental Medicine rooibos has a soothing effect on the nervous system and even helps in the long-term treatment of depression alongside other medications. Moreover, rooibos has plenty of magnesium a natural tranquilizer which helps the body to naturally adapt to stress.
Weight loss
Weight loss is a careful balance of diet, exercise, rest, and willpower. Diet plays an 80% role, meaning if you fail to adopt a healthy diet, all your other efforts could be thwarted. What you should aim for each day is to eat fewer calories than you burn. Rooibos tea does not work any magic in melting fat, but it helps in controlling your appetite. Also, rooibos tea reduces your sugar intake in beverages as you do not have to take it with milk or sugar. Although rooibos tea has a natural milk sweet, it is not as a result of sweeteners but rather due to the fermentation process.
Control of type II diabetes
Previous scientific studies dedicated to sugar control proved that rooibos tea has some hypoglycemic effects that are helpful in controlling type II diabetes. The best type of rooibos tea to control diabetes is the green unfermented type as it has the highest aspalathin flavonoids. A study conducted in 2012 proved that when rooibos tea extract is administered to rats with induced diabetes, it is effective in lowering glucose. However, if you have diabetes, you should consult your doctor and use rooibos tea alongside other medications as prescribed for you.
Does rooibos tea have any negative side effects?
Generally, it is very safe and negative side effects are very rare. Some of the side effects that have been noted are increase in liver enzymes as a result of prolonged intake of large amounts and increase in estrogen activity. For this reason, if you have any hormone-sensitive condition like breast cancer you should limit your intake.
The high level of antioxidants in rooibos is its key selling point but is both an advantage and a disadvantage as it can cause some health problems. The high level of antioxidants is of concern when combined with chemotherapeutic drugs. There is evidence that herbal teas including rooibos can intensify or weaken the effectiveness of chemotherapy drugs and can cause lethal reactions. Therefore, if you are on chemotherapy, it is wise to refrain from rooibos.
There is no substantial evidence of toxicity of rooibos tea, but cases or liver damage have been reported. Therefore, just like any other nutrient, use rooibos tea in moderation- too much of anything is poisonous.
Use of rooibos tea during pregnancy
The tea is safe during pregnancy.  It is free of caffeine, loaded with minerals, vitamins, and antioxidants which are beneficial to the mother and the fetus. Pregnant women can even replace their caffeinated teas as it does not have the diuretic effect and depletion of nutrient absorption, which is common with other beverages.
Another benefit of rooibos tea in pregnancy is that it aids in digestion, eases colic and acid reflux. This helps in controlling indigestion, heartburn, and constipation, some of the commonest minor complications of pregnancy.
How to make rooibos tea
To make rooibos tea, put the tea bag or a spoonful of the tea in boiled water then steep for about 15 to 20 minutes. According to your preference, you can prepare it with milk and add sugar. If you are avoiding added sugar, rooibos tea has a natural mild sweet taste, thus, can be taken unsweetened. You can then serve it hot or chilled.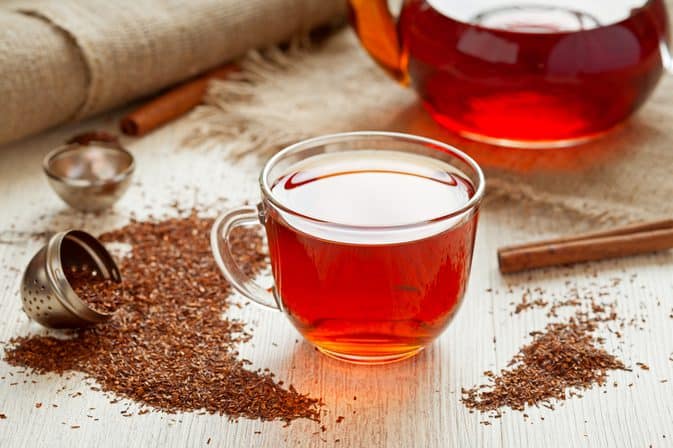 To flavor it you can use lemon, mint, orange, cinnamon, berries, apple or any other item of your choice.
Sample recipe: Iced lemon-mint rooibos tea
To serve: 6
Time taken: 20 minutes
Ingredients:
Three rooibos tea bags
½ sliced lemon
Eight mint leaves
Maple syrup (optional)
½ gallon of water
Method
Bring the water to boil
Put rooibos tea bags, mint leaves, and maple syrup in a pot
Add the boiled water into the pot and leave to steep for at least ten minutes
Stir it till its cold then remove the solid ingredients and squeeze the lemon juice into the mixture
Refrigerate or serve when hot
You may also play around with the fruit flavors and plant spices to make it more fun.
You can also apply it directly to your skin if you have acne issues or use it on your hair.
FAQs
Why rooibos tea?
This tea an herbal beverage with medicinal properties. It is acquired from Aspalathus linearis bush plant, a broom-like member of Fabaceae family. The tea is semi-sweet with an earth-like taste and a reddish appearance.
Where does it come from?
Rooibos tea grows in the mountainous part the western cape region in South Africa. The tea bushes are adapted to the Cederberg mountain soil, climate and attitude and only do well in this area.
Can I grow it in my kitchen garden?
For the original make-up of rooibos tea to flourish, it has to grow in the Cederberg region. If you grow it in your garden, it may not have the same flavor and smell. Therefore, the best of rooibos tea comes from South Africa.
What are the benefits of taking it?
Rooibos tea has many benefits, but the most notable are protecting the body from diseases through its antioxidant properties, maintaining skin health, controlling type II diabetes, aiding in weight loss and relieving stress.
Is rooibos different from green tea?
Rooibos tea differs from green tea in that rooibos does not contain caffeine and has very low level of tannin. Also, green tea can grow in many places while rooibos only flourishes in Cederberg region in South Africa.
Does it contain caffeine?
Rooibos tea is naturally free of caffeine, can be taken any time of the day even before bedtime and is safe for people with insomnia.
Does it have any side effects?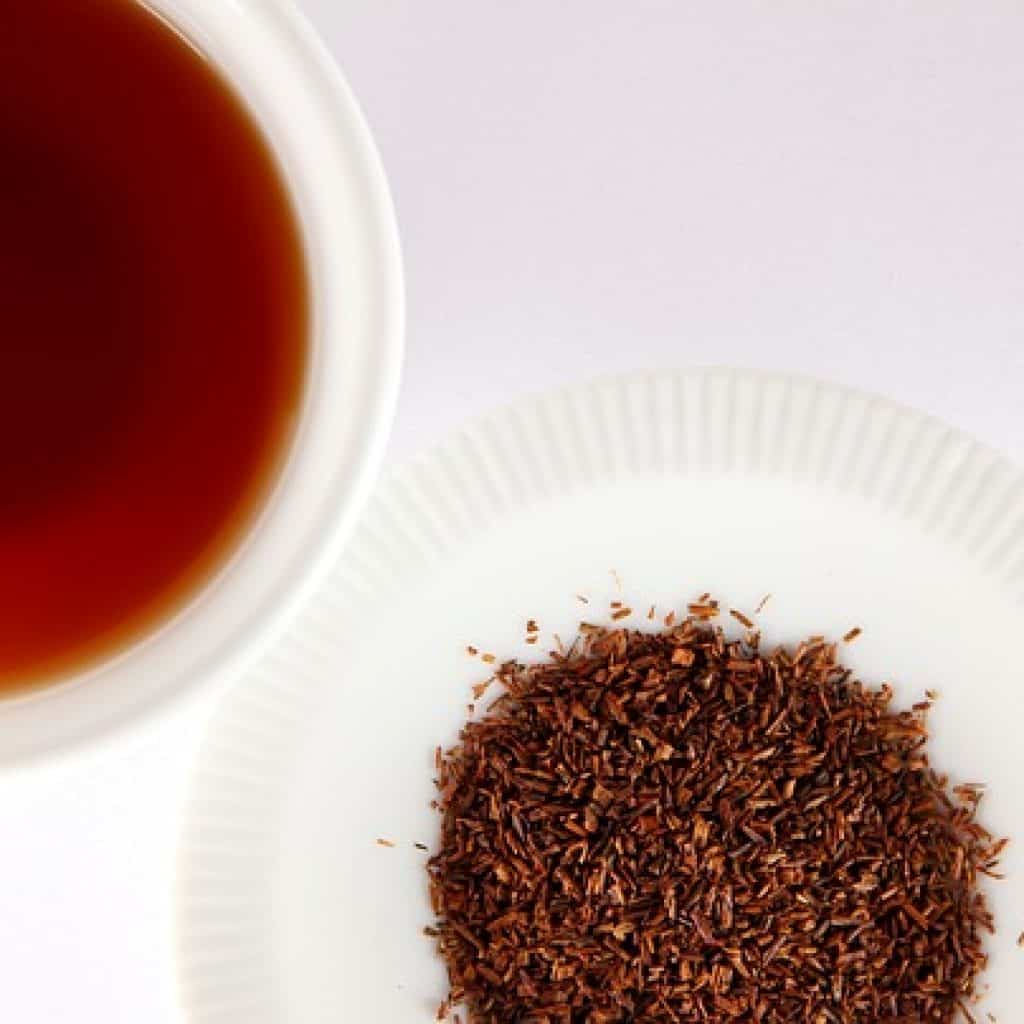 Rooibos rarely has side effects, but there are those that have been reported. It can enhance estrogenic activity, can augment or lower the effectiveness of chemotherapy drugs and prolonged use of large amounts can cause liver damage.
Can I take rooibos tea when pregnant?
Rooibos tea is safe during pregnancy and even helps in dealing with complications like indigestion, constipation, colic and acid reflux, which are common in pregnancy.
Can I give it to my children?
Rooibos tea is safe for children and is actually what made rooibos a well-known medicinal tea. It particularly helps children with colic and stomach pain. It contains antispasmodic properties that relax the smooth muscles of the digestive system by activating potassium ions without blocking calcium ion, thus easing stomach cramps and reducing hyperactivity of the tract.
Are there any restrictions on taking rooibos tea?
It is not wise to take rooibos tea if you are on chemotherapy, if you have any hormone-sensitive disease or if you have any history of rooibos sensitivity. In addition, take the tea in moderation as large amounts used for an extended period can be harmful to the liver.
Subscribe to our Newsletter