Best Kombucha Teas Reviews & Ratings
Disclosure: We use affiliate links and may receive a small commission on purchases.
You can call Kombucha a variety of names like tea mushroom, Manchurian mushroom, or even Medusomyces gisevii if you want to get a bit technical. The tea has been around for more than 2000 years and it originated from the Far East. Due to its benefits (to the heart, brain, gut), Kombucha or better known in China as the "Immortal health elixir" has been extending its reach to most other countries. Now, like most teas out there with a myriad of benefits, there are ingredients used. In that regard, we have the following subsection.
Yogi Tea

Our rating
Good Value
Price:

See Here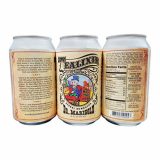 Tealixir

Our rating
Tasty
Price:

See Here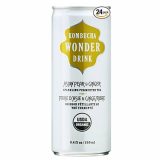 Wonder Drink

Our rating
Effective
Price:

See Here

Ingredients used in making Kombucha
Kombucha is made from various common but still important ingredients for benefits like overall maintenance of the body and better immune system. As a matter of fact, it's made up of black tea or green tea, but the difference being fermentation when you compare it to the likes of Masala Chai. In-depth, we use black or green tea and sugar (from honey, fruits, sugar cane, etcetera) that's fermented by the presence of colonies of bacteria and yeast. The latter (bacteria and yeast), being called SCOBY—which is an acronym for Symbiotic Colony of Bacteria and Yeast. Now, as a result of that fermentation, Kombucha teas or drinks can boast of enzymes, probiotics, vinegar, B vitamins, and acids (lactic, acetic, and glucose).
Kombucha teas
As a matter of fact, you can as well make Kombucha at home if you want. But since any contamination can result in dire consequences, we advise you to pick a product made by a reputable/trustworthy company. These companies either make Kombucha in the form of drinks that are stored (in bottles) for you to consume or they manufacture them in the form of tea bags/powder. Regardless of which one you prefer, we've gathered a list of the best Kombucha teas that you can invest in.
10 Best Kombucha Teas
1. Yogi Tea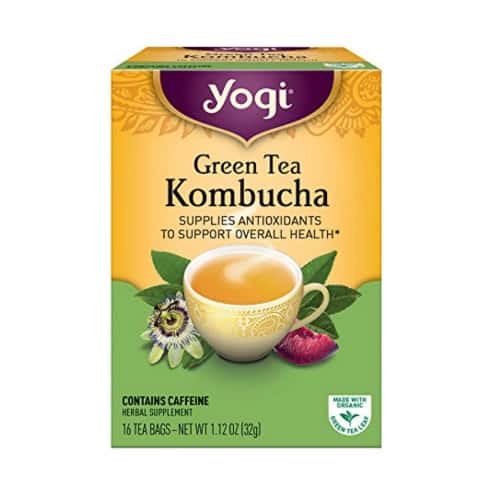 This Kombucha product from Yogi tea as you're most likely suspecting is remarkable. Firstly, you have a reputable company investing time, funds, and ingredients in Kombucha. Secondly (which we consider the better) is the fact that they do it right. The tea as expected is made from organic decaffeinated green tea which is spliced with spearmint, passion fruit, plum, and lemongrass.

All of these ingredients result in a tea that's smoother than most teas we've tested/tasted (it's sweet but not overly so). Although, we noticed that this might differ in your case if you like something sweeter. In that regard, adding honey will go a long way in enhancing the flavour. Other than flavour, each individual ingredient makes other contributions (namely benefits). Summarily, green tea supplies your body with antioxidants and boosts immunity while the others (mainly spearmint) aid digestion.
Expand to see more
Features and Specifications
Tested method that dates back to ancient Russia
Made with organic decaffeinated green tea
Supports the immune system and supply antioxidants
Spearmint improves digestion
Made with Non-GMO ingredients
Lemongrass and plum gives the explosive flavour
Kosher, vegan, and gluten-free
Compostable tea bags
Can be enjoyed any time of the day
Price
The price is highly reasonable regardless if you compare it to other Kombucha products out there or not. Though, we always try to mention how individual opinion of price varies among people. Nonetheless, we still think—for all the benefits you get, the Yogi Tea Green Kombucha is reasonable.
Conclusion
The tea is made from decaffeinated green tea (antioxidants and immunity) that's blended with spearmint (digestion), plum (for the rich flavour), and other equally important ingredients. Couple that with the reasonable price and this is a Kombucha tea that'll do well by anyone that's willing to invest in it.
Reasonable price
Value for money is outstanding
Has a rich flavour
Inherently healthy (beneficial)
Doesn't contain any caffeine
Organic and gluten-free
Takes time to be effective
2. Tealixir Herbal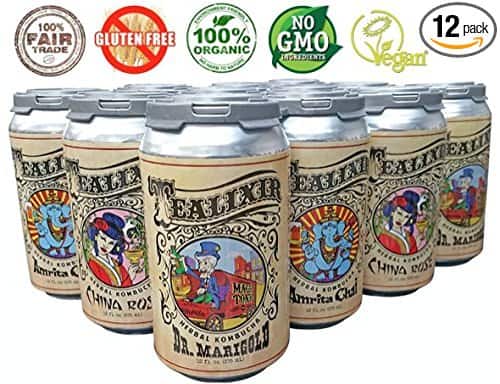 This particular product is unlike the previous one that uses tea bags. It, instead is prepared in the form of bottled Kombucha teas that you can consume anywhere and anytime. Consequently, this product is far better than most sugary products (drinks) out there since you'll be getting various benefits and you even don't need to compromise on taste/flavour. With that explained, we can move on to the product itself. The Tealixir Herbal Kombucha Tea is based off of a reasonable blend of black tea and green tea which are organic. This is due to the package containing different flavours with the same overall benefits.

Continuing the last point, the product has three distinct flavours which are gotten from the medicinal ingredients that originate from North America, China, and India. For example, you'll find ingredients such as echinacea (North America), tulsi (Indian), and rhodiola rosea(China) in the flavours of the product. Essentially, with all these ingredients, you get the common benefits of using Kombucha and at the same time—you'll benefit from the restorative powers (in terms of vitality, stamina, and healing) of the different products overall.
Expand to see more
Features and Specifications
Delicious and refreshing
Contains probiotics and all-natural ingredients
Kombucha tea is highly rich health-wise
Contains 12 Oz per bottle
Rich flavour
Vegan, 100% organic ingredients, and contains no GMO ingredients and gluten
Suitable replacement for sugary drinks
Price
Compared to the tea bags, the price is a bit much. But when you compare this product to others like it, it's actually reasonable. The Tealixir Herbal Kombucha Tea boasts of 12 can bottles per one package. Nonetheless, a select few might prefer the previous product to it. In summary, the price is good.
Conclusion
A drink that you carry anywhere you go and drink without preparation (immediately) is what you get it you pick the Tealixir Herbal Kombucha Tea. Couple this portability with the benefits and price/value that you get and this is a must-have if you're looking for a competent Kombucha product.
The tea has nice flavours
Highly beneficial (health-wise)
Value for money is good compared to other of its kind
100% organic, gluten-free, vegan, and contains no GMO ingredients
Different flavours
Takes time to be effective
3. Kombucha Wonder Drink
With a credible reputation that spans years, the Kombucha Wonder Drink is made by a credible manufacturer. It contains ingredients such as oolong tea (a bit unorthodox but no less effective), Asian pear, and ginger. As a result of these ingredients, we can say the tea (drink) is equipped with a vast repertoire of benefits/features. It supplies antioxidants, boosts immunity, has a rich flavour, and lastly, delivers quickly (effects quickly show). On the part of flavour, the taste of the tea is light and not at all heavy while the scent is attractive and just deep enough.

Also, we noticed that the sugar content was balanced which is a point that even the previous product doesn't have. Though, the previous product is a bit stronger overall. Regardless, you can add in some natural sweetener if you can accommodate the sweetness. Summarily, this is a product that's a good performer in its niche (Kombucha tea).
Expand to see more
Features and Specifications
Pack of 24 (8.4 ounces per bottle)
Combination of blended organic pear, ginger, and oolong tea
Fermented tea
USDA organic
Flavour is bold and deep
Can substitute sugary products (specifically drinks)
Price
The price is better than that of the previous product. Meaning, it performs remarkably as a Kombucha tea (valuable) and it doesn't come at a steep price. Essentially, the Kombucha Wonder Drink has excellent value for money.
Conclusion
The Kombucha Wonder Drink has a nice taste, scent, price, and can boast of some very impressive features/benefits. So, we find that this product is a good recommendation to people who want an effective tea (Kombucha or otherwise).
Has an excellent price
Value is remarkable
Taste and scent are bold but not too heavy
Delivers on its claims (effective)
Sugar content is ok
Can typically be iced
Sugar level might not agree with some people
4. Health Ade Organic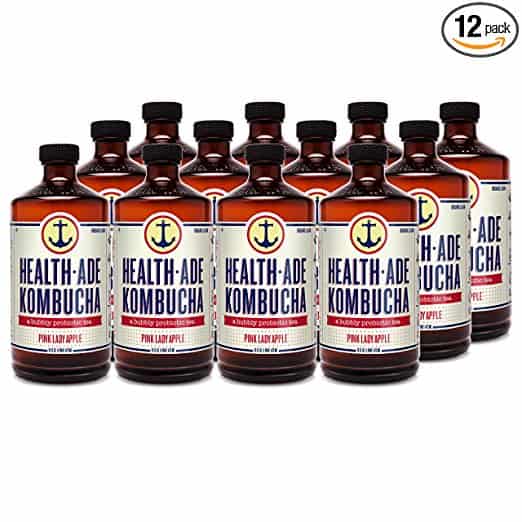 This particular product is made from a combination of black and green tea, Kombucha culture (yeast and bacteria culture), cane juice, fresh pressed ginger, organic cayenne pepper, and others. As a result of this combination, the product is a wonderful health concoction that has a rich flavour. Breaking it down, you get benefits such as enhancement of gut and heart health, improvement of digestion, and maintenance of cardiovascular health. On the part of flavour, you get a drink that is not heavy and thick. Rather, it's extremely smooth to the feel and when you take account the scent, the flavour becomes an incentive.
Expand to see more
Features and Specifications
Vegan, raw, kosher, gluten-free, and organic certified
Special all-glass small batch fermentation
12 bottles (16 oz) per package
Flavour is deeply rich
Packaged in dark glass to protect probiotics (bacteria) from UV light
No dyes, powders, concentrates, forced carbonation
Price
The price is reasonable. Take it this way, you get a lot of benefits/features for a price that can be considered average. So, we say it once again—the price is average at 192 oz per package.
Conclusion
Despite the features that the Health-Ade Cayenne Cleanse Kombucha can boast of, its price is still up for debate. We, personally think its reasonable but if you're on a tight budget, you might want to get another product. Despite that, you should still give it a buy if you can ignore its price.
Has a deep flavour
Vegan, kosher, raw, gluten-free, and organic
Price is reasonable
Health benefits are remarkably effective
Sugar content is low
Price might still not agree with some people
5. GT'S Organic Raw Gingerade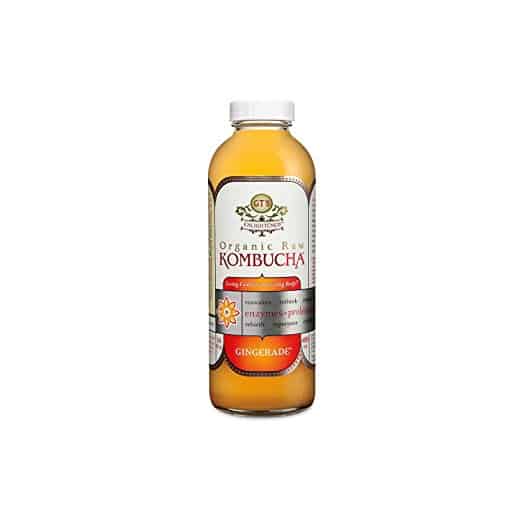 If you want an organic Kombucha drink that's portable, quick to consume, and versatile in benefits, the GT'S Organic Raw Kombucha Gingerade is a good contender. To run it down, it has a deep flavour that's not too sweet (honey or lemon can sweeten the deal), a myriad of benefits (good for the heart, guts, and brain), and requires no preparation, unlike the Yogi Tea Green Kombucha. Now, all of these things were advertised by the manufacturer so they're not necessarily our words. That opinion changed when we tasted the tea and personally witnessed its claims (which are true by the way). As a result of this (we're impressed), our choice to include it on the list is rather obvious.
Expand to see more
Features and Specifications
Organic raw Kombucha
Fresh ginger included as an ingredient
Tea is fermented
Intestinal health is improved
Flavour is light
Gluten-free, vegan, and Non-GMO
Price
The price, for a Kombucha bottled drink, is average. It's not better than that of the previous ones but it makes up for that with its effectiveness. Regardless, the product might not be suitable for individuals on a budget and they'll most likely appreciate the cheaper ones.
Conclusion
GT'S Organic Raw Kombucha Gingerade is highly effective in terms of price and functionality. As a result of this, we find ourselves swayed to recommend it to potential buyers of Kombucha teas.
Price is just ok
Has a rich flavour
Non-GMO, vegan, and gluten-free
Value/effectiveness is top-notch
Sugar content is low
Price might still not agree with some people (tight budgets)
6. BAO Food and Drink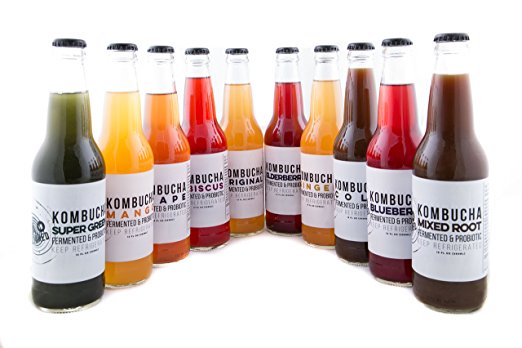 The packing is a bit unorthodox which is partly what attracted us and also what sets the BAO Food and Drink Kombucha apart (like the Tealixir). The product features flavours such as mango, mixed root, super green, grape, etcetera. As a result of this, the flavour is top-notch since it successfully creates a sense of variety. On the part of functions, the flavours share the same potency. All of them are equally beneficial to the gut, heart, and brain. So, all you're left to do is to pick flavours based on your mood whilst assured that you're not missing out any benefit. Now, there's a point you should note down. Due to the product being tested/tasted by different members of ours, we noticed that you might find the taste a bit weak (regardless of flavour). In that regard, use a natural sweetener like honey to get your desired taste.
Expand to see more
Features and Specifications
Mixed flavour (12 per pack)
Flavour is pleasantly different
Organic Kombucha tea with caffeine
Health benefits to the heart and intestinal
Fermented tea
Price
The price is a bit high. Consequently, it might not be suitable for individuals on a tight budget. Nonetheless, if you can ignore the price and you find the features (such as its variety of flavours) attractive, we advise you to give the product a buy.
Conclusion
The BAO Food and Drink Kombucha features different attractive flavours at a disappointing price. But like we said, you should still give the product a buy if you can ignore its price. It works quickly, is highly effective, and has a mild sugar content. So—we fully recommend it to you.
Sugar content is low
Individual flavour is different but no less bold
Improves gut and heart health
Features various flavours
Highly effective concoction
Might be a bit bland for a select few
7. Brew Dr Superberry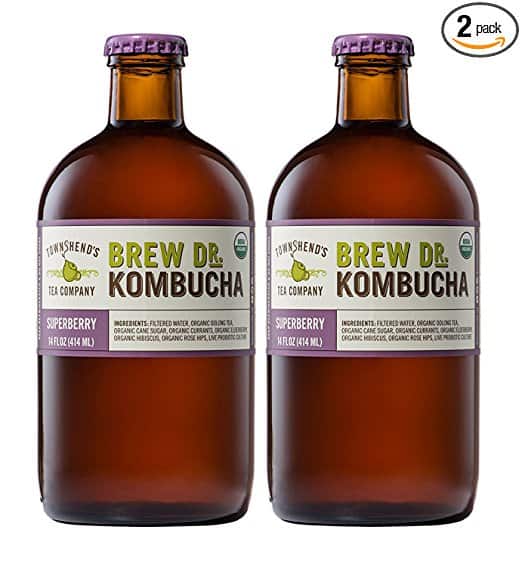 The Brew Dr Superberry Raw Organic Kombucha according to the manufacturer is a healthy brew of organic and healthy ingredients that lead to a subtle flavour. Wherein, as a result of the latter, the drink is a perfect fit for individuals who're new to Kombucha teas. Although, we personally think that's not a speciality of this product since the others are likewise great for this purpose too (suitability). Regardless, we're talking about this product for now.

It has organic cane sugar, organic oolong tea, rosehips, probiotic culture, and different others. Each of these ingredients is typically used to create standalone teas. But now, calculate the sheer benefits you get when you competently blend them together. From that point, we summarized the above that the product is a healthy brew of organic and healthy ingredients. Essentially, what we mean is that this tea can be used for boosting immunity, digestion, heart health, and a myriad of others.
Expand to see more
Features and Specifications
Suitable for individuals new to Kombucha
Comes in 2—14 oz bottles
Kombucha means fermented tea
100% organic raw Kombucha
Subtle taste when compared to others
Probiotic drink made in Portland, Oregon
Price
The price is underwhelming when compared to any of the previous products on this list. This, in turn, is the reason why we find this product unsuitable for individuals on a budget. Although, as price differs from one individual to the other, your opinion might differ from ours. Regardless, you should note that the value is off the charts.
Conclusion
The Brew Dr Superberry Raw Organic Kombucha has a subtle taste that's further complemented by healthy benefits (overall maintenance of the body/system). Also, its suitability for individuals new to Kombucha makes it a good performer. Nevertheless, it has an underwhelming price that should be taken into consideration. So, we recommend you give the product a buy if you don't mind the price.
Has a great, attractive taste
The scent is subtle
Delivers on its health benefits
Organic ingredients used
Suitable for individuals new to Kombucha
Price is rather disappointing
8. Kombucha Wonder

A Kombucha tea with a tasty cherry flavour is rather impressive. It boasts of the normal benefits of Kombucha (healthy for the gut, heart, and brain) and this is as a result of its list of ingredients. The Kombucha Wonder Drink has green tea, organic Kombucha (oolong tea, yeast and bacteria culture, cane juice), cherry juice extract, and a few others that complement the benefits and flavour. On the part of the tea's sugar content, it's a bit high (at 10g) which means you should most likely not include unnatural sweeteners. We say unnatural since natural sweetener like honey, for example, will prove beneficial to the body in the long run. Although, this is only possible since the tea isn't all that sweet (to us) despite its sugar content.
Expand to see more
Features and Specifications
Antioxidants
Tea comes in a pack of 12
Cherry flavour
80% organic ingredients
Amino acids
Non-alcoholic drink
Price
It's not the best we've received but it's also not the worst. Hence, we can say the price is above average for the kind of features (that delivers) it has. It's literally an ok fit for individuals on a budget.
Conclusion
If you like the taste of cherry in your teas and you want a drink that's also beneficial to your whole system, then the Kombucha Wonder Drink is an ideal fit for you. On the part of the price, the tea is also reasonable and it might be suitable for individuals on a budget (depends on each individual). So, this is a good performer in all major areas (price, quality, quantity, etcetera).
Has a deep flavour (specifically the scent)
The price of the Kombucha Wonder Drink is reasonable
Gives benefits that are important health-wise
80% organic ingredients is adequate enough
Taste might not agree with some people
9. KEVITA Master Brew

Likewise the above product, the KEVITA Master Brew Kombucha is cherry flavoured. Unlike it, the flavour is deep and actually requires no sweetener (natural or otherwise) at all. Although, you could still use it despite its taste if you prefer another unique flavour (honey and lemon juice will do well here). On the part of ingredients, this product features the typical organic Kombucha ingredients such as yeast and bacteria culture and tart cherries. Due to that (gives flavour also), there are benefits such as better digestion, regulation of cholesterol levels in the body, and provision of antioxidants to the body. Resultantly, this tea is ideal for any individual on the lookout for an excellent Kombucha tea.
Expand to see more
Features and Specifications
Fermented tea (Kombucha)
Rich tart cherry flavour
Source of antioxidants
Organic ingredients
Probiotics included
Price
The price is ok but the value is slightly better. Hence, we can say the value for money of the KEVITA Master Brew Kombucha is reasonable and we recommend it to all.
Conclusion
Giving the KEVITA Master Brew Kombucha a buy means you're getting an ideal Kombucha tea regardless if it's the ninth on the list. Though it is not as effective as others but for the flavour and variety it gives (a matter of preference really), the Kombucha tea is excellent. Still, the price itself might not be suitable enough despite it having good value for money.
Ok value for money
Effectively delivers all the health benefits of a Kombucha tea
Flavour is addicting if it agrees with you
Organic ingredients boost safety if ingredients and much more
Tart cherry flavour is sour and might not agree with some people
10. BUCHA LIVE

It's the last product on our list for a reason. Nonetheless, we're complimenting the ingenuity shown by the company during production for now. The Bucha Live Kombucha features the usual; organic Kombucha ingredients and a rich flavour that depends on user preference. In regards to the latter, the tea features a splice of grapefruit and sage. This gives a light but deep tasteful liquid that when chilled—gives satisfactory results. Furthermore, the benefits you get when you use this tea is on par with the first product on the list. So, worry not about the functionality of the tea.
Expand to see more
Features and Specifications
Features a taste and scent that's formed from the combination of grapefruit and sage
12 bottles (16 fl oz) per package
Organic ingredients (USDA certified)
Kombucha is fermented tea
Gluten-free, wheat-free, vegan, and low carb dairy
Price
Now, the price is the one shortcoming (other than overall effectiveness) that the Bucha Live Kombucha has. Though, mind you, the tea is valuable but as the price is underwhelming, it has its position as the tenth product on our list. Hence, the Bucha Live Kombucha might not be suitable for you if you have a spending limit (concerning Kombucha teas).
Conclusion
Despite the price, it's like we said—the value is good. Due to that, we recommend it to you if you prefer the product's grapefruit/sage flavour.
Grapefruit/sage flavour is addicting
Highly beneficial to the body
Product features organic ingredients (USDA certified)
Gluten-free, wheat-free, vegan, and low carb dairy
---
How to use Kombucha
Despite the fact that most of the products on this list are bottled, there are rules that guide using Kombucha.
On the part of teas, all you have to do is to boil some clean water (8 fl oz), let it cool a bit, drop a single tea bag into the steaming water, then allow it to steep for about three minutes. Thereafter, you can consume the tea 1-3 times daily.
On the other hand, if you buy the bottled variation of Kombucha tea, consuming it is obviously simple. You remove the bottle's cover, drink about 6-8 fl oz of the liquid at a single setting and drink the remaining (if any) after some time (3-5 hours). This should be done daily (1-2 times) by you. For more information on this, you can check the packaging for more instructions (they're more specific) or you can simply use this one (tailored to all Kombucha drinks).
Maintaining Kombucha Teas/Drinks
To elongate the lifespan and to also protect the effectiveness/potency of the Kombucha products on this list, there are some tips you can use for the sake of maintenance. In regards to that:
Do not expose the drink to too much heat lest it kills off some of the inherent quality. If you can't drink a whole a bottle at once, do not forget to cover it up and take it at a latter setting. This, in the long run, helps prolong the lifespan and quality of the Kombucha drinks. On the part of teas, never expose them to sunlight and avoid any contact with water. Failure to do this might spoil the tea bags.
Benefits of Taking Kombucha Teas
As with all consumables, there should be incentives for you to consume Kombucha teas. Eating meat, for example, helps supply the body with the needed energy and also aids growth. So, Kombucha teas are not excluded from such obligation. In regards to that point, we want to treat the benefits you'll get if you consume Kombucha teas.
Useful for the lungs
Kombucha teas are potentially useful in treating silicosis. Silicosis is a lung disease that is caused by overexposure to silica particles. It causes shortness of breath, loss of weight, fatigue, heart failure (cor pulmonale), tuberculosis, and various others (respiratory-related problems). Now, Kombucha are potentially useful not as a drink in this particular case, but as an inhalant. This is because the lungs are respiratory organs and to heal that type of organ, there's a need for direct contact with the medication. Essentially, you inhale the Kombucha to get this particular benefit.
Prevents a variety of diseases
As you'll notice from the above review of products (Kombucha teas), we mentioned that Kombucha teas enhance gut processes. This is the number one use of a Kombucha tea. Alas, there are other benefits that a Kombucha tea processes in the body. It, for example, prevents diseases. Any competent Kombucha tea (like the ones above) that you choose to invest in will provide your body with antioxidants—which are substances that combat free radical. Hence, you get to prevent cancer for example. Furthermore, Kombucha teas are useful for detoxification and immunity enhancements. Wherein the former is helpful for purging the body of foreign poisonous items and the latter can be used to stop common cold (at the lowest) and prevent fever.
Aids mental development
As you'll notice above, we also made mention how Kombucha tea is a great contributor to brain health. We say this because Kombucha contain high concentration of B vitamins as one of its ingredients. And as you well know, if you want an increased work output (due to an increase in energy) and overall maintenance of the brain, you can't go wrong by investing in B vitamins. For example, a competent Kombucha tea can help minimize anxiety and depression (examples for the latter) in individuals.
Maintains heart health
Kombucha can be used to maintain heart health. It lowers levels of triglycerides and also balances cholesterol levels in the body. Nevertheless, if you don't know how harmful triglycerides and high cholesterol levels are, here's a summary:
Triglycerides can cause stroke
High cholesterol levels can cause diabetes
High cholesterol weakens brain performance
Triglycerides can cause acute pancreatitis
They can cause heart diseases and attacks, etcetera
Ideally, the right thing to do in this scenario is to practice good eating habits (lots of vegetables and no sugar or unsaturated fat) and also exercise. After that, you can just add in the use of Kombucha teas like the ones on this list to get cardiovascular health maintenance.
Enhances gut health
This, as mentioned above is the most important and most popular benefit of using Kombucha teas. It does this by making use of ingredients such as probiotics, enzyme, amino acids, and other acids like that. Summarily, it can heal stomach ulcers, prevent candida from overpopulating the gut, and simply enhance all the functions of the stomach. If any of these benefits appeal to you, then you can select any of the products above (after going through them).
Enhances liver health
The liver is a vital organ in the body that filters out harmful substances from our body (as you well know). With that point, it should be properly maintained in order to maintain and even enhance our body's health. For that purpose, you can very much use Kombucha. The antioxidants present in Kombucha may protect the liver from oxidative stress and damage induced by acetaminophen overdose. Wherein, the latter is a pain medication that can also cause coma and even death if not properly/suitably used.
Antibacterial properties
It's a bit humorous how a tea that contains bacteria can be used to fight its kind. Nonetheless, there are bacteria that are beneficial to the human body and there are those that are useless and can even pose a threat to our body (infections are an example). Kombucha in regards to the above kill those bacteria that may pose a threat. An example is a strain of Campylobacter jejuni (C. jejuni). It causes food poisoning wherein a case of Guillian-Barré syndrome follows thereafter. The syndrome will make the immune system attack the nervous system and side effects such as high or low blood pressure, blood clots, and abnormal heartbeats. Summarily, if you use any competent Kombucha tea, you're killing bacteria such as the C. jejuni.
Overall, we can say Kombucha is good for total maintenance of the body. It enhances brain, intestinal, and heart health (amongst others). So, we find that it's a tea that should be regularly consumed for its wide scope of benefits/uses.
Criteria for Evaluation
Regardless if you want to use the following to investigate your Kombucha product or you simply want to verify our selection methods, this section will provide the information you need. Although, do take note that it's not all of our methods that you'll be able to use. Regardless, this section is the amalgamation of the tests or might we say, the methods that we use in evaluating any product that comes our way. Why we do is because we want to see if the product is indeed suitable for use or if it's simply a fluke. On that front, the products here passed through the following tests before they were included on this list.
Testing the product
We first find a product that fits the niche we're writing for then we buy multiple copies of the item. Thereafter, we begin testing the products through various means to see if the claims made by their manufacturers are true. An example of what we mean is the GT'S Organic Raw Kombucha Gingerade. As we said, the manufacturer (like most) made bold claims that were begging to be probed so we thoroughly investigated its workings. The result, as you can see above is the presence of the product on the list.
So, likewise this product, we test all products to see if their primary and secondary functions are intact. If they are, are they effective? Or will you need to wait for a long time for the littlest of effects to show? All questions and doubts (nice scent) like these have been correctly answered/cleared by the products on this list.
Price and value
As with all products, potential buyers are concerned about their price and value. Here, we treat the topic of the two.
Price
This is most likely the most important aspect of any product. All buyers are concerned first about the price of any product that interests them before they'll even check whether it's functional or not. On that front, if the price of a product is staggering, most individuals are turned off immediately and if it's too cheap, they'll suspect something is off. Now, balance must be had and so, all products above that you see won't break the bank.
Value
Despite the product not breaking the bank, is it really valuable? You'll see cases where expensive products are extremely valuable and cheap ones, just plain out disappointing. On the contrary, the case might be vice versa. Still, regardless of which one it is, we make sure to pick products that are valuable. After which, we check if the results correlate with its price. If they do, we keep the product for further tests and later include them on our list if they ace the tests. If not, they're the products that you don't see on this list. We avoid them and simply transition over to other products that'll prove beneficial to users/consumers.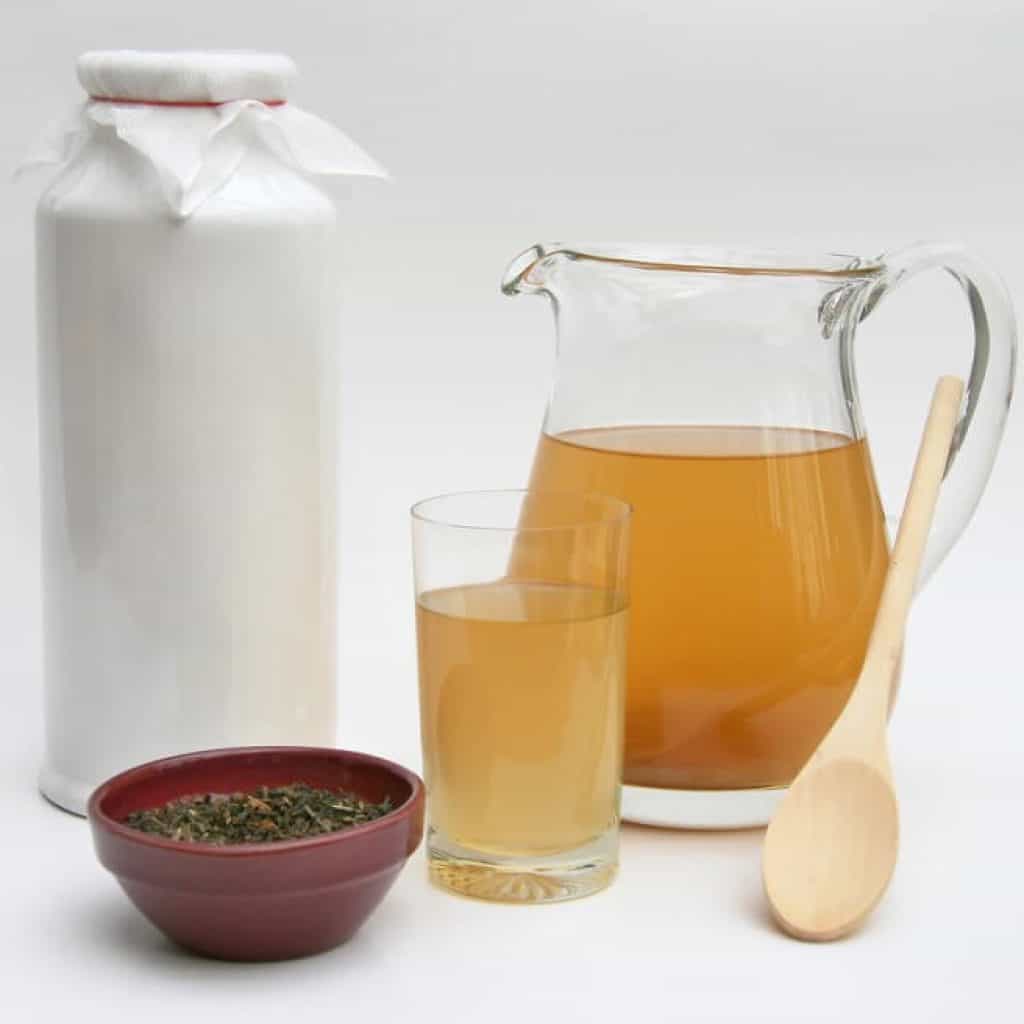 Ingredients and overall effectiveness
You definitely know that Kombucha teas are effective as evidenced by the benefits above. Nonetheless, what you might not know is if the ingredients themselves are fully functional and effective. And to that point, they are. Some might of course, not contribute to the benefits but at the very least, they make up the flavour and feel of the liquid. Those, on the other hand, that contribute to the benefits are highly effective in their jobs. If they're not, what's the purpose of this list itself then? Summarily, we investigate ingredients and see if they are effective. If effectiveness is covered, we then check how covered it is.
User reviews and ratings
What different users of the products above say is very important. They aid us in knowing what to expect and even sometimes, they help us in rejecting a product due to it being unsuitable (dangers). At the same time, they convince us to include a product on our list if we see that the points they list are better than ours. Due to these scenarios, we appreciate user reviews and ratings because they're the ones we use to proof—any result we get after testing any and all products we come across. Essentially, the individual opinions of different customers/users matter a lot to us.
Safety of the products
It's counter-productive when you really think about it. What's the use of a product that's used for its benefits whilst also causing further dangerous complications? As a matter of fact, there are some products that are simply dangerous with no benefits whatsoever. All and any product of that nature that we encounter, we avoid them with extreme prejudice because they can cause infections, sicknesses, and even death. This, in turn, is the reason why we're particularly fit to test products. You, as a consumer, can't be testing all products due to the risk involved. But, we, on the other hand, are equipped to test as many as we want.
FAQS
Where can I get Kombucha teas?
The right answer is to either go to any of your nearby stores or order it from an e-commerce website online. For the latter, there are many websites but the one we recommend is Amazon due to its vast well of products, user reviews, and amazing prices.
What are the benefits of using Kombucha?
They range from healing the liver to helping the brain. Kombucha, health-wise is highly effective. So, for more information on its effectiveness (benefits), kindly visit our "Benefits of Taking Kombucha Teas" section for more information.
How to use it?
Using Kombucha is very simple and it's explained in the "How to Use Kombucha" section. Also, kindly peruse the maintenance section to prolong the quality of the Kombucha product you choose to invest in.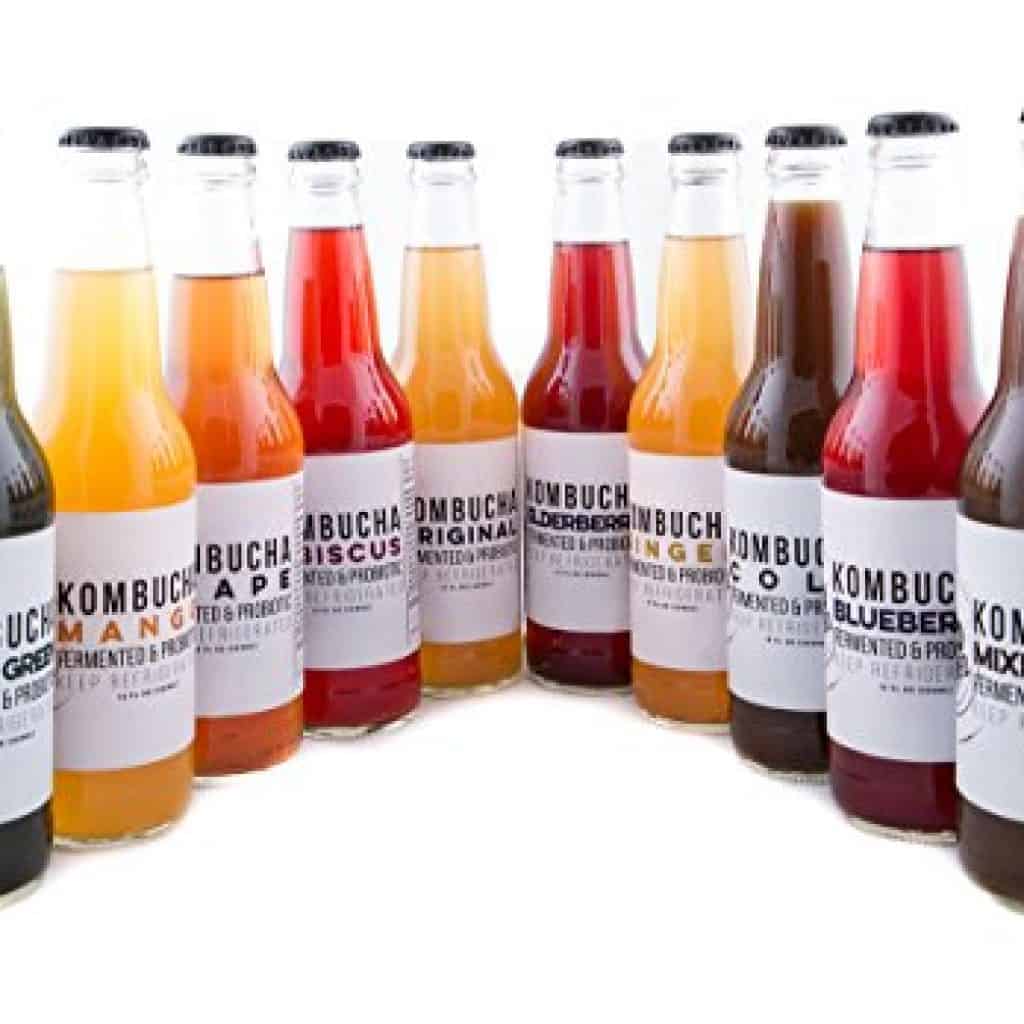 Is it suitable for pregnancy?
Yes, it is. Although, this is only true if you've been a regular user prior to your pregnancy/nursing. So, on the chance that you haven't been drinking Kombucha before. Then no, Kombucha is not suitable for pregnancy or nursing mothers. And thus, if you fall into either of the categories, kindly avoid Kombucha products.
Is Kombucha suitable for children?
Yes, Kombucha is suitable for children because of its benefits. On their part (children), it heals gastric ulcers, aids digestion, prevents depression, detoxifies their body, enhances immunity and cellular health, improves eyesight, and numerous others.
How much Kombucha teas/drinks do I give children?
Give children one tablespoon of the tea and see if there are any adverse effects. If there are not, then you can increase the quantity of the fermented tea you give him or her. But on the chance that issues arise, kindly stop the plan immediately.
Subscribe to our Newsletter