Best Glycolic Acid Peels Reviewed & Rated
Disclosure: We use affiliate links and may receive a small commission on purchases.
Glycolic acid peels are designed to rejuvenate and re-invigorate your skin — returning a healthy glow to your face. Due to a recent surge in popularity in the number of people doing glycolic acid peels, the market has become crowded with a wide range of products; some of which are dramatically better than others.
Our Top 3 Picks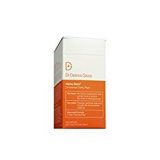 Dr. Dennis Gross

Our rating
For all skin types
Price:

See Here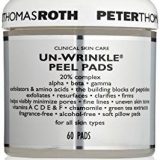 Peter Thomas Roth

Our rating
Easy to use
Price:

See Here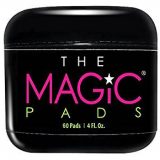 The Magic Pads

Our rating
Great for breakouts
Price:

See Here

Below is our Top 10 list of the best glycolic acid peels on the market — and information about each of the products, so that you can make a healthy and informed choice. Remember each product has different benefits and drawbacks, and the price point for glycolic acid peels can vary significantly.
10 Best Glycolic Acid Peels
Dr. Dennis Gross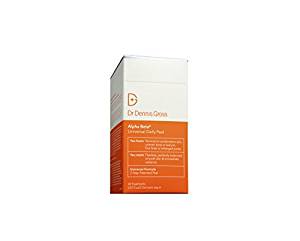 There are numerous factors that make this universal daily peel our number one choice among glycolic acid peels. Perhaps most importantly, it is designed for and works well with all skin types. Unlike with some other products, it does not matter if your skin is dry, normal, or oily. And this universality helps take the guesswork out of buying a product.
Expand to see more
Another great feature is that it is extremely easy to use. The pads that a user places on his/her face have already been pre-soaked with the right amount of glycolic acid — again, this removes any guesswork from the product. Simply remove the pads from the container and use. For people who are pressed for time, this is a significant plus.

This product contains four primary ingredients: glycolic acid, salicylic acid, malic acid, and genistein. Together, these four ingredients help reduce signs of aging and pore blockages and also boost the body's natural collagen level. Almost as important as what the product contains is what it does not have in it. It does not contain paraben or sulfates; it is also gluten-free and is produced in a cruelty-free manner — helping make it an ethical choice for consumers.

However, the high quality ingredients and careful production process also mean that it is one of the more expensive glycolic acid peel products on the market — and this may be a concern for some consumers. Offsetting this relatively high cost are the carefully prepared and measured treatments. This means that there is very little product waste.
Does an outstanding job of addressing fine lines and wrinkles while boosting the body's naturally occurring collagen — helping create a younger and glowing face
The product is easy to use — removes guesswork from the process
It is an ethical choice — it is gluten-free and cruelty-free
It is more expensive than many of the other glycolic acid peels that are available on the market
Most of the package sizes are relatively large — therefore, people must make a significant commitment to using the product
Peter Thomas Pads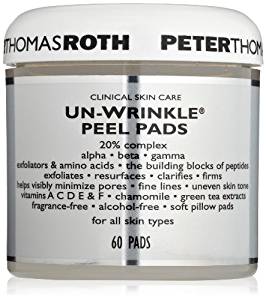 The price of some of the popular glycolic acid peels on the market can be overwhelming for budget-conscious consumers. However, just because you do not have an unlimited budget does not mean that you should not be able to take advantage of all the health and beauty benefits of these products. Peter Thomas Roth embraces this fact — and this product is reasonably priced and widely available.
Expand to see more
Like with all glycolic acid peels, this Peter Thomas Roth product helps improve the texture and smoothness of the skin — promoting the body's natural collagen — to minimize the effect of aging. And this is a great benefit for users. But, it is not the only benefit of the Un-wrinkle Peel Pads. Because these pads contain both alpha hydroxy acid (AHAs) and beta hydroxy acids (BHAs), they are also great for anyone who is experiencing blackheads or acne breakouts.

In addition to the AHAs and BHAs, the peel pads also use glycolic acid, lactic acid, salicylic acid, linolenic acid, and green tea extracts, as well as Vitamins A and C. The Vitamin A and C are included to give the product an additional antioxidant boost.
this product is much more reasonably priced than many of its competitors on the glycolic acid peel market
It is entirely alcohol-free — this means that it may not cause the drying effect that is associated with many peels
It is also fragrance free, which is another positive for anyone who may have allergies or other sensitivities
Some people prefer lotions to pads — they find the pads difficult or cumbersome to use
The Magic Pads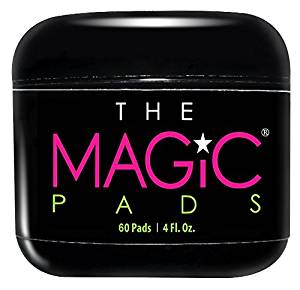 The Magic Pads are a unique offering on the market — and in many ways are either a product that you will love or hate. But, we have to say that we absolutely love them and what they have done for our skin. With only 2% glycolic acid, they are a much more gentle choice. And unlike most pads and creams that are only designed to be used on the face, The Magic Pads can be used all over your body.
Expand to see more
Like most glycolic oil peels, The Magic Pads do an excellent job of exfoliating and firming and toning the skin — putting an extra youthful glow on users' faces. But, this is not all that they are good for. These pads also work their magic on troublesome pores and nagging breakouts.

As unique as the product itself is its long list of ingredients. In addition to the 2% glycolic acid, The Magic Pads also include: white willow bark extract, hyaluronic acid, Vitamin E, and aloe vera juice. And adding to its already long list of benefits is the fact that it is one of the most reasonably priced glycolic acid peel products on the market — it is affordable for almost all consumers.
Extremely reasonably priced — you don't have to break the bank to bring this great product home with you
With a significantly lower glycolic acid percentage than many similar products, it is great for sensitive skin—and it won't leave your skin feeling irritated or looking red
You can use this product all over your body. It is not just for your face
Some users note that the benefits of using The Magic Pads are not as long-lasting as they would have hoped for, particularly in terms of luminosity
Murad's Intensive-C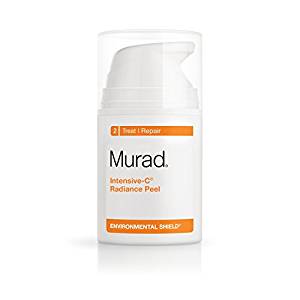 Although Murad's product includes some of the traditional ingredients that we see in almost all glycolic acid peel products, it also raises the bar on innovation. For example, the Intensive C-Radiance Peel uses a liberal amount of Vitamin C and Indian Fig to protect delicate skin from free radical damage.
Expand to see more
iT is designed to improve skin elasticity and luminosity — ideally, it will leave a user glowing and looking younger — but that is not Murad's only goal with the product. The Company also wants to boost cellular renewal, building healthy skin from the inside out.

The product's primary ingredients are water, kaolin, synthetic beeswax, glycerin, and glycolic acid. Despite an emphasis on high quality ingredients, Murad is still able to deliver this product at an attractive price point — it falls firmly in the mid-range (price-wise) of glycolic acid peels.
There is a lot to like about this product — reviews are almost universally positive
Regular users report healthy, glowing skin and no redness or irritation from the product, making it an outstanding choice for anyone with sensitive skin or allergies
Unlike some other glycolic acid products, this is a great choice for individuals with oily skin and it is shown to dramatically reduce breakouts
There are specific instructions on the bottle about how long the product can be used for — disregarding the instructions may result in redness or skin discomfort
Perfect Image 30% Peel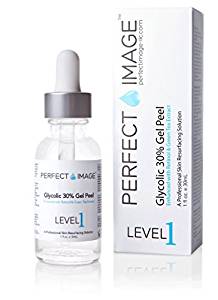 Increasingly, many consumers are looking for an ethical choice when they are buying their glycolic acid peel. And, for these consumers, Perfect Image's peel may be the perfect choice. The product is made in the United States and is not animal tested (a definite plus for many consumers); it is also packaged in entirely recyclable material and is paraben and sulfate free.
Expand to see more
Although the environmentally conscious position that Perfect Image has staked out is a significant plus for consumers, it is not the only thing that attracts customers. Customers are also drawn to the unique blend of ingredients which offer antioxidant benefits, as well as all of the usual advantages of glycolic acid products.

These ingredients include: 30% glycolic acid, Vitamin A, and green tea and chamomile extracts, in addition to a wide range of other ingredients.

Adding to the product's positives is the fact that it is extremely reasonably priced. In fact, when you take into account that one bottle of serum is enough to give yourself up to 20 facials, the cost per use is very low.
The product is environmentally friendly and socially conscious
It comes in at a great price point that not many of its peers can challenge
Because of its high glycolic acid content it does an outstanding job of exfoliating damaged outer layers of the skin
Some people find the application process messy — and because of product wastage, most people do not get 20 facials out of a single bottle
The glycolic acid content of this product is extremely high — and because of this, it may be extremely irritating to individuals who have allergies or sensitive skin. Keep this in mind the first time that you use the product
Kate Somerville's RetAsphere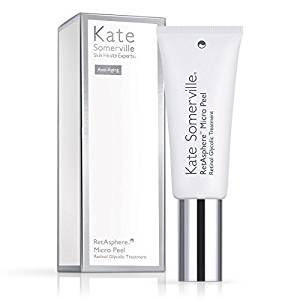 What helps set Kate Somerville's product apart from the crowded field of glycolic acid peels is the unique ingredients that are included in these micro-peels. The product's first three ingredients are: water, glycolic acid (10%) and lactose. The lactose helps infuse moisture into drier skin and helps prevent the dry skin and irritation that can sometimes happen when using glycolic acid peels — in other words, it is a great choice for individuals with sensitive skin.
Expand to see more
Users of Kate Somerville's innovative product do not need to worry about setting a timer. Simply leave this glycolic acid peel on overnight and allow the pure retinol to be gently infused into your skin.
Fans of Kate Somerville say that this overnight infusion leaves the skin feeling softer and more elastic — and that there is also improved skin luminosity.

In addition to the water, glycolic acid, and lactose, the MicroPeel also contains a lovely licorice extract. Perhaps not surprisingly, given the focus on using outstanding ingredients, the MicroPeel product tends to be at the pricier end of the range for even its small 1 oz sample size.
studies of users show that there is a dramatic and quick improvement in skin elasticity, texture, and luminosity — for many people, the results are stunning
Because of the careful attention to ingredients, it is an outstanding choice for people with sensitive skin — there is very little risk of allergic reactions or skin irritation
It is not as widely available as some of the other products on our top ten lis
Mederma AG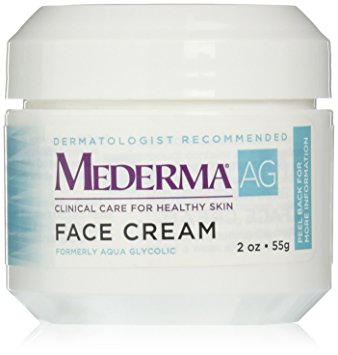 With the large number of products that exist on the market, it is sometimes hard for consumers to separate the good products from the not so good. We can always read reviews, but sometimes these reviews sound frustratingly similar. And, we are often left wondering what the experts — in this case, dermatologists — have to say. The good news is that dermatologists absolutely love this product. It is one of their most recommended glycolic acid peels.
Expand to see more
For consumers who may be concerned about unsafe chemicals in their beauty products, they may want to think before using the Mederma AG cream. Unfortunately, this product contains both parabens and propylene glycol.

However, other ingredients in the product are much more appealing. The product contains purified water, glycolic acid, and hyaluronic acid. And, it also comes in at the very reasonably priced end of the cost spectrum.
Experts love this product — it is one of dermatologists' top recommendations for glycolic acid peels
Users regularly comment on the dramatic impact that it has made on their skin vitality and firmness, as well as the great job that it does erasing fine lines and wrinkles
Not only does it contain glycolic acid, but it also has hyaluronic acid
The product contains parabens and propylene glycol — these two ingredients may be concerning for some consumers
Some consumers have noted that the cream is difficult to apply and leaves an unpleasant feeling on their fingers
Toulon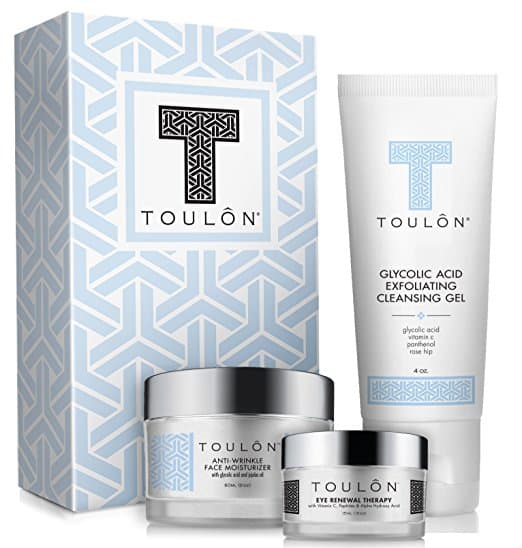 Unlike many of the glycolic acid peels that are widely available on the market that are stuffed with tongue-twisting chemicals, this product contains a wide range of natural and appetizing ingredients. Some of these are: jojoba oil, rosehip oil, green tea, Vitamin C, and grapeseed oil. And, even better, it is 100% vegan.
Expand to see more
For anyone who is interested in antioxidants, the Toulon anti-wrinkle face moisturizer is a great choice. It definitely carries a strong antioxidant punch. And it is important to note that even though it is billed as an anti-wrinkle cream, it has many other well-documented benefits, including: evening skin tone and fighting troubling cystic acne.

As noted above, this product includes a wide range of appealing ingredients, such as rosehip and grapeseed oil. On top of that, it also includes 10% glycolic acid — meaning that it is a powerful anti-aging cream. And despite the high quality ingredients that it contains it is reasonably priced.
Most users love the positive impact that the product has on their skin quality—acne sufferers are particularly impressed by what it does for them
The product is vegan and contains appealing and high quality ingredients, rather than scary chemicals
It is chockfull of important and healthy antioxidants—leaving the skin feeling healthy and revitalized
Because of the relatively high glycolic acid content, some users note that their skin feels dried out and irritated after prolonged use
Paula's Choice Gel
This was perhaps the most "controversial" choice of any of the products that we included on our list. On the one hand, most consumers who have used the product report that they absolutely love the things that it does for their skin — and that they strongly recommend it to all of their friends. On the other hand, it contains parabens and propylene glycol. And, as someone who occasionally has clumsy moments, we found the gel difficult to apply evenly to our skin. This resulted in some places getting an over-application and other areas being under-applied.
Expand to see more
The primary ingredient in this product is 8% glycolic acid which is an almost ideal level of glycolic acid — it is enough to effectively counteract fine lines and other signs of aging, but it is not too high to leave most consumers' skin red or irritated. In addition, it also contains chamomile, green tea, and aloe leaf extracts. However, as noted above, it does have parabens and propylene glycol in it. And all of the positives come at a relatively affordable price.
Great antioxidant ingredients—these ingredients help reverse damage caused by free radicals
The product is effective at not only treating fine lines and wrinkles, but also dealing with acne and other skin blemishes
With a relatively low glycolic acid level, the exfoliant is unlikely to cause skin irritation or allergic reactions in most consumers
The product contains parabens and propylene glycol—many consumers object to using these ingredients on their skin
As a gel, this product may be difficult for some consumers to evenly apply. And the gel may also cause significant product waste
Reviva Labs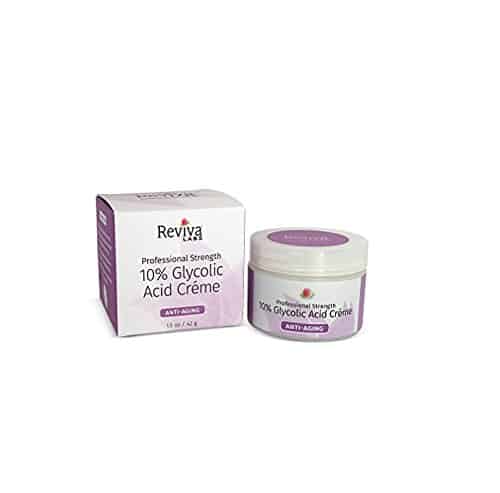 All consumers are different—and the product that works for one person may not be as effective for another. Because of this, this product is specifically billed as the answer for people who have problematic skin or who are older. For many older consumers, lower levels of glycolic acid are no longer enough to reverse fine lines and other damages. And therefore, it is necessary to step up. Reviva Labs' product is a step up that is still gentle enough to not irritate most users' skin.
Expand to see more
This product includes 10% glycolic acid, as well as a wide range of other ingredients that are associated with antioxidant effects. These ingredients include: sunflower oils, witch hazel, pumpkin, peach, and sage, and Vitamins A,D, and E. And you also get all of this at a reasonable price point.
This product may be great for older consumers who are no longer seeing the desired effect with their previous products
The unique range of included ingredients mean that it packs a definite antioxidant punch
This cream is primarily designed for older skin
Benefits of Using Glycolic Acid
As our Top 10 list of glycolic acid peels indicates there are numerous benefits that a user can get from using these products. Perhaps the most well-known benefit is a reduction in fine lines and wrinkles that are associated with aging.
Relative to other anti-aging approaches — such as Botox and facelifts — glycolic acid peels are a relatively safe and low cost weigh to turn back the hands of time However, the effect of these peels and facial treatments may not be as long-lasting as some of the other available products and treatments. In addition to plumping the skin and improving elasticity, many users note that the skin is significantly more luminous after using these products. In other words, glycolic acid peels lend users a healthy glow.
These are not the only benefits of glycolic acid peels, though. Because of their strong exfoliating products, the peels may also be a good way to treat persistent acne and other skin blemishes. Another benefit of these products is tied to the secondary ingredients that many products use — many of these products are packed with antioxidants that also aid in skin healing and health. The fact that most dermatologists embrace glycolic acid peels as a healthy component of skincare programs helps underscore the fact that these products and peels do more than simply feed someone's vanity. They make clear and easy-to-document differences in people's skin.
Safety of Use
One of the most important things to remember about glycolic acid peels that are available on the market is that they are all very different—there is simply no one industry standard product. The available products may have radically different glycolic acid levels. For example, the vast majority of products have glycolic acid levels ranging from 5 to 10 percent. However, some products may have as little as 2 percent glycolic acid, whereas others may have glycolic acid levels that reach up to 30 percent. This is important to remember, because some people may be sensitive to glycolic acid — sensitivity is usually expressed by red or otherwise irritated skin. If someone experiences side effects from any glycolic acid product, they should consider discontinuing use or moving to a product with lower levels of potential irritants. In cases of severe reactions, the consumers should also consider contacting their family doctor or dermatologist.
The most important part of using glycolic acid safely is to always read the instructions that are printed on the product — and then follow the directions exactly. For example, some products can only be used one time per day, whereas other products can be used up to two times per day once a person has slowly acclimated to the product. Even if you are thrilled with the results that you are seeing from your use of the product do not increase the number of times that you use it beyond recommendations — slow and steady wins the race with glycolic acid peels normally!
Product Criteria for Evaluation
Given the wide range of glycolic acid peels that have currently flooded the market, if the first product you try does not work for you, this does not necessarily mean that you have to abandon glycolic acid peels altogether. Remember, even in our Top 10 product list, different products have radically different additional ingredients. Sometimes, a consumer can find some of these ingredients irritating … There is simply no one perfect product for anyone … And, it is also important to remember that some products work better for some skin types than others. This is why you must always read user reviews! These reviews provide invaluable information.
User reviews were the most important component that we considered when coming up with our Top 10 rankings. We believe that it is always key to prioritize the opinions of people who have actually used the products. We also took into account the price of the products — some glycolic acid peels can be very expensive. Although price alone was not a disqualifying factor for a product to be included in our list, we did want to make sure that our recommendations were price friendly for most consumers. However, as you will notice on our list, some products are significantly more expensive than others.
We also looked at a product's ingredient list when compiling our ratings. As much as possible, we looked for products that included all natural ingredients and a wide range of antioxidants. And, we also penalized products that contained parabens, sulfates, and some other chemicals. However, despite this negative weighting, you can see that several paraben and sulfate containing products still managed to crack our Top 10 list — primarily because their customer reviews were so positive.
Also, negative weight was given to products for which users had reported strong allergic reactions; we were also cautious about products that contained high percentages of glycolic acid (however, one high glycolic acid product did make our list). And, finally, we also considered the products that we ourselves have used. These personal reviews, however, were not weighted as strongly as customer reviews because it was only a handful of experiences — versus thousands of Internet user reviews.
FAQs
1. Why should you consider using glycolic acid peels?
Although glycolic acid peels are frequently used by middle-aged or older consumers in an attempt to reverse the fine lines and skin damage associated with aging, people of all ages should consider glycolic acid peels. These peels enhance skin vitality and luminosity and also can be used to successfully treat acne and other skin blemishes.
2. What are the risks associated with these peels?
As with any cosmetic or medical product, glycolic acid peels come with some risks. Perhaps the greatest of these risks is that the glycolic acid peels can lead to redness or skin irritation. These risks can be reduced by appropriately following all of the instructions included with the product and using products that contain lower levels of glycolic acid. Leave the high content glycolic acid treatments to be done in your dermatologist's office with appropriate medical supervision.
3. What do dermatologists think about glycolic acid peels?
Most dermatologists are extremely positive about glycolic acid peels. They believe that these peels can be an important part of home skin care regimens. However, they would recommend that their customers stay alert to redness or other signs of irritation and stop using these products if they do experience those symptoms. Many of these doctors would also recommend that clients supplement their home glycolic acid treatments with more intensive peels in their office at regularly scheduled intervals.
4. Are these expensive?
This is not necessarily an easy question to answer. As with most beauty products, glycolic acid peels are available at a wide variety of price points. Although there may be some correlation between price and quality, there are also lots of lower priced glycolic acid peels that do an excellent job of promoting skin vitality and luminosity. Many of our favorite products on our Top 10 list are extremely reasonably priced. In terms of price, it is also important to remember that many of these products last for a long period of time — therefore, the cost per use may be surprisingly low.
Subscribe to our Newsletter