Best ZMA Supplements Reviewed & Rated
Disclosure: We use affiliate links and may receive a small commission on purchases.
ZMA is one of those things that contain elements that are very important for you and your body that you might not be aware of. It is also one of those things which you probably never heard of. ZMA, the term, is not very common in everyday talk, let alone in the gym. For avid bodybuilders, however, it can be a performance changing product that might revolutionize your workout.
Our Top 3 Picks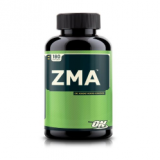 Optimum Nutrition ZMA

Our rating
Muscle Repair
Price:

See Here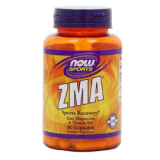 Now Foods ZMA

Our rating
Muscle Growth
Price:

See Here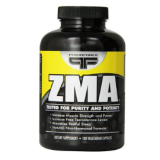 Primaforce ZMA

Our rating
Endurance
Price:

See Here

10 Best ZMA Supplements
1. Optimum Nutrition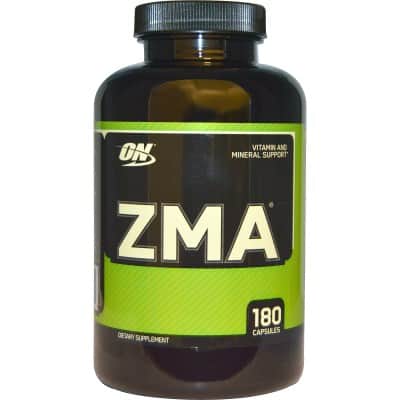 Finally! Our best ZMA brand of 2016! Optimum Nutrition offers us 180 capsules at just sixteen dollars!
Expand to see more
This particular brand does wonders to increase your levels of anabolic hormones and muscle strength. Not only does it take care of everything else that these supplements are responsible for (muscle repair and growth, increase of endurance), it is fantastic for those looking for a great night filled with restful sleep! This particular supplement offers one of the best products on the market that can help with those struggling at night (for instance, those with narcolepsy or insomnia). Of course, as always, consult your doctor first if you are having any of these problems, before taking these (or any other types of supplements).

180 capsules
Promotes muscle repair
Increases endurance
The user might be sensitive to some of the active ingredients
2. Now Sports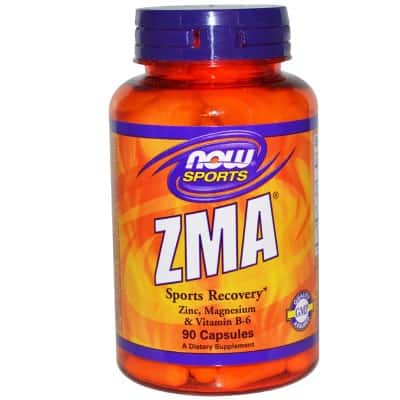 Made specifically for sports recovery, Now Foods offers this ZMA supplement of 90 capsules for just over ten dollars!
Expand to see more
Since it is so synergized for athletic exercises and those who do those exercises, it is created and optimized for maximum absorption and allows top recovery after your workout. This product is packed with the zinc you need to kick start and encourage the growth and repair of those cells that repair your tissues. Not only is it great for recovery, it is also a good maintainer of your immune system. On top of the other ZMA benefits, ZMA by Now Foods gives you the opportunity to keep up the balance in your life. It is a balance of your electrolytes, your energy, and the way that your muscles work.

Great for the immune system
Balances your electrolytes
Inexpensive
Not suitable for vegetarians
3. Primaforce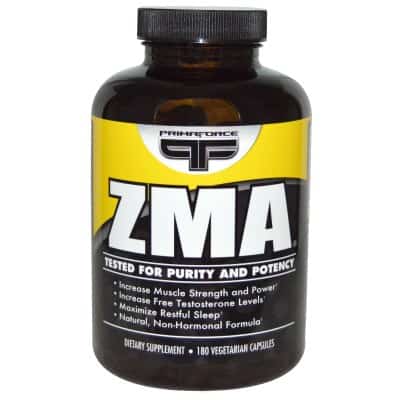 Primaforce ranks in at number three on our list. Not only does it bring out a ZMA supplement for a much lower price than our number four for 180 supplements, it is also completely vegetarian!
Expand to see more
This is a great option for those looking to raise their levels of the components featured without compromising their way of living and diet. Not only is this supplement great for those looking for a better sleep, it is also backed with a bland (not funny) taste and one of the cheapest brands you will find.

Suitable for vegetarians
Inexpensive
Promotes better sleep
4. Tribulus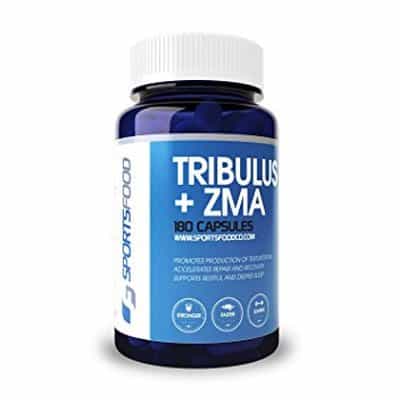 Though the price might be a little over budget, there are plenty of reasons to back the high priced quality.
Expand to see more
First, this container comes with 180 capsules which is TWICE as much as any brand publicized on this list. Also, this product is completely plant based and has one of the highest potency of components and supplements on the market. The brand behind the product is also one of the best manufacturers in the business. What really sets this apart from all the other ZMA products out there is the fact that it contains tribulus. This ensures that it gives its consumers maximum energy levels and testosterone levels. On top of all that, it boasts a better quality of sleep!
180 capsules
Plant based
Energy booster
5. Fast Muscle Growth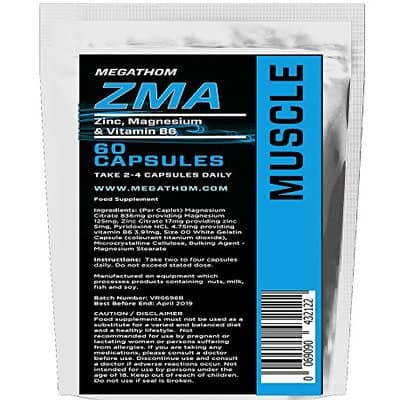 The best way to grow muscles and shorten the time between training, recovery and training again is through this product that is only a little over ten dollars!
Expand to see more
The fact that it is just sixty zma capsules instead of the ninety that most of these supplements offer, doesn't change the amazing quality of this particular product. This supplement comes with a boost in immune system, each of the components it promises, an increase in strength and a shorten of time for recovery. This brand also boasts how the pills are smaller and easier to take than most.
Boosts your immune system
Aids with muscle recovery
Small pills
60 capsules instead of 90
6. Twinlab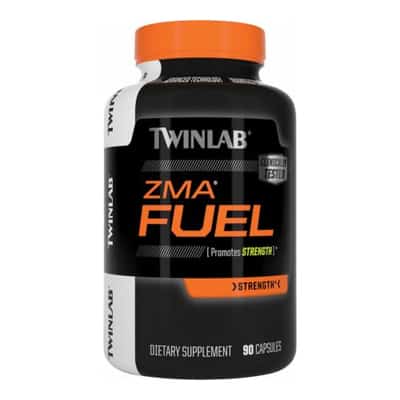 This supplement works best for male athletes, but they don't specifically concentrate their population to a certain gender.
Expand to see more
ZMA Fuel by Twinlab is clinically tested and proven to work best in male athletes. Not only is it gendered specifically for men, it is also registered for sport, which means, if you're an athlete this is your type of your supplement!
Promotes hormone production
Great for muscle strength and gain
Quality mineral combination
More suitable for men than women
7. AllMax Nutrition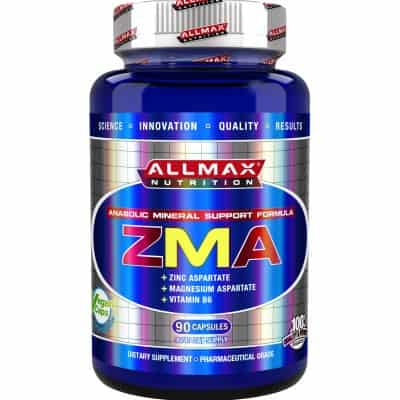 This product has one of the cheapest prices on this best ZMA list.
Expand to see more
AllMax Nutrition presents us with a supplement that is responsible for an extreme boost in testosterone. It is definitely a great combination of price and quality for those looking to get the most out of their money.
Testosterone boost
Improves Sleep
Quality Ingredients
8. Universal Nutrition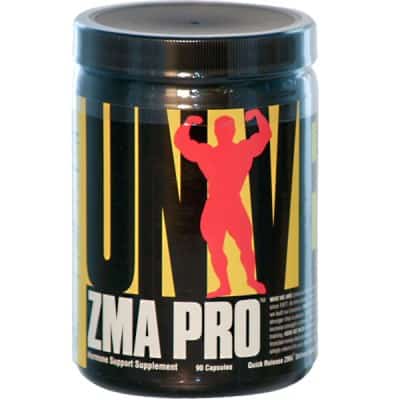 The Universal Nutrition ZMA Pro is the perfect product to restore your muscles and to rest well after your workout.
Expand to see more
Universal Nutrition has come out with a supplement that not only enhances the hormones associated with this combination and helps you sleep deeper, but is specifically research-proven to be one of the most productive formulas out there.
Restful sleep
High-quality formula
Mineral support
Not suitable for vegetarians
9. True Athlete with Theanine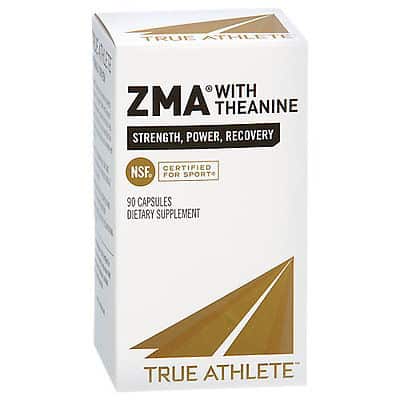 True Athlete ZMA is made specifically for after those athletic activities. For the most optimal recovery, this supplement is highly productive and effective for sleep.
Expand to see more
After taking this product, most of the feedback says that it provides the taker with an ultimate deep sleep. For the best rest, this product is for you!
Improves your sleep
Stress recovery
Great for performance
Not recommended for those who are sensitive to theanine
10. MET-Rx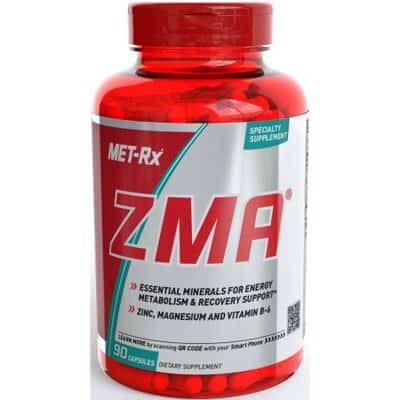 Not only is this a great supplement that is beneficial for a boost in your energy and metabolism, it is fantastic for muscle recovery too.
Expand to see more
After your workout, this supplement kicks in to give you the sleep you need and the rest your muscles need to fully recover from lift.

This particular product by MET-Rx also helps you feel better and sleep better.
Energy booster
Better sleep
Great muscle recovery
What is ZMA?
The abbreviation of letters might not look too common for those not very familiar with supplements, nutrition term or anything other than whey protein. But when the letters are separated, the words become a little more common-nature and you might have that "ah-ha!" moment. To explain better and more thoroughly, ZMA is composed of zinc (monomethionine aspartate), magnesium (aspartate) and a flush of vitamin B6.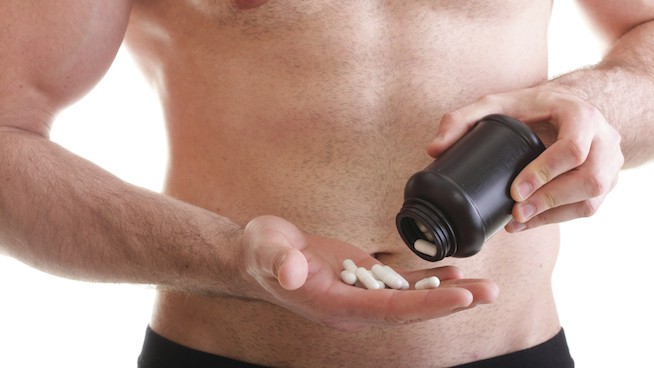 If those words just scared you and you have absolutely no idea what I just said, it is basically composed of zinc, magnesium and vitamin B. Are those terms better? When we bare the components down to just these three elements, it seems like a pretty simple concept to comprehend.
Chances are, if you are part of the majority of the population, you probably are not getting enough of any of these elements in your regular, day-to-day diet. USDA research has shown us that 70% of us (Americans) are not getting enough zinc on a regular basis and 40% of us aren't getting enough of the magnesium that we need for our bodies to optimally function.
What do you do?
Now that you have simply been made aware of what's (not) going on in your body, your natural instinct would be to fix the "imbalance" so that you can get the best out of your body. For instance, one way to put in what you need is by taking three different separate supplements. This, of course, might mean that you would be spending the majority of breakfast shoving thirty different pills down your throat. If that doesn't sound appealing, here's what you need:
ZMA
You can eliminate the hassle (and money spent) that comes with taking three separate pills and join them all in this one easy supplement called ZMA. What's also important in these separate supplements joined together is the ratio of these three. When you are taking them separately, the task of getting the correct amount of what your body needs is extremely successful and might merit several trips to the doctors, to the nutritionist, to a personal trainer.
Instead of feeding into the stress, ZMA offers the one way ticket to optimal performance, all rounded off in one pill. Of course, it differs per body type, but in general, you should be taken 11 mg of vitamin B6, 30 mg of zinc and 450 mg of magnesium. Combined in the perfect formula, it is already portioned like this in ZMA.
A big and main group of people that are usually in search of this supplement are athletes and bodybuilders. This supplement is a perfect fit for you when you want to optimize your athlete performance and give yourself that extra drive and push you need that will help you recover and build your muscle the way you want it. Key note, however: you don't have to live that lifestyle to start taking this supplement!
The three components that are made in ZMA are important for your body anyways, so truly, you do not have to be an athlete or bodybuilder to take this. You just have to have an apt for working out, and not afraid of a little testosterone. Here are some of the great things that each of the components in this supplement do for your body:
Zinc in itself is an adequate replenishment for sweat lost during a workout. We all need this when we are working out hard and losing electrolytes. This also helps your body on a molecular level in which it boosts and encourages protein synthesis and cell growth.
Magnesium, among the many other things that it does, improves bone strength and your immune system. This is extremely important in not only athletes, but gym-goers that need that health to keep up with their regular workout regimen. It is also beneficial just for someone that needs a bit more strength or energy during the day for work. Magnesium is also an essential component used and needed in muscle contractions (hence why it is fantastic for athletes), and is great for our nervous systems.
Vitamin B6 is responsible for converting the protein that goes into your body into energy that you use on a regular basis. Though our body does most of these jobs on its own, its important to have the knowledge to realize what our body is doing with what we put into it. When we put more vitamin B6 into our cells, we know that it is doing its job by giving us more energy from the protein we already have ingested. This is also a great reminder that supplements are not sufficient by themselves! If we haven't paired with protein (from diet or from supplement) there would be no protein to synthesize INTO energy!
ZMA is also a testosterone booster, which means more gains in muscular definition and bulk. This is extremely important for bodybuilders, athletes, and those simply looking for a stronger body. ZMA also decreases the time needed for the muscles to recover from lifting. Though rest is extremely important for your workout regimen, ZMA helps move the process along quicker and more effectively, so you can get back into the gym when you want to rather than when you are no longer sore.
If we have you convinced that ZMA is a product and supplement that you want to add to your diet to complement your workout routine, we are also here to help you choose the best product.
Decision Time
We hope this list of best ZMA supplements, our top 10 reviewed for 2016, has helped you decide which product supplement is best for your needs and your workout regimen. We hope it helps you on your way to achieving the best body and the best you that you can achieve! And we also hope that you check out our other top ten lists in regards to getting the most out of your workout. Maybe one of these supplements on our website can help give you the extra push you've been missing.
Subscribe to our Newsletter