Best Vitamin B6 Supplements Reviews & Ratings
Disclosure: We use affiliate links and may receive a small commission on purchases.
Vitamin B6 is a member of vitamin B complex which includes all the water-soluble vitamins apart from vitamin C. Other members of the complex include thiamine (B1), riboflavin (B2), niacin (B3), pantothenic acid (B5), biotin, folic acid and cobalamins (B12). All these members were once thought to be a single nutrient, but later, scientists discovered that each had a unique structure and function.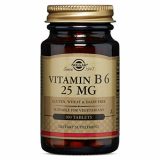 Solgar

Our rating
Affordable
Price:

See Here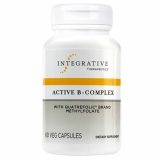 Integrative

Our rating
Hypoallergenic
Price:

See Here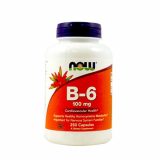 Now Foods

Our rating
Quality
Price:

See Here

Vitamin B6 was discovered in 1934 by a scientist known as Paul Gyorgy, as a coincidence when he was studying skin diseases in rats. In 1938 it was isolated, and in 1939 it was given its other name, pyridoxine. In 1957, there were significant advancements in the study of vitamin B6, and it is the year that the daily required levels were established.
It plays a key role in many biological reactions, metabolic processes, brain functioning and it strengthens the immune system. We can obtain it from both plant and animal sources. However, in situations like pregnancy, advanced age, chronic alcoholism, when taking oral contraceptives, or when on a high protein diet, one may not be able to meet the added demands. Hence the need for supplementation.
Failure to meet the meet the daily requirements can cause vitamin B6 deficiency which can pose health problems. It may lead to peripheral neuropathies, microcytic anemia, conjunctivitis, skin wounds, depression, confusion, seizures, irritability and poor growth in children.
If you need to supplement your diet, vitamin B6 is available in the dietary supplements' market both as a multivitamin and a stand-alone vitamin. The B6 supplements are available as either tablets, capsules or in liquid form.
Vitamin B6 occurs in three forms—pyridoxal, pyridoxine, and pyridoxamine. All three can be converted to the coenzyme PLP (pyridoxal phosphate). Pyridoxine in the form of pyridoxine hydrochloride is the most common in supplements, though some products also contain PLP.
In this review, we have comprehensively written about ten of the best vitamin B6 products that we carefully evaluated using our pre-determined criteria. Here are the ten products that we hand-picked for you.
10 Best Vitamin B6 Supplements
1. Solgar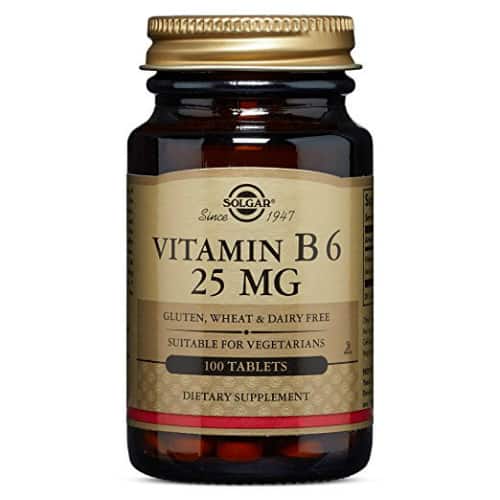 Solgar has vegetarian tablets each 25mg of active vitamin B6 in the form of pyridoxine HCL. The tablets are formulated to be free of gluten, wheat, and dairy. The product is a certified non-GMO that is also free of artificial flavors, sweeteners, preservatives, and colors.
Expand to see more
Features/Specifications
In tablet form
Each tablet is 25mg
Active ingredient is pyridoxine HCL 25mg
Free of all artificial colors, preservatives and gluten.
Each bottle has 100 tablets
Directions for use:
Take one to two tablets daily, preferably with a meal.
Price/Value
Solgar's tablets are in the lower price range and still quality, safe and effective.
Verdict
Vitamin B6 is hard to find in the low doses, but Solgar solves the problem. It comes in 25mg which is what is recommended for morning sickness. Even better, they are small and easy to swallow.
Small easy to swallow tablet
Non-GMO
Affordable
Low dosage suitable for morning sickness
Few side effects
Nice glass bottle packaging
Suitable for vegetarians
Not coated so has an unpleasant taste
2. Integrative Therapeutics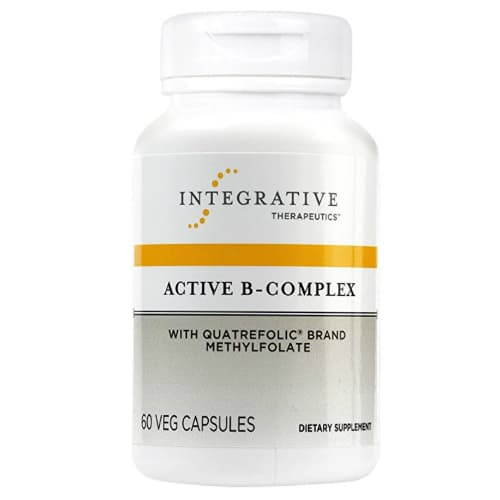 Integrative Therapeutics'S capsules are a complex formula with added other B vitamins. They are suitable for vegetarians, are pure, and hypoallergenic. They have no sugar, salt, yeast, wheat, gluten, soy, or dairy. They are also free of artificial colors, preservatives and animal products.
Expand to see more
Features/Specifications
In capsule form
Are a complex of B vitamins
Suitable for vegetarians
Pure and hypoallergenic
Free of artificial colors, preservatives, and animal products
Certified NSF product for sports
Active ingredients are Riboflavin, Thiamin, Vitamin b6, Niacin, Vitamin b12, Biotine, among other.
Each bottle has 60 capsules
Recommendations for use:
take one or two tablets daily, preferably with meals
Price/Value
They are slightly pricey but worth if you want a superior product that is effective, hypoallergenic and made to the highest possible standards in an FDA approved facility. Moreover, the B6 is combined with other members of the B complex to make it more effective.
Verdict
These supplements may cost you more, but you will be sure that they are a great value product. From the user reviews, we are convinced that the capsules are a great buy. They work fast, use superior ingredients and have fewer side effects.
Pure and hypoallergenic
Contains other vitamin Bs
Suitable for vegetarians
Easily absorbed and metabolized
Low dose of vitamin B6
Effects seen within a short period
3. NOW Foods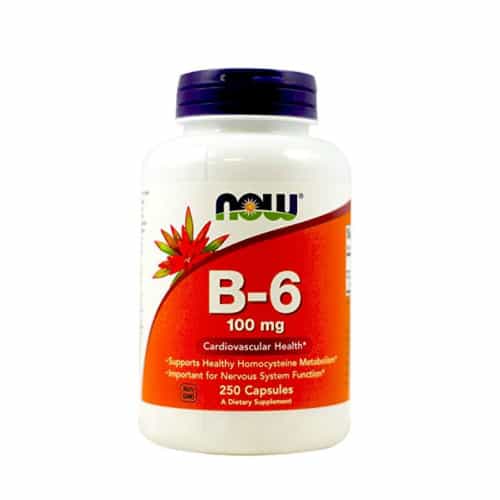 Now vitamin B6 supplement is in the form of pyridoxine HCL. Each tablet has 100mg of the active ingredient. The tablets are screened for potency and purity. Also, they contain no sugar, salt, yeast, gluten, corn, soy, milk, egg, shellfish or preservatives.
Expand to see more
Features/Specifications
In capsule form
Active ingredient is pyridoxine HCL 100mg
Inactive ingredients are rice flour and gelatin for the capsule
Hypoallergenic
No artificial additives except the capsule
Screened for potency and purity
Each bottle has 250 capsules
Recommendations for use:
take one capsule daily, preferably with food
Price/Value
These tablets are incredibly priced if you consider the bottle contains 250 tablets which can last you for about eight months if you are taking one tablet per day. They are easy on the pocket, and if you buy them, they will serve you for a long time.
Verdict
If you need your B6 supplements in high doses, then Now Foods product is the best choice. The capsules are also affordable, and the quality is guaranteed. They are pure vitamin B6 with no binders and fillers, so you will be getting most of the drug without consuming unnecessary ingredients.
Quality is guaranteed through independent testing
No artificial binders and fillers
Free of potential allergens
Affordable
Good reputation company
Takes a short period to show results
A little bit strong thus can have some side effects
4. Nature Made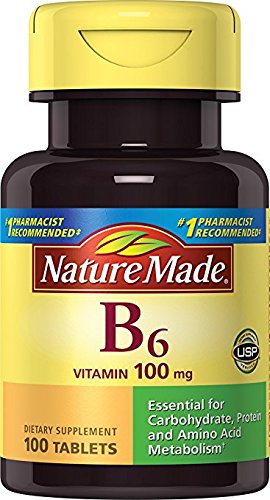 Nature Made pyridoxine is in tablet form, each containing 100mg of active ingredients. In addition to vitamin B6, it contains 30mg of calcium to enhance its absorption and bioavailability. The tablets have no artificial colors, flavors, preservatives, yeast, starch or gluten.
Expand to see more
Features/Specifications
In tablet form
Each tablet is 100mg
Each bottle has 100 tablets
Free of artificial colors, preservatives, and flavors
Gluten free
No yeast or starch
Pyridoxine hydrochloride 100mg, Calcium carbonate 30mg
Directions for use:
take one tablet daily with a meal. Preferably, ingest water before taking it, while taking and after swallowing.
Price/Value
Nature Made vitamin B6 tablets are very fairly priced considering that they are 100 tablets and have a good reputation for effectiveness.
Verdict
Not only is this product affordable but also, has small easy to swallow tablets. They also have a good reputation not only for B6 tablets but other nutritional supplements. The drawback is that they are bitter. You can deal with this by taking with a lot of water or another beverage of your choice.
Affordable
Small tablets
Easy to swallow
Has a reliable reputation
Free of preservatives, coloring, and flavors
Gluten free
5. Pure Encapsulations - P5P 50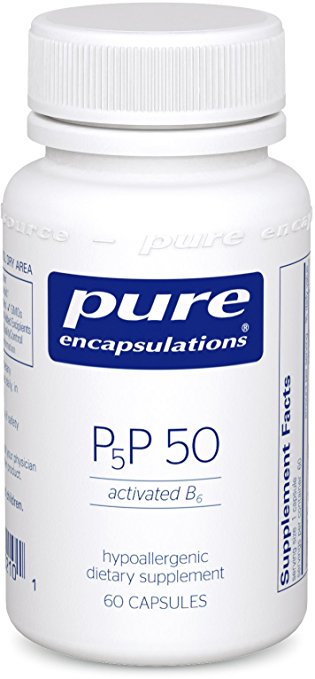 Pure Encapsulations capsules have 50mg of vitamin B6 in the form of pyridoxal 5' phosphate (P5P), which is the activated form. The tablets are certified to be gluten-free and free of allergens, GMOs, environmental contaminants, and artificial additives. For quality, the capsules are independently tested for potency and purity. The capsules are also hypoallergenic and suitable for a vegetarian diet.
Expand to see more
Features/Specifications
In capsule form
Suitable for vegetarians
Are hypoallergenic
Independently tested for purity and potency
GMO free
Certified gluten-free product
Active ingredient is pyridoxal 5' phosphate 50 mg (activated B6)
Each bottle has 60 vegetarian capsules
Directions for use:
take two tablets per day, in divided doses with a meal.
Price/Value
Pure Encapsulation is reasonably priced considering that the capsules are effective and their quality and purity are guaranteed.
Verdict
There is nothing that beats the feeling that you get when taking something that you are sure is safe. Pure Encapsulations B6 supplements are an excellent buy for this reason. It is independently tested for validation of potency and purity. So, when buying it, you are sure that it is effective. From the users, the capsules work well and have very few unwanted effects.
Contains the active form of vitamin B6
Hypoallergenic
Certified non-GMO and gluten-free product
Purity and potency is guaranteed through independent testing
Easily absorbed
Few side effects
Causes stomach discomfort
6. EZ Melts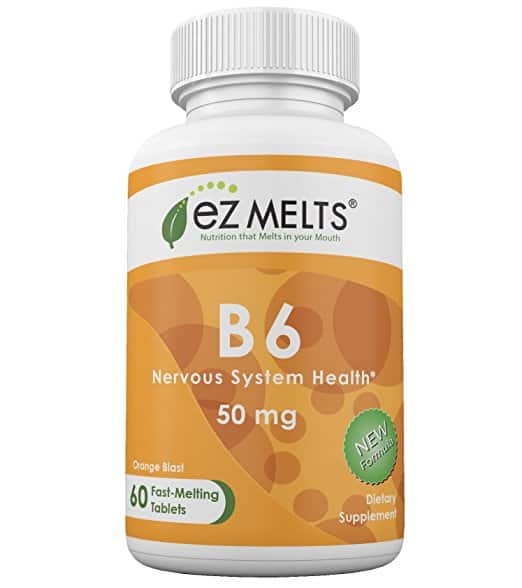 Ez Melts B6 supplements are in the form of chewable tablets. They are fast in melting and give an orange blast effect in the mouth. For them to be pleasant, they are naturally flavored, sweetened and colored. Once chewed, they are quickly absorbed and utilized by the body tissues. They are free of gluten, artificial sugars, and dye. Ez Melts is also a non-GMO product.
Expand to see more
Features/Specifications
Are chewable tablets
Are fast melting in the mouth
Naturally flavored, sweetened and colored
Easily absorbed from the gastrointestinal tract
Active ingredient is pyridoxine HCL 50mg
Free of artificial sugar, gluten, and dye
Non-GMO product
Each bottle has 60 tablets
Directions for use:
take two tablets per day.
Price/Value
Ez Melts tablets are reasonably priced considering that they are pleasant to taste, efficient and have servings that can last you for two months.
Verdict
If you dislike swallowing tablets, then Ez Melts product is a great choice for you. The tablets are chewable, easily melt once in the mouth and you do not need any water to swallow them. You can even dissolve them in a drink of your choice. They are easily absorbed once in the stomach, so they start working immediately. They are flavored, colored and sweetened with natural products, so you do not have to worry about artificial additives and sugars.
Great in taste
Melt rapidly in the mouth so no need for water
Easily absorbed
Suitable for kids if prescribed
Flavored and sweetened with natural products
7. Nature's Bounty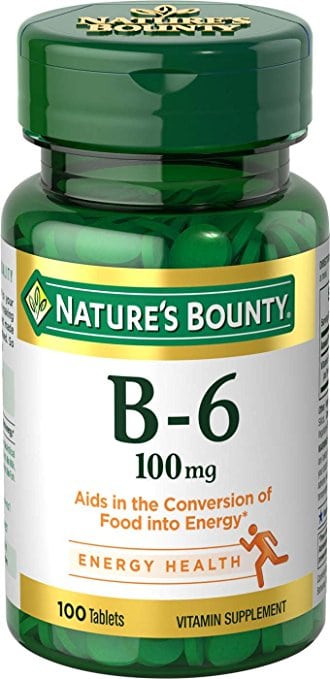 Nature's Bounty's supplement comes intablets which have vitamin B6 in the form of pyridoxine hydrochloride. It is a USA-made product that is suitable for vegetarians and can be used as a dietary supplement. Each tablet has 100mg of the active ingredient, which is high enough for prevention and treatment of vitamin B6 deficiency.
Expand to see more
Features/Specifications
In form of uncoated tablets
Active ingredient is pyridoxine hydrochloride 100mg
Suitable for vegetarians
No artificial color, flavor, sweetener, preservatives, sugar or starch
Free of lactose, soy, gluten, wheat, yeast, fish, sodium, and nuts
Each bottle has 100 tablets

Directions for use:

take one tablet daily preferably with a meal.

Price/Value

Nature's Bounty B6 tablets are very pocket-friendly. A single bottle comes with a supply of more than three months. There is also a choice to pick packs of two or four bottles. The number of pills per bottle is eye-catching and totally worth buying if you need them in a dose of 100mg.

Verdict

For treatment and prevention of vitamin B6 deficiency, Nature's Bounty is a good selection for its dosage. Furthermore, the product is affordable, suitable for vegetarians and easy to swallow.
Suitable for vegetarians
Free of most potential allergens
No artificial additives, colors or preservatives
Works well within a short period
Dose is high enough to prevent and treat deficiencies
Unpleasant taste and smell
8. Carlson Labs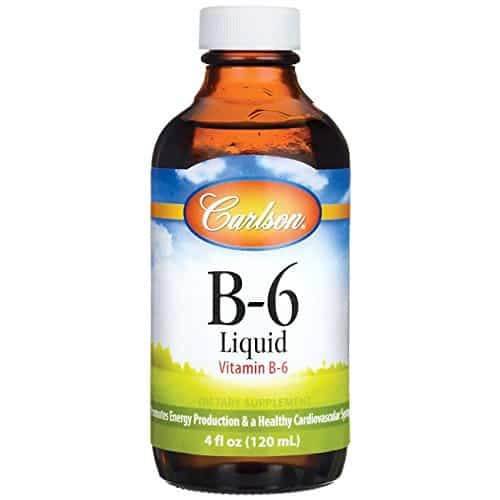 Carlson Labs vitamin B6 is in a liquid form. The B6 vitamin is in the form of pyridoxine hydrochloride. Each serving (one-half teaspoonful) has about 100mg of vitamin B6. It also contains about seven calories and 1.5 grams of carbohydrates, per serving.
Expand to see more
Features/Specifications
In liquid form
Active ingredient is pyridoxine hydrochloride 100mg
Is free of milk, soy, wheat, yeast, corn, and sugar
Suitable for vegetarians
Each bottle has 48 servings
Directions for use:
take one-half teaspoon per day, preferably at mealtime. Can also be mixed with other liquids like water, smoothie, or juice.
Price/Value
This option is fairly priced for a bottle that has about 48 servings that can last you for more than a month.
Verdict
If you dislike tablets and capsules, then this product is one of the best choices. It is in liquid form which you can take plain or add to a beverage of your choice. Liquids are also easy for kids to take as you can sneak the supplement in their drinks and if they can stand them plain, they are easy to swallow.
Easy to take
Can be mixed with other fluids
Easily absorbed
Suitable for vegetarians
Sweetened with natural ingredients
9. Best Naturals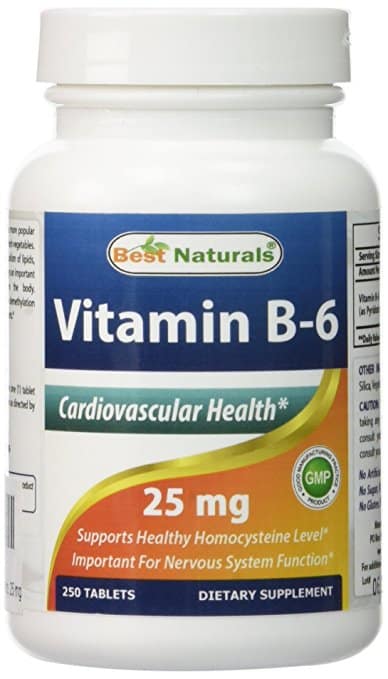 Best Naturals B6 is another product that is excellent for use in pregnancy, in case of nausea and vomiting. The tablets are low in dosage (25mg per tablet). The vitamin B6 is in the form of pyridoxine hydrochloride. The supplements are made in the USA in accordance with Good Manufacturing Practices (GMP), and purity and potency are guaranteed. The tablets have no flavors, artificial color, preservatives, or sweeteners. They are also free of most of the potential allergens.
Expand to see more
Features/Specifications
In uncoated tablet form
A USA-made product
cGMP compliant
Purity and potency tested
Active ingredient is pyridoxine hydrochloride 25mg
Each tablet has 250 tablets
Free of flavor, preservatives, artificial colors, sweetener, starch, corn, sugar, soy, egg, milk lactose, gluten, wheat, sodium, yeast, and fish.
Directions of use:
take one to three tablets daily at mealtimes.
Price/Value
For a supply of 250 tablets of each capsule, these tablets are greatly priced. They are extremely easy on the pocket, and one bottle will serve for the entire prescribed period.
Verdict
Best Naturals B6 supplements are a great buy not just for the price but also for the low dosage. 25mg dosage is hard to find yet, it is safe in pregnancy for nausea and vomiting. The supply of more than eight months is also another factor to consider.
Purity and potency guaranteed
Free of most potential allergens
Free of artificial ingredients
Easy to take
Low dose
Fewer side effects
Can help with morning sickness
Uncoated so has an unpleasant chalky taste
10. Designs for Health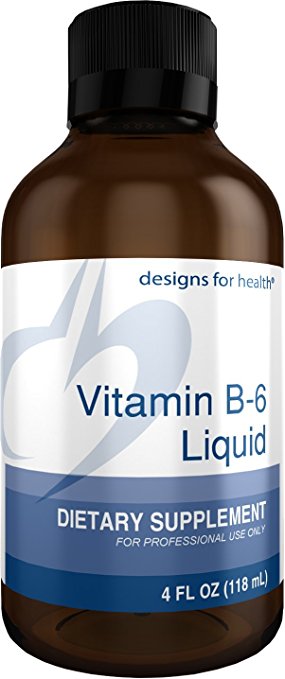 Designs for Health is another great B6 vitamin product that comes in liquid form. Vitamin B6 is combined with magnesium and zinc. It is a non-GMO product that is free of soy, toxins, and gluten. The product is also GMP compliant, FDA regulated, and NSF certified. The tablets have also undergone independent lab tests for quality checks.
Expand to see more
Features/Specifications
In liquid form
Suitable for vegetarians
Non-GMO
cGMP compliant
Free of gluten, soy, and toxins
Independently tested for potency
Has both pyridoxine HCL and pyridoxal 5 phosphate
Has zinc and magnesium
Each bottle has about 24 servings
Each serving has 50mg of vitamin B6
Directions for use:
take 5ml (one teaspoon) per day.
Price/Value
Designs for Health vitamin B6 is a bit pricey for only 24 servings, but it is worth for its quality, taste, and purity.
Verdict
If you want a great tasting product, then Designs for Health is an excellent pick. It has a natural fruity flavor and taste that is easy for children and in pregnancy. Please note that for kids and in pregnancy or when breastfeeding, you need a prescription. The liquid supplement is also manufactured to the best possible standards. You may have to pay a little more, but you will be assured of quality and safety.
Has a natural raspberry flavor
Easy to take
Easily absorbed
Quality is guaranteed through independent testing
Suitable for vegetarians
Non-GMO
---
Product Criteria For Evaluation
The world of nutritional supplements is a niche that has countless products. When we narrow down to vitamins, it is like the core of the market. Where there are many distributors and manufacturers, you will always get the good and the cheeky ones. It can be quite confusing especially if you are shopping for the first time. Well, we have made it easier for you by selecting the safest and most effective vitamin B6 products that you can get. Here is the criteria that we used to make our selection.
Safety of ingredients
When it comes to consumable products, safety has to come first. We chose products with safe and approved active and inactive ingredients. We were keen to check on quality certifications, adherence to good manufacturing practices and independent tests for purity and potency validation.
For vegetarians and people with sensitivities, we included products only sourced from plants and hypoallergenic ones. We also added organic and non-GMO products.
User reviews and ratings
We always say that verified and objective reviews matter a lot when buying a product. We can all attest that before buying something, we ask around what people think about it. We went through user reviews and ratings from reliable online sellers. We were keen to only include reviews and ratings that were verified, objective and unbiased. We then considered products that had the highest ratings and positive reviews. From the reviews, we also picked pros and cons of each selected product.
Manufacturer reputation
We chose products from manufacturers with a reputation for making quality, safe and effective nutritional supplements. Some have maintained their excellent reputation for years while others have also been exceptional at making other medical products. The manufacturers are trusted, known to adhere to GMP and FDA standards. Their products have also remained efficient for years.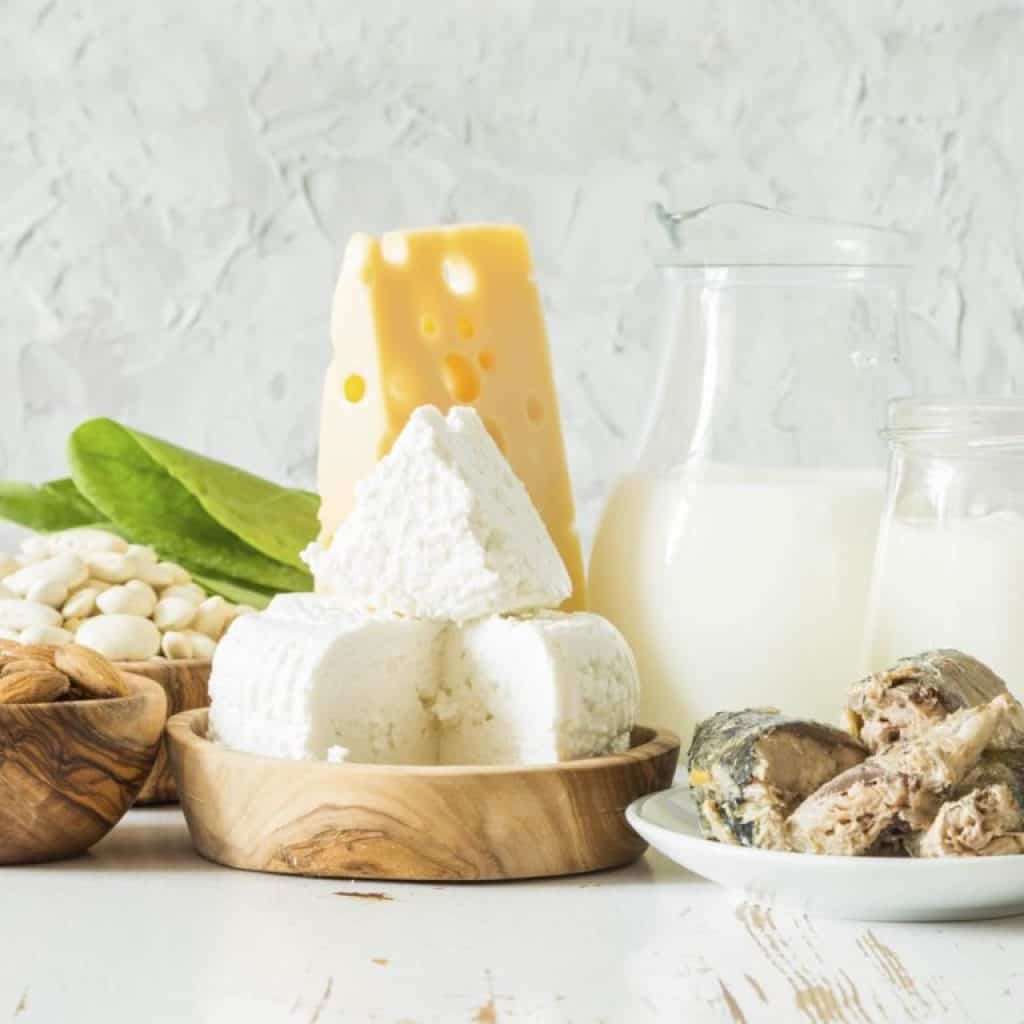 Possible side effects
Side effects are always unavoidable, but we tried our best to choose products that are likely to cause the least unwanted effects. We prioritized on those that are free of artificial additives, preservatives, and potential allergens. However, people may have different reactions to each product. Check our list of the side effects to know what to expect. Be careful not to take more than the recommended dose and follow the manufacturer or doctor's advice.
Supplement formulation
Vitamin B6 tablets are available as either chewable tablets, capsules or liquid form. We included all these formulations so you can choose what you prefer. There are no hard and fast rules as to which is better, but it is just a matter of preference.
Dietary sources and recommended intakes
The richest sources of vitamin B6 include:
Fish (tuna and salmon)
Organ meats like liver (beef)
Potatoes (sweet and Irish)
Starchy vegetables
Fortified cereals
Poultry (chicken and turkey)
Non-citrus fruits
Legumes (dried beans, peas, pinto, and lentils)
Nuts (pistachio) and seeds (sesame and sunflower)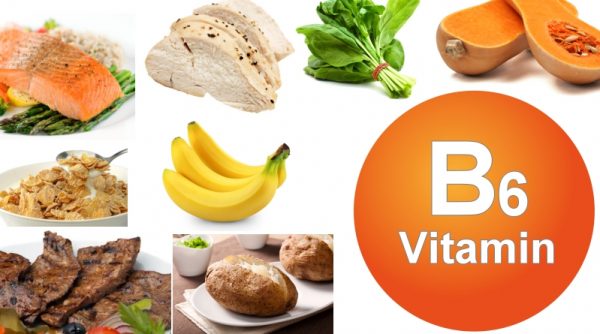 Adults (19 to 50 years) should aim at consuming 1.3mg per day. Women above 51 need 1.5mg per day while men older than 50 require 1.7mg. Pregnant and breastfeeding women require the highest amounts, 1.9mg and 2.0mg respectively.
For children, infants at birth to six months need 0.1mg which is obtained from breastmilk. 7 months to 3 years need amounts below 0.5mg while 4 to 13 years need less than 1mg. Children should be able to get their vitamin B6 from their diet and supplementation is not recommended, not unless advised otherwise by a specialist.
Role of vitamin B6 in the body
Vitamin B6 plays a significant role in metabolic processes and biological systems. It serves as a coenzyme in more than 100 enzymatic reactions in amino acids, glucose and lipid metabolism. This vitamin also aids in the synthesis of hemoglobin and enhances the oxygen binding of hemoglobin. For this reason, deficiency of vitamin B6 may be manifested by microcytic anemia. Vitamin B6 is also implicated in affecting the expression of certain genes.
The vitamin is critical for healthy skin, hair, eyes and proper nervous system functioning. It is also part of several neurotransmitters such as serotonin and norepinephrine, which influence mood and other body functions.
Vitamin B6 Benefits
The key benefits of vitamin B6 are the roles that it plays in the health of nerve, skin and red blood cells. The supplements can be either be used to meet your daily dietary requirements and also as a treatment for some conditions. The supplements are used alongside other medications such as isoniazid, and in patients with kidney failure, deficiency of vitamin B6, sideroblastic anemia, high level of oxalic acid in urine (hyperoxaluria), excessive vomiting in pregnancy, and alcoholism. Other benefits of vitamin B6 include:
Prevention of vitamin B6 deficiency
Vitamin B6 deficiency is not a common condition, but some people may be at a higher risk of getting it. If you are pregnant, breastfeeding, you are on a high-protein diet, you are dealing with chronic alcoholism or taking isoniazid, taking the supplements will help prevent vitamin B6 deficiency. Moreover, some populations in underdeveloped and developing countries may need the supplements for children that are malnourished. If the deficiency has occurred, the supplements are also used in its treatment.
Maintain healthy blood vessels
Other than the role of formation of hemoglobin, vitamin B6 also contributes to a healthy cardiovascular system by maintaining healthy blood vessels through its action of regulation of homocysteine. High level of homocysteine in the body contributes to inflammation of blood vessels which is a risk factor for heart disease. Build up of homocysteine in the blood vessels also contributes to building up of plaque which narrows the vessels. Vitamin B6 together with other B complexes aid in lowering of homocysteine concentrations.
Support the nervous system function
All B vitamins including B6 benefit the brain by influencing memory function, delaying premature aging of the brain cells and boosting the mood. Scientific evidence shows that B6 can positively contribute to the management of Alzheimer's disease (a condition characterized by dementia) alongside other medications.
Boosts mood
By increasing the level of serotonin, vitamin B6 boosts your mood, energy, and concentration. Serotonin also casually known as the "happy hormone," regulates the cyclic body processes and contributes to well-being. Depression medications work the same way by increasing serotonin. In this same way, B6 is vital for controlling mood, preventing depression, and anxiety and in the prevention of mood disorders.
Skin and hair health
A healthy diet helps you maintain your beauty. Vitamin B6 alongside other B complexes helps keep hair and skin healthy. To maximize this benefit, also include other B complexes in your diet. In addition to these benefits, vitamin B6 is also believed to help in protecting eye health and slowing down the onset of eye conditions such as age-related macular degeneration (MAD).
Reduce nausea during pregnancy
One of the benefits of taking vitamin B6 in pregnancy is that it helps to deal with morning sickness. The mechanism in which it works to ease nausea is not known, but obstetricians recommend 25mg up to three times daily to relieve nausea and vomiting. Furthermore, vitamin B6 helps to meet developing needs of the fetus, improves the immunity of the mother and boosts hemoglobin levels to prevent anemia.
How to take the supplements
Most of the products on our list should be taken orally. You can take with or without food once daily or as prescribed by your doctor. Follow all the directions, and if you are uncertain, please consult your doctor. If you are taking any other drugs or managing a medical condition, you should strictly adhere to the dosages recommended by your specialist.
If you are taking the extended/time-release type, swallow the capsules or tablets whole. Do not chew, crash or add to fluids. Doing so will release all the drug at once. It will then be absorbed rapidly increasing the likelihood of unwanted effects. This type is meant to be absorbed and utilized slowly over a period. If a tablet can be split into two, it will have a marked line in the middle. In this case, if you wish, you can break the tablet into two then swallow, but do not crash it.
For powder formulations, mix it with a fluid of your choice then consume immediately. Do not prepare the liquid if you are not taking it right away. For the liquid supplement type, protect it from light and only take it if it is clear.
For maximum benefits, ensure that you take a healthy balanced diet. Most B vitamins work together with other nutrients. Remember that vitamin B6 from food sources is not harmful and has no side effects.
Use of vitamin B6 in Pregnancy and Breastfeeding
Pyridoxine (B6) is classified as Category A drug by the US Food and Drug Administration (FDA). This means that it is safe to take during pregnancy as there are no known adverse reactions. It only applies to Recommended Daily Allowance amount, which is 1.9mg. If the dose is above that, then it is classified as a Category C, in which, no adequate research has been done to establish that higher amounts are safe to the fetus and mother.
Vitamin B6 has been used together with doxylamine, to reduce nausea and vomiting in pregnancy. It is also thought to play a role in the prevention of pre-eclampsia and preterm birth. However, the World Health Organization (WHO) does not recommend the supplementation of B6 to improve maternal and perinatal outcomes. The organization recommends that you should receive adequate nutrition through consumption of a healthy balanced diet.
Pyridoxine is excreted in breastmilk thus can be passed to a nursing baby. Large doses can cause seizures in infants.  Pyridoxine is also reported to inhibit milk production in large doses. Hence, if you are pregnant or breastfeeding, you should only take the supplements if advised by your doctor- if the medical benefits outweigh the possible risks.
Possible side effects
Other than the desired effects, pyridoxine may cause other unwanted effects, known as side effects. Some are major while others are minor, and go away as you continue taking the supplements. Most of the common side effects include:
Nausea
Vomiting
Abdominal discomfort
Loss of appetite
Headache
Drowsiness
Mild numbness and tingling
Sleepiness
If the above side effects do not subside, you should seek medical help. In addition, if you notice the following effects, you should stop taking the supplements and see a doctor:
Clumsiness
Confusion
Numbness of the hands or feet
Excessive fatigue
Loss of balance and coordination
Decreased sensation of touch, vibration, and temperature
Seizures
High doses of vitamin B6 are unsafe as they can cause serious brain and nerve problems. Stick to the recommended dosages and the restricted intake for every 24 hours. If you are breastfeeding, stick to the prescribed doses as high amounts passed to the nursing baby can cause seizures.
Precautions
You should avoid vitamin B6 tablets if you have ever had an allergic reaction. Signs and symptoms of an allergic reaction include hives, itching, nasal congestion, rash, red and watery eyes, difficulty in breathing, swelling of the throat, mouth and eyes, and chest tightness. If you notice these signs, you should stop using the supplements and get medical help.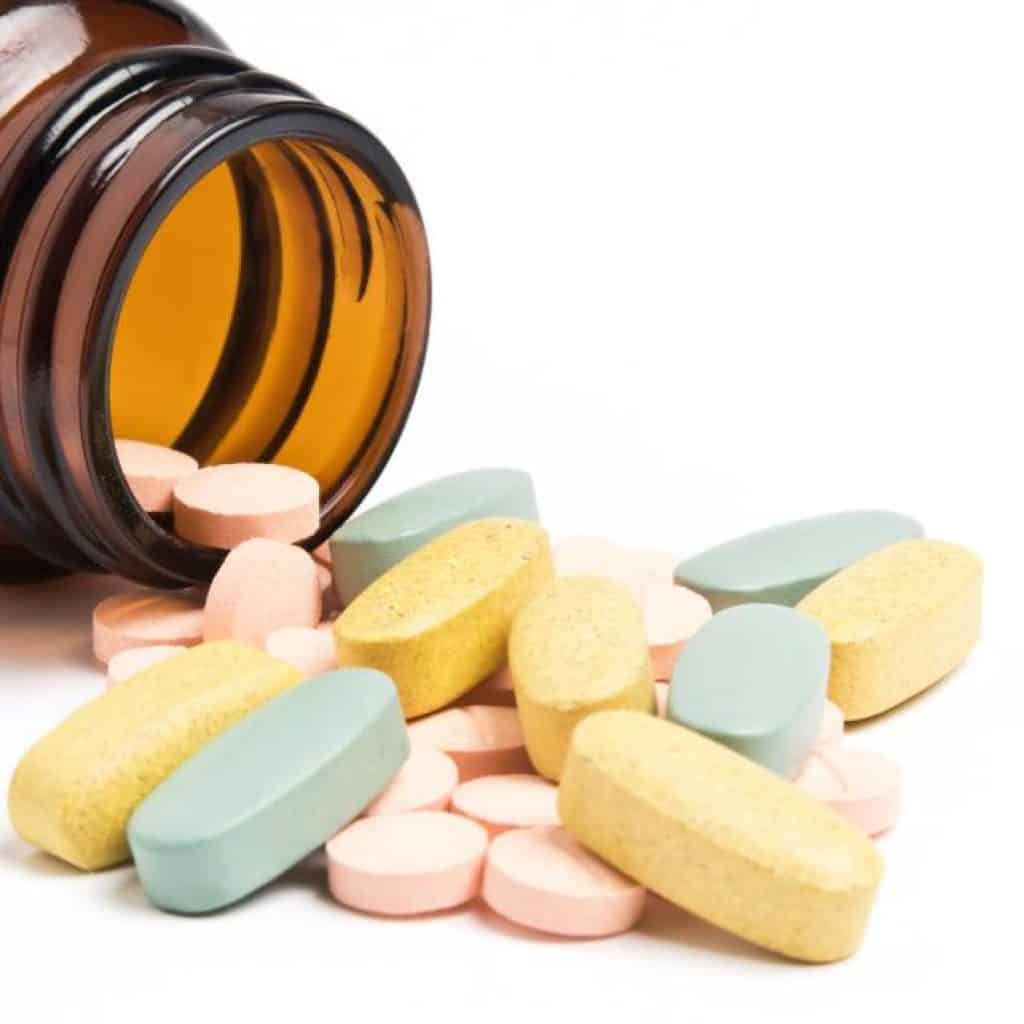 Other medications and herbal products may interact with vitamin B6 supplements. Over 30 drug types have been reported to interact with these supplements. Therefore, if you are on any other medication, you should inform your healthcare provider. Drug interactions can either render the medications ineffective or potentiate toxicity. For this reason, you should not take the matter lightly, but discuss it with your doctor.
If you are being treated for medical conditions such as heart, liver or kidney diseases, you should also be cautious and seek counsel from a specialist. If the supplements are not cleared from the body efficiently such as in the case of liver and kidney failure, they may be toxic. If really needed, your doctor may suggest lower doses. Also, you should never replace your prescribed medication with the supplements, not unless under the guidance of your doctor.
You should adhere the recommended doses, duration and timing of the supplements. Do not overdose as cases of toxicity have been reported. Furthermore, if you would like to administer the supplements to a child below 18 years of age, you should first consult a pediatrician. This also applies to other medications and supplements.
Storage
Vitamin B6 supplements should be stored at controlled room temperature 20° to 25°C (68° to 77°F). Liquid preparations should be protected from light, and should only be consumed if the solution is clear. Moreover, store the supplements away from children.
FAQs
What is it?
Vitamin B6 is a water-soluble vitamin that is a member of the vitamin B complexes. It is also referred to as pyridoxine.
What are the food sources of vitamin B6?
The most abundant sources of vitamin B6 are fish, poultry, organ beef meat, starchy vegetables, and non-citrus fruits.
How much should I take in a day?
Adults below 50 years should take 1.5mg, above 50 years 1.7mg, pregnant women 1.9mg and breastfeeding mothers 2.0mg.
What if I do not take enough of it?
Lack vitamin B6 results in vitamin B6 deficiency which may manifest as microcytic anemia, depression, skin wounds, muscle pain, low energy, confusion, irritability and mouth sores.
Why take the supplements?
Vitamin B6 supplements should be taken to prevent and treat vitamin B6 deficiency, maintain a healthy nervous system, meet dietary requirements, boost mood and energy, for a healthy cardiovascular system and as a treatment together with other medications for specific medical conditions.
Who should take the supplements?
The supplements can be taken by people who are at a risk of vitamin B6 deficiency, e.g., those taking oral contraceptives, those taking isoniazid, malnourished patients and those who want to meet their daily nutritional demands.
How do they work in the body?
Vitamin B6 works as a coenzyme in many metabolic reactions and also as a part of neurotransmitters.
Are they safe during pregnancy?
In amounts below 2.0mg, vitamin B6 is considered safe in pregnancy. However, you should only take them under the guidance of your obstetrician. The doctor can prescribe them for nausea and vomiting in pregnancy. To meet your dietary requirements, the WHO recommends that you should focus on taking a healthy balanced diet.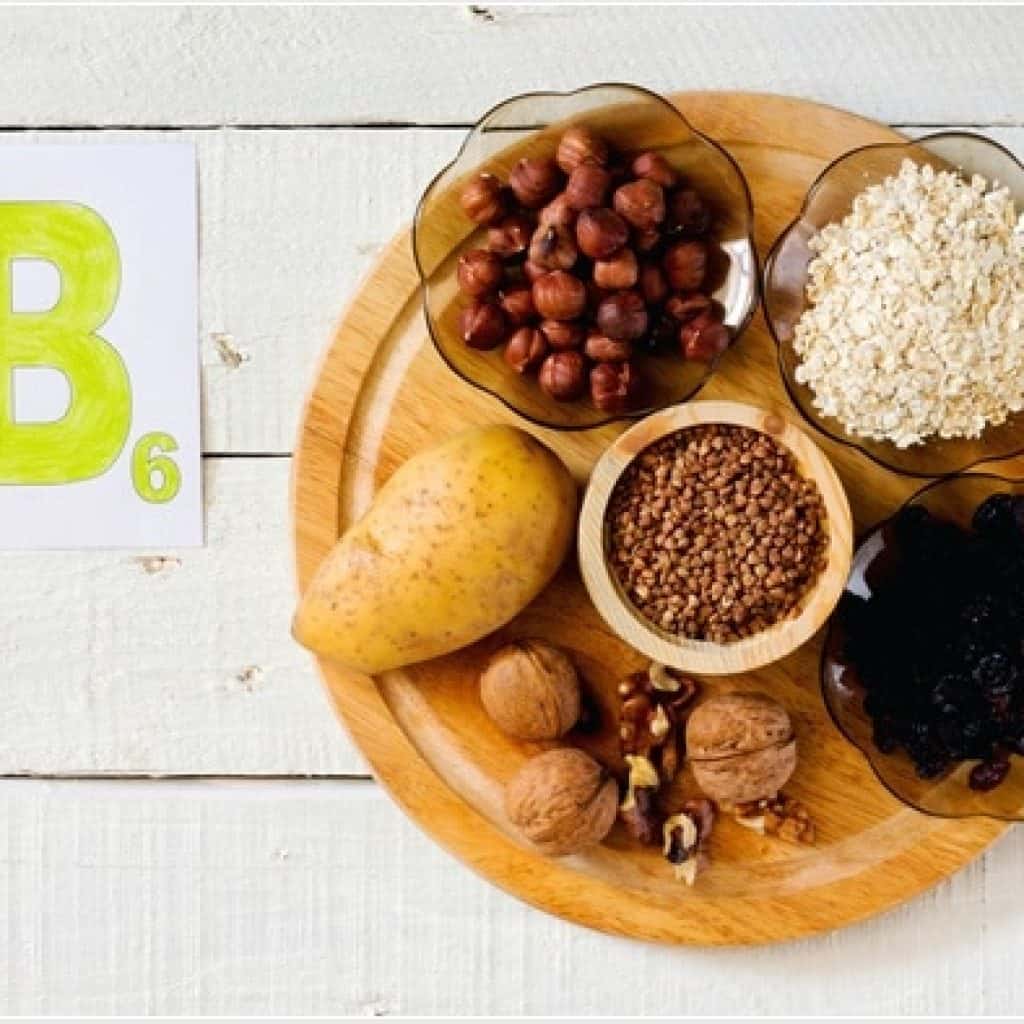 Do they have any side effects?
Just like all other drugs, vitamin B6 has side effects. The commonest include nausea, headache, abdominal pain, drowsiness and loss of appetite. The supplements may have other serious side effects like loss of sensation, numbness, seizures, loss of balance and confusion. If you notice any of the severe effects, you should seek medical help immediately.
When should I take caution?
You should take caution if you had an allergic reaction before, if pregnant or breastfeeding, if you are taking any other medication, supplement or herbal product and if you are on treatment for any medical ailment. In all these cases, you should first consult a specialist.
How should they be taken?
You can take the supplements with or without food as per the prescribed doses. If you get any abdominal discomfort, take them with food.
Where can I buy them?
You can get the supplements from a pharmacy, hospital or online sellers like Amazon. Buying from online gives you the advantage of shopping at any time and anywhere and you get to compare different prices and reviews. Moreover, from Amazon, you get friendly purchase, shipping, and return policies.
Subscribe to our Newsletter