Best Cinnamon Supplements Reviewed and Compared
Disclosure: We use affiliate links and may receive a small commission on purchases.
Cinnamon has been a popular and traditional culinary spice to help support proper digestion and add great taste to our foods. More recently however, it has been found that it is an excellent supplement to your diet in order to help your body's natural metabolisms of sugars and glucose, to help to neutralise free radicals that are associated with some forms of cancers, and help to balance your body's immune system to support overall health. The benefits of this ancient supplement are incredible, so adding a cinnamon supplement into your diet is a great way to get the extra benefits without having to add the dry brown powder to everything (which quite frankly can be a little too much).
Our Top 3 Picks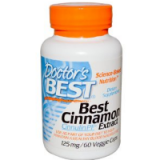 Doctor's Best Cinnamon

Our rating
Cinnamon Veggie Caps
Price:

See Here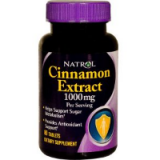 Natrol Cinnamon Extract

Our rating
Sugar Metabolism Regulation
Price:

See Here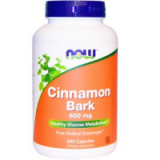 Now Foods Cinnamon Bark

Our rating
Free Radical Scavenger
Price:

See Here

10 Best Cinnamon Supplements
1. Doctor's Best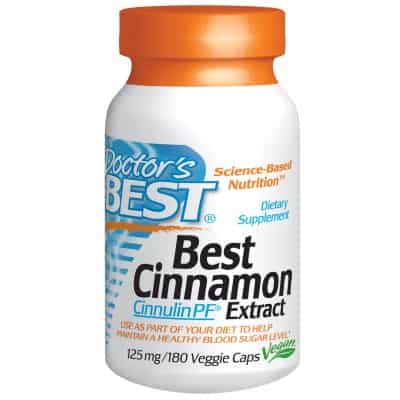 This is a scientifically developed supplement derived from water extraction of the cinnamon spice to develop Cinnulin PF, a patented extract that contains type A polymers to help to aid the body's natural metabolising of glucose and other sugars.
Expand to see more
This supplement can help to alleviate the effects of diseases such as diabetes, as the supplement helps to keep the body's blood sugar levels and a constant, healthy rate.

The capsules are taken twice a day before a meal, and only one capsule is taken, giving 60 servings per carton. This means that the capsules will last for about a month, which is great value for money, as it is relatively cheap in comparison to other supplements available.

This option is vegetarian friendly, and contain no allergens such as gluten, so they are a great option for those with a sensitive digestive system, or simply for different dietary requirements.
Alleviates the effects of diseases diabetes
Vegetarian friendly
Gluten free
2. Natrol Extract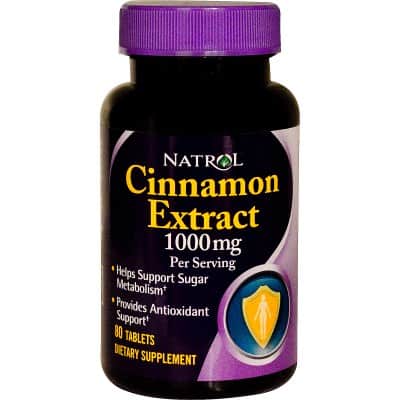 The Natrol Cinnamon Extract Capsules are one of the highest dosage capsules on this list. They help to maintain the body's natural metabolism of sugar to keep the blood sugar levels at the same levels throughout the day, helping to alleviate the symptoms of both type one and two diabetes. They also help to provide
antioxidant support
to keep your body as healthy as possible.
Expand to see more
They are taken once a day, with one portion being two capsules, which is a much higher dosage than many other supplements on this list.This gives around 40 servings in each carton, so it will last over a month, which is great value for money. They are taken by swallowing or by chewing, so they are easy to take for those who have some difficulty swallowing whole tablets.

The capsules are totally vegetarian and contain no allergens such as yeast, gluten and soy, so they are great for sensitive digestive systems and a wide range of dietary requirements.
Great price value
Only 1 capsule per day
Suitable for vegetarians
3. Now Foods Bark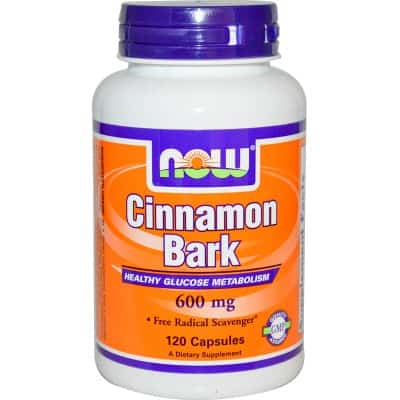 The Now Foods Cinnamon Bark Capsules are naturally derived from cinnamon bark to aid proper digestion. They help to reduce and neutralise free radicals within the body, and aid in the natural metabolising of sugars so that the blood sugar levels within the body are kept at a constant. This can help to alleviate the issues associated with diabetes type one and two, as these disorders are stemmed from the body's inability to produce insulin to metabolise the sugars.

Expand to see more
The capsules are produced from natural botanics and herbs, all of which are GMO-free and GMP assured, so can be assured that you will be getting a quality product that is also good for the environment.

The main downside is that they are not vegetarian friendly, so they do not cater to a meat free diet, however they are free from many allergens such as gluten, soy, and most nuts, so they are suitable for many dietary requirements. The recommended serving size is 2 capsules twice per day, and there are 120 capsules in every container, giving 60 servings in each container. This means that the Now Foods Cinnamon Bark Capsules will last for around two months, making them great value for money.
GMP certified
Non-GMO
Allergen free
Not suitable for vegetarians and vegans
4. Nature's Way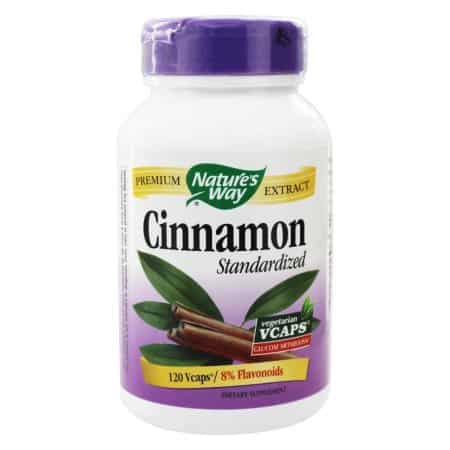 Nature's Way capsules are another water-extracted supplement, only this time they extract the Cinnamomum Cassia to provide you with the best supplement for your bodily health. Nature's way have developed these cinnamon supplements to be at least 8% flavonoid in each capsule, so you can be sure that you will get a quality capsule throughout the product. The capsules help to aid natural digestion and your body's natural metabolism of sugars, which alleviates some symptoms of diabetes type one and two.

Expand to see more
They are a vegetarian capsule and are free from some other allergens, although they are not dairy free and so are not vegan friendly, however they do cater to a wide variety of digestive needs and dietary requirements.

The capsules are taken twice daily, and each serving is one capsule, so in each carton you are provided with 60 capsules, so you they should last for over two months.
Suitable for vegetarians
Allergen free
Potent formula
5. Nature's Bounty with Chromium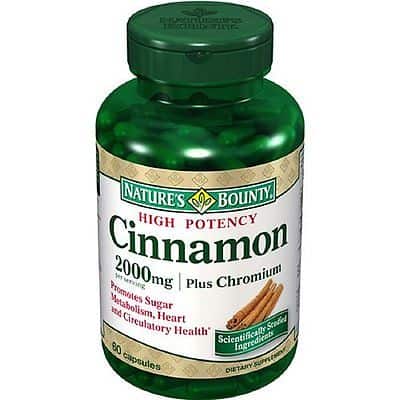 The Nature's Bounty capsules are derived from synergistic ingredients and laboratory tested in order to create the highest quality cinnamon supplement. They help to promote your body's natural sugar and fat metabolism in order to keep your sugar levels at a constant, which can be massively helpful in alleviating some symptoms of both type one and two diabetes.
Expand to see more
The addition of Chromium Picolinate helps to provide further aid in fat and carbohydrate metabolism, adding helping to blood sugar levels constant.

The main drawbacks are that they are not vegetarian, as there is gelatine used in the creation of the gel capsules. They are also a very high dosage, making the capsules much larger than other options on this list, and this can be difficult for people who find it hard to swallow large tablets.

However they are suitable for a wide range of dietary requirements as they are free from many allergens like dairy and gluten. The serving size is two capsules taken once a day, giving you at least 30 servings in each carton, so it should last for at least a month, so they are great value for money.
Higher dosage
High potency
Maintains blood sugar levels
Not  suitable for vegetarians and vegans
6. Solgar Cinnamon Alpha-Lipoic Acid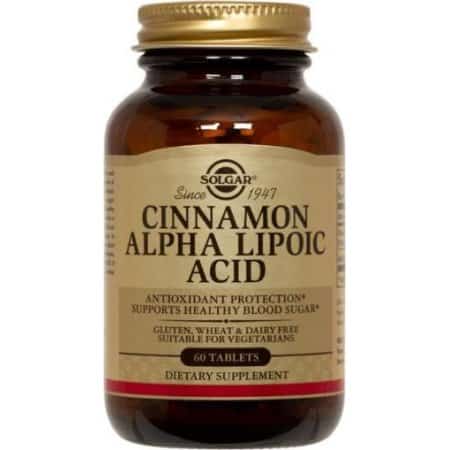 They are derived from cinnamon's natural polyphenols, which have a beneficial effect on sugar metabolism within the body. This helps to keep your sugar levels at a constant that can help to alleviate the symptoms of both types one and two diabetes. Alpha-Lipoic Acid adds beneficial antioxidants that can help to keep your body as healthy as possible.

Expand to see more
They are suitable for vegetarians, and are also gluten, wheat, and dairy free, so they can be taken by thise with a wide range of different dietary requirements. However, thecapsules are not vegan friendly.

They are taken between two and four times a day, and the serving size is only one capsule, so there are around 60 servings in each bottle, however the high number of dosages each day makes it not as high a dosage as usual.
Alleviates the symptoms of  diabetes
Suitable for vegetarians
Gluten fee
Wheat and dairy free
7. Oregon's Wild Harvest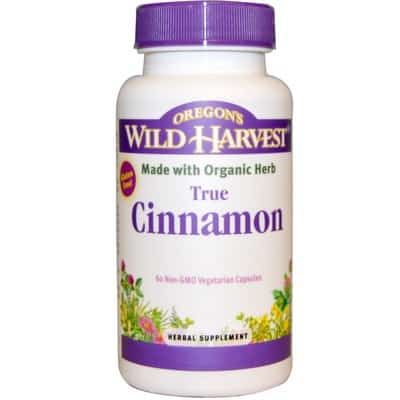 Oregon's Wild capsules are certified as organic, and are totally GMO-free, making them very eco friendly. They help to support the body's natural digestive processes, support the immune system, and help to metabolise different types of fats within the body. These benefits can massively aid in alleviating the symptoms and issues associated with diabetes.

Expand to see more
The cpsules are vegetarian, and are free from many other allergens such as dairy, gluten, and soy, so they are suitable for many different dietary requirements, however they are not vegan friendly.

The capsules are taken once each day, and the serving size is two capsules, so one container gives you 30 servings, which is great value for money as they will last around a month.

Suitable for vegetarians
Gluten free
Soy free
Dairy free
Can be a bit heavy on the stomach
8. Hero Nutritional CinnaBetic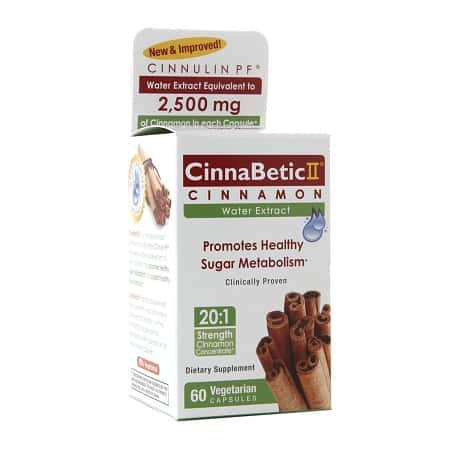 The Hero Nutritional capsules are the newest development from Hero Nutritional Products in Cinnamon supplements to help the body's natural processing and metabolising of sugars, which help to alleviate some symptoms of diabetes. Theyare water extracted for a 20:1 strength cinnamon potency, so the dosage is able to be much lower than other capsules, whilst still being as powerful as other options and providing the same benefits. In fact, they have the equivalent of 2,500 mg of cinnamon in each capsule!

Expand to see more
The capsules are completely vegetarian, and are free from many other allergens such as milk and gluten, so these capsules are suitable for a wide variety of dietary needs.

To take the capsules, simply take one capsule twice a day roughly twelve hours apart. This will give you the proper dosage throughout the day for constant and consistent results throughout the day and night. There are 30 servings in each container.
Great price value
Suitable for vegetarians
Gluten free
Lower dosage of cinnamon extract
9. Planetary Herbals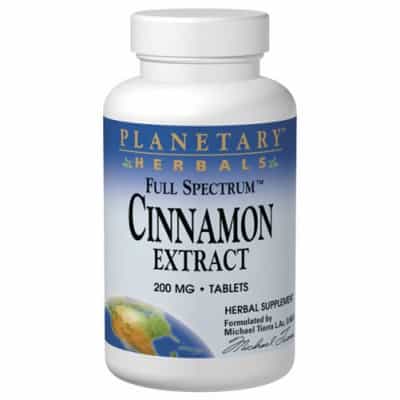 Planetary Herbals have been created specifically to aid in supporting the body's healthy blood sugar levels by aiding natural sugar metabolism, and have been approved by doctors in helping to do this.
Expand to see more
The capsules contain 200mg of cinnamon extract, which is considerably lower than other capsules on this list, but also makes these capsules a good starting point for cinnamon extract capsules to test whether they help you.

They are taken once or twice each day, so there are 60 servings in each container, which is good value and will last around two months.
Only 1 capsule per day
Quality ingredients
Potent product
Contain lower dosage of cinnamon
10. 21st Century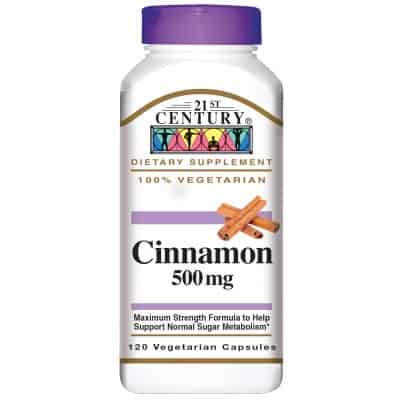 The 21st Century capsules are a lower dosage than other options on this list, but this does make them a good option to start out with when testing the effects of cinnamon capsules in your body. They are completely vegetarian friendly and do not contain many other allergens, so they're great for sensitive digestive systems. However they are not gluten free or dairy friendly.
Expand to see more
The serving suggestions for these capsules is two capsules per day, giving you 60 servings in each carton, so the capsules should last for over two months, saving you from regular repurchasing.

Suitable for vegetarians
Maintains healthy blood sugar levels
Potent product
Contains gluten and dairy
Health Benefits
Most of us come across cinnamon at the breakfast table. It's found in some of our favorite cereals, and the rolls that go so good with coffee first thing in the morning. Nobody really expects it to be the healthy option, as the tangy spice flavor is often there to take away some of the sweetness of sugar. However, it is one of nature's great spices; it has probably the widest range of evidence-based medicinal properties.
What is cinnamon?
The cinnamon we use every day comes from an evergreen tree. The bark of the tree is used to make the cinnamon spice, and other parts including the leaves are used to make oil. There are two basic readily available varieties of cinnamon, but only the one from Sri Lanka has all the significant health benefits.
Cassia Cinnamon: The commonest type is Cassia Cinnamon, and is the kind available in most supermarkets. It is made by cutting the outer bark of the tree, which is then dried. As it dries, it curls into the familiar sticks. The Cassia Cinnamon is harvested when the trees are mature and are at least 20 years old so that it can be quite thick, and one piece at a time is used to roll into a stick. This type is grown across Asia, with the primary production coming from China, Vietnam, and Indonesia.
Ceylon Cinnamon: As you would expect from the name, this type comes from Ceylon, which is now known as Sri Lanka. Almost all the Ceylon Cinnamon produced is grown on the island. The spice is harvested from much younger trees or bushes, generally, those that are three to six years old. The plant grows more like a bush, with thin branches extending from a central stump. These branches are cut and harvested and can regrow. Because the bush is younger, the soft inner bark is almost paper thin, and when dried they shrivel up. Unlike the Cassia, a number of the bark layers are wrapped together to create the familiar stick. Because of this extra labor intensive stage in its production, Ceylon Cinnamon is much more expensive than Cassia Cinnamon.
Both types have the same distinct smell and flavor, which is due to the oil that is part of the tree, and have a high concentration of the compound cinnamaldehyde. The cinnamaldehyde compound is responsible for giving the spice its powerful effects on the metabolism.
What are the health benefits?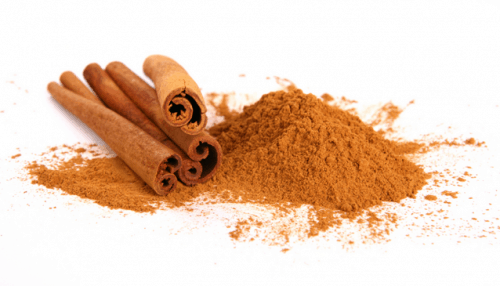 1. High in antioxidants. If you are looking for a spice that's packed full of antioxidants, then cinnamon is right up at the top of the list. The antioxidants help slow the aging process, and researchers have already discovered forty-one protective compounds in cinnamon. When it comes to antioxidants, it is ranked #7 of all foods spices and herbs and is more potent than garlic or oregano, and many other 'superfoods.' The super spice, if you like, is full of polyphenols, flavonoids, and phenolic acid, which is found in things such as berries, red wine, and dark chocolate. The antioxidants in it are known to reduce the symptoms of many diseases and have a positive effect in instances of brain disorders, cancer, heart disease, and other conditions.
2. Anti-Inflammatory properties. Inflammation within the body helps fight infection and repairs damaged tissue. However, when it is long term and chronic, it can have a debilitating effect. Clinical studies have shown it has a potent effect on inflammation and can be beneficial in pain management. The studies have shown the spice can help to relieve muscle soreness, PMS pains, inflammation as a result of an allergic reaction, and age-related pain symptoms.
3. Could cut heart disease risk. The daily consumption of it has been linked to a reduced risk of heart disease, the biggest cause of premature death. A recent significant study concluded that just 120 milligrams of it per day reduces the total amount of cholesterol in the blood, particularly the LDL (bad) cholesterol and triglycerides. The level of HDL (good) cholesterol stayed the same or in some cases was raised by the daily consumption of it. Studies with animals have shown it can also reduce blood pressure. Taken together, all of these actions could drastically cut the risk of heart disease.
4. Helps fight diabetes. It has a known anti-diabetic effect. It can help lower blood sugar levels and heightens the sensitivity to insulin. Insulin is a key hormone that regulates the metabolism, and how energy is used in the body. Without insulin, the blood can not transport sugar through the bloodstream to cells. People who have a problem with resistance to insulin are known as type 2 diabetics. Studies have shown that it can greatly reduce this resistance, and help it transfer the sugar through the bloodstream. By doing so, it reduces the blood sugar level in the blood and has an enormous anti-diabetic effect.
5. May be beneficial in helping brain function. It contains two compounds which clinical studies have shown inhibit the protein tau building up inside the brain. This protein has been associated with neurodegenerative diseases such as Alzheimers and Parkinson's disease, two of the most common brain disorders. It appears the antioxidants in it are a useful preventative that lowers the risk of brain dysfunction and neurodegenerative disease.
6. May protect against cancer. Although there are no clinical studies to confirm it can protect humans from cancer, there are test tube and animal studies which suggest it is possible, if not probable cinnamon has some effect in combating cancer. The antioxidants in it appear to act in such a way as to reduce the growth of cancer cells in mice and lessen the formation of blood vessels to feed the cancer. The animal studies appear to show that it can be toxic to cancer cells, which in turn can reduce cancer growth. Test tube results with human colon cancer seem to back up the animal research, but as yet there has been no definitive study with people. Studies in this area are ongoing.
7. Fights viruses and infections. The essential oils found in it are known to be antibiotic, anti-fungal, anti-microbial, and anti-viral. All of this means it can boost the human immune system to ward off disease and infection. In studies, Cinnamon oil has been shown to be an effective treatment for respiratory tract infections that have originated from a fungus. It has also been shown to limit the growth of deadly bacteria such as salmonella and listeria. This anti-microbial element within cinnamon makes it good at preventing tooth decay and bad breath, and it can be found in some brands of toothpaste.
8. Could help in combating HIV. A laboratory study of 69 medicinal plants suggests it is the most effective treatment for HIV-1. This is the most common strain of human HIV, and extracts from Cassia Cinnamon appear to have some beneficial effects. However, there have been no studies involving humans, and its true efficacy has still to be proven.
9. Can help and cure Candida. Candida is a yeast infection found in the mouth and digestive tract, and the anti-fungal properties of it have proved to be effective in combating the build up of the yeast that causes the problem. Studies have shown that it can reduce or stop the growth of the yeast that causes Candida. If Candida is not controlled within the body, it can lead to a chronic health problem, with exhaustion, bad breath, joint pain, and digestive issues among others.
10. Cinnamon oil is good for the skin. Applying this oil directly onto the skin can reduce swelling and inflammation. The antibiotic and anti-microbial properties of it make it an ideal lotion to protect the skin from rashes, and allergic reactions. A mix of cinnamon oil and honey can be used to treat acne and skin allergies.
11. Allergies and asthma attacks. The compounds found in cinnamon have been proven to affect fighting the symptoms of common allergies. The anti-inflammatory properties of it along with its ability to fight histamine reactions within the body means it is a natural remedy. For the same reasons, it can be used to counter the effects of an asthma attack.
12. Boosts your sex drive. Aphrodisiacs have been used for centuries to help stimulate sexual desire. Some people find eating hot foods, such as chilies or spicy hot cinnamon can improve their sexual performance, even if it is just a placebo effect. However as a study with rats given Cassia Cinnamon bark appears to show heightened sexual function.
13. Use as a sugar replacement. With a naturally sweet taste and no calories, it can be used as a sugar substitute. It can be useful for people who need to reduce their sugar intake but still need sweetness in their food and drinks. So if you are looking to lose weight, then there is a double effect of using it as a sugar substitute. It reduces the calorie intake and promotes the production of insulin which in turn increases the metabolism of the body, thus burning up more of the body's stored fat.
14. Attention-Deficit Hyperactivity Disorder. The most prolific symptoms of ADHD among adults and children are daydreaming, becoming easily distracted, forgetfulness, the inability to concentrate and sit still for long periods, and anxiety. Early studies into aromatherapy treatment for children with ADHD show the use of cinnamon oil has a calming effect on sufferers. The ability to control blood sugar levels and the antioxidants in it are also likely to have a positive effect of those who have ADHD.
Is there any bad news?
Cinnamon from the supermarket is not likely to cause you any problems in moderation. It is known that excessive consumption of Cassia Cinnamon over an extended period can cause liver problems, but for most people this should not be a concern. However, taking cinnamon oil or extract in its more concentrated form could interfere with other medicines, and it is advisable to seek medical advice if you intend to use these types over a longer period. Medical practitioners warn that taking cinnamon supplements can be unsafe if you are pregnant or breast feeding, have liver disease or diabetes or are recovering from surgery. Like all things, moderation is the key, and should you feel a change in your condition it is best to seek medical advice as soon as possible.
Cinnamon for diabetics
Anyone who has a resistance to insulin can get a benefit from a daily dose of cinnamon. Health professionals recommend taking it once a day, five days a week. It's easy to add a piece of cinnamon stick or a little ground cinnamon to a cup of tea. Or you can add a few drops of the oil to any food and get the same effect.
Cinnamon for a diet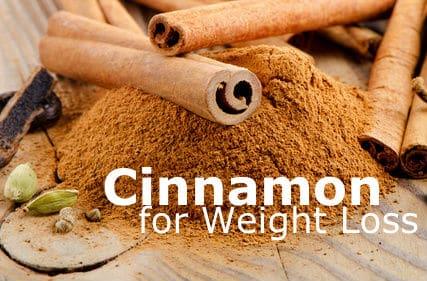 The spicy sweetness of ground cinnamon works well with both sweet and savory dishes and can be eaten with any meal, at any time of the day. Sprinkle a little on oatmeal, breakfast cereal, or toast first thing in the morning. You can add it to any spice mix or rub for dinners and sauces. Combine it with vanilla extract for a milk shake that is sweet and spicy and full of flavor.
How to store it
It's important to store it properly as it will lose its potency if not done correctly. It can be stored in a dry place for years, but its smell and taste will be less noticeable after just a few months. It is best to use an airtight glass jar to store cinnamon sticks or ground powder. Ground cinnamon spice should keep for six months, and sticks for up to a year before there is a noticeable change in the smell and taste. Provided the container is airtight, you can even put the cinnamon in the refrigerator for maximum freshness. Once you detect the flavor is no longer there, and the spicy sweetness is fading, it is best to throw away the cinnamon and buy new.
How to take Cinnamon Supplements Correctly
You need to be careful with different aspects of supplements, such as dosage and frequency, especially if you are just starting out taking supplements, as your body will require a different dosage than someone who has been taking cinnamon for a longer time.
This list has everything that you need to know before you start out taking your new supplement so that you can take it in the safest way, whilst still getting all of the benefits of the product.
Check the dosage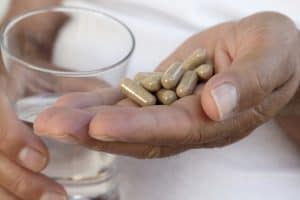 Cinnamon extract capsules are available in a huge range of dosage sizes, from around 200 mg to 2500 mg, and there is a huge difference in how these dosages will affect your body. If you are just beginning to take this supplement then we seriously recommend starting with the lowest dosage that you can find and then working your way up. This will help your body get used to the cinnamon slowly, without shocking it, and we promise that you will still get all of the benefits that you want with a lower dosage.
How often are you taking it?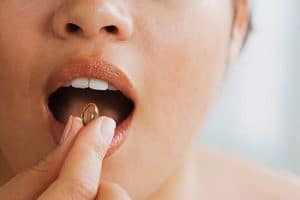 Some supplements are required to take up to four times a day, and for many people this just isn't a feasible amount of dosages in a day, let alone the fact that you will run out of your supplement in a very short amount of time. The best options are usually capsules that you take once or twice a day, or even two capsules once a day, as this is a reasonable dosage to take either in the morning, or in the evening in order to get the results that you want. This saves you from carrying your supplements everywhere you go and having to buy more than a bottle a month to get your dosage.
What are your dietary requirements?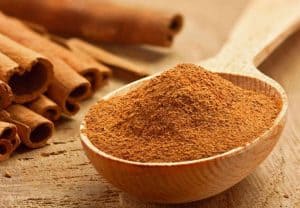 Many supplements will contain some kind of gelatine or other allergen in the making or extraction of the cinnamon extract, so you should really make sure that you read each ingredient to make sure you know if it is safe to take. This seems like a very simple thing, but many supplements may be vegetarian, but not vegan, or be gluten free but not dairy free. If you have any allergies, or you have a sensitive digestive system, make sure that you buy a supplement that you are certain will be safe for you to take; most health food shops will be able to help and advise you on which supplement contain what allergens so that you don't get caught out.
Watch out for the cinnamon species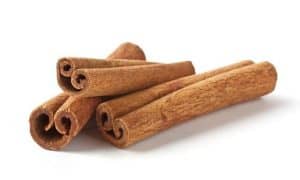 Some of the cheaper brands will use Cassia Cinnamon, rather than Ceylon Cinnamon, and this is an issue due to the fact that Cassia has high levels of a substance called "Coumarin", a substance that is known to cause liver failure. Make sure that you read through the ingredients of your extract carefully so that you know what exactly the ingredients are, and what species of cinnamon the extract uses. Although the supplement company will not sell you a supplement deemed as hazardous to health, many will choose to avoid any supplements that use Cassia Cinnamon for this reason, but this can add to the price of the supplements.
Do not exceed the dosage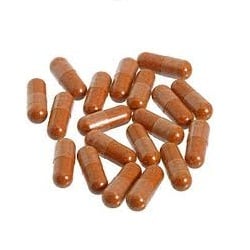 It can be tempting to take more than the normal dosage to see what a higher dosage will be like, or to get more of the benefits from your supplement, but this can be very dangerous. Each supplement has been carefully created to be a healthy dosage each day, and taking more of this will of course give you more cinnamon extract, but it will also give you more of the other ingredients in the capsule, which could be very harmful to your health. If you want to go for a higher dosage then you should finish the dosage that you have, then slowly work your way up through dosages in small increments, as this will get your body used to a higher dosage in a safe and healthy way.
Make sure you also eat carbohydrate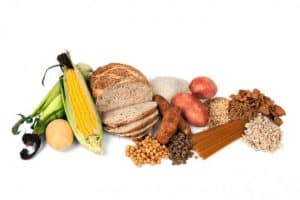 Carbohydrate helps to absorb the cinnamon into the blood stream, but it also provides some of the natural and more complex sugars that the body will begin to break down much more efficiently. If you do not have enough carbohydrate in your diet then the body will begin to break down carbohydrates from fats stored in the body, which can result in unexpected and unwanted weight loss. Unexpected weight loss can be very dangerous for the body, so you should make sure that you are providing your body with a proper diet, and enough food rich in carbohydrate to sustain healthy blood sugar levels.
How to Store Your Supplements?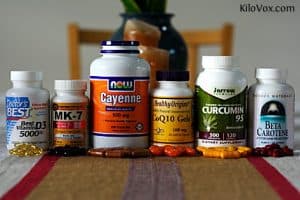 When storing your capsules, it's important to follow the instructions on the container. Most will need to be kept in a cool, dry place to keep it safe to use. Usually cinnamon lasts for around six months as a powder, so you should be careful to check the expiry date of your capsules also in order to avoid taking capsules that are out of date, as this can be dangerous to your health.
We hope that this has helped you to understand cinnamon a bit better, as well as how to take them so that you get the best results. Cinnamon is a great way to help the body's natural processes, and it is true that many find that it helps to ease the symptoms of diabetes.
FAQs
Q: What are the nutrition facts for cinnamon?
For one tablespoon or 7.8g, there is nineteen calories. It contains absolutely no saturated fats, polyunsaturated fats, monounsaturated fats, nor trans-fat. Furthermore, it also has no cholesterol. It does contain 1 mg of sodium and 34 mg of potassium. Cinnamon has six grams of total carbohydrate which is 2% of the daily value. You will also find that it contains 4.1 grams of dietary fiber, which is 16% of the daily value. It comprises of a mere 0.2 grams of sugar as well as 0.3 grams of protein. However, other beneficial vitamins and minerals that can be found include calcium, iron, and magnesium.
Q: Where is it grown?
The tiny Indian Ocean Island of Sri Lanka produces most of the world's Ceylon cinnamon. The cinnamon tree is also commercially grown in countries such as India, the Caribbean, and in Brazil. However, a large number of cassia cinnamon also come from Indonesia, even though the tree is also grown in China, Burma, and in Vietnam.
Q: Where is it imported from?
Approximately 75% that is used in North America is cassia cinnamon, also known as "fake" cinnamon. This kind is mostly imported from Indonesia. The remaining 25% that is used in North America is Ceylon cinnamon, also known as "true" cinnamon. Ceylon cinnamon is imported from Sri Lanka, a tiny Indian Ocean Island.
Q: Are there different types?
Yes there are two kinds of it, and it is important that you know the difference between them! We all know that cinnamon comes from a tree and the cinnamon that we actually consume comes from the bark. As it is generally sold in its ground form, it can be tricky to tell the difference between the two types; Ceylon cinnamon and cassia cinnamon. In most circles, Ceylon cinnamon is referred as the true one while cassia is deemed "fake" cinnamon. Unfortunately, in most supermarkets, cassia cinnamon accounts for more than 90% of the cinnamon that is imported to the US.
The reason that it is important to know the difference between the two types is because Ceylon provides many benefits to your health and overall being while cassia cinnamon does not.
To know the difference, Ceylon is more expensive, is more difficult to find, has a sweeter taste, and is softer as well as a lighter brown color. Cassia cinnamon is the easiest cinnamon to find in any supermarket, is a lot cheaper than Ceylon cinnamon, it has a slightly more bitter taste, and is known to have a toxic flavoring substance. Coumarin is the flavoring substance that is used in cassia cinnamon and it is used in large amounts, which makes it toxic.
Q: Is cinnamon a good source of antioxidants?
Yes! Researchers have found that it is packed full of protective antioxidants that can reduce the aging process as well as reduce free radical damage. Researchers have actually identified over 41 different protective compounds found in cinnamon!
Conclusion
If you have been looking into cinnamon extract capsules to add to your diet then we hope that this best cinnamon option list has helped you to find the best options for you so that you can reap the benefits.
Subscribe to our Newsletter