Stamina Inline Inversion Chair
Disclosure: We use affiliate links and may receive a small commission on purchases.
Stamina Inline Inversion Chair Review Facts
The weirdest things take you back to your childhood.
When I was a child, I'd spend 10-minute periods hanging upside down from the monkey bars at the neighborhood park.
I was spiderman, and I liked being spiderman for 10-minute periods. I also liked the blood rush to my head after I got down and stopped being spiderman.
I'd often try to tackle my friends, dizzy head and sly smile.
Human memory is fickle.
But few triggers are more powerful than reliving an experience.
Through the space between my legs hoisted up by the footpad, I read the letters. Stamina. The smell of the grass from my days at The Park in the back of my mind. I wasn't hanging upside down to be spiderman though. I was doing it for my back pain.
The reason people obsess over inversion chairs is simple. Inversion chairs engineered by brands like Stamina in particular. The backbone comprises of a series of disks that move in and out of place throughout your life. Over time, the in-and-out motion causes strain that compounds over time, which is why beyond a certain age, the vast majority of people suffer from back pain. And there's a good chance you do as well.
Life is hard enough. But those people at house parties who embarrass themselves screeching with pain due to a muscle pull from dancing have it harder.
Happened to a guy I knew. Trust me, you don't want to be the guy whose group has to plan their hangouts around your body aches.
But you're not alone in this: and neither are most people.
This is the reason why every town has a yoga center and massage parlor.
But get this: the Stamina Inline Inversion Chair offers the best parts of yoga and a parlor– because it offers the best parts of inversion chairs and inversion tables.
Letting you start seated while progressively leaning back into a prone position, with the Stamina Inversion Chair, you can be your own chiropractor without the $65 per session.
This work of art that is barely 70 pounds was put together with security, stability, and comfort in mind- your back will thank you and you don't have to worry about falling down. The standard goods are present: floor protectors that make sure you don't skid, padded handlebars, and ankles that are allowed to sink into the foam.
Senior folk, in particular, should rejoice: the company prioritizes comfort as much as it does safety.
But the geniuses behind the Stamina Inline Inversion System have delivered above and beyond in this department- partly the reason for its massive popularity. The rest of this article is to inform you about how they have.
Easy to use
Highly adjustable
Security features
Modern, comfortable design
Sturdy, stable frame
Unfoldable
Elaborate assembly
Limited inversion angle
User Experience
Worried about being upside down for long periods?
Fear not.

Because there's one thing you can count on with the stamina seated inversion therapy system- the product is medical grade. By which we mean that it's extremely secure. So lean back as far as you want. The Nylon security strap will guide you.

The padded form rolls clamp down on your legs tight enough that you never have to worry about accidents. To reach an inverted position just sit in the chair and lean back, as you transition from seating to prone position. The padded handlebars make doing this a breeze.

Gravity does the rest for you.

The padding is just the right amount of cushion- soft and thick, but you don't sink too far into the chair. With easily adjustable leg extension, your height will never be a factor. A couple of us tried out the stamina inversion chair, our heights ranging from 5'4" to 6'2". Our problems with size were nada.

Features
As mentioned, comfort and safety are paramount to the Stamina Inversion Chair, by using the following:


Leg lock system: A long, easily-accessible lever you can pull to control how tight the ankle rollers press on your legs. You'll learn to hit the sweet spot between too tight and not tight enough, because the former causes ankle strain, and the latter, well you don't need us to tell you. Aided by adjustable foam rollers and an easily extendable footrest.


Adjustable lap belt: Newton's apples led to the discovery that today aids the Stamina Inline Inversion System (oversimplifying here). But as gravity works its magic on you, you need to be held in place too. The adjustable lab belt makes sure you never have to worry.


Cushioned upholstery: Being in the inverted position is as simple as sitting on the chair and lying down. But the upholstery will still aid you between transitions.


Nylon tether strap: The nylon strap controlling the inversion angle has a range just falling short of 180 degrees. But it allows you to choose from a wide range of custom angles depending on how you tighten it. Start easy though – don't go too far back on your first couple of tries.


Push-button release: The Stamina Inline Inversion System goes into release as soon as you hit the push button.


Padded handlebars: The pads underneath your knees are adjustable. These eliminate any potential pressure on the joints involved.


Build Quality
From padded backrest to floor rubbers, Stamina lives up to its reputation for equipment quality with the Inline.

Sitting pretty at only 62 pounds, the Stamina Inline Inversion Chair can support up to 250lb of body weight - with ease. Heavy-duty steel construction and minimalistic design cut out any space for unnecessary weight.

That being said, do note that it can take a while to put the Inline together. It shouldn't be much of a hassle for those of you who have degrees in The University Of Ikea Furniture; but it can be slightly difficult if equipment assembly is new to you.

For its flexibility, the Stamina Inversion Chair is surprisingly stable. No matter how much we rocked from one side to another, it stayed in place. Even more impressive, considering the myriad of moving parts like the tether strap, foothold, handlebars et al. The one instance where went a little overboard with the movement, the rubber floor protectors made sure the inversion chair didn't budge even a little bit.

You may have to do a little maintenance and upkeep like checking for loose screws once in a while, but the durability makes the product extremely low maintenance.

Albeit not huge, the only issue we had was not being able to fold it like a beach chair for storage.
But rest assured, the Stamina Inline Inversion Chair delivers very well- especially for a product of its price.

Brand
Fun fact: Stamina was one of the first fitness equipment companies to develop infomercial products.
Since its inception in 1987, Stamina has become a household name in the fitness equipment industry. With wildly popular products like the AeroPilates® Performer, InStride® Walker, the Body Dome®, the Inline inversion chair is a recent addition to its arsenal.
The company built its legacy over the span of 30 years. But the foundation of this legacy was built upon quality, consistency, superior service, and honest marketing. By pursuing excellence over brand image in the short term, the brand image of Stamina had become synonymous with excellence over time.
What this means for you is that customer service is one of Stamina's key virtues. Any issues, manufacturing defects or otherwise will be rectified (within the context of
Stamina's warranty policy
).
Price
In summation, the Stamina Seated Inversion Therapy System is one of the best in its group. Competing neck-and-neck with stellar products such as the Health Mark IV18600, the inversion chair offers a decently competitive price. While the mobility and elaborate assembly could be better, these setbacks are completely overshadowed by the pros.

The Stamina Inversion Chair manages to combine (most of) the best of both worlds of inversion chairs and tables. And while it can't provide the complete functionality of both, it makes a damn good compromise, which is why TheFitBay recommends it.
In a
Hurry? Editors choice: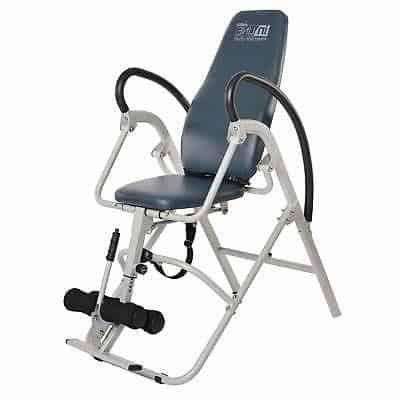 Test Winner: Stamina Inline Inversion Chair
Subscribe to our Newsletter