Back Hurt?|Health Mark IV18600 Pro Inversion Therapy Chair
Disclosure: We use affiliate links and may receive a small commission on purchases.
Back Hurt?|Health Mark IV18600 Pro Inversion Therapy Chair Review Facts
Bryan was going through his facebook pictures from 2007.
He had a black belt in Brazilian Jiu Jitsu by the time he graduated from Amherst. While he never fought professionally, martial arts were a huge part of his life. Most of his friends were people he trained with at the local MMA centre. As the long work hours caught up to him (corporate) the hours he put into martial arts got shorter over time.
Now, at the age of 34, protruding belly and receding hairline, he was also suffering from back pain. The last time he trained was before his 30th birthday.
That was until he got into inversion therapy
Just 10 minutes on the chair. Every morning, before work. Within 3 months, his back pain resolved itself.
Traction is the use of force on the back to achieve spinal decompression- to alleviate pain and fatigue your spine has accumulated over the years. In inversion therapy, the force for this traction is provided by gravity (as you're being hoisted upside down). The genius here is that you don't have to perform manual exercise- just lie strapped upside down for 10 minutes a day while you listen to Joe Rogan, and you'll feel the difference in a couple of weeks.
And HealthMark is one of the key players in the inversion therapy department. Held in high regard in the medical field for its consistent delivery in quality, the brand has built a reputation over the years for providing products that are in a league of their own.
And its flagship health mark IV18600 pro inversion therapy chair is another one in its line of medical grade equipment.
Perfect for those with knee/ankle pain
Surprisingly easy to assemble
Very sturdy
Lightweight
Comfortable Padding
Durable
Getting in and out takes time to get used to
Slightly tricky for shorter people
User Experience
Low pressure on your knees

A lot of people with sensitive knees and ankles have this concern- because of the pressure inverted on your knees when they're strapped to inversion chairs. But with the Health Mark Inversion Chair, you don't have to worry about this. HealthMark has engineered the chair to distribute just the right amount of weight along the structure of your body to minimize the pressure on your lower legs

Easy Assembly

The instruction manual makes the chair easy to put together. Matter of fact, the nuts and bolts are provided too. Taking no more than 30 minutes unless you screw around, putting the chair together is a breeze. The chair is extremely light too, so you can shift it around the house with ease.

Very Sturdy

As soon as I strapped myself to the chair, my body instantly went "yep, I'm safe".
That's how sturdy this thing is. The design framework of the Health Mark Iv18600 Pro Inversion Therapy Chair is comprised of heavy-duty steel. The high-tensile strength means it can support a weight of up to 300 pounds.

Adjusting the belt takes a while though

Getting in and out of the chair can be a little awkward, but you'll get used to it over time. Furthermore, you have to make sure to lean forward when strapping on the belt. If not, there's a good chance you'd fall back, as I learned the hard way.
Ankle Holding System
For those of you who take issue with your ankles being the sole point of support for the inversion chair, the weight distribution for this chair will be amazing. In fact, you don't even have to wear boots while using it. The ankle holding system is designed to take off as much pressure off your knees and ankles as possible.
Inversion Range
With a range of up to 70 degrees, the Health Mark Inversion Chair provides a decent range for inversion. In fact, it helps ergonomics massively because it guarantees the perfect positioning of knees above hip flexors.
Due to the inversion range, you can also do a bunch of ab exercise, the most popular of which are:


Sit Ups


Inverted Crunch


Inverted Oblique Crunch


Reverse V-Ups


Reverse Oblique V-Ups


Dimensions
With a weight capacity of upto 300 pounds (due to the steel composition mentioned above), no person is too heavy for the HealthMark Inversion Chair. With a dimension of 52 by 28 by 61 inches, it can accommodate people of heights from 5'6" to over 6'5".
Comfort
The internal framework may be comprised of industrial grade steel comprised tubes, but the exterior of the HealthMark Inversion Chair is comfortable to sit on. There's more than enough padding for your body to sink into. Additional padding is provided for your ankles and joints, which completely takes the strain off them. You don't have to worry about having your ankles and knees being locked in.
Features


Instructional Manual Provided:
Easy assembly is one of the defining features of the HealthMark Pro Inversion Chair.
You can put this bad boy together in 30 minutes if you don't screw around



Stability Provided Separately For Each Part Of The Body:
Because part of the fun of an inversion chair is in dangling from an upside down position by your legs, adequate stability is provided separately for each part.


Ergonomically Engineered Seating:
With an inversion angle of upto 70 degrees, a lot of room is present for you to swing.
So the seat is defined with your safety in mind, to exert the least pressure on different body parts (in particular the angles) and with the maximum leverage for healing pain.



Industrial Grade Steel Construction:
This is part of the reason for the inversion chair's incredible sturdiness. Handpicked, gone over carefully, and instilled in the design, the steel construction is one of the best.


Gorgeous Finishing With Powder Coating:
The black, sleek design of the Health Mark Inversion chair makes it look gorgeous.


Padded Chair With Soft Material:
Adequate padding is provided so that your body doesn't feel a thing.


Adjustable Back Rest:
The back rest is adjustable, so you can crank it up to just the right amount to ease off the lower back.


Separate Rolled Padding For Front Ankle/Knee:
A separate rolled padding is present for the ankles and knees- this takes the pain off the ankles and knees for the right amount of time.


Ease Of Use For Handle Bars:
Because getting in and out of a chair can be awkward, HealthMark dedicated part of its design towards steady, strong handle bars that let you hoist yourself into the chair with no fear of falling.


Adjustable Safety Lap Belt:
Easy to use safety lap belt.


Conclusion
The HealthMark IV18600 Pro Inversion Therapy Chair alleviates tension present in the muscles of aging bodies, muscle fatigue, and acute lower back pain. Reasons like these, among many others (like the padded knee holding allowing for abdominal exercises) are why we listed the HealthMark Inversion Chair as one of the best inversion chairs of 2019.
In a
Hurry? Editors choice: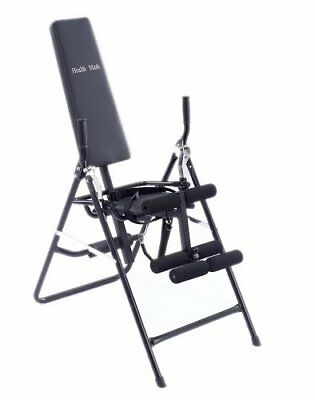 Test Winner: Back Hurt?|Health Mark IV18600 Pro Inversion Therapy Chair
Subscribe to our Newsletter