Best Gravity Boots: A Review & Guide
Disclosure: We use affiliate links and may receive a small commission on purchases.
Besides leaving other gym-goers gasping in awe upon seeing you use them, gravity boots can actually bring you along a wide range of health benefits. In fact, these cool inversion tools are your safest way to go about treating many conditions, including chronic back pain, muscle stiffness, spine stenosis, and bulging discs to name a few.
And as inversion therapy boots gather momentum by the day we're starting to get overwhelmed with the scope of choice in products that are available today. There are dozens and dozens of different gravity boots to choose from and buying the right ones can prove a difficult task.
Luckily, this is where we step in. We've compared and reviewed the very best gravity boots this year has to offer in our roundup below. Hang in there as we walk you through the best of the best.
Teeter EZ-Up

Our rating
Lightweight & Durable
Price:

See Here

Tonyko

Our rating
Versatile
Price:

See Here

Teeter EZ-Up XL

Our rating
Extra Safe
Price:

See Here

Best Gravity Boots Reviews
1. Teeter EZ-Up Gravity Boots
Anyone who's even remotely familiar with the world of inversion will know Teeter is leading the game when it comes to high-quality products, including their widely-revered gravity boots. And if we had to pick a single product out of their renowned line, it would be the EZ-Up gravity boots.
Sturdy yet lightweight, these boots are easy to carry around and provide the ultimate safety and comfort. What's more, Teeter EZ-Ups are compatible with other hang up products the brand has to offer, such as pull-up bars and certain inversion tables.
Expand to see more
Material
A blend of DuPont Hytrel fosters the durability and lightweight nature of the Teeter EZ-Up Gravity Boots. Meanwhile, the calf loops and hooks comprise of 40% nylon alloy and glass to strengthen the structure. Also, we've noticed the presence of soft foam liners which allow for an increased comfort without impeding your inversion process.
Product Features
EZ-Ups are some of the most advanced and innovatively-designed boots on the market. Not only do they feature adjustable straps and a double-lock system, there are also removable calf loops for better comfort and pressure reduction. You'll be hard-pressed to find a pair of hang up boots that have so much forethought packed into the final design.
Value & Price
While they're a bit on the expensive side, Teeter EZ-Up fans claim the product offers exceptional durability and quality which is set to last you for a long time and ultimately pay off in the long run.
Bottom Line
With all being said, we can safely say EZ-Up gravity boots from Teeter are one of the most, if not the most advanced product in this niche. Their material renders them lightweight and easy to use while at the same time providing excellent durability; the locking system is top-notch, and the removable calf loops are a great addition that comes in handy. For these reasons and a few more, EZ-Ups are the Teeter's hang up boots that have rightfully snatched the top spot on our list.
Pressure-free range of motion
Secure fastening system
Innovative calf loops
Lightweight and durable
Comfortable to use
Can get a little pricey, especially if paired with other Teeter products
2. Tonyko Inversion Gravity Boots
If you're not particularly keen on spending wild amounts of money on your new pair of gravity boots, Tonyko Inversion Gravity Boots might be your best bet. Although they're one of the cheapest models on our list, these boots are equally versatile as other products we've rounded up and provide excellent ease of use and durability. This is due to the clever use of material, including stainless steel components and comfortable padding.
Expand to see more
Material
Manufactured from high-density soft NBR (Nitrile butadiene rubber) foam, these gravity boots provide superior resilience and durability. The NBR foam can withstand high temperatures, which makes the boots highly suitable for inversion therapy where you are likely to sweat a lot.
Product Features
Tonyko hasn't exactly crammed a ton of features into this product but this makes the boots one of the most easy-to-use products on our list. And while there are no calf loops or fancy additions, there's thick padding to support your joints and smooth movement which will fit most sizes. Plus, the foam lining along the outer shell will ensure your workout or inversion session is as flexible and comfortable as it gets.
Value & Price
Tonkyo Inversion Gravity Boots are one of the cheapest products on the list and as such rank quite high up top since the brand has still managed to preserve decent built quality that's worth your money.
Bottom Line
Budget-friendly and easy to use, Tonyko Inversion Gravity Boots are a great pick for those who are looking to try out a solid pair of gravity boots for the first time. However, those who wish to upgrade their model to a more feature-rich product should probably consider other options.
Versatile and easy to use
Affordable
Fit most ankles
Safe and comfortable
Lack advanced features
Non-adjustable buckle
3. Teeter EZ-Up Gravity Boots XL
Designed with heavier individuals in mind, the EZ-Up Gravity Boots XL are a bigger version of our number one pick on this list. As a dominant force in the world of inversion therapy, Teeter knows what it takes to produce a pair of high-quality gravity boots and this product is no exception.
Expand to see more
Material
As with the original version, we've got DuPont Hytrel as the prime material used to build these boots. Even though it's not very sturdy, this thermoplastic polymer allows for decent flexibility and a comfortable wear. Another plus is its light weight which makes these boots super convenient and safe to use as well. However, we can't help to notice the hook is made of plastic too, and would much rather see stainless steel here instead.
Product Features
If a feature-rich product is what you're after, then the EZ-Up Gravity Boots XL won't let you down. Not only do they include multiple ankle straps for minor adjustments, but the body of the boot also has a self-locking buckle for increased safety and security. And as with the regular EZ-Ups, you have the option to put on the calf loops in order to reduce the load put on your knee joints and top of the feet.
Value & Price
Considering the level of quality Teeter maintains with their inversion boots, the EZ-Up Gravity Boots XL are worth your money, especially if you're built big and need an adequate pair.
Bottom Line
Being lightweight, flexible, and feature-rich all at the same time, we're can confidently say that purchasing EZ-Up Gravity Boots XL won't end up in regret. In fact, we would highly recommend these boots to anyone looking to try out intense anti-gravity exercises.
Pliable, lightweight construction
Self-locking buckle
Calf loops for better pressure control
Can withhold more weight
Adjusting can get complicated
Poor shock absorption
Plastic hooks
4. Xtreme Monkey Platinum Inversion Boots
If comfort is what makes you tick, check out the Xtreme Monkey Platinum Inversion Boots. They're not to harsh on your pocket and provide padding like no other product on our list. These two reasons alone are enough to earn them a spot in this roundup but there's a lot more to these gravity boots than you would have expected.
Expand to see more
Material
The first thing that catches our eye about the Platinum Inversion Boots by Xtreme Monkey is the excellent built quality and a stable, heavy-duty structure. The padding on the inside is generous and allows for fluid movement without a worry of slipping or feeling any major discomfort. Plus, these gravity boots offer a stylish design with a textured finish for a more appealing, modern look.
Product Features
As this is a product which comes with a somewhat of a light price tag, don't hope for any fancy additions or modern upgrades. There is, however, a double-locking system in place which will securely tighten the boots around your ankle to prevent slips and wiggling. Also, a built-in safety lever-and-loop lock promotes extra security while the removable calf circles help reduce the pressure on the knee joints.
Value & Price
Regarding cost, the Xtreme Monkey Platinum Inversion Boots fall into the mid-range end of the spectrum and provide solid build quality and efficiency. This gives the boots a good and balanced value for money.
Bottom Line
The Xtreme Monkey Platinum Inversion Boots are a great pick for all your inversion and anti-gravity workout needs as they provide outstanding comfort and a reasonable amount of added features.
Thick, comfortable padding on the inside
Double-locking system for increased safety
Easy to use
Come with removable calf circles
Slightly heavy
Lack sophisticated features
5. Titan Fitness Anti Gravity Inversion Boots
Capable of carrying impressive 300 pounds (136 kg), Titan Fitness Anti Gravity Inversion Boots come out of the box ready for you to use right away. They're simple, lightweight, and feature a safe, durable construction which fits most standard pull up bars. If you're looking for basic, high-quality gravity boots at a favorable price, Titan provides a very decent model.
Expand to see more
Material
To provide good tightness without jeopardizing the comfort, Titan has used snug padded sides which will fit most adults apart from those with thinner legs. The sturdy hook is stainless steel and is screwed down to the heavy-duty shell in a secure manner. Overall, the construction has been executed fairly well and will stay in place for a long time to come. The only thing we ought to point out is the interior foam which can get a little worn over time. A downfall which we will turn a blind eye to considering the price.
Product Features
Titan Fitness Anti Gravity Inversion Boots feature a universal hooking system which will latch onto most pull up bars with 1 to 1 ½ inch in diameter. The boots also come with thick padding on the inside and a secure locking mechanism on the outer shell. At this price point, it would be unreasonable to ask for more features than this and we're quite happy with what Titan has to offer.
Value & Price
We have to say the price on these boots is very sensible. In fact, the whole set from the brand which includes the boots, ab straps, and a chin-up bar can set you back for less money than certain gravity boots on this list!
Bottom Line
With Titan Fitness Anti Gravity Inversion Boots you're all set for your next inversion session right away. No difficult assembly, or complicated locking systems. Just plain functional and comfortable gravity boots at a fair price. That's why we're very fond of Titan's products - always manage to pack lots of quality into an affordable item.
Comfortable and safe to use
Affordable
Stainless steel hook
Capable of carrying up to 300 pounds
Not suitable for those with thinner legs
Foam can get worn over time
6. Body Solid GIB2 Inversion Boots
Compatible with a variety of racks and chin-up bars, Body Solid GIB2 Inversion Boots are a great pick for those who're after a high-quality pair of gravity boots.
You can rest assured these boots are well-made and of proven quality as the particular model has been around for quite some time (since 2000 to be precise). The brand has a strong following of fitness enthusiasts and claims these boots are a perfect product for athletes who may often encounter compression fatigue.
Expand to see more
Material
When it comes to comfort and convenience, Body Solid GIB2 Inversion Boots fall short compared to other products on the list. Not only are the boots quite heavy themselves (6.5 pounds) but they also feel quite bulky and harsh on your ankle when worn. Still, they look great and are incredibly secure, which prompts us to recommend them to larger users who don't plan on using them for prolonged periods of time.
Product Features
Speaking of features, GIB2 Body Solid Inversion Boots don't pack a great deal, which is to be expected considering the price. There is, however, extra padding that allows minor adjustments and a sturdy single-locking mechanism in place. What's more, the boots will fit almost any standard chin-up bar and are quite easy to hook on and take off despite their weight.
Value & Price
These boots cost an average amount when compared to other products on our list. However, as they lack in comfort and advanced features we're a little unsure you're getting the most out of your buck.
Bottom Line
Body Solid presented us with a pair of sturdy and robust gravity boots ideal for those of heavier built who won't mind their heft and lack of comfort. We would recommend them to such individuals but would hesitate to refer those with thinner legs to this product.
Secure locking mechanism
Offer minor adjusting
Reliable brand
Heavy
A bit expensive for what they are
7. Hanging Pull Up Boots
Ending our list of the top gravity boots currently on the market are the Hanging Pull Up Boots. Now, these are a great alternative if low price is the most important factor you're looking for. That is not to say, however, that these boots are of inferior quality. Sure, they don't feature the most innovative design or advanced feature, but are still a worthy consideration nonetheless.
Expand to see more
Material
Hanging Pull Up Boots come with thick padding, steel hooks and safety buckles mounted on a hasp. Unfortunately, these components are not adjustable. Still, they do a good job fastening and securing the boots on your leg.
Product Features
For increased security, the Hanging Pull Up boots utilize a single locking mechanism that allows you to easily attach and detach the product without reaching for the manual. Apart from this, though, there's not much to see on the boot itself, which is okay given the price is in the lower range.
Value & Price
You really get your money's worth with the Hanging Pull Up boots. Even in the case where your boots break or wear to much, you won't be at a huge loss as the initial price was near negligible.
Bottom Line
Because there are no unique or outstanding features, we would recommend the gravity boot as a suitable choice for those who are looking for an entry-level model for their first steps into the world of inverting.
Easy to use
Decent padding
Work with most inversion bars
Very affordable
Not particularly sturdy
Insufficient features
---
All about Gravity Boots
If you think gravity boots are something that's come out of a video game, don't worry – you haven't been living under the rock. As a matter of fact, most people haven't even heard of this growing trend in the world of inversion therapy until gravity boots took the fitness world by storm in recent years.
You see, late 70's have skyrocketed gravity boots to the heights of popularity when they first appeared in movies such as Rocky and American Gigolo, but then they faded into oblivion, as many fitness tools do and many have forgotten about them.
That was before gravity boots re-emerged again as one of the most effective ways to practice inversion therapy and intense workout from the comfort of one's home. In a layperson's language, inversion therapy is hanging upside down and reaping multiple rewards this routine brings to one's body and mind.
And don't be mistaken – there's really nothing quite like inverting. It's a practice with thousands of devotees all around the globe, including the best selling author Dan Brown, who claims hanging upside down frees him up from the writer's block. But there's so much more to gravity boots than creative freedom. And from there the question arises, how effective are gravity boots really? Well, from boosting your athletic performance to relieving back pain, inverting with gravity boots can really turn your world upside down for the better.
What Are Gravity Boots?
Gravity boots, also referred to as inversion boots or anti-gravity boots, are fitness tools which allow their users to hang freely from a pull-up bar in a safe manner. They require a higher level of physical fitness as it can get quite difficult to start inverting and exercising with them, let alone dismount once you're finished with your session.
If you're struggling with back pain, spinal stenosis, bad posture, muscle stiffness and similar conditions, gravity boots might be your best way of dealing with these problems. What's more, these products are often compatible with the tools of similar purpose, such as inversion chairs and tables. However, they differ from them in quite a few ways.
Gravity Boots Vs Inversion Table
Both of these tools are popular picks for those who are looking to invert without paying a visit to a chiropractor. And as is to be expected, gravity boots and inversion tables share many similarities. The main one being the ability to turn gravity to your advantage. However, these tools differ in design, ease of use, and even price range.
Gravity boots are:
Fitness tools worn on your ankles that hang from bars and specific frames
Padded to increase comfort and safety
Used for intense workouts and inversion therapy
Typically used by intermediate and advanced fitness members
May require help from another person to ensure you're properly inverting
While inversion tables are:
Treatment tools which allow their users to invert without being physically fit
Easier to use as they feature ankle support and handles for safe and effective inverting
Angle-versatile meaning you can select a more modest inversion angle
Unlike gravity boots, not as challenging to work out with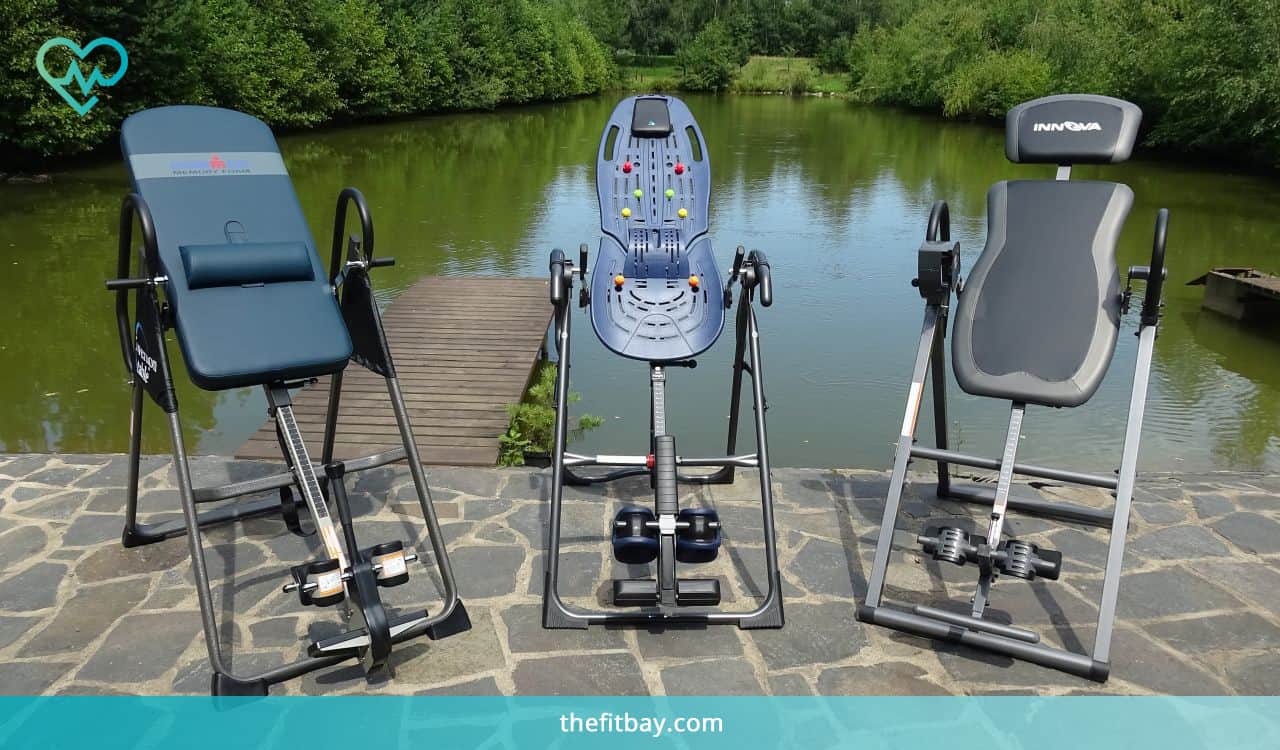 In addition, gravity boots obviously take up less space are a lot easier to move around the house and mount in different places. Moreover, they typically come at a lower price and thus provide a great alternative to those who might not be so eager to spend top buck on an inversion table.
Gravity Boots Vs Inversion Chair
Again, the biggest difference between the two is in the way they're used. Gravity boots, as mentioned above, are latched onto a bar or a frame after you have comfortably secured them on your ankle.
Inversion chairs are in a way modified inversion tables. A user is strapped tightly in a seated position while the chair leans back and starts to invert. There is less pressure to the joints as weight is balanced throughout the body instead of being localized which is what attracts many to inversion chairs.
Naturally, inversion chairs are much easier to use and don't require physical strength or endurance on part of their users. However, for those looking to strengthen their core and exercise with an inversion tool, instead of using it solely for inversion therapy, gravity boots are a much better choice.
How Do Gravity Boots Work?
Think of them as oversized padded shackles that go onto your ankle before latching onto a firm bar by a secure hook. They allow you to hang upside down and workout your entire body without any additional support. Understand now why we said they're more suitable for those who are already fit?
Because they work by inverting one's body, gravity boots can be quite intimidating. Hanging upside down mid-air can be intimidating to say the least and makes this fitness gadget quite elaborate and seldom seen in a conventional gym.
How To Use Gravity Boots
First and foremost, approach gravity boots with confidence. That is not to say you should be reckless, but don't be frightened by them either. Once you get used to them, the habit of exercising with gravity boots will become something of a second nature to you. You'll need a couple of things before you set off to start inverting with gravity boots so pay attention:
Get a Pull Up Bar
If you're exercising at home, find a suitable pull up bar and mount it where there's enough space for you to invert without hitting the floor with your head. More importantly, make sure there is no shaking and everything's secure and firmly in place. The last thing you want is your pull up bar failing on you while you're peacefully resting upside down.
Strap the Boots On
Once your pull up bar is tightly in place, inspect your gravity boots. What kind of latching mechanism do they have? Is it a strap or perhaps a buckle? Check out the manual from your boots' manufacturer to determine the type of hold your product has. Once you find out how to properly wear them, put your gravity boots on and secure them on your ankle. Make sure they're not way too tight as this will cause some discomfort once you're up in the air.
Hook the Boots Onto the Pull Up Bar
Here comes the tricky part. Hold onto the bar as if you were to do hanging leg raises. Then, lift up your legs so that they're in line with the pull up bar. Hook one boot at a time and slowly let yourself go. Voilá, you're inverted!

Back to the Ground
When you're done with your exercising or inversion, carefully dismount. Do a crunch up and hold onto the bar as you did in the previous step. If you're all drained up and can't do a crunch up, don't worry – you won't turn into a bat by hanging upside down forever. Simply use your arms to pull yourself up by grabbing onto your legs. When you're ready, unhook the boots and lower your legs to the ground.
5 Bonus Tips:
1) Ensure ankle comfort by wearing socks with lace-up shoes or another soft material.
2) Go slow and be modest in your selection of the angles, especially if you're a beginner. Inverting with gravity boots can leave you sore and tired after an exercise so make sure you go easy on yourself when starting out.
3) Inverting is all about relaxation and letting go of the stress; both physical and psychological. Notice any signs of discomfort and get back to the ground when it starts hurting. Don't risk it.
4) Dismount slowly. Take your time otherwise you'll get dizzy and uncomfortable once you're back to normal.
5) Read the manual. You may not do the same with the new coffee maker, but gravity boots are another pair of shoes. Literally. Check out those manufacturer's instructions and make sure to watch any DVDs that may be included. You'll thank us later for this one.
How Long Should You use Gravity Boots for?
The duration of usage depends solely on yourself. Determine how long you want to hang upside down with gravity boots according to your fitness level. General rule of thumb says three to five minutes should be just enough but you may want to adapt your body before going for this long.
Start with short sessions of a one or two minutes then work your way up as you feel more comfortable inverting with gravity boots. Try not to hang for too long as prolonged use has been linked to certain adverse side effects – never exceed the 30 minute mark.
It's also important to remember to keep up the habit. Using gravity boots for a week and then shoving them into the attic won't produce any noticeable benefits. We recommend shorter sessions over a longer period of time rather than long sessions that are done infrequently.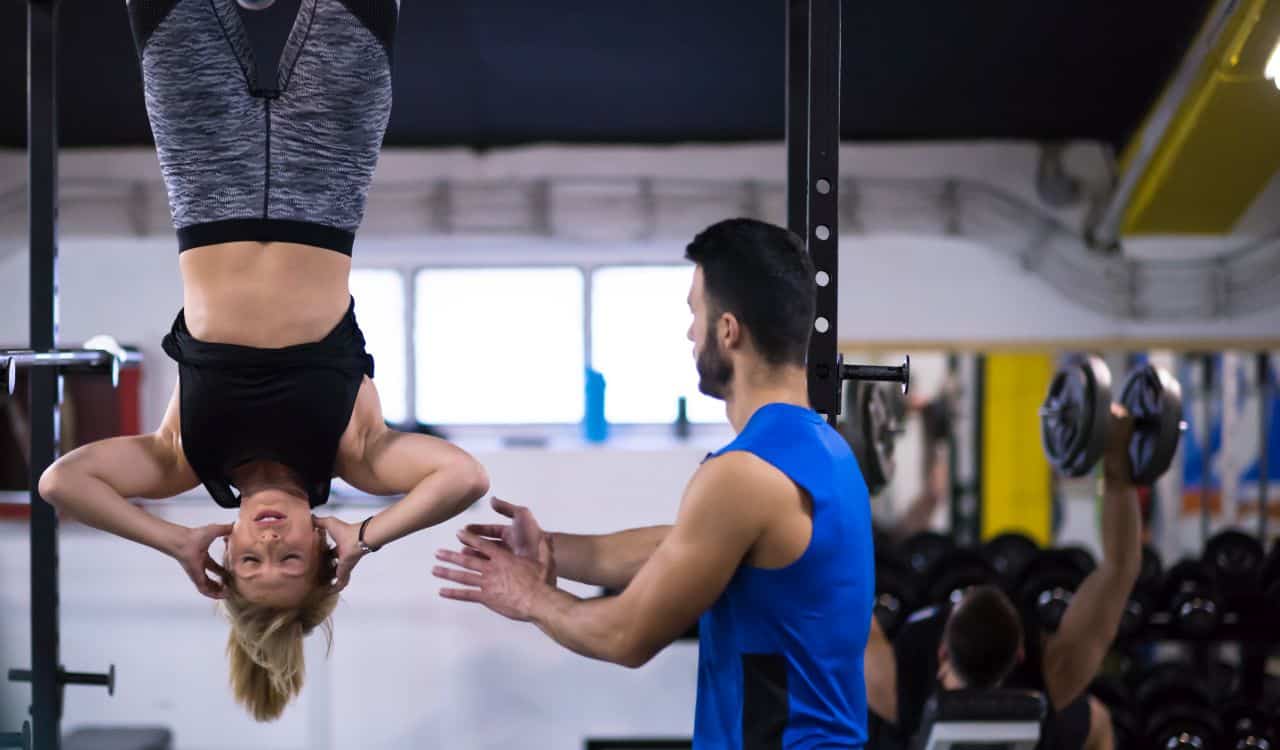 Exercising and Inverting with Gravity Boots
Once you're upside down, relax your muscles and elongate your body so that you can enjoy the full benefits of decompression and tension release. Apart from stretching and releasing tension, why not add a little kick to your inversion session?
If you're past the beginner's stage you may want to spice up your routine a bit. When you feel comfortable with twisting and stretching, try out some gravity boos work out exercises like ab crunches. These can be incredibly effective when inverted as your body has no gravitational support whatsoever.
If you're looking to challenge yourself even further, why not hold a dumbbell while working out with gravity boots? Indeed, you'll be hard-pressed to find a more progression-friendly, effective ab workout tool. When you finish using gravity boots to work out, allow your body and muscles to relax by just hanging upside down for a while before dismounting. This will allow for proper blood flow and prevent excessive strain.
Here's a video showing the correct way of doing ab crunches with gravity boots.
Gravity Boots Benefits & Safety Precautions
Standing upright day after day, or worse even, sitting down in an office every day leads to the inevitable – back pain. It has been proven time and time again how inversion therapy helps with back pain relief and gravity boots provide excellent and convenient mechanism in doing so while also being an effective exercise tool. (1, 2)
However, gravity inversion boots can do a lot more than alleviate back pain. Let's have a closer look into the many benefits of this tool.
Spinal Decompression and Increased Brain Blood Flow
As you hang freely from a bar with gravity boots strapped to your ankles, your entire body stretches and your skeletal system re-aligns. This includes your spine, which under constant pressure of gravity accounts for most of your back pain sufferings. As the spine decompresses, the space between your discs frees up and relieves you of nerve pain.
What gravity boots do is they switch the center of your body's weight and thus provide effective back relief. Your spine stretches and decompresses when you relax in an upside-down position, and its dics have more space to breathe, which results in a nerve pain reduction and better flow of nutrients.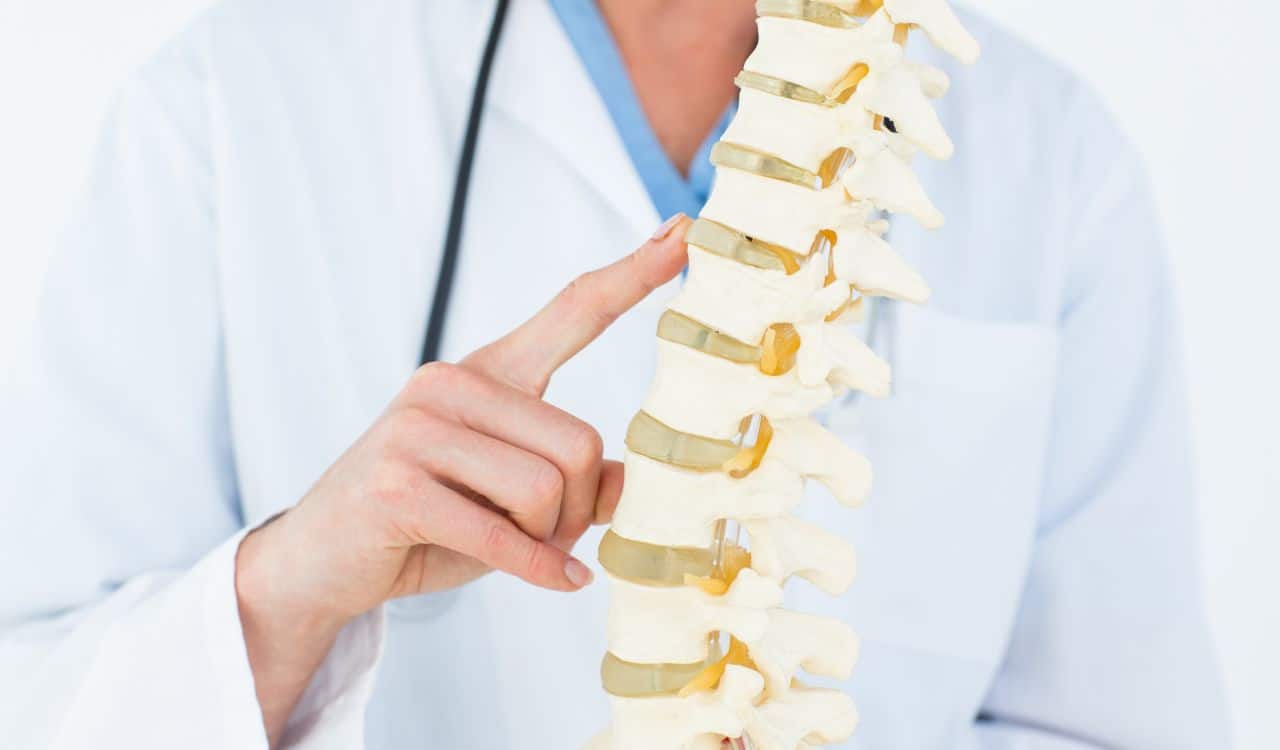 What's more, hanging upside down freely pushes a lot of your blood down to your brain. This is great because your brain is the most oxygen-hungry organ in your body. (3)
Better Joint Health and Muscle Relaxation
Your hips, ankles, and knees are also under a constant pressure from gravity. Oftentimes, people develop problems and pain in these areas related to standing on their feet throughout a prolonged period of time. Gravity boots take off this load of the joints and promote better circulation of key liquids that keep them functioning properly. This drastically reduces pain and the need for surgery in those people who have developed problems in these regions. (4)
Furthermore, inverting with gravity boots helps your muscles to relax and let go of the accumulated tension by methods of extensive stretching and improved circulation. This is great news for those who often experience muscle soreness and pain. (5, 6)
Toned Muscles and Increased Core Strength
As we've touched upon above, gravity boots can be used for intense exercising and training of your core muscles, including abdomen and back. These muscle groups play a key role in movement and strength, which means you can work on your balance, power, and appearance by using gravity boots.
In addition, traditionally working out these areas comes with a moderate risk of injury if you don't know what you're doing. This, however, is not the case with gravity boots, which align your skeletal system into its natural position and allow you to properly perform core exercises without fearing you'll do more harm than good.
Are Gravity Boots Safe?
As with other inversion tools, there will be certain people who should be especially cautious when considering using gravity boots. This mostly applies to those people who are suffering from blood pressure problems which might be disturbed even more by hanging upside down. After all, your heart will have to pound harder in order to fight the impact of gravity and this can be dangerous in some instances.
A 1983 sturdy led by Dr. Ronald Klatz showed inversion elevates blood pressure to potentially dangerous levels in those who have a pre-existing condition. (7, 8) Further, people with eye pressure problems, such as those with glaucoma, should avoid using gravity boots as they are at an increased risk of worsening their condition. (9)
Also, it almost goes without saying that those who are physically unfit and unable to reach the bar when inverted should avoid using gravity boots. Other contraindications for using gravity boots are:
Pregnancy
Hernia
Extreme obesity
Chronic sinusitis
Dizziness and coordination problems
Ear infection
Now that we better understand the benefits and potential drawbacks of gravity boots, we can conclude:
Benefits:
Joint Health
Decompression
Toned Musces
Core Strength
Mucsle Relaxation
Drawback:
Contraindications
Ankle Discomfort
Your Checklist Before Buying Gravity Boots
If you're considering buying your own pair of gravity boots there are some things you'll want to keep in mind prior to making the purchase. As with other popular fitness products, there will be several key brands competing for their share of the market. Always look to buy from a reputable brand as you know this way you're getting the most out of your money.
Moreover, do your own research into the specifics of the best inversion boots you're planning to buy. Check the material is high-quality and will provide durability that ensures longevity and maximum safety. Take your time and compare your favorite picks side by side to determine which one is the right for you.
The choice will very much depend on you. Maybe you're on a budget and are looking for exceptional value for money. Perhaps you're sensitive to discomfort and will only want the premium material. If all this sounds too complicated and cumbersome, why don't you head over to our gravity boots buying guide? We've singled out 7 most comfortable, durable, and effective products so as to save you time and point you in the right direction.
How to Find the Best Gravity Boots
Finding a perfect pair of gravity boots is not an easy task. With so many options on the market, you might find yourself baffled and overwhelmed with choice. But keeping certain things in mind and knowing what to look for can make a world of difference. Here are the boxes a pair of the best inversion gravity boots should tick.
What To Keep an Eye on
1. Durability
A good gravity boot will first and foremost be sturdy and durable. What use will you have of any product if it won't last you more than a couple months? Always look for those gravity boots which are made of material that's robust yet flexible in nature. This will allow for an adequate freedom of movement while at the same time providing good longevity.
2. Comfort
How comfortable your boots are is another factor you should think through. Is the padding thick enough to lift off pressure from the ankles and knees? Are there adjustable straps and buckles which will make for a contoured, custom fit around your ankle? When you're trying to hang upside down, boots that are of high-quality will mean the difference between pain and seamless wear.
3. Adjustability
The adjustability of the strap or back of the gravity boot is another thing to consider. You might be making use of the boots for the foreseeable future so it is best to ensure that as you level up your fitness game, you are able to modify the tightness or looseness of the boots around your ankles.
4. FDA Certification
FDA Certification refers to an approval given by the Food and Drugs Administration arm of the United States Government. The certificate serves as a stamp of recognition that states that drugs, medical devices, etc meet a certain set of standards.

Therefore, any product with FDA clearance has definitely undergone tests that verify the benefits to be gotten from it outweighs the risk of using it. Teeter inversion boots as of this moment are the only ones with FDA clearance.

5. Good Value for Money
Carefully inspect all elements of the gravity boots you're thinking of buying and decide if the product is in fact worth its price tag. High-quality material, added features and clever design all warrant a higher price but is it within reasonable limits?
6. Compatibility
Some of the best inversion boots like those from Teeter are specifically designed to pair with other inversion products made by the manufacturer. Know the difference between a synergetic effect of these products and a plain upsell by the manufacturer.
Best Gravity Boots Brand
Besides the factors to look for we've outlined above, it should go without saying you ought to only purchase products from a reliable brand. Not only will you have a peace of mind knowing your money is invested in a safe, efficient tool, but you will also be able to turn to your manufacturer with any questions or requests you may have.
One of the most acclaimed names in this industry is Teeter. Their range of products are enriched with the brand's specialized and patterned features as well as multiple certifications.
Best Teeter Hang Ups Gravity Boots
Teeter is known to produce extremely lightweight and durable gravity boots which have a wide array of uses. One of such products is our top pick of this article, the Teeter Hang Ups gravity boots review.
Product Compatibility
You will have likely noticed how Teeter sells most of its products in a pair or combination. This is because this brand puts a strong emphasis on product compatibility and doesn't want you to look elsewhere for tools you might need alongside your gravity boots.
Now, these boots are also compatible with several Teeter's related products. And purchasing them in pair instead of buying them separately can actually save you money in a simple way. For example, getting the EZ-Up Inversion Boots and bar is a clever move in case you're missing a chin-up bar or a rack.
Same goes with Teeter's inversion table boots. There are certain inversion tables with boots compatibility. For instance, the EZ-Ups are compatible with some EP-560 and F-series inversion tables from the same brand.
And if you are looking for the best inversion table out there, why not check our designated article that discusses the best rated inversion tables on the market?
Your Questions Answered (FAQ)
To help clear the mist around these incredible fitness tools, we've answered some of the most commonly asked questions in the section below. Take a look at our FAQ list.
Are Gravity Boots and Inversion Boots the Same Thing?
They are indeed. Gravity boots work by inverting you so that you're upside down and are sometimes referred to as inversion boots, hang-up boots, or anti-gravity boots.
Will They Slip from the Bar?
Gravity boots from reputable manufacturers conform to maximum security standards and ensure safety and security of use for anyone. The only thing to be on a lookout for is a pre-existing condition which could lead to health complications. We've outlined those in a previous section.
Can I Use Gravity Boots on my Own?
In case you're physically fit to lift your body up when in need to dismount, there is no need for a gym buddy. However, we recommend less experienced users have an assistant, especially when they're starting out.
Is It Normal to Feel Dizzy When I Get Back on my Feet?
Dizziness is one of the most common side effects of any inversion tool. The key here is to dismount very slowly and let you body adapt to the new center of gravity. If you come off the inversion bar too fast, the change in the direction of the blood flow will almost certainly cause dizziness and lightheadedness.
How do I know my Leg Won't Slip Out?
There is a little trick you can use to verify you're wearing your boots in a safe manner. It's a method of HEARING, FEELING, SEEING AND TESTING before you invert. Hear the strap or buckle locking safely on each boot. Then, feel the boots are snug and tight-fitting on your ankles before seeing the buckles are secured. Finally, test that both boots are sitting on your feet tightly. Feel free to wiggle them around, trying to take them off. Only after completing these steps will you be ready to hook the boots onto the bar.
Can Children Use Gravity Boots?
Children are far better off using inversion swings or inversion tables as they are likely to have more difficulty using gravity boots which require a bit more strength. However, inverting with gravity boots can immensely help children with scoliosis, especially in those aged 12-14, as this is when their bones are forming.
It is required a responsible adult supervises and attends children using gravity boots at all times – be cautious and make sure your child's safety is guaranteed.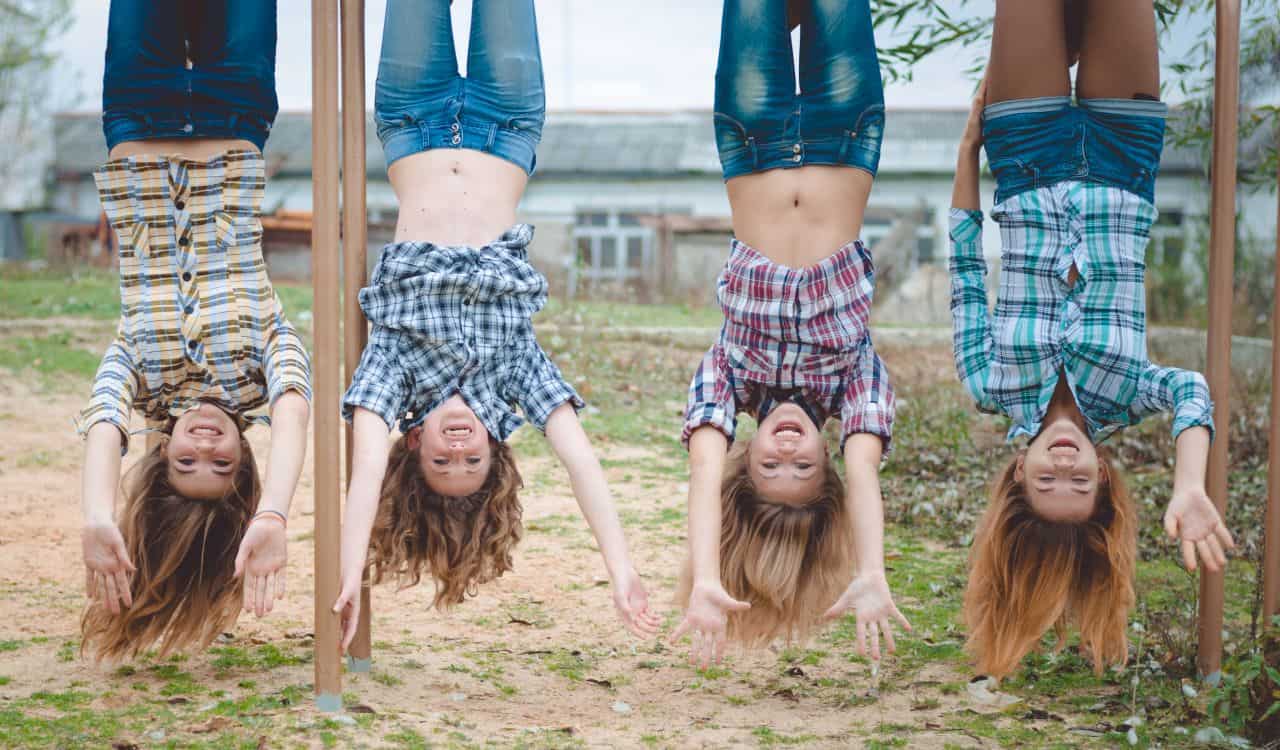 How Do I Target Lower Back Pain or Neck Pain When Inverting?
If you're looking to target specific regions of your body, such as lower back, try stretching gently and moving the muscles in the desired area. Also, rotate your core from side to side or rock your pelvis back and forth while completely relax to better address back pain. We also recommend working out muscles that support back so as to relieve some of the pressure when you're going about your everyday life.
As with your neck, rotation and gentle movements of the head are highly recommended. Your partner can also jump in and massage the painful areas softly so as to help with blood flow. Finally, try resting your arms with fingers interlocked behind your head so as to add more weight to the head and stretch out the neck fully.
I've got Varicose Veins. Will Inverting with Gravity Boots Help?
It is a well-known fact inversion helps with blood circulation. Those with varicose veins can benefit from gravity boots as they can stimulate better circulation and help one's heart clear the blood from the lower parts of the body.
I'm on Anticoagulants, can I Invert with Gravity Boots?
Any drugs that reduce clotting of the arteries and blood vessels such as aspirin should be avoided when using gravity boots. Make sure you are aware of this if on any blood-thinning drugs. If you're unsure about your particular condition, consult with your healthcare professional to determine the safe way forward.
What's the Maximum Weight for Gravity Boots
Most gravity boots hold around 250-300 pounds (113 – 136 kg). However, some high-capacity boots can withhold up to 350 pounds.
Subscribe to our Newsletter