Inversion Table for Muscle Spasm and Muscle Tension
Disclosure: We use affiliate links and may receive a small commission on purchases.
Inversion tables are becoming an increasingly popular way to treat a variety of back problems. A common cause of back pain that inversion tables can effectively treat is muscle dysfunction.
There can be several ways to describe back pain caused by muscles, including phrases such as "muscle tension," "muscle spasm," or "muscle hypertonicity." Essentially, all of these descriptions mean that there is a degree of tightness from a muscle or group of muscles that can be causing pain or affecting the way someone moves.
Muscle tension and muscle spasms can have a significant negative impact on your life, but there is good news. Inversion tables can help alleviate the symptoms that you may experience with these muscular issues.
Inversion tables provide spinal decompression which improves joint space and decrease neural sensitivity. This can in turn reduce resting muscle hypertonicity. The inverted position also provides a stretch to muscle tissues around the spine, allowing them to relax and adapt to be in a more elongated position.
Additionally, there are several bonus features of inversion tables that can add increased benefit for those suffering with back pain caused by muscle tension and muscle spasms. We recommend the following to maximize the results you may achieve from using an inversion table:
Long handles and special handles for improved ability to stretch and achieve greater ranges of motion
Heat and massage factors for improved relaxation of muscles around the lumbar spine
Acupressure nodes for spot specific release of muscle trigger points in painful areas
Extended ankle mechanism to ease getting on and off the table
Teeter EP-970 Ltd.

Our rating
Premium Features & Quality
Price:

See Here

Innova ITM5900

Our rating
Heat & Massage Function
Price:

See Here

IRONMAN Gravity 4000

Our rating
Comfort & Stability
Price:

See Here

This article will first break down why these three inversion tables are the best choices for muscle tension and muscle spasms. Then we will discuss what muscle tension and muscle spasms are, and exactly why inversion tables are effective in treating these problems. Additionally, we will briefly discuss other treatments for muscle pain and how they can supplement the use of inversion tables.
3 Best Inversion Tables for Muscle Spasm and Muscle Tension
1. Teeter EP-970 Ltd.
The precision rotating that Teeter EP-970 Ltd. offers is a great feature to have for anyone suffering from muscle spasms. Apart from the high-grade materials Teeter used to build this inversion table, we have some cleverly designed components such as elongated handles and a wide, contoured bed that bends as you move your body to specific directions. Also beneficial are the Acupressure Nodes which provide the trigger-point release and enable you to target the critical muscles more effectively.
Premium features
Premium quality
Solid and long handles
Excellent ankle holder
Easy assembly
2. Innova ITM5900
Innova has its own answer to muscle spasms, too, and their ITM5900 comes with extra-long handles which allow you to stretch those tight muscles to their fullest while also providing full body control when in an inverted position. Let's not forget the heat and massage lumbar pad which heats the musculature to its optimal temperature and relaxes them by massaging your entire back. The ankle-locking mechanism is easy to adjust and makes getting on and off this inversion table a breeze.
Heat & massage functions
Spacious lumbar pad & long handlebars
Heavy-duty frame
Affordable
Quality and manufacturing of some welds and components
3. IRONMAN Gravity 4000
A more affordable pick that helps deal with muscle spasms efficiently is the IRONMAN Gravity 4000. The brand's patented and easy to use ''Palm Activated'' mechanism helps you easily adjust the ankle-locking mechanism and allows you to find your perfect settings. The model also comes with an optional equipment mat for added support and decompression of the tense muscles.
High load capacity
Stability
Price
High-quality materials and manufacturing
Comfortable ankle holder with extended locking mechanism
The high weight of the product makes handling difficult
Insufficient support/comfort for heads of tall users
---
How Inversion Tables Can Help with Muscle Tension and Muscle Spasms
Now that we have looked at the best inversion tables for muscle tension and muscle spasms, let's discuss why they are such an effective treatment. We will cover the basics of muscle tissue and why tension and spasms occur, the symptoms that are associated with these muscle issues, and how inversion tables help alleviate these problems.
What are Muscle Tension and Muscle Spasms?
This seems like a simple question, but brief detail on how muscles work will help establish understanding on how we can treat problems that occur.
Muscle is a tissue made up of several fibers that contract in order to perform a variety of necessary body movements. Although there are three main types of muscle (skeletal, cardiac, and smooth), we will be focusing primarily on skeletal muscle in this article.
Skeletal muscle attaches to bone and contracts to perform joint movement. Muscles may cross one or more joints in the body, which means contraction of a muscle can affect several joints at once. This is true in the case of many spinal muscles, where one muscle affects the movement of many vertebrae.
Muscle tissue can be quite pliable, and as such, is subject to many changes in length depending on the activities it is subjected to.
Muscle tension is a common way to describe excessive tightness in a muscle or group of muscles. Muscle spasm typically describes a more acute and severe episode of tension, in which the muscle is actively contracting in a cramping type fashion for a period of time. Spasms can last seconds to minutes and may come intermittently for periods of hours up to several weeks.
These dysfunctions can also cause increased pressure on the joints, as the crossing muscles can pull the joints into positions of discomfort. They may also indirectly affect other joints and muscles of the body, as those joints and muscles may take on increased pressure from compensating around the dysfunction.
Muscle tension and spasms may have a variety of causes, such as: excessive physical exertion, prolonged positioning, poor body mechanics, or as a result of joint or neural dysfunction. In the case of joint or neural dysfunction, the brain uses the muscles to tighten up and protect the affected area to decrease risk of further injury.
What are Symptoms of Muscle Tension and Muscle Spasms?
Common symptoms and muscle tension and spasms may include:
Pain in the back that may refer to specific areas in the lower extremity
Decreased flexibility or range of motion
Sensation of the back "locking up"
Pain with prolonged sitting or standing
Inability to perform heavy or even light physical activity
Difficulty sleeping or turning over in bed
Appearance of joint misalignment
These symptoms may be present with muscle tension, but are often more pronounced when a person is experiencing spasms. The severity of the symptoms can vary greatly depending on the individual and the extent of their injury.
Depending on the severity and reason one experiences muscle tension or spasms, healing can take various amounts of time. However, the healing can be expedited by the right type of treatment methods. These treatments will be discussed in the next session.
What are Common Treatments for Muscle Tension and Muscle Spasms?
Several treatment options are available to people experiencing muscle tension or muscle spasms. The success level of the treatment usually depends on choosing the right treatment based on the cause of the muscle dysfunction, although most treatments will be of some help regardless of the cause.
Here is a list of the most common treatments for muscle pain:
Exercise
Exercise is one of the best and easiest way to treat muscle pain. Several types of exercises can be used depending on the level of severity and the muscles that are affected.Common types of exercises that can be used to treat muscle pain may include walking, stretching, resistance training, yoga, and Pilates. The intensity of the activity should be low in the case of more severe symptoms, and increased as tolerated when the person feels comfortable.

If you know little about exercise, it is recommended that you seek out the help of a healthcare provider so that you may determine together what the best exercises are to help safely treat your condition.

Passive Modalities
Passive treatments are interventions that are designed to reduce pain and improve mobility without active engagement from you. These include treatments such as massage, electrical stimulation, ultrasound, heat, ice, over the counter patches, and more.

In some cases, like with massage, electrical stimulation, and ultrasound, you need a qualified professional to administer the intervention. Other modalities are easy and convenient ways to perform self-treatment.

All of these treatments serve to reduce pain and make you more comfortable. However, it is recommended that you also seek out the root causes of the issue. These passive treatments will likely only work temporarily if you fail to identify and correct the reasons for your symptoms.

Medication
Pain medication may also help reduce the symptoms experienced from muscle tension and muscle spasms. These medications may be over the counter or prescription depending on the severity of symptoms.There is even a category of prescription medication called muscle relaxers that are designed to target this specific issue.

However, as is the case with other passive treatments, medication for muscle tension and muscle spasms rarely addresses the root cause of the symptoms, so it may likely just be masking the real problem. Additionally, most medications come with unwanted side effects, so they should be carefully administered when treating muscle pain.

Traction by Using Inversion Tables
Traction is also an effective way to treat pain from muscle tension and muscle spasms. Traction uses distractive forces to create space between vertebrae and gently stretch muscle tissue.The gentle stretching that traction provides to the muscles can cause them to lengthen and reduce the feelings of tightness in the affected areas. Additionally, the decreased pressure it provides to the joints and nerves of the spine can reduce muscle guarding and spasm.

One method traction can be achieved is through the use of inversion tables.
Using Inversion Tables to Help Muscle Tension and Spasms
Inversion tables are a very convenient and effective way that you can treat muscle tension and muscle spasms from the comfort of your own home. They use gravity to provide traction and stretch hypertonic muscles and decrease pressure on joints and nerves.
The stretch that inversion tables provide can reduce pain, tension, spasms, and improve overall movement and flexibility. This can make activities that were difficult as a result of your symptoms much easier and more enjoyable.
Advantages of using inversion tables to treat muscle pain are abundant. They are safe to use because they are non-invasive, you can use them conveniently in your own home, and you have the ability to adjust the amount of stretch based on your level of comfort.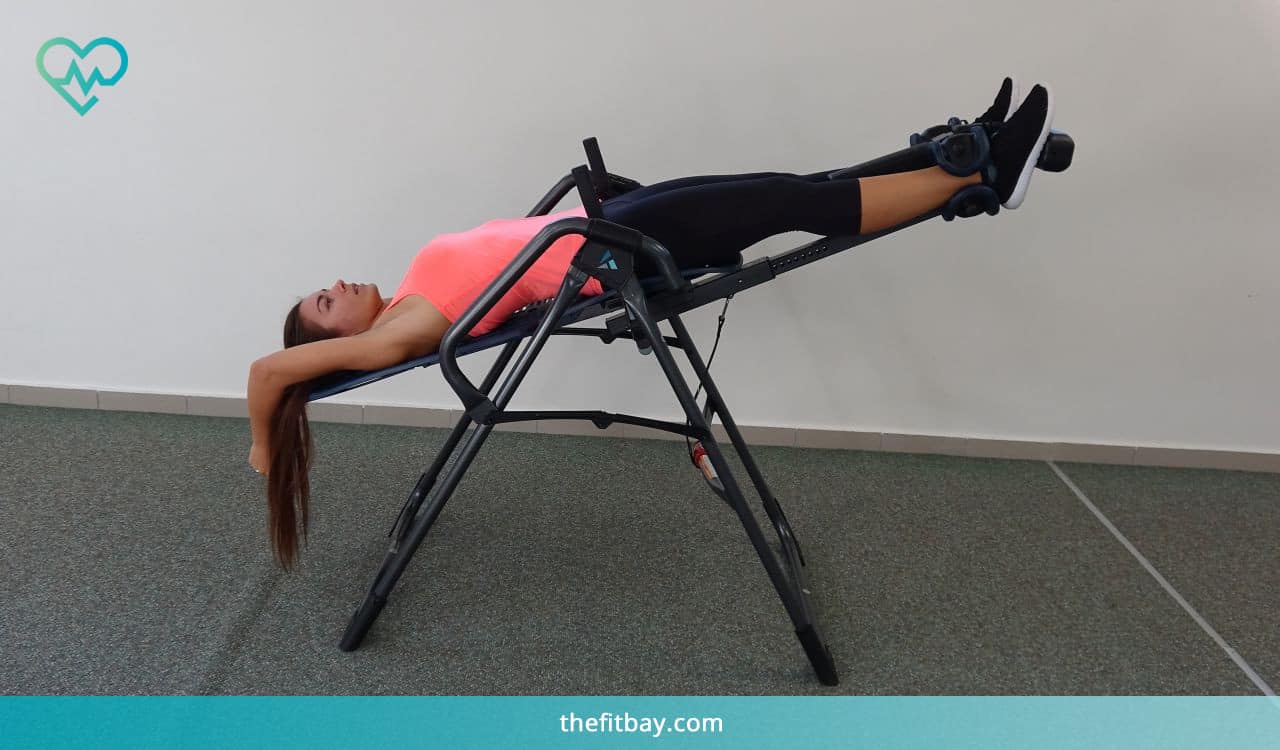 Additionally, research has shown that inversion can help reduce muscle tension. A study conducted by L.J. Nosse demonstrated that short periods of inversion can reduce muscle tension by up to 35%! (1)
Conclusion
Muscle tension and muscle spasms are conditions in which muscle tissue tightens as a result of excessive exertion, prolonged positioning, or from joint or nerve injury. This can cause a multitude of symptoms such as pain, decreased flexibility and range of motion, pain with normal daily activities, and increased pressure on joints and nerves of the spine.
There are several treatment methods available for those experiencing these symptoms, including the use of inversion tables.
Inversion tables provide a safe, convenient, and research supported method to improve symptoms from muscle tension and muscle spasms. They use traction forces to gently stretch affected muscle tissue and decrease pressure on sensitive spinal structures.
If you have been considering using an inversion table to help relieve your muscle pain, do not hesitate. Give this effective treatment method a try and get back to your normal life!
Subscribe to our Newsletter